Free St. Patrick's Day Shirt Ideas for 2024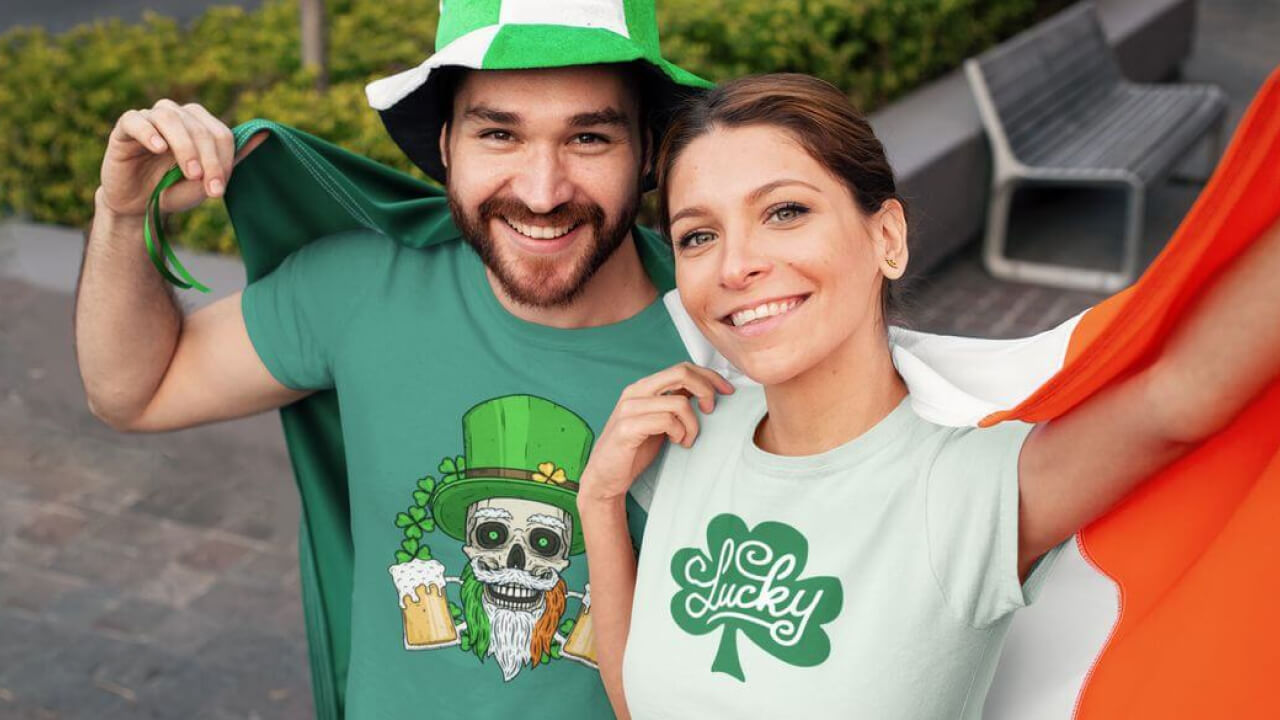 St. Patrick's Day is a holiday we often miss out on, either because a night of high spirits fails our memory or other holidays seem a lot more memorable.
The often-overlooked caveat is that nearly everyone loves to get dressed up and let loose on the day of the Éire. Follow our emerald-printed St. Patrick's Day t-shirt ideas, jump on the holiday sales momentum, or make a unique wardrobe just for yourself.
Create St. Patrick's Day Shirts With Our Free Designs!
Use these stunning and clever designs to create unique St. Patrick's Day shirts.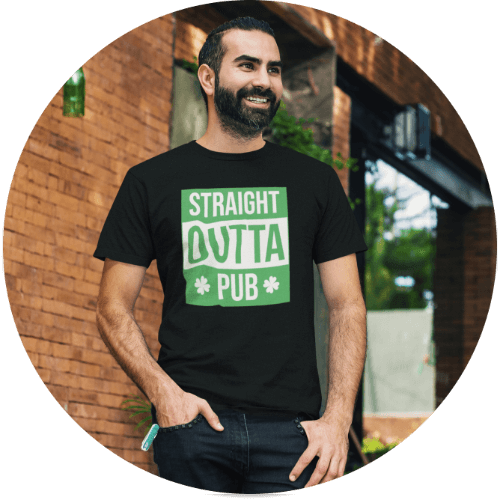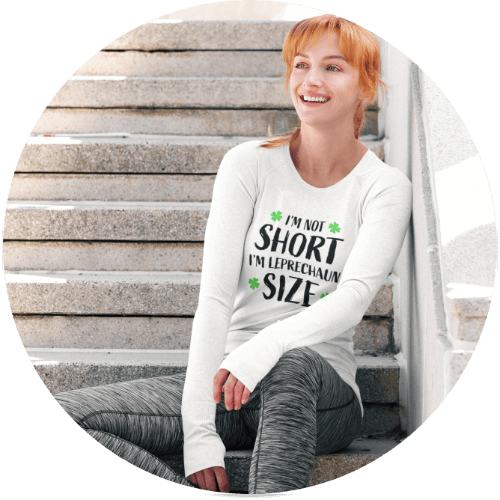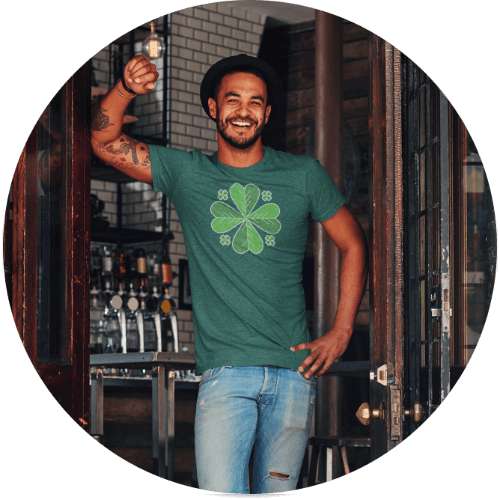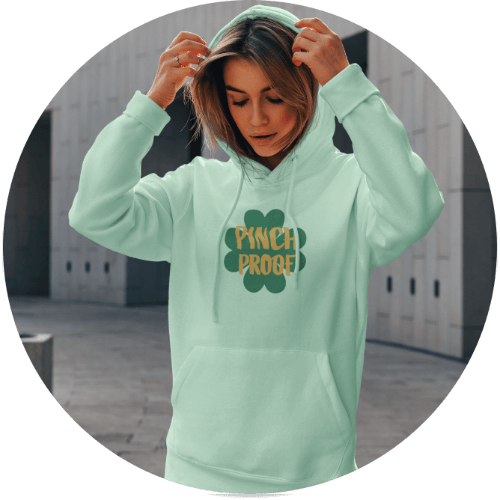 What Is St. Patrick's Day?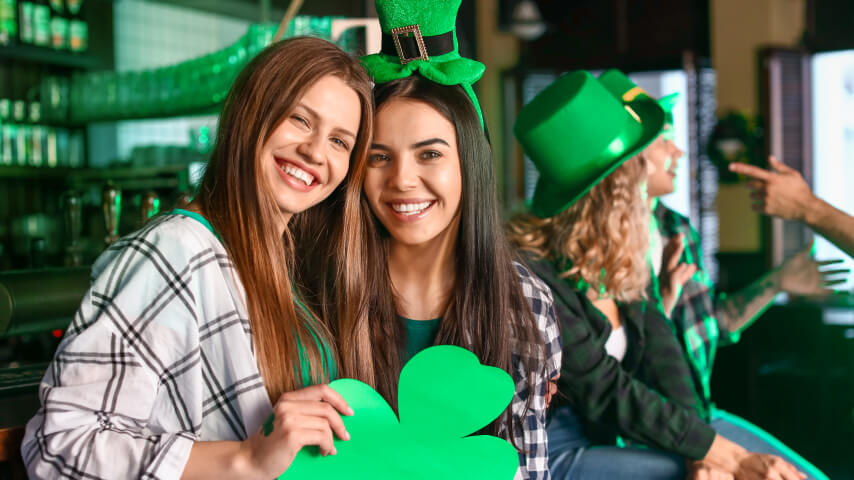 By now, the whole world knows about the one day a year that's all about the Irish. Whether by birthright or at heart, people dress up in green and celebrate the spirit of Irish culture and the spirits that come with it.
St. Patrick is the patron saint of Ireland. The man is believed to have converted the Pagan Irish to Christianity. Saint Patrick's Day is marked on March 17, believed to be the saint's final one on this mortal plain. While it's a national holiday in Ireland, the day is celebrated worldwide.
Parades, green beer, clovers, and top hats are only some of the essentials for theming this day. It's a soaring rainbow of visuals for those interested in creating a unique wardrobe for a special day. If you're looking to sell, they provide merchants with a wonderful opportunity to fill their pot of gold by offering promotional St. Patrick's Day merchandise.
What Messaging Should You Consider for Your St. Patrick's Day Products?
Think fun, hilarious, ironic, sarcastic, honest, and sometimes even a bit rude and naughty. When it comes to St. Patrick's Day, you can get away with writing almost anything as long as it hits the right chord on this boisterous party day. 
Alcohol and perhaps having one tipple too many are central themes, as is the color green. It's an outlet to celebrate with friends in a year that, in hindsight of stewing concerns, people want to get the most out of as possible.
Popular Irish Themes You Should Consider
Popular Irish themes worth considering are mythological (or are they real?!) creatures such as leprechauns and elves, as well as the nation's most famous symbol, the shamrock or clover. It's also popular to use traditional Irish imagery around the Celtic symbol, the Irish flag, the word 'Irish', and the color green. 
And while thinking of St. Patty's Day shirt ideas that will work, don't forget to use the word 'luck'. Who knows – maybe you'll have some of the "luck of the Irish" yourself. The general rule here is: if you can think of a funny, unique, interesting, or simply cute St. Patrick's Day shirt, then you're in the right mindset for winning items.
St. Patrick's Day Shirt Ideas
Why shirts? They're as versatile and recognized as any holiday wear goes. For merchants, t-shirts are among the world's most popular and best-selling products. The global t-shirt segment revenue amounts to $44.56 billion in 2023.
We've got some great tips for custom St. Patty shirt ideas that will rival any parade float or, if you're opening up shop – boost your sales and luck throughout the commemoration of the famous island of poets and shepherds.
Funny St Patrick's Day Shirts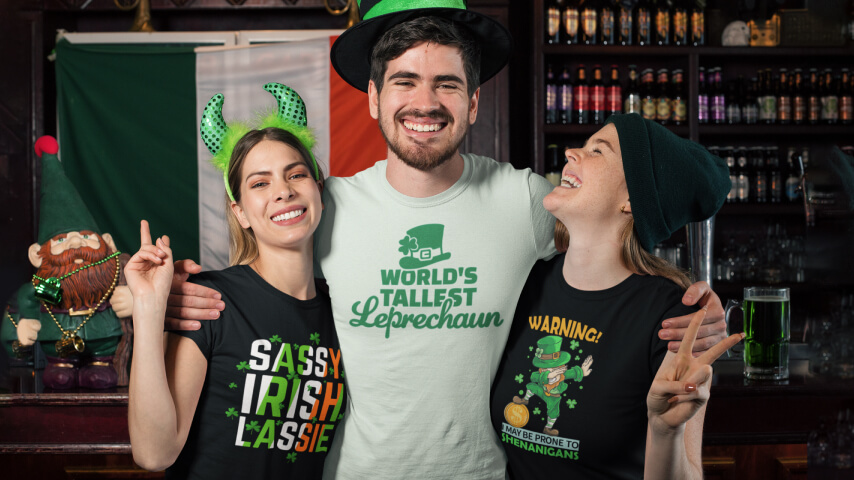 When it comes to funny Saint Patricks Day shirt ideas, it's definitely a case of the funnier, the better. St. Patrick's Day has traditionally been about fun, jokes, partying, drinking a little too much, socializing, the craic – as the Irish like to say – and celebrating all things Irish. So when it comes to merchandise ideas for this special day in the calendar, funny shirts are always winners.
Funny shirts are all about wordplay and funny imagery. St. Paddy's Day is all about drinking, partying, and having a good time. Any carefree message will come off as amusing. word play and funny imagery. St. Paddy's Day is all about drinking, partying, and having a good time. Any care-free message will come off as funny.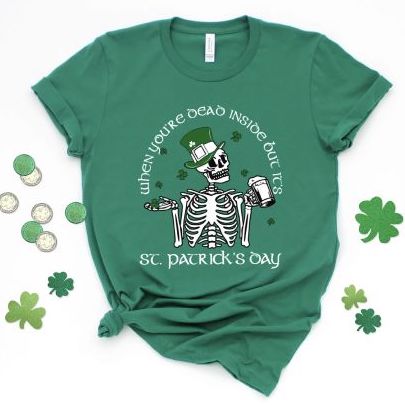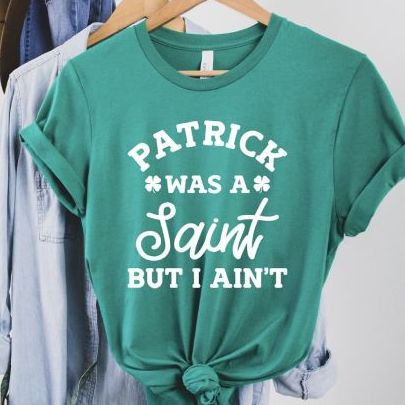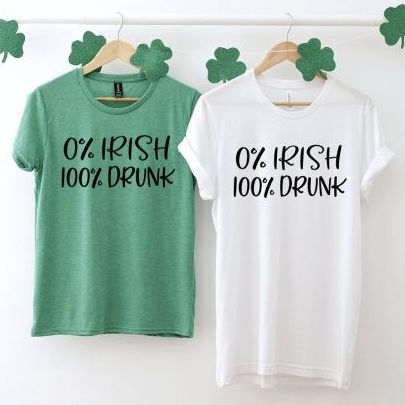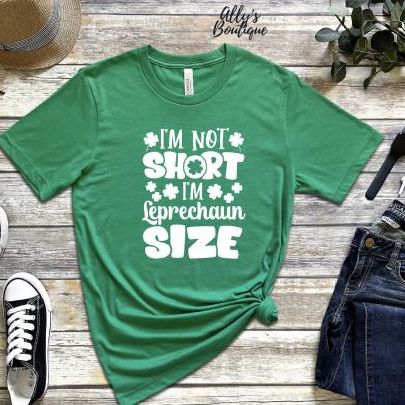 Cute St. Patrick's Day Shirts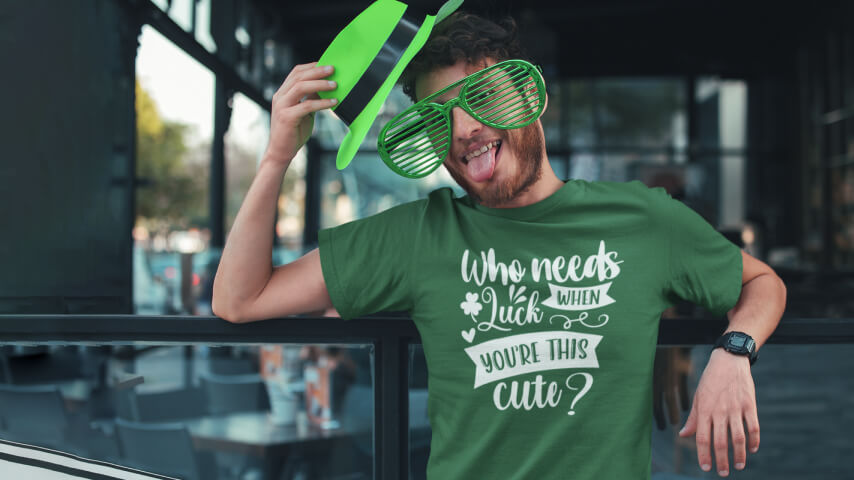 Who doesn't like to look cute while celebrating? Come up with cheeky, memorable, and endearing St. Patty's shirt ideas for your next get-together. Once people fall in love with your outfit, you can print more designs for a bigger audience with no order minimums.
Play around with the color green, cute leprechauns, heart-shaped clovers, or clover-shaped hearts. Create custom shirts and bring out the charming side of St. Patty's Day. Light up the opportunity to be with friends and family. Celebrate the culture and all of its beautiful symbols.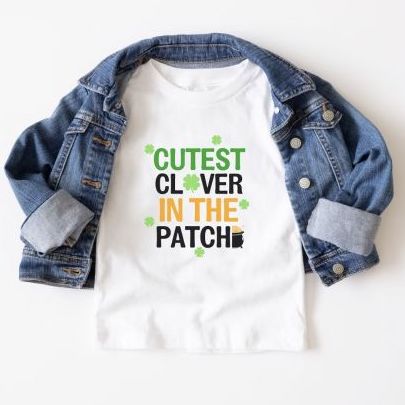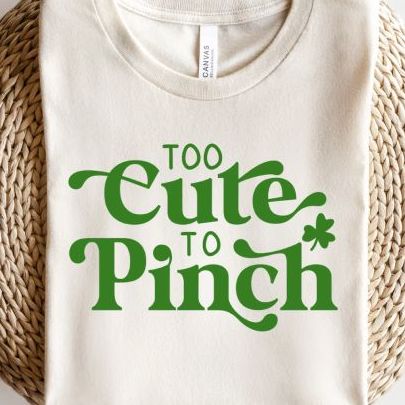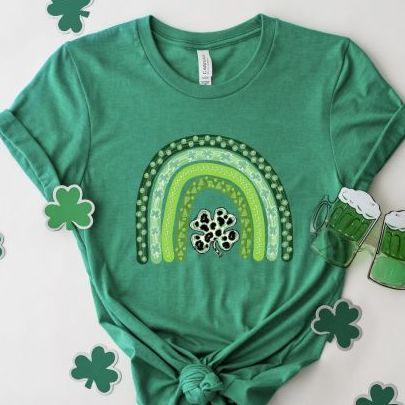 Couples St Patrick's Day Shirts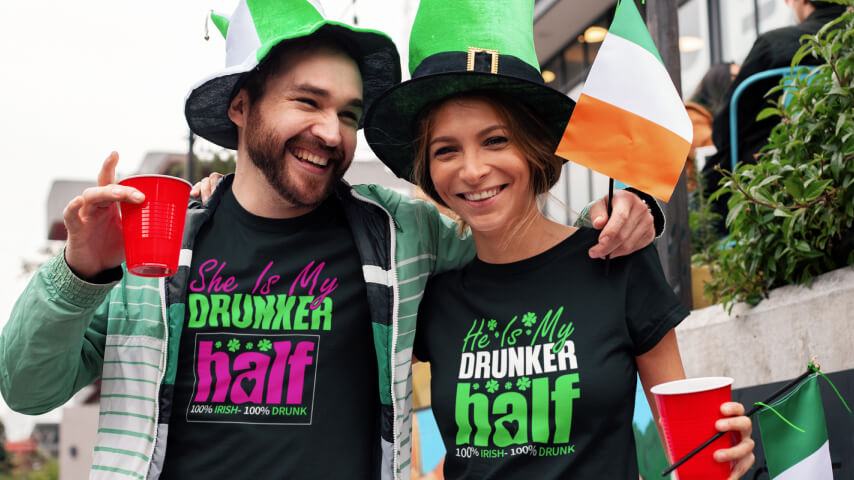 Design matching or custom couples St. Patrick's Day shirts covered with all the meaning and slogans to last throughout the night. Search for matching designs with clothing wear for both men and women – just for you or other couples itching to pitch in.
Designing shirts with a couple in mind is a great way to stand out in a crowd and keep each other close once the party grows. "If I'm too drunk, return me to Jessica" and "I'm Jessica" are tried and tested St. Patrick's shirt ideas and may save someone during the celebration. Ready up a great canvas for inside jokes and icebreakers.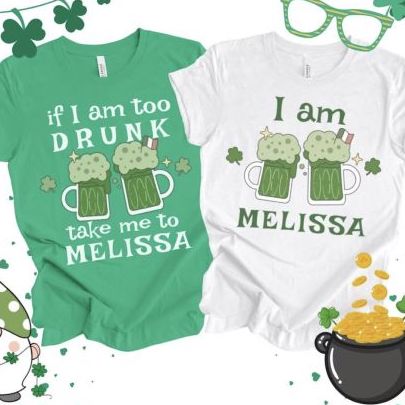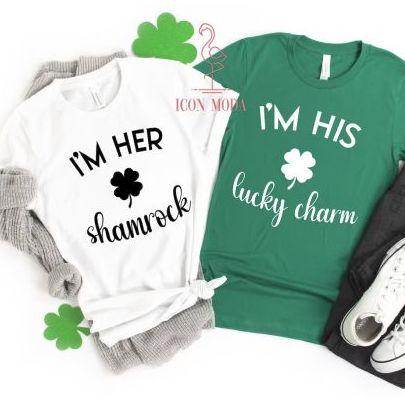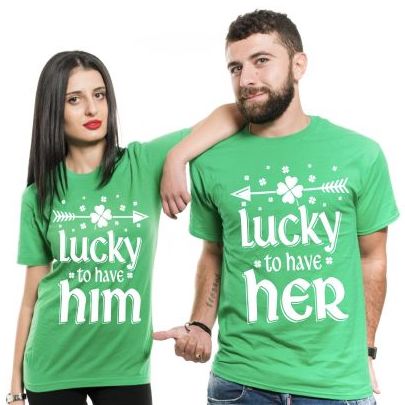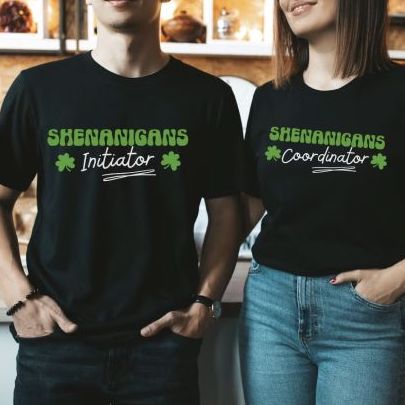 St Patrick's Day Birthday Shirt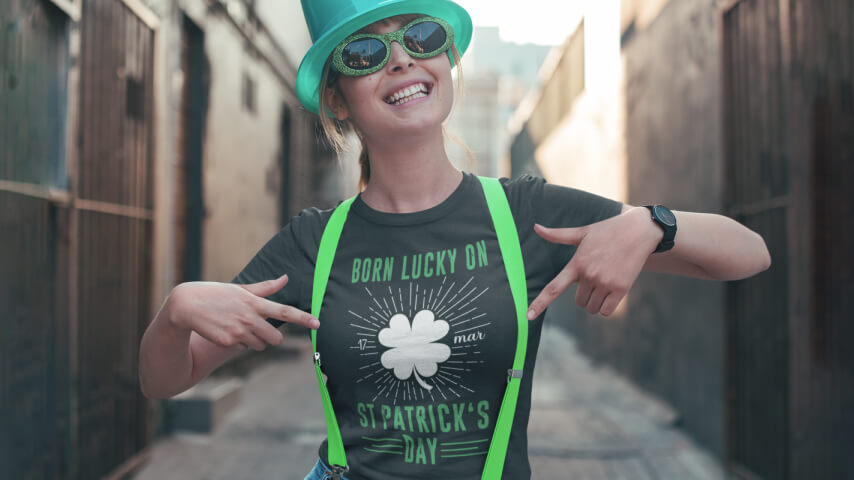 Some people are extra lucky to be born on St. Patty's Day. This could be the ultimate combination to put on a shirt, even if a beer lover's day is off by a few dates. Make sure to keep the celebration going for as long as needed – explore fully personalized styles to share with those closest.
Combine the luck of St. Patrick's Day with birthday wishes, and you've got yourself a bestseller, especially if the jubilee fits neatly on March 17th. Put well-known symbols on funny St. Patrick's Day shirts and combine them to create the perfect birthday design for partygoers or kids.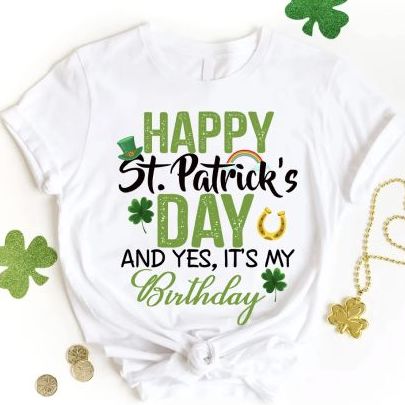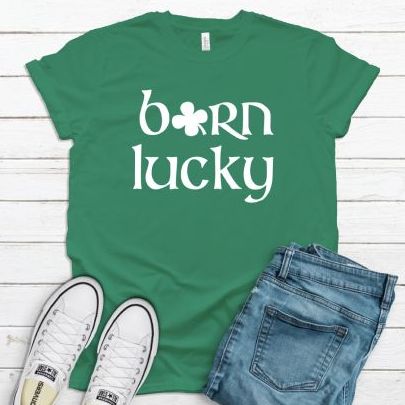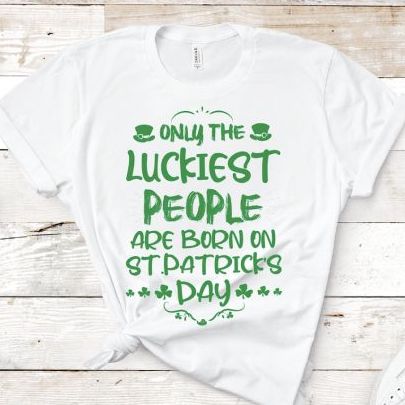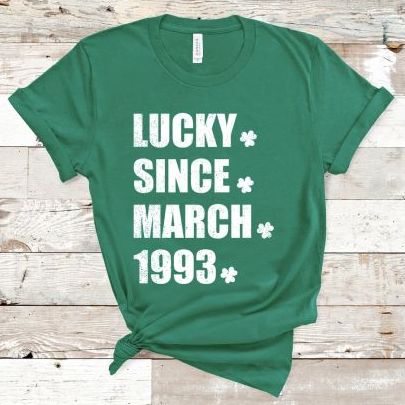 Best Friend St Patty's Day Shirts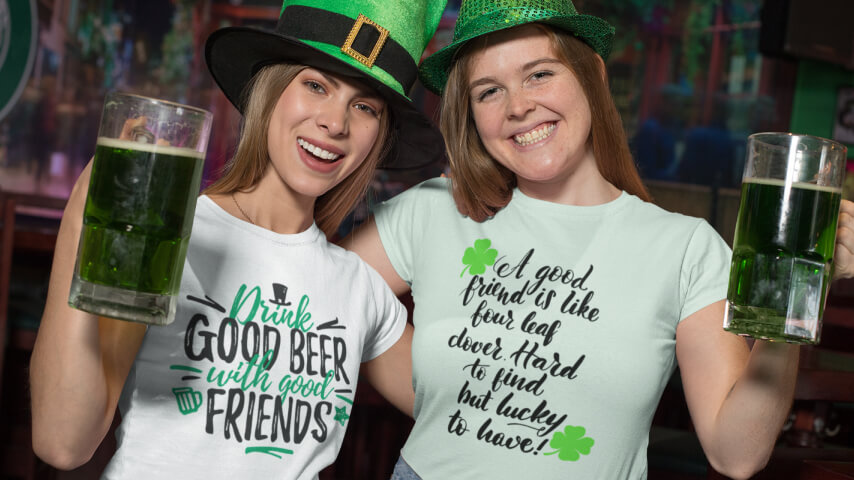 What better way to celebrate a holiday that's all about having a good time than with your best friend, covered head to toe with wholesome designs? Use our t-shirt design Mockup Generator to make gratifying memories with a whole cast of friend-themed St. Patty's Day shirts and accessories, sold or styled independently.
Create custom St. Patrick's Day merchandise for all the friends and friend groups out there and help yourself or customers to a green and lucky style.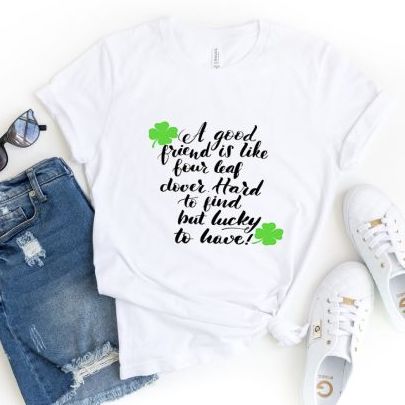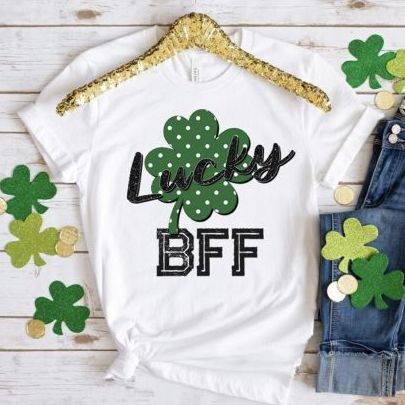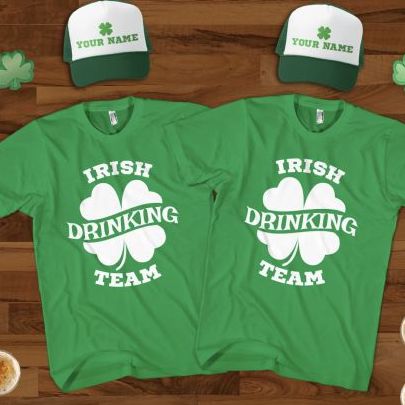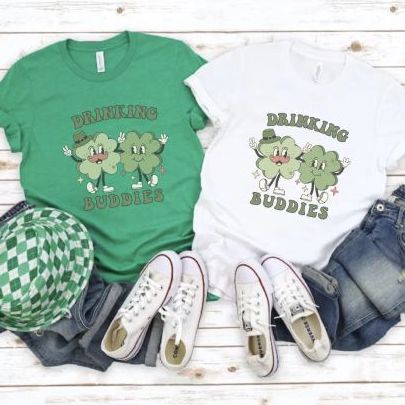 How to Create St. Patrick's Day Shirts
Create, publish, and print as many Patrick's Day t-shirts as you like through a fully automated production and shipping process. Start putting your thoughts into action with Printify.
Create an account with Printify to enjoy a magical place of bestselling t-shirts that can style any St. Patrick's Day design. Add your account details and use a free subscription to order as many samples or published products as you wish – no hidden costs and no order minimums.
Check out the Printify Catalog for our list of t-shirts. Our shirt options vary in style, type, brand, and more. From long sleeve St. Patrick's Day shirts to v-necks, unisex, tank tops, baby shirts for girls and boys, shirt dresses, and even t-shirts for dogs. Find Patty's Day t-shirts that match your idea and make one-of-a-kind merchandise.
Our user-friendly and free Mockup Generator has all the tools you need to apply the design in a few simple clicks. Choose a template, upload or drag & drop the picture, add layers and text, switch between colors, and adjust the design according to your vision.
St. Patrick's Day Rakes in the Green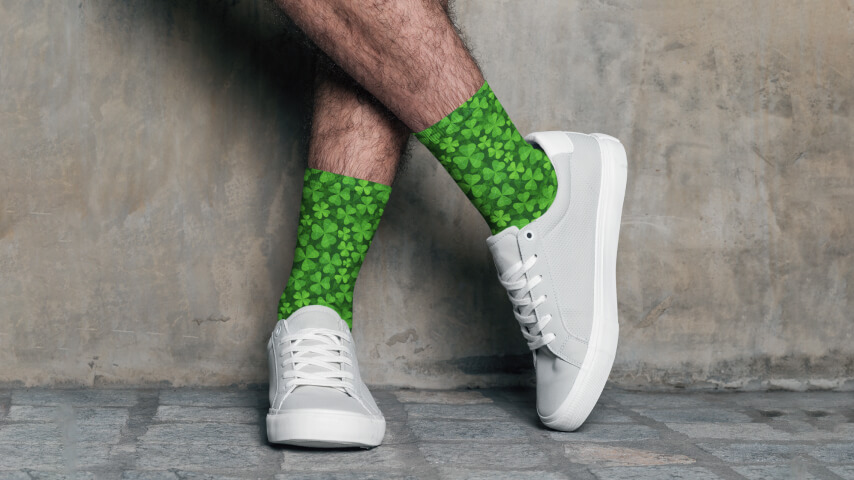 In 2023, St. Patrick's Day is expected to rake in billions in the United States alone. Some estimates put the figure at $42 spent per person for every participant. This is an excellent opportunity to boost sales in early spring, ahead of the brighter months of the year. It's also a great time to start a new campaign for some general momentum.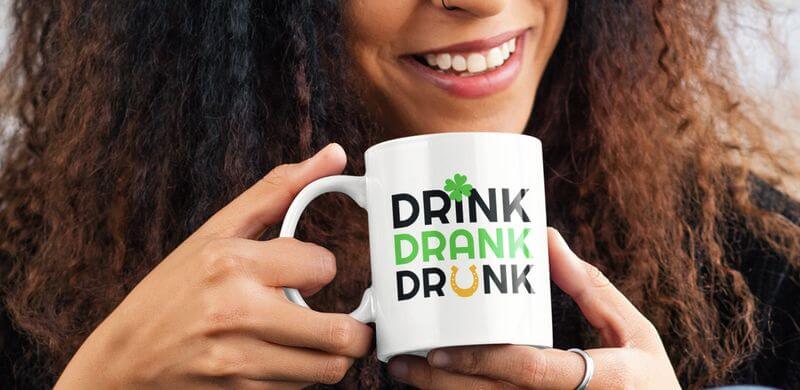 One of the secrets to sales success for St. Patrick's is to go at the Irish theme hard. By incorporating popular Irish symbols and themes into your designs, you will undoubtedly appeal to millions of Irish people worldwide or of Irish heritage.
Let's not forget that tens of millions of more people enjoy participating in this most Irish of days, from Brazil to the Baltics.
In 2022, up to 54% of Americans planned to celebrate and party at home, in a parade, or at an outside venue. People love having a good time, dressing up, and letting loose on the greenest holidays.
Sell St. Patrick's Day Shirts With Printify
Printify opens the door for anyone to become a successful eCommerce retailer. With a fully automated print-on-demand business model, you can start selling custom white-label products with just a few clicks.
Create fully unique designs that overcome competitors in any niche you may choose. Integrate your store seamlessly with our partnered eCommerce sales channels, and watch as the sales lead you to the end of the rainbow.
Create a Custom Opportunity This St. Patrick's Day
This is one of the most overlooked holidays, hands down. If you and your store are ready for some serious sales, expect this day to be the day that gives you momentum for the rest of the year ahead. 
Think about some of the tips given in this article about what is popular and what works well on St. Patrick's Day and get designing. New original ideas that work well can set you apart from the competition and help you rake in the green.
Share the article
Topics