How to Price T-Shirts for Online Retail – T-Shirt Pricing Calculator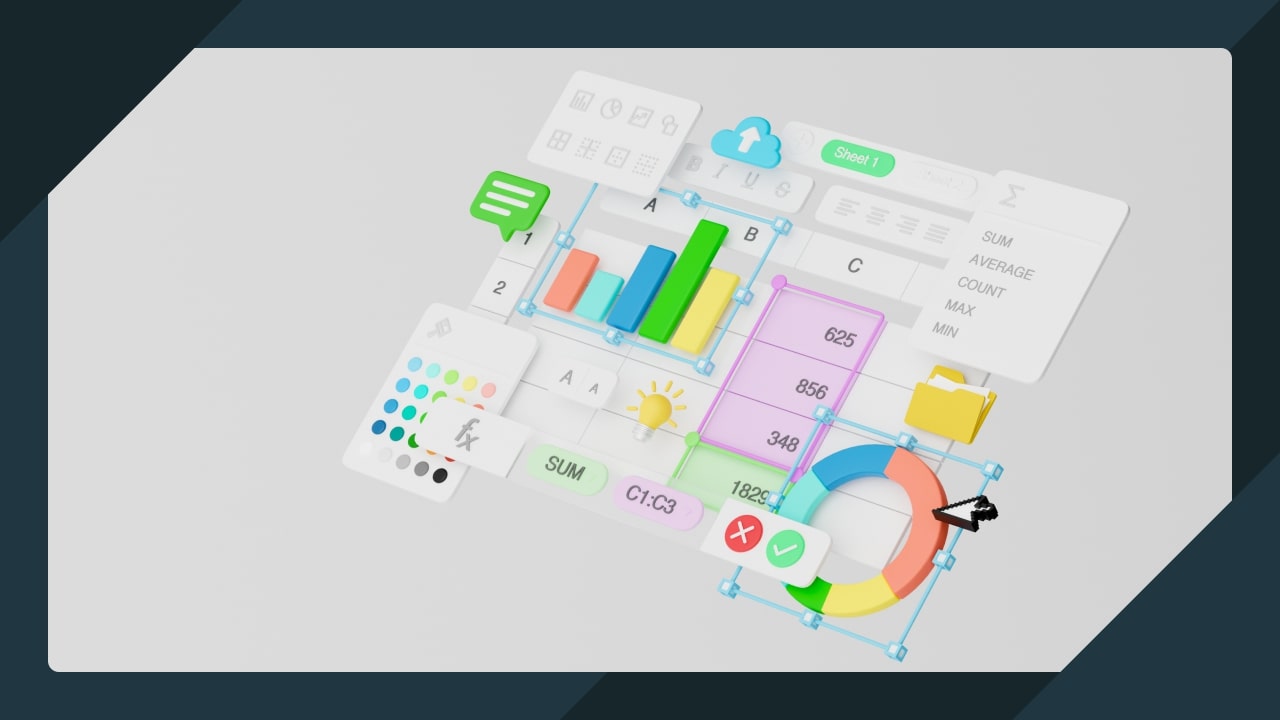 Calculating retail prices for t-shirts can be a daunting task, as it interferes not only with your earnings but also with how the customer perceives the brand. It goes without saying – prices can determine how well a t-shirt brand will sell.  
In this article, we'll show you what should be taken into consideration when pricing your t-shirts for online retail, the main strategies and principles for pricing, and how to use convenient formulas to make your own t-shirt pricing calculator.
What to Consider When Calculating T-Shirt Prices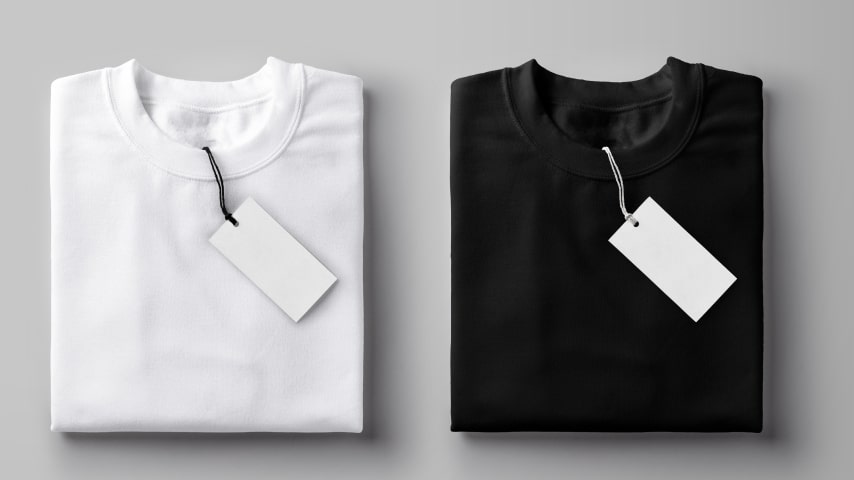 Printify recommends a profit margin of around 40% for most products, but this should be adapted to your t-shirt business strategy.  
There are logistic, economic, social, and psychological factors to consider when pricing a product. 
Get a detailed explanation of t-shirt pricing strategies and more pricing tips on our blog. Here, we will list some essential factors to be considered as part of a t-shirt's total cost.
Do your market research and know your customers. The most critical factor to understand, when it comes to your target audience, is which they prioritize – quality or price? 
Information about your target audience, like age, and social and family status, will influence how to calculate your profit margin. 
Students and customers with low buying power will be attracted to lower prices, while well-established professionals will look for quality products and may equate cheaper with low-quality.
Estimate your fixed and variable costs. Fixed costs are related to your production, such as salaries, rent, bills, and subscriptions. 
These costs do not change and should be covered monthly, regardless of how many t-shirts you sell.  
Variable costs are not recurrent or occur only during specific periods, such as development (hiring freelancers for design, for example). Fulfillment also implies variable costs, as it involves logistics, including shipping, relevant only if a product is sold. 
Always keep leeway in your profit margin to cover variable costs, as you will have to pay for them at some point.
Depending on the merchandise and print provider, additional print areas, such as neck labels and sleeve prints, can be added to garments for an extra charge, as they require additional labor and supplies. 
If your t-shirt has more than one printed area, the production costs will increase, and your prices will need to be adjusted accordingly.
Any garment size 2XL and larger will have a higher production price that will impact the final t-shirt cost. Providers require a larger quantity of raw materials and supplies to produce, print, and deliver a larger t-shirt.
Shipping costs should be factored into the final retail price and may even be part of your marketing strategy. 
Offering free shipping, for instance, is a popular marketing technique, as many customers give up during the checkout due to shipping fees. With this approach, the cost is added to the retail price. 
The label "free shipping" attracts more customers, but depending on the product sourcing and final destination, offering it may not be viable. 
If you use web builders like WooCommerce and Shopify with Printify, your shipping costs are calculated automatically during checkout by installing the Printify plugins. Marketplaces like Etsy, eBay, and Walmart also calculate shipping automatically. 
However, platforms like BigCommerce, Wix, and Squarespace may require defining shipping regions with flat rates per region and product. 
This process can be very demanding and time-consuming if you sell many products worldwide. In this case, consider purchasing or subscribing to solutions like Shippo that will automate the process.  
Whether your pricing strategy focuses on delivering higher prices to increase the perceived value or lowering them for economic advantage, you need to know how much the competition charges for similar products. 
Otherwise, your business will need to be capable of offering realistic and competitive pricing.
The business model is one of the most critical factors affecting fixed and variable costs. Mortar-and-brick stores come with specific expenses, such as rent, bills, insurance, and staff salaries. 
Online stores are potentially less expensive but require spending on subscriptions, maintenance, or eventual expert and freelancer hiring.  
How to Use a T-Shirt Pricing Formula
There is more than one formula to calculate product prices. The most basic is:
Price = Costs + Profit Margin
The equation for getting an actual price:
Price = t-shirt cost ÷ (100 - profit margin) x 100
If your t-shirt has a total cost of $10, and you want a profit margin of 50%, your calculation process will look like this:
Price = 10 ÷ (100-50) x 100
Price = 10 ÷ 50 x 100
Price = 0.2 x 100
Price = 20 
Under "production" or "total costs," you may simply add the t-shirt price when using a convenient source such as Printify. If you intend to offer free shipping, special packing, or additional customization, add these to the t-shirt cost. 
Complicated? We'll make that easier and show you how to create a convenient spreadsheet.
Download or Create a T-Shirt Pricing Calculator Excel File
A spreadsheet will save a lot of time when calculating T-shirt prices. 
Depending on your skills, you may purchase and download templates and spreadsheets online or create your own.   
If you can make templates, consider offering them for sale as digital products and add extra passive income to your t-shirt business. Get inspiration from our article on how to sell printables on Etsy.
How to Create your Own Custom Calculator for T-Shirt Pricing
Here's a quick way to create your custom spreadsheet to calculate the retail price by inserting the intended profit margin and free shipping.
Pick your preferred software. Excel is the most popular spreadsheet editor, but you can use free editors from suites like LibreOffice or Google Docs, while MacBook and iPad users can use Numbers. For this example, we'll use Numbers. 

Create three columns with "

Retail Price," "Production Costs," and "Profit Margin

." Create a separate column for "

costs

" and rows with them. 
For this example, we'll create a row with the original t-shirt price and another column for the shipping cost. This hypothetical t-shirt will have an initial cost of $10.90 and a shipping cost of $5. We aim for a profit margin of 40%: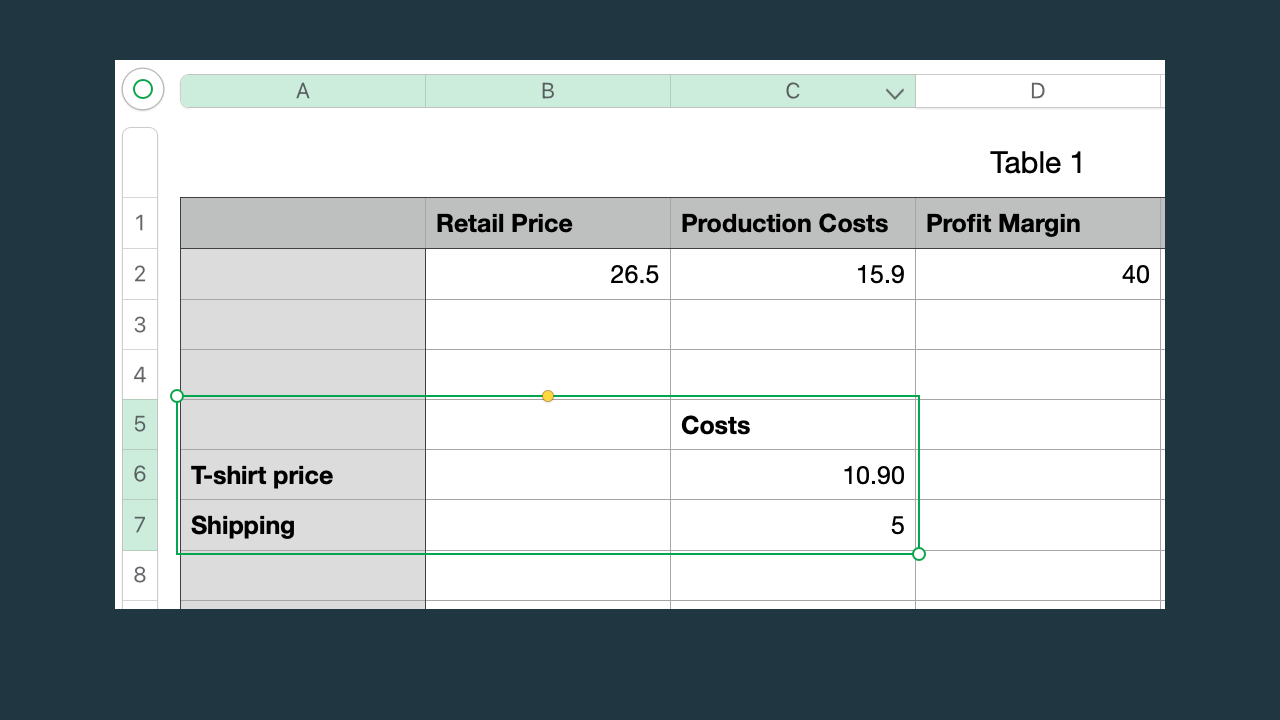 Fill in the "

Retail Price" column with the following formula (details may slightly change depending on the software you're using):
= Production costs ÷ (100- Profit Margin) x 100
Remember that for spreadsheets like Excel, to insert "÷," you should use "/" while "*" stands for the multiplication sign "x."

Type "

=

" to insert a formula, and replace the appropriate fields with the cell's coordinates. In our spreadsheet, "

Retail Price

" is B2, "

Production Costs

" is C2, and "

Profit Margin

" is D2.
This is how the formula will look on the screen: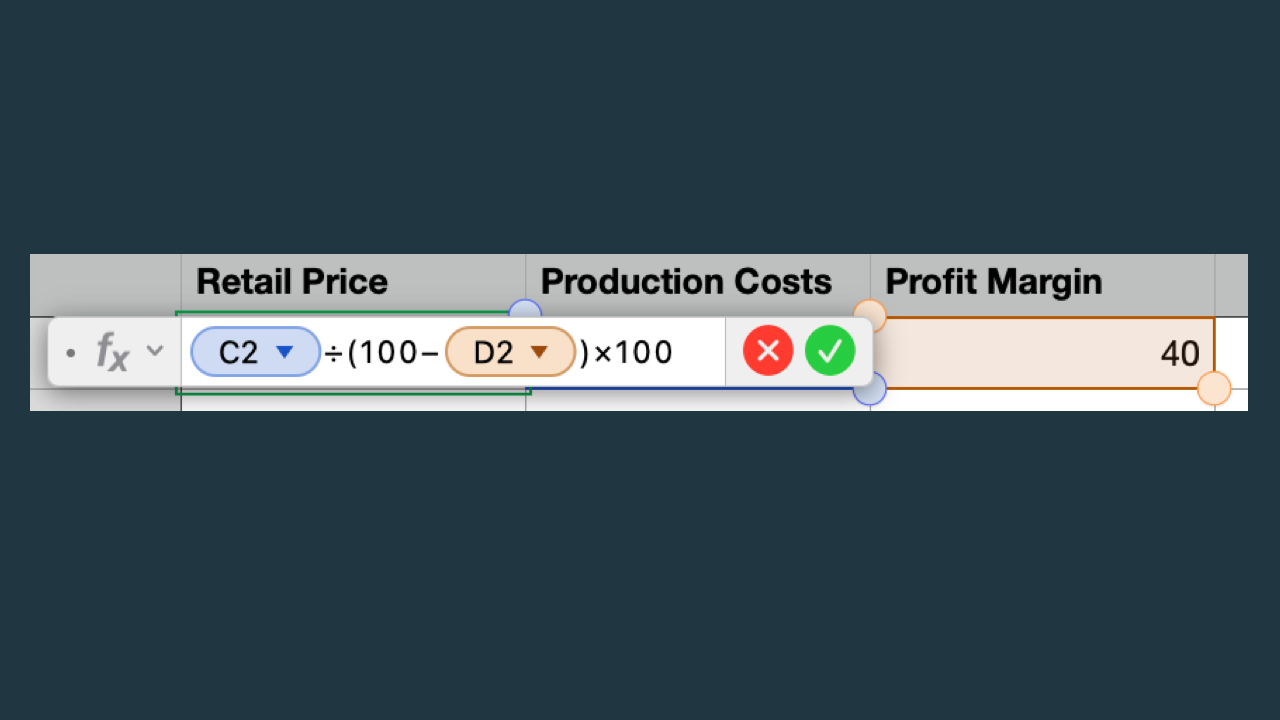 Now, populate the field "

Production costs

" (C2 in the spreadsheet) with the sum of the rows – in our example, t-shirt price (C6) and shipping (C7). You may type "

=C6+C7

" or select custom fields, depending on the software: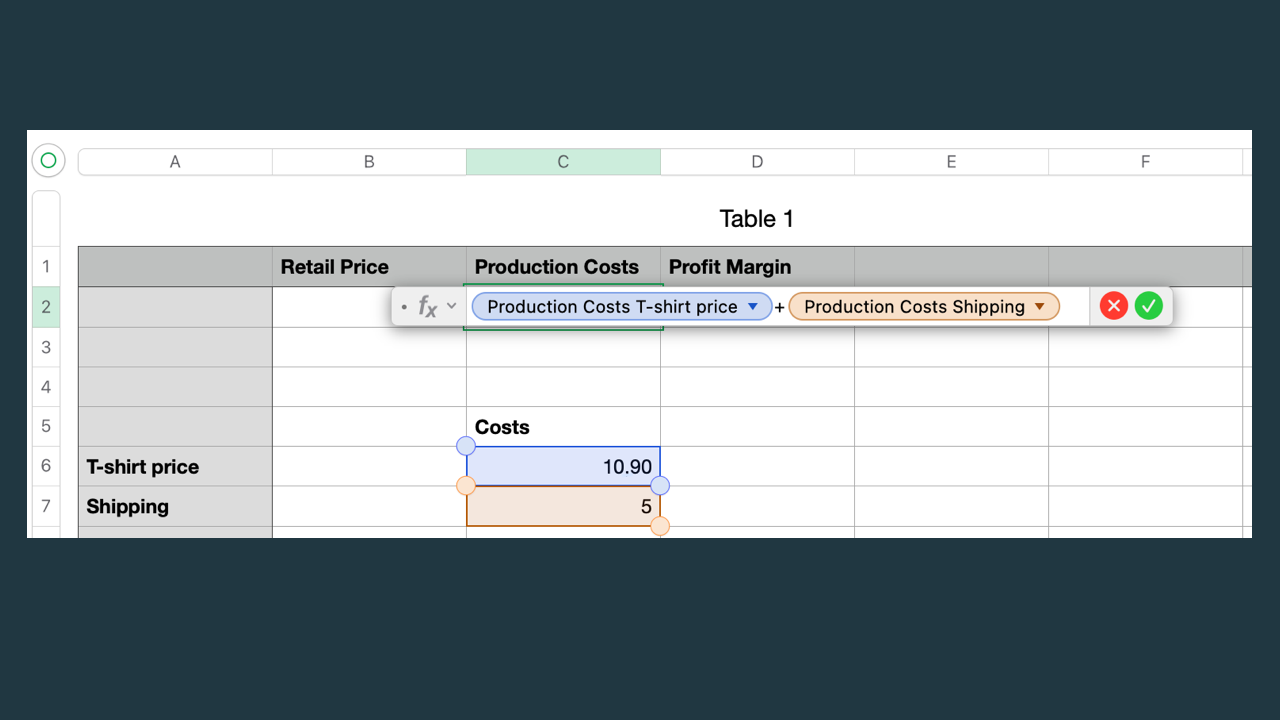 Add other rows with costs under the "Costs" columns and sum them in the "Production Costs" field depending on how your t-shirt is produced or sourced.
Some Psychology-Based Pricing Tips
Your pricing can be adapted using psychological data. Psychological pricing can raise awareness of your brand by simplifying the customer decision process.   
Un-rounding prices – customers tend to focus on the first digits of a number. Lowering the prices slightly (for instance, from $10

to

9.99

or

9.97

) creates the impression of a better deal. 

Urgency

– creating a sense of urgency induces impulse buying. Make sales and offers with phrases such as "today only" or "last chance." 

Product positioning

is a pricing technique that, while not exactly psychological pricing, still benefits from observing human behavior. The method raises prices compared to your competition to increase the perceived value of your merchandise.
Product positioning works if you offer tangible and intangible value with your product, such as an edge or unique characteristic. 
Measure the best pricing strategy and results with your target market carefully, as pricing can boost or destroy your business.
How to Create, Price, and Sell T-Shirts With Ease
Printify offers more than 80 different t-shirt models for women, men, and children. You can find them in our Catalog and easily customize tees using Printify's free Mockup Generator.
Due to the print-on-demand model, the seller doesn't need to hold inventory and ship items yourself. When a t-shirt order is placed, Printify's partners print and send the product to the customer, saving money and time. 
From best-selling tees like the Bella+Canvas 3001 and Gildan 5000 to the most eco-friendly and sustainable brands like Stanley/Stella or Econscious, you will find the best prices, ensuring customization, quality, and a reasonable margin of pricing adjustment.  
Creating custom t-shirts with Printify is straightforward:
Sign up

or Sign in to Printify.

Pick the product, and choose the

Print Provider

with the best rating, closest to you and your customers. 

Click on

Start designing

– that will open the product with the

Mockup Generator

.

Upload your design, adjust, scale, resize, and use the pattern tool. The sky's the limit. 

Adjust colors, variants, and descriptions. 

Adjust the price and click on

Publish

to your online store. 
Here's how the Printify pricing calculator looks for the Bella+Canvas 3001. Note that it is possible to determine the price directly by stating a flat profit or specifying a profit margin. 
Any changes made in one field will automatically update all the others. Note that it's possible to price variants differently and even take advantage of bulk pricing.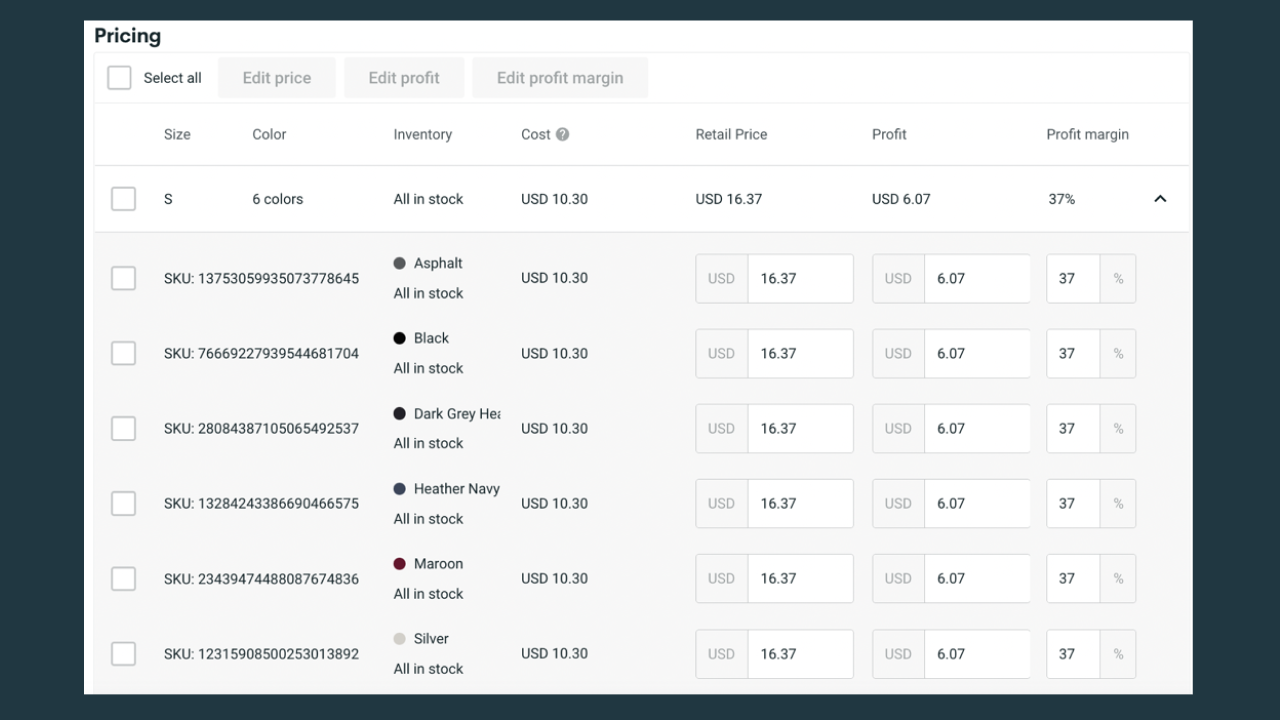 Set the price by changing the profit margin: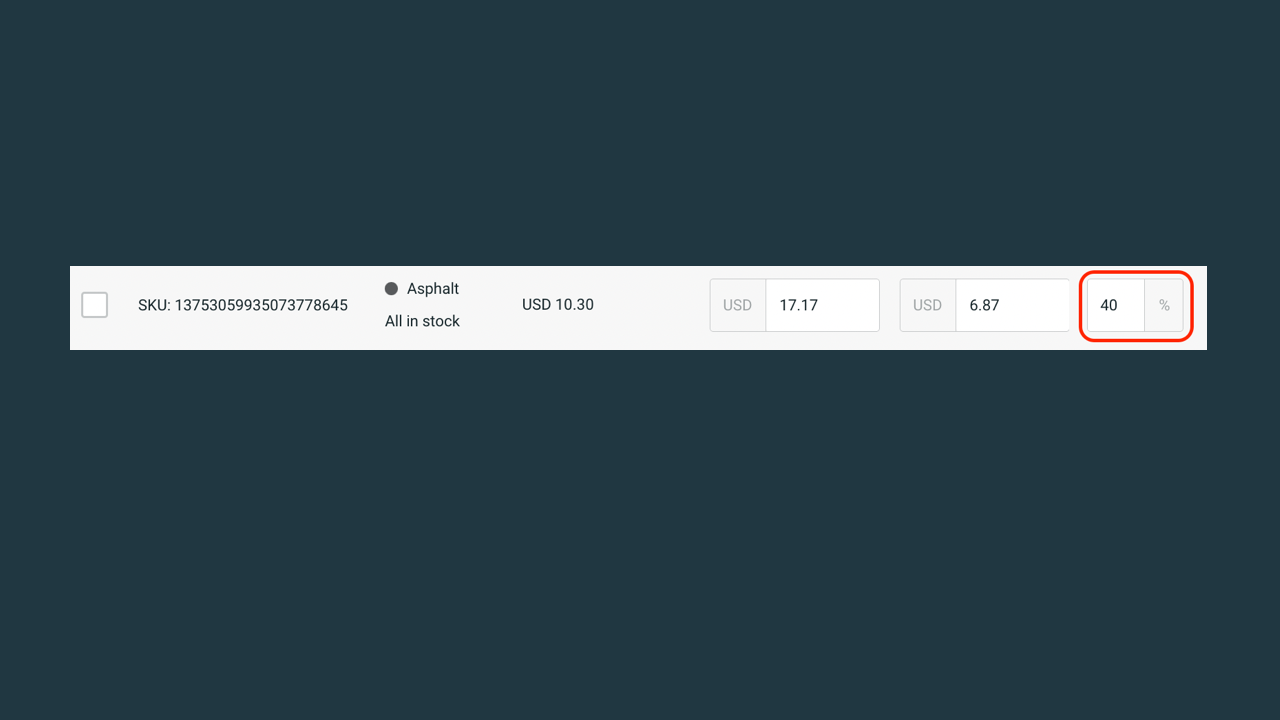 Set the price by changing the flat profit rate: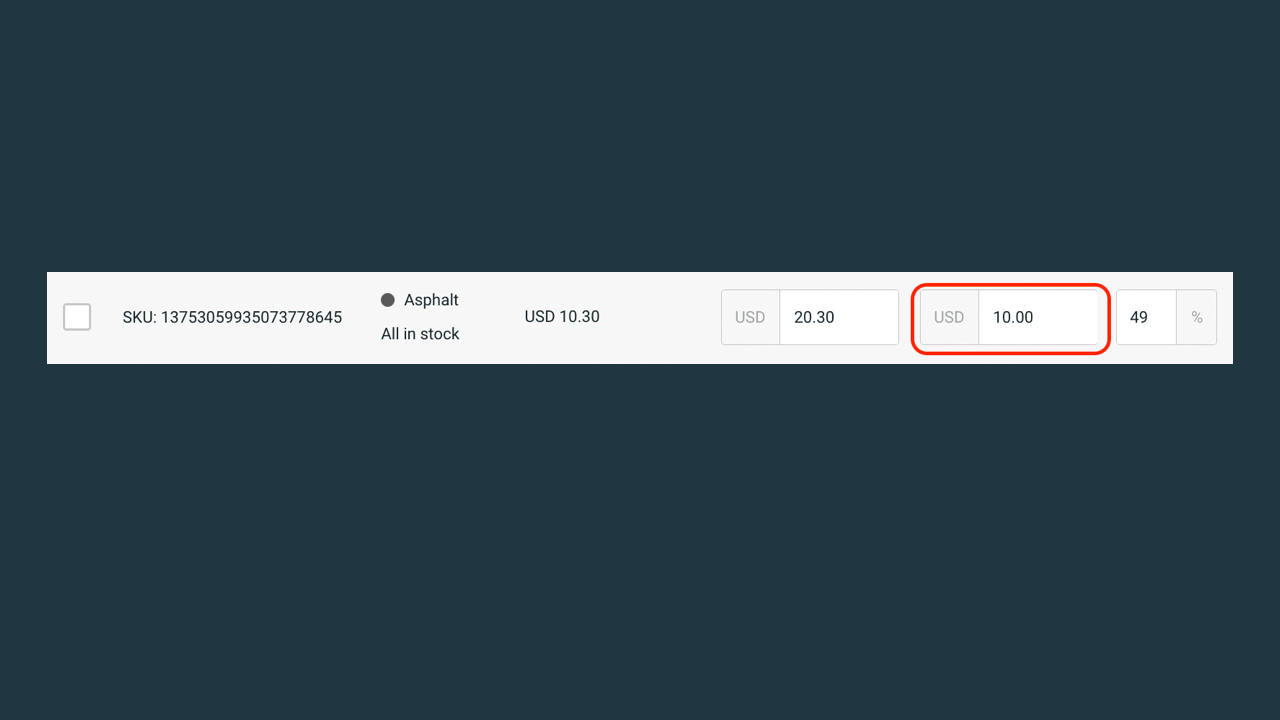 Set the price directly to add other costs – for instance, add to the price the amount of shipping when offering free shipping: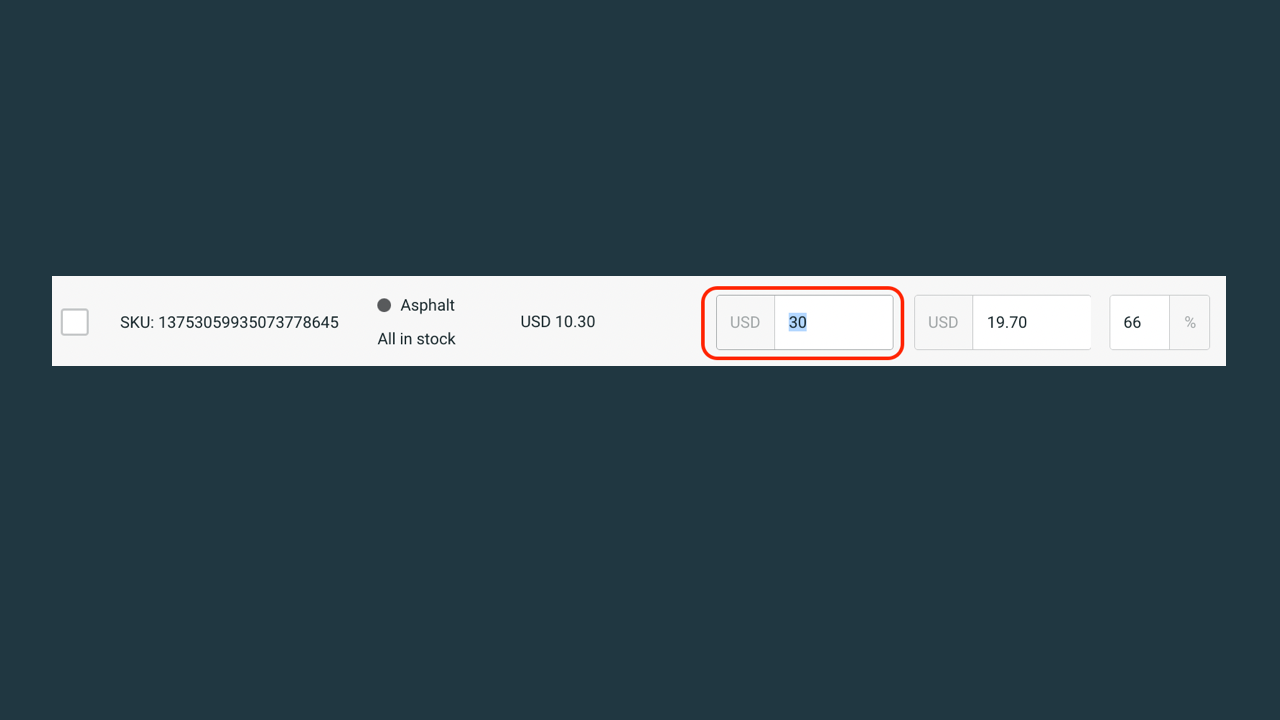 How the profit margin is calculated will depend on your business requirements, which may change with time. 
Determining the best profit margin for your t-shirt involves factoring in fixed and variable costs, business models, and target markets. 
Factor in these elements and fundamental formulas and methods to calculate prices and create your own calculator. 
Finally, some of the Printify advantages in producing a t-shirt line, including the ease of creating and customizing products and setting the price.
Start Your T-Shirt Business With Printify Today. No Upfront Costs, Best Profit Margins in the POD Industry
Share the article
Topics