How to sell your art online?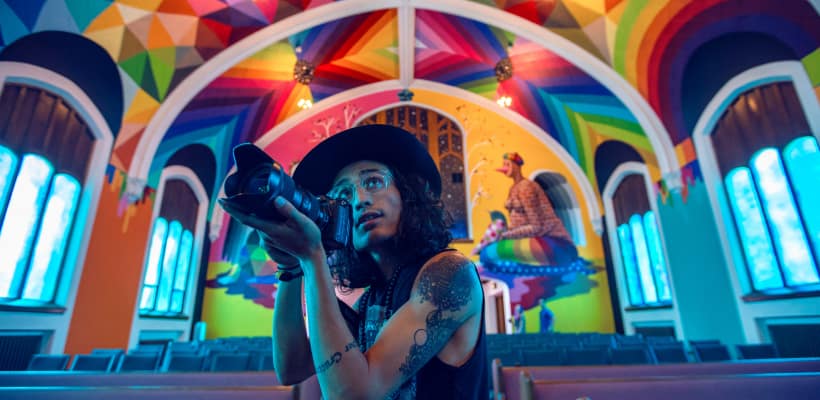 When the internet was first becoming the e-commerce powerhouse it is today, everyone from clothing retailers to electronics manufacturers questioned whether or not their products would be viable online. No one will want to buy clothes they can't try on first, the clothes stores and department stores said. We now know this isn't true – but one corner of the market still resisted the draw of the internet – art. Here's our start to finish guide on how to sell your art with custom printed canvas.
New markets redefining how to sell art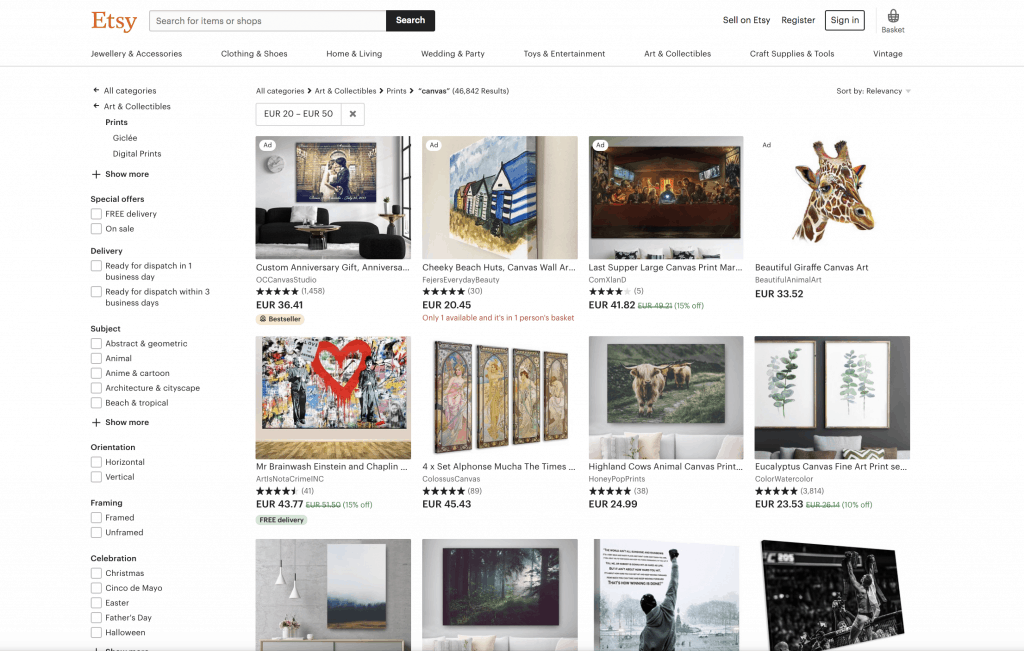 For many years, artists resisted putting their works online, because they would typically be asked to set a price. Prices at art galleries are negotiated on the spot, and setting a price online was seen as "tacky" and might devalue the piece itself. No longer. Times change and the internet is creating more exposure for artists to sell their art – and actually, increase the value of their art by exposing them to new markets and people. This is truly a great time to sell your art online.
How to sell art online?
In fact – online art sales have nearly tripled in the last five years, according to a study on Online art sales by insurance company Hiscox.
This means there's serious potential to sell your art online. Since 2013, the online art market has gone from $1.5 billion to over $4.6 billion in 2018. This is just an estimate, the survey takes publicly available information as well as a survey of the main online art sales platforms, but can't measure the market entirely. The picture it paints is still stunning – more and more art is being bought and sold online, and you should take the opportunity to sell your art online as well! The authors of the report estimate that the market should grow at an equally impressive 15% per year.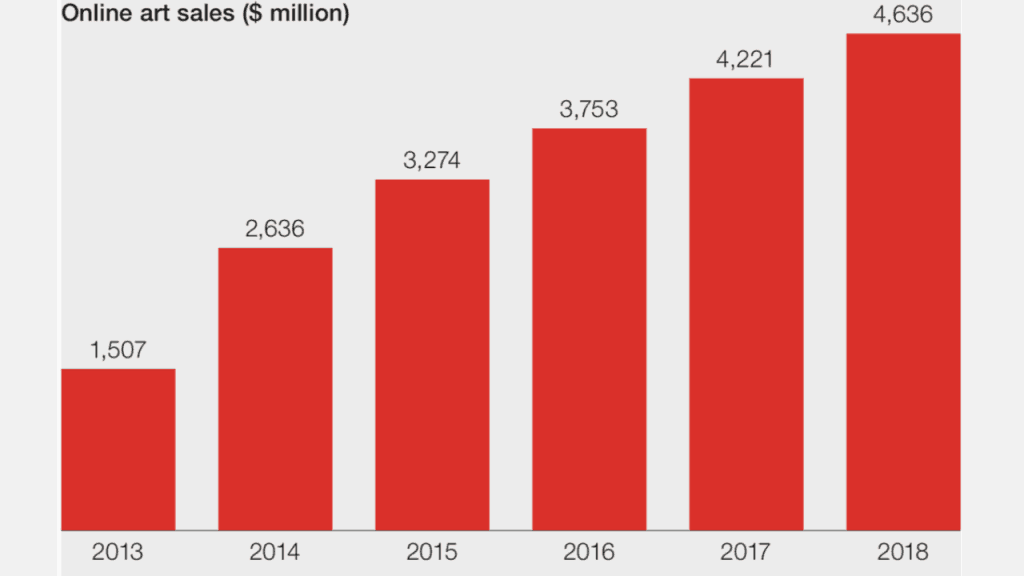 Big Spenders Spending
The report also talks about the stigma that's being removed by big spenders – defined as those spending more than $100k a year on art. 50% of respondents in this category say they're visiting online art portals multiple times a week, and 47% in 2018 say that they've bought art online in the last year, an increase from 30% in 2017. So don't be afraid to sell your art online, not only has the stigma been removed, but big-ticket items are being bought and sold online already – as the market increases, so do the value of the art. Even huge dealers like David Zwirner and Gagosian have launched online viewing rooms, with Gasgogian selling a $6 million piece last month. We've come a long way since online art sales were viewed as cheap and a way that art was devalued.

Types of Art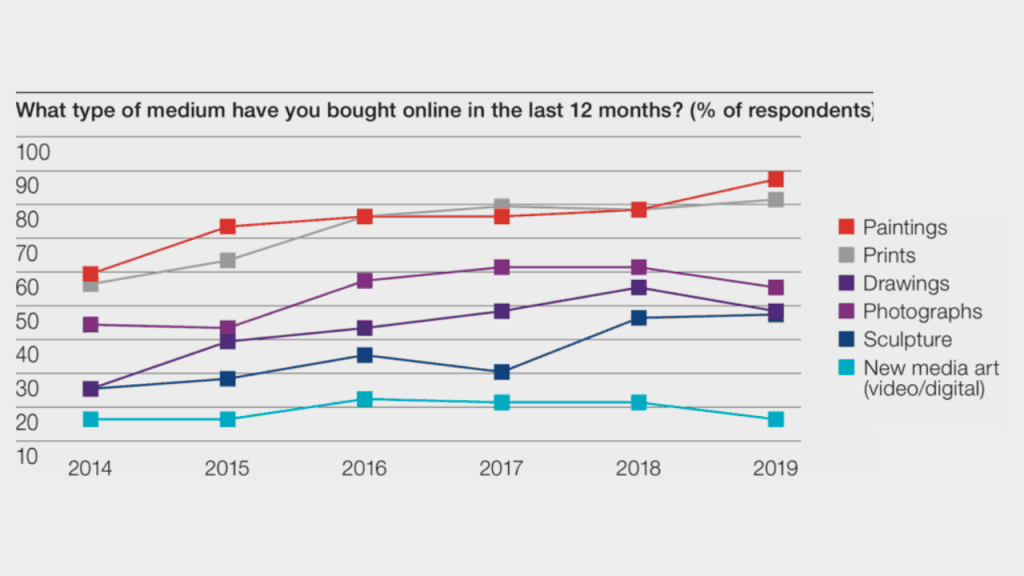 And what is being bought and sold, and how to sell your art? Respondents to the Hiscox survey indicate that the number one seller is paintings, at nearly 85% of respondents. The number two seller? Prints, at over 80% of respondents. That means that the market for prints online is huge and so is the market to sell your art. Interestingly, nearly everyone buying art is also buying a print. With such huge potential, it's no wonder that more and more artists are putting their work online for sale. Even sculpture enjoys purchases from at least 50% of respondents – truly amazing!

How to sell your art prints: where?
The first step to sell your art is to choose where you want to sell your prints. Etsy is a great online marketplace for print art and is an easy place to gain some exposure quickly. You could also consider Shopify if you'd like to have your own site and allow you to brand yourself a little bit more creatively, Shopify is the largest online e-commerce platform in the world. Using Shopify will also give you easy access to advanced sales metrics and analysis, and also allow you to have your own domain name.
If you already have a website and don't want to transition to Shopify and are a bit more technical, you can sell prints on your WordPress site by using Woocommerce, the massive free online shop plugin for WordPress, to sell your art. The great news is that all of these choices integrate with Printify, so you'll have an easy path to sell your art prints with Printify.

What bestsellers teach us on how to sell art?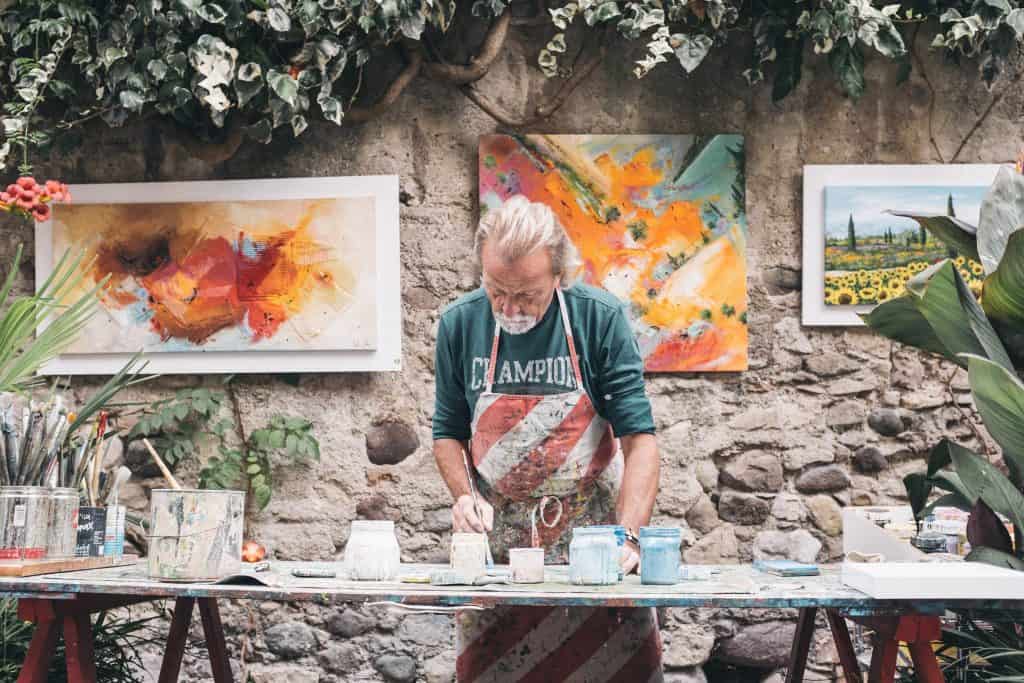 From Abstract to Grafitti, what type of art sells the best, and what type should you put up? It's a trick question! Most types of art sell online, just as in real life. Like at galleries, people are interested in putting a print on their wall in some living space in their house, so consider that most people's budget for print, canvas art is the same as for any other decoration in their house. This doesn't mean you can't sell your art – we have a lot of artists that make a living from selling their art online.
Here are the most popular types of art for online sales, according to a survey from Art Business Today:

Traditional landscapes
Local views
Modern or semi-abstract landscapes
Abstracts
Dogs
Figure studies
Seascapes, harbors, and beach scenes
Wildlife
Impressionistic landscapes
Nudes
As you can see, this list nearly mirrors what an art gallery owner or collection curator would tell you. That's good news for artists – it means there is a market for your art online! If you're like most artists, from time to time it's a good idea to do a commercial piece, just to keep yourself afloat and make sure you're able to keep driving at your passion. Local landscapes are a great seller, seascapes are good at vacation destinations so are popular for beach or vacation properties, and impressionistic style landscapes sell particularly well.

Sell your art with custom printed canvas & printed on demand
Getting your art scanned
If your art is mainly digital, created in a program like Adobe Illustrator, then you're in great shape – most of your art can just be neatly transplanted to be used in online print sales.
However, If most of your art is mainly physical paintings and not digitized, you may be wondering how to sell your art online. You're right to think that you'll need a high-quality image of your art for printing, but how do you do this? If you have large canvases or pieces, then your only option is to find a print shop to scan it – a total bummer. Luckily, you should be able to use a decent quality scanner or even a digital camera to take an image of your artwork if it's on the more manageable side. From there, if you have photoshop skills, you can edit it and adjust for contrast and brightness.

Check out this handy tutorial from Iris from "Iris Impressions" to find out how to get that art digitized.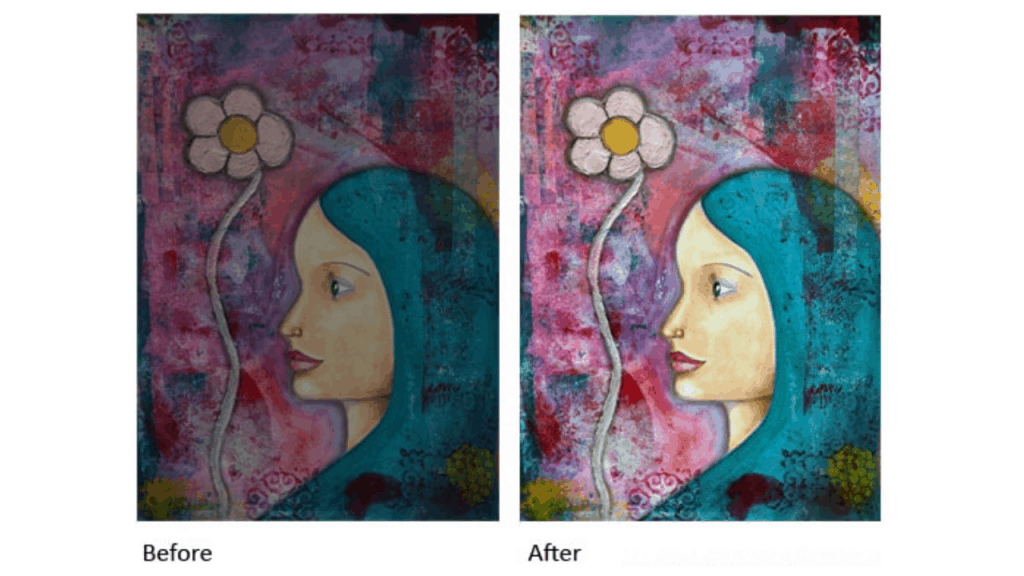 How to sell your art: Set up
Now you've got your store set up, your next step is to get your prints up and onto the store with Printify – print-on-demand platform. We've got a great deep dive on the intricacies of how to get started, so take a look at these additional articles if you're wondering about Getting Started With Prinitfy.
If you're going to sell your art, you definitely need to get the product page down right. You'll begin making your print with our editor:

Pay attention to the size in the bottom right that indicates the best pixel size for the print. We'll also automatically test the quality of the image and let you know if it meets our printing standards. You can change the style by clicking the gear icon at the top, which also shows the size variants that you can make your print available in.
Remember that with print on demand, there's nothing printed until its sold, so you can sell your art in many different sizes before having to print them.
Publish your product and go live through your platform to get it up for sale.

Already found what you were looking for?
Make it happen right now.
How to sell your art: marketing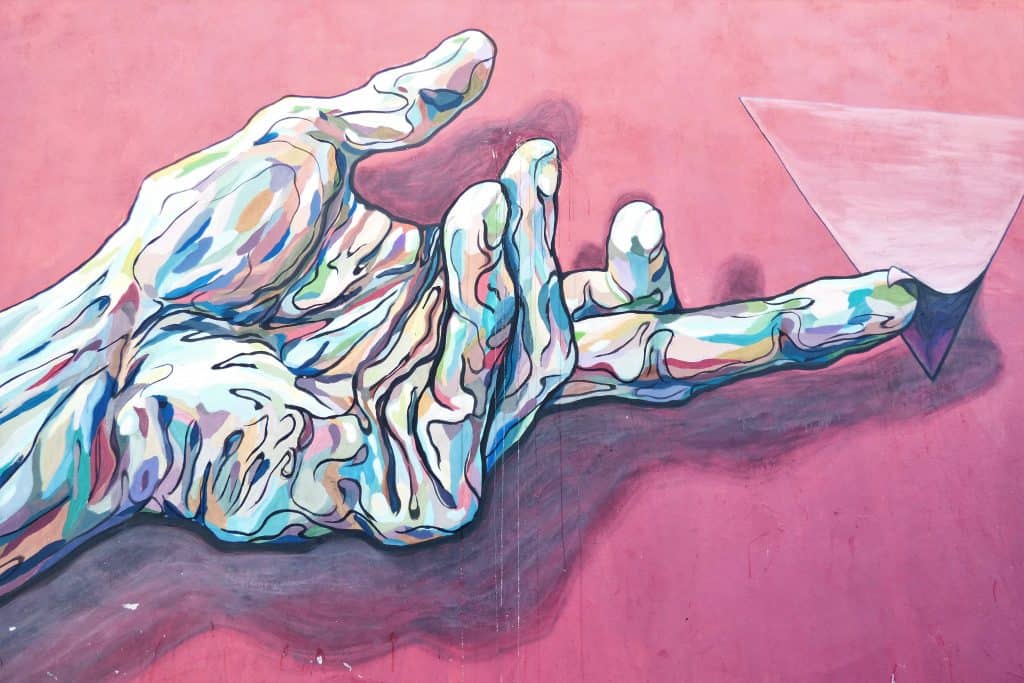 Now comes the difficult part: getting buyers to buy your prints online. Getting sales is all about traffic to your products, and traffic comes from different sources. A lot of money can be paid in order to sell your art online and get traffic, but you're trying to make money with your art, right?

Useful source: 9-Step Guide to Marketing Your Art Without Being Salesy
Etsy is perfect if you're just starting out and need a platform for exposure. Etsy provides built-in traffic and searches features that you don't have to pay for until you make a sale. Many artists and creatives choose Etsy for just this reason, they want to be discovered or want the built-in traffic that Etsy's platform provides them. If you're just starting out as an artist, or you're considering building a separate online identity for print sales, then Etsy might be your best route, especially at first.

If you're a more established artist and you have a decent following, or you like the flexibility that your own platform brings, then you may want to choose Shopify. Shopify is the ideal solution for getting a site up and running quickly, but you'll have to market yourself for the traffic. Woocommerce is the most complex but also the most flexible setup, and again, you'll have to supply the traffic for the sales!

How to sell your art via social media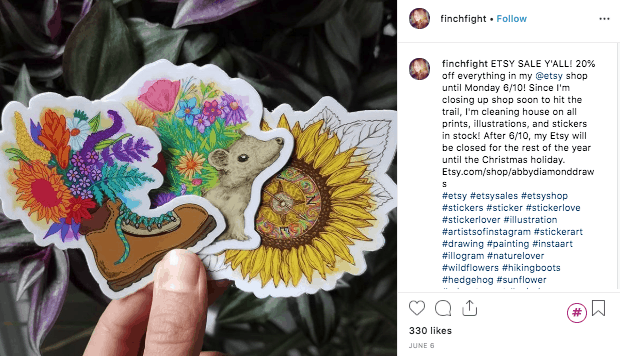 Social media sites like Facebook or Instagram can provide great sources of traffic. Lots of artists, creatives and photographers are on Instagram already and have a significant following.
Useful source: Top 20 must-follow artists on Instagram
If this describes you, then you can make your page shoppable and your Instagram followers can view and purchase products directly from the app! Other things you can do: ask your friends and family to like and share your art now that you've launched your store. You can also use social media to sell your art through giveaways or contests – these are usually pretty cheap because you're providing products at your cost, but increase your breadth and reach tremendously!

We've taken you from start to finish through why online art sales are growing, how the stigma for selling art online is going away for artists, your own sales potential and how to get started selling the most popular selling prints with Printify. We hope you've found this overview fun and informative!

Get started selling today and start making money with your art!
At Printify, we have tons of help, support, and love for our creatives and are 100% focused on helping you succeed. Log in today and begin your print journey!
Make it happen right now.
Share the article
Topics