Guide to Facebook Marketing Success
Just because your parents are on Facebook doesn't mean it's dead. On the contrary, it means you can reach more people who have cash to splash.
Many brands try Facebook Ads, get disappointing results and then blame the platform for it. But it's not because Facebook's user base is evolving that its ads are less effective. It's because brands don't know how to set up and run successful campaigns that reach new audiences and drive sales.
If you're looking to explore Facebook marketing options, we'll show you how to get off to the right start.
How To Set Up Your Facebook Business Page For Success
Choose Your Profile Picture Carefully
The technical side of adding a profile image on your business page will take no effort at all. What you need to put effort into is choosing the right type of profile photo. If you've managed to build a well-known brand, it's probably best to use your logo. If you're a public figure, celebrity or a rising star, you will want to use your face to give your business page that extra dash of dazzle and credibility. And finally, if you're a new brand, product or a less-known local business, consider using a well-shot, high-quality image of your product or offering to attract the right followers and strike an immediate connection.
Whichever scenario is right for you, make sure your profile image has a strong composition and a unique style that represents your brand well.
Place a Call-to-action on Your Cover Photo
With online tools like Canva or our personal favorite Design Wizard, creating striking cover photos is fast, simple and free, so you have no excuse for slacking on this task. And days when you needed to pay an expensive designer are over. Next uploading a custom cover image grants you the opportunity to get your brand's message across to a new audience in an instant as well as advertise a product or service without being too obtrusive. An important thing to keep in mind when designing a cover photo is the size difference between a standard Facebook cover photo shown to desktop users and the one rendered on mobile phones. When crafting a cover image, try to use your brand's colors and keep the copy to a minimum — it's supposed to be a visual element, after all.
Once you have the right image, add a call-to-action button to prompt your followers to take an action. There are many CTA's to choose from, including "Book Services", "Get in Touch" and "Learn More".
Complete Your Facebook Business Bio
One of the most important aspects of a successful Facebook business page is an up-to-date, detailed about us section. It's a simple and effective way to be easily found online as well as an opportunity to share your story and mission with followers and potential customers. Check and double-check the information provided on the About tab to ensure you've shared the right address, phone number and email address. Although a seemingly small detail, an incomplete business bio can be a red flag for cautious customers.  
Add an Online Shop to Your Facebook Page
Facebook now allows businesses to choose a template for their business page based on the type of services they're offering. To add a shopping functionality and enable your followers to shop your products directly from Facebook, simply navigate to your timeline and you will see a "Add a Shop Section" button located just below the cover image on the right side.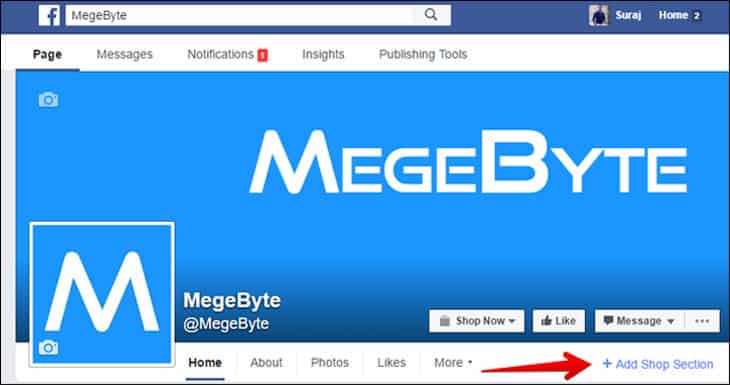 You should get a pop-up after clicking on the button. Fill in your details, configure your payment method (checking out on Facebook is the recommended option) and once the shop is live and buzzing, add your products and start selling. It's a straightforward process, so you can't go wrong!
Getting Your Facebook Marketing Strategy Right: Tips and Tricks
Develop Your Brand's Voice and Tone Tailored to Facebook
How a brand communicates will determine the type of followers it attracts on social media channels. So, before you start posting on Facebook, figure out your target personas and craft your messaging accordingly. There are many ways how you can establish your voice and tone. For instance, you could post behind-the-scenes content to show the human side of your brand and let your followers in on a few secrets. It can help you create an emotional connection with potential customers.
To develop strong buyer personas, this is what you need to know about your ideal customers:
Background: what do they do for a living? What's their education? What are their interests? What is it they don't like?
Demographics: age range, gender, income, location
Identifiers: buzzwords, mannerisms or habits. For example, people who struggle with technology or, on the contrary, are technophiles.
Challenges & pain points: what problems and struggles are they facing and how can your products solve them?
Direct quotes: how do they speak? What language/words do they use?
Objections: how do they talk themselves out of buying something? And how can you overcome that?   
Launch a Facebook Group
The point of creating a Facebook group is to build a community of like-minded people. It has to be stressed that a brand's Facebook group isn't just another promotional avenue; it's not about you. You should strive to provide your customers more value and make them feel special and part of an exclusive group. For example, you could create a group only for the people who purchased your products or services, giving them exclusive access to behind-the-scenes content or upcoming offerings and deals. You can also use the Facebook group to gather feedback and ideas, establish a stronger connection with your followers and understand their needs. Once your followers become loyal fans, a Facebook group can turn out to be a breeding ground for brand ambassadors.   
For instance, Coconut, the UK's first current account for freelancers and self-employed people, have set up Coconut Bite, a closed group for its early customers. The brand uses the group to learn more about the challenges and struggles that its customers are facing on a daily basis as well as to announce product updates and new features.
Explore the Facebook Live Feature
Facebook Live can be a great tool to achieve more exposure and create value for your followers. One of the most obvious ways to leverage this feature is to take your customers where they can't go — events, conferences, behind-the-scenes spots, creative labs, and so on. Be sure to promote your broadcast before you go live to allow users to plan their time and submit questions.
Another way to leverage Facebook Live is to team up with an industry influencer — either to work on an exciting new project together, talk about something that your audience finds interesting or hold a live Q&A session. Influencer marketing is one of the most effective tools in a marketer's arsenal; all you need to do is adapt it to your Facebook audience.
Team Up With Influencers
Keep in mind that influencer marketing is based on relationship building, so it might not happen overnight. However, cultivating connections with people that typically have a large following and an established brand should be an important part of your Facebook marketing strategy. Their endorsement can help you reach a much wider audience, gain new followers and create social proof that's key to selling online. Lastly, think about working with micro-influencers, too. These are people that enjoy a smaller but usually more engaged following and can have a huge influence on their fans' buying decisions.
Learn How to Build Custom Audiences for Retargeting
So what's retargeting all about? In a nutshell, retargeting is a marketing tool that delivers your ads on Facebook to people who have already expressed interest in your brand. It's a great way to re-engage your visitors, remind them about your products or services and give them another opportunity to convert.
To enable Facebook's Custom Audiences, you will need to install a snippet of code on your website that will place a cookie on the browsers of those who visit your website.This code can track visits, sign ups, purchases and other valuable information between your website and your Facebook page, allowing you to retarget your Facebook ads to specific users. For example, you will be able to show one ad to people who browsed a certain page on your site, and a completely different one to those who abandoned a shopping cart on your site. The more targeted and relevant are your ads, the more likely they are to convert prospects into customers.
Interact with Businesses That Like Your Page
Did you know that, as a brand, you can like and follow other companies? Navigate to your Facebook page, click on "Edit Page" in your Admin Panel and select "Use Facebook as your page". This is an effective tactic to reach out to similar companies and raise brand awareness. It's likely that the brands you like will follow you back, increasing your exposure to their community. If your followers share the same interests and values, this may even grow into a co-marketing campaign at some point.
Set up Automatic Replies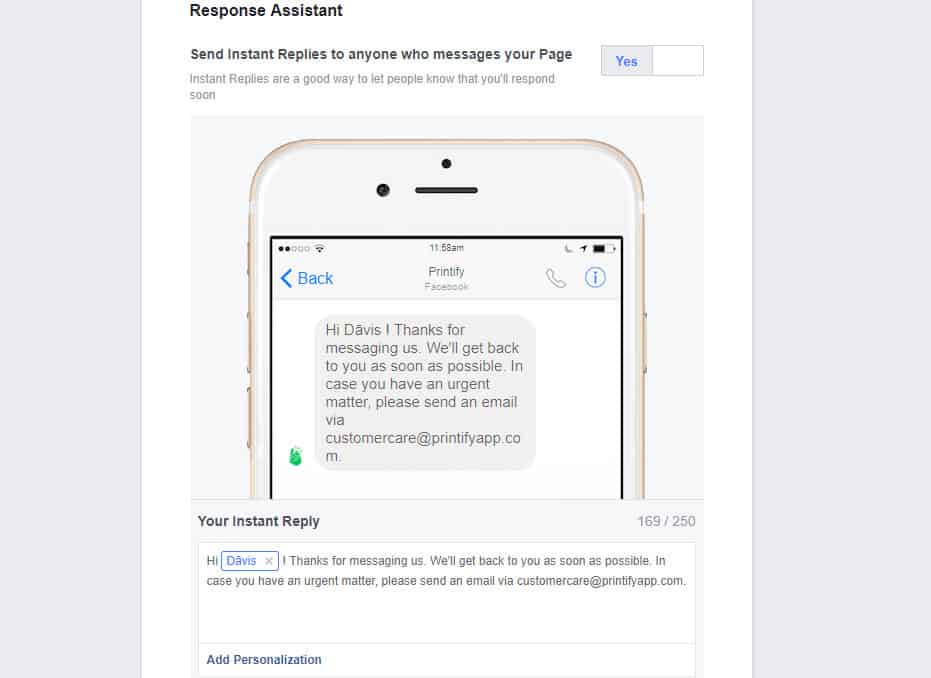 Although your customers may expect that, you can't be on social media 24/7. That's where automatic replies come in and save the day. Whether you're unreachable or swamped with messages from other customers, it's always a good idea to have an automatic reply set up to reassure the person on the other end that a) you've got their message, b) their message is important to you and c) you will get back to them as soon as you can. To set up Instant Replies, click on "Settings" at the top of your Page, then click on "Messaging" in the left column, enable instant replies and create a custom message. Note that if your Page's status is set to "Away", Instant Replies won't be sent.
Leverage Facebook Events
Whether you're hosting a community event or organising a conference, Facebook marketing can help you generate buzz and increase attendance. Simply create a Facebook event page for your event and start inviting people who might find it interesting. The added bonus of Facebook RSVP's is that they're shown to your attendee's connections, increasing the visibility of your event and ultimately, attracting new blood. Once the page is up, make sure you enable comments and post regular updates, including videos — this will help you amplify your marketing and build up excitement.
Figure Out the Frequency of Your Posts
Posting more often does not mean you will attract more followers or increase your engagement levels. In fact, it might do the opposite. CoSchedule suggests that the best strategy for Facebook is to publish one new post per day, between 1:00 pm and 4:00 pm. If you do content curation, it's recommended to curate or reshare a post every other day to strike a balance between unique content and popular content. However, don't follow these rules blindly. Spend some time researching your audience and their preferences to deliver the right content at the right time.
How to Create Much Better Facebook Posts than Your Average Business Talk
Make Every Post Targeted to Your Audience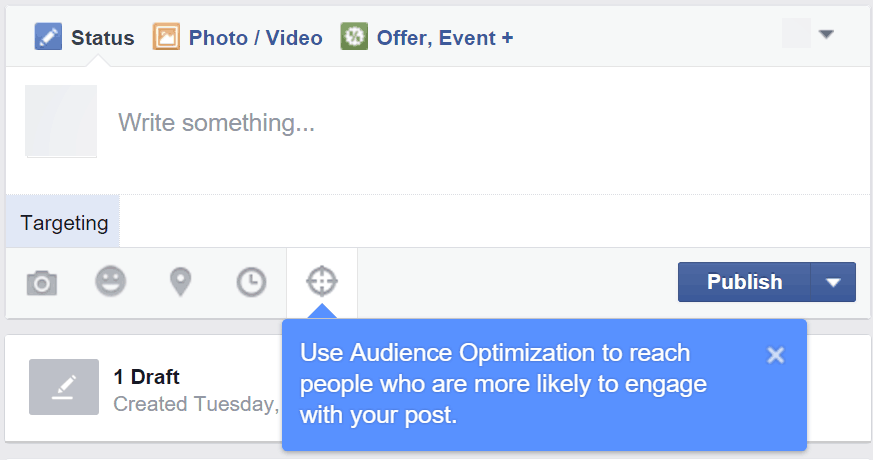 You have probably heard about Facebook ad targeting, but did you know you can target any post to a certain demographic? That's right! Every one of your posts can be tailored and optimised. Besides the general demographics, such as age, gender, location, language and other, there are several more targeting options, including interests. If you decide to explore this feature, keep in mind that targeted posts are shown only to those followers that meet the targeting criteria (however, the post is still visible to everyone on your timeline).
Image size guide for Facebook
Facebook users love visual content and they expect top quality at all times. To ensure your pictures maintain their proportion and clarity, you need to pay attention to image sizes. There are so many different types of images to consider when posting to Facebook that it's never a bad idea to keep a size chart handy. Here's what you need to know:
Profile photo: 320 x 320 px
Cover photo: 820 x 312 px (displays as 640 x 360 px on smartphones)
Facebook photo: 504 px max width, height varies (recommended upload size 1200 x 628 px)
Facebook video: minimum width 600 pixels
Clicks to website (shared articles): 474 x 249 px (displays as 560 x 292 px on smartphones). Recommended upload size: 1200 x 628 px
Carousel ads: 470 x 264 px
Think About Post Timing
When's the best time to post on Facebook? Interestingly, weekends seem to be a much better time to post on Facebook than, say, Monday or Tuesday. In fact, Sundays have a 32% higher engagement than any other day. The following times have been determined to be the peak times for Facebook posts:
Saturday and Sunday at 12–1 pm
Thursday and Friday at 1–4 pm
Wednesday at 3pm
In general, 1pm, 3pm and 9am are the optimal times to publish new content on Facebook.
Tag Companies and People in Your Facebook Posts
Tagging relevant people or other brands in your Facebook posts isn't just about getting more eyeballs on your content. It's also a great way to make them more engaging and spark interesting conversations that will encourage people to share, like and comment. Tagging on Facebook is incredibly easy; simply use the "@" sign to prompt live search and start typing the name of the person or brand (without any spacing), then select the correct match.  
There's More to Facebook Posts Than Just Sharing Links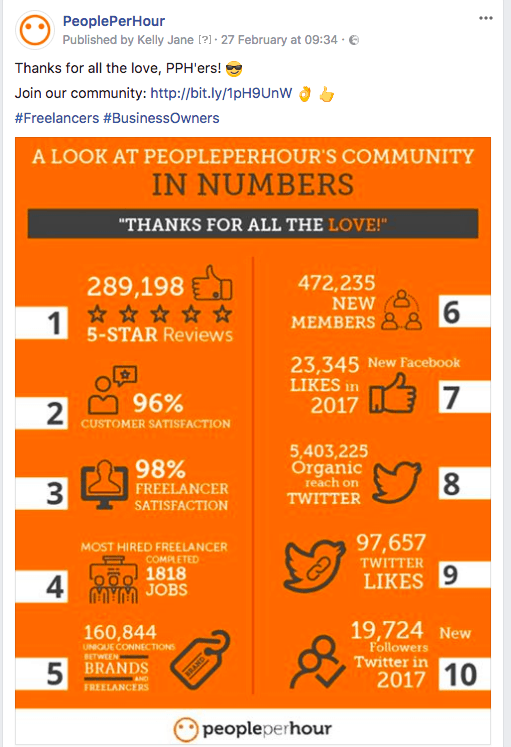 It's easy to fall into the trap of sharing links on Facebook, especially for businesses that want to keep their Page looking fresh. However, what your Facebook strategy really needs is a healthy mix of different types of posts – everything from video and text to slides and images. You will discover that some of your users prefer video, while others are drawn to text posts – a varied mix will help you keep everyone happy.
Ways to Boost Your Facebook Page Likes
Invite People Who Liked Your Facebook Post to Like Your Page
It's one of the little-known Facebook hacks that can help you increase your Page likes almost instantaneously. If you're thinking how anyone could like your posts without liking your page first, here are a few scenarios: 1) your Page's post showed up in their feed because their friend or a brand they follow shared it; 2) they saw a story in their Activity Feed about one of their friends engaging with your post.
It's one of the little-known Facebook hacks that can help you increase your Page likes almost instantaneously. If you're thinking how anyone could like your posts without liking your page first, here are a few scenarios: 1) your Page's post showed up in their feed because their friend or a brand they follow shared it; 2) they saw a story in their Activity Feed about one of their friends engaging with your post.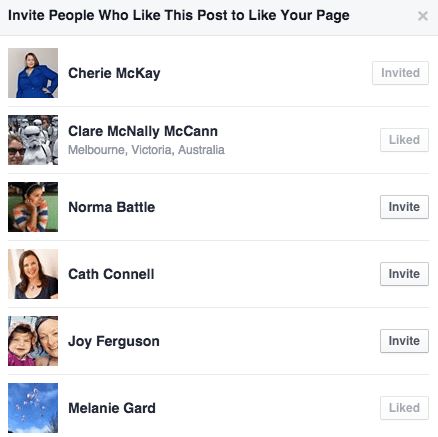 The fact that they've already liked your post means you've made a good first impression. Now it's time to take that a step further and remind them about yourself. So, to invite these Facebook users to like your Page, log into Facebook's desktop version and ensure you're using your Facebook page as you (not as your Page). Then click on the "Others" hyperlink under your post and use the pop-up window to invite people, who aren't following you yet, to hit the like button. Make sure you do that regularly, leaving no more than 24 hours between the time they like your post and your invitation.
Don't Forget to Add Social Buttons to Your Website
Cross-promoting your Facebook Page on your company website is one of the most effective ways to increase likes and make it easier for your customers to connect with your brand on social media. Your website is your business hub and it's where you have the most traffic, so including social media buttons will increase the likelihood of your content and business details being shared by excited visitors. And it's good for the user experience, too. It saves users time and effort for your users to have all the links waiting for them rather than having to search for your brand on various platforms.
Put Your Email Signature to Work

Chances are, you send a bunch of emails every day. Why not make those emails go the extra mile for your business? The simplest way to do that is to pop a link to your Facebook Page within your email signature using a tool like Wisestamp. It's free and really easy to set up, but can help you get your Facebook Page in front of some highly important people.
Remember to Pin Your Best Content to the Top of Your Business Page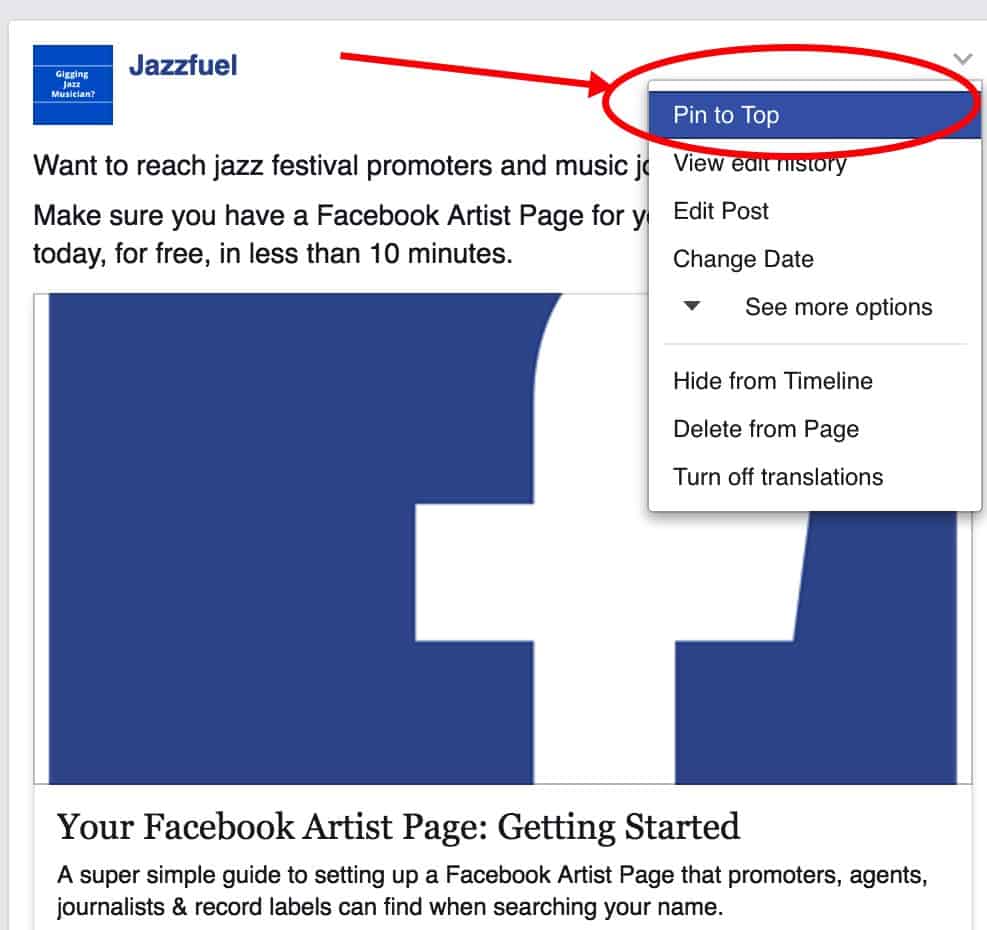 When it comes to making a long-lasting impression on a potential customer, your best content can serve as a reassuring reminder of your expertise in the field. You want to keep it visible and easily accessible. That's where post pinning comes in. Usually, before liking a page, Facebook users give it a quick glance-over to make sure it's nothing dodgy — you have a few seconds to establish trust and prompt them to hit that thumbs-up button. Use post pinning to bring up your best quality content, ensuring it gets more views than your day-to-day standard posts.  
How to Use Facebook Advertising to Generate More Likes For Your Page
Give Facebook ads a try
By now, we have established the fact that every business needs a Facebook Page. However, growing that page beyond the initial wave of likes from friends, family and loyal customers is what we still need to figure out. Facebook ads can be a very helpful tool to drive engagement, raise brand awareness and increase your page likes. They can be used to achieve a wide range of goals — from simply getting your content to be seen by more people, to generating leads, and everything in between. Facebook Ad Manager allows you to select a target audience, set a daily budget and monitor the performance of your ads, so you can continue to refine and tweak your campaign until you start seeing results.
Explore and Experiment With New Ad Formats
From simple link-click ads to carousel ads to video advertising, Facebook gives you a full range of options to explore and test. Every ad type has its pros and cons, so before choosing one, you really need to know the objectives of your campaign and what would constitute success when it wraps up. The newest addition to Facebook's ad types is Collection Ads, which allows you to showcase multiple products that are being sold on your site. If you're running an ecommerce business, you know the value of visual content. Collection Ads create a visual, immersive experience that helps shoppers to discover, browse and purchase products faster and more conveniently.
How to select the right Audience for your Ad targeting
Unlike many other advertising outlets, Facebook offers incredible targeting options (that explains why it's so popular among marketers). With such an over-the-top targeting opportunity, it's critical to define your audience and not shoot for too broad of a crowd. The assumption that wider audience automatically means more engagement is wrong. If you want to really deep-dive into this, Facebook ads will allow you to target anyone from iPhone users to pet-owning running enthusiasts.
To reduce potential advertising waste, it's key to construct your ads on the base of your buying personas. You should customize all ad content for each persona you created, starting from the image, headline and copy and finishing with the offer itself. Facebook also has audience insights that can shine more light on the interests of your audience and help you nail your ad targeting. Think of your buyer personas as real potential customers from different walks of life: what do they like? How do they communicate? What tickles their fancy? When you know who you're talking to, you will know what and how to say it.
When you navigate to Ads Manager, you will likely be prompted to select your audience.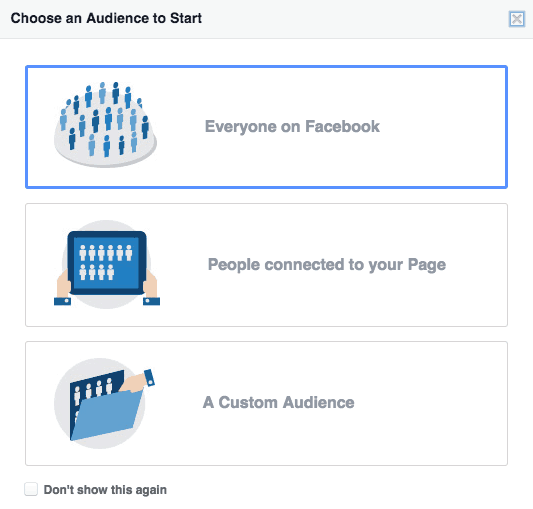 You can deep-dive into the insights provided in "People connected to your Page" to understand your existing audience and later build on that to reach a wider network (or literally everyone) using the "Everyone on Facebook" data.
Use Dynamic Product Ads to Target Your Audience
When your store is full of stock to sell, either populated with products from our Printify product catalog or by other means, it is time to market each product to the corresponding customer. This is where Dynamic product ads come in.
Dynamic product ads is another major step towards digital ad automation. With this new class of ads, you can granularly target different segments of your audience with relevant messages at all stages of the sales funnel. Why is it so great? Because it finally lets marketers reach users whose actions demonstrate purchase intent. Similarly to remarketing ads, dynamic product ads target users based on their past actions or inactions on the advertiser's site with a perfectly timed and tailored ad. It's like a waiter walking up to you with a freshly baked croissant just as you're about to take the first sip of your cappuccino, "Would you like a warm pastry with that?".
Drive More Traffic to Your Website With Facebook Ads
When it comes to referral traffic, Facebook is a powerhouse with nearly 25% of all social referrals under its name. Many Facebook users report using the platform to keep up with industry news and interesting content, so it's not surprising that brands are trying to grab a piece of that traffic pie. One of the most effective ways how to drive traffic back to your site is through Facebook ads. It's important to note that you don't want any traffic, your focus is on attracting relevant people. Allocate some budget to Facebook ads and promote your new content to a targeted audience. A great strategy to start with is targeting your posts to fans and website visitors to entice them to click through and browse your blog and site.
Learn How to Boost Your Posts The Right Way
The first thing to do before boosting a post is setting a strategic goal — what are you trying to achieve? There are many reasons why a brand would want to boost a post, such as increasing brand awareness, increasing brand engagement, driving more website traffic, promoting new content or blog post. When you know exactly what you're trying to achieve, the next step is to maximize your targeting options. Define your target audience by selecting the right location, gender, interests, age and other targeting options. The next step will be to choose the best time for boosting your post, and then you're ready to roll!
Make a Strong Visual Impact With Carousel Ads
Facebook reported that Carousel Ads consistently drive better results and achieve 30-50% lower cost-per-conversion and 20-30% lower cost-per-click than single-image ads. In addition to that, Carousel Ads are incredibly effective at creating a striking visual impact. One of the most interesting ways to stand out is to use them to showcase a single product (example below). But you can also use them to highlight different products, to tell a story or even give a tutorial.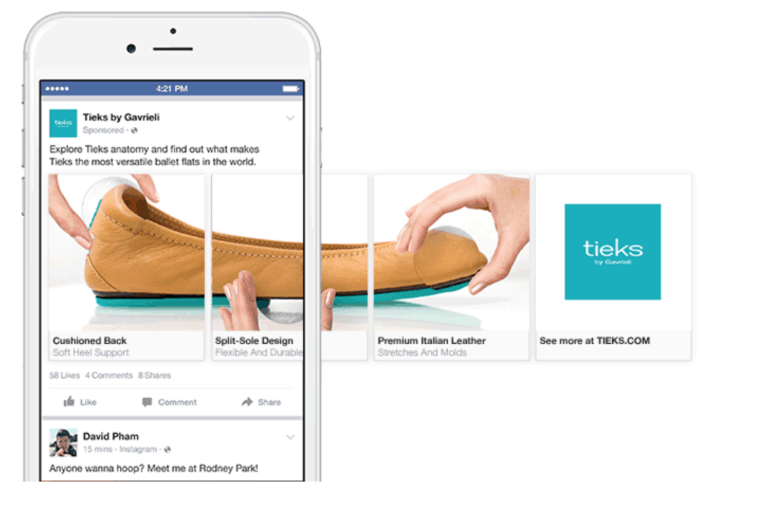 Cross-Promote Your Facebook Ads On Instagram
Facebook and Instagram ads go together like eggs and bacon. Facebook reports that running ads on both platforms improves click-through rates, website conversion, video views and mobile app installs. For instance, MVMT Watches reportedly saw a 20% lower cost per conversion and cost per action when running ads across Facebook and Instagram. It's an effective way to scale your ads campaign quickly by reaching more of your target audience.
Use Facebook Ads Manager to Keep Everything In One Place
Facebook Ads Manager makes it easy to keep your campaigns organised. With a few simple tricks, you can keep your ad campaigns in a neat and easily understandable order. The most important aspect of this organisational strategy is to adopt a consistent naming system and stick to it. The most important elements that you need to include in the ad campaign titles are: the type of ad, the audience you're targeting and the creative description. Keeping it clean and simple will pay off when you need to refer back to one of the ads you ran a few months ago…
Understanding Facebook Analytics
Track Engagement Metrics With Facebook's Internal Analytics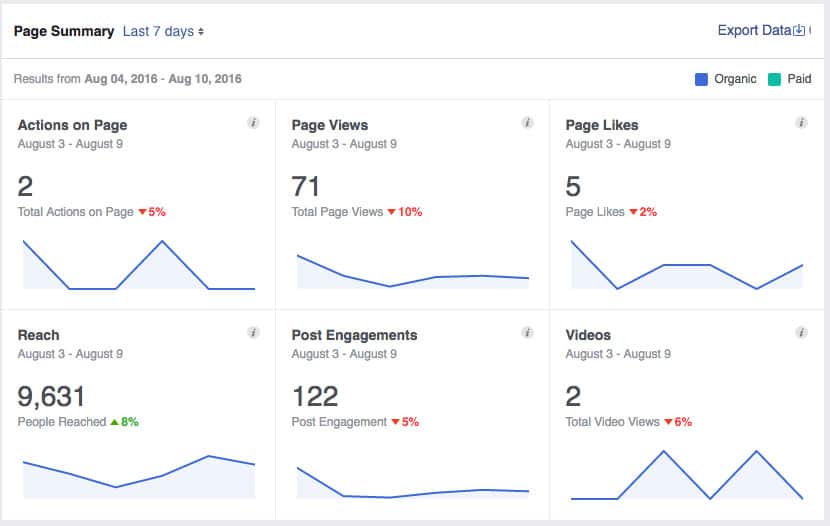 Engagement metric measures the number of times someone liked, reacted to, commented or shared your posts. The best way to do that is through Facebook Insights. You can also track and measure reach and impressions using the same tool. Another important metric to keep an eye on is Page Likes and Follows, which you can find directly on your Facebook Page. It's up to you to decide which metrics you want to track and whichever way you decide to go, there will be a tool for that.
Leverage Google Analytics To Track Facebook Referral Traffic
As discussed earlier, Facebook is incredibly effective at generating referral traffic (the number of visitors your website gets from Facebook). To track and analyse the referral traffic, you will need to go into your Google Analytics account and look it up under Acquisition> Social > Network Referral. Tracking this metric will help you better understand what type of content resonates with your audience and produce more of that!
Keep an eye on your CTR
CTR, or the click-through rate, refers to the percentage of people who click-through to your landing page. It can be a great indication of your ad's relevance to your target audience. For example, if ad impressions are high but your CTR is low, it means people are essentially ignoring your ad. That's not good. Facebook's algorithm will naturally reduce your ad's relevance score, which may result in you paying more per click and getting poorer results. If you see this happening, try to rewrite your copy and change the image.
Track Facebook CPA (Cost Per Action)
Soon after launching a Facebook ad campaign, you will begin wondering whether this investment is paying off. That's where CPA (cost per action) comes in. Instead of measuring costs based on impressions and clicks, it shows you how much it's costing you to achieve a desired action, such as a download, email subscribe or purchase. This is the one metric that will help you better understand the ROI of your ad campaign. The average cost per action across all industries is $18.68, which is a useful benchmark to bear in mind.
Customize Your Page URL
When you create a Facebook Page for your business, Facebook automatically assigns a long and meaningless string of letters and numbers as your page's URL. That makes your page more difficult to navigate to and looks spammy. That's why you should create a short and descriptive custom URL, something like facebook.com/brandname. Some things to keep in mind when brainstorming the URL: make sure it's memorable and easy to spell, avoid using numbers, unless it's part of your brand name, and keep it short and sweet.
And that's all — you're ready to take Facebook by storm. Good luck!
Share the article
Topics