The Best Social Media Platforms for Affiliate Marketing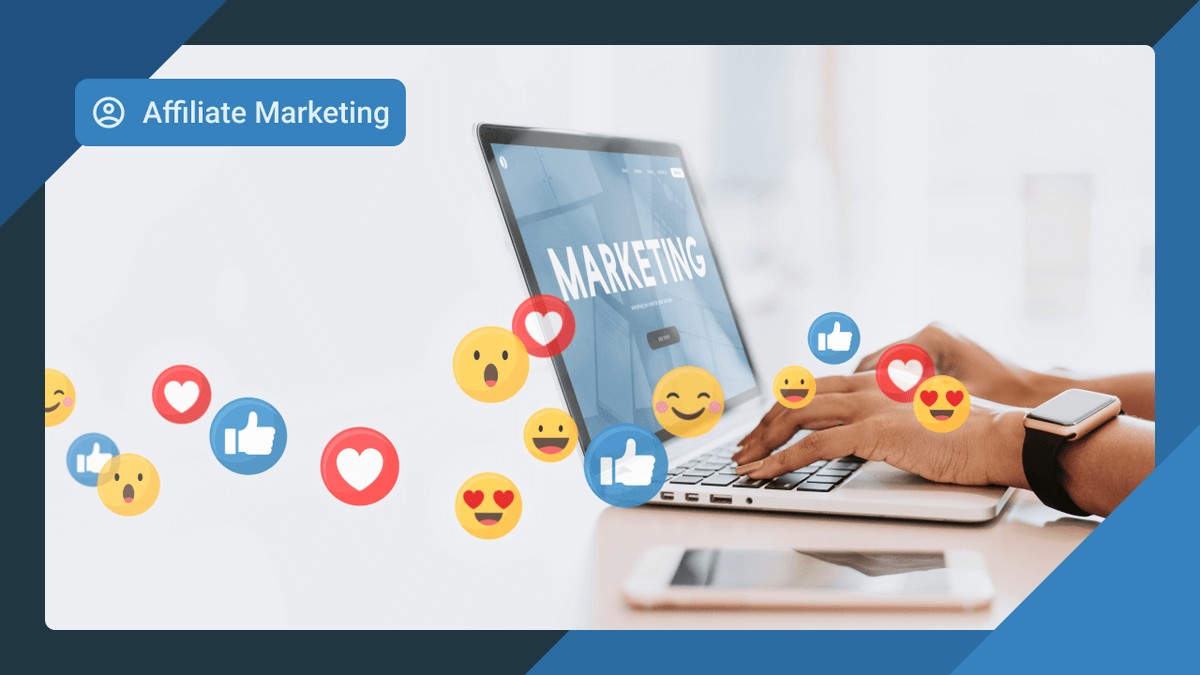 Social media platforms are the main channels for reaching your target audience with creative and compelling content. With more than half of the world (59%) using them daily, it's your chance to earn easy affiliate commissions with a top-notch social media presence.
To help you achieve it, we've compiled a list of the best social media platforms for affiliate marketing. We'll explain how they work and how to choose the perfect match for your affiliate goals. Promote affiliate links on the right channel and excel in affiliate marketing on social media.
How Affiliate Marketing on Social Media Works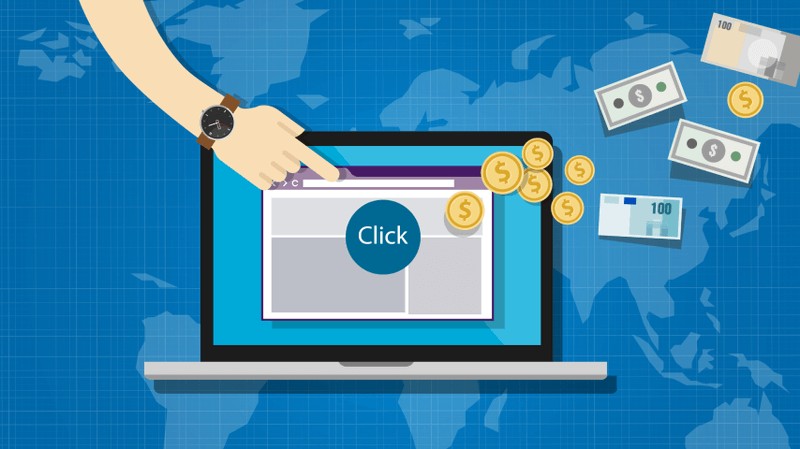 Affiliate marketing on social media is simple, easy – and convenient. But, you must know your target audience and what intrigues it to thrive. 
Most affiliates create their own website or online store to have a dedicated space for displaying their affiliate products. But, to attract visitors, their stores and websites need to be seen and heard. That's where social media comes in handy.
Channels like Instagram, Facebook, and Pinterest are perfect for affiliate website, Etsy marketing, eBay, or Shopify marketing strategies. Create quality listings and product displays and encourage clicks on your posts and affiliate links with enticing content – generating commissions in return.
 You get a referral link from your affiliate program
You create click-worthy content and post it on any social media channel
You include the link and nudge your audience to try out the product or service
People click on it and make a purchase
You get a commission from each final sales price
What Social Media Platforms to Use For Affiliate Marketing
Let's break down six of the most popular social media platforms and see how you can use them to benefit your affiliate promotions.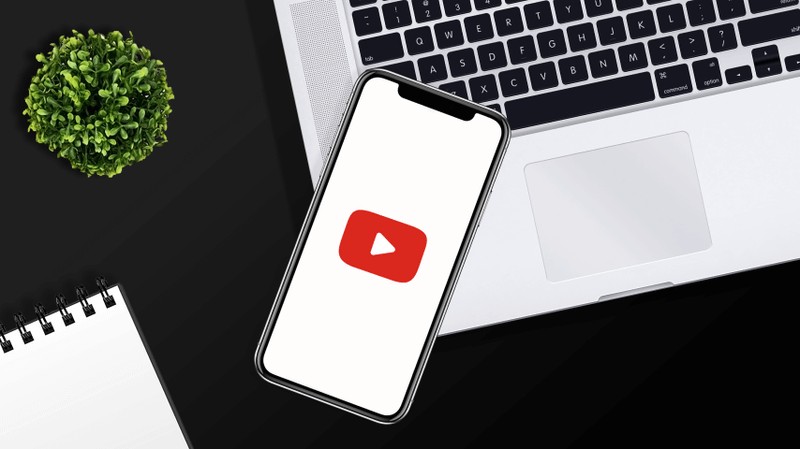 YouTube is still one of the leading social media platforms, with 2.5 billion active monthly users of all age groups. YouTube is a social media platform and search engine – combined into one. Even without many subscribers, you can easily reach people looking for content relevant to them.
YouTube is the perfect channel for posting: 
Product reviews 

Guides

How-to videos

Unboxing videos

Beauty and fashion videos and more
It all depends on the content type and goals of your YouTube affiliate marketing. Mention the affiliate link in the video or put it in the description below to send viewers directly to your affiliate products. Video marketing is highly beneficial – you don't even have to be in front of the camera to utilize every bit of it.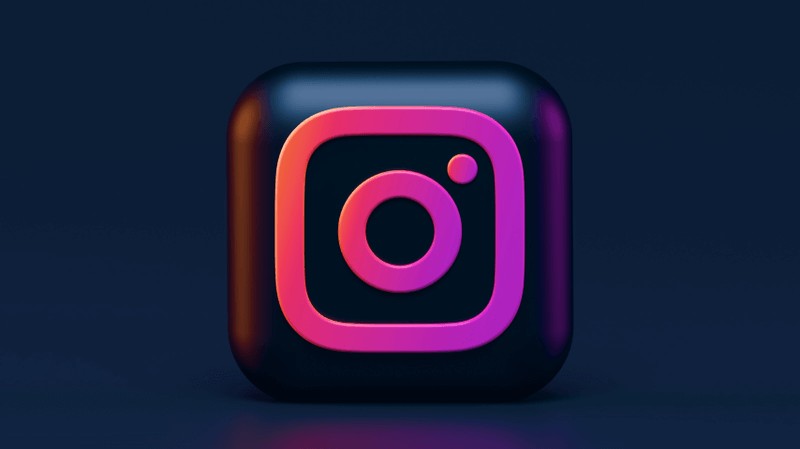 If you have links and discount codes in such affiliate niches as food, gym, beauty, travel, or fashion, Instagram affiliate marketing is definitely for you. Promote your affiliate links through videos or regular posts in the most creative way.
Reels, Stories, IGTV.

Grab attention with enticing captions and video content using Instagram Reels and Stories. Present the affiliate product with filters, tags, and other features to highlight the best properties and deals.
Highlights.

Since stories disappear after 24 hours, Instagram has introduced the Highlights feature. Now you can save the Stories for the audience to see in case they missed the premiere.
Instagram Shop.

Switch to a business account on Instagram and list your products on the Catalog to tag them on the shop page for people to click. 
Link in Bio.

Bio is the only place you can put a clickable affiliate link on Instagram. It will send customers to your landing page and encourage them to make a purchase.

Swipe Up.

If you have over 10,000 followers on Instagram or want to indulge in paid ads, use the swipe-up feature. It will redirect buyers from your Stories directly to a promoted website just by swiping up.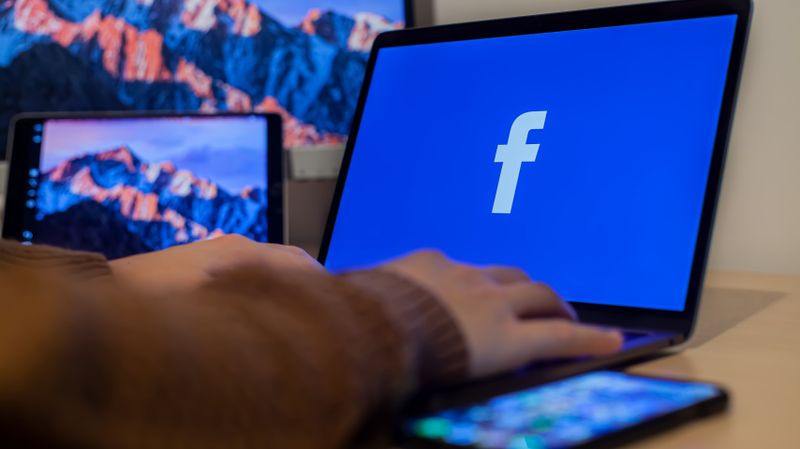 Facebook is one of the oldest but still highly used social media platforms for promoting affiliate links and products. With many ways of utilizing the platform, you can reach free traffic and convert clicks into sales with creativity and enticing content.
Facebook Profile.

Promote affiliate products and links directly on your account page to generate clicks and shares. If your Facebook presence is strong enough, you can easily use it for advertising affiliate offers and promotions.
Facebook Page.

Create a page for your affiliate links and posts to keep your personal life and Facebook profile separate from the affiliate one. Post product reviews, features, and engaging content – boosted with paid ads. 
Facebook Groups.

Joining your niche-related Facebook groups will greatly benefit your business and affiliate marketing strategy. Build a community around your products and establish yourself as a reliable source within the group.
Be sure to read their Advertising Policy before engaging in Facebook affiliate marketing.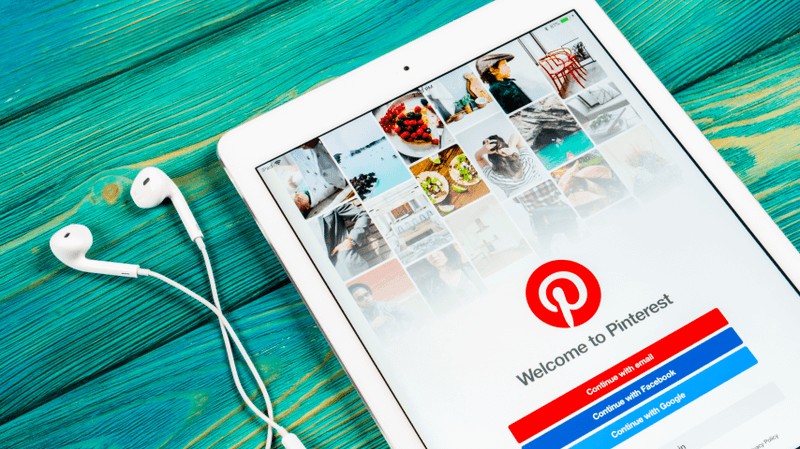 Pinterest is most known for providing ideas and inspiration for DIY projects, home decor, and products people want to buy. But this social media platform has great potential because it serves as a search engine as well. 
When it comes to Google Search, Pinterest will top all other platforms with its positioning.
When your audience searches for something on Google, Pinterest will most likely be at the top of the results with its image-based content. If you invest your time in utilizing Pinterest right, the results will be worth the effort.
How to implement affiliate marketing links on Pinterest:
Create product collections

Post product reviews and descriptions

Post infographics

Create checklists

Post promotional materials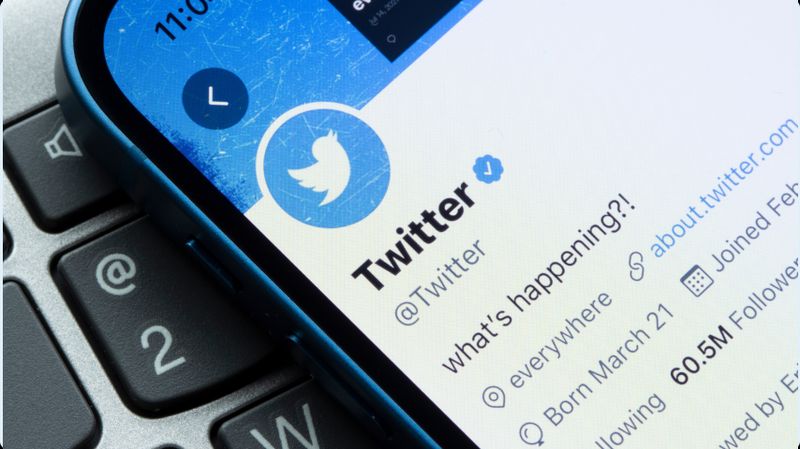 Twitter is mainly for those who can grab attention with a few catchy phrases or words. By limiting users to 280 characters, Twitter requires wit and click-worthy promotions that are straight to the point. While the limitations aren't for everybody, Twitter is a generous platform with free traffic for your affiliate needs.
Rely on Humor.

While a heartfelt message will do just fine, it's easier to seduce an audience with humorous content and headlines. They add a human touch to affiliate promotions and put you in a friendlier light.
Post a Lot.

To establish yourself as a reliable, trustworthy source of information, you need to tell potential customers not just about the product but about yourself as well. Give insight into who you are as a person and what makes you an expert in the products and services you promote.
Use Hashtags.

The best way to be found on Twitter is by using hashtags. They help you reach new customers, followers, and leads. Explore trending hashtags and join the party by using them to the fullest.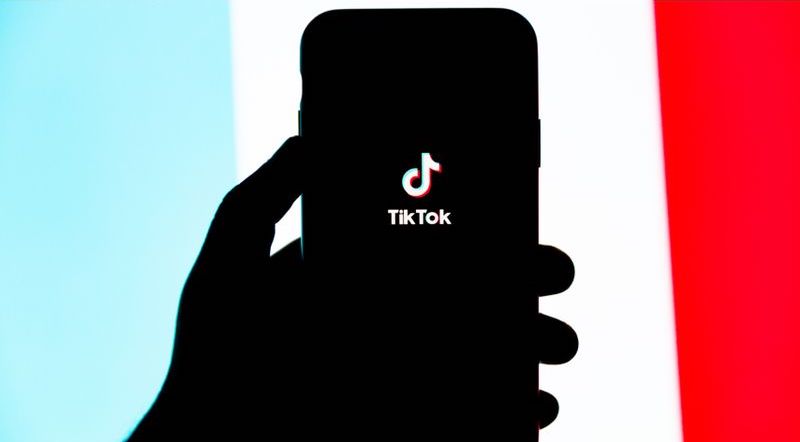 TikTok is your chance to shine through short videos and creativity. Promote affiliate products, links, and unique offers, properly monetize your content, and go viral quickly, even without showing your face on camera.
Research the best times to post on TikTok, follow current trends, add filters and effects to make the most of your posts, and engage an all-ages audience. 
While Gen Z mostly dominates this platform, it's worth trying out, especially if that's your targeted audience.
How to Pick the Best Social Media Platform for Affiliate Marketing
There are many different social media platforms, but not all of them will reach your target audience and generate the clicks you want. You need to match the products with the right customer base. How to do that?
Go Where Your Customers Are
To become a successful affiliate, you must go to the people instead of waiting for them to find you. Showcase your affiliate products and engage with the right audience by promoting your content where the people already are.
Statistics show that Facebook is the leading social media platform in 2022. So keep that in mind when forming a strategy for your affiliate marketing posts.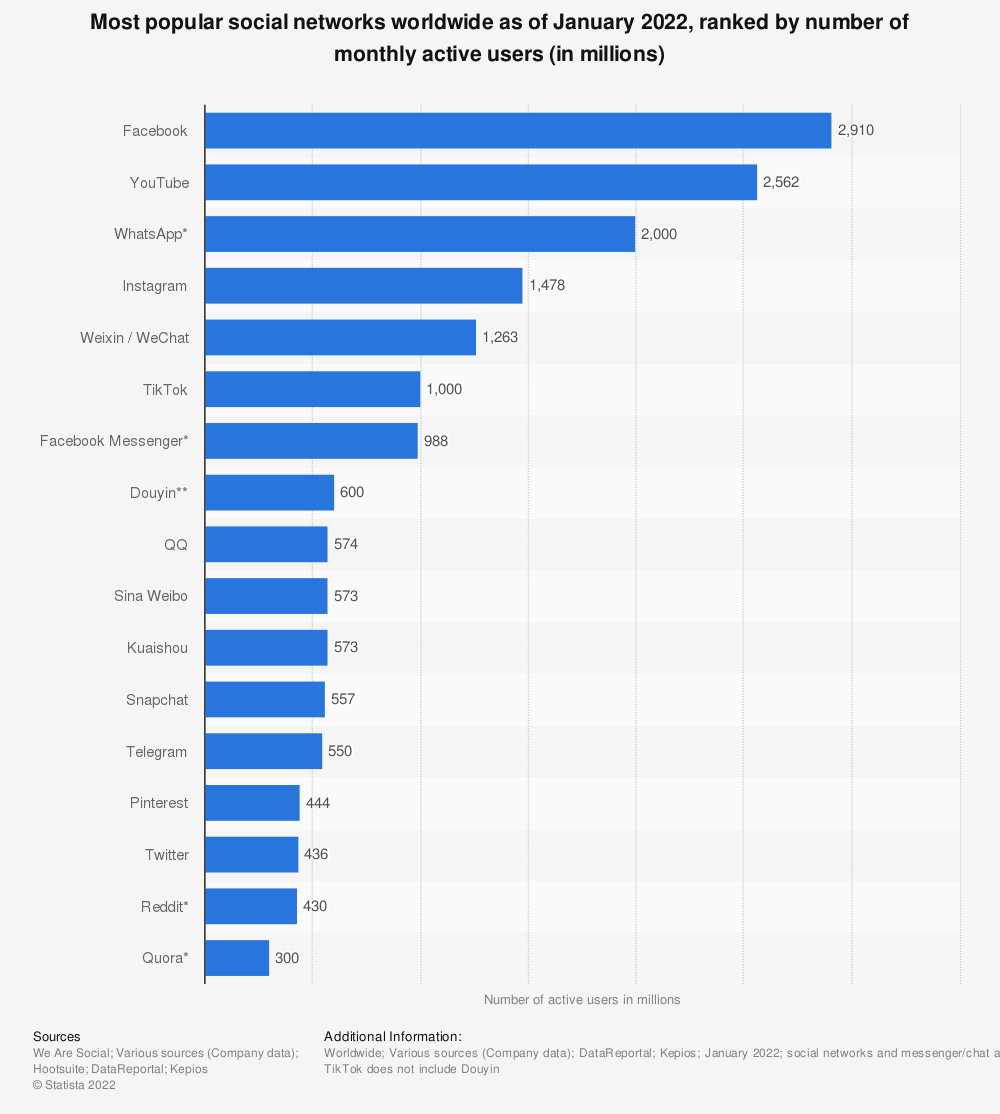 You need to research if your competitors are already promoting the same or similar affiliate products and services. Where are they promoting them? What is the feedback and engagement on different platforms? What can you do differently?
Analyze your competition to make informed decisions and better your affiliate marketing strategy when choosing the right social media platform.
Get to Know Each Platform
There are plenty of social media platforms to try your hand in. But, to truly succeed in affiliate marketing, don't waste your time and efforts in each of them. Narrow down the list by looking at each platform's features, pluses, minuses, and limitations.
Research the platforms and decide based on your affiliate products and capabilities. For example, Twitter will limit your posts to 280 characters. If you like to express yourself in detail, that might not be your main platform to promote on.
Come Up With a Content Strategy
To further narrow down your list of social media platforms, come up with a content plan. What kind of content do you want to post, and how often? For example, new TikTok videos should be put up 1-4 times a day, while YouTube suggests posting over three videos per week.
What are you good at? Videos, reels, blog posts, images? Plan your content strategy and use the tools each relevant platform provides to create click-worthy content and drive traffic.
A Guide to Getting Started With Affiliate Marketing
1. Join an Affiliate Program
Affiliate marketing programs are partnerships between a company or brand and an affiliate marketer – you. Marketers commit to promoting affiliate products to their audience, while the brand commits to paying commissions for each successful referral. Once a customer clicks on your link and makes a purchase – you get paid.
Search the web for many different affiliate marketing programs and choose the one that fits your personality, business, and vision.
Promoting a selection of random products will get you nowhere. Narrow your affiliate products to a specific niche and adjust the marketing strategy accordingly. For example, health and fitness, food, and travel niches will do well on platforms like Instagram. Pick a niche, research the right platforms and choose the best one for your affiliate marketing plan. 
3. Present Yourself as a Credible Source
Encourage people to trust your expertise and product suggestions by establishing yourself as a reliable source of information. You don't necessarily need to be a genius or a certified expert; however, there are ways to improve credibility with your audience.
Study the product

Research the niche

What are the current problems within your niche

How can your affiliate products help solve them
4. Create Optimized Content
Pull in the audience with banger headlines and click-worthy titles. Content is key to converting clicks into sales and, later on – commissions. Utilize every tool, tip, and trick all social media platforms have to offer to post content and offers too good to skip. Post:
Hashtags

Keywords

Quality photos

Useful

information
Become a Printify Affiliate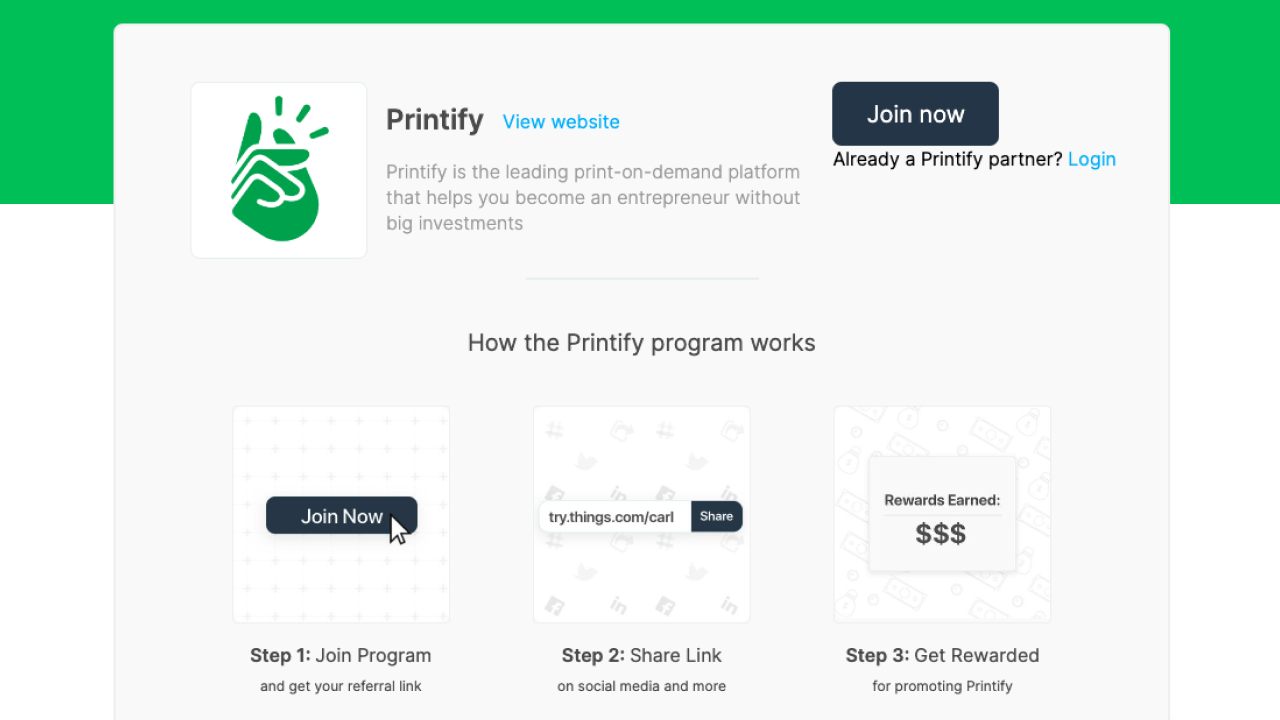 Partner up with Printify and get paid easy commissions from each sale your referral generates. It really is that simple.
Sign Up.

Fill in our signup form with the necessary information. We'll review it and get back to you within 48 hours.
Share a Link.

We'll issue you a unique referral link to post on your channels that will send customers directly to us.
Get Paid.

Each time someone clicks on your link and generates a sale, you'll receive a

5%

commission from the final sales price.
Why Become a Printify Affiliate
No up-front investments

Start referring immediately

Custom promo codes

No minimum or maximum earning limits

5%

commission for 12 months from each new referral

Monthly payouts via PayPal

Top-notch support
If you're an aspiring entrepreneur, influencer, blogger, marketing specialist, POD professional, or simply someone looking for extra income – become a Printify affiliate. Earn passive income with click-worthy content.
Social media provides affiliates with endless options for promotion and traffic. Adjust your content to the affiliate niche and succeed on any social media platform with the right approach and strategy. Use this article as a guide and choose the right platform for your business.
Sign up for the Printify Affiliate Program and earn commissions on your own terms. Simple, easy, doable. Reach out to the Printify Affiliate Manager for any help and guidance via email – [email protected] and thrive together with Printify!
Start your own family business with Printify!
Share the article
Topics