Affiliate Marketing Keyword Research: Complete Guide (2023)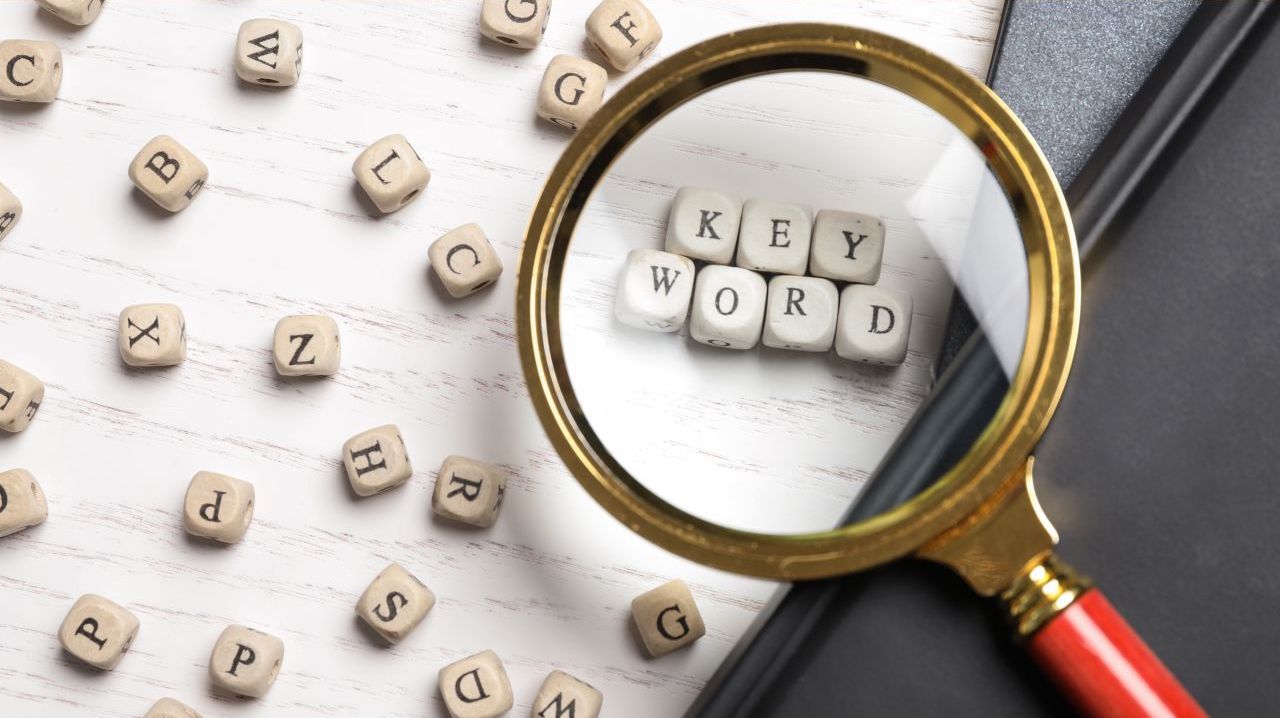 Affiliate marketing is your chance to earn a steady commission by promoting branded products to your audience. Your objective as an affiliate marketer is to create content that aligns with customer expectations and enables sales for your partnered affiliate business.
To become a next-level affiliate marketer, take the time to master affiliate marketing keyword research. Climb the ladder of the top user search results with the knowledge and tools to track the best keywords in a niche you're passionate about.
In this blog post, we'll guide you through the importance of keyword research, the steps to track relevant keywords, analyze search engine metrics, and create quality transactions for your affiliate brand and customers.
What Is Keyword Research for Affiliate Marketing
Keywords are relevant words or short phrases that online users type into their search bar to look for information or find a service. Keywords carry a specific search intent made by the user – a result they're trying to accomplish.
As an affiliate, you aim to advertise your affiliate link and gain a commission off the final sale. Keyword research helps you find and use keywords in your affiliate blog, YouTube video, social media post, etc., that optimize your web page and increase user traffic.
Affiliate keyword research, in essence, analyzes the following questions:
Is the keyword appropriate for your business and niche?

What is the keyword's monthly search volume?

How high is the competition for the selected keyword?

Does the keyword produce consistent traffic over time?

What should your keyword density be in affiliate marketing content?
Our affiliate marketing tips will guide you through finding an affiliate niche, researching high-volume keyword ideas, and adding profitable keywords to your affiliate marketing strategy.
Why Is Keyword Research Important
Keyword research predicts user search intent. Affiliates parse popular keywords to connect customers to their products and inform their decision.
In essence, keywords get people to click on your site. Good keyword research should result in better traction, more conversions, and more money.
Keywords are the language of a search engine algorithm. As you seed keywords into your affiliate blogs and content, the algorithm decides whether your website fits a specific target audience search suggestion.
The process of maximizing user traffic to your affiliate site is called search engine optimization (SEO). Apart from keywords, the Google algorithm measures multiple factors that weigh whether your affiliate website is relevant to the user and should rank higher:
Metadata

– page titles and description tags, and other unseen HTML elements.

Authority

– internal links to reputable sources and external backlinks to your content from other websites.

Usability

– website readability, load speeds, optimized user interface, and a clear search filter for sub-pages.

Location

– website domain, data location, and geographic area.

Activity

– frequency of new content and updates to existing information. 
In online marketing, search engine rankings can make or break your potential for sales. The higher your affiliate site ranks, the better the chance your link shows up on the first page of Google.
Popular keywords that produce a high search volume will have a better likelihood of ranking on the top of search engine results, creating more site click-throughs. However, they will also be more competitive. High competition creates keyword difficulty and limits your chances of gaining traction.
For affiliate marketing keyword research, it's crucial to understand that broad and popular keywords might not always be the right ones. Knowing which terms to target will largely depend on your goals as an affiliate, your niche, and the market saturation at the time.
Join the Printify Affiliate Marketing Program
If you have experience in print on demand, dropshipping, eCommerce retail, graphic design, or a close passion for all things fashion, Printify is excited to offer its own affiliate marketing program.
What better way to learn and experiment with keyword research than practicing for a real service that empowers independent merchants on a global scale? Manage a consistent and transparent message across your affiliate network with our print-on-demand apparel platform.
Set aside some time to fill in a Printify Affiliate application. After review, you'll receive an affiliate link to share on your social media, blog post, YouTube video description, newsletter, etc. Our active Printify affiliates earn an average of $1,000 per month.
How to Do Affiliate Marketing Keyword Research in 4 Steps
Start With Selecting a Niche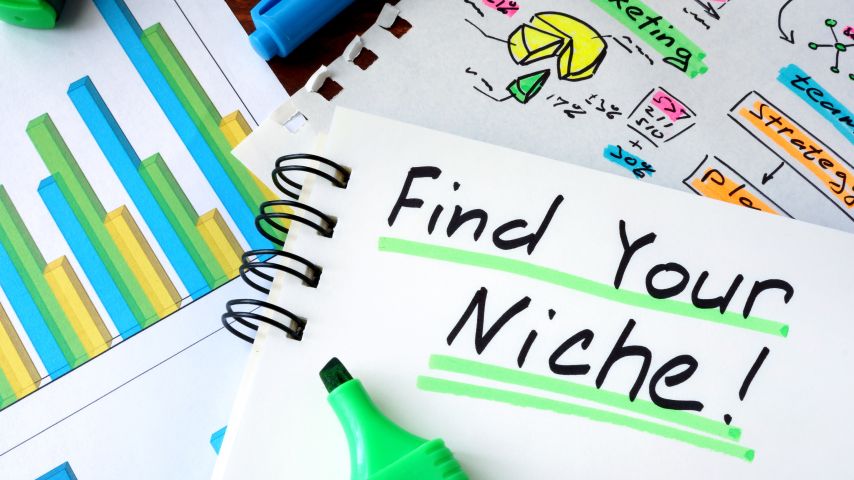 A market niche is a topic or collection of terms that denote products, services, or interests appealing to a small and specialized demographic. Your aim as an affiliate is to find a niche that relates to your affiliate products and gives visitors more market insights.
Affiliate marketers use keywords to create marketing about a niche topic appealing to potential customers. That niche is selected from a larger sub-market with a broader target audience. The market exists in a core industry that manufactures or provides specific products or services:
core industry → sub-market → niche → keyword
Sub-market

is the group of people you want to target with your affiliate marketing – your ideal clients in a given industry.

Niche

is your area of expertise – the solutions you can offer to specific client problems within the sub-market.
If you can divide a topic into separate categories, each with its own audience, challenges, interests, and features – those categories fit the definition of a niche. Ask yourself: can I identify the user's desired end product?
Finding a niche – real-world example.
Let's see what finding a niche and creating affiliate marketing content can look like in a real-world scenario:
Choosing a market:

An Affiliate marketer partners to promote products for the online fashion industry. They start by focusing on a smaller sub-market – printed t-shirts.

Finding a niche:

After researching the audience and competition, the affiliate selects a niche – custom graphic t-shirts. 

Conducting keyword research:

The affiliate uses keyword research tools to search for related terms about the graphic t-shirts. They come up with a list of potential keywords analyzed by relevance, popularity, and competition. 

Creating affiliate content:

The affiliate then begins adding the relevant keywords into a concise affiliate blog post, video, e-mail newsletter, podcast feed, or any other medium, promoting their partnered products, and publishing their work to a wider audience.
Research your market for niche ideas.
Browse for topics in online forums like Reddit, Quora, Facebook groups, and other social media sites. Look for details about user experience and expectations about a subject, service, or product. Search for targeted hashtags that concern your sub-market and use topic-tracking tools like AnswerThePublic for more insights.
Find evergreen questions that stay relevant throughout the year and trending topics that connect to larger online events. Select a niche through dedicated user topics, frequently asked questions, or a high number of active members.
Browse your affiliate partner's market and other eCommerce platforms. Analyze product descriptions, tags, promotional deals, and ads that cater to specific interests surrounding your affiliate products. Observe the niches that your competitors orbit, and look for potential subjects that don't receive as much attention and can be discussed in more detail.
Find a niche you're passionate about.
One key point to take from all of this is to find a niche you're good at, limiting the risk of burnout along the way. If you're part of the same niche as your audience, you'll be more likely to generate content that meets their needs.
Be aware of the extent of the niche and whether you can provide enough value on a subject to have a competitive edge over other marketers. Not all niche ideas will have enough value to be profitable.
In the next step, we'll look at different types of user search intent and how they affect target keyword analysis.
Think About the Search Intent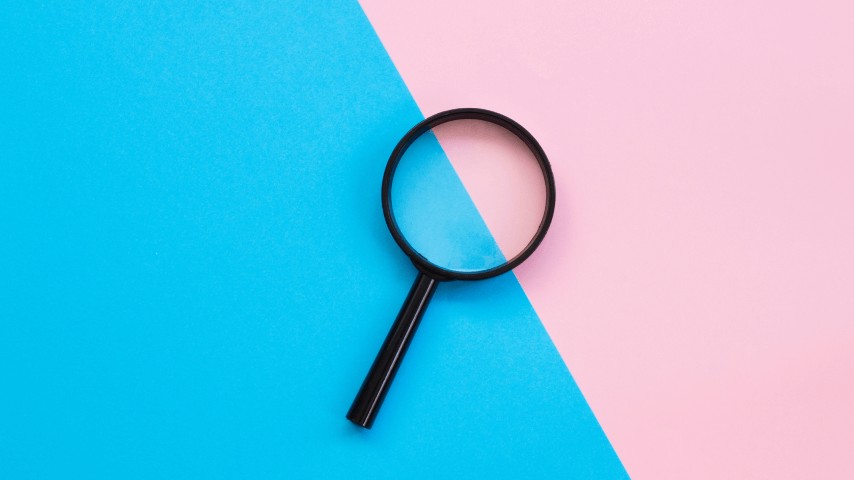 Finding keywords isn't purely mathematical. You can research keywords with high monthly traffic and low competition, but if they fail to answer what the customer wants in a simple Google search, there will be no point in pursuing the topic.
Search engine algorithms predict intent from existing search histories.
Google takes keyword analysis a step further by predicting the relevance of the search and what the user is more likely to expect. Search engines offer keyword suggestions and content that aligns with popular demand.
For example, it's more likely that a user searching for "Coachella" wants to learn about the music festival rather than the city in California, so the first result you get is event dates.
Since content that's more likely to be relevant will appear higher on search results, it's crucial to dedicate the time to research how popular websites format their content to match the intended query.
Search intent answers the why question: why did the user make their search?
Search intent has several motives – informational, commercial, transactional, and navigational. As an affiliate, your keyword strategy will rely on creating a framework to answer the correct intent. Let's outline their main characteristics.
Informational search intent:
Informational keywords are one of the most common search queries. Users enter informational keywords to look for an answer to a specific question. The answer might be a definition, a fact, an event, or something more in-depth, like a guide or a manual.
The searcher might type a location for directions, check the weather, or research a fact of interest. Informational search can be formulated as a question, name, or term for personal use and knowledge.
Use informational keyword ideas to build trust and authority.
For affiliates, creating content with informational keywords aims to increase traffic and brand awareness. In exchange for the added traction, affiliates must succeed at researching the topic and creating value for the end user.
Information is where the transaction begins and ends. Users are looking to expand their knowledge on a topic with as few hurdles as possible, limiting commercial offers or advertising. However, this doesn't mean informational keywords aren't as valuable as other types of search intent.
Use informational keywords to increase your search engine rankings, bringing more authority to your business through external link building. To earn more conversions with affiliate links, building trust is key.
Informational keyword examples:
"PC set-up guide"

"How to start an online business"

"US timezone map"

"Who is Alan Turing?"
Commercial search intent:
Also known as commercial investigation, these are the search queries made by users already in the market for a specific product or service. Before making a purchase, however, the searcher will weigh their options and look for better prices. 
Users apply keywords with commercial intent to look for top items in a given category, comparisons between brands, and reviews from other websites. Searchers may also wish to find deals, offers, and coupons during a particular season.
Commercial keywords are one of the most important types of search intent for affiliate marketing. They act as a direct invitation from the customer to make a purchase.
Some commercial keywords are more profitable than others.
Commercial keywords are affected by the searcher's intent during a particular stage of their purchasing journey. Potential customers can be ready to buy a product immediately – their decision already having been determined. Alternatively, the user may want to do an online search for new suggestions and relevant deals.
For example, a person looking for a new guitar might search for "guitar stores in Sacramento". This is a very specific search that relies on the user's geographical location. The searcher has already decided where to make the purchase. This is a solution-aware perspective.
On the other hand, a searcher might instead ask for "affordable guitars for sale". This keyword invites a marketer to offer their best deals and persuade the user through authority over a subject. The searcher has not decided where to make a purchase. This is a problem-aware perspective.
These two types of keywords are very different but attempt to achieve the same outcome. It's the marketer's job to analyze how a potential search query relates to the buyer's journey. In other words – affiliates must use keywords that encourage research for a better deal.
Use commercial keyword ideas to complement your product or service.
Instead of marketing your affiliate products outright, use commercial keywords to offer an objective answer to the user's question, highlighting the key strengths of your affiliate product. Show but don't tell – don't upsell your products by minimizing others.
While you might not have the exact products a user wants, you can use commercial keywords to offer customers the value of reviewing, documenting, and offering insights during the buyer's journey. That way, you can promote your affiliate products and give informational value while creating a gateway to conversions.
Commercial keyword examples:
"Top eCommerce store platforms"

"Semrush keyword magic tool vs. Ahrefs keyword tool"

"Best hotels in Grand Canary"

"Photoshop alternatives"
Transactional search intent.
After a user has done commercial research, they'll feel informed enough to start looking for where to make a purchase. Transactional search intent occurs when the customer has prepared their wallet and is ready to add items to a shopping cart.
Customers already know what they want to buy and are looking to move directly to a sales channel. They often implement keywords related to the product, price, discounts, sales, and other phrases that facilitate a quick, affordable, and high-quality purchase.
Use transactional keyword ideas to promote call-to-action statements.
At the end of your content, it's best to include transactional keywords in a call-to-action statement that persuades the reader to accept your offer. Wrap up your content and explicitly state how customers can benefit from your affiliate products and why their choice matters.
At this stage, your objective should be to move the customer to a fully committed decision. Once a buyer knows what you're offering (a product-aware perspective), implement transactional keywords to guide them to a sale.
Transactional keyword examples:
"Buy graphic t-shirts"

"Cheap CPUs for sale"

"Raycon promo code"

"Black Friday discounts"
Navigational search intent.
The most commonly searched keywords fall under navigational search intent. Here, users already know what they're looking for. Searchers have a specific website they want to visit, and it often takes less time to simply use Google instead of entering a full website URL in the search bar.
Unless you have wide brand recognition or offer a unique service, navigational searches won't be a likely candidate for your affiliate marketing strategy. However, it's still important to ensure that when a user types in your brand name, it's the first to come up.
Use navigational keywords to curate your brand recognition.
You wouldn't want other competitors in your affiliate marketing niche stealing potential site visitors. To manage good navigation to your website, optimize your page metadata – titles, descriptions, brand iconography, and text for new visitors.
Navigational keyword examples:
"Facebook login"

"Printify Affiliate Program"

"Netflix Subscription"

"Grammarly extension"
Decide What Type of Affiliate Keywords to Target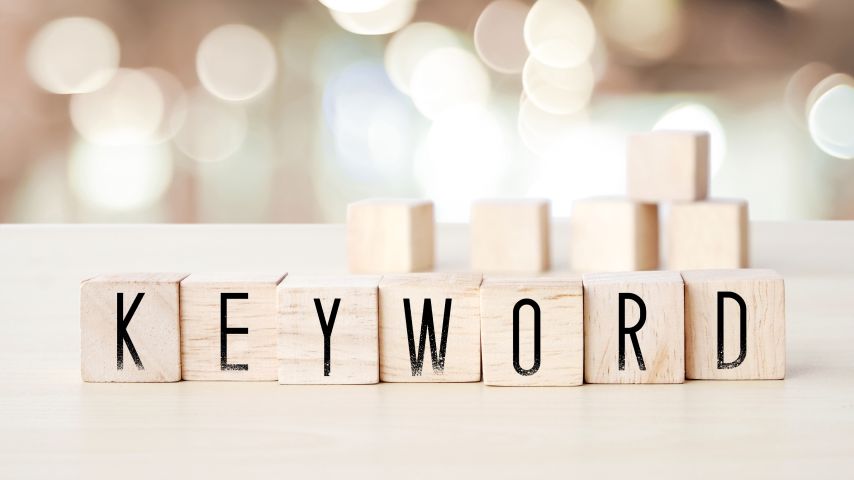 In affiliate marketing, you can categorize profitable keywords into two basic elements: keywords that can be used to plug your products and topics that people are already searching for.
Through your research, you can begin to speculate which topics offer your brand the most advantage and how certain keywords work well with your message. Should you compare products and brands, write detailed reviews, or build authority through non-commercial topics?
That said, there are four types of affiliate keywords you should consider when conducting targeted affiliate keyword research for your affiliate content:
Keywords fall into the general comparison category when searchers want to find the top product in a given category:
Best wireless headphones
Best Google extensions
Best graphic t-shirts
Often, searchers add these keywords for a pros and cons estimate, or a list of top choices. This is an excellent option to tie in your own products, helping potential buyers make the right choice. However, these topics will have a larger search volume and more keyword competition.
Branded comparisons focus on particular products or companies. Searchers use branded comparison keywords to compare individual product line-ups or competing company releases:
iPhone 14 vs. iPhone 14 Plus
Hanes vs. Fruit of the Loom Undershirts
Etsy vs. Shopify
These comparisons have a lower search volume than general comparisons. However, with lower keyword competition, affiliates have a better chance to get a foothold in search rankings.
Note that low-competition keywords are less likely to bring traffic but are useful when a customer is already close to making a purchase.
Product reviews focus on an individual product. Searchers looking to purchase might want to inspect additional details that affect their decision. They have heard of your affiliate product and are independently searching for a review:
Fressko Reusable Cup review
Huggle Hoodie review
Pela phone case review 
Reviews are excellent for affiliate marketing because users are already very close to check-out – they're invested in the product. However, note that search volumes for single reviews can be more lackluster than other types of keywords.
Trust & Authority Keywords:
To rank high on search engines, your affiliate page needs a level of authority and trust from the customer. However, you can't build a good reputation only using commercial keywords. Instead, you have to inform or educate the visitor.
Even if you can't plug your products outright, T&A keywords allow you to establish mastery over a niche subject. By giving potential customers a sense of expertise, they'll be more likely to trust the quality of your products.
Another key factor for building authority is generating backlinks. Backlinks are website links from one web page to another. The more other websites use your page as a source, the higher your credibility and the more likely you will succeed at search rankings.
In summary, trust and authority keywords carry two benefits: building trust for your audience and receiving authority from backlinks on other websites.
Pick a Tool for Affiliate Marketing Keyword Research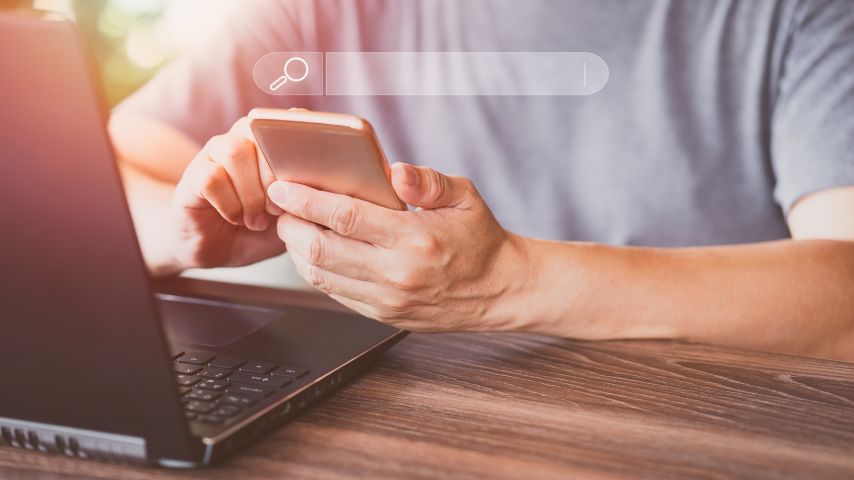 We've discussed keyword types, user search intent, and market niches. Now, let's talk about the tools you can use to find related keywords and narrow your search. 
Keyword research tools are software that analyzes and lists crucial keyword metrics – search volume, competition, type, keyword density, etc. – to help you predict how well a keyword will generate more conversions.
Let's list a few excellent keyword-tracking tools and their advantages for your affiliate marketing strategy.
The Google Keyword Planner offers insights into keyword frequency and difficulty and provides the option to search for new keyword suggestions and ideas. 
First, set up a Google Ads account. You don't need to run an ad campaign to access the keyword research function. Once you're logged in, find the menu bar, go to Tools, and click Keyword Planner.
To search for keyword ideas, click Discover new keywords. To analyze a related keyword's volume, competition, clicks, and impressions, click Get search volume and forecasts. Type in a long list of keywords to get closer results.
The SEMRush Keyword Magic Tool applies more focus on keyword formatting types: long-tail keywords and broad keywords. Long-tail keywords consist of added search terms – "buy", "for sale", "discount", "best", etc. – that enhance the context of the search. 
Long-tail keywords affect search metrics in three ways: they offer less competition, are closer to customer intent, and give more insights into affiliate content ideas.
You can access the SEMRush keyword research tool through their Keyword Analysis sub-menu. Open the list of options, and select the Keyword Magic Tool. From here, enter any broad term or target keywords. 
SEMRush will take your initial seed keyword and convert it into a list of more specific long-tail keywords. The results will also show keyword search volume, monthly trends, and projected keyword difficulty.
SEMRush measures keyword difficulty on a percentage scale:
Low-difficulty keywords (<60%)

are a good starting point for new affiliates.
Medium-difficulty keywords (60-80%)

offer more traffic for pages with existing authority.
High-difficulty keywords (>80%)

require a planned and consistent marketing strategy.
Use the platform's interactive search filter to select your preferred difficulty, search volume, keyword type, etc., and narrow down the search to keywords essential for your niche. Filter to find long-tail keywords, broad keywords, or phrase-match keywords from combinations of multiple words.
The Ahrefs Keyword Explorer is an exceptionally optimized search tool that provides direct keyword traffic volumes from ten leading search engines, including social media sites. You can enter multiple keywords and generate specific ideas through their dedicated filters:
Phrase match keyword combinations
Terms that contain your keyword
Top-ranking keywords
Autocomplete suggestions
Recent search queries
Keywords phrased as questions
The full Ahrefs Webmaster tools provide detailed SEO monitoring and keyword planning options. The SEO tool includes performance monitoring, backlink research, and actionable keyword metrics: search volume, keyword difficulty, and traffic value.
Becoming a Printify Affiliate
If you work as a marketing agent, freelancer, blogger, YouTuber, etc., you can explore keyword metrics and enhance your affiliate marketing strategy by earning money as a Printify affiliate. 
With Printify's affiliate link, we offer dedicated affiliate support and custom promo codes upon request with zero sign-up costs. Create your first affiliate blog post and earn a 5% commission for each referral sale you make.
Research Done, Time to Sell
Become a successful affiliate marketer and drive up your Google trends with detailed keyword research. Find keywords that attract users and create conversions for your affiliate business to practice good search engine optimization when earning affiliate referral commissions.
Some of the most crucial steps for a successful affiliate partnership are managing a good balance between finding relevant search words that fit your product category, using commercial keywords to plug your products, and offering value to the end customer while competing with existing marketers.
Let's recap the four main key points when planning keyword research for affiliate marketing:
Select a niche you're passionate about.
Determine your target audience's search intent.
Apply different keyword types to your research.
Use a keyword research tool for crucial metrics.
Try out our Affiliate Program by signing into your existing Printify account or sending an affiliate application directly. Reach out to the Printify Affiliate Manager for any help: [email protected]
Share the article
Topics