Consider adding custom fun bachelorette shirts to your eCommerce store – they're fun to design, they're in demand, they're easy to sell and will make the bride's special day even more special.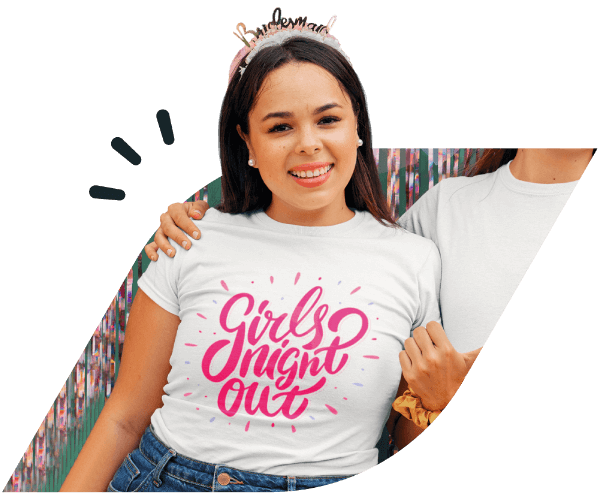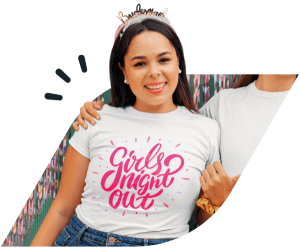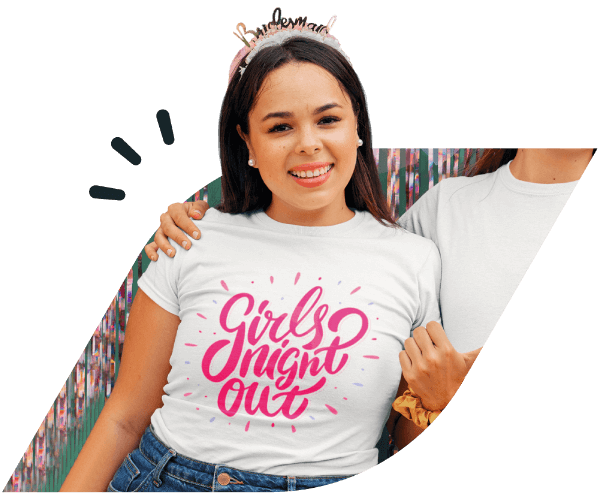 Why Sell Custom Bachelorette Shirts Online?
The bridal crew definitely wants to feel and look beautiful on their BFF's big day. Add 'unique' to the mix with a little help of custom t-shirts, and you'll guarantee a pretty darn great bachelorette party to thousands of bridal parties worldwide.
Whether they've planned a casual weekend outing to a bar or a huge shebang at a tropical destination, your custom bachelorette party shirts will be a great addition that will help make the event more festive, and with Printify, it's so quick and easy.
Girls love hen parties. And they always feel like wearing something extra special, something unique at the bachelorette party of the year, so we're here to help you out. Customize a t-shirt, tank top, sweatshirt, or even a bridal party hoodie with Printify to guarantee the most unforgettable photoshoots with unique bachelorette party tops for your clients. 
You bring the fun, and we'll take care of the rest – printing, packaging, and shipping to your clients' doorstep!
Designing Bachelorette Shirts With Us Is as Easy as 1 - 2 - 3!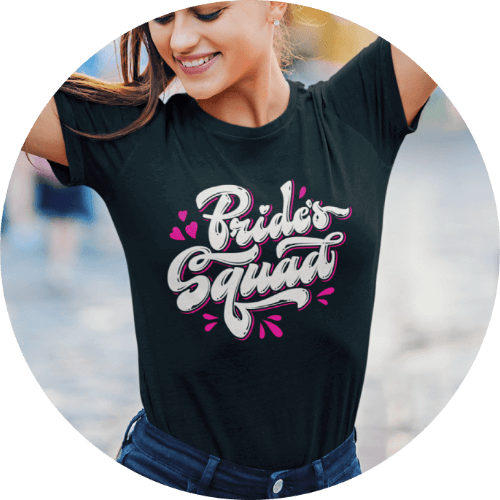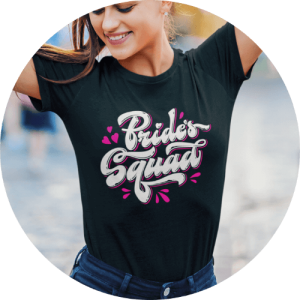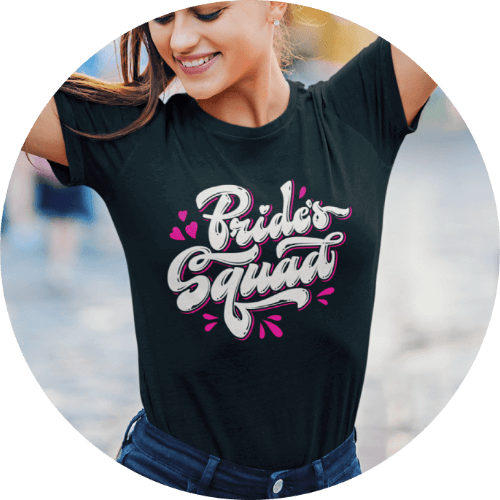 Create Eye-Catching Bachelorette Party Shirts
Custom printed shirts are so cool! They're fun to design and so easy to sell. And dressing the bridal party isn't always easy. Keeping everyone happy and feeling pretty while staying true to the maid of honor's vision can be challenging. But we're here to help you find some inspiration: cool bachelorette shirts that will please even the most outspoken set of best friends. 
The wedding is a reflection of the couple's (or more often – the bride's) personality. Help tell their story with thoughtfully chosen bachelorette shirts that highlight the bride's unique personality. Still trying to pull it all together into one beautiful picture?
Printify Is Trusted by 2 million+ Merchants Worldwide With More Joining Every Day
I don't have to invest the money I can't lose into my business. With Printify, I only pay the fulfillment fees, and the rest is all profit.
I really appreciate working with Printify on my brand. Afro Unicorn was only supposed to be my design on a white shirt. It is so much more. Printify allows me the time to run the business and not work in the business.
Printify helped me start a completely hands-off revenue stream. When you spot a niche that you want to enter quickly, you don't have to worry about buying stock or equipment.
My experience has been amazing so far. With thousands of sales, there's always going to be obstacles to overcome. But, when something has needed fixing, it has always been amazing.
Printify Premium has helped my profit margins tremendously, and spending $20 a month has probably saved me over $200 a month.
Using Printify saved our struggling business of 6 years and gave us more time with our family.
I like Printify products because they tie in with our organisation's message.
I love the Printify Mockup Generator. It keeps everything consistent and allows me to keep my brand looking sharp and professional.
Create Custom Bachelorette T-Shirts!
Which Is Going to Be Your Crew's Bachelorette Shirt
Planning a bachelorette party is beyond fun (and stress!). There are countless things to think about: food, drinks, entertainment, transportation, dates, destinations, themes, etc. It can be so much fun, but it can also be overwhelming. We all know that one cute and quiet girl who suddenly has turned into a bridezilla, and you just don't know how to handle her. (Ok, here's a hint: keep 'em drinks coming). With so much to consider, it's easy to let small details slip through the cracks and create major stress situations. In an attempt to take at least a tiny chunk off the maid of honor's plate, we've rounded up the best bachelorette party top options, no matter the season. Tropical wedding? We've got you. Bachelorette party on the slopes? Yup!
When it comes to t-shirts, we've got the bases covered. A tremendous collection of 18 different printable models means that just about every possible style, fit, and fashion is available. 
You'll be greeting everyone you meet while dressed in an adorable bachelorette party t-shirt! T-shirts go great with jeans, shorts, skirts, and leggings – whatever your party theme is, you can be sure to get a matching party shirt! A bachelorette t-shirt with a sweet, sassy or funny print will be perfect for adventures wherever you go and then for the years to come when the party's over.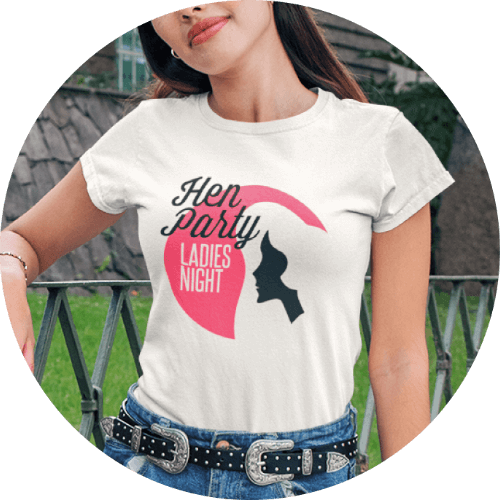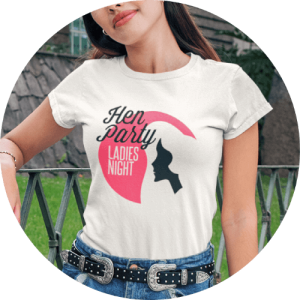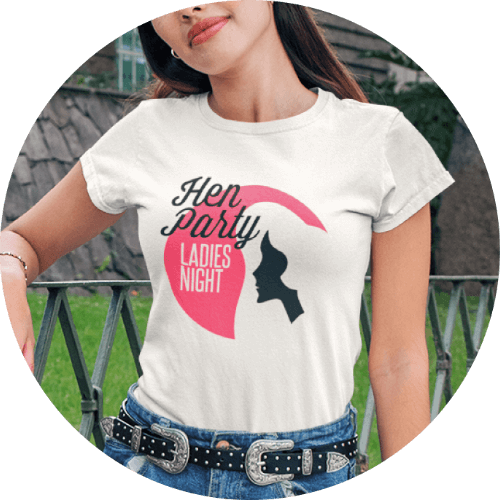 Continuing with warmer bachelorette party top styles, hoodies are undoubtedly one of the best ways to keep warm. On top of a bachelorette party shirt, for colder weather, order your squad matching party hoodies – pullover or zip styles. A personalized bridesmaid hoodie will gently wrap your babe squad in a warm hug and look and feel oh so good.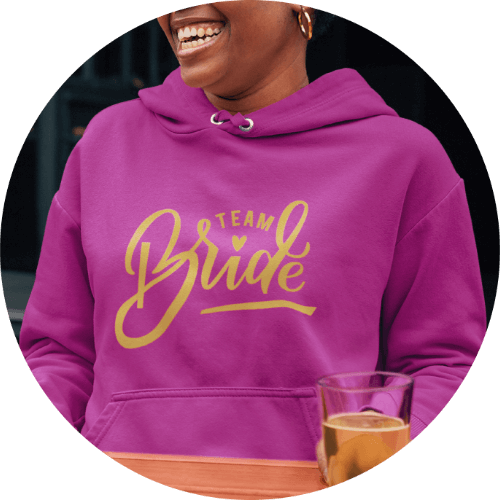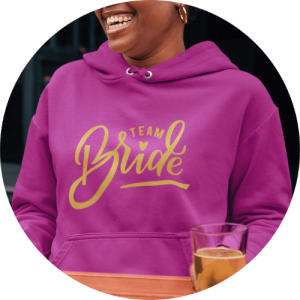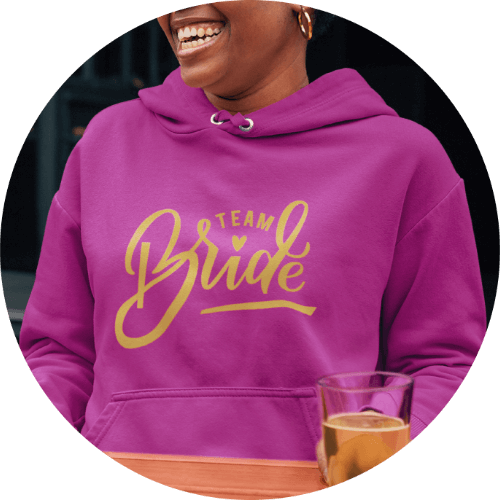 Bachelorette Long Sleeve T-Shirt
Be unique. If you don't feel like showing a lot of skin on your best friend's big day, we suggest checking out our long sleeve tees. They look great for those special moments while she's getting ready. They look lovely on wedding day pictures, and are cute enough to wear out on the town for your bachelorette party!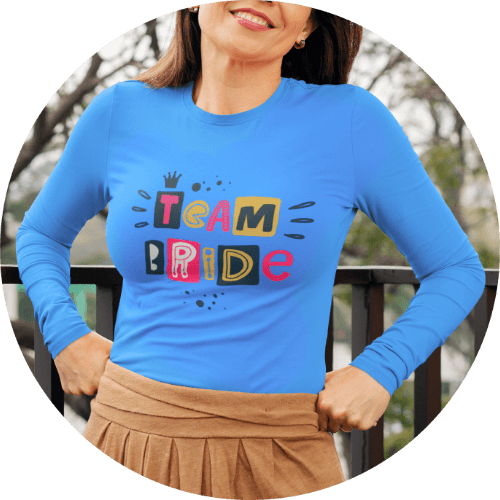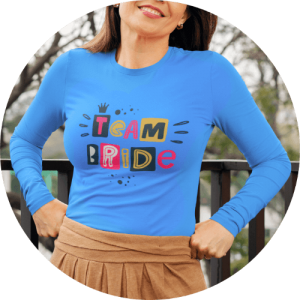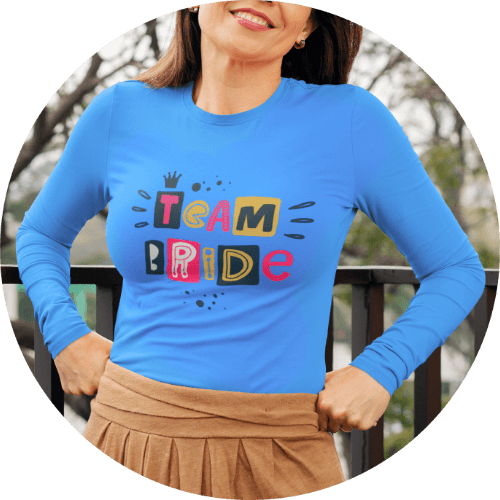 Why Choose Print on Demand Dropshipping?
By choosing the dropshipping method for your bachelorette shirts, you can focus on the marketing and design, while we take care of order fulfillment with POD dropshipping. Choose from our wide selection of blank t-shirts, hoodies, tank tops, etc. for your Etsy, Shopify, or WooCommerce store.
Our dropshipping service gives you access to a wide network of suppliers across the US and Europe to cater to bachelorettes across the globe; the products you sell online are stored in your supplier's warehouse. This means we can produce close to your customers, thus shortening delivery times and reducing shipping costs, which means a higher profit margin for you. We here at Printify work with the highest-rated printing partners out there, so you won't get a better quality & price ratio anywhere else.
Get Started With Custom Printing
The first thing you want to do is set up a Printify account. In our catalog, there are 600+ products to choose from, so selling custom bridesmaid shirts for bachelorette parties is a great way to increase revenue, monetize your creative ideas, and, most importantly, make someone's day. 
Order Bachelorette Shirts With No Minimum
Before the big day, it's time to celebrate with all your besties at your beach party! Whether you're heading to the beach, or the city for girls' night out, make that special outing even more special with fun personalized bachelorette party shirts for your squad, no matter how big or small your squad is – with Printify you can order as many shirts, hoodies, sweatshirts and other garments as you want, even if it's just one.
What Are the Cons of Dropshipping?
You have no control over the order fulfillment process – because you are not handling the goods yourself, you have to completely trust the supplier to do their job responsibly and maintain high standards at all times. This applies to the order fulfillment and product quality. We always suggest ordering product samples before selling the bachelorette shirts to customers, so you know what your clients are getting. But other than that, dropshipping is your best bet for starting selling bridal party shirts.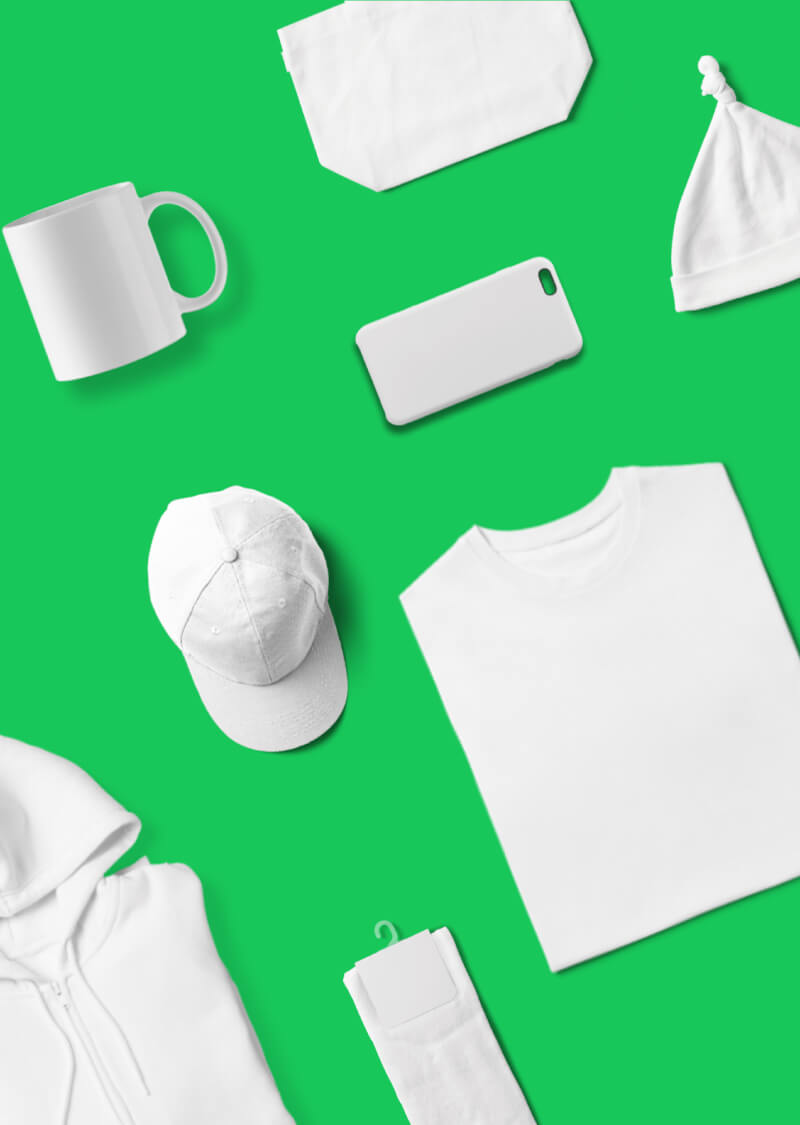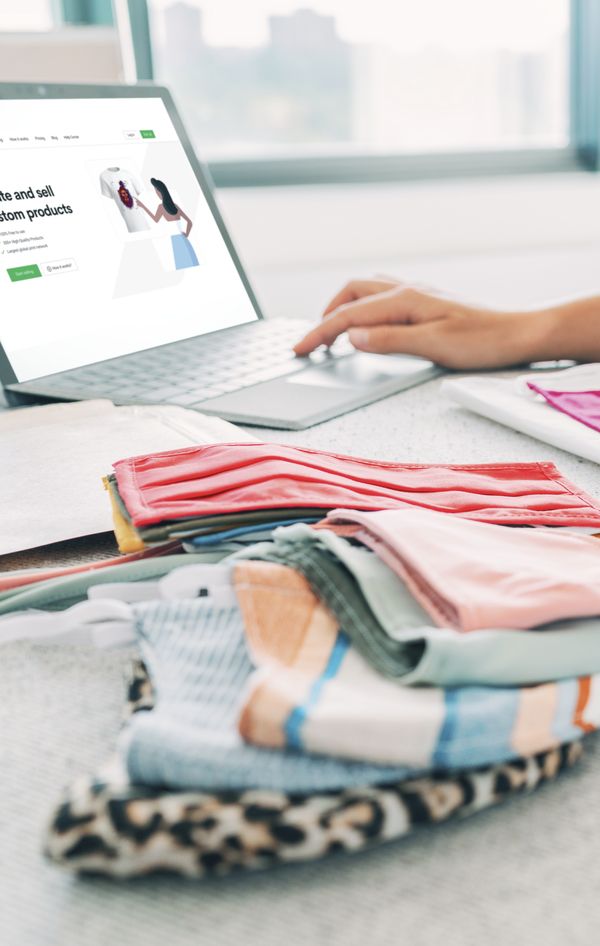 Where to Sell the Custom Bachelorette Shirts?
The next step is to choose the platform you're going to use to sell your products. The easiest approach is selling on Shopify, Etsy, Woocommerce, Wix, or eBay, and, thankfully, we here at Printify, have built a smooth integration with each of these marketplaces. 
If you're tech-savvy, you can also use Printify API. But if you're new here, we suggest sticking with Etsy or Shopify, for these are very well-made, pretty intuitive marketplaces with which launching your eCommerce store and selling bachelorette shirts without any experience is a piece of cake.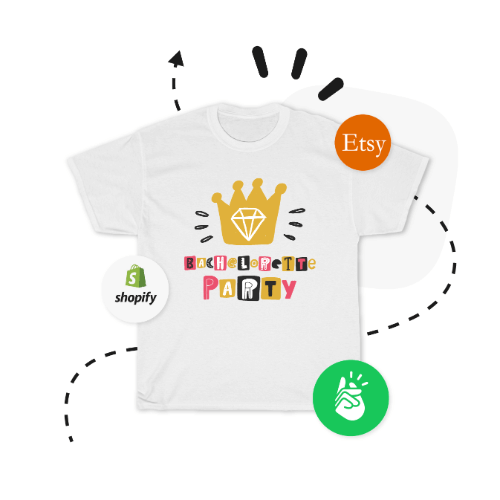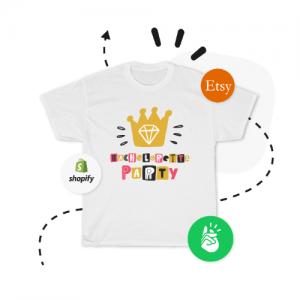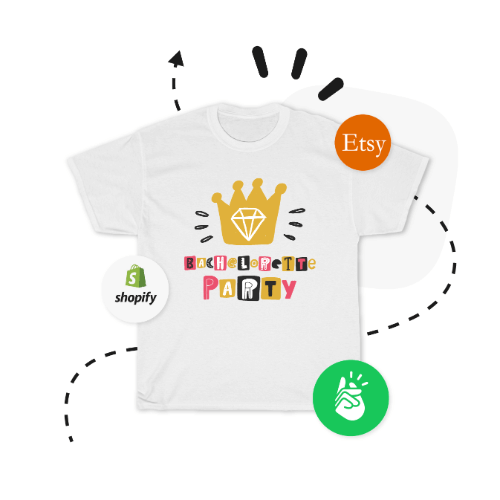 Bachelorette Shirts No Minimum - A Step-By-Step Guide
Start Designing Personalized Bachelorette Shirts!