Whether it's for the beach, gym, park, sporting event, etc., custom made tank tops have become a staple in modern wardrobes since the '70s. Make a few custom made tank tops for your online store with our simple step-by-step instructions below.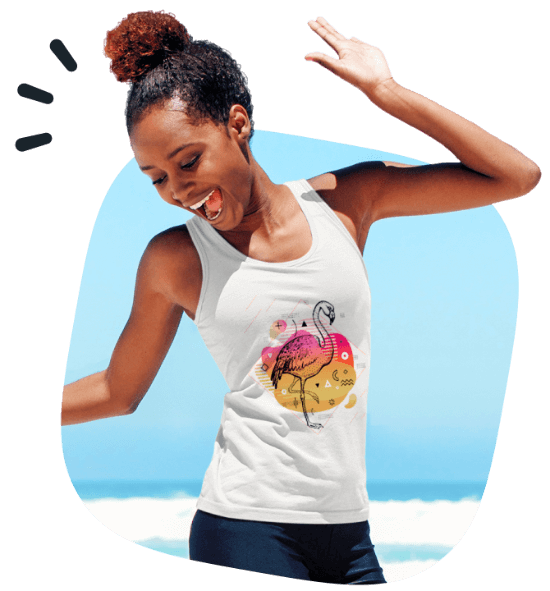 Create and Sell Custom Tank Tops Online
There are a ton of reasons why males love these garments. Anyone who's ever experienced a hot or humid climate has undoubtedly realized that freeing the arm from the restriction of the sleeve immediately grants an increased degree of flexibility (especially when sweaty) while helping disperse uncomfortable underarm heat. 
With such massive popularity, sales are almost assured for POD vendors featuring a few custom tank tops. We've connected with a wide range of custom tank top brands – including, but not limited to, Sport-Tek, Gildan, Stanley Stella, and Bella+Canvas. This spectrum of distributors means that our merchants will always have the pick of their choice between various styles, colors, and sizes. In addition to simple printing, we also have options for next-level embroidery. 
Any selected men's tank top will immediately be available for beginning the printing process. Just slap an applicable (and legal) design onto the designated printing area and you're good to go.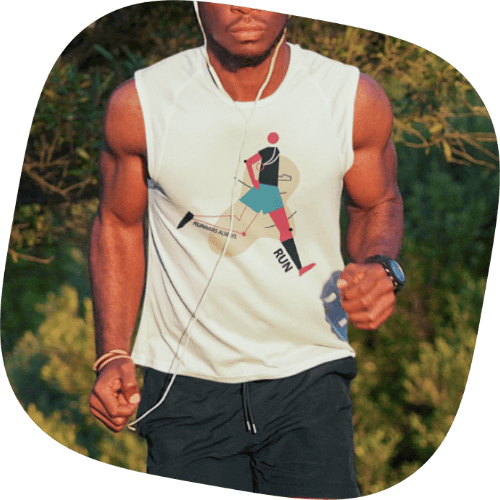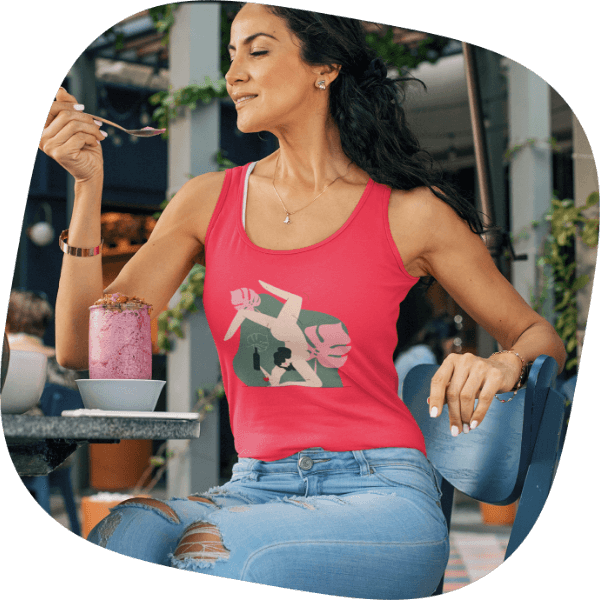 Custom Tank Tops for Women
Printify's catalog includes an impressive array of custom women's tank tops in feminine styles. These inclusions are a solid, comfortable way for females to enjoy a relaxed-dress environment while maintaining their own personal style. Additionally, these items make for great gifting choices – after all, who doesn't like their own custom tank top?
It's worth it for merchants to put some thought into including a few custom women's tank tops in their inventories – these sometimes overlooked items have seriously profitable trends. 
The Printify catalog offers several of these great options for inclusion in your store. We've connected with stellar brands like Bella+Canvas, Next Level, District, and Anvil. This spread means that there are lots of options readily available. And as we all well know, options are super important when it comes to fulfilling the wishes and desires of the modern consumer. 
Custom Tank Tops With No Minimum Order Size
A large number of individuals begin POD online stores in order to boost their income. The great news here is that this process has become easy, streamlined, and cheaper than ever. 
The lack of a minimum order number means that merchants no longer have to conduct business the old-fashioned way; purchase inventory, display those items, and hope that customers will purchase. 
We've done away with that whole gamble, moving instead to the print-on-demand model. Here, once you've displayed one of these custom tank tops in your store, that item will only be physically created after it is purchased by a customer. The fantastic thing here is that you'll never be hassled with production or shipping fees – those costs are taken from the overall selling price. Everything remaining beyond that is pure profit. 
Custom tank tops are a brilliant inclusion for any online shop owner wishing to increase their profits. These easy-to-sell items appeal to virtually all demographics and have obviously predictable sales spikes in the spring and summer months. 
With our large (and growing) network of print providers, we can offer a wealth of options for both men and women – including a spectrum of styles, colors, and sizes. Furthermore, with so many fulfillment centers around the world, there is a good chance that shipping rates and times can be kept to a minimum regardless of where a customer happens to be located.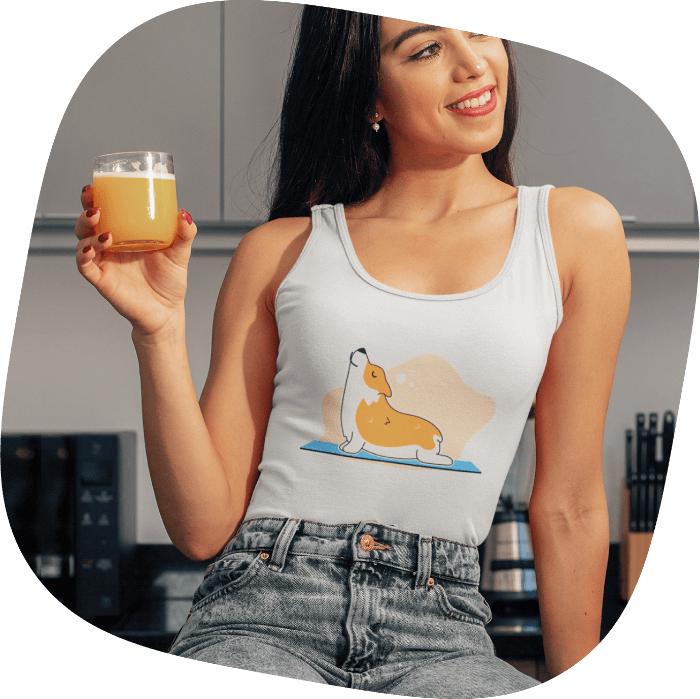 Genderless and applicable to anyone, this unisex tank is perfect for anything from sporting events, outdoor wear, relaxing at home, and just about any occurrence working with a casual dress code. With five different print providers (The Dream Junction, MyLocker, T shirt and Sons, and Monster Digital) covering this product, it's no hassle to source nearby and find providers close to shipping destinations. Appropriate for all ages, genders, and occupations, the unisex tank is a modern fashion staple.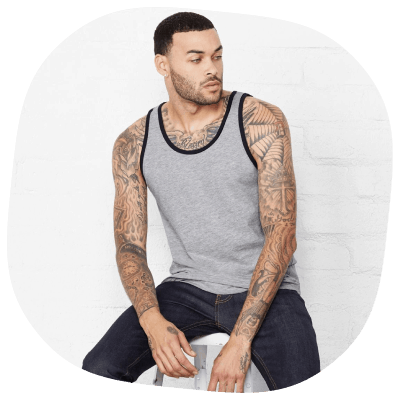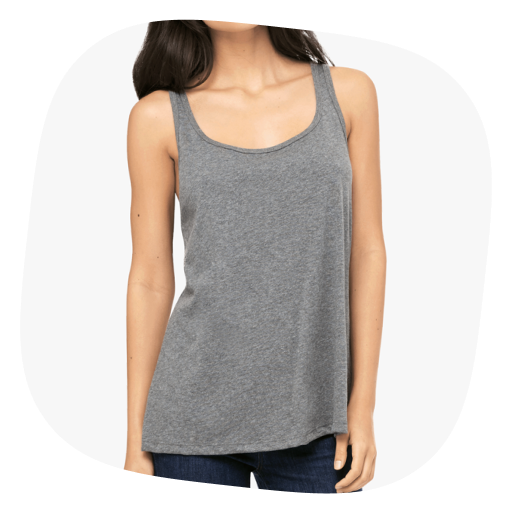 Women's Relaxed Jersey Tank Top
Supporting a slightly bigger cleavage area and tighter tailoring toward the waist, this model produces a slightly more pronounced feminine effect than standard-issue tank tops. Seamlessly combining the casual look with a boosted attractive element results in a truly relaxed atmosphere undercut with a hint of excitement. 
Men's Sleeveless Performance Tee
With a polyester build relative to the cotton that many other Printify models use, this men's tank top has an incredible sweat-wicking capacity. As such, this is truly a performance model – helping athletes execute as they work toward their various goals. No sleeves mean unparalleled freedom when it comes to the range of motion. Furthermore, the dual printing areas of this model means that team affiliation, messages, and inspirational designs can all be a major part of the garment's overall dynamic.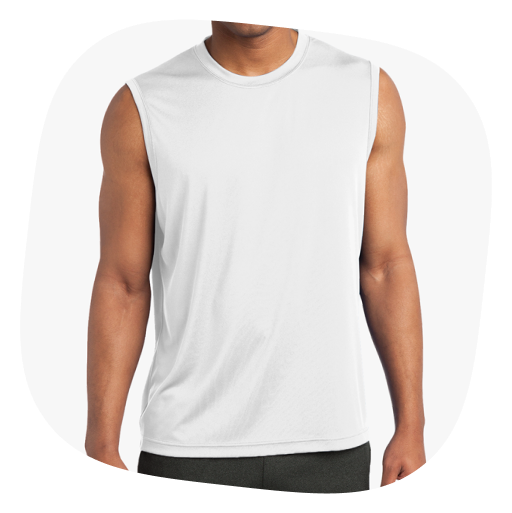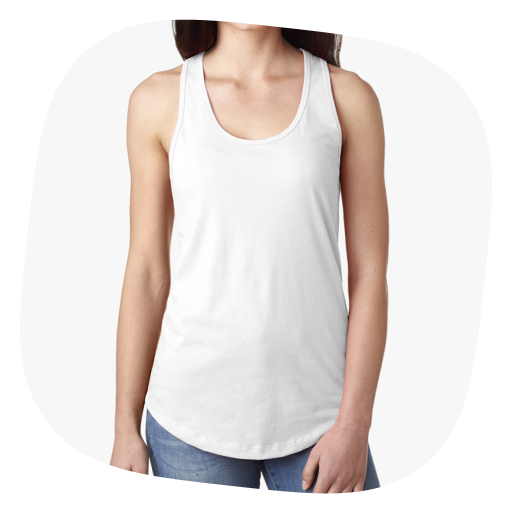 Women's Ideal Racerback Tank
Start your engines. This custom women's tank top announces itself gracefully with a casual-style fronting… then, busts out a racerback on the flip side. This inclusion makes for a closer fit, providing a bit of security while proudly displaying the muscles of the upper to mid-back; latissimus dorsi, deltoids, trapezius, and possibly even rhomboids. People put it on for comfort but stick with it for the show.
Start Selling Custom
Tank Tops!
The title gives it away for this men's tank top style. The 100% cotton build means that the softstyle truly lives up to its name – comfortable, sleek, and very soft. Losing the sleeves adds an immediate sporty feel to the garment, as well as framing any included artwork nicely with an arrowed taper down from the shoulders. These popular men's tank tops appear frequently throughout just about any environment save the winter months – except maybe for the occasional sleeveless macho man in the snow.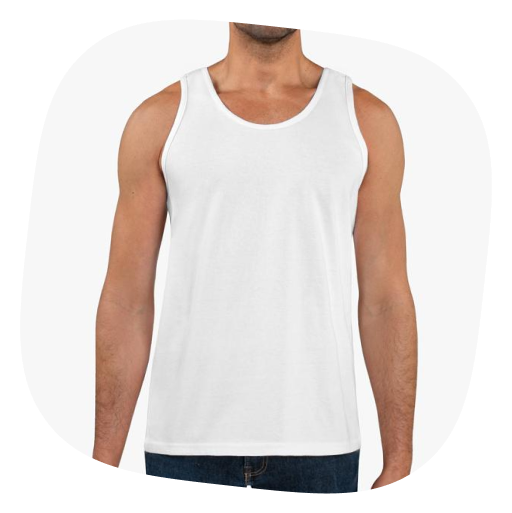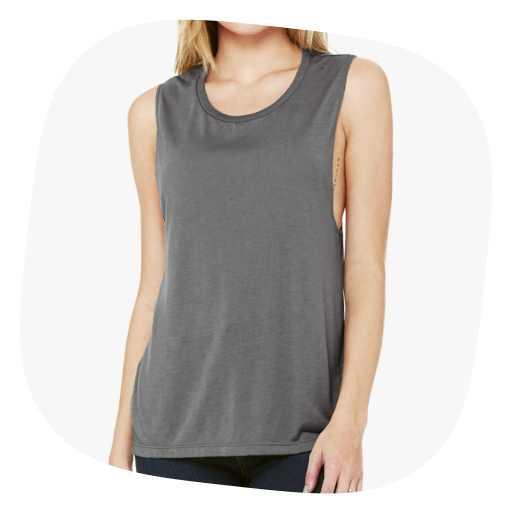 Women's Flowy Scoop Muscle Tank
A stunning display of femininity in a testosterone-rich genre, this retaking of the "vest" or "football" men's tank top tightens the sleeve area without removing too much from the space. Furthermore, the waist is brought in a bit – adding to the universally valued hourglass-curve structure. Comprised of 65% polyester and 35% viscose, this custom women's tank top is particularly comfortable to wear – especially if there's any wind blowing.
Men's Ultra Cotton Sleeveless Tank
This model takes everything good about a quality 100% cotton t-shirt and makes it better – by losing the sleeves. Roomy, breathable, and immensely comfortable, the ultra cotton sleeveless tank is a relaxed-fit garment capable of maintaining common decency while expressing a bit of personality. Easing some of these custom men's tank tops into a store's inventory is a solid idea for capturing the attention of those customers seeking a garment capable of doing it all; from unwinding at home to crushing it in the gym.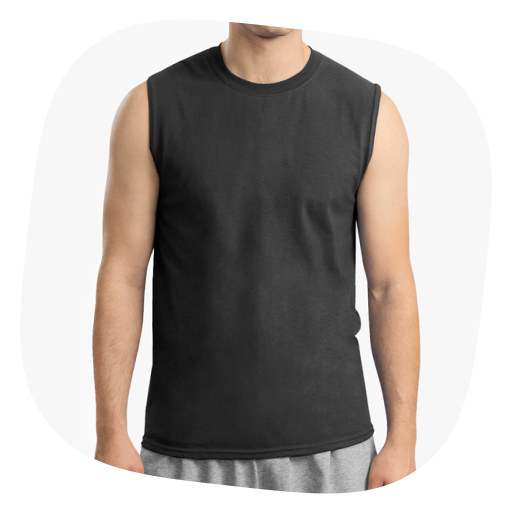 6 Most Frequently Asked Questions About Selling Custom Tank Tops Online
Custom Tank Top Printing Step-By-Step Guide
Get Started With Custom Tank Top Printing
Now you are full of design inspiration you must be eager to get started. This is good news, but there's more – your new designs are just a few clicks away! Our mockup generator is the perfect tool to help your designs become reality. 
Start Your Own
Print-On-Demand Business!