Considering custom towels as an addition to your online store? Well, dive in! Your sales certainly won't dry up anytime soon. After all, these versatile items serve us in so many different situations. Add a custom design and this practical product can be transformed into a cute gift or an ideal sports accessory.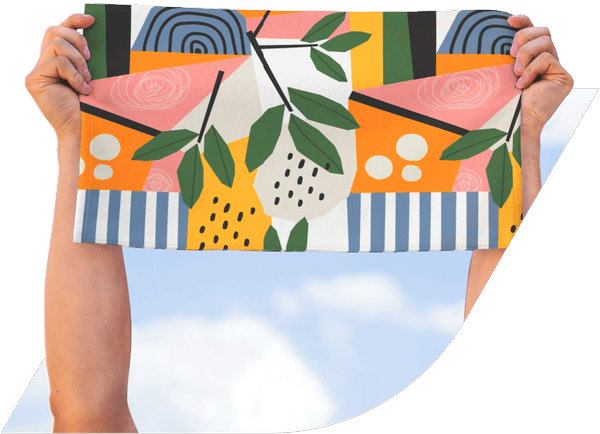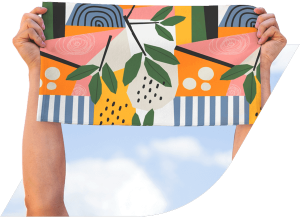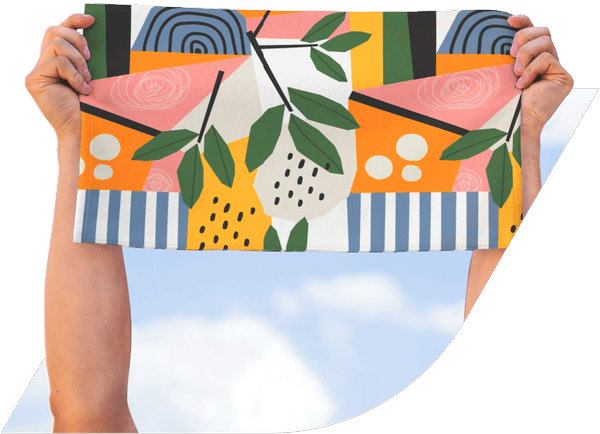 Create Your Own Custom Towels Today
Whether you're headed to the beach, to play ball, or simply to bake in the kitchen, chances are you'll need to use some kind of towel. Thankfully, the Printify catalog contains 4 excellent options if you want to start selling them. You can even add multiple custom print towels to your product range.
Remember, with Printify, there's no upfront investment required to start your online store. That means you can design and start selling custom towels straight away. Read on to learn more about the profit potential of this product, and how you can maximize this with your own unique designs!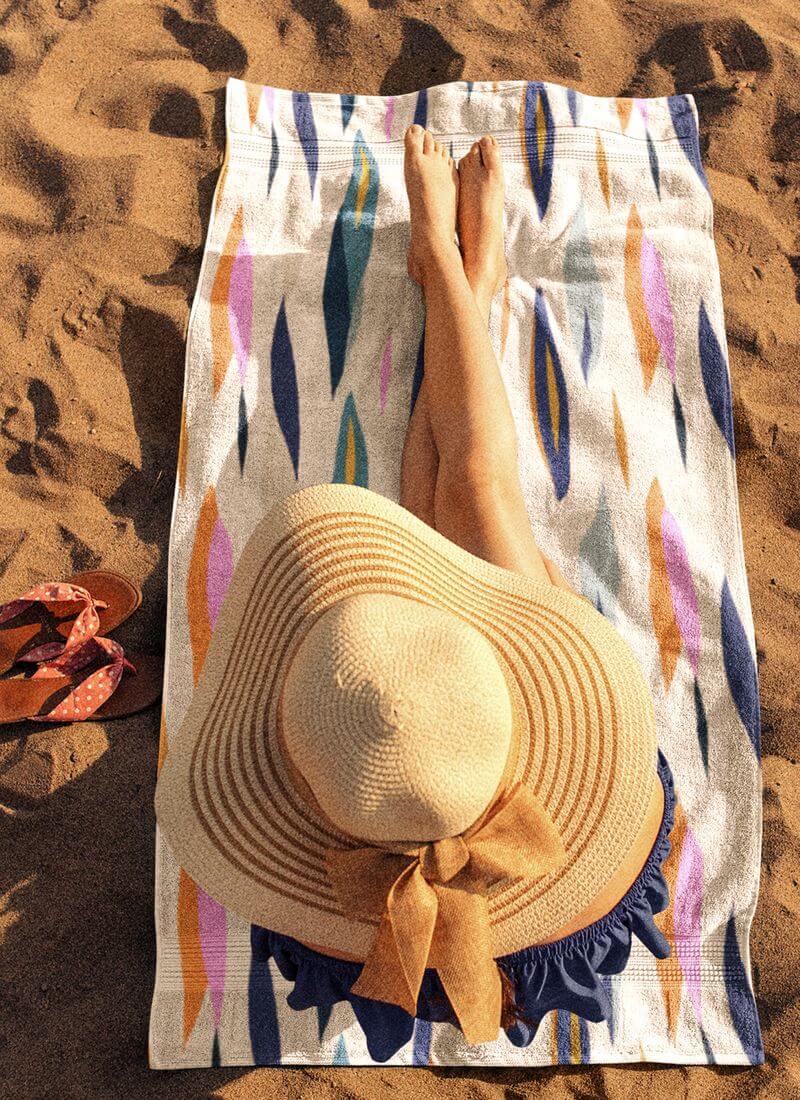 People are desperate to get traveling again, so why not offer them a cute accessory for their vacations? Custom print beach towels add a little personality and pizzazz to a beach trip. They're also highly Instagrammable — a perfect backdrop to make a picture pop!
The beach towel we offer in our catalog is both soft and absorbent, made of a 50% polyester, 50% cotton blend that feels fabulous on the skin. Your custom towels can be printed all over one side, giving them a high-impact appearance.
Thanks to the hemmed edges and cotton loop backing, these relatively cheap custom beach towels are durable enough to be taken on trip after trip!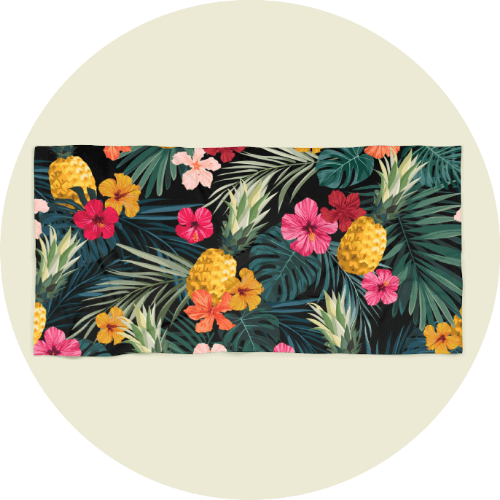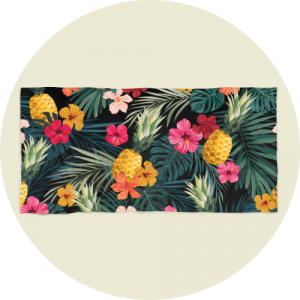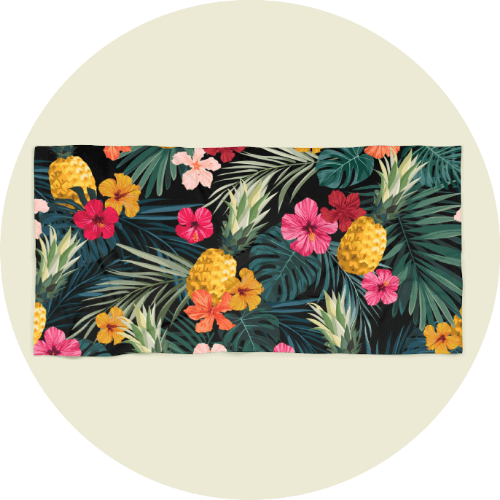 Why not take advantage of the beachy vibes and go for a totally tropical theme? A fun and funky design will catch your customers' attention. Think palm trees, pineapples, and pretty cocktail prints! The idea is to get your customers in the mood for hot days and sultry nights in a sunny clime.
Do your customers love to make a statement? Let them use their beach towels as billboards, then. They can show their holiday priorities with slogans such as "cold drinks, hot nights, and warm memories." Alternatively, they can advertise exactly why they're on holiday with "honeymooner" or "girls' trip!" prints.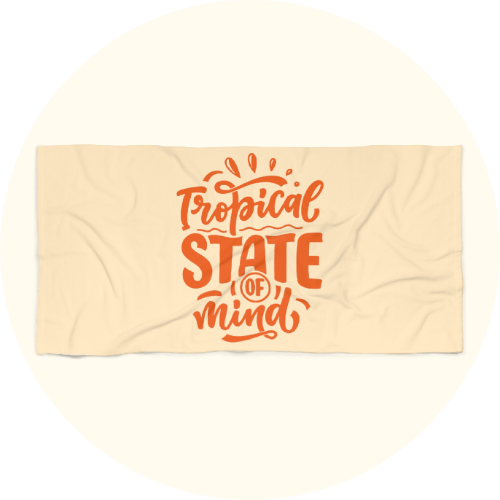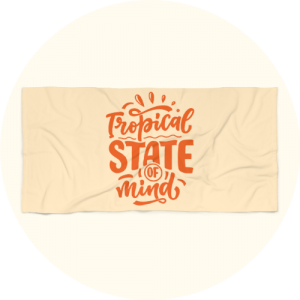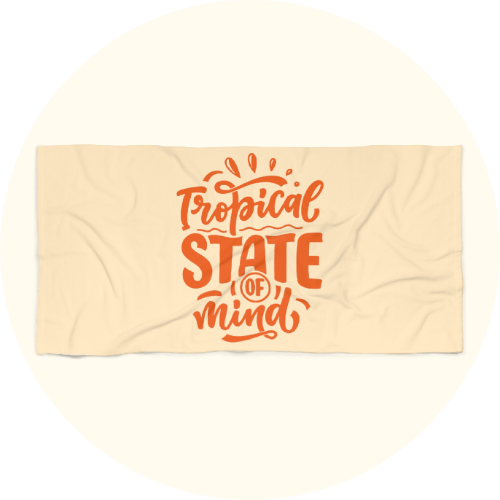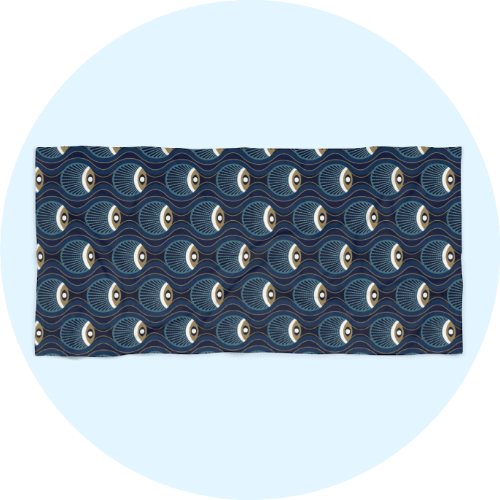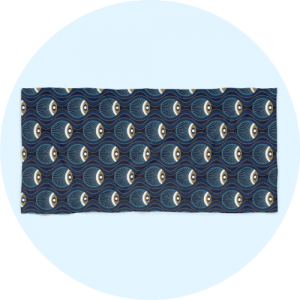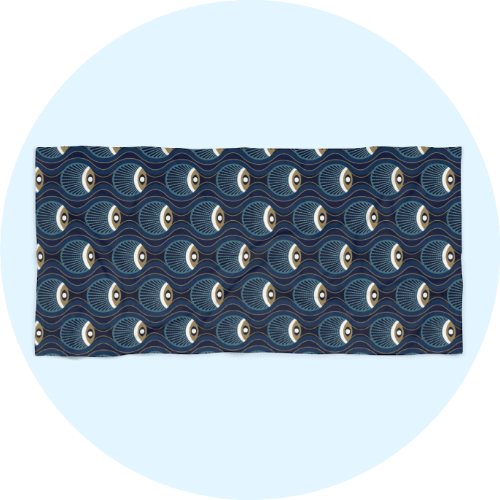 If you want to target a glamorous customer, one with high-brow tastes, then a stylish artsy print is surely the right way to do it. Vibrant pop-art images will stand out on a crowded beach, whereas art deco designs will look very chic and cheerful. When designing your custom towels, why not take inspiration from the greats?
Your customers won't just travel to the beach — they'll also travel through time!
Beach towels offer a perfect canvas for retro-inspired designs. You might find yourself drawn to polka dot patterns from the 50s, psychedelic 60s swirls, or even florals from the 70s, which are definitely enjoying a moment right now.

Since you can sell limitless custom beach towels — no minimum order required — feel free to add more than one design to your store!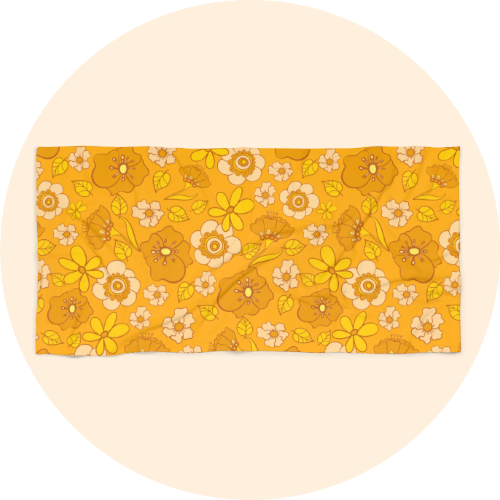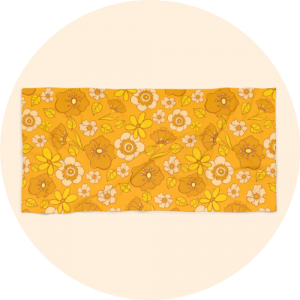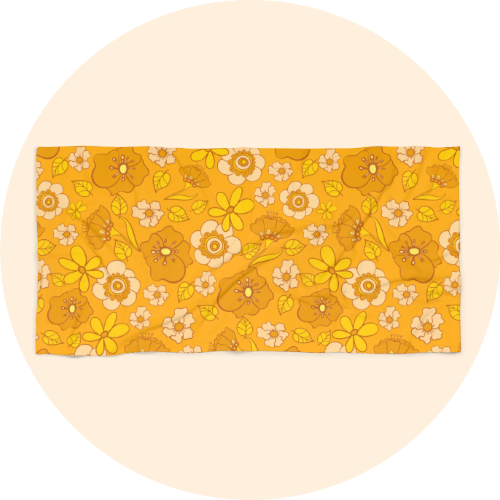 Make Your Own Custom Towels Today!
Let's be honest: towels don't just serve a practical purpose. They also function as part of your interior design! Everyone who has ever been told not to use the "guest towels" by their parents knows this. The fact is that towels in your bathroom become decorative, and that's even more true when they're unique custom printed products.
If you add these polycotton custom towels to your online store, you offer your customers the opportunity to elevate their bathroom accessories. These super-absorbent towels are also ideally sized for taking to the gym or the spa, so why not tailor them to this purpose with your design?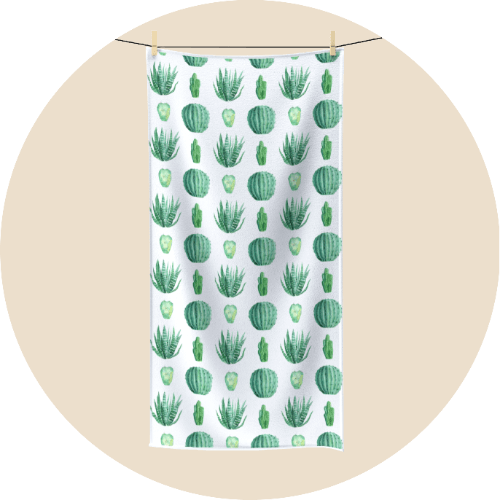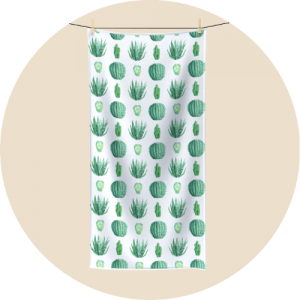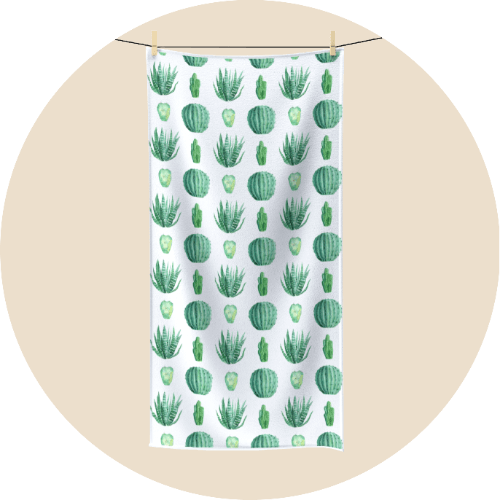 Plant-inspired products are very on-trend right now, so this would be a smart and strategic theme for your custom towels. If you're really sharp, you might consider a cacti print — after all, they thrive in dry environments! You could also incorporate water lilies and other colorful flowers in your design.
The towel itself may be super-soft, but its printed design can still be bold! Apply an abstract motif to your custom print towels and you'll surely make a splash. The clever use of shape and color could easily make them a statement piece in an otherwise minimalist bathroom.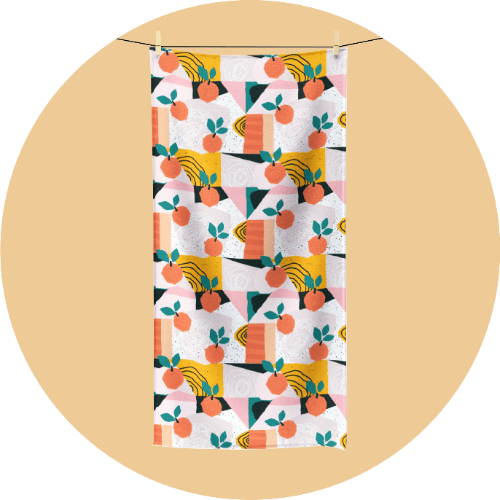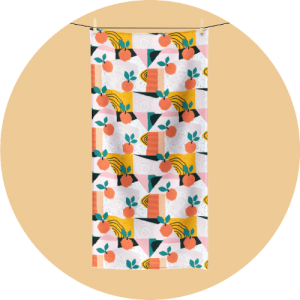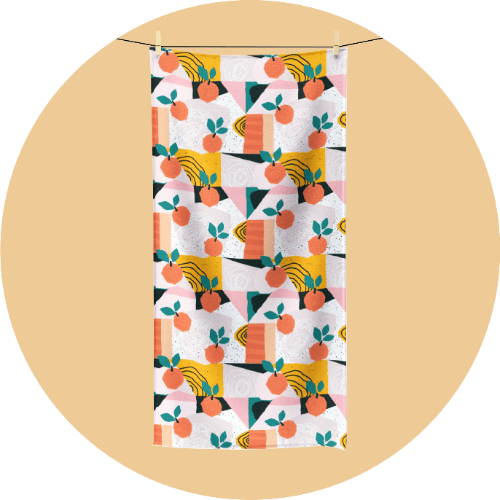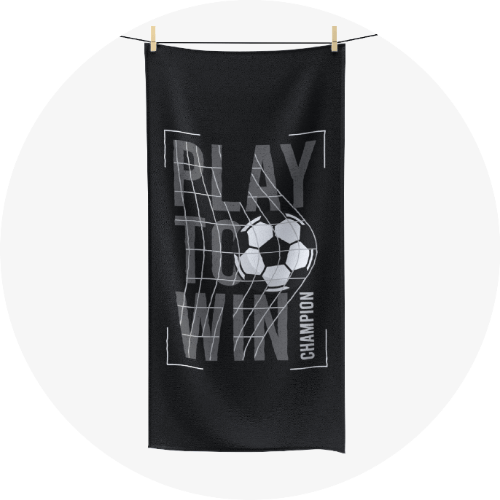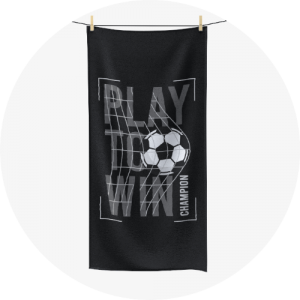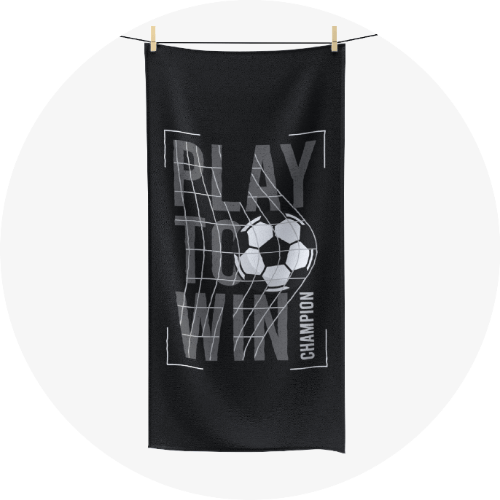 If you're targeting athletic types, make custom gym towels that stand out for all the right reasons when they're in the locker room. Maybe that means theming your design around a particular sport by covering it in basketballs or tennis rackets, for example. Or maybe it means adding a sporting slogan!
This towel is so luxurious. Don't be surprised if your customers choose to take it with them when they head to the spa. You could even design it with this purpose in mind. Some of the most relaxing colors to use are baby blue and mint green. You could print a peaceful mantra like "I breathe in peace" for added effect.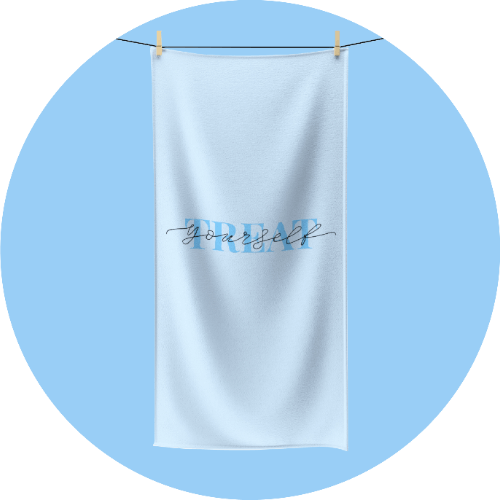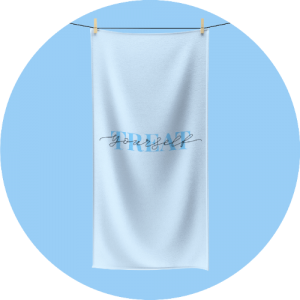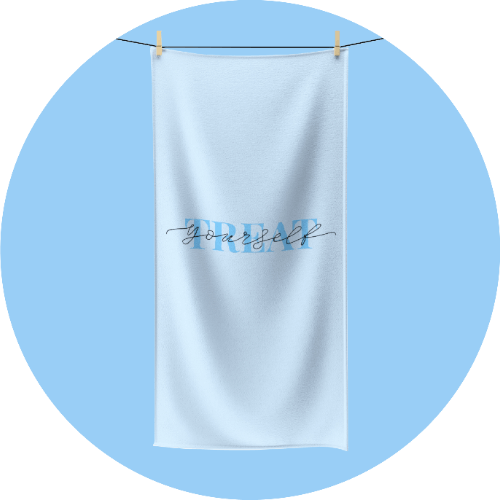 A tea towel is a really cute and kitschy way to add color and style to a kitchen. Custom printed tea towels make amazing presents, so you should probably consider the gifting angle as you customize them.
You'll find that the Printify catalog tea towel is a high-quality item, made of 100% cotton. Your designs will be printed across one side of your custom kitchen towels, making them easy to display around the kitchen.
This is a homely, comforting product that people will equally enjoy buying for their loved ones or buying to decorate their own kitchens with fun designs!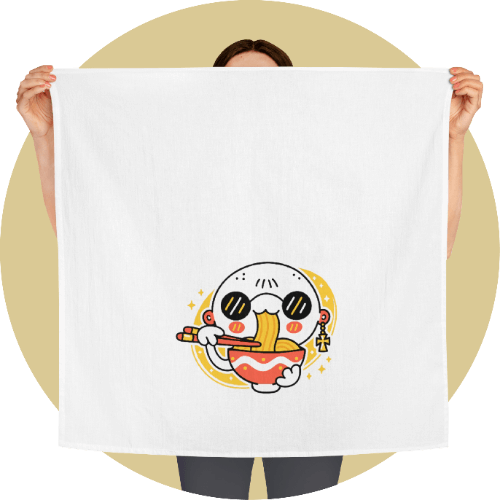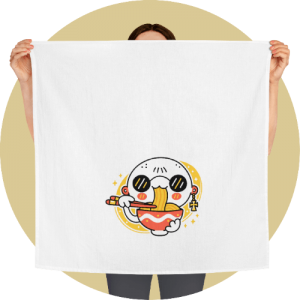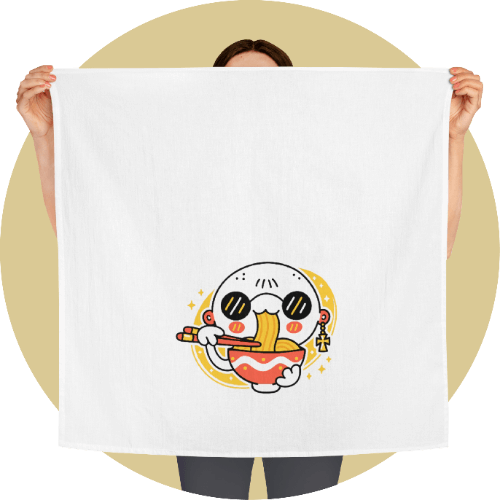 These custom towels are for the kitchen, so a food theme makes perfect sense. You could cover your towel in a colorful fruit and vegetable design, for example. That would add vibrancy to the room! You could also go for a cute sushi or taco print. Merchandise featuring these foods is always popular.

Some people like to use tea towels to express their "kitchen rules." Others use them to display silly expressions. Looking for inspiration for your custom towels? Try "Today's menu: eat it or else!" — surely all parents can relate? Another option is "messy kitchen = yummy meal," for those chaotic amateur chefs we know and love!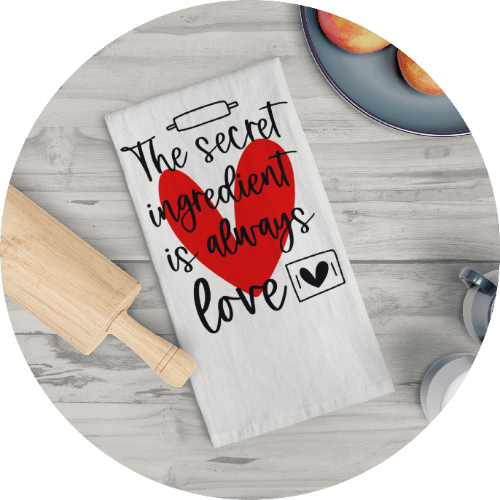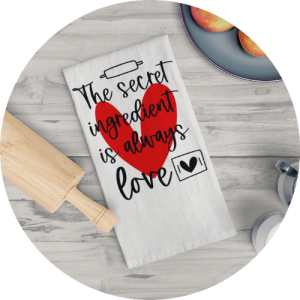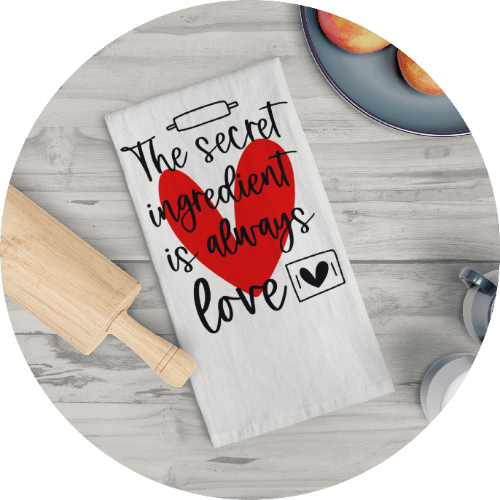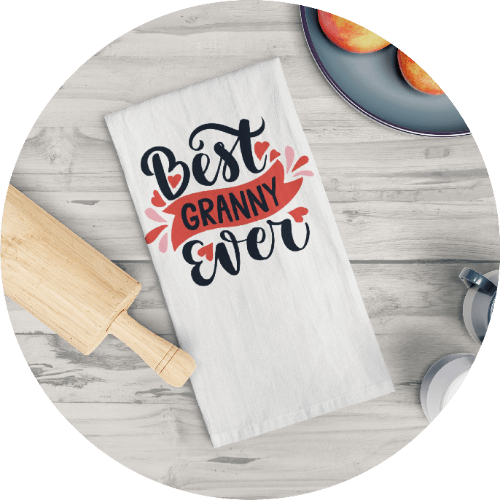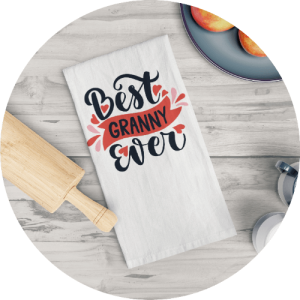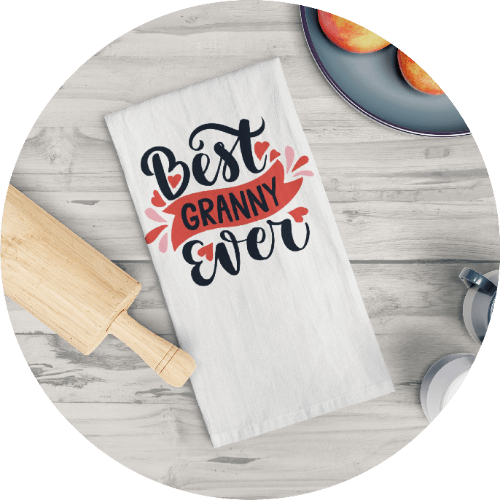 Many people believe that the kitchen is the heart of the home. Why not cater to them with a heartwarming collection of tea towels? You might design products for specific family members, printing them with titles such as "best grandma." Alternatively, you could add a heartwarming phrase like "the kitchen is where we come together."
Let's not forget furry family members! We may not want them in the kitchen while we cook, but that doesn't mean we can't pay tribute to our pets with our custom towels. Many proud pet owners like to buy products that feature their cute companion's likeness. Dachshund-inspired merchandise has become very trendy too, although it may not be the sausage that guests expect to see in the kitchen!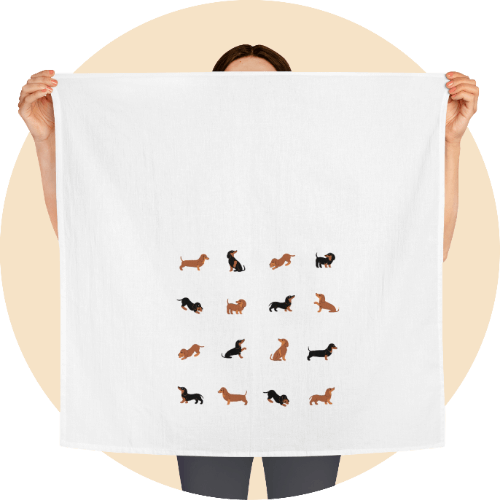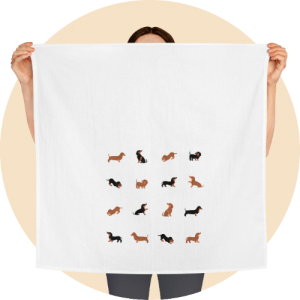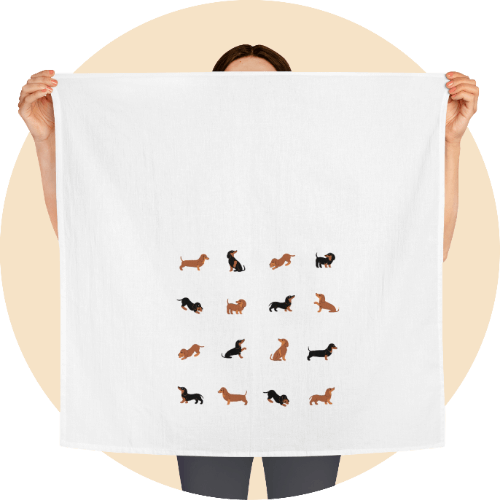 A rally towel is multi-purpose, but it definitely has sporting associations. It's the perfect towel to promote your team or sponsor, and its size makes it ideal for mopping up a sweat on the course, court, or pitch.
Fans can also use a custom rally towel to show their loyalty. If you run your own sports team, this might be a good product to offer your supporters. It's an iconic piece of sports paraphernalia that they can wave around during the game.
The Printify rally towel is polyester on the front — to showcase the print — and cotton on the bac, which keeps it practical.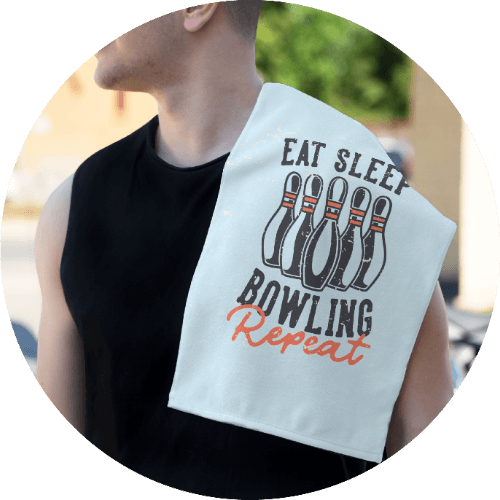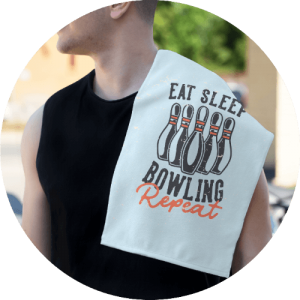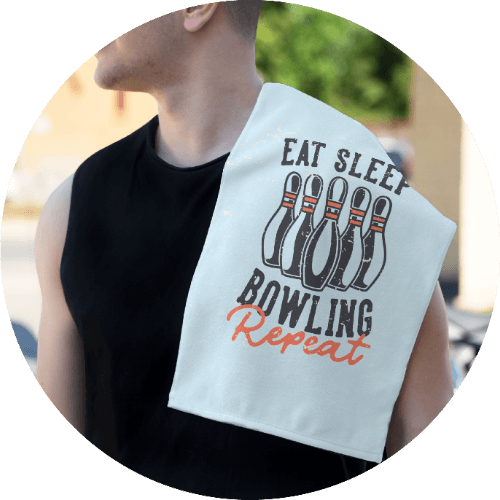 Bowlers often use a towel to remove grease and dirt from their bowling balls. You could design custom bowling towels with fun bowling-themed prints or expressions such as "eat, sleep, bowl, repeat." You can imagine bowlers buying this for themselves or receiving it as a thoughtful but useful gift!

Sweaty hands and wet balls or clubs make golfing very difficult. That's where a great golf towel comes in handy. If you'd like to attract golfers as customers, you could design stylish custom golf towels.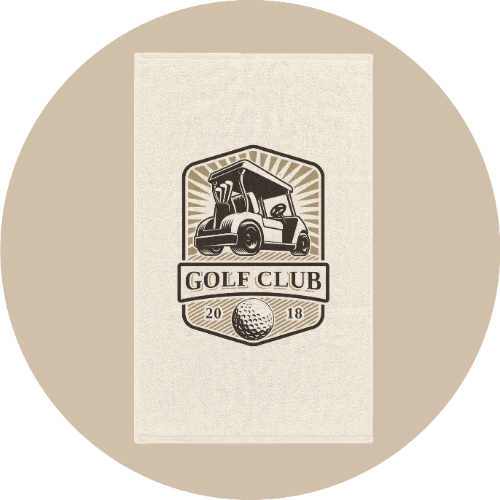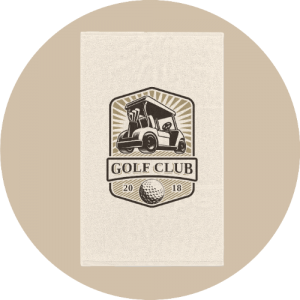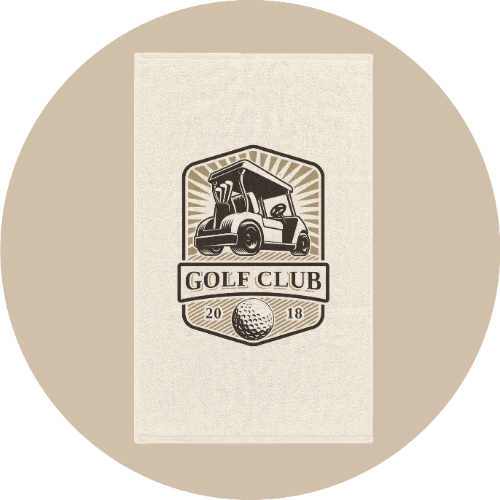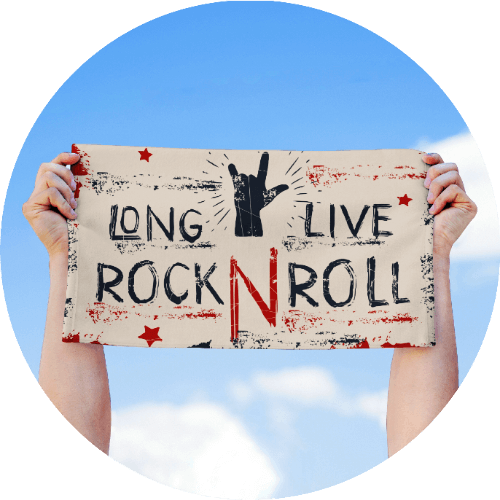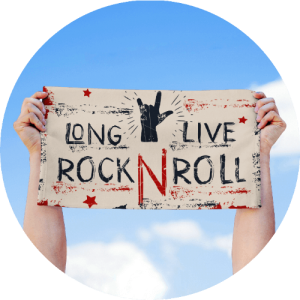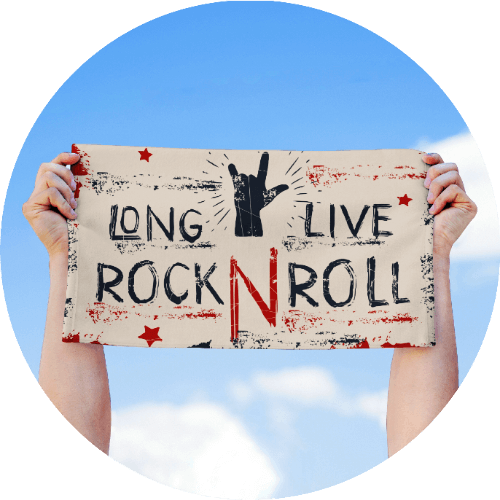 Why should sports fans get all the fun? Rally towels could make awesome merchandise for all kinds of fans. You can easily imagine them being waved around at a music festival, for example. They could even be displayed instead of placards at a demonstration.
Do you have a group of friends that love to swim, cycle, practice yoga, or hike together? Many people do, and they like to buy products that show they belong to their group. The right rally towel design could inspire them to buy in bulk from your store. "Babes that bike" or "swim squad" might be suitable slogans.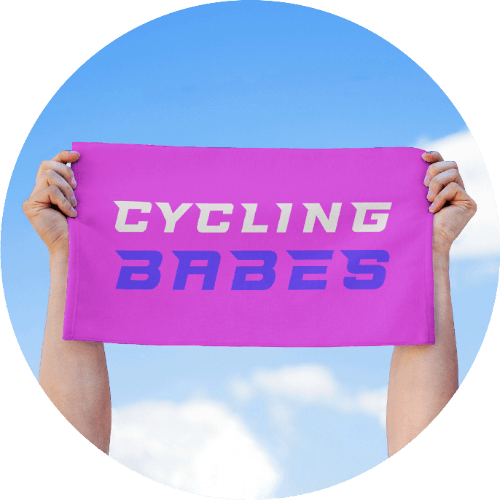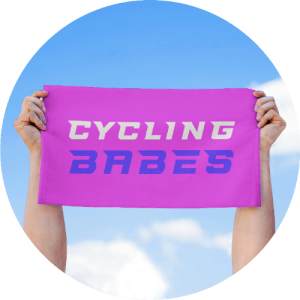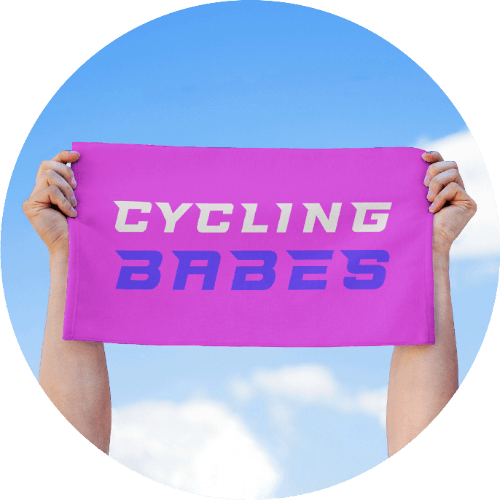 Make Your Own Custom Towels Today!
How to Design Your Own Custom Towels
Designing and selling your own custom towels couldn't be easier with Printify. First, choose the type of towel you wish to sell.
Think about the demographic of your customers: would you find them in the kitchen, at the sports match, or in both places? 
Stuck between tea towels and custom sports towels?

Remember, there are no limits on the number of towels you can design and sell.
The print-on-demand model that we use means no upfront investment is required to add products to your store. Feel free to add custom hand towels, beach towels, or any other item you want!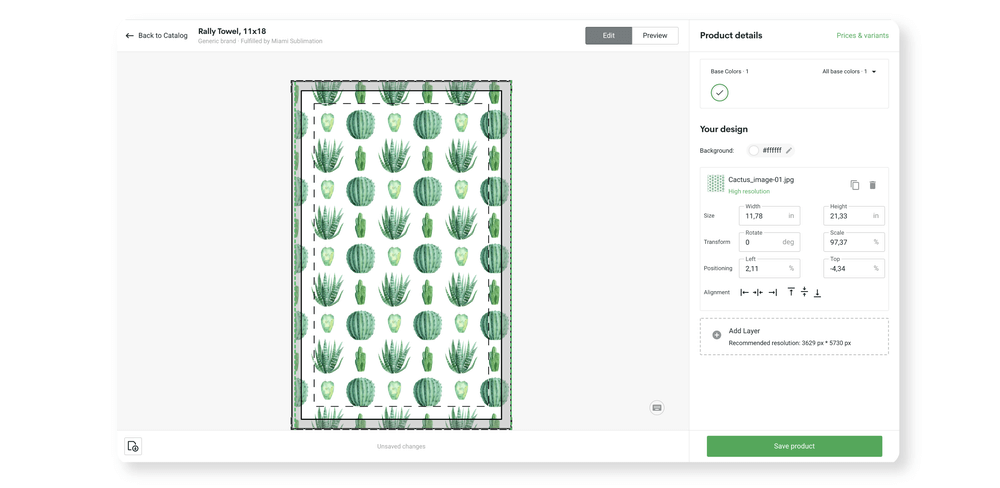 Frequently Asked Questions
Not when you use Printify! That means you can add as many custom towels as you like without taking any financial risk. If you want to start a business selling custom products, Printify makes it simple and financially safe.
If you want to hire a designer, you can; however, you'll find that the mockup generator tool is incredibly easy to navigate, regardless of your skill level. You don't have to be a designer to design your own custom products.
If you're thinking "I'm ready to launch my line of golf towels, but I don't know if I'll receive enough orders," then don't worry! With Printify, you can start selling custom golf towels — no minimum order is required. It doesn't matter which custom product you sell, you can start straight away.
Make Your Own Custom Towels Today!