Sweatshirts are a great addition to any spring, fall, or winter wardrobe, as a substantial addition to your online store. Enjoy the warmth and coziness of our well-made sweatshirts, customized to fit your style.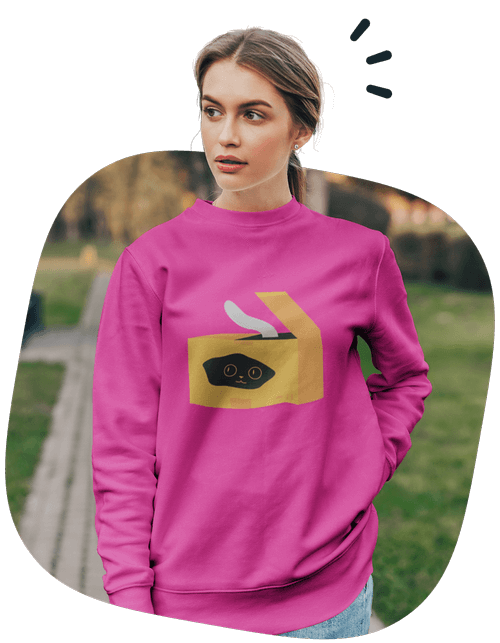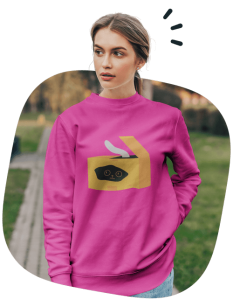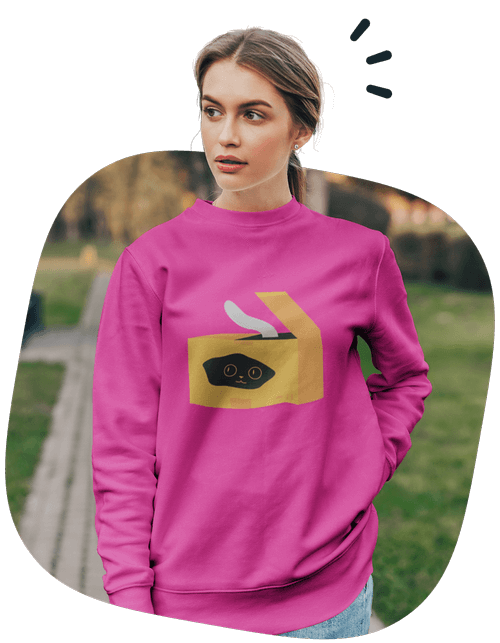 Create and Sell Custom Sweatshirts Online
Why Sell Custom Sweatshirts?
Sweatshirts make an appearance in just about anyone's closet. They're the perfect item for throwing on when it gets a bit chilly, adding a dash of casual flair to your outfit, with a collared shirt underneath, going full business casual for your "casual Friday" at the office. Because sweatshirts are always wearable and versatile for any style, they're still on demand and make one of the most popular items for print on demand. A custom hoodie is easy to personalize and a great way to gather return on investment. With sweatshirts in your online store, you will be pulling in yet another bestseller to join the jacket and hoodie collection and complete your catalog of warm apparel.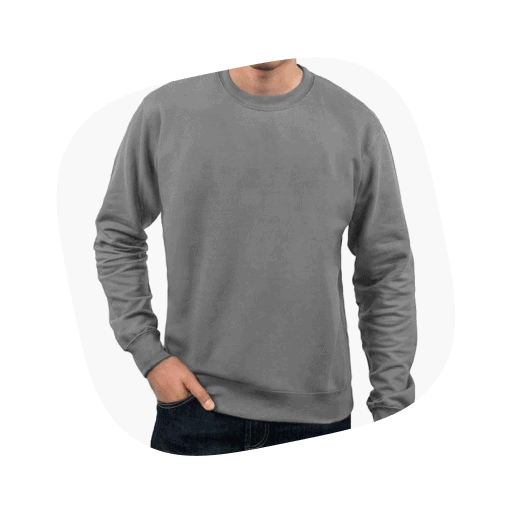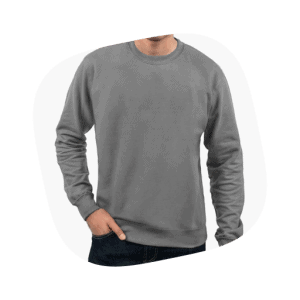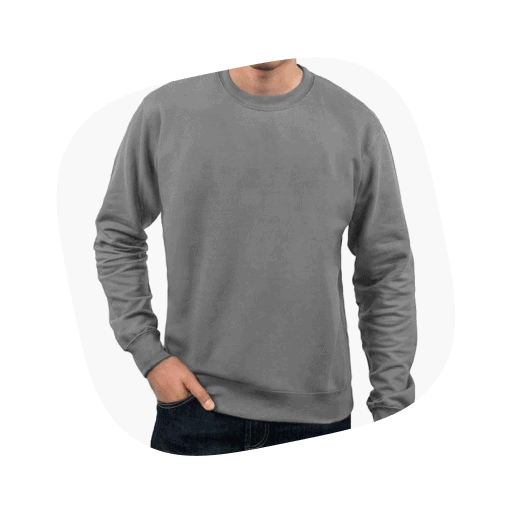 AWDIS JH030 Men's Sweatshirt
This is a roomy, modern sweatshirt, providing comfort with style. Soft cotton and high-quality print make it instantly loved by all who wear it. It is made of 80% Ringspun cotton and 20% Polyester to retain some extra warmth when you need it. The fabric is soft and pleasant to touch and has a subtle luxurious feel. This modern sweatshirt is made of specially spun fibers that make very strong and smooth fabric, perfect for printing bright and vibrant colors.
Stylish fit

80% Soft cotton; 20% Polyester

Medium Heavy fabric (9.9 oz/yd² (280 g/m²))

Tear away label

Runs true to size
Delta 99100 - Unisex Heavyweight Fleece Crew
This warm and super cozy heavyweight unisex crew keeps away cold, providing superior comfort. A perfect fit for everyone, it will instantly become an irreplaceable statement item. It has side seams for structural support with a ribbed knit collar. The ribbed knit makes the collar highly elastic and helps retain its shape. It also has a twill neck tape to stabilize its comfortable feel and prevent stretching.
Classic style

55% Cotton; 45% Polyester

Medium fabric (7.5 oz /yd² (254 g/m²))

Tear away label

Runs bigger than usual for an extra roomy fit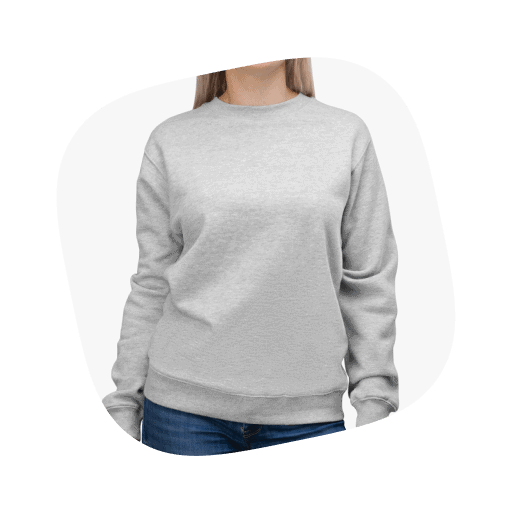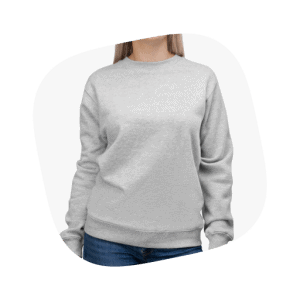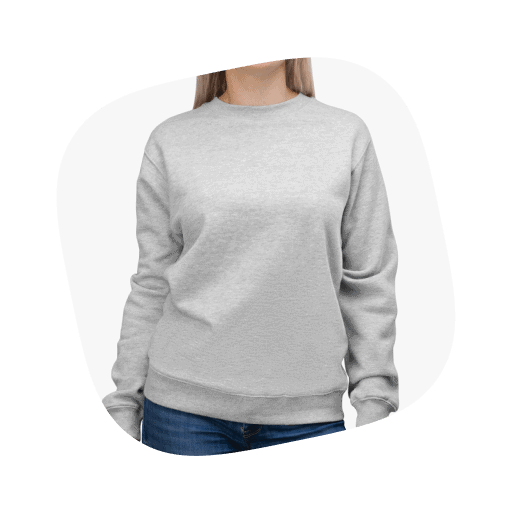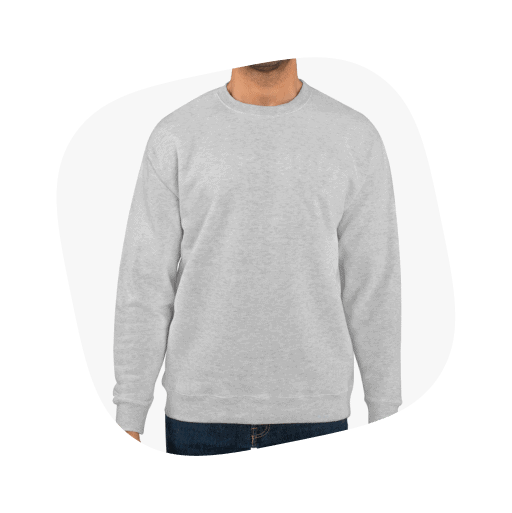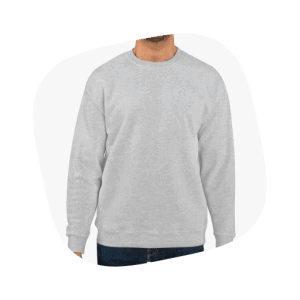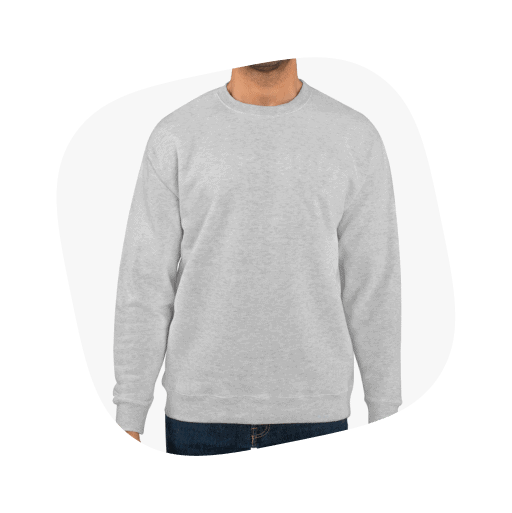 Lane Seven - Unisex Premium Crewneck Sweatshirt
One can take the cold seasons in style with this premium crew neck sweatshirt. Available in multiple colors, this sweatshirt is sure to keep you warm and stylish all day long. Featuring a 3-end Fleece fabric, it has a real tight-knit construction giving it better quality and durability. It's not only beautiful, and it's comfy and soft to the touch with best in class under 5% shrinkage.
Regular fit

80% Soft cotton; 20% Polyester (fiber content may vary for different colors)

Medium fabric (8.2 oz /yd² (280 g/m²))

Tear away label

Runs true to size
B&C WUI23 - Unisex Crew Neck Sweatshirt
What's better than looking stylish without compromising comfort and warmth? This ribbed crew neck sweatshirt is what everyone needs; it's made of soft cotton blended with polyester for that toasty warm feeling. It comes in a regular fit that ensures the perfect balance of long-lasting comfort and a contemporary silhouette in a unisex style designed to fit both men and women.
50% Cotton 50% Polyester

Medium fabric (7.96 oz/yd² (270 g/m²))

Brushed fleece inside

Regular fit

Runs true to size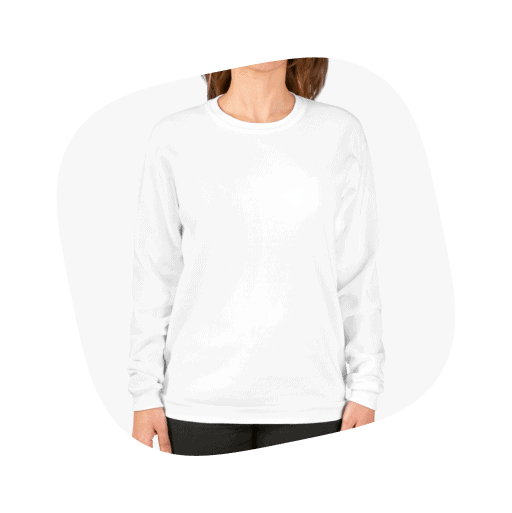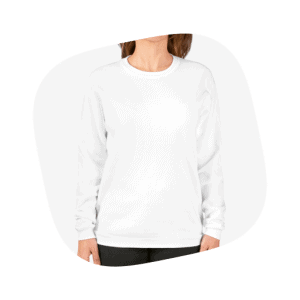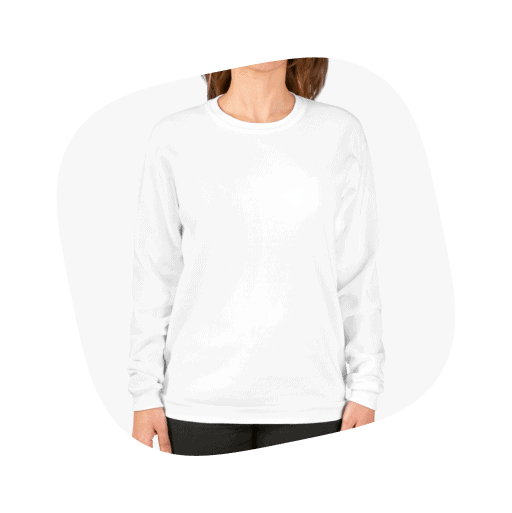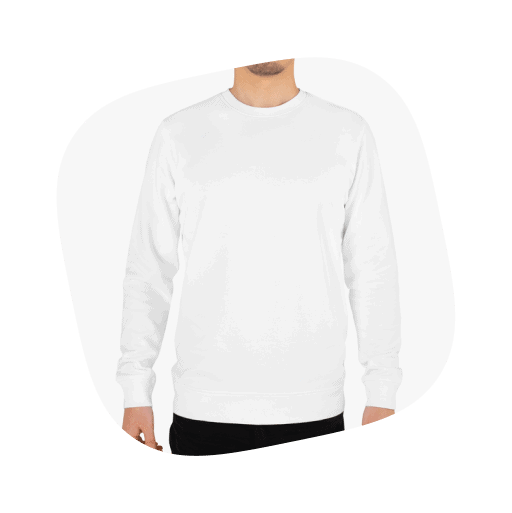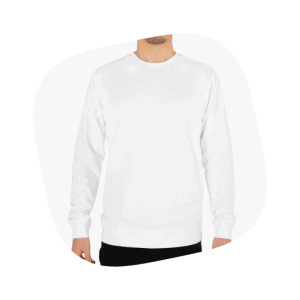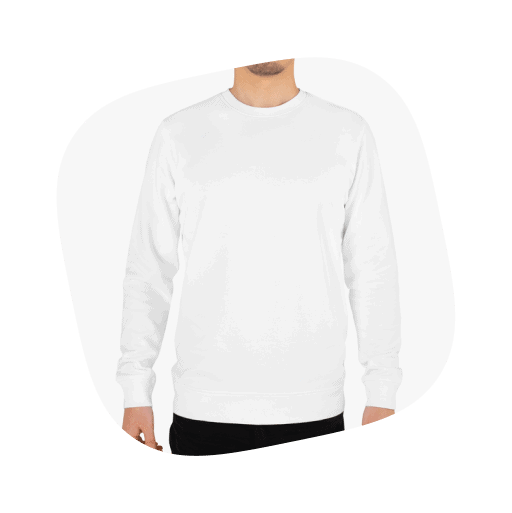 Stanley Stella - Unisex Organic Sweatshirt
This essential unisex crew neck organic sweatshirt will be a guiltfree addition to your wardrobe. Live it green with the organic sweatshirt that not only embraces eco-friendly but is also stylish.
It features a set-in sleeve and bottom hem, a flatlock topstitch on all seams, and an inside herringbone back neck tape, The perfect organic blend sweatshirt.
85% organic cotton, 15% recycled polyester

Medium Heavy fabric (8.5 oz /yd² (300 g/m²))

Classic fit

Sewn-in label
Gildan 18000 - Unisex Heavy Blend™ Crewneck Sweatshirt
This soft sweatshirt has a loose fit for a comfortable feel. With durable print, it will be a walking billboard for years and years. It has side seams for structural support with a ribbed knit collar. The ribbed knit makes the collar highly elastic and helps retain its shape. Includes a twill neck tape to stabilize its comfortable feel and prevent stretching.
Loose fit

50% Cotton; 50% Polyester (fiber content may vary for different colors)

Medium fabric (8.0 oz/yd² (271.25 g/m²))

Sewn-in label

Runs true to size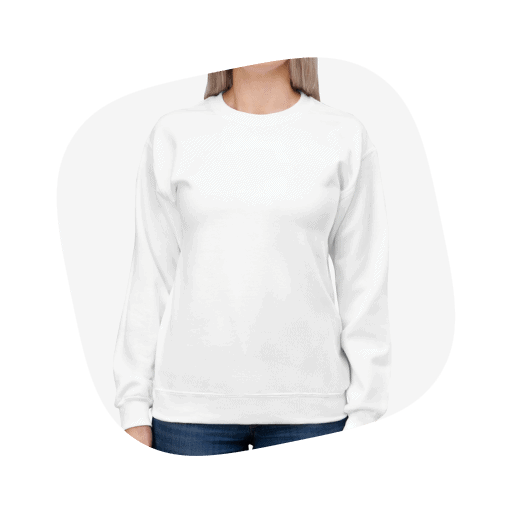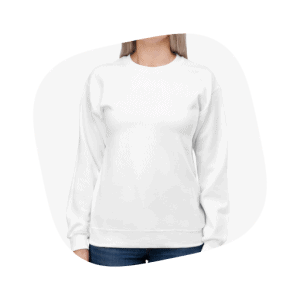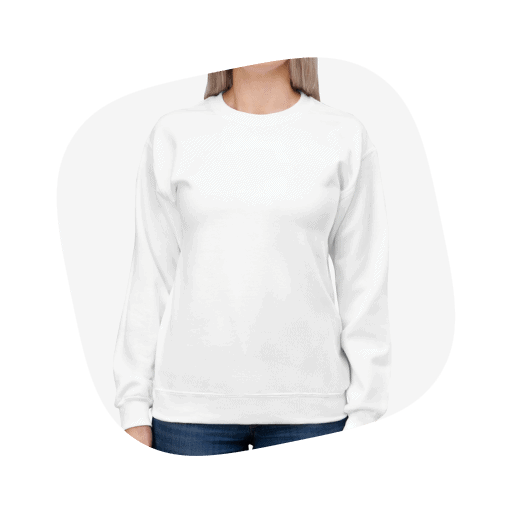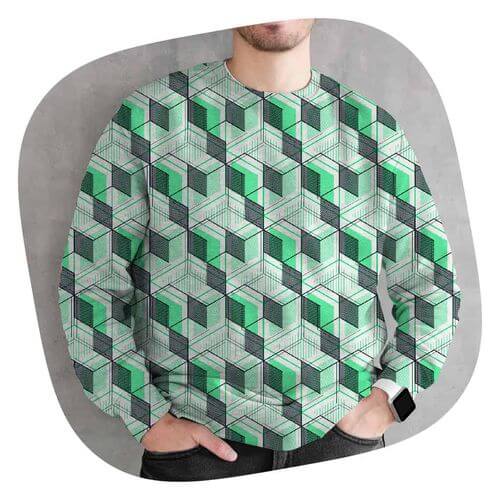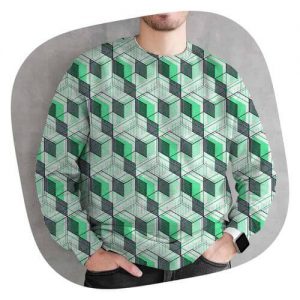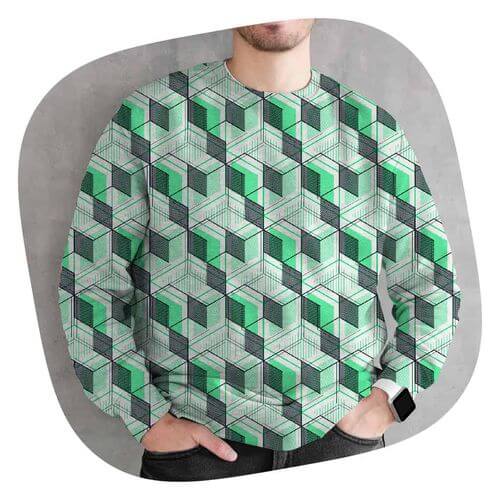 All-Over-Print Unisex Sweatshirt
This all-over print crewneck sweatshirt is the perfect example of cool. With quality all-over printing capabilities, you won't be worried about white lines in the seams. This fleece is custom cut and sewn and features a crew neck, set-in sleeve to keep you warm.
86% Polyester, 14% Cotton

Crew neck

Classic Fit

Custom cut and sewn

White seam stitching
Start Selling Custom Sweatshirts!
Why You Should Get Into the All-Over Print Sweatshirt Trend
In the last few years, more unique statements in fashion have continued to be in style. Which has made All-Over print designs rise in popularity as people become braver and bolder in their fashion choices. All over print sweatshirts are a great way to get your brand seen, stamp your identity all over your garments, and stand out from your competitor's stores. More and more customers are looking for stores that can offer personal and unique products. With so many standard products to choose from, all over print sweatshirts can provide a welcome break from the norm and everyday mundane. One of the fastest-growing apparel sections embracing all over print shirts is menswear, and men seek to make bigger and bolder fashion statements.
Athleisure, sportswear and womenswear, have also picked up the trends, and all over print items can be seen heavily prominent. Take your chance today and start your very own all-over print sweatshirt brand with our unique and capable All Over Print Unisex Sweatshirts.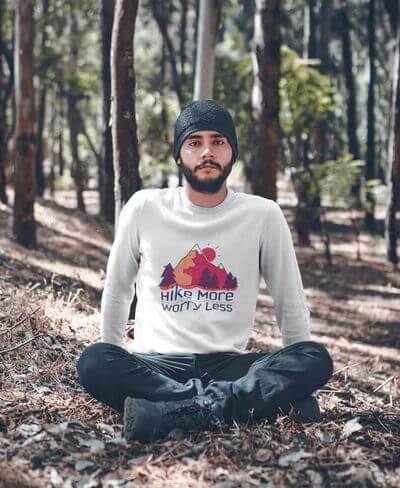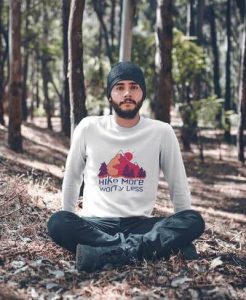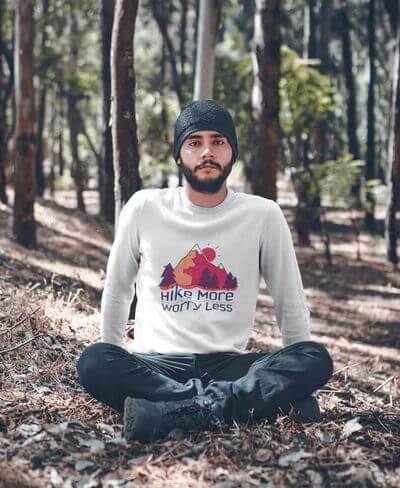 Design Ideas for Custom Sweatshirts
Finding the right design inspiration for your custom sweatshirts is essential in making the best niche for your brand. Just like t-shirts, the versatility of the sweatshirt is in its design. Using the Printify mockup generator, you can create easy designs for any product on Printify. Custom sweatshirts are a perfect statement piece for one reason; they are outerwear, which means they are defined by needs rather than seasons. Here are some cool niches to consider when designing:
High Fashion Custom Sweatshirts
Sweatshirts are a prominent item in both streetwear designs and high-fashion. With the right designs, you can give your clothing line a professional high-end touch found in many familiar names in the industry and with the best-known designers. All over print sweatshirts can also give you the edge required when making high-fashion items. Use the current trends to take some inspiration from them. Be brave with robust designs, and don't be afraid to use your logo or brand name to build a reputation.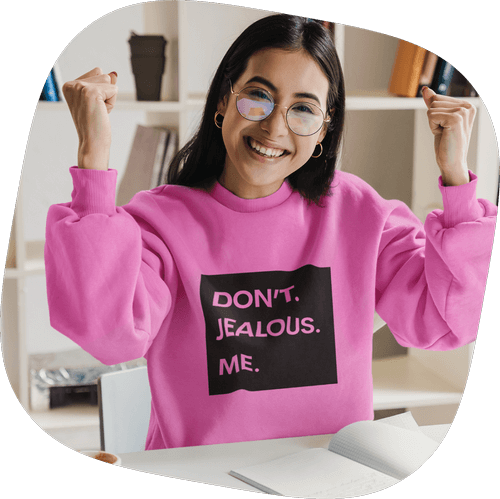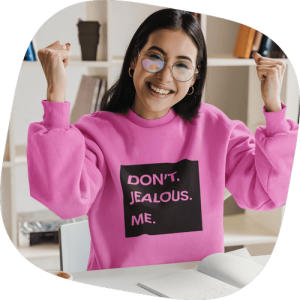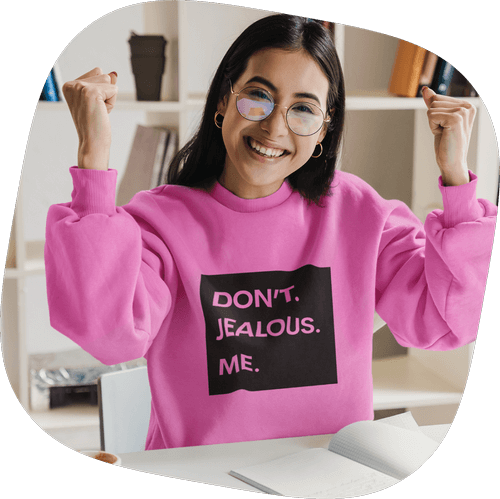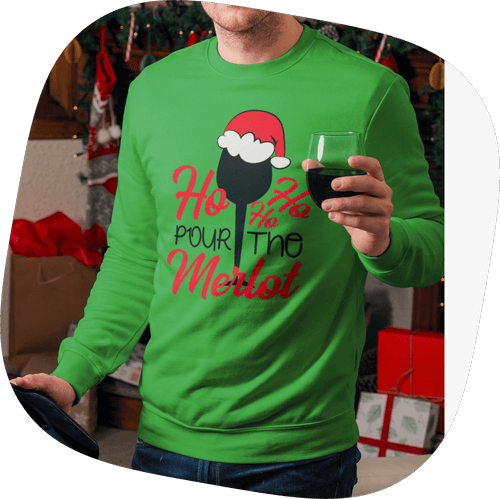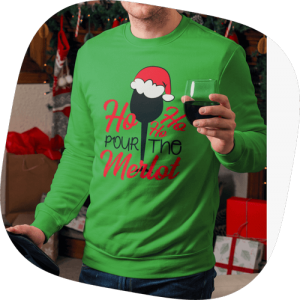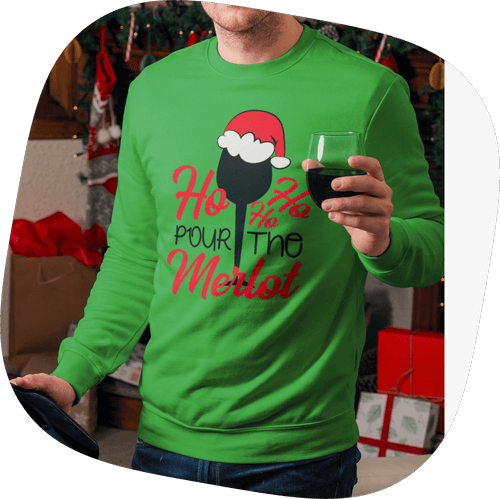 Novelty Custom Sweatshirts
Every year, seasonal fun events occur, and some call for costuming. Trends also change, and what is currently trending can be the best idea to capitalize on for that period. Other novelty themes such as cat-inspired items, cartoons, and manga characters, as well as holidays, maybe what your business is most known for having. Just remember that once you have picked your novelty niche, it may be hard to deviate from it. There is also a high level of commitment to the novelty niche required to set you apart.
Custom Sweatshirts With Logo
Logo designs apply mainly for All-Over-Print sweatshirts. Think Gucci, Fendi, or any other prominent but specific logo designs you know of. This niche is all about placement. To set your brand apart, you may want to place your design in specific areas that are not possible with standard POD products. This is where an all-over-print sweatshirt is perfect, providing the freedom to place designs exactly where you want them on the garment.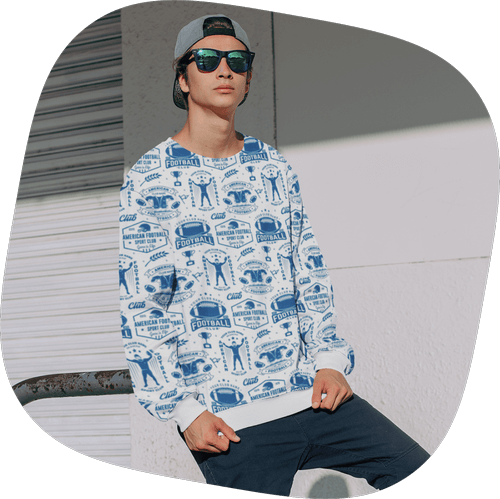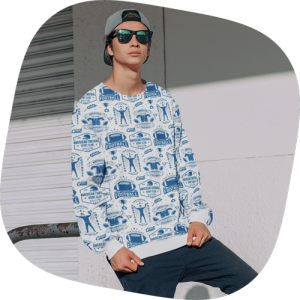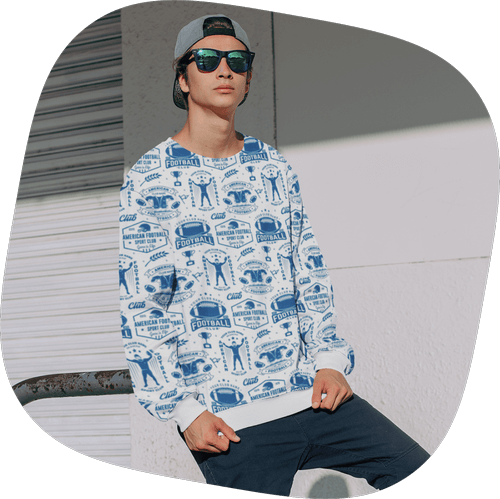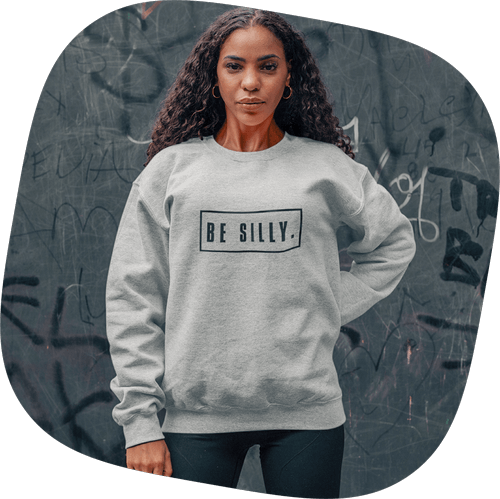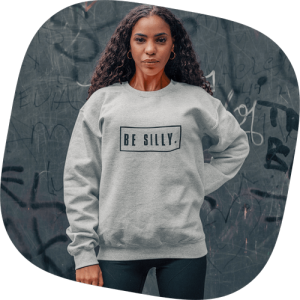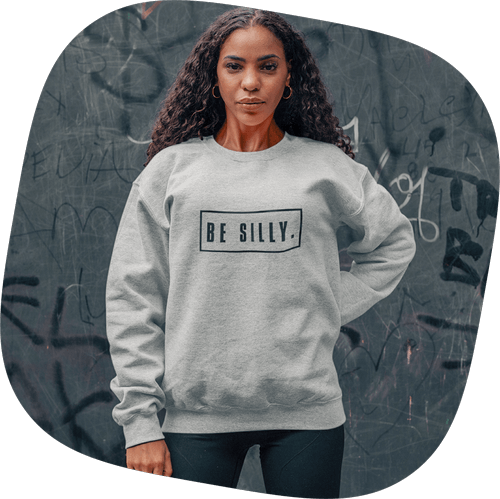 Minimalist Designs on Custom Sweatshirts
The less-is-more philosophy applies even to custom sweatshirts prints. To design gorgeous custom minimalist sweatshirts, try using a simple background with streamlined or spaced bold text, lines, or elements on your custom sweatshirts. Or vice-versa. Minimalism is all about using minimal design for maximum results. When you use a minimalist design, you can easily control where the attention of your viewers will go.  You may even choose to scale up your designs or use a bold typeface or negative space to draw attention.
Graphic Designs on Custom Sweatshirts
Guide the viewer's eye by using shapes by using the custom sweatshirt background color as a backdrop for designs full of shapes, or create shapes by using text for a more abstract custom design. Great graphic design is not only eye-catching, but it looks like well-organized chaos. Another way to do graphic design is to l overlay pictures, organic elements such as flowers of bold typefaces to make custom sweatshirt designs that pop.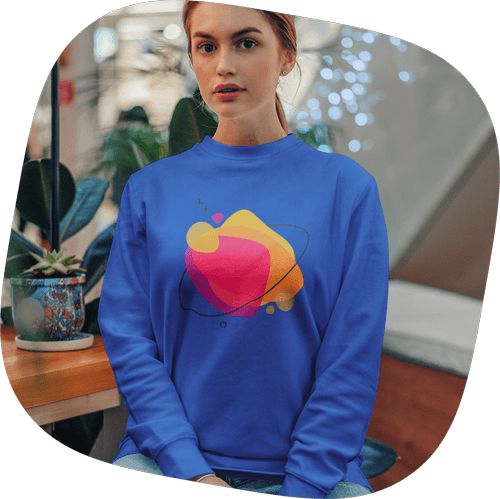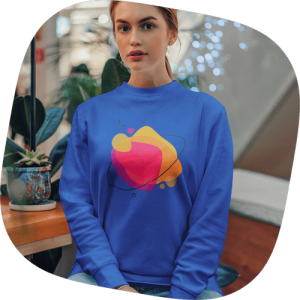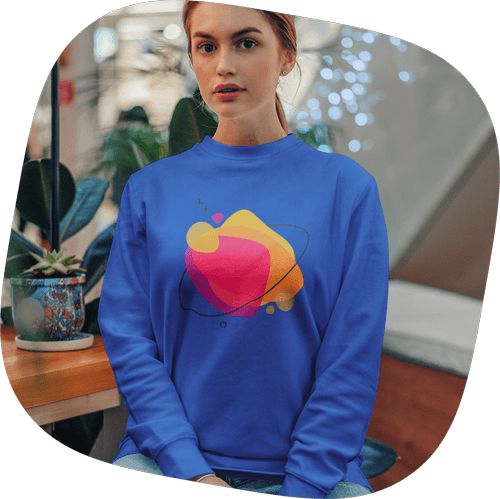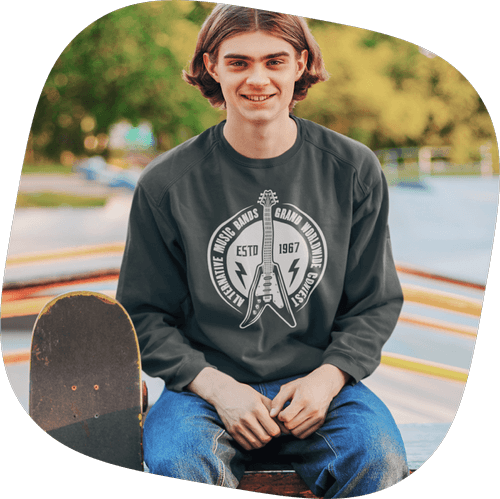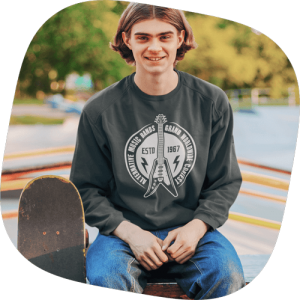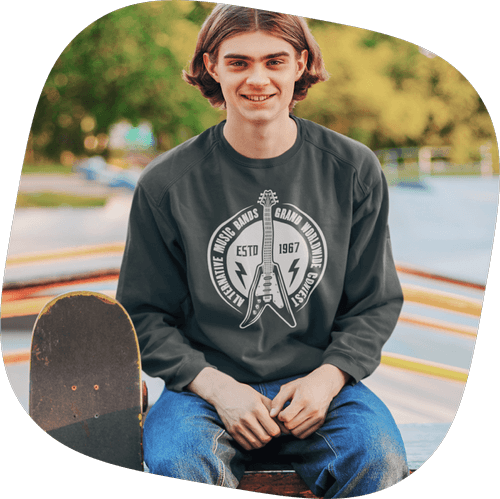 Band/Musician Custom Sweatshirts
Band t-shirts have been coming in and out of style for years. This is because great music is timeless, and something special, and great music on a sweatshirt is even better.  Music is already art, so there are very few constraints on what a band sweatshirt design conveys. Bundle them with cool band t-shirts for your store to boost your sales. Band sweatshirts may include album covers, lyric-inspired art, or the themes of the music itself. Custom sweatshirts can be the next bestseller in your store.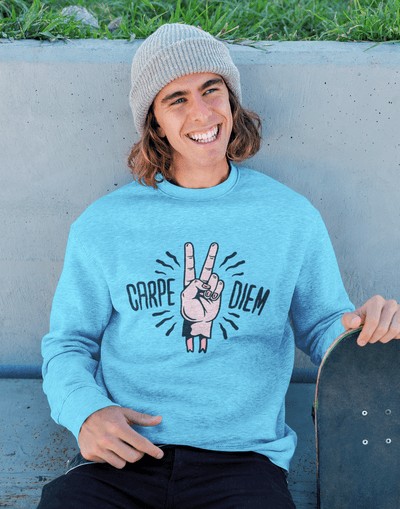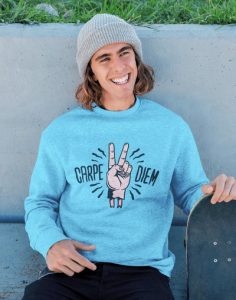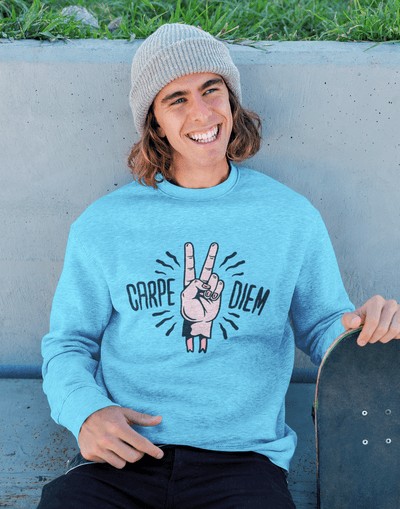 Because you pay for each product individually and only after you make a sale with print on demand, this does not limit you to selling one product per order. It means that you get custom printed sweatshirts with no minimum whenever you need them.
Custom sweatshirts can also be ordered in bulk, no matter how large your custom printed sweatshirts business gets. Print on demand gives you peace of mind because you will never run out of stock regardless of how much you sell. An added advantage of custom sweatshirts with no minimum is you can sell them throughout the year and change your designs to meet the season. You are also free to try selling in bundles. Bundling is a marketing tool used to boost sales by selling multiple items at once as a set. They are a great way to not only meet demand, for instance, in bundles for families but also to boost seasonal gifting sales for your store when you make custom Christmas sweatshirts as "ugly sweaters."
Custom sweatshirts with no minimums allow you to generously bundle and sell without worrying about inventory or stock keeping.
How to Use the Mockup Generator to Design Custom Sweatshirts
When you have a Printify account, you get access to a free mockup generator that is made for even the newest designers to navigate easily. Often, when we talk about customizing or designing online, we think of complicated software that costs a lot of money and takes years of experience to use correctly. With the Printify free mockup generator, you can start designing your custom sweatshirts with just a few clicks of a button. 
9 Most Frequently Asked Questions About Selling Custom Sweatshirts Online
Start Selling Custom Sweatshirts Online With Print on Demand
If you are new to Print on Demand, it can seem like a foreign concept that is too complicated for you. But this is not the case; it is simply a modern business model for many online stores today. In fact, as of 2020, more than 3 million online entrepreneurs have used print on demand to sell over 60 million unique print-on-demand merchandising items every day. This only proves that with the right idea and quality designs, you too can sell custom sweatshirts online, and as long as you keep the demand high, make a good profit off of it. It would only be right for you to take advantage of such a great opportunity.
Get Started With Printify
Printify is one of the most preferred print-on-demand platforms in the world. Join the more than 300,000 online sellers who choose Printify to produce and sell thousands of products through print on demand. Printify will open your custom sweatshirts business opportunities to a global market. We connect you to our network of 15 print providers with over 90 printing factories with the latest printing technology and machines in the US, Europe, and China. We also have a catalog with over 280 items ready for you to customize, including custom sweatshirts in various finishes, orientations, and sizes.
You also get a direct channel to popular online store platforms such as Shopify, Etsy, eBay, Wix, where you can confidently use all their resources while your store remains fully integrated to provide ease of use, across these platforms. Choose Printify, and take your custom sweatshirt business to the world.
Do you want to start selling your custom sweatshirts right now?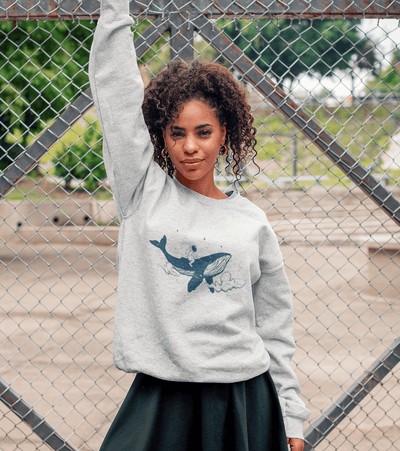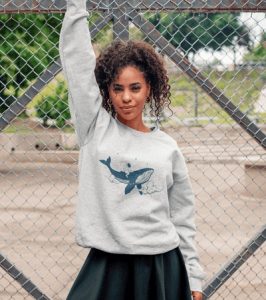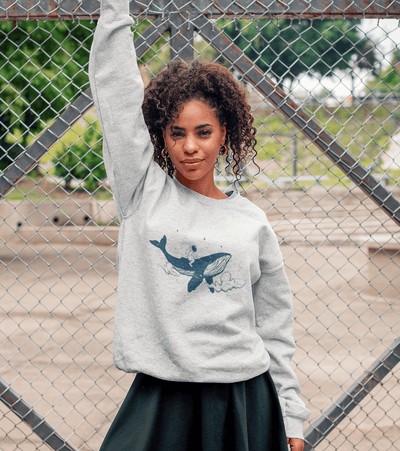 Ready to Start?
Design Your Own Custom Sweatshirts
Start your first print on demand business today. Custom sweatshirts are a great sales opportunity for anyone looking to increase their online income. We have design-ready products, including All-over print sweatshirts, for you to customize and sell. Follow the steps below to get started today.
Start Your Own
Print-On-Demand Business!