Forget mass-produced, zero personality custom jackets. Showcase your unique designs and dress to impress… or start selling!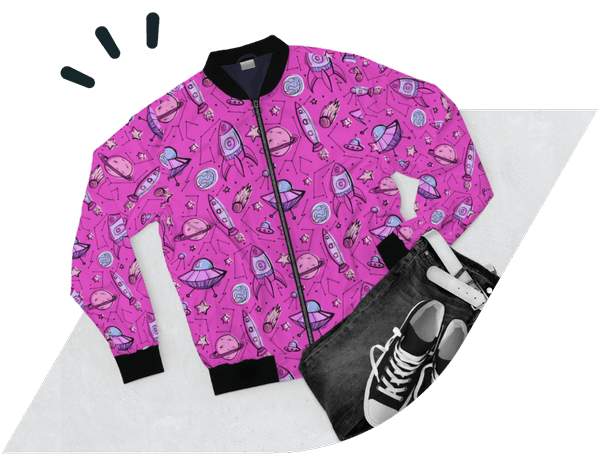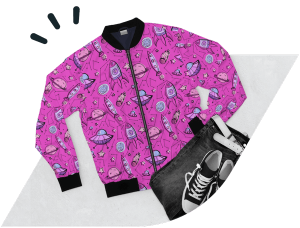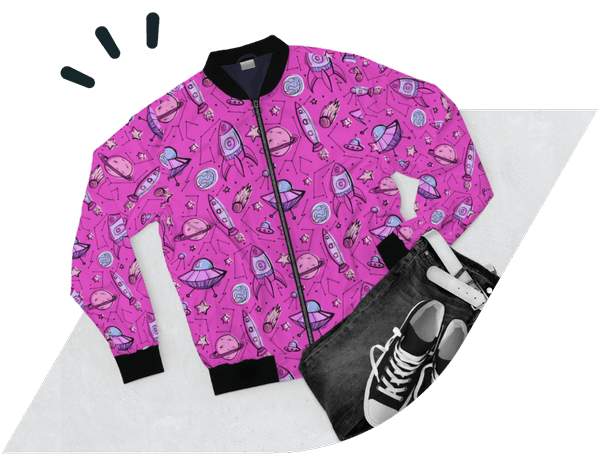 Create and Sell Custom Jackets Online
What Custom Jacket Styles Do We Offer?
Classic pieces that will never go out of style, the custom bomber, and varsity jackets are iconic looks for both men and women. Design a custom jacket for yourself or as a special gift for a loved one and bring out their personality for the world to see. Or add these jackets to your store and help your customers to make a bold and daring fashion statement. But first, what's the difference between these two iconic styles?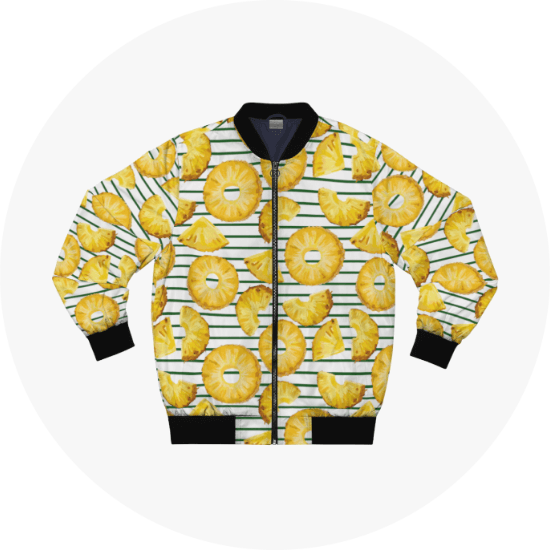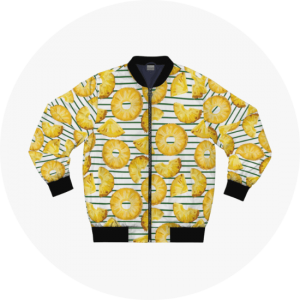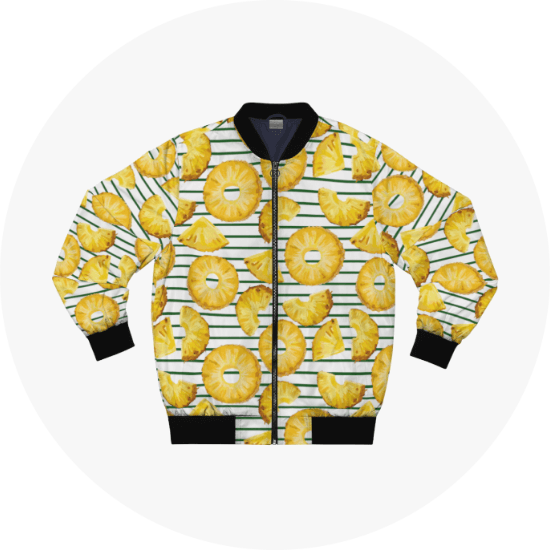 We are proud to introduce the newest addition to our range, the custom bomber jacket – classically redefined and fully customizable. By you. With the freedom to design your own way, the originality of this custom bomber jacket is only just getting started.
A great custom bomber jacket is magical for many reasons, and especially effective if layered over a hoodie. All over print (or sublimation) is so in right now, and our bomber jackets are extremely customizable: from solid color backgrounds with bold prints or your favorite actor's face on your back to breathtaking all-over prints. Without getting too technical, the process involves heating a transfer paper with your design to 350 to 400 degrees Fahrenheit.
At this point, the design becomes a gas that permeates onto the garment (pretty cool eh). The result is a high quality, long-lasting image with bright colors.
Embroidery Varsity Jacket
From being one of the most searched to one of the most popular trends with a rich history, varsity jackets have developed into a phenomenon that knows no border, language or culture. Being versatile and gender-neutral, varsity jackets are widely recognized all over the world.
And embroidery is taking over the fashion industry, as it represents a bold, personal, and fresh take on products that otherwise might seem quite basic, we think it's time you added it to your store, adding a touch of preppiness to your customers' wardrobe.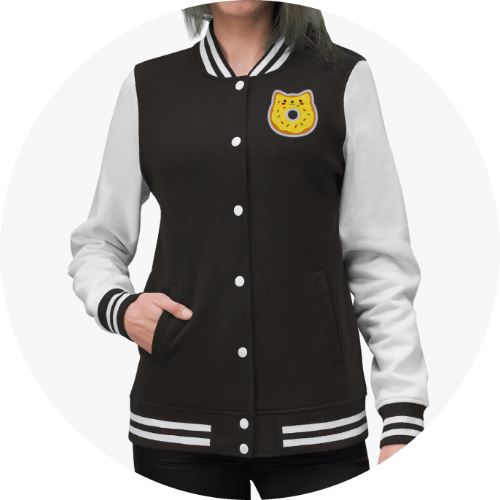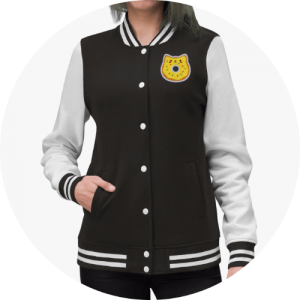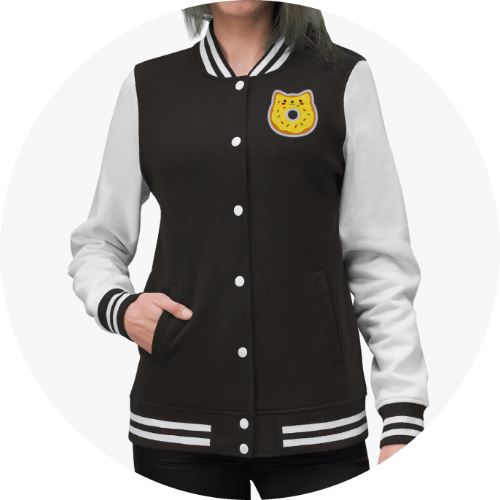 Why Choose Printify as Your Dropshipping Partner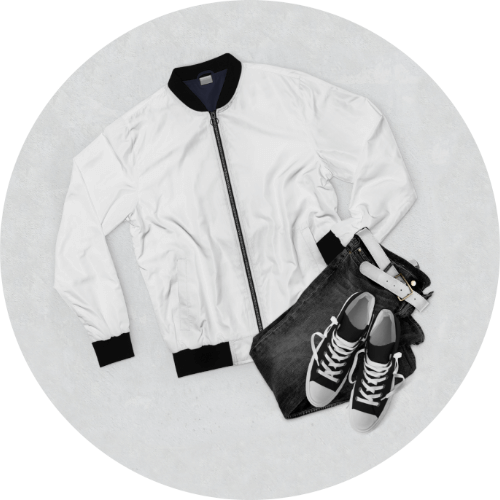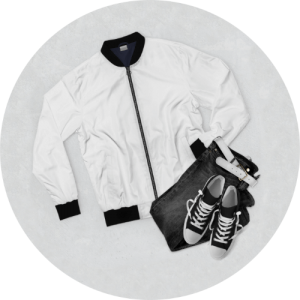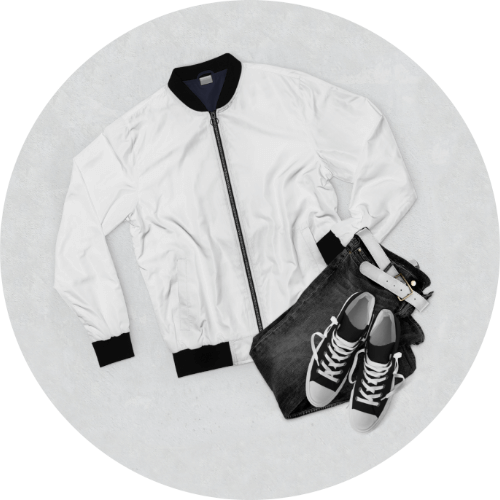 Custom Jackets Are the Essence of Streetwear
Street style is the king. Treat your customers' fashion cravings with a line of trendy jackets. Custom jackets are so easy to design, and as you can probably guess, there's a huge market for them—at the moment, the competition is really small. To create a streetwear collection, put your designs—either unique all-over prints or cool embroidery—on our jackets that you can find in our catalog, put a price tag on, and start earning. Our most popular and highly customizable jacket is the bomber.
Printify Is Trusted by More Than Two Million Merchants Worldwide With More Joining Every Day
I don't have to invest the money I can't lose into my business. With Printify, I only pay the fulfillment fees, and the rest is all profit.
I really appreciate working with Printify on my brand. Afro Unicorn was only supposed to be my design on a white shirt. It is so much more. Printify allows me the time to run the business and not work in the business.
Printify helped me start a completely hands-off revenue stream. When you spot a niche that you want to enter quickly, you don't have to worry about buying stock or equipment.
My experience has been amazing so far. With thousands of sales, there's always going to be obstacles to overcome. But, when something has needed fixing, it has always been amazing.
Printify Premium has helped my profit margins tremendously, and spending $20 a month has probably saved me over $200 a month.
Using Printify saved our struggling business of 6 years and gave us more time with our family.
I like Printify products because they tie in with our organisation's message.
I love the Printify Mockup Generator. It keeps everything consistent and allows me to keep my brand looking sharp and professional.
Start Selling Custom Jackets!
Design Ideas for Custom Jackets
Using the Printify online design tool, you assemble your design hassle-free. All you need to do is select the print style you want to use and the mockup generator will take you through step by step. And because the jackets are custom print, you can be as daring as you like (especially with AOP and DTG). Each of these production styles requires a slightly different process, in terms of how your design needs to be added to the garment. The fun part about the design tool is that the more you use it, the more you will understand what you can do with your designs.
Custom jackets are a perfect statement piece for the reason: it's outerwear. It's the first thing people see. So the possibilities are endless—from team jackets to corporate presents to bachelorette parties and so on. You can also design a 'His and Hers' line for all the lovebirds out there. Or add a touch of uniqueness with bold, one-of-a-kind prints. You can try our free designs or create your own—here's a couple of design ideas you can implement in your eCommerce business.
Custom Jackets for Couples
Nothing says "He's with me" than matching jackets. By adding matching his and hers custom jackets to your store, you can feed that young love's craving for being together 24/7. There's so much room for creativity: Embroidered initials look so good on a varsity jacket; bold all-over-print looks terrific on the timeless bomber.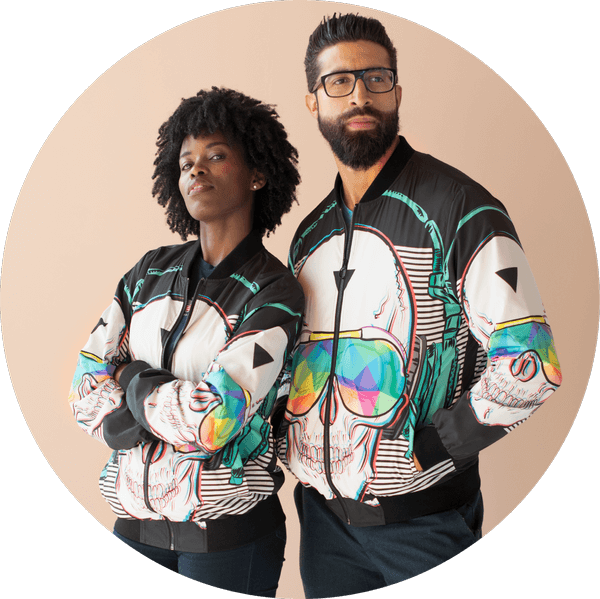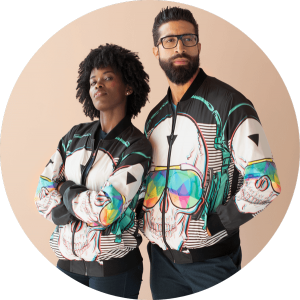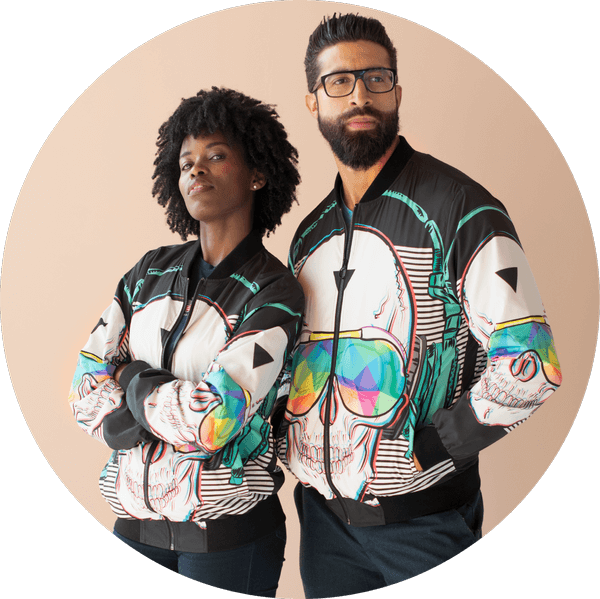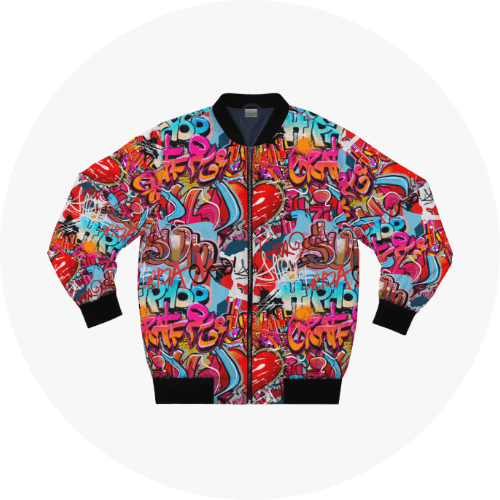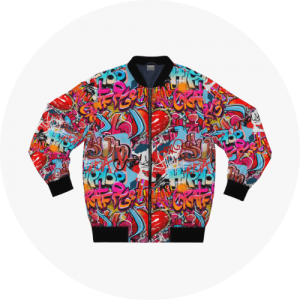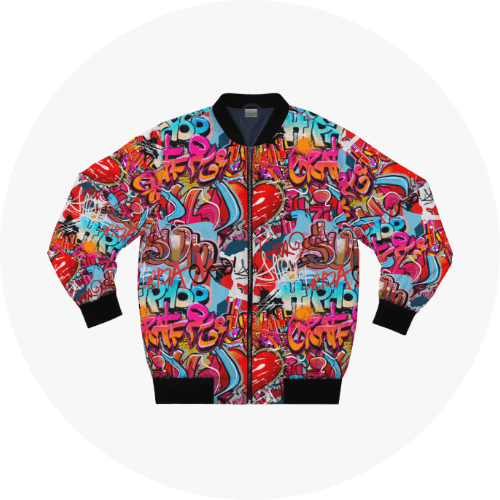 Custom Jackets for "Creative Individuals"
Custom jackets are available in sizes XS to 4XL—perfect for ladies and gents of all ages and sizes. Varsity jacket has press stud closure and features two pockets, and a perfect little place for your logo, initials, nickname… you name it. Our bomber is a timeless wardrobe staple with plenty of room for your creativity—add breathtaking vistas, abstract art, graffiti or whatever comes to your mind!
Custom Jackets for Teams or Companies
Sports teams and companies are always looking for ways of lifting the team spirit, and personalized jackets are a great way of doing it. For a varsity jacket, add a company or team logo and you're good to go! Created with the ideal blend of 65% cotton for a super comfy fit and 45% poly fleece, made of specially spun fibers that make very strong and smooth fabric, perfect for embroidery. 
Bombers are even more customizable—add the team's slogan, logo or even a photo of the team on the back! All over print is perfect for custom bomber jackets.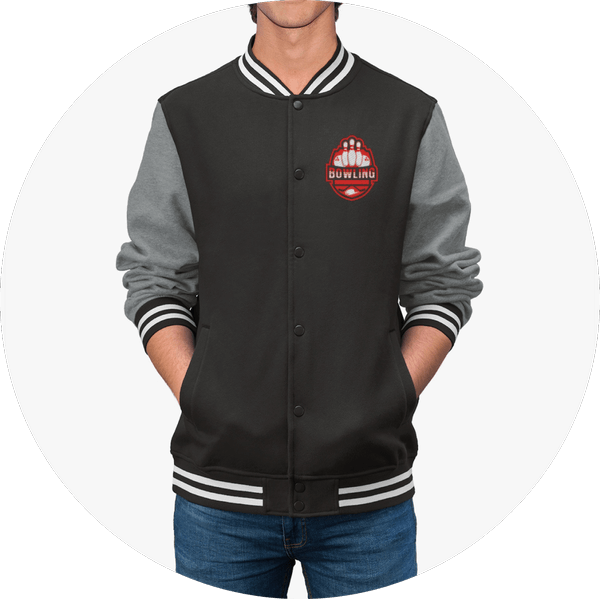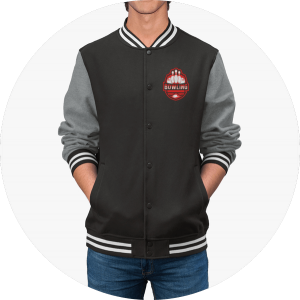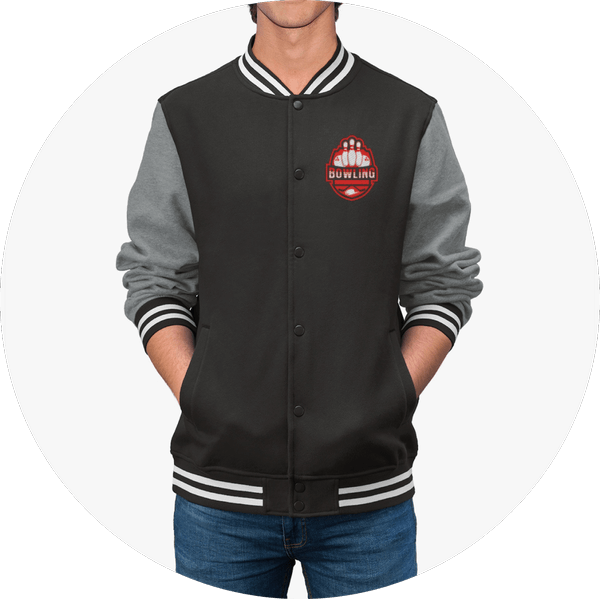 Custom Jackets No Minimum
Here, at Printify, we have no order minimum. Only need one custom jacket or a few? Shop our no minimum products and create your design in our easy to use Mockup Generator. Whether you order one or one thousand custom jackets, we got you covered.
Print on demand business method has a vast amount of benefits for its users, the most prominent being cost-effectiveness – print on demand is based on actual sales, you won't need to put up investment capital to start or keep stock of products; no minimum quantity, as print on demand is perfect for making low quantities of personal orders on products. You can order just one breathtaking custom bomber, or you can order a cargo container, there is no minimum. Plus the prices are all reasonable.
At Printify, your custom designs are dropshipped to your customer's doorstep with no middle man and no minimum order. So what are you waiting for? Let your creative juices flow and start designing your perfect custom jacket!
8 Most Frequently Asked Questions About Selling Custom Jackets Online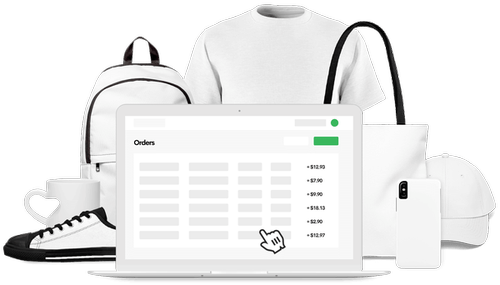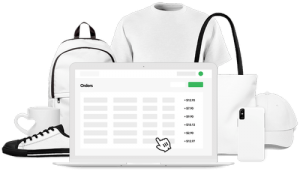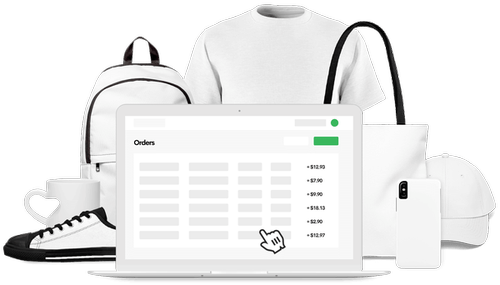 Get To Know Our New and Improved Mockup Generator
If you've been with us for a while now, you already know about our amazing (and free!) mockup generator. However, to better cater to your needs, we felt that there was a need for an upgrade.
Focused on ease of use and how it looks, we've made a few changes and kept all the important elements the same. To help tweak and optimize the use of the new mockup generator, we rolled it out to a select group of users and made it available to new sellers. Therefore some sellers will find it familiar.
The Printify mockup generator is the foundation of a successful eCommerce business and where you'll probably invest most of your time. With these new improvements, we aim to make the experience even better for you.
Better look & feel

– The mockup generator underwent a UI update that is more appealing and smoother to use.

Design panel for ease of use

– You can now switch layer positioning and functions on the design panel on the right-hand side.

Effortless design

– Faster to create products and upload them to your online store.

Mobile view optimized

– The new mockup generator is better adjusted to work on mobile devices.

Mockup images

– We've improved product details and preview, so you can see your new custom jackets the way your clients will see them. 
The Printify mockup generator is super easy to use: simply drag & drop your design to upload, play around with layers and colors; it looks and feels professional, but is easy to use to all. But to be absolutely sure your new custom jacket will look and feel exactly like you want it to, read our guide to top design mistakes.
Now you are full of design inspiration you must be eager to get started. This is good news, but there's more – your new designs are just a few clicks away! Our mockup generator is the perfect tool to help your designs become reality. 
Start Your Own
Print-On-Demand Business!