Whether at home or in the studio our custom yoga pants are designed to help you strike the perfect balance of style and poise. Create your own today – it's 100% free.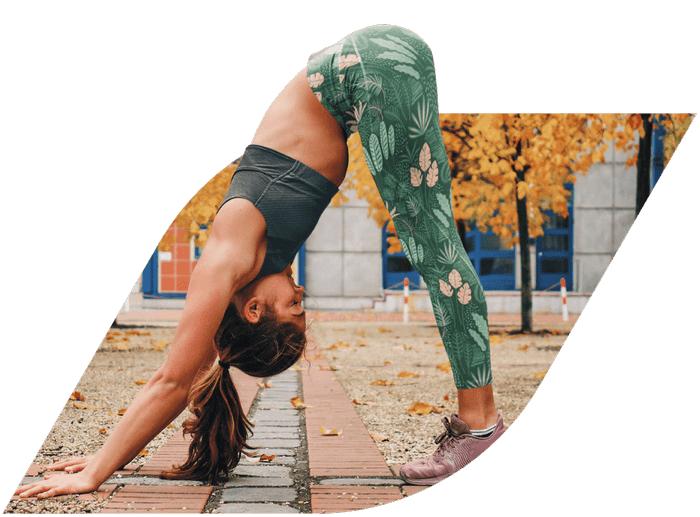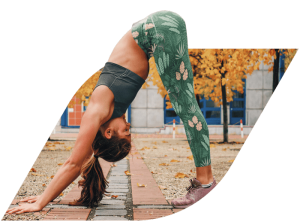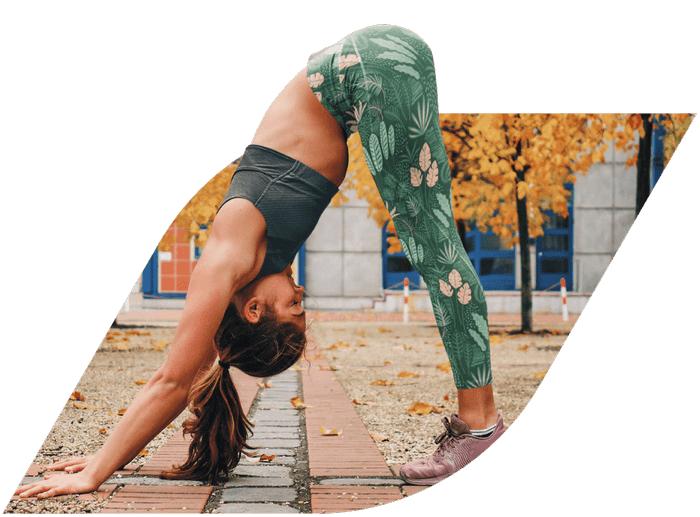 Made in America, our personalized yoga pants are quality assured. Ideal for both male and female and as the material is made from 100% polyester the yoga pants will not only keep their shape, but they are also machine washable and tumble dryer friendly. 
So, when you climb out of the lotus position they can be washed and dried in no time. With a wide range of base colours to choose from and AOP ('all-over print') available as well, creating designs for our custom yoga pants is a fun and fulfilling challenge that's sure to bring cash rewards.
The most up to date printing techniques provide bright and crisp colours matching your craziest designs.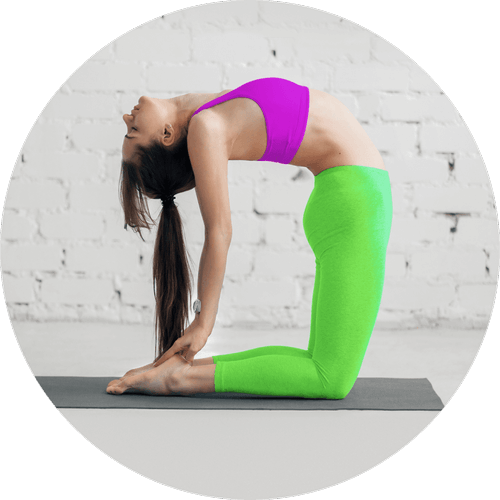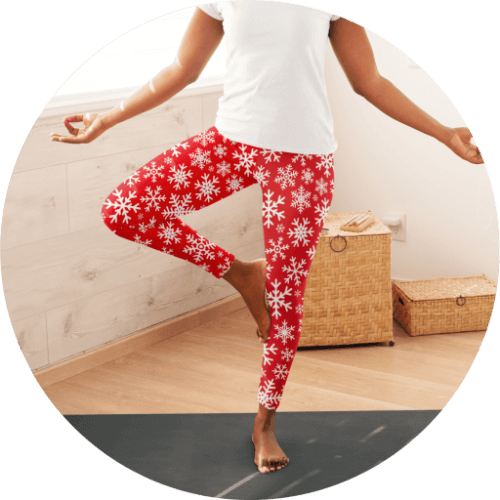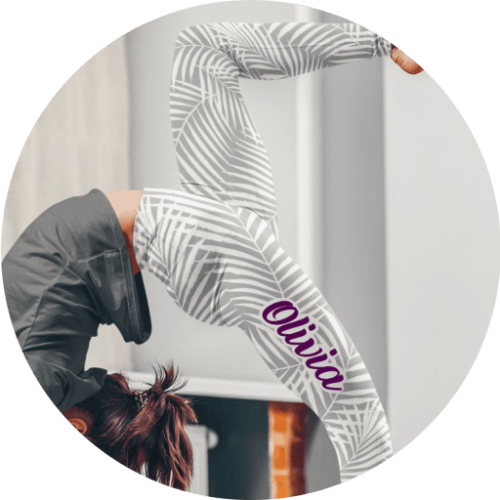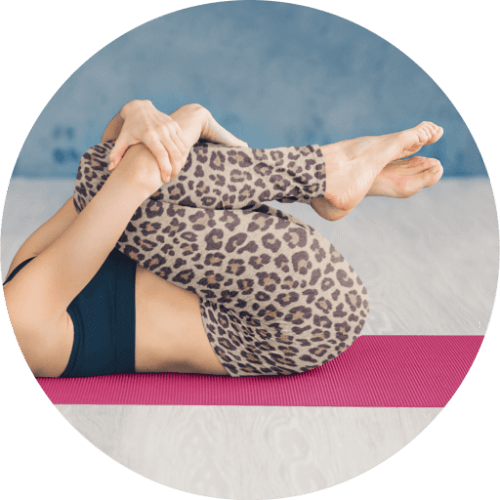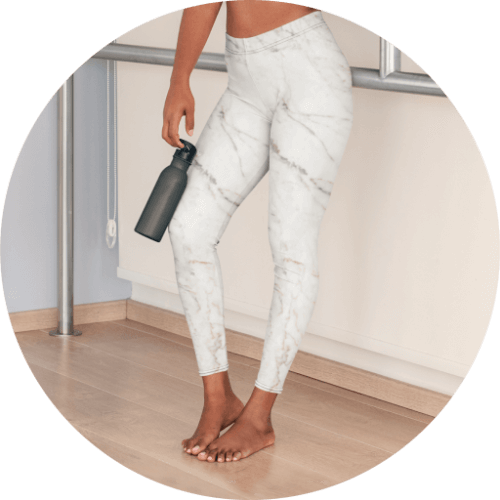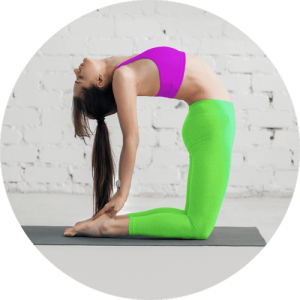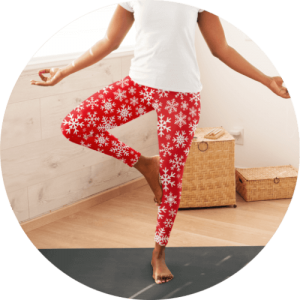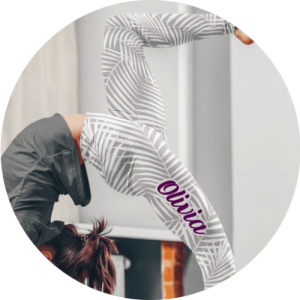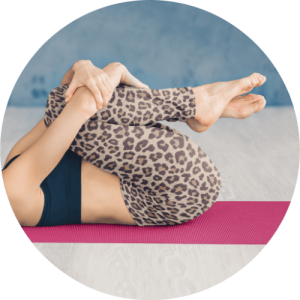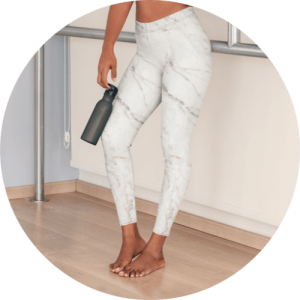 Why Is It Worth Designing and Selling Your Own Custom Yoga Pants Range?
Physical fitness and mental wellbeing have never been so important and, luckily enough, yoga covers them both. Whether people are rocking that custom yoga mat at home or doing some lunges at the gym or , custom printed yoga pants can become a staple for all fitness enthusiasts.
By designing your own range not only will you be tapping into a lucrative market, but you also will be spreading positive vibes to those who practice the art and you never know your custom yoga pants might just inspire a beginner to take up the art.
Make Your Own Yoga Pants!
How to Sell Custom Yoga Pants With Printed-On-Demand
Our print on demand business model has been purposely designed to help merchants overcome 2 of the biggest hurdles you may face when starting up a new e-commerce shop.
Firstly, our mission is to eradicate the need for initial capital to open a store. We simply wanted out merchants to have the opportunity to set up shop without having to put any money of their own upfront.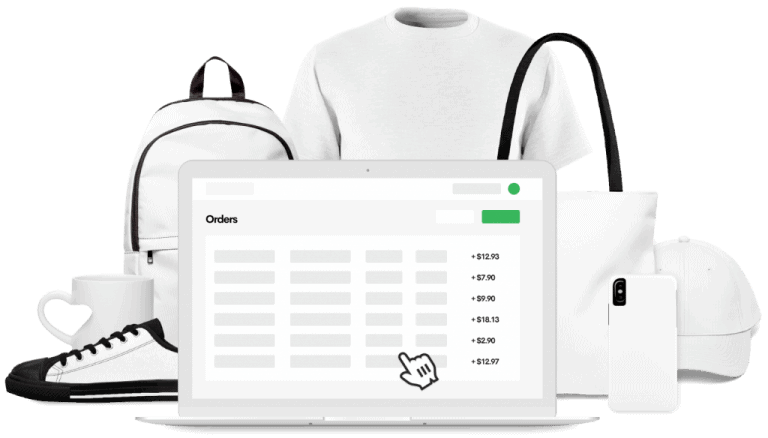 All that is required to get started is that you create a Printify account. To do this, all you need is a valid email address, once the email has been confirmed, you simply have to answer a few easy questions about how and why you will use your store. When this step has been completed all that is left to do is name your store and you're free to start designing your very own range of Yoga pants.
Secondly, print on demand services tackle the second biggest hurdle new businesses will face – stockpiling, warehousing and staff payroll. Basically, all the overheads of having a physical store and inventory for custom yoga pants will endure. This is simply overcome by the fact that none of the products that you design will be made until an order from a customer has been confirmed.
Once the order has been confirmed, due to our drop-shipping, we take care of that too!
Over the years we here at Printify have learnt how important choosing the right eCommerce platform is to host your store. We also know-how for new merchants due to the vast options available, how daunting this decision can be!
That is why we designed our Printify app, to make sure any stress is taken out of this part of the process. Our app has been designed to effortlessly integrate your store with a host of eCommerce platforms such as Shopify, WooCommerce, Etsy, to name just a few.
Of course, we understand that there will be those who want to use Printify but would preferably want to use an independent webs host. If that is the case then our Printify API is a great solution! Even though we recommend a professional integrates the API, have no fear because we have a dedicated tech team on hand to help with any issues.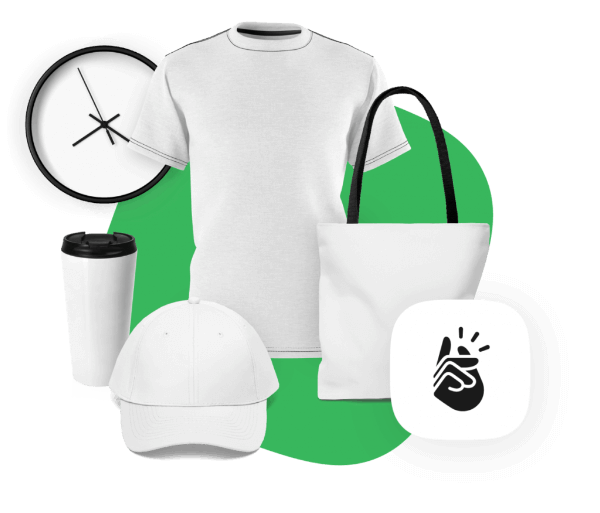 Design Ideas for Custom Yoga Pants
Over the years tie-dye has become a bit of classic style, which can be interpreted in many different patterns. Everything from neon reds and blues, from the Harlem hippie pants to psychedelic mixing of colours, to the more contemporary simplistic Ibiza collection.
Tie-dye for designers is a great style to bring out your creativity because you can be as adventurous and as bold as you want with your colour choices and because of all-over print is available on this product, you can create truly personalized yoga pants.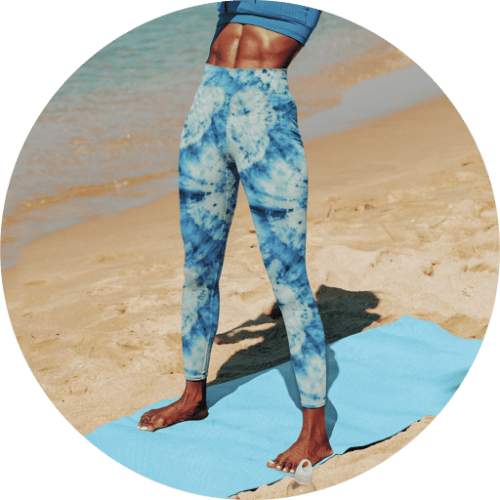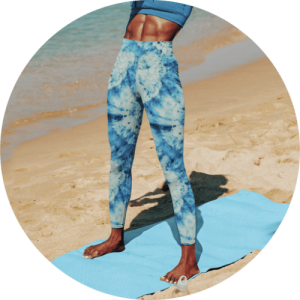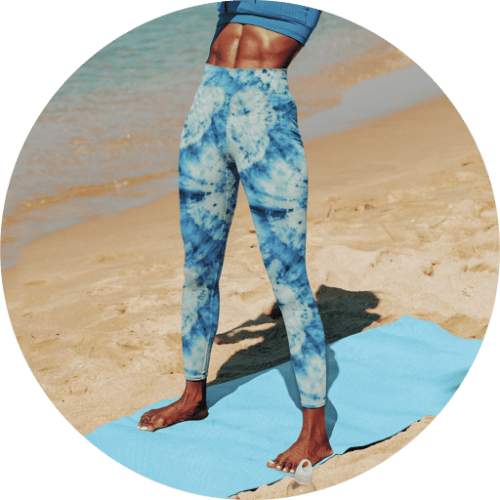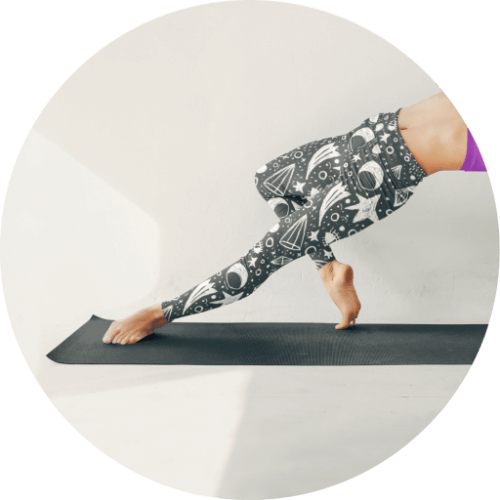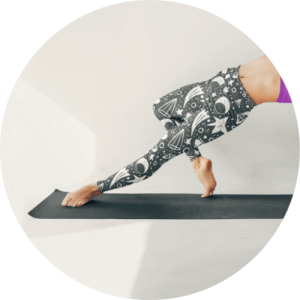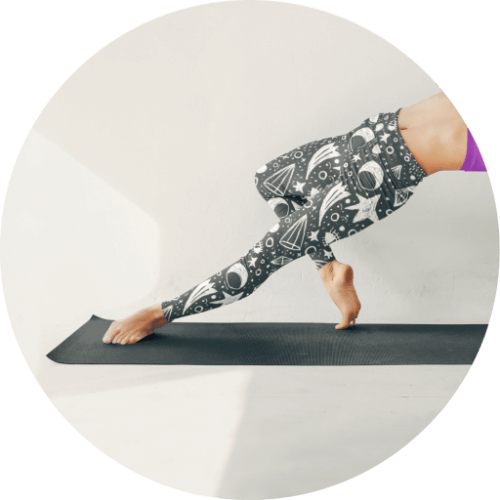 Subtle and stylish the zodiac design looks good all year round and with so many constellations to choose from this design can easily be personalized for individual star signs.
Perfect for biking, running and just about any outdoor pursuit! The zodiac design will never go out of fashion.
Boho is another style, that not only remains constant but seems to get better as the fashion wheel of time keeps spinning. This India inspired design of the black elephant and pattern-driven arches are not only stylish and sophisticated, but it is also the perfect homage to yoga itself.
Boho chic as a style has many different themes to be creative with, you can incorporate everything from flower patterns to elephants and long as your designs are kept vintage and chic, you will not go far wrong!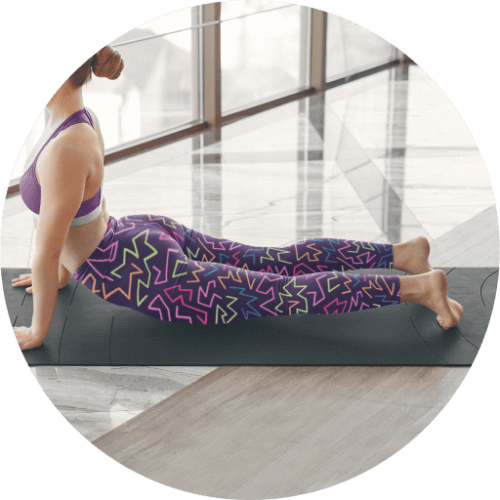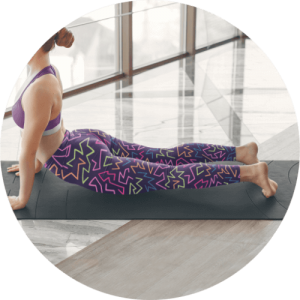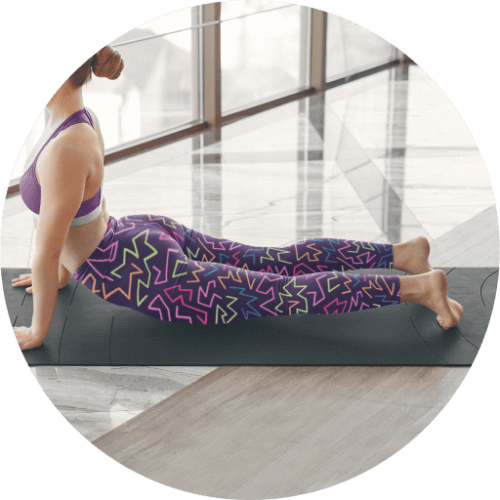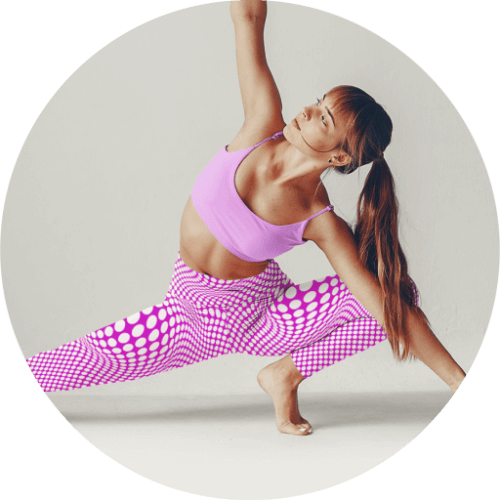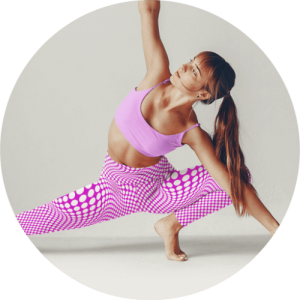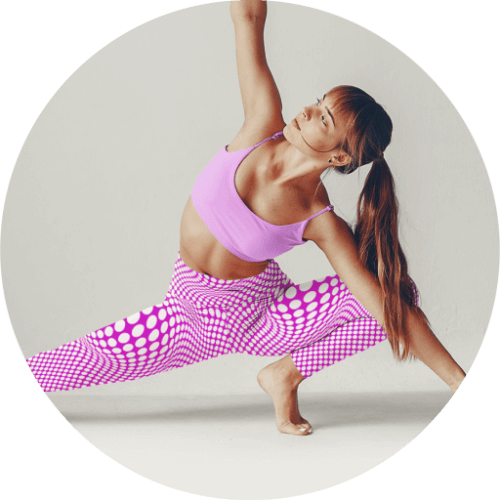 This op art design is not only striking to look at but its clear patterns and lively color schemes also give off waves of energy. Ideal for both the studio and gym this design is both fresh and dynamic
With a vast range of base colours to choose from, it is easy to create eye-catching designs that are guaranteed to generate sales.
This peacock feather inspired design has the perfect balance of tranquillity while remaining visually luxurious. The pattern of feathers in emerald green velvet purples and ruby reds are a fantastic combination for anyone seeking harmony in nature.
Ideal not just for the studio or gym, but because of the design and comfy fit these customized yoga pants are also ideal for any outdoor activity.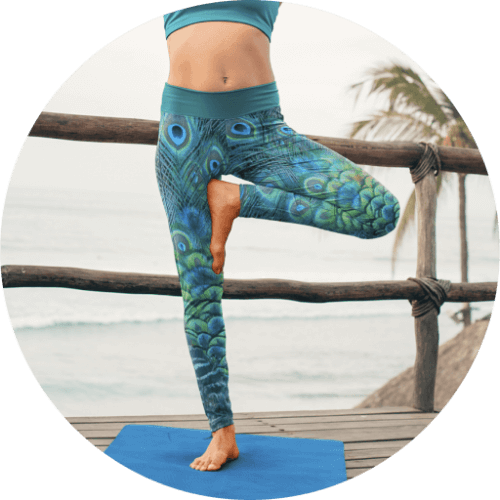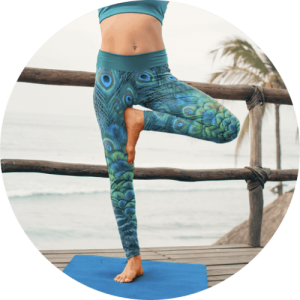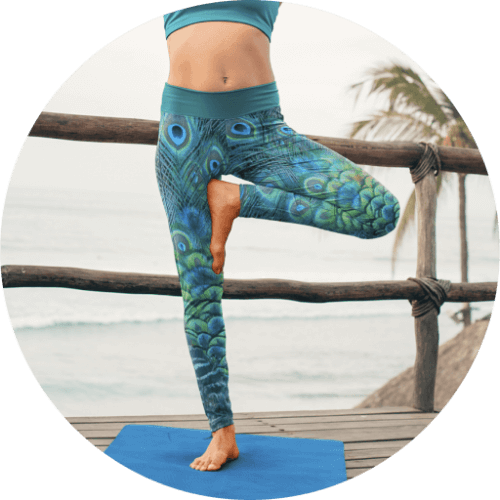 Top 5 Questions About Selling Custom Yoga Pants
Today is the ideal time to create your Printify account and start designing your very own range of custom Yoga pants! Remember with POD there is no money upfront and no stress in the delivery of your products! So get creative and then sit back, relax, and watch the order come rolling in.
Make Your Own Yoga Pants!