From spiritual workouts to comfy daily attire – design custom yoga pants to find your zen in style. Stretchy, durable, and vibrant with color. Personalized yoga pants are a must for every wardrobe or online store.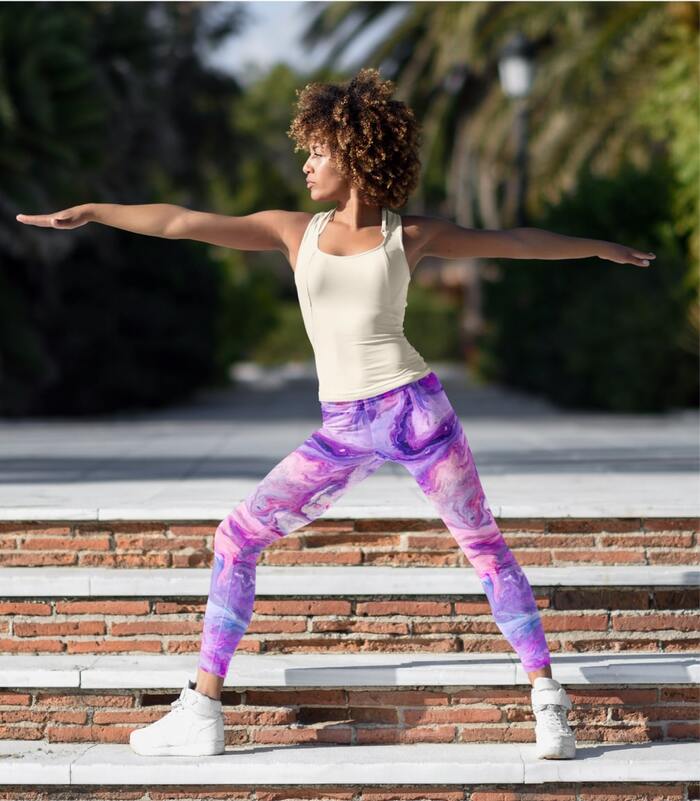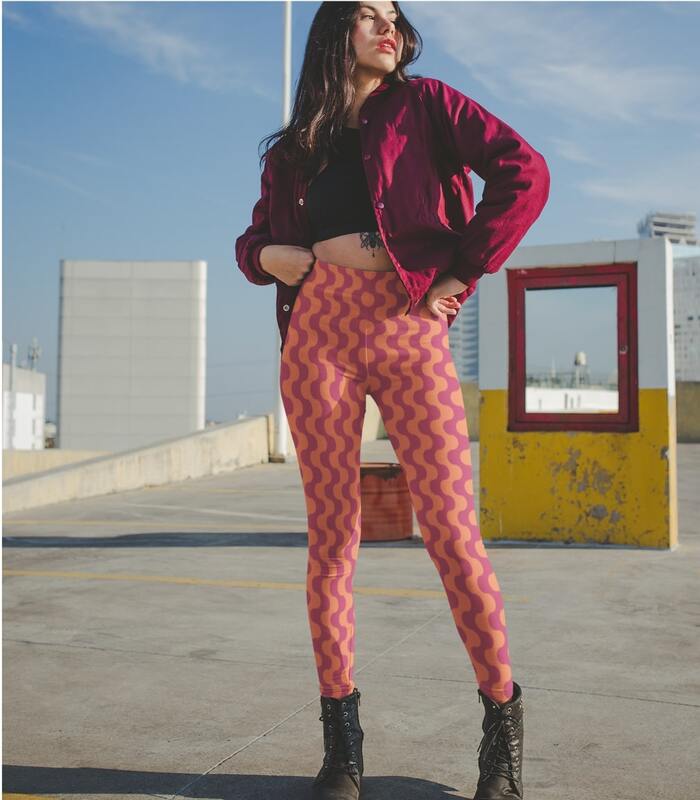 Personalized Yoga Pants With Printify
Make Custom Yoga Pants in Three Steps
It doesn't take a seasoned designer or tech guru to design custom yoga pants. With Printify's automated and beginner-friendly processes, you can have your custom yoga apparel designed and ready in minutes.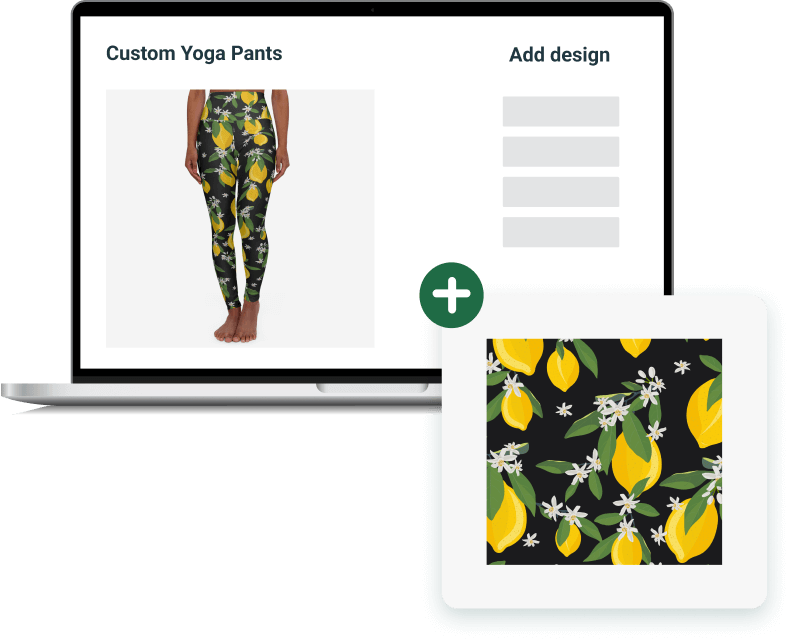 Start your business journey by signing up on our platform. Use your email address, fill in the necessary information, and gain access to our free and user-friendly platform and all its amazing features.
Head over to the Catalog page and browse apparel for yoga pants. Find them under Women's clothing → sportswear. Check out the product description and details, and click Start Designing to unleash your creativity.
Our free and easy-to-use Mockup Generator has all the resources and features you need to create epic designs. Upload images, add texts, create a pattern, and play with colors – all within the tool.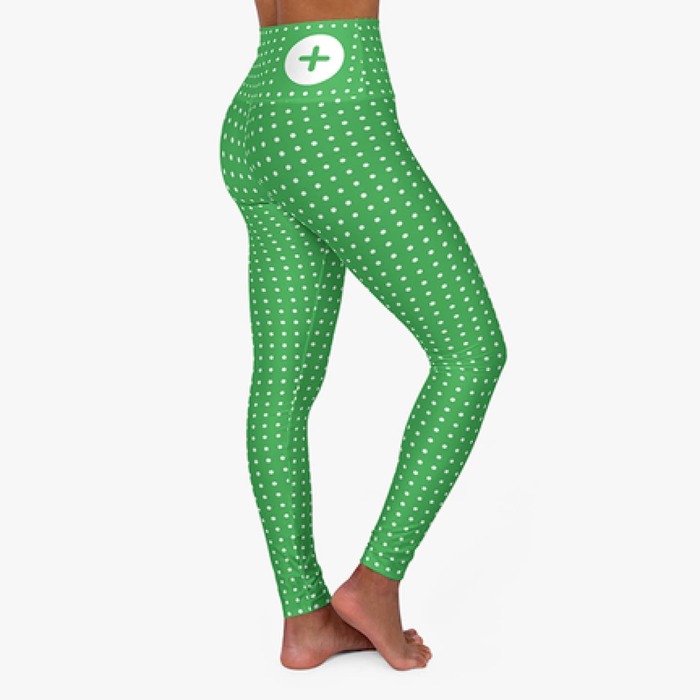 Customized yoga pants add a flair to regular leggings combining style with quality. These custom leggings with an all-over print are perfect for any sports event, yoga session, or daily routine that requires comfort. Design a fun print to turn every workout into a vibrant experience.
Other Related Products You May Like
What Do Successful Sellers Say About Printify?
Discover successful businesses that have partnered with Printify and explore their stories, from ordering samples to skyrocketing sales.
I don't have to invest the money I can't lose into my business. With Printify, I only pay the fulfillment fees, and the rest is all profit.
I really appreciate working with Printify on my brand. Afro Unicorn was only supposed to be my design on a white shirt. It is so much more. Printify allows me the time to run the business and not work in the business.
Printify helped me start a completely hands-off revenue stream. When you spot a niche that you want to enter quickly, you don't have to worry about buying stock or equipment.
Printify Premium has helped my profit margins tremendously, and spending $20 a month has probably saved me over $200 a month.
Using Printify saved our struggling business of 6 years and gave us more time with our family.
I like Printify products because they tie in with our organisation's message.
I love the Printify Mockup Generator. It keeps everything consistent and allows me to keep my brand looking sharp and professional.
Design Ideas for Custom Yoga Pants
Low on ideas? We've got you covered. Let's look at some fun, simple, and creative options for custom-design yoga pants – perfect for your business or personal wardrobe.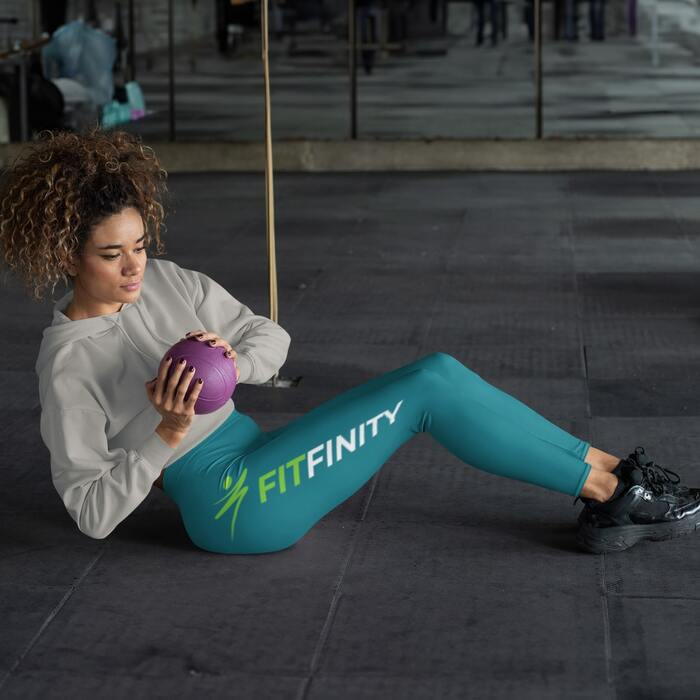 Custom Yoga Pants With Logo
Custom-logo yoga pants are guaranteed to boost your business and promote your brand in a unique way. Custom yoga clothing is a great advertisement for gyms, yoga studios, and establishments that need their own logo on uniforms.
Tie-dye is a great style to bring out your creativity because you can be as adventurous and as bold as you want with the color choices. And, since the all-over print is available on this product, you can create truly customized yoga pants.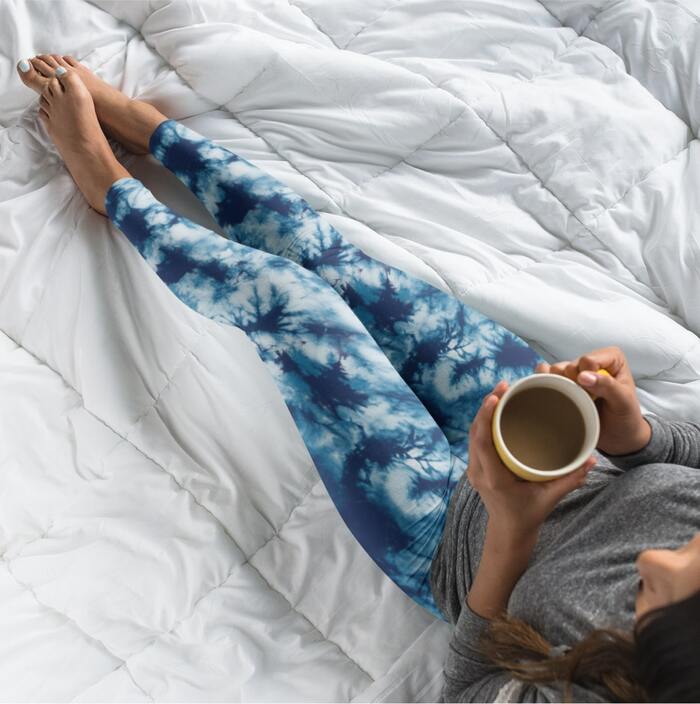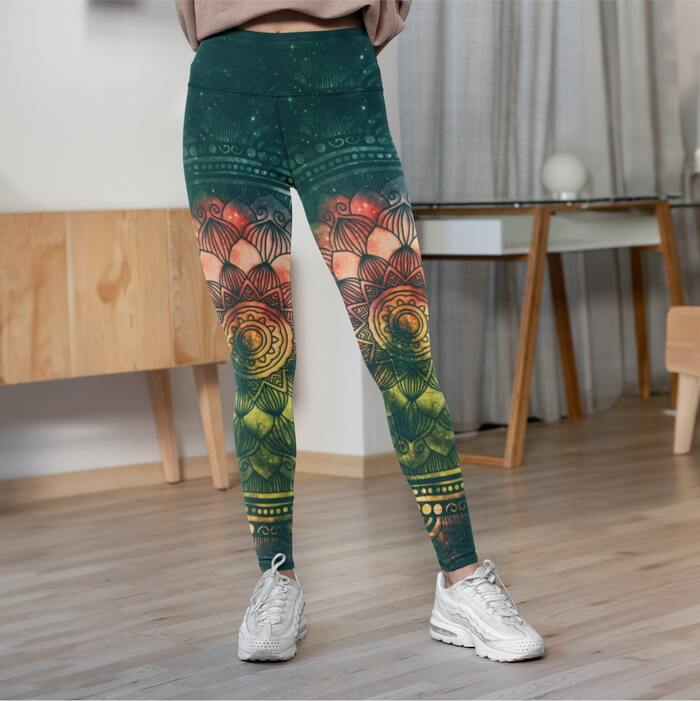 Optical illusions, mandalas, and artsy designs with bright colors will bring your custom leggings to the next level. Bold and beautiful styles, unique designs, and quality prints are guaranteed to delight yoga enthusiasts worldwide.
Yoga Pants With Epic Patterns
From flirty cheetahs to flowers, shapes, colors, and more. Unleash your inner artist and come up with colorful, calming, or mind-blowing patterns that represent your personality. Pick an image you like and create a pattern directly on our design tool.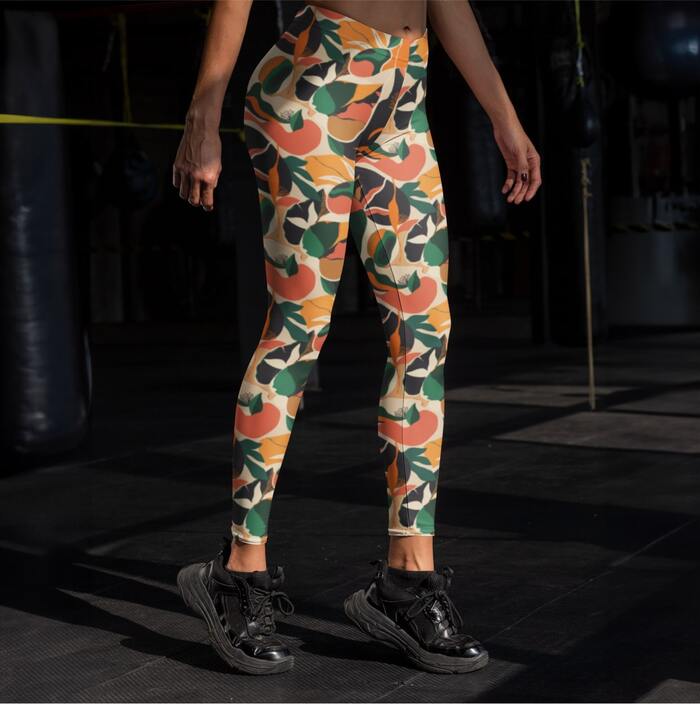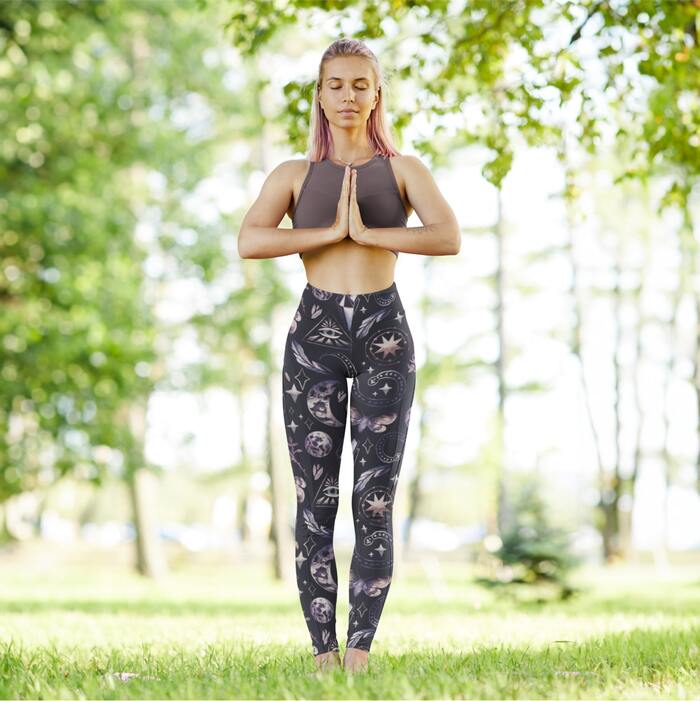 Yoga is a spiritual process where people try to reach their inner peace – so match the pant design with the practice. Add spiritual or astrological elements and create custom-made yoga pants with out-of-this-world designs.
Why Sell Custom Yoga Pants?
More and more people are choosing to practice yoga for many different reasons – to feel happier, release tension, or boost their physical and mental health. Whether going to a studio or stretching at home, quality yoga pants are a must.
Lift people's spirits with custom leggings and improve their meditative practices with epic styles and designs – while earning massive profits for yourself.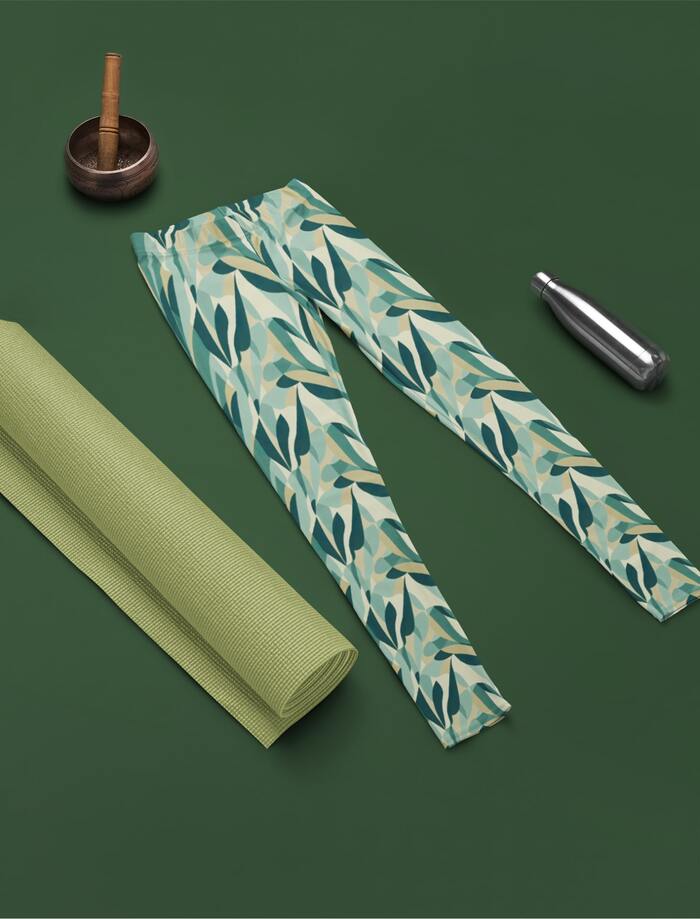 Choose a Sales Channel You Like
You can sell your print-on-demand yoga pants on any or all leading eCommerce platforms and marketplaces – Printify integrates with them all. Choose the best sales channel, integrate with Printify (Stores → Add new store), and start selling.
FAQs About Selling Custom Yoga Pants
Check Out Other Product Ideas and Start Selling
Don't limit yourself to custom yoga pants. Try your hand at other print-on-demand products, upload your custom designs, and welcome profits in your bank account.