How To Make a Hoodie With Printify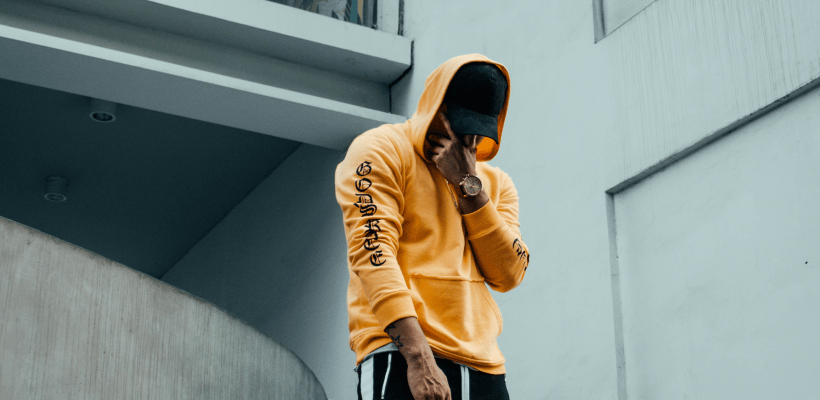 Want to make and sell killer hoodies to skyrocket your profits but don't know how or what to start with? We've got you covered. In this article, we'll cover all tips and tricks on how to make your own hoodie. From picking the right product to designing and delivering. 
Hoodies rank among our bestselling products. Understandably so. Hoodies sell. Big time. The evergreen comforter has never gone out of style since Champion invented the very first one in 1919. From stealing comfy snuggle-wear from your boyfriend to complimenting a trendy outfit, hoodies are there to save the day.
So, let's dive into the process of picking, designing, listing, and selling hoodies online. Keep reading and learn how to make custom hoodies with Printify in five simple steps.
Step 1: Pick a Hoodie From Our Catalog
Our vast product catalog currently includes over 40+ different hoodie options. From regular fleece hoodies to zip-ups, crops, hoodie dresses, and more. Browse the catalog and pick the ones that best suit your business. 
In the meantime, let's take a look at five different types of hoodies to include in your online store for diversity and appeal to all.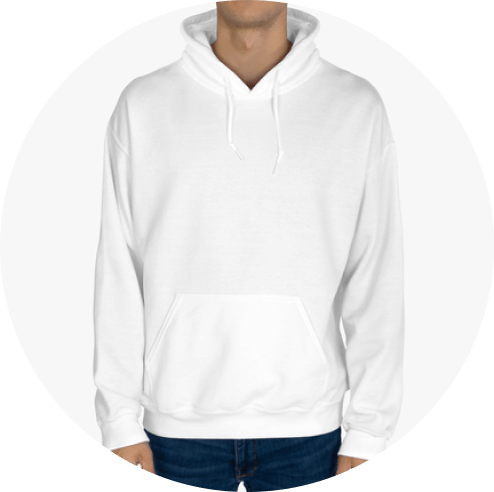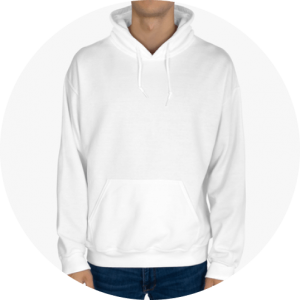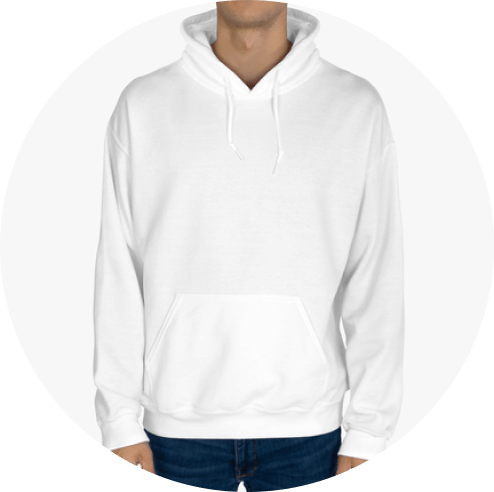 Let's start with the basics. Our best-selling hoodie is the Gildan Heavy Blend Hooded Sweatshirt. It is a 50% cotton and 50% polyester blend – that makes it extremely durable and long-lasting. 
It's also good for warmth and everyday use. That's why this hoodie is so popular with our store owners, due to its versatility and durability. We offer it in 26 color variants, so it can accommodate almost any design or graphic that you're hoping to use. 
This is a good place to start – it's not a complex item, and there are many printers to choose from so you'll be able to find a great price. And with the vast color range, you'll find it suitable for multiple design options.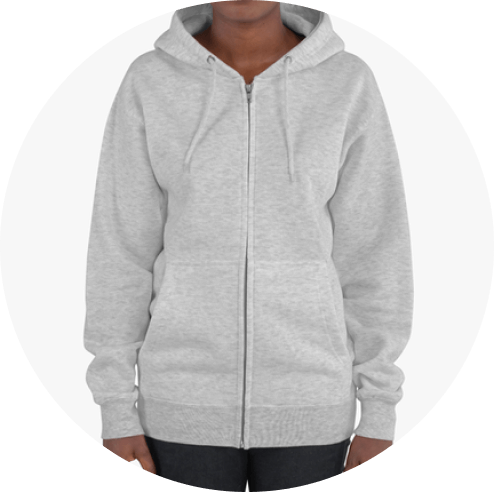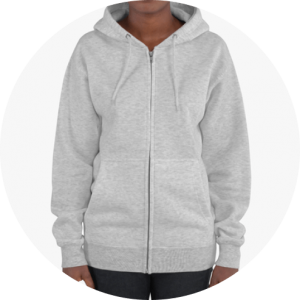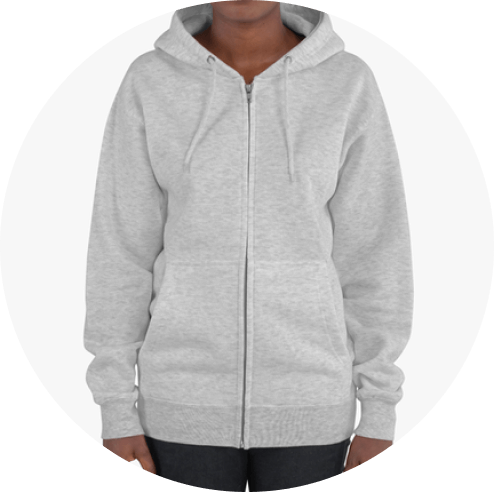 Our hot selling zip hoodie is the brother garment of our pullover. Also a super durable and heavy blend of cotton and polyester – this is another example of a versatile and inexpensive gem perfect for your online store.
Zip-ups, while not as popular as regular pullover hoodies, are still in demand – particularly among the sports segments. Zip-ups are often worn by athletes, let's not forget, so they can easily take off their jackets after warm-up or to stay warm between plays. 
If your site is geared towards the athletic or fitness markets, this is definitely an item to add. However, keep in mind the simplicity, because a complex design – when unzipped – can look a bit unattractive on this piece.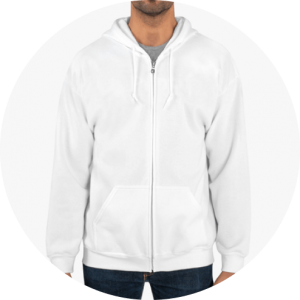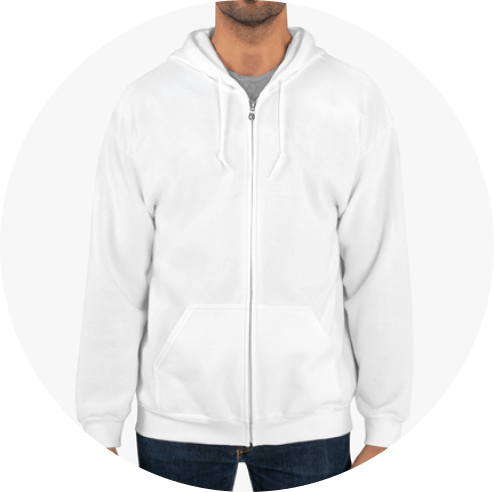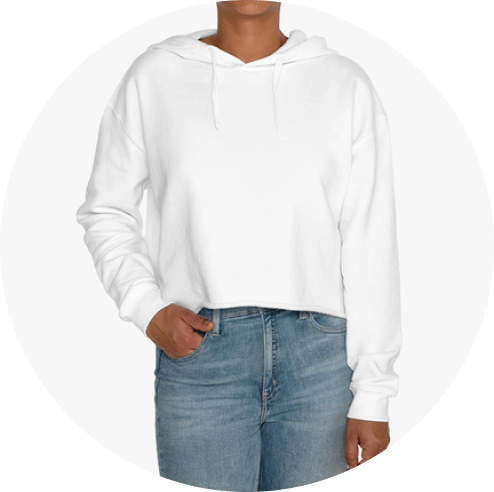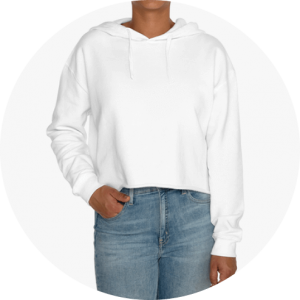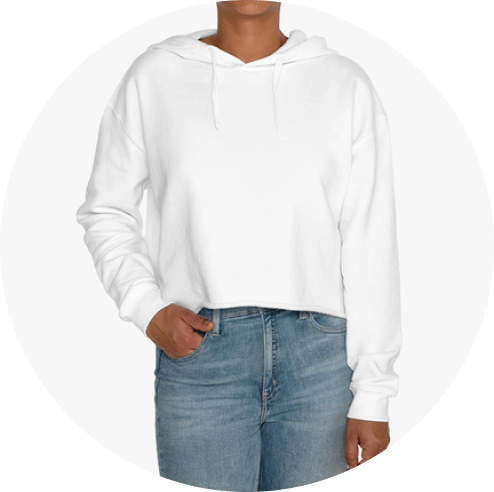 Step away from the basic options provided by the competitors and surpass them by adding unique styles, designs, and products to your online shop. One of them can be our super cute, stylish, yet – comfy – crop hoodie.
This relaxed fit, 85% cotton – 15% polyester blend crop hoodie will be the perfect addition to your online store. From comfort to style, it gives us it all. Crop hoodies are popular style pieces that will compliment every outfit, trendy or cozy. 
Available in three different colors and multiple sizes, this crop hoodie will delight your customers with quality materials and an all-over print. No need to worry about fitting printing areas or cutting designs. All-over print allows you to display your artwork on the back and front.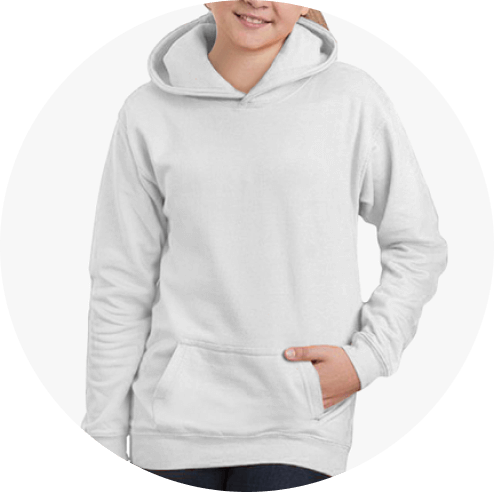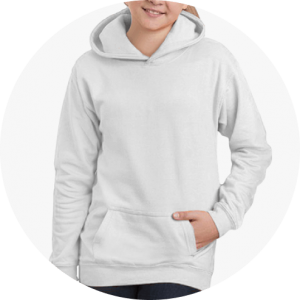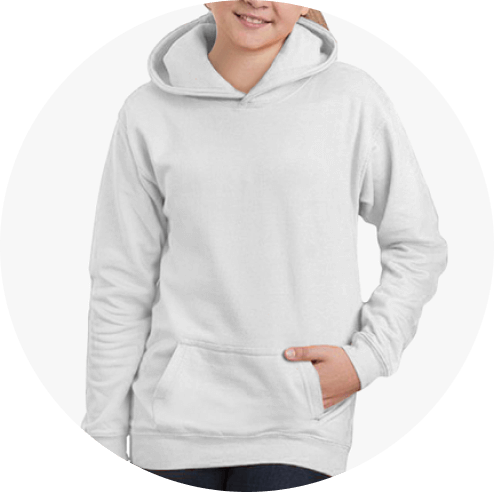 When adding hoodies to your online store, don't forget about the little fashion icons, aka our younger customers. Introduce custom kids hoodies to your audience and provide them with comfortable, durable, and stylish solutions worldwide.
This 80% cotton – 20% polyester blend unisex hoodie is perfect for kids at home or on the go. Easy-to-wear, comfortable, and warm, with a useful kangaroo pocket for holding hands or storage for small items.
Every kid will love this trendy and comfortable piece of clothing, as hoodies never go out of style. From being active with friends or staying home, the hoodie will provide comfort, warmth, and style in all everyday situations and activities.
Step 2: Create Your Design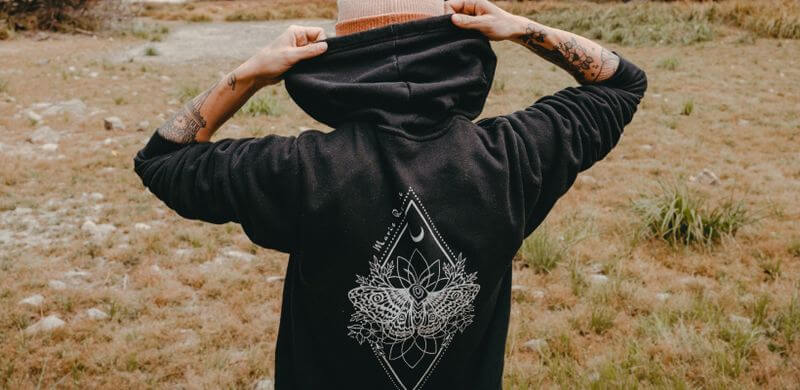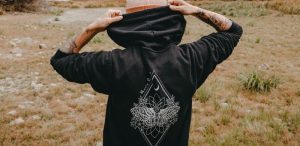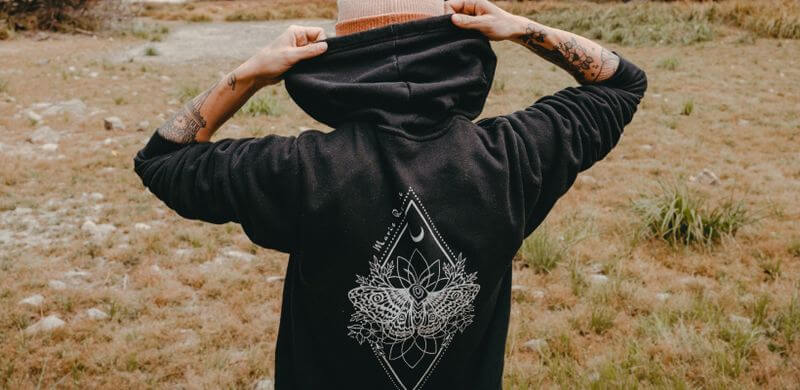 How to make your own hoodie design? Boy, do we have options for you. Whether a designer at heart or a complete beginner in the world of designing – there are plenty of ways you can create a beautiful print for your merchandise.
Use Our Free Designs.

Printify offers a

collection

of free t-shirt designs, suitable for other types of merchandise as well – perfect for hoodies. Browse our selection of prints, download the ones you like, and use them on your products

for free

.

Design It Yourself.

If you have a tad bit of inspiration, creativity, and a basic skill set in design, create a beautiful, one-of-a-kind print yourself. From physical artwork to digital, create patterns, color schemes, quotes, and more. Design a print for your own merchandise.

Outsource.

Legitimate freelancing sites such as

Upwork

,

Fiverr

,

Freelancer

and

Design Crowd

are just a few of the many places where you can get some great designs. Remember – you're not alone in this. There are a lot of talented people out there who can help you fill in the missing pieces to your shop.

Grab an Image From Shutterstock.

How to make your own hoodie design without designer skills? It's simple – use

Shutterstock

. Printify offers merchants Shutterstock integration. Use a free image for your design and pay for it only after making a sale.
Key Numbers and Graphics Placement
We analyzed our most successful merch stores, and here's what we found: 
This should give you a good idea of how to make a hoodie. Type of garments that are selling well: 
If you're looking for success with your designs – it doesn't have to be fancy. Simplicity is key. However, don't be afraid to experiment with different designs, placements, and styles for your merchandise. Try something different and beat the competition with unique and quality designs.
Step 3: Add Design to the Product
Once your designs are ready, it's time to add them to the chosen hoodie. For that, Printify has come up with the 100% free and user-friendly Mockup generator. Upload or drag and drop your design, check previews, and add customizations on high-quality realistic mockups.
Switch between colors, move the design around, add layers, and use our text editor to make the perfect hoodie. Add text directly to the product without uploading it as an image. Play with the fonts, text size, and colors to boost your design with top-notch messages.
The many benefits of our Mockup Generator:
Pro Tip. Use the mockup previews for your online store or social media pages to display products and designs in realistic settings. Bright colors, multiple angles, and accurate images for presenting to customers exactly what they will get.
One of the most important things for eCommerce merchants is product quality. Since you don't take part in product creation, printing, and packaging, quality assurance is provided merely by the printing partner of your choice. And that is a risk to take on when offering products to customers worldwide.
We highly recommend merchants order product samples. Get a sample hoodie and check all the features and factors important to you and your audience.
Make sure you are 100% satisfied with the end product before listing it online.
If you don't like some aspects of the product or fulfillment process, you can always make changes. Customize the design to your liking, choose another print provider, or contact our help desk in regard to order and fulfillment issues.
The main idea behind ordering samples is to make sure the order is fully satisfying from payment to delivery. Get samples, experience the fulfillment process yourself, and offer nothing but the best service and quality to your customers.
Step 5: Price Your Products and List Them Online
Now that you know how to make a hoodie with your own design, it's time to set a competing price and list your custom hoodies online. And just like with the designing process, we are here to help every step of the way.
Pricing a product is one of the most important steps in eCommerce. Price your products right and stay on top of the competition. Keep in mind all your costs and other factors and set a price that will leave you in pluses. 
Once you've learned how to make a hoodie, create and add your design, and price the hoodie right, it's time to list it online. To ease the process, Printify offers integrations with all the top eCommerce platforms and marketplaces: eBay, Shopify, Etsy, Wix, WooCommerce, PrestaShop, BigCommerce, and Squarespace. 
Choose the best integration for your brand and list your products with one simple click. In case you need help picking the right sales channel, browse our Printify blog for comparisons and useful articles to make an informed decision and lead your business to success with custom hoodies.
The production costs of our bestseller Unisex Hoodie start from $17.85. Keep in mind that prices and shipping costs vary for different print providers. The final price is set by the merchant taking into account other costs and factors.
Browse our catalog and pick a white-label hoodie from the vast selection. Create a design and upload it. Order samples to ensure the quality of the end product before offering it to the customers. Price your hoodie and list it online.
Design your own unique print, use our free design templates, outsource the job from existing professionals, or use Shutterstock integration to borrow an image for free until you make your first sale. There are plenty of options for beginners and experienced designers.
By now you already know how to make a hoodie and dominate the market with unique designs and merchandise. Use all the tools, advice, and information above to skyrocket profits and boost traffic with comfortable, stylish, one-of-a-kind hoodies. 
Choose the product

Create a design

Add a design to the product

Order samples

Price your hoodies and list them online
Printify knows how to make a hoodie with ease. Quick, simple, professional. Sign up now and start designing hoodies for the comfort of your customers.
Share the article
Topics