Sell Custom Hoodies in Canada
With different styles available to suit each season, it's easy to sell custom hoodies in Canada all year round. Design your own take on this popular product and you can start selling straight away.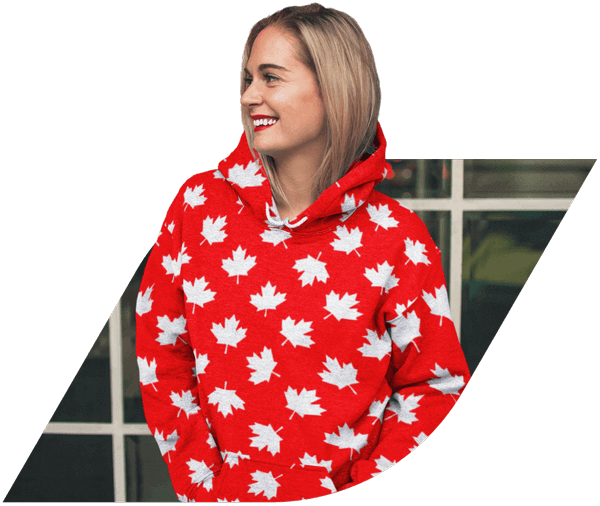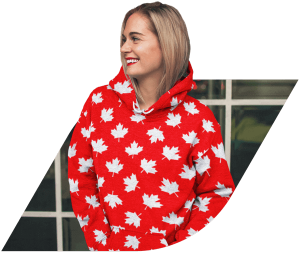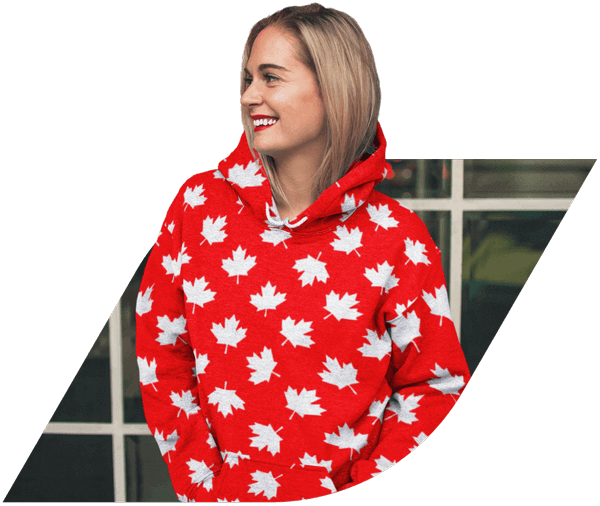 Make Custom Hoodies With Printify
We Have the Best Hoodies for Your Custom Designs
We have an incredible range of blank hoodies available for custom printing There's nothing stopping you from adding a few styles to your store! The only thing that could make these products more appealing is your own custom design imprinted.
It's easy to see why this versatile hoodie is an evergreen Printify bestseller. Its classic sportswear design makes it practical and comfortable as well as aesthetically attractive. Its large kangaroo pocket is ideal as a hand-warmer or a home for your wallet, keys, and phone. Design options are limitless as we have a broad variety of color choices available too.
The Hanes ecosmart custom hoodie is made from a 50% cotton, 50% polyester blend. It's resistant and can withstand frequent washes, so you're free to throw on this quality item again and again. Surely everyone needs something both cozy and convenient in their closet?
This Champion hoodie is made of eco-friendly fleece material, up to 10% of which comes from recycled plastic bottles. It's also invested with Champion technology, designed to control moisture levels. 
Don't be fooled by how soft it feels; this hoodie is built to last and very durable. The iconic C logo can be found on the sleeve, bringing that signature Champion style that buyers love to your very own custom hoodies in Canada.
Make You Own Custom Hoodies!
We Have the Best Hoodies for Your Custom Designs
We have an incredible range of blank hoodies available for custom printing There's nothing stopping you from adding a few styles to your store! The only thing that could make these products more appealing is your own custom design imprinted.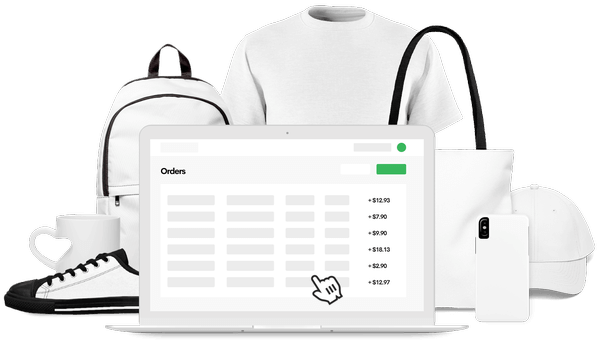 Custom Hoodie Fulfillment in Canada
When choosing a print provider for custom hoodies in Canada, you should take into account a range of factors: how long the process will take, available color options, and product cost. Big Oven Tees, Duplium, and Print Geek are our Canada-based providers.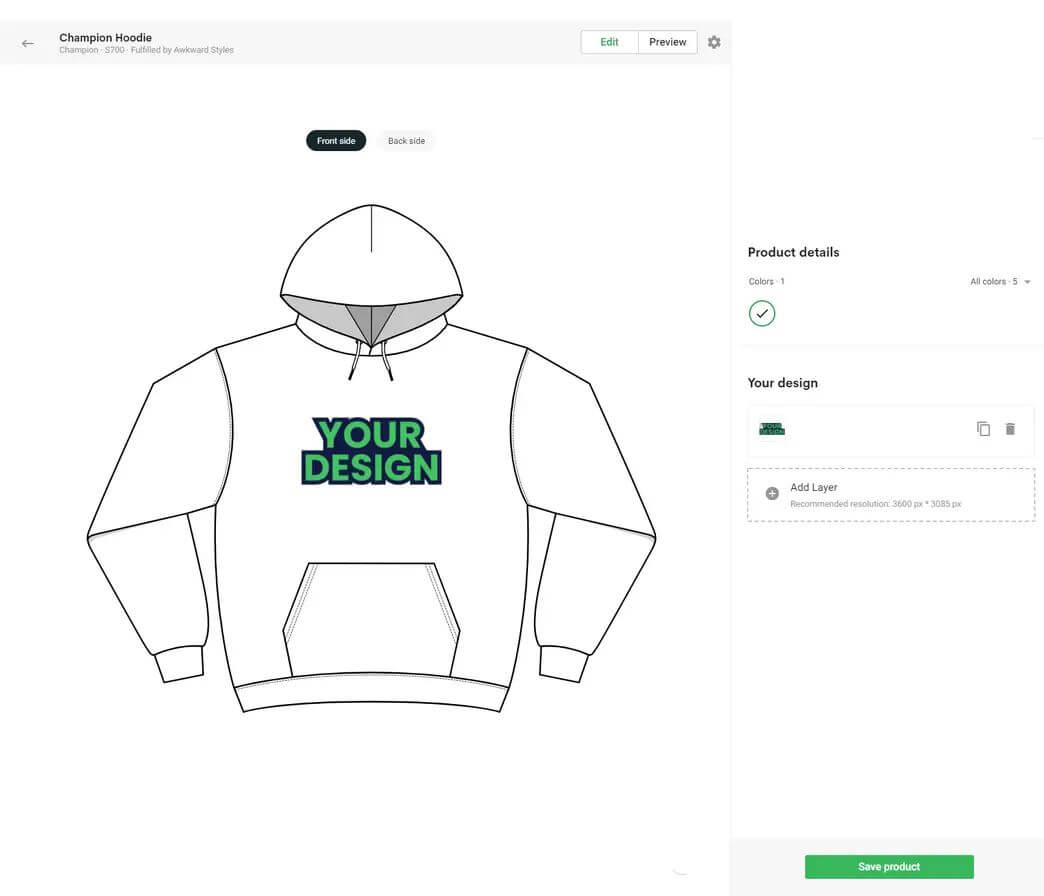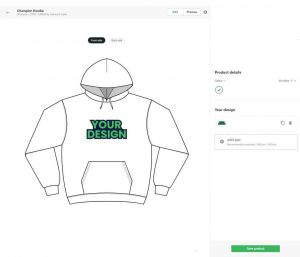 How to Make Custom Hoodies With Our Mockup Generator
The process couldn't be easier. Use our simple Mockup Generator to experiment with options and see how you want your custom hoodie to look. Once you're satisfied with the results, you can add the product straight to your store! Customers can order immediately, and there's no minimum order required.
Choose and Design Your Own Hoodie
All Over Print (AOP) Hoodies
If you want to make a big visual impression, an all-over print hoodie is an incredibly effective option. The Cut and Sew process ensures that your print is perfectly applied, uninterrupted by hemlines, guaranteeing an impeccable final product. 
Vibrant, high-impact designs are made possible by the all-over print hoodie since you can stamp your style on any (and every) part! This product lends itself to more daring looks, appealing to the bold, fashion-forward customer.
Make Your Own AOP Hoodies: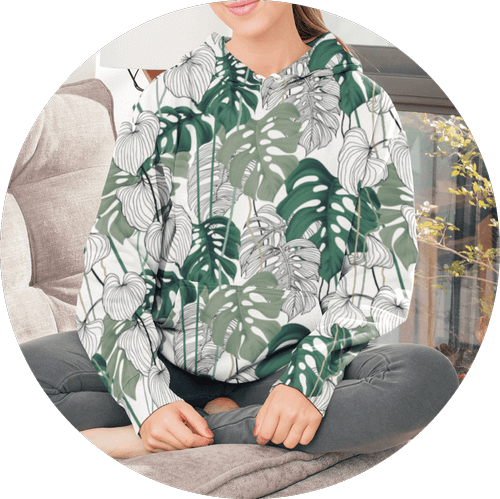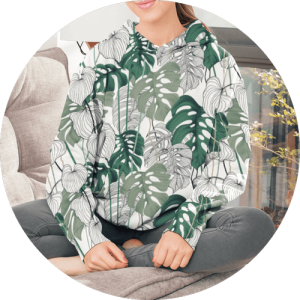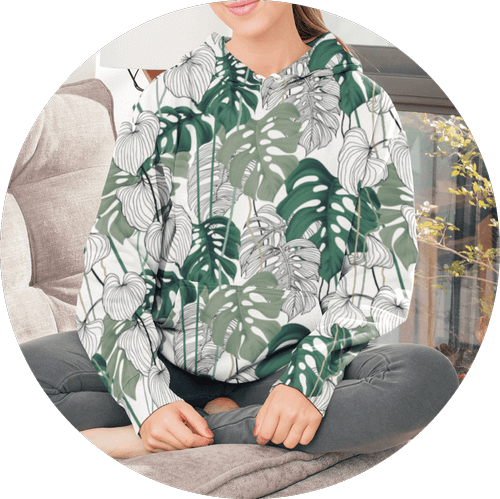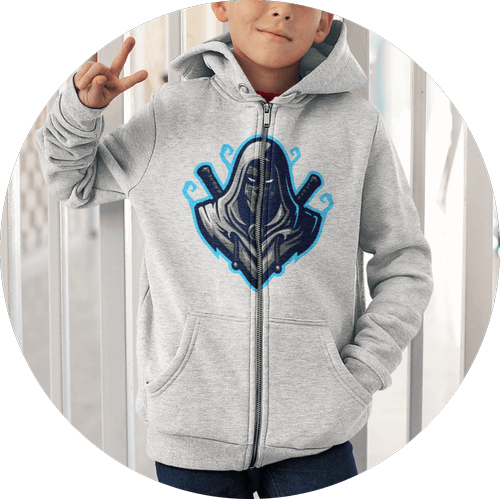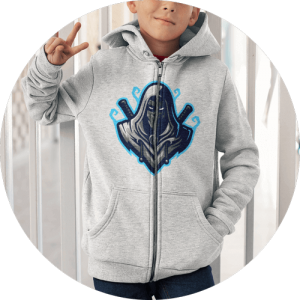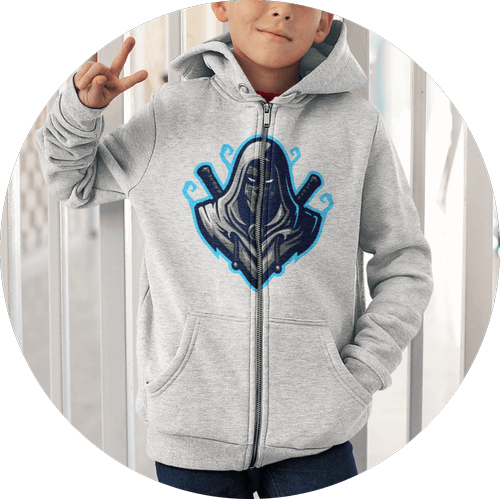 Why not offer a zip-up hoodie in your store? This style is often associated with warmer weather since it can be easily unzipped to regulate temperature. However, in cooler seasons it can also be layered up to make a style statement. 
This Gildan 18600 model is particularly soft and strong, reflecting its high-quality manufacturing. The texture of the fabric makes it the ideal canvas for printing. Looking to elevate your custom hoodie further? With the Gildan zip-up hoodie, you can even use embroidery to add your custom design.
Make Your Own Zip Up Hoodies:
A crop top hoodie is an iconic silhouette associated with edgy streetwear and hip-hop aesthetics. This is a fun product that's beloved with brands that favor a sassy, trend-aware style. 
Our Lane Seven LS12000 85% cotton, 15% polyester blend makes for a medium-weight material that can be layered or worn alone depending on the desired look. Because of its breathability and loose fit, the crop top hoodie is a versatile piece that's wearable and comfortable all year long.
Design Your Own Crop Top Hoodie: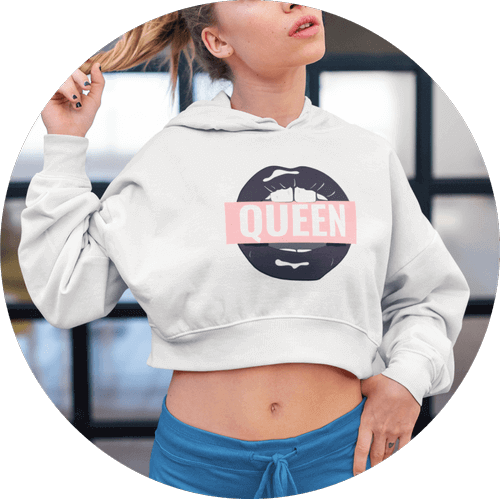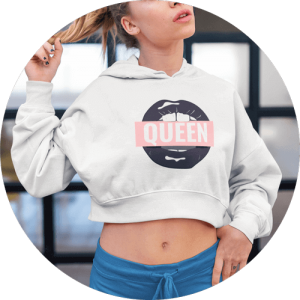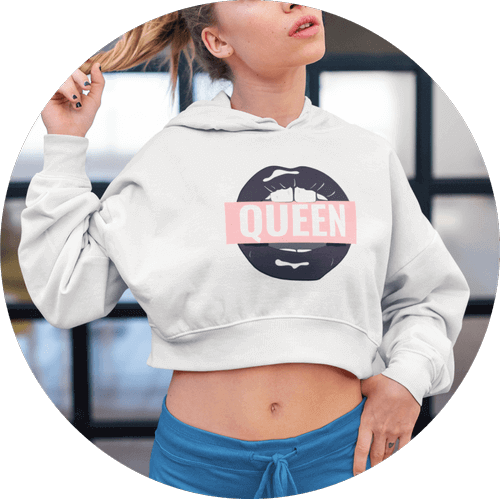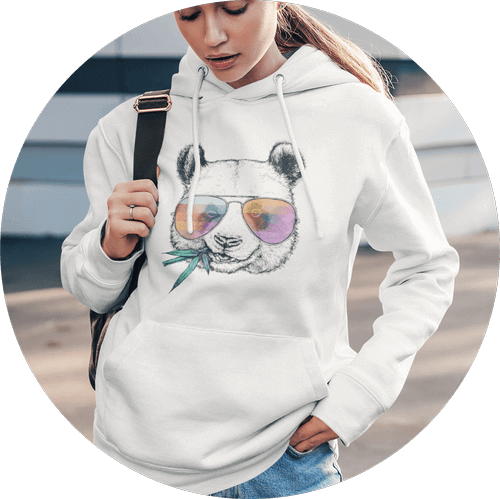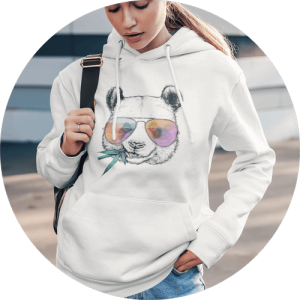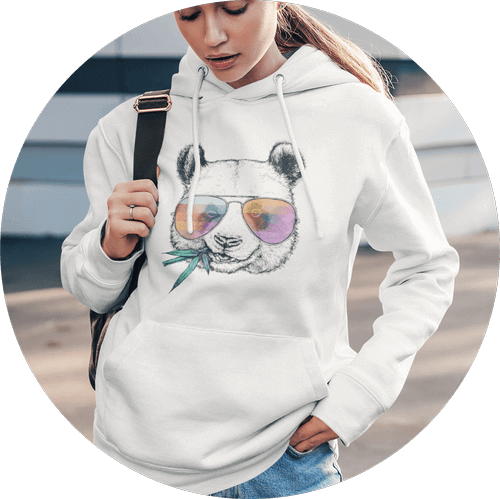 Our pullover hoodies come in three popular models: medium quality, premium quality, and eco-friendly. They each come with elastic at the cuffs and waist so they stay fitted to the wearer, retaining their original relaxed shape. The durable blend of the fabric used makes these pullover hoodies perfect for printing; they'll hold and showcase your custom designs.
Make Your Own Pullover Hoodies:
The heavyweight hoodie is a fundamental element when it comes to skate style. Wearing this premium-quality garment, you can both look cool and stay warm. As a result, it's an established streetwear staple. Fit is slightly oversized for a laidback, urban aesthetic. Brands that cater to a subcultural audience will rightfully see the heavyweight hoodie as a must-have.
Design Your Own Heavyweight Hoodie: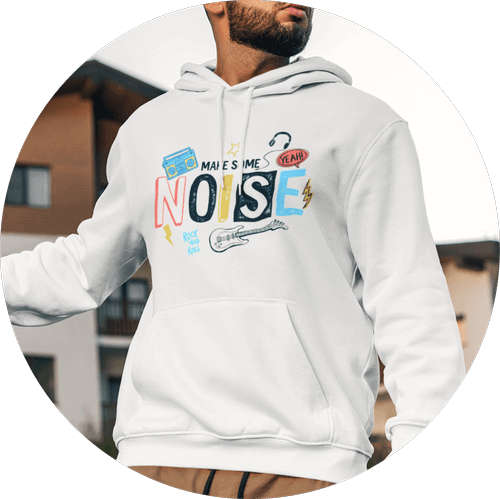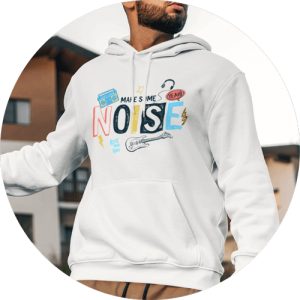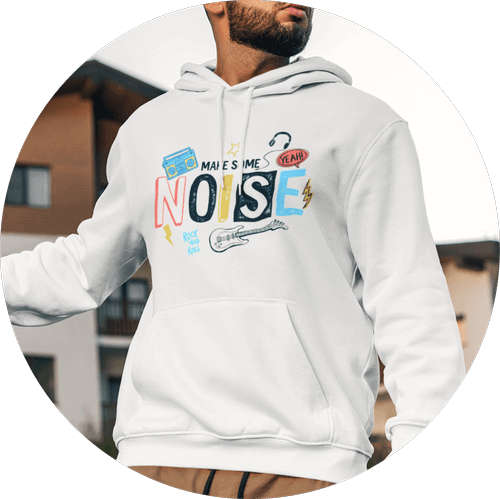 Frequently Asked Questions
There is no minimum order. In fact, every item is made to order. This is a more sustainable and sensible method of manufacturing custom products with no risk to you.
We offer hoodies starting from $15. The cost of a custom hoodie is deducted as orders are received. That means there is no upfront cost in designing a custom hoodie. You'll pay automatically and only when your hoodie is purchased.
Check the average production time for a print provider that offers your custom hoodie and its location to allow for better fulfillment times. Use the average production times and the estimated shipping time to get a good idea of how long the designing and shipping process will take.
Start Print-On-Demand Business
and Sell Your Own Custom Hoodies!
Printify makes it easier than ever to design and sell your own custom hoodies in Canada.
Print on demand
means that you avoid any upfront costs or financial risk, and you can choose from a range of premium products to express your brand message.