Design custom prints on bulk tote bags with your own designs and order with discounted shipping for your business, shop, or event.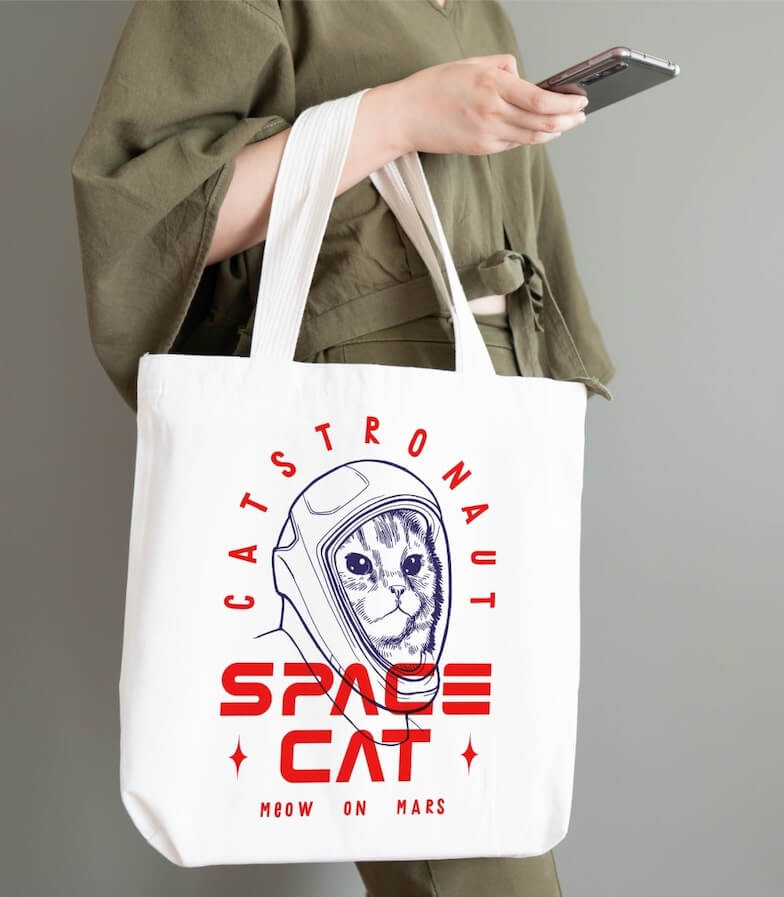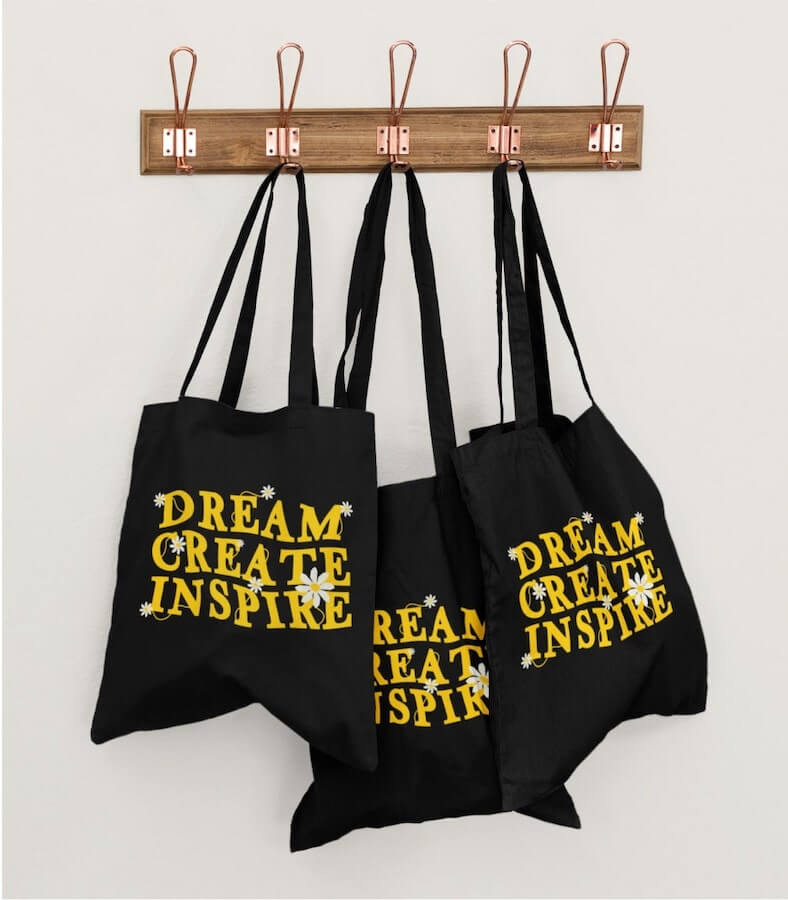 Order Personalized Tote Bags in Bulk
Design Personalized Tote Bags
Design Your Own Canvas Tote Bag and Order in Bulk
Custom tote bags are a versatile form of merchandise and advertising. Save with bulk order shipping discounts from a vast selection of wholesale canvas tote bags.
If you're planning to consistently order goodie bags in large volumes, subscribe to Printify Premium. This will further reduce the production costs, allowing you to save even more money.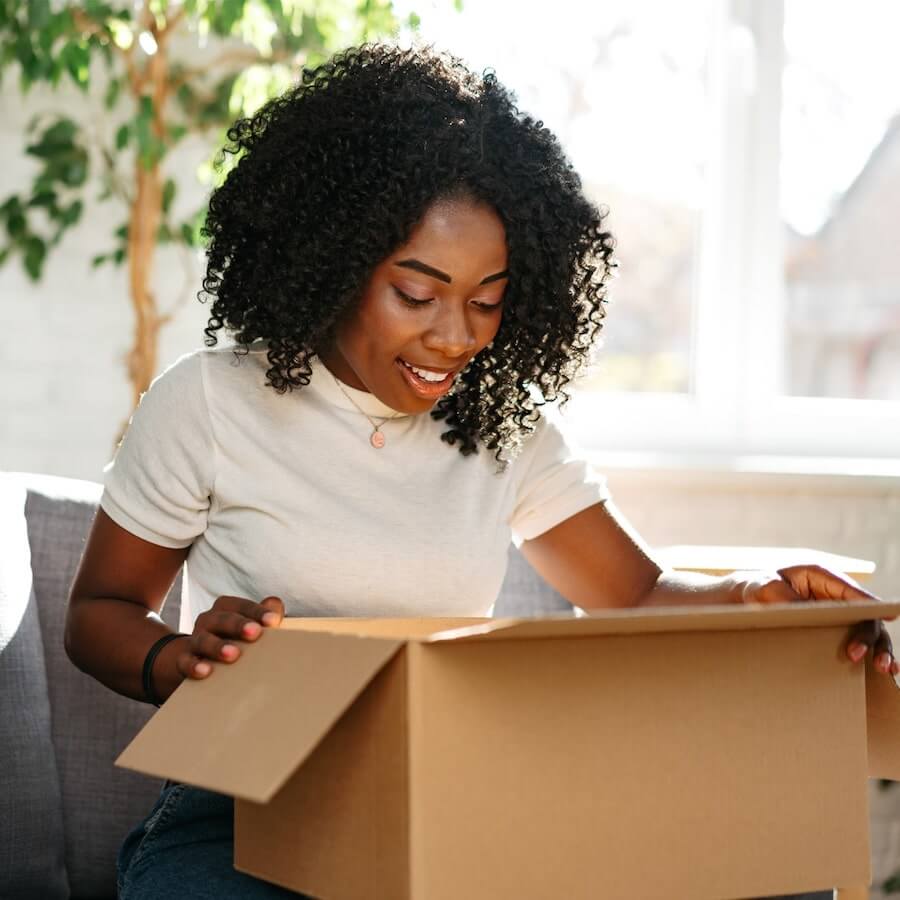 How to Customize Blank Tote Bags in Three Steps
Find a perfect design and replicate it a hundred-fold. Explore our diverse range of blank custom tote bags and order in bulk through three easy steps.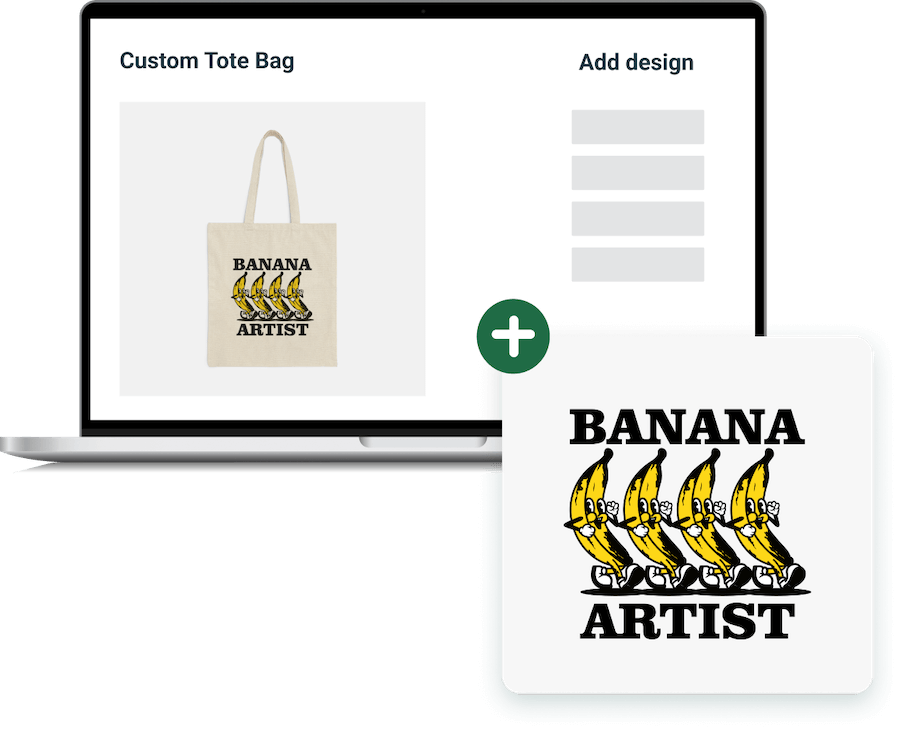 Start with a 100% free Printify account and add the necessary business details to set up your profile. Access the entire print-on-demand product fulfillment platform without any up-front costs or hidden service fees.
Navigate to the Printify Catalog and filter for bags and other accessories. Be sure to check whether a product has bulk discounts available. Experiment with and consider multiple fabric consistencies, colors, and styles to find your own look.
Once you've picked your favorite blank totes, go to the product screen and click Start designing. Use the Printify Mockup Generator design tools to upload images, add text, shape, and resize to create the right tote bag for your needs.
Wholesale Canvas Tote Bags With Printify
Browse the Printify Catalog and fill out your stock, from eco-friendly reusable tote bags, bulk cotton tote bags, wholesale tote bags, custom canvas tote bags, and more.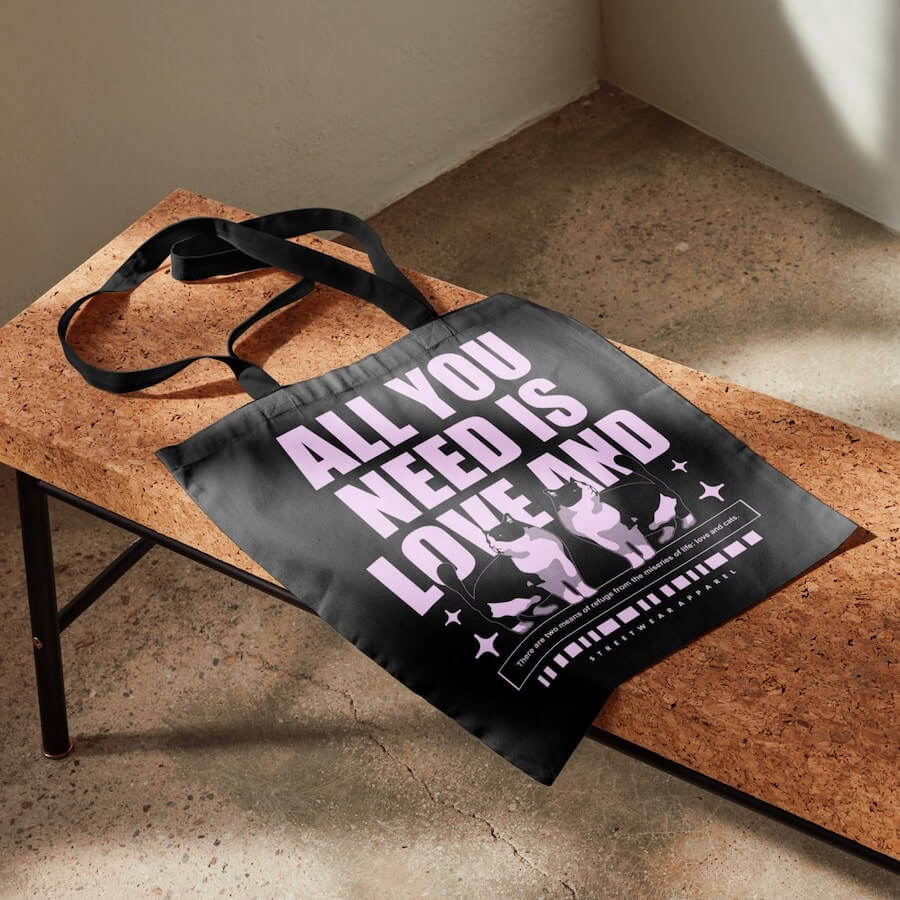 This category includes 100% cotton tote bags in bulk with multiple color options, from beige, black, and white to lime, lavender, royal blue, and more. Pick from fine light fabrics or choose a heavy fabric option with form-fitting flat corners.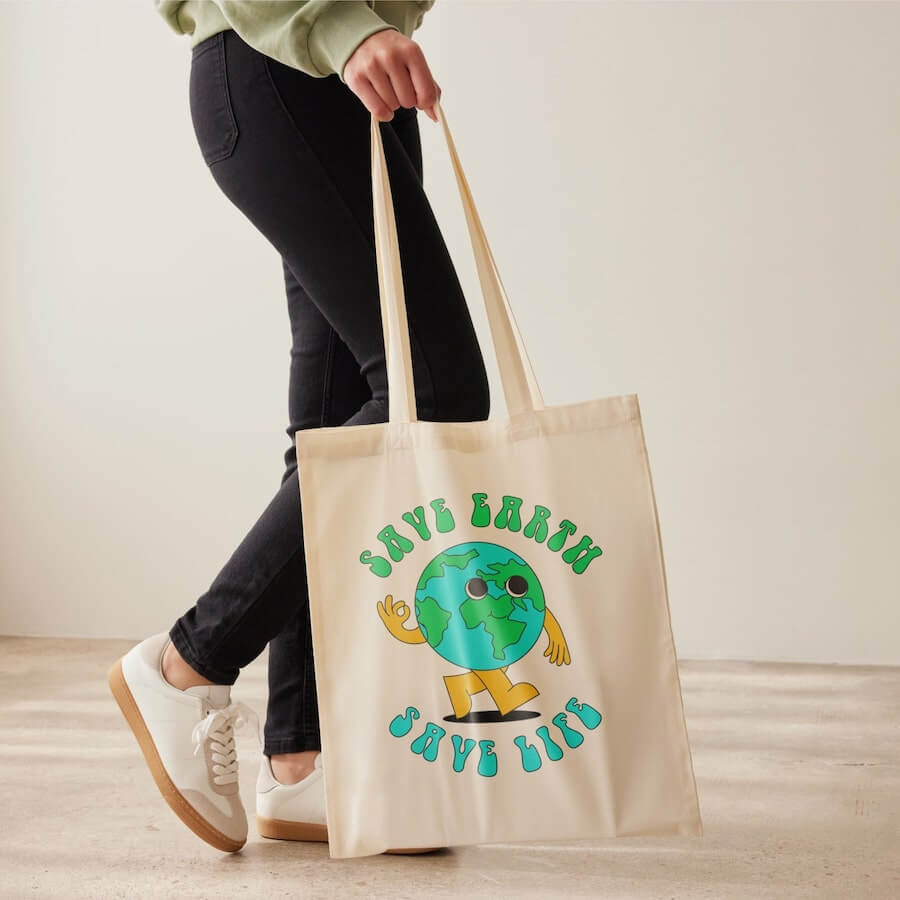 Bulk Organic Cotton Canvas Bags
From certified organic cotton to canvas tote bags made of fully recycled materials, this option offers the best choice for eco-conscious consumers. For more added benefits, try out our natural canvas tote bag that includes optional gift messages and branded inserts as the perfect goodie bag for giveaways.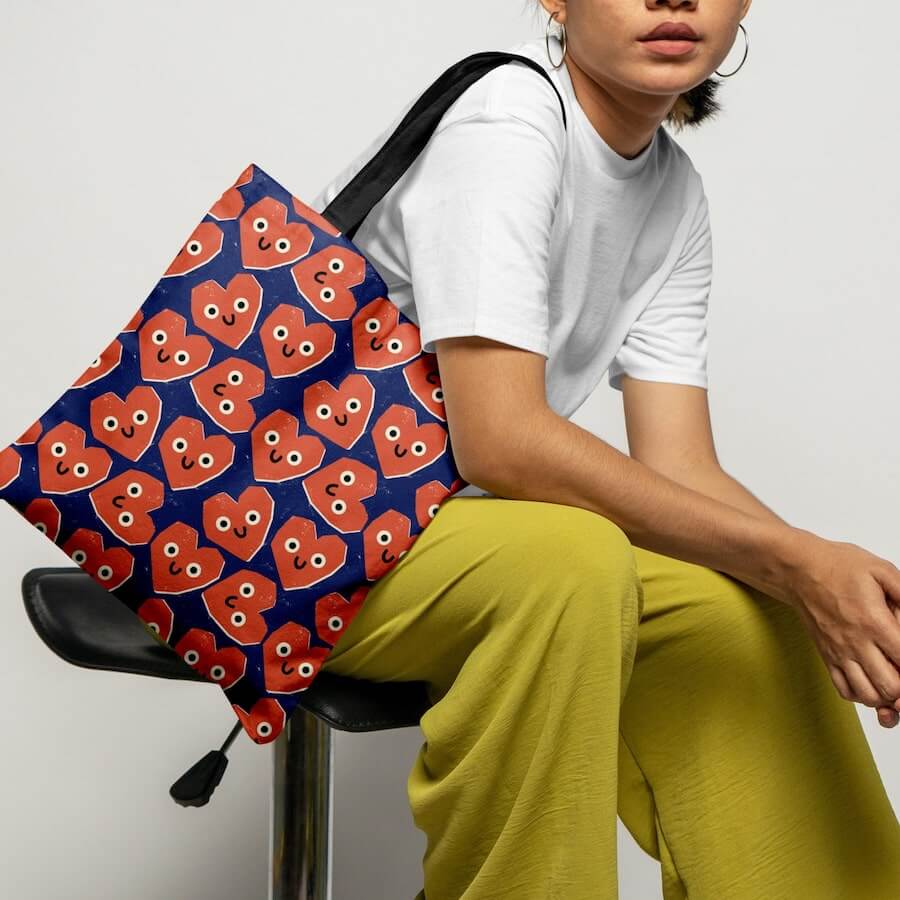 Bulk AOP Canvas Tote Bags
All-over-print (AOP) is the process of coloring the fabric before it's cut and sewn into the final product. This offers the advantage of full design possibility, covering the entire canvas tote bag from seam to seam with vibrant patterns and images.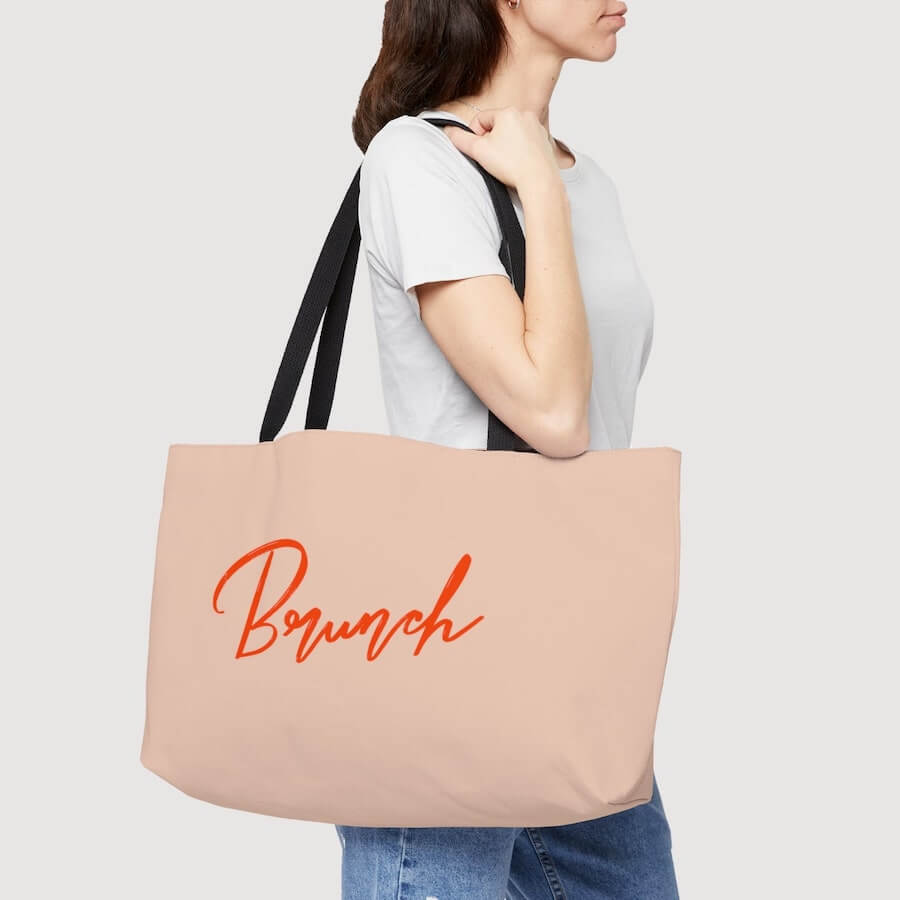 Get bulk tote bags for more practical and personal use with our selection of grocery shopping bags – the perfect carry companion with spacious pockets, durable lining, and reinforced stitching. Highlight your designs as the pride of the market and maximize the value of your cotton canvas tote purchase.
More Than 8 Million People Trust Printify
Printify offers transparent services at any resource level or budget, constantly looking to improve and add value to merchants and designers.
I don't have to invest the money I can't lose into my business. With Printify, I only pay the fulfillment fees, and the rest is all profit.
I really appreciate working with Printify on my brand. Afro Unicorn was only supposed to be my design on a white shirt. It is so much more. Printify allows me the time to run the business and not work in the business.
Printify helped me start a completely hands-off revenue stream. When you spot a niche that you want to enter quickly, you don't have to worry about buying stock or equipment.
Printify Premium has helped my profit margins tremendously, and spending $20 a month has probably saved me over $200 a month.
Using Printify saved our struggling business of 6 years and gave us more time with our family.
I like Printify products because they tie in with our organisation's message.
I love the Printify Mockup Generator. It keeps everything consistent and allows me to keep my brand looking sharp and professional.
Order Personalized Tote Bags in Bulk
Design Ideas for Blank Canvas Tote Bags
Any niche or audience deserves vibrant design ideas that fit the occasion and bring the designer's vision to life. Here are some blank canvas tote bag themes and visuals that work perfectly for bulk orders.
Define your business and brand imagery with custom company logos. Add small design accents with emblems and slogans that accentuate a conventional and practical style.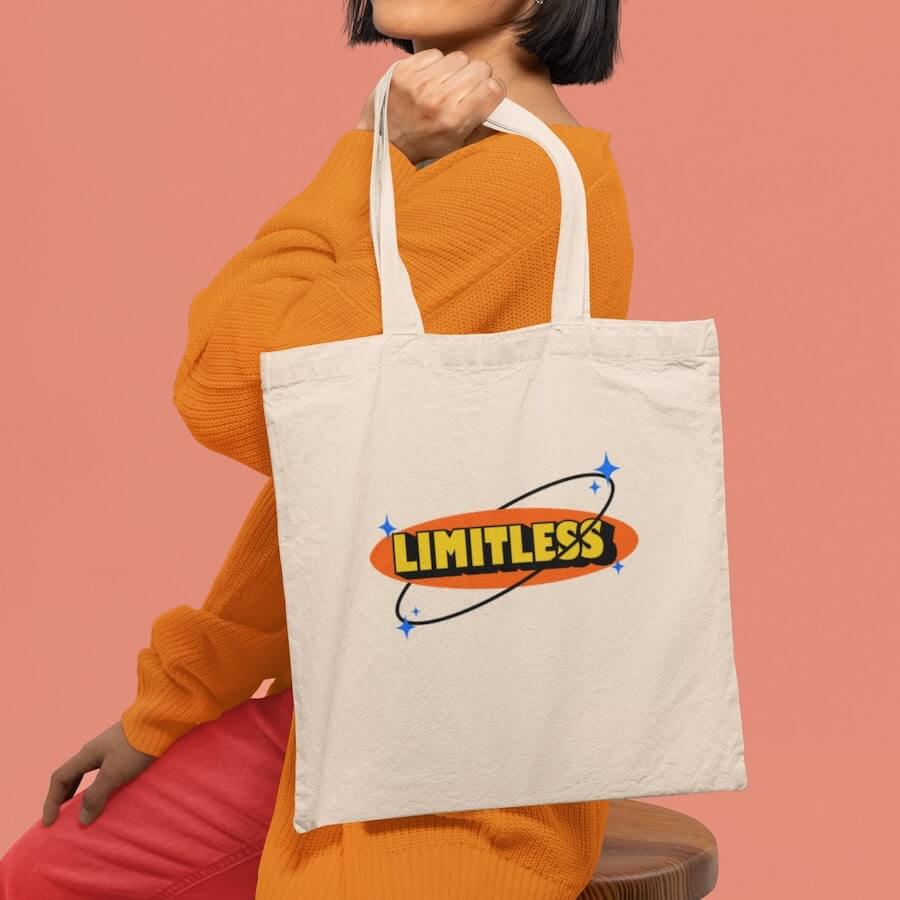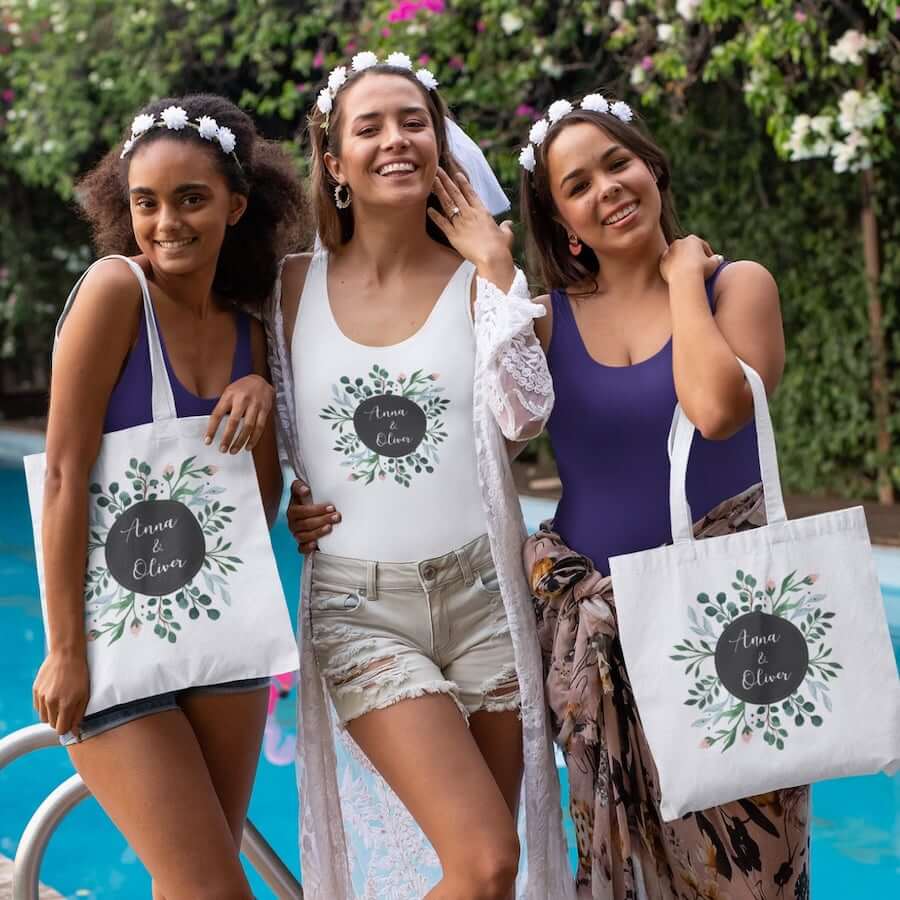 Order a bulk shipment for weddings to feature treasured memories. Create designs with personalized names for guests and newlyweds as the perfect option for goodie bags.
Highlight the niche of cultured wine enthusiasts with elegant winery-inspired designs tailored for shopping and tasting events. Check out the Wine Tote Bag for sizing and framing info.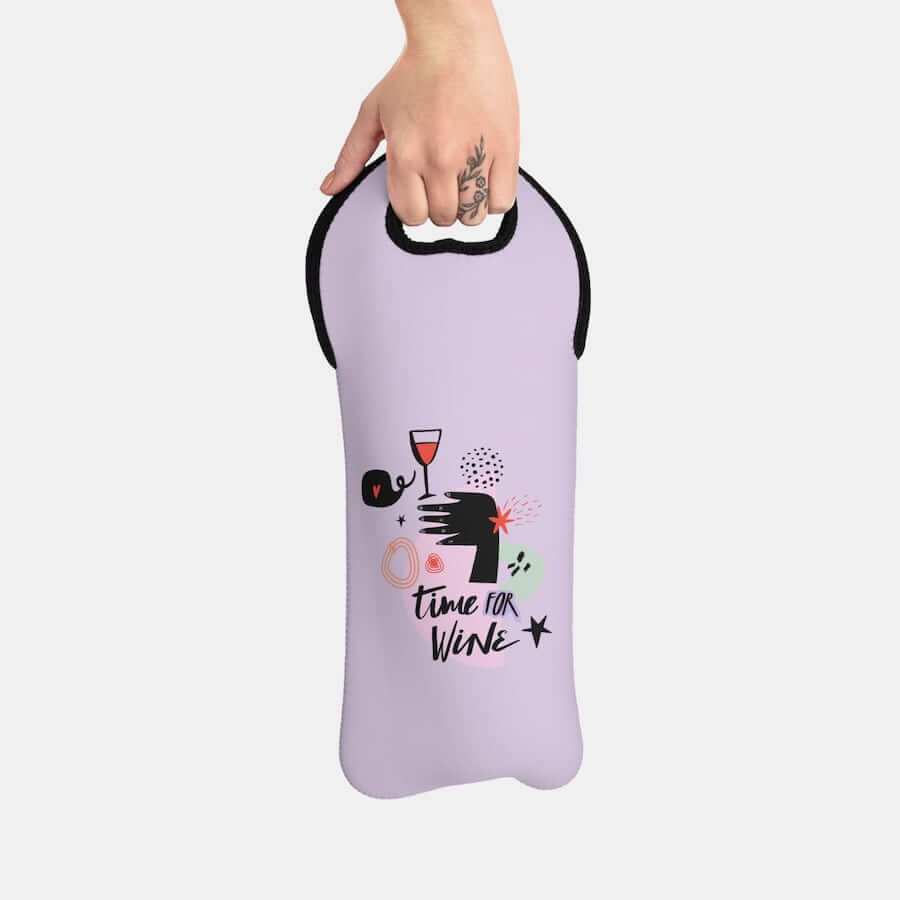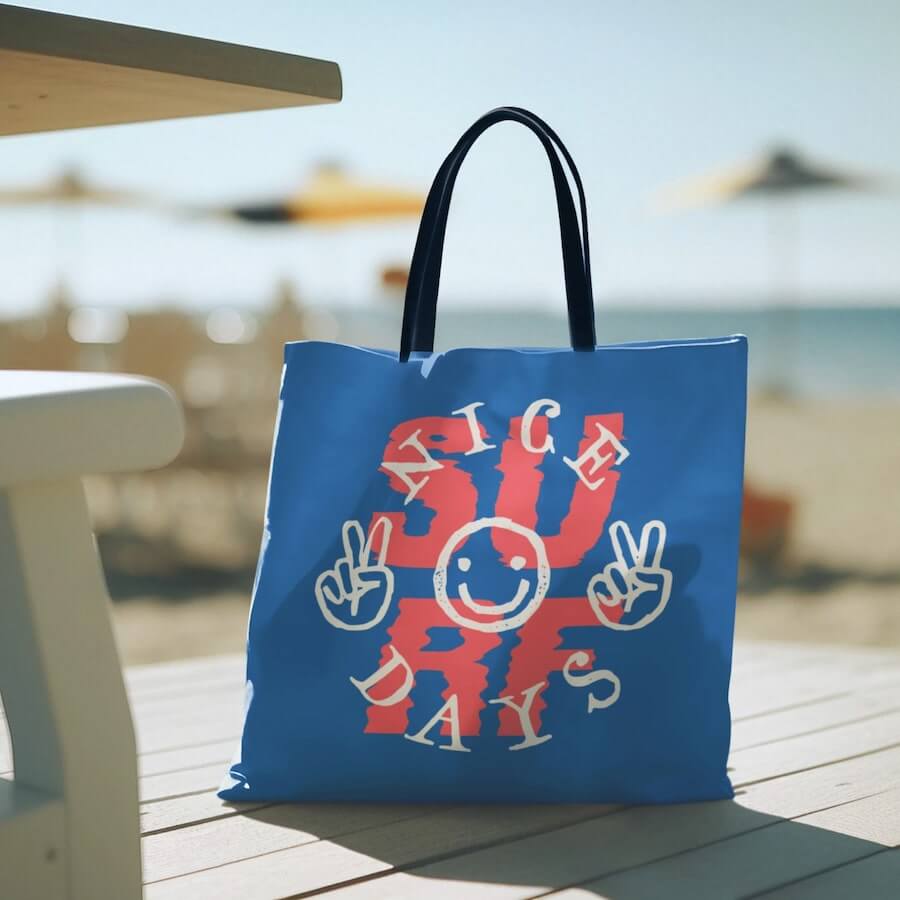 Go for bright and nature-focused designs and patterns to lead people out of the house and into some sunlight. Perfect for larger carry bags and AOP design techniques.
Grocery Shopping Tote Bags
Groceries and other shopping items are a great source of inspiration, from fresh veggies and organic produce to mouth-watering snacks that build up a shopping run momentum.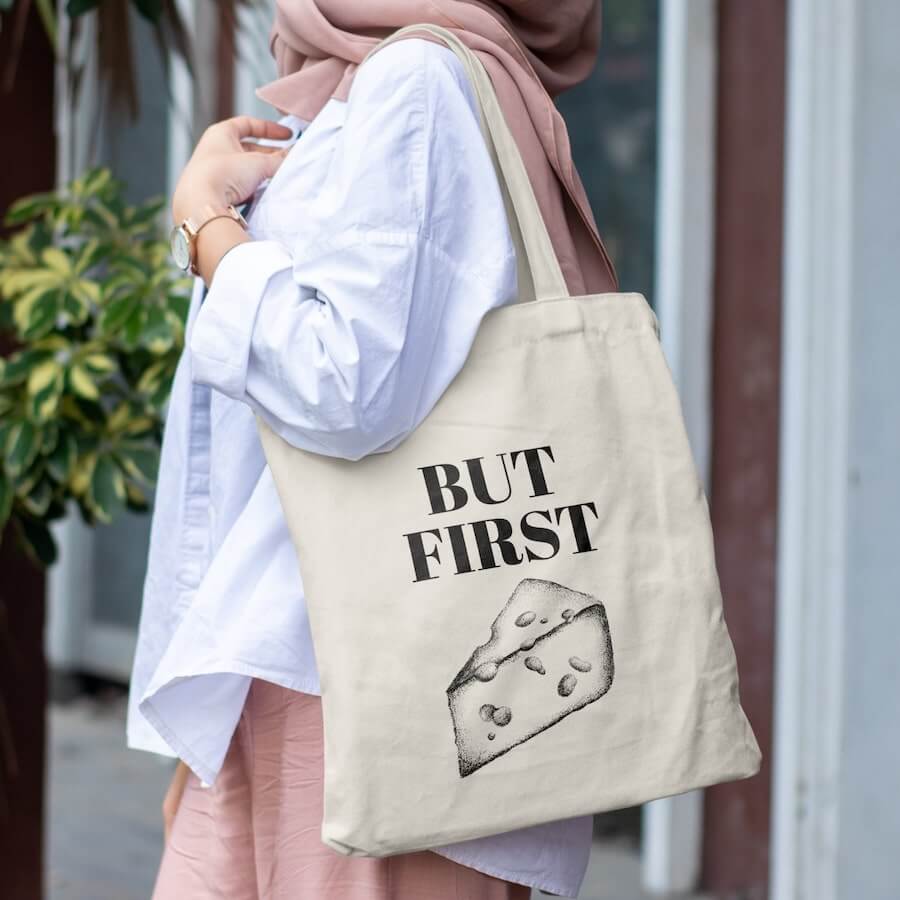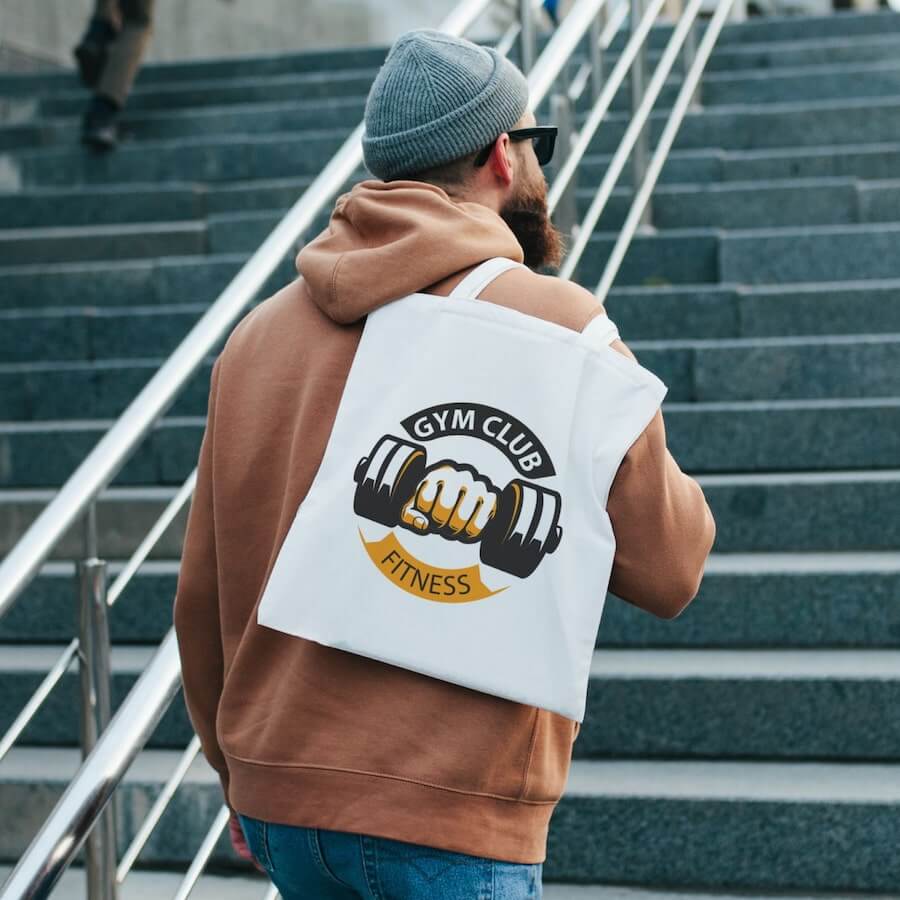 From promoting fitness at the gym to preparing a sustainability workshop for kids, promotional tote bags can drive up value for almost anything you can put your mind to.
Why Choose Printify to Print Tote Bags in Bulk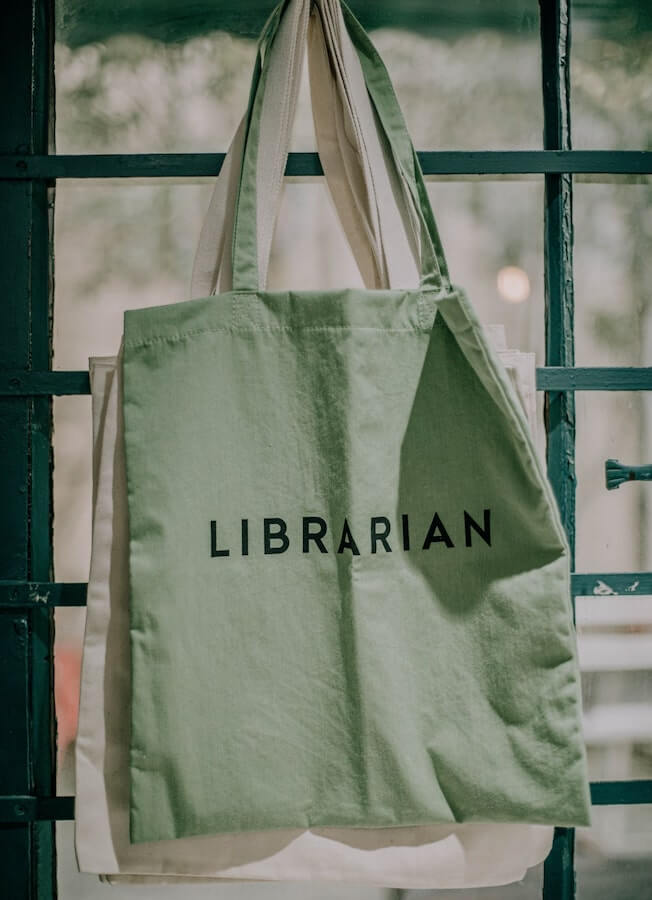 FAQ: Wholesale Custom Tote Bags
Order canvas tote bags in bulk using the Printify product procurement service. Sign up to the platform for free and design from an endless variety of tote bag styles.
The type of fabric for tote bags depends on your preference and budget. Cotton provides a natural feel, while polyester is better for vibrant and durable prints.
Tote bags can last for up to a year if washed and kept properly. Durability also relies on the materials used, as polyester is often more long-lasting than cotton.
Check Out Other Bulk Product Ideas and Start Selling
Explore all that Printify has to offer, from bulk custom tote bags and additional shipping features to our bestselling wholesale apparel and accessories.