Holiday Email Marketing: Tips for a Successful Campaign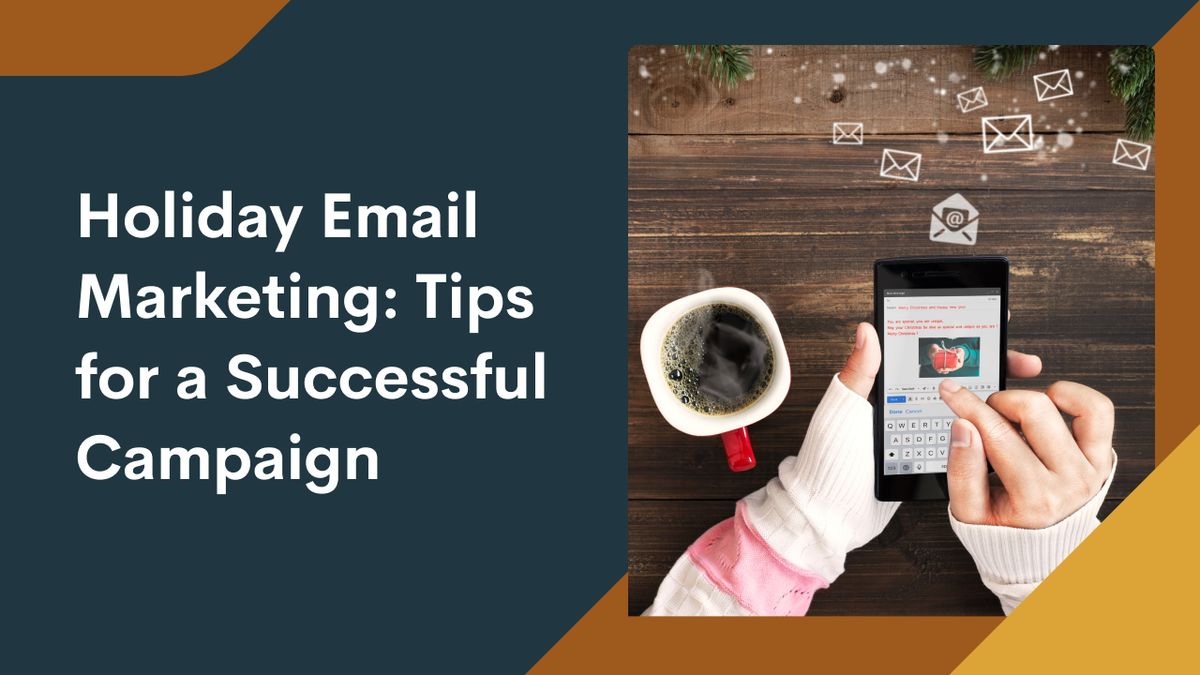 As two of the busiest online shopping days of the year – Black Friday and Cyber Monday – are drawing nearer, a holiday email marketing campaign is an effective way to skyrocket your sales.
In 2022, Black Friday arrives on November 25, but Cyber Monday – November 28. When it comes to making a profit, both of these upcoming days hold great promise for anyone in the Print-on-Demand space.
Although there is still plenty of time, it's wise to start planning right now – the earlier you start, the more time you have to fine-tune the details and create a rock-solid campaign that stands out from the rest.
In this article, we'll learn about email marketing, look at the data regarding holiday shopping, and explore some of the best holiday email marketing tips that are essential for a profitable campaign.
Why Is Email Marketing Essential for Holiday Campaigns?
As a cost-effective way to boost sales, businesses have been using email marketing for a long time – it's often considered the best holiday marketing tool and has no danger of falling out of favor anytime soon.
Here's why it's so effective:
Personal.

In the anonymous world of social media, emails are personal spaces, allowing you to reach customers directly – perfect for engaging with them one on one and making them feel valued.
Additionally, 99% of people who use email check their inbox every day, so with well-crafted holiday messaging, you can easily entice customers to make a purchase.
Cost-effective.

Used properly, email marketing can become a true profit-building tool. With a

return on investment of 4400%

, roughly $44 for every $1 spent, email marketing campaigns are effective and affordable.

Data-driven.

The beauty of email marketing is that it gives you the flexibility to try things out – you can segment your customers into different groups and tailor your marketing in a way that works best for each one.
As the season of joyful commercial excess approaches, holiday email marketing campaigns offer an easy way to let your customers know about your promotional deals, sales, and other offers.
When Should You Send Out Holiday Marketing Emails?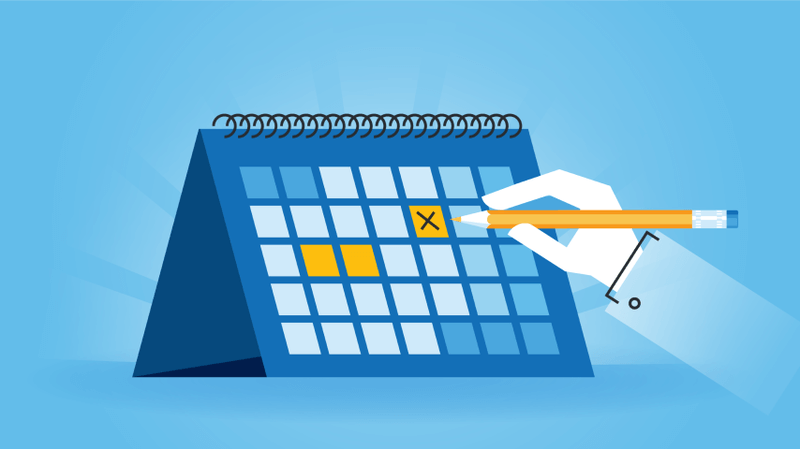 In a 2021 survey, 43% of consumers said that they'd start holiday shopping before the end of October, but 25% said before Thanksgiving. The sales start early, and everyone wants to get the best deals, which is why timely planning is so important.
Ideally, when planning your holiday email schedule, make sure to send multiple emails spread out over a few weeks in the lead-up to the holiday you're building a campaign for. This way, you can build interest and excitement without being overbearing.
Last year, holiday retail sales were expected to grow by approximately 8.5 percent compared to 2020. In total, including November and December, Americans spent a record-breaking $204.5 billion online during the 2021 holiday season.
As online shopping continues to grow in popularity, a sharp holiday email marketing campaign is a must for every merchant.
The Starting Point – Black Friday and Cyber Monday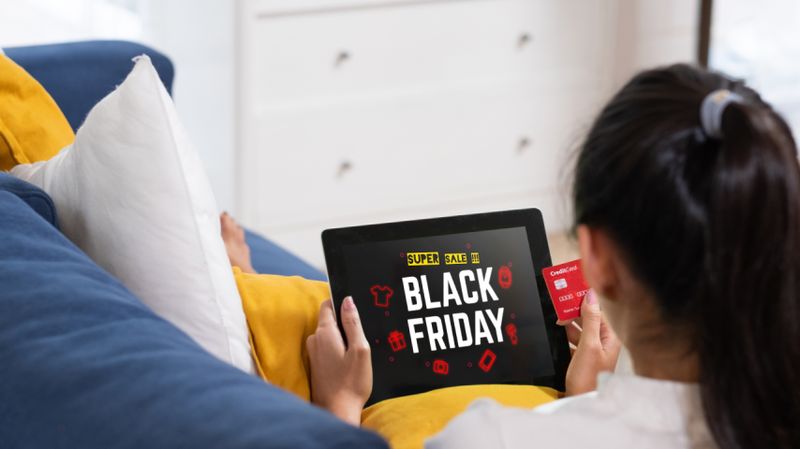 In the world of retail, Black Friday and Cyber Monday are regarded as the traditional kickoff to the holiday shopping season. As these days are fast approaching, it's time to start preparing promotional emails to entice holiday shoppers.
In 2021, Black Friday online sales reached $8.9 billion, while on Cyber Monday consumers spent $10.7 billion. These are big numbers that inspire confidence and confirm that shopping online is as popular as ever.
Although the busiest, these two aren't the only sales events in November. There are also Singles Day, Thanksgiving, and Small Business Saturday, each providing a unique holiday sales opportunity.
When it comes to holiday email marketing campaigns, following the ebb and flow of seasons is essential. With the help of our Holiday Sales Calendar, you'll always know when to start preparing and when your products will sell best.
Make This the Best Black Friday Yet!
Holiday Email Marketing Ideas to Boost Your Holiday Sales
Whether you're an eCommerce store owner or planning to become one soon, the holiday season is a profitable time for businesses of all shapes and sizes. 
With a little bit of preparation, planning, and creativity, anyone can create a holiday email marketing campaign that resonates with their audience, stands out in the crowd, and encourages engagement.
If you aren't already using email to boost your holiday sales, this needs to change. Here are our tips to help you succeed and grow your business to a whole new level.
1. Plan Your Holiday Email Marketing Strategy Early
Shoppers begin their search for holiday gifts early. With this in mind, don't wait until the last minute to prepare your holiday emails.
If you start early, you have enough time to fine-tune all the details based on your customers' specific interests. This way, you can encourage engagement, enhance click-through rates and increase sales.
2. Choose the Right Email Type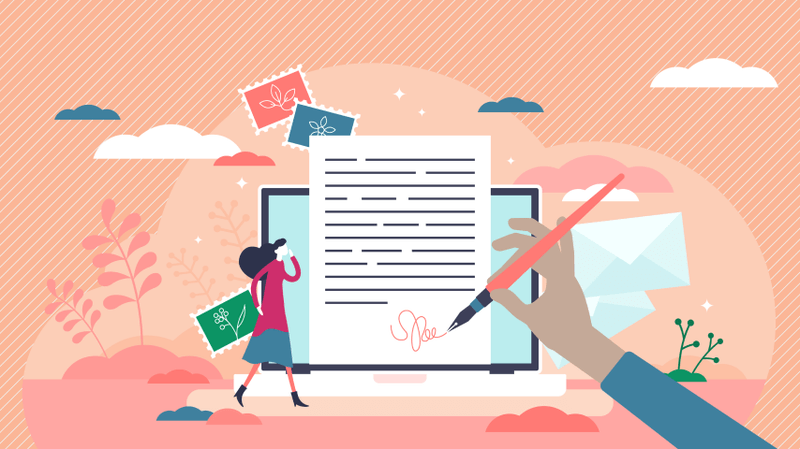 When it comes to holiday email marketing, you have several options. You can send:
Welcome emails.

An easy way to announce the holidays, send greetings and make an instant connection with your customers. If done right, it'll also have a positive impact on customer lifetime value.

Promotional emails.

No holiday season is complete without well-crafted holiday emails that inform customers about promotions. They're intended to get the word out about your limited-time deals, online gift offers, or anything else you like.

Abandoned cart emails.

If you haven't already, consider creating an automated abandoned cart email flow. By doing so, and making these emails festive, you can tempt customers back with discounts or emotional cues.
If you need a tool to help you with this, you can try Mailchimp, Sendinblue, Mailerlite, or any other software that best fits your needs. With email marketing automation, you're free to focus on other aspects of your campaign.
Whichever you choose, keep in mind that each type of holiday email has different goals and requires a different approach – how you write them matters.
However, don't go overboard. Send too many and you'll quickly end up on the unsubscribe list. A good rule of thumb is to wait a few days between emails, but this can vary from one business to another.
3. Make Your Campaign Mobile-Friendly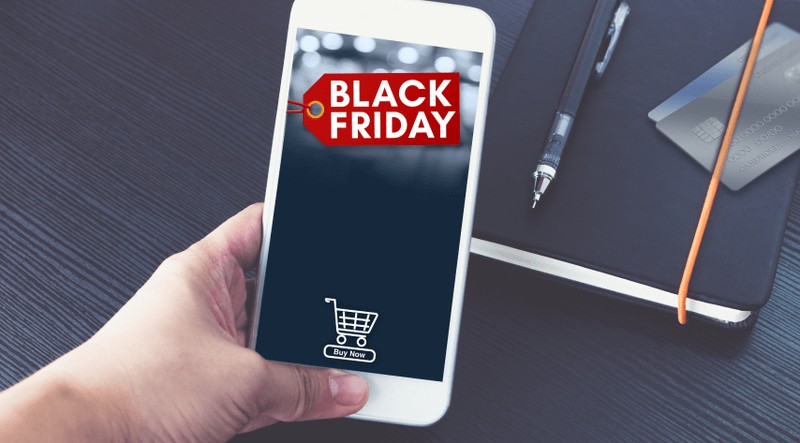 Since 41% of all emails are read from mobile devices, it's important that holiday email campaigns are mobile-friendly. 
Here are some simple yet essential tips that anyone can use to make their emails more mobile-friendly:
Watch your subject line length.

A typical inbox displays 60 characters, while mobile – 25–30. With this in mind, you can write a subject line that looks good on mobile.

Keep your content concise.

A mobile campaign email must be short, scannable, and concise, allowing your customer to easily understand what you're offering.

Pay attention to images.

Not all mobile devices show images by default, so make sure your email still makes sense if the images don't show. Avoid using heavy photos that slow down the loading time.

Position call to action strategically.

Your email should get to the point quickly – place your call-to-action button near the top and let them know what action you want them to take.

Leave enough white space.

Avoid clutter and confusion – make sure to leave enough white space around your calls to action so that they're easy to click on.
Don't forget that mobile shopping is growing. Testing your email on multiple devices and email clients is vital to ensure that you, and your customers, are happy with the final result.
4. Try Email Marketing Tools and Ready-Made Templates
Your emails should be designed in a way that reflects the holiday at hand, matches the seasonal color palette, and resonates with your audience.
Not all of us have the design skills to create beautiful email templates that deliver the desired results. Today, there are a variety of services you can use to easily create holiday email templates. Here are some of them.
Sendinblue.

An all-in-one marketing platform, Sendinblue is perfect for small and medium-sized businesses. The platform offers a free plan that includes more than 60 fully responsive email templates.

Omnisend.

An easy-to-use platform that offers a free plan that's enough to support small and medium-sized businesses. With the help of their software, you can either use ready-made templates or design your own email template from scratch.

Campaigner.

A multi-channel marketing automation platform that offers more than 900 email templates. Although not free, they do offer a free trial, enabling entrepreneurs to test it out before making a commitment.
When it comes to choosing email marketing tools, there are plenty of options. Which one is the best? That depends on the size of your business and your individual needs.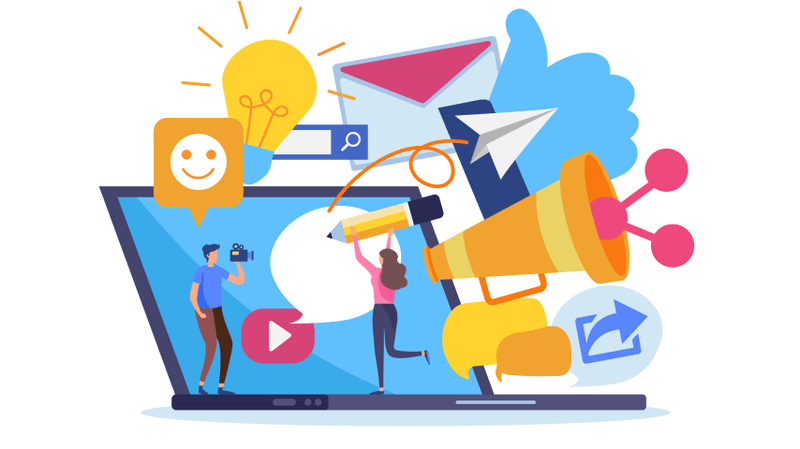 As you plan your holiday email marketing campaign, don't forget you're competing with thousands of other offers. A well-crafted email will build trust, encourage engagement and stand out in the sea of holiday sales promotions.
Here's what you should keep in mind when writing a mobile-friendly email:
Subject line. The first thing that strikes the eye when a customer sees your email, attention-grabbing subject lines are vital to your success.

Try to keep your subject lines short (~4–7 words), be direct, limit punctuation (no more than 3 punctuation marks), and use emojis carefully (1 or 2).
Preheader text. The preheader – also called email preview text – is an extension of your subject line. In short, email clients draw this text from the first few words of your email campaign.
Typically, it's best to limit yourself to around 35 characters, ensuring that the preheader gets shown in full on most mobile devices.
Email body.

The goal is to make your audience understand what you're offering in the simplest way possible.
Try to keep the text clear, concise, and compelling. Explain what you are offering, how the customer will benefit, and let them know what to do next.
Images.

Images have a vital role to play in your holiday email marketing campaign. They make it more memorable and recognizable.
Always make sure that images render correctly and presentably. If possible, make sure your email also makes sense without them.
Call to action.

The call to action is the part of your email that tells your customers what they should do once they've read the message.
Avoid vague phrases and specifically describe the action you want them to take. For example, "Check Out Our Gift Ideas", "Buy a Gift Card Today", or "Explore Our Holiday Gift Guides".
Whenever you're writing an email, make sure to use power words in your subject lines, seasonal phrases in the body of the text, and add a bit of your own creativity throughout the whole message.
When everything is ready, don't forget to test your subject lines, preheader, and the email itself on multiple devices and clients.
Make These the Most Profitable Holidays Yet!
6. Use Segmentation, Make Emails Personal
If you want to improve open and click-through rates, segmenting your contact list is essential. In short, email segmentation is a technique in which you categorize your contacts into different groups based on certain criteria.
For example, for seasonal campaigns, you can segment your customers into two categories:
Year-round customers

Seasonal shoppers
You should approach each of these groups differently – try offering loyalty programs for your regular customers and special offers for seasonal shoppers.
Additionally, by personalizing your email campaigns, such as addressing customers by name or sending relevant content based on their specific interests, you can create long-lasting relationships that will result in improved sales.
7. Clearly Define the Deadlines
The holidays are stressful for everyone, especially in 2022, when we often hear of supply chain issues and resulting shortages. However, it's something you can use to your advantage in your holiday email campaign.
By setting expectations and clearly defining deadlines, you can increase your holiday sales by making customers feel at ease ordering from you.
When communicating your offer, provide as much detail as possible – average production time, estimated shipping times, or if possible, real-time shipping updates. 
Try to include final delivery dates. For example, let customers know that if they order something by November 20, it'll arrive at their doorstep on November 25.
8. Create Engaging Holiday Content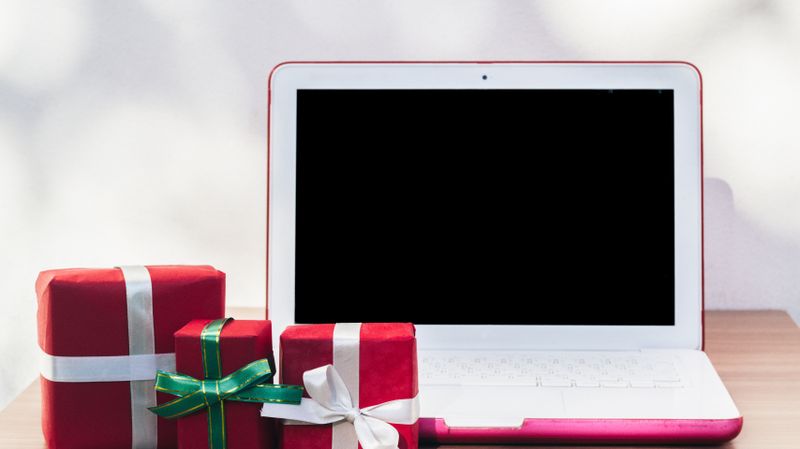 Without a doubt, creating meaningful content is a great way to provide value for your customers, gain their trust and build authority.
By providing content that's relevant to your audience, it's easier to get their attention and encourage them to take action.
Here are just a few content ideas you can include in your emails:
Holiday gift guides.

With a well-made holiday gift guide, you can easily attract customers looking for last-minute gift ideas and entice them to make a purchase.

Holiday blog posts.

You should tailor your content to your target audience and their specific interests.

Launch a hashtag challenge.

Invite your email subscribers to post content using a specific hashtag. In return, enter them into a prize raffle.
Anything you write should be structured in a way that's eye-catching, engaging, and memorable.
9. Offer Deals, Discounts, and Coupon Codes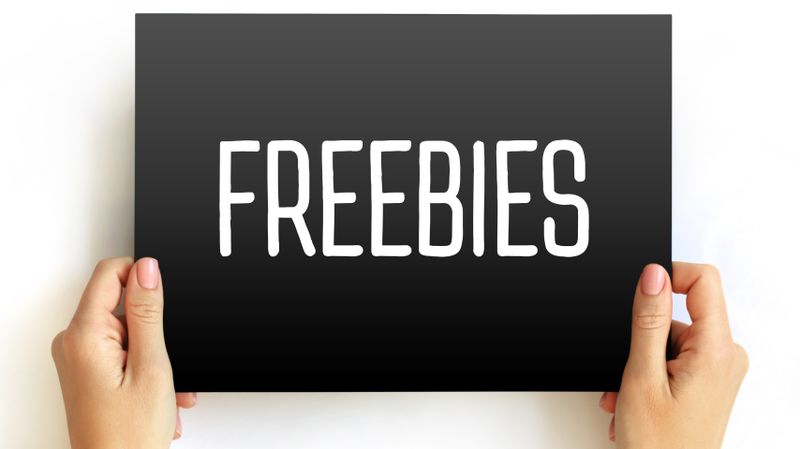 As inflation continues to rise, people are looking for ways to save money. When their holiday budget is tight, any little bit of savings can make a big difference in the lives of your customers.
If you're looking for a bulletproof way to increase your sales during this holiday period, you can offer:
Buy one, get on free deals

Student discounts

Free delivery

Gift cards

Coupons
Whichever you choose, don't forget to create a dedicated landing page that welcomes your customers and nudges them to take action.
Additionally, after the holiday season has passed, you can send out post-holiday emails to extend the positive results of your campaign.
10. Create a Sense of Urgency
If you want your customers to make faster decisions, creating a sense of urgency is a sure-fire way to incentivize them to act quickly.
To create a sense of urgency, you can:
Add a countdown timer to your sales landing page.

A simple way to visualize how much time your customers have before they miss out.

Today-only deals.

With these, you can drive impulse purchases and sell more.

Limited-quantity deals.

By offering limited-quantity deals, you're saying two things – the product might sell out soon and that it's in high demand.
If done right, urgency is a powerful tool that you can use to draw customers' attention, boost sales, and make more money.
11. Combine Email Marketing With Other Marketing Strategies
When preparing for upcoming holidays, you shouldn't neglect other forms of marketing. Whether you're a small business or a larger brand, combining a variety of marketing activities can help you achieve better results.
Here are a few other ways you can market your sales campaign:
Social media.

In our ever-digital world, social presence is everything. With

social media marketing

, gaining new customers – and growing your business – is easier than ever.

Influencer marketing.

By teaming up with influencers who promote your products, you can gain better exposure and earn your audience's trust quickly.

Content marketing.

Simply by consistently publishing useful content – articles,  product reviews, or anything else your customers are interested in – you'll build trust with your audience and authority in your niche.
If you'd like to learn more, our Holiday Marketing Guide offers a variety of holiday marketing ideas and practical tips on how to improve the site's loading speed, optimize check-out, generate traffic, and much more.
Make This the Best Holiday Season Yet!
Holiday Email Marketing Examples for Your Inspiration
If you're looking for a fresh perspective and some insightful ideas for this holiday season, it's worth exploring what other successful businesses are doing.
Here are a few holiday email marketing promotions to draw inspiration from.
With a subject line "Black Friday deals are almost over", this email creates a sense of urgency, indicating that it's time to make a purchase if the customer doesn't want to miss out.
Their Black Friday holiday email is simple, clear, and elegantly designed.
As customary with Black Friday, the email showcases several products and emphasizes the savings customers get.
With a subject line "Cyber Monday Sale | 20% Off Everything ⚡", this email gets to the point right away. 
By offering a discount code at the beginning of their email, customers instantly get what was promised. Afterward, they can continue their discounted gift shopping by choosing between three categories, leading to a dedicated purchase page of the company's Cyber Monday sales.
Another great thing about this email is that they offer a holiday gift guide for those who are still undecided.
With a subject line "Flying to the feast? ✈️", this email is a great example of how a brand can put itself in its customers' shoes and identify a problem they can solve.
Uber understands that people spend a lot of time traveling during the holiday season and offers them to book a ride to the airport early.
The email has a background with fitting seasonal colors, radiating calm and festivity. Their promise? To make their customers' lives a little bit easier.
Ready to Launch Your Holiday Email Campaign?
Whether it's Black Friday, Cyber Monday, or Small Business Saturday, launching a holiday email marketing campaign is an easy – and cost-effective – way to spread the word about your holiday sales.
If you want to create a truly great campaign that warms the heart of your audience, keep this in mind, and you'll be well on your way:
Plan your holiday campaign early

Choose the right holiday email type

Make your campaign mobile-friendly

Invest in an email marketing tool

Structure your holiday emails well

Segment your customers and make your emails personal

Clearly define deadlines, keep your promises

Create valuable, engaging content

Offer deals, discounts, and coupon codes

Create a sense of urgency, add a countdown timer to your landing pages

Try various marketing strategies to maximize your reach
With a well-thought-out holiday email marketing strategy, the right message and timing, anyone can take advantage of the upcoming holiday season to increase their profits and build long-term relationships with customers.
Make This the Most Profitable Holiday Season Yet!
Share the article
Topics