25 Holiday Marketing Ideas for This Festive Season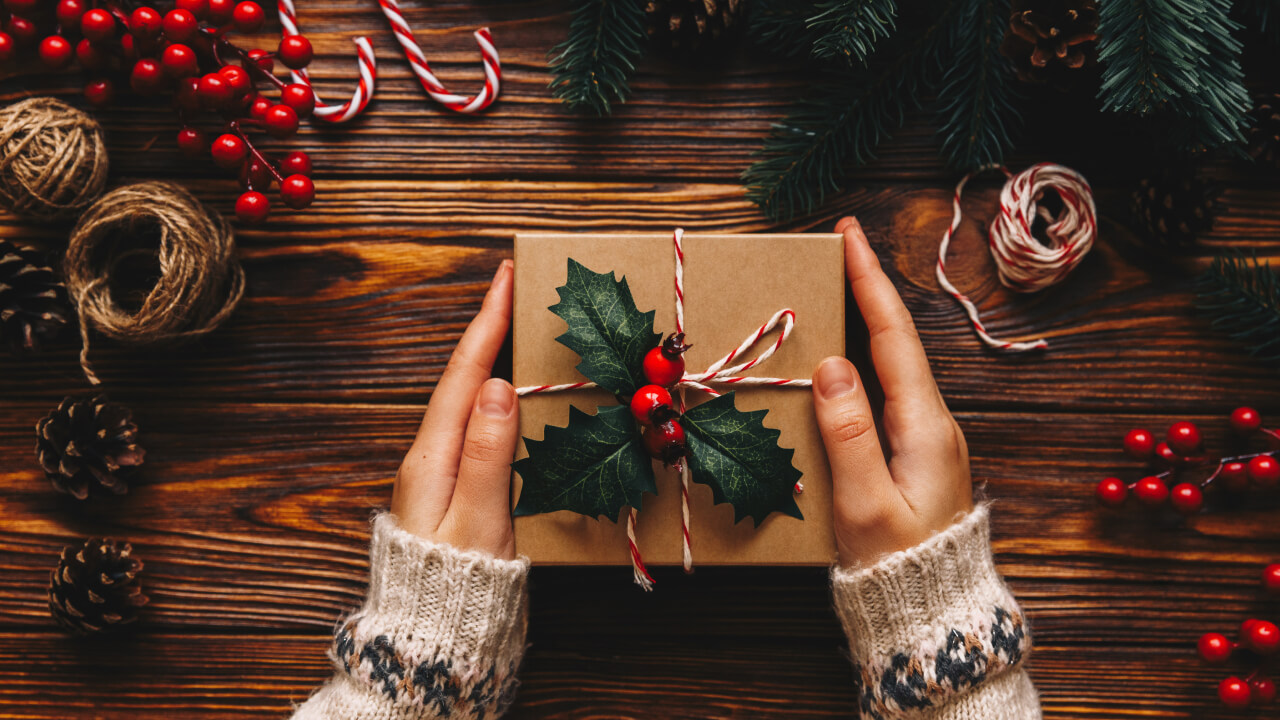 Christmas is just around the corner, so businesses need to gear up for a sleigh-load of challenges that come with the shopping frenzy. The main one being: how can a business stand out in a crowd of online marketers?
With the Christmas spirit high – but competition even higher, tis' the season to be clever with your holiday marketing campaigns.
In this article, we'll unwrap the 25 greatest holiday marketing ideas and tips for you to try, covering every aspect of eCommerce. Take notes, take action, and prepare your store for existing and new customers during the festive season with one-of-a-kind promotions.
Why Should You Prepare for Holiday Season Sales?
Because it's an excellent opportunity for big and small businesses to skyrocket sales. 
Embrace it by implementing holiday marketing strategies to the high demand and number of website visitors during the shopping season.
Holiday sales have steadily grown since 2009, reaching

$936.3b

in

2022

.
That's a massive amount of revenue. Be a part of this year by planning great promotions for the upcoming holiday season.
On average, holiday shoppers in America spend

$1,455

on everything from ugly sweaters to perfect gift ideas.
Think of different target audiences and demographics to prepare a holiday offer for every type of customer. The top product categories dominating holiday shopping are:
Clothing and accessories

73% 

Health and wellness

70% 

Toys and hobbies

64% 

Electronics

47%

Home and kitchen

36%
Use the power of Print on Demand to cater to some or all popular categories, offering unique goods with your personal designs while spreading holiday cheer.
Boost Your Sales With 25 Effective Holiday Marketing Ideas
A successful holiday marketing campaign takes effort, time, and patience. One thing's for sure – the benefits outweigh the time and effort you'll spend.
Let's get into the 25 great holiday marketing ideas to increase your sales, grow your business, and help you gain an advantage over your competitors during the holiday season.
1. Define Your Target Audience and Set Goals
Understanding key elements of your customer niche is one of the most essential steps before starting your holiday marketing campaign. 
First, identify and organize your potential customers into groups based on their common characteristics –  such as age, marital status, and occupation. This information can make or break your campaign.
Your main goal is to get your target audience to remember your brand and its offers before the holiday shopping season begins.
Preparation is as key to success in eCommerce as it is in life. 
With early birds starting their Christmas shopping before November, you need to align your holiday marketing campaign ideas to appeal to the early demand.
Not only will it serve people looking for gifts on time – it'll also give you a competitive advantage approaching the holidays. 
Design early campaigns to blast all over social media platforms. Direct customers to your store landing pages with the best deals before any of your competitors have even thought of them.  
Start preparing today – you'll thank yourself tomorrow!
3. Partner With Other Brands
Collaborate with other online or local businesses for a great holiday promotion. This will cultivate customer loyalty, ease your marketing efforts, and provide extra exposure your brand can benefit from.
Partnerships like this are financially beneficial as well. You can share resources and expenses needed for the holiday marketing strategy and promotions, saving funds for personal advertising and holiday events.
Just make sure to work with businesses that align with your brand values and image. The last thing you want is for your holiday campaign to flop due to controversy or drama. Tis' the season of gift giving and profits, not problems. 
Analyze your holiday promotions from the previous year to gain valuable insights that can transform your marketing efforts this year. 
Define patterns that had a positive effect and identify missteps and opportunities to improve. Examine popular trends, consumer behavior, preferences, complaints, and top-selling products.
Tailor your holiday marketing strategy accordingly to be sure this year's a success.
5. Prepare Your Sales Channels and Media for the Holiday Season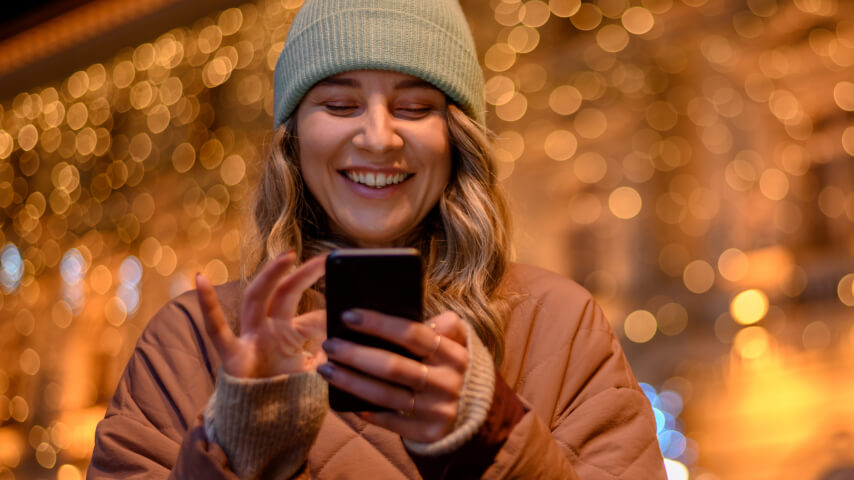 With heightened customer activity approaching the holidays, aligning all your sales channels and media outlets for the shopping frenzy is important. 
From a well-prepared website to custom landing pages and optimized media channels, make sure that customers have a seamless experience to maximize engagement.
Targeted marketing efforts will pay off with a bigger brand reach and loyal customers:
Strategically

plan your sales and promotions

and display them across multiple platforms to establish a cohesive identity and build a strong, trustworthy brand.

Make sure your pages are mobile-friendly, optimized, and easy to navigate, showcasing the best offers in an inviting, comprehensive way.
6. Add Holiday Items to Your Store
To set realistic goals for the upcoming holiday promotions and launch a good holiday marketing campaign, decide which product categories to discount. Also, know what items to sell as your unique holiday products.
This is one of the most fun parts of preparing your online store for holiday spending and booming sales.
Explore categories that thrive during the holidays and browse the vast selection of products in our Printify Catalog. Think of what works best for your brand and add those items to your store with one-of-a-kind designs within minutes.
Unique offers and sales are holiday campaign ideas every business utilizes during the season. It's the main reason shoppers go to these stores in the first place – to score a special deal before the holidays.
Use this sense of urgency to your advantage. Entice customers with limited-time offers – from discounts and gifts to free shipping. 
Make sure your exclusive deals shine brighter than the Christmas tree to capture attention and urge people to act. Leave them with cute gifts for the holidays, and you with profits.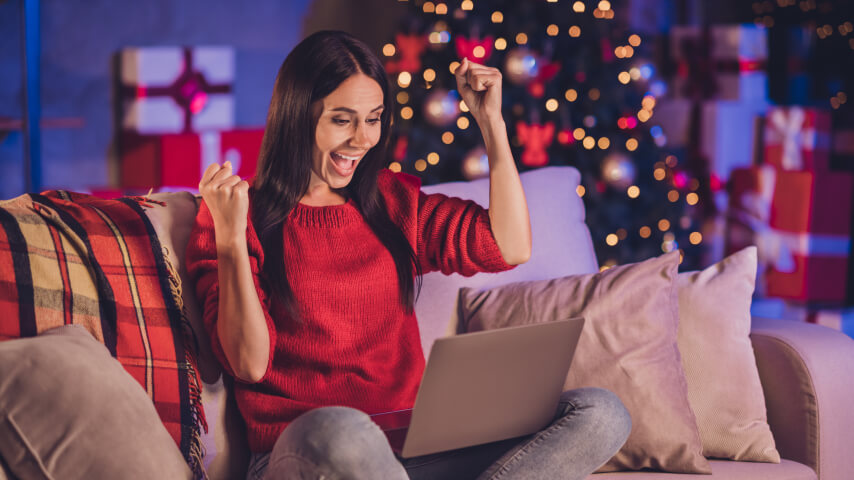 Offering a free gift with every purchase or a specific product, combination, or total sum is one of the best holiday advertising ideas out there. Why? Because people love free stuff, and they'll gladly tell their friends about it.
Offering free shipping, complementary products, or a random item at the checkout will improve the overall experience and inspire larger purchases.
Display the free gift all over your website and social media, highlight its importance, and set a limit to generate urgency and drive immediate sales while promoting your brand.
9. Create an Interactive Experience
Design fun and convenient interactive experiences to engage shoppers and enhance their overall impression of your page. 
Gamify the shopping journey with:
Discount wheels.

Add a bit of excitement and anticipation with discount wheels. Customers will gladly spin for a prize – or even a

chance

of winning. There is no downside to this, only happy customers.

Popups.

Grab the attention and encourage immediate action with bright and flashy holiday popups. Display exclusive deals or special discounts – anything a shopper will be eager to click.

Interactive gift guides.

Quiz your store visitors to help you recommend products based on their preferences. This fun experience will help them find inspiration for unique gift ideas and complete their shopping journey faster.

Virtual try-ons.

This idea might be for the more tech-savvy merchants, but it's one worth trying. Especially if you're selling clothing, accessories, and makeup. Let your customers virtually try on the products to boost their will to buy.
Interactive experiences ensure your shoppers have a wonderful time engaging with your business – increasing customer loyalty and conversions during the holiday season.
10. Plan Your Email-Marketing Campaign
Well-planned email marketing campaigns can attract an audience and spread holiday joy with festive greetings wrapped in fantastic offers and holiday discounts. 
Many 'Happy Holidays' messages, greetings, and wishes can be used to fit this exact purpose. Check out our list of ideas to see if any of them work for your subject lines, and start writing up your memorable holiday messages.
To excel in email marketing during the holidays, focus on:
Subject line.

Make it short, catchy, and intriguing. This is your chance to be noticed in a sea of other holiday emails. Try to be unique and fun in seven to eleven words.
Visuals.

Most people are first drawn to the bright, shiny images rather than the long text. Keep the holiday spirit alive with themed visuals that attract attention.

Message.

Short and simple emails will guarantee better engagement. Make sure to tell what you're offering (headline), how it will help (body), and what to do next (call to action).
Brainstorm holiday email ideas with your team, family, and friends to see what captures their attention. Learn what flops and what sticks out before sending them to your customers.
11. Plan Your Social Media Campaigns
Most of the above-mentioned Christmas and New Year promotion ideas already include social media marketing channels – but this step is all about planning.
Strategize your budget, posts, ads, schedules, games, and the interactions that come with your social media efforts during the holiday season.
Create a content calendar marking important dates for releasing your social media prompts. This will ensure constant engagement and avoid overwhelming your audience with too much at once. 
Tease upcoming sales and contests. 

Post regularly.

Keep your shoppers on their toes. 
12. Create Holiday Videos
We all felt tingly with the holiday spirit the second we saw the Coca-Cola trucks on TV with "Holidays are coming" playing in the background. Or the cute family of polar bears advertising the zesty beverage. 
Or, who could forget the "Home Alone" comeback video where Macaulay Culkin uses Google Assistant to make his life easier? 
These are only a few holiday promotion examples involving videos that have stuck with us for years. They're cute, unique, and fun – the full holiday package.
Create a video as part of your holiday promotion campaigns to make your brand memorable. It can be educational, dramatic, funny, or heartwarming. Whatever the idea, make it pop with a famous song, quote, pun, or picture to showcase your brand or products.
A sure way to improve buyer experience is to offer free shipping with their order. This is one of the most customer-oriented holiday sale ideas you could bring to your store.
85% of holiday shoppers prefer free shipping over fast shipping. As one of the main factors people consider, it's important for you to implement it into your holiday promotions.
Free shipping can be enabled in your storefront, but the procedure may differ across many eCommerce platforms and marketplaces. Make sure you align the prices and policies before the holiday rush.
14. Run Holiday Giveaways
"X Days of Giving", "Holiday Giveaway", and "Give to Get" are some ideas for your giveaways. The overall goal is to encourage action from your shoppers for a small yet attractive prize. Sharing, posting, and commenting, to name a few.
From free products and free shipping to gift cards and exclusive deals, people will gladly interact with your brand and content to get something for free.
15. Collaborate With Influencers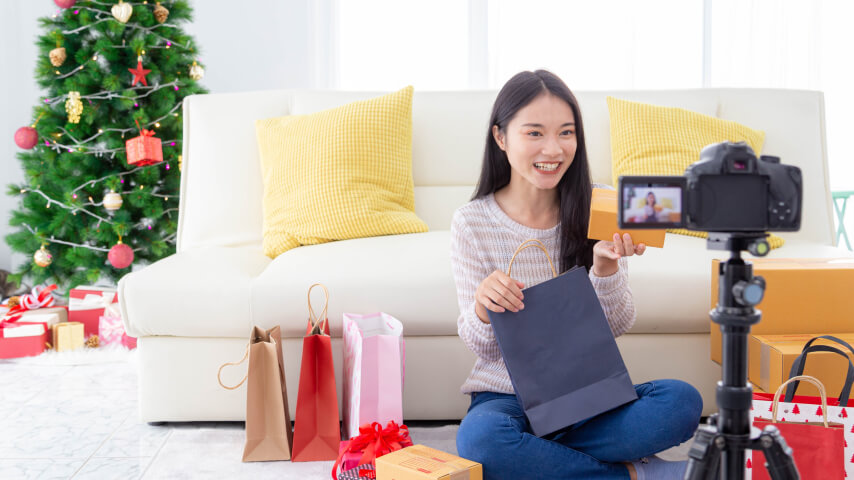 Influencer marketing is an excellent way to showcase your unique products and deals during the holiday season.
Partner with social media influencers that fit your niche and brand values to gain the trust of their followers through creative promotions. 
Their audience respects their choices and advice, making it more likely that they'll head to your website once they've promoted your epic deals and quality items.
Since your business largely relies on online shopping, you should look for ways to get your content trending and drive visitors to your landing page. A verified tactic is to use hashtags in your holiday messaging.
Prepare for the holiday rush early and choose your hashtags carefully. For example, when you work on your Christmas marketing ideas, include popular and current Christmas-themed keywords:
#christmasmarket 

#christmas2023

#christmastree 

#happyholidays

#christmastime 

#christmasgifts 

#christmassale

#christmasdecor 

#xmas 

#christmasshopping

#christmasgiveaway

#xmassale 

#christmasiscoming 

#christmasspirit 

#wintersale

#christmascountdown 

#giftguide

#christmasmood 

#christmaseve 

#christmasdecorations 

#merrychristmas 

#giftideas

#tistheseason 

#christmasmagic
Hashtags can help you engage your followers with social media contests, introduce giveaways, create challenges, and, most importantly, show your holiday promotions.
One of the most popular Christmas and New Year marketing ideas is running paid ads – if it fits your budget and brand.
Let's look at the types of ads you can use for the holidays:
Search engine ads.

These are text and shopping ads that show on search results, with Google Ads taking the lead. They're displayed when a customer searches for something your store offers.

Social media ads.

Images, videos, carousels, or stories – these ads pop up on user feeds while scrolling through social media. This is a perfect way to reach potential customers during the holiday season.

Display ads.

These are banners and native ads displayed on your store page. They blend well with the rest of the content while showcasing your special deals.

Video ads.

Promote your products through videos and streams. Show them before, during, and after advertising your store's epic features, deals, and discounts.
Create content that's enticing and memorable to generate interest and clicks, leading customers from the ads directly to your store.
18. Create Holiday Bundles
Gift-giving can be stressful during holidays, but you can ease the struggle for your shoppers by selling holiday bundles.
Combine complementary products and sell them together for a discounted price.
This saves your shoppers time and stress, providing ready-made gift sets for their friends, family, or colleagues.
19. Run a Holiday Referral Program
A holiday referral program could be your way to bring whole groups of new and loyal customers to your store. How? Well, you simply need to talk to them.
Encourage customers to share their positive experiences with friends and family in exchange for a perk, discount, or any other type of reward for word-of-mouth advertising.
The holiday season is just the right time to benefit from people's engagement, so try your hand at a rewards program shoppers will gladly take part in.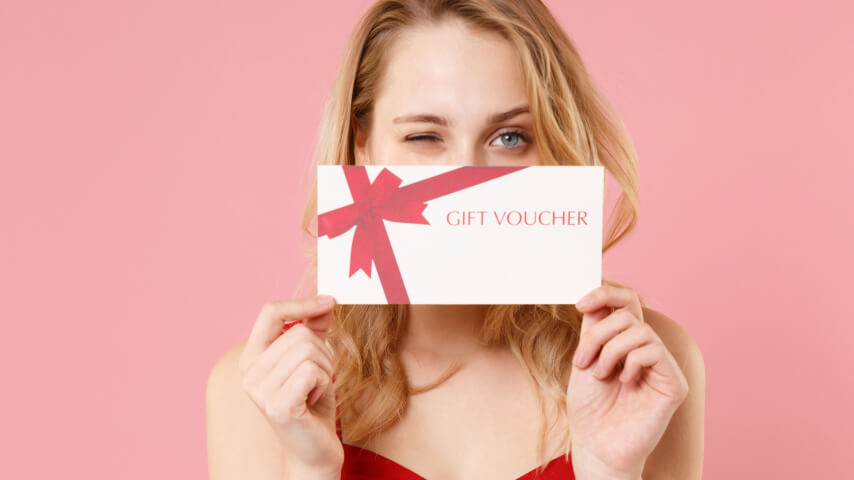 One of the easiest presents to buy someone is a gift card from a trusted business.
Offer your customers electronic and physical gift cards as product listings or prizes in an online giveaway or contest. Gift cards are the ultimate solution when buying presents for:
          a. Someone you barely know.
         b. Someone who already has everything.
         c. Someone hard to shop for.
         d. Last-minute gift.

21. Create Loyalty Programs
Reward loyal customers with special prices and deals during the holidays. Include this brilliant idea in your holiday marketing plan to generate customer satisfaction, drive more sales, and ensure long-term growth for your business.
Offer early access to your holiday promotions, exclusive deals, and one-of-a-kind discounts, encouraging people to shop with you and return for future purchases.
22. Make a Holiday Gift Guide
Make shopping easy for your customers with a holiday gift guide tailored to their needs.
Take all your seasonal products and categorize them by possible choices people might look for. For example, gifts for him, gifts for her, gifts for kids, gifts for pets, or gifts for myself.
This is a fun and creative way to showcase your products, ease the shopping experience for your customers, and drive sales faster.
23. Host a Holiday Contest
Who has the ugliest Christmas sweater? Who can make the best Christmas cookies? Who has the cutest pet dressed as an elf? 
There's a fun and easy way to find these out while generating traffic, spreading brand awareness, and attracting new customers – with contests.
Design a cute holiday contest to get people excited. Intrigue them with valuable prizes like coupons, free shipping, free gifts, and exclusive deals. Watch your business boom with this new attention and reputation as an engaging brand.
From virtual gatherings and livestreams to in-person events with local community and shopping enthusiasts – this is your chance to promote your business inclusively.
Pick a holiday theme for your event and bring people together, showcasing your products at the same time. Holiday events will help you spread brand awareness, build a loyal customer base, and attract new audiences, creating exciting, memorable experiences.
25. Host Classes and Tutorials
There's a lot to teach people when holidays are approaching. Host online classes or prepare tutorials on topics that matter to your jolly shoppers, such as:
Gift wrapping masterclass.

DIY gift ideas.

DIY holiday decorations.

Holiday recipes and workshops.

Tips for those perfect holiday pics.

DIY Christmas cards.

Holiday hairstyles.
Attract people with friendly advice and creative ideas on all things holiday-related. After they've watched and listened, they'll gladly explore your store for their holiday shopping.
Holiday Marketing Tips To Consider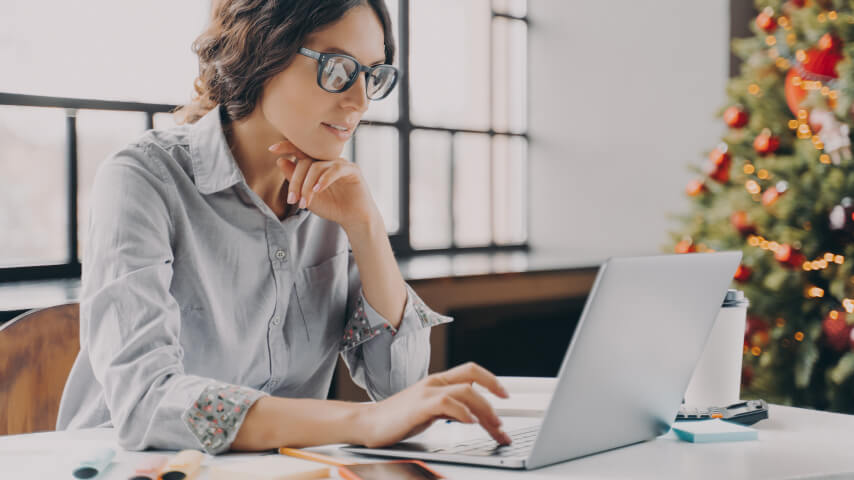 Track Your Performance and Keep an Eye on Competitors
It's important for you to keep a record of what works and what doesn't. Your competitors can be a good cheat sheet for successful and failed holiday campaigns.
Don't Leave Everything to the Last Minute
Preparation is key to running successful holiday marketing campaigns. Start early, make an action plan, and stick to it. If a great new idea pops up – write it down for consideration later.
Always Be Ready to Respond
The holiday season is as beautiful as it can be hectic. There are shipping delays, orders placed too late, and issues with discounts. You'll want to provide a calm solution for any problem your customers encounter.
Give the Gift of Gratitude
Be kind and appreciate that your customers choose your store to purchase gifts. Help them come up with gift ideas and show your appreciation through the way you communicate with them.
Use the Power of Personalization
Your customers expect quality personalized service, or they'll take their business elsewhere. Make sure to personalize your website's content for your customers' needs. Remember that it should be relatable to your existing customers while also appealing to new ones.
The holiday season is even closer than when you started reading this blog. That means there's no time to waste.
If your head is left spinning with ideas for holiday promotions, our work here is done. 
From understanding your customers to creating holiday videos, offering seasonal products, or selling gift cards. There are infinite digital marketing tactics that can help you shape a great holiday marketing strategy.
Try one or try them all. Any one of them is your key to a successful shopping season.
Happy holidays from Printify, your partner in print!
Share the article
Topics