20 Halloween Marketing Ideas for Your Store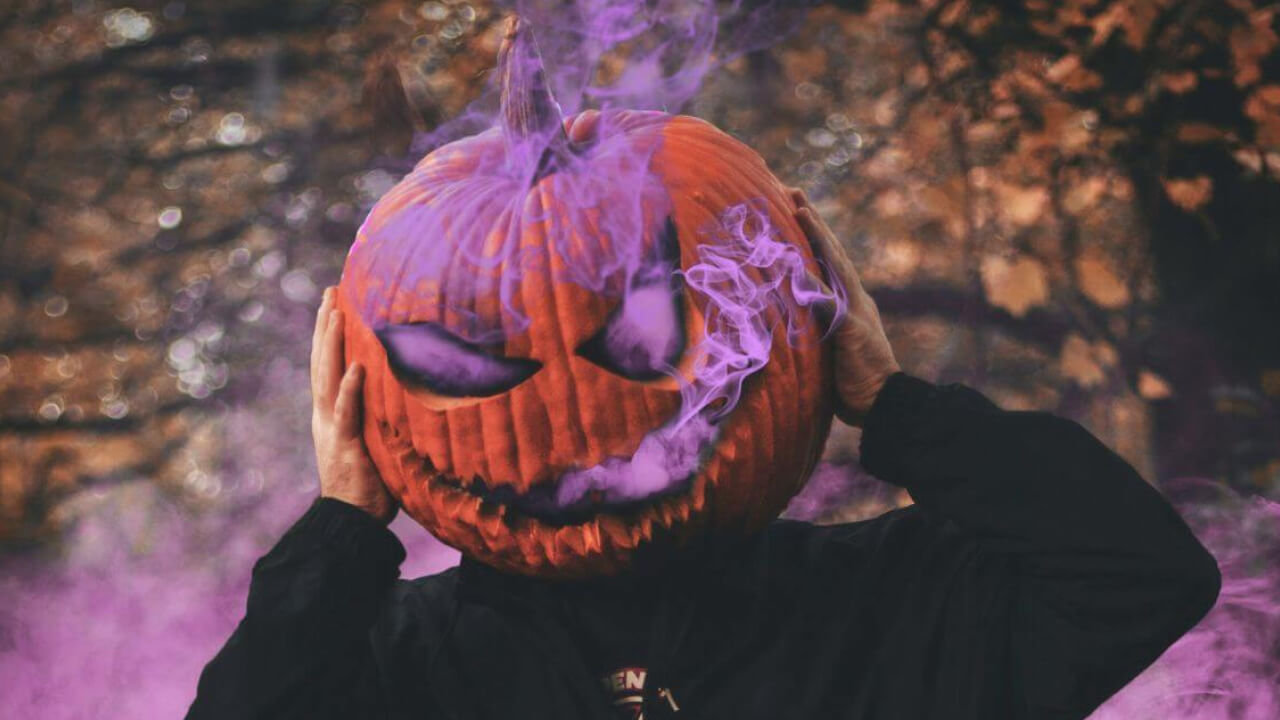 Halloween is one of the most opportune events in eCommerce, getting shoppers excited about trick-or-treating, costume parties, and decorations.
Use the Halloween spending hype in your favor – spruce up your online store with Halloween-related merchandise, bewitching promotions, and the best marketing strategies.
To help you prepare for this year's trick-or-treating event, we've created a list of 20 marketing ideas for Halloween promotions. Browse them and use the right marketing strategy to drive customers to your business this spooky holiday season.
Consider the Opportunity Cost
Halloween is big. And it presents a heck of an opportunity to earn good money. 
Last year, more than 69% of Americans celebrated Halloween, which took home $10.6 billion in sales – a new record high. 
But before you get down to business, remember to weigh the opportunity cost of your Halloween marketing campaign and if it's within your budget. After all, most things bought for Halloween are only used for one or two days a year.
Here Are 20 Halloween Marketing Ideas to Spark Your Spooky Campaign
The one thing that always annoys everyone during big shopping events is chaos. Start preparing for your Halloween marketing campaign in advance to avoid issues, website bugs, overloads, and unsatisfied customers.
53% of shoppers start preparing for Halloween three or more weeks before the scary night. An epic Halloween costume can't be made in a day. The same goes for Halloween-themed decor.
Start thinking about Halloween campaigns and marketing ideas as early as the beginning of September, if not earlier. Boost sales with the early shoppers attracted by your unbeatable early Halloween deals.
2. Offer Halloween-Themed Products
Offering limited edition products is a proven way to generate excitement in shoppers, and it's one of the greatest Halloween advertising ideas used by the world's biggest brands.
We have a vast range of products in our Catalog, ready for your amazing designs. We stock everything from children's tees to AOP shirts, shower curtains, puzzles, and even neck gaiters. With the right designs, all of them will make fantastic personalized Halloween gifts, costumes, and decorations.
There are many ways to incorporate bats, witches, pumpkins, ghouls, and other spooky characters onto your products. Pick the age group of your target market and let your creativity do the rest, one Halloween-themed design at a time.
3. Halloweenify Your Store and Social Channels With Halloween Decorations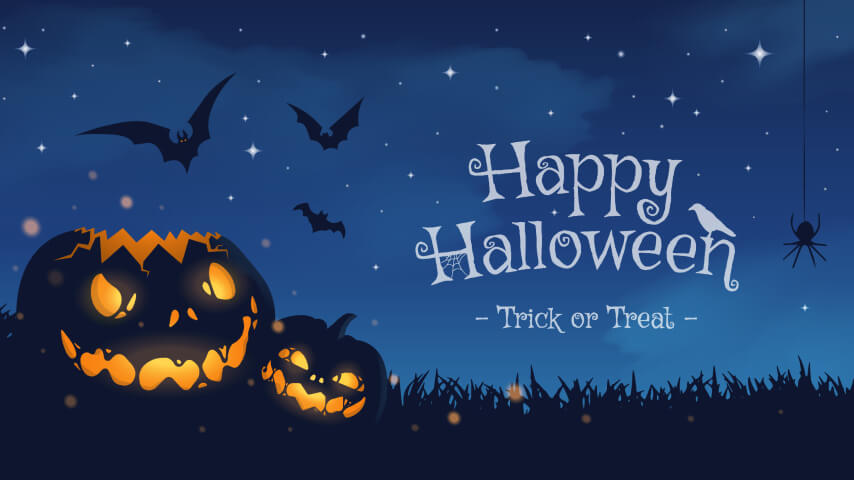 This might be the most fun of all the Halloween marketing campaign ideas. Shop owners decorate their storefronts for the look and feel of every upcoming holiday. This way, you generate buzz around your promotion and put people in the right mood when they open your store page. 
Add Halloween-themed elements and spooky fonts to your banners and social media pages, from spider webs and bats to pumpkins, cats, tombstones, and all things Halloween. Transform your store into a fun shopping experience and boost your Halloween sales. 
But! Don't go overboard by changing everything. It may be beautiful, but it can also be costly and cause issues with your website – your Halloween promo ideas shouldn't scare you and your audience.
4. Re-Engage Last Year's Shoppers
Use your data from previous years' shopping. Your existing customers already know your brand, so if they're happy with the service, they will likely take that chance again – telling their friends about your products and quality. 
There will always be customers who can't wait to get started with holiday purchases. These are the people who are more receptive to early promotions. Make them feel extra special with early access to your trick-or-treating event, sale, or a coupon for the categories they're interested in. 
Use historical customer data to identify and re-target customers who will most likely return to your shop this Halloween season.
5. Greet Your Customers With a Trick or Treat
Here's a neat Halloween marketing idea. Delight your shoppers with a surprise deal to generate more sales. Whenever a customer visits your storefront, make a pop-up message that invites them to get a treat – in the shape of a discount, gift, coupon, or free shipping.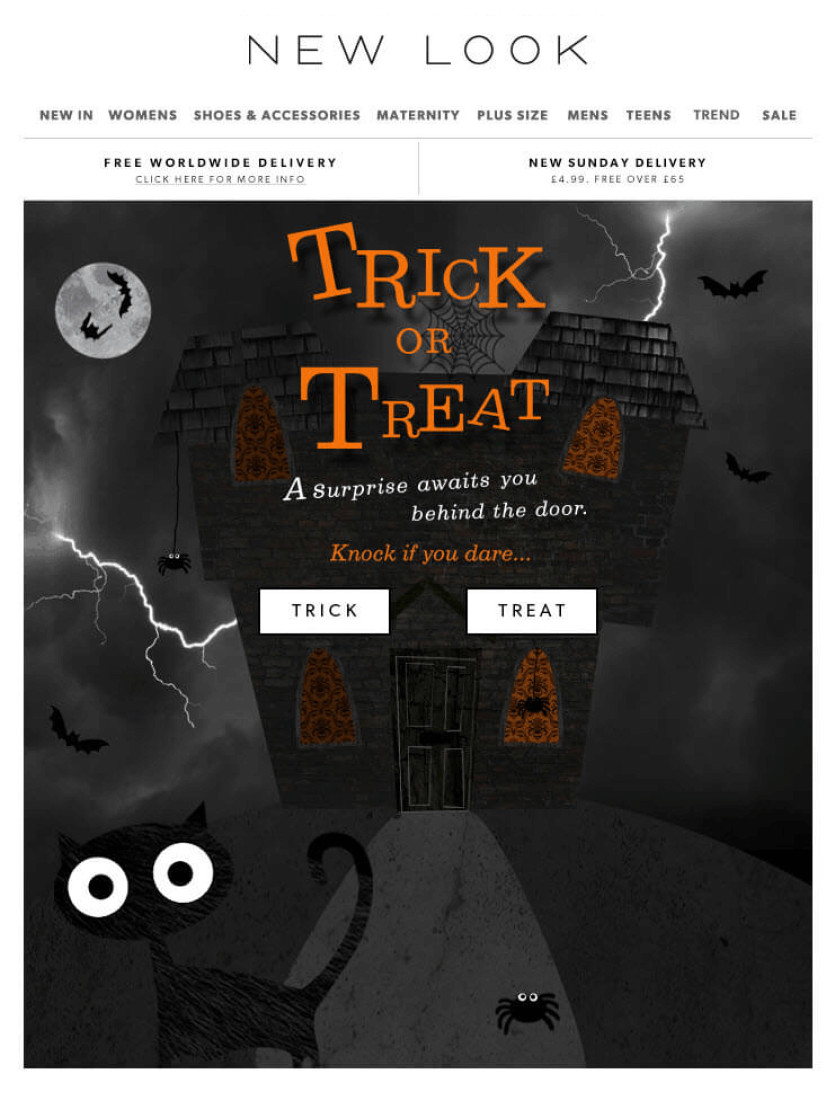 Consider making it into a game. Ask your visitors to choose between a trick or a treat. Make one of them free shipping and the other one a discount. It's a win-win either way.
Use fun ways to implement online marketing ideas and attract customers to your site to participate in your online Halloween event.
6. Engage Your Customers on Social Media
Create Halloween-themed content to attract customers and keep them coming to your site.
Use social media to get closer to your community and target audience with quality content and engagement.
Post interactive images, videos, or reels. Ask questions to encourage them to share their opinions, thoughts, experiences, and feedback on your products and services.
7. Organize a Halloween-Themed Contest or Giveaway
Facebook, Instagram, TikTok, or other social media platforms are great for Halloween marketing campaigns and contests. People love to get free merch and will be delighted to participate in the best costume or scary story competition. 
Create a unique idea and use a hashtag to stay visible and attract attention.
Halloween Story Contest.

The most terrifying story wins.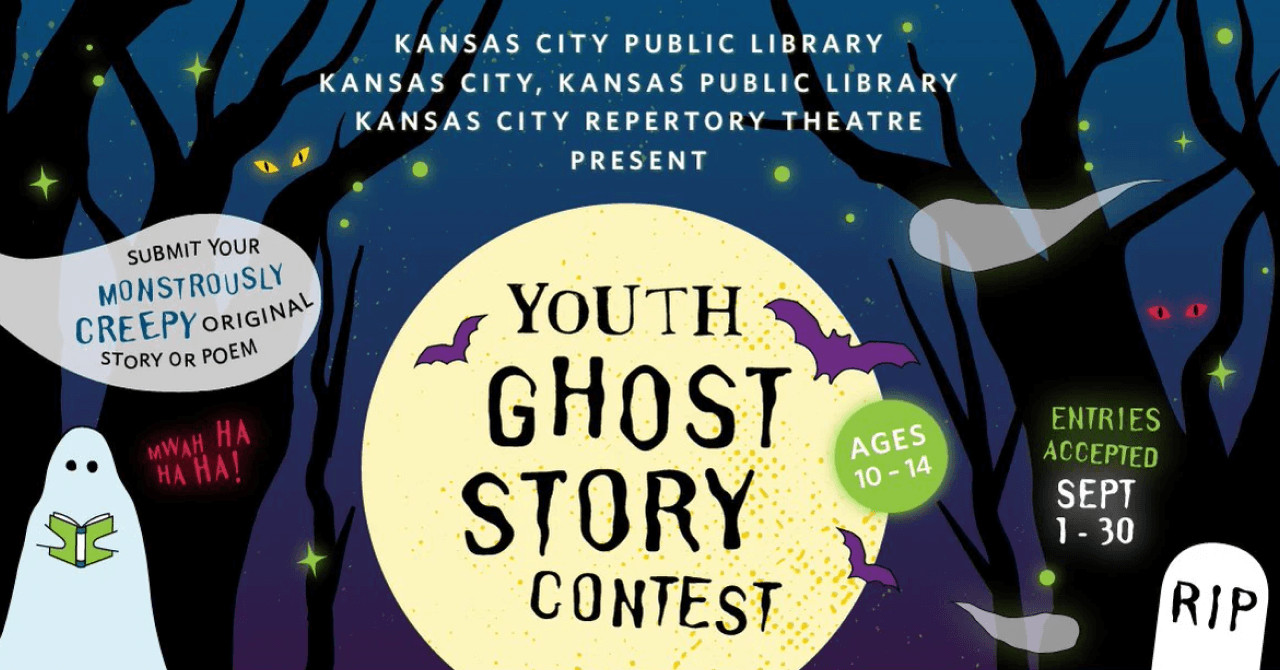 Halloween Decoration Contest.

Ask people to submit their spooky decorations.

Halloween Costume Contest.

The best and scariest costume wins the prize.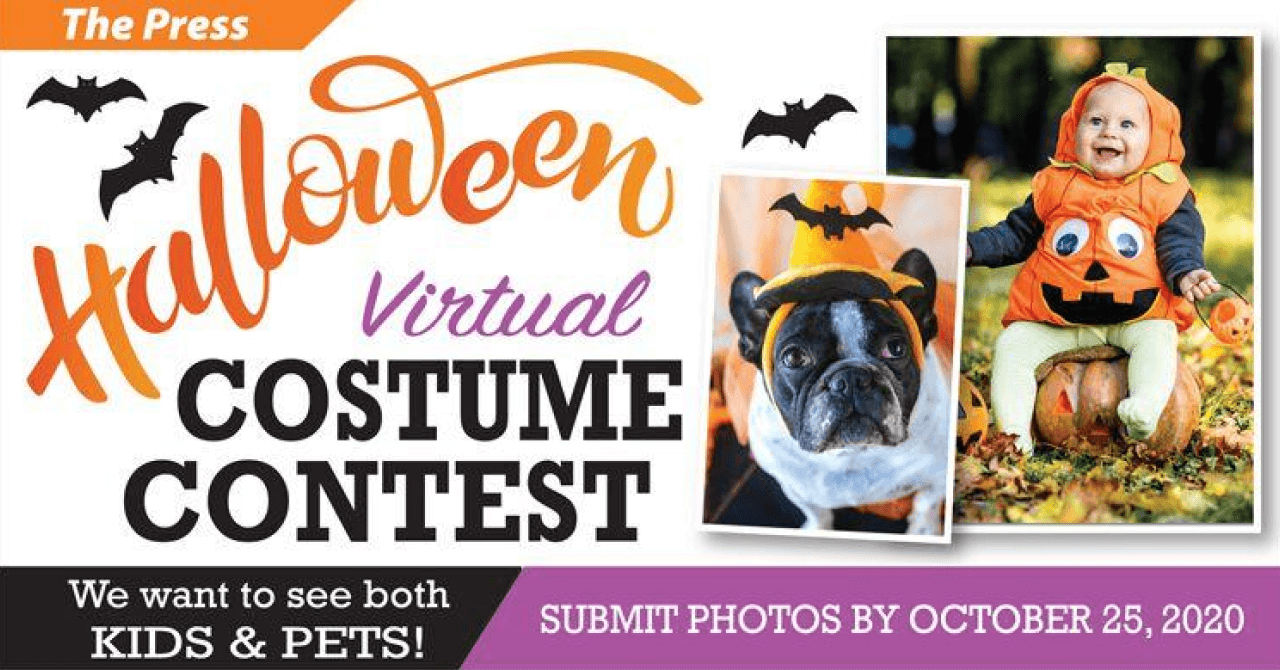 Halloween Menu Contest.

Come up with creative food names and Halloween recipes to win a prize.

Pumpkin Carving Contest.

The most cursed pumpkin wins the show.

Halloween Pet Photo Contest.

The best and spookiest pet transformation wins.
8. Create Special Halloween Bundles
Halloween is perhaps the finest time to upsell and cross-sell. Clients don't usually buy just one piece of decoration or costume. They need a complete matching set. 
Help them by preparing special promo bundles and offering them at a discount. Providing more relevant goods at a lower price will save your clients time and money and help you sell more.
Another way to tackle it is to add a freebie for purchases above a certain price level. It might be a small thing, but little things have the power to turn your Halloween campaigns from good to great.
9. Send Halloween Gift Cards
Send your customers gift cards that will become active during a specified period of your sales campaign. It's a proven and straightforward approach – a simple yet great Halloween marketing idea.
It also doesn't necessarily mean email. Engage new customers via social media or even pay-per-click (PPC) ads. 
If you have many local customers and a budget, you may even want to send some physical gift cards to your most generous buyers. In an increasingly digital world, receiving something tangible in your mailbox is a pleasant surprise.
10. Create a Spooky Video, Song, or Blog Post
When it comes to Halloween, business marketing ideas have to be clever and spooky enough to be too hard to miss. Videos are one of the most effective ways to spread your brand's message and showcase your Halloween-themed products.
92% of large and small businesses participating in video marketing admit their videos effectively generate traffic, leads, and sales. Halloween presents a chance to be creative, memorable, and eerie with your content.
Do you remember Heinz's 2021 promotional video for its Tomato Blood Ketchup with the oh-so-compelling vampire Toby? If Halloween-themed videos aren't your cup of bloody tea (pun intended), try songs or blog posts that match your brand identity.
A catchy Halloween jingle can be the next big hit. YouTube, Facebook, and other platforms are great for testing Halloween sale ideas. Creating a song or a video can be a lot of fun. The only risk is going viral.
11. Launch a Spooky Halloween Email Campaign
A scary good email marketing campaign will boost traffic to your store landing page this Halloween season.
Email marketing revenue has surpassed $10 billion, proving it one of the most effective ways to reach your target audience and promote your offers. 
Package your products with a Halloween-ish spin in a subject line to successfully advertise your clothing store, sticker shop, or kitchen utensils. 
Before you send out your Halloween emails, check if they:
Have a catchy subject line

Are clear and concise

Have an irresistible persuasive element

Are personalized

Lead to clear calls to action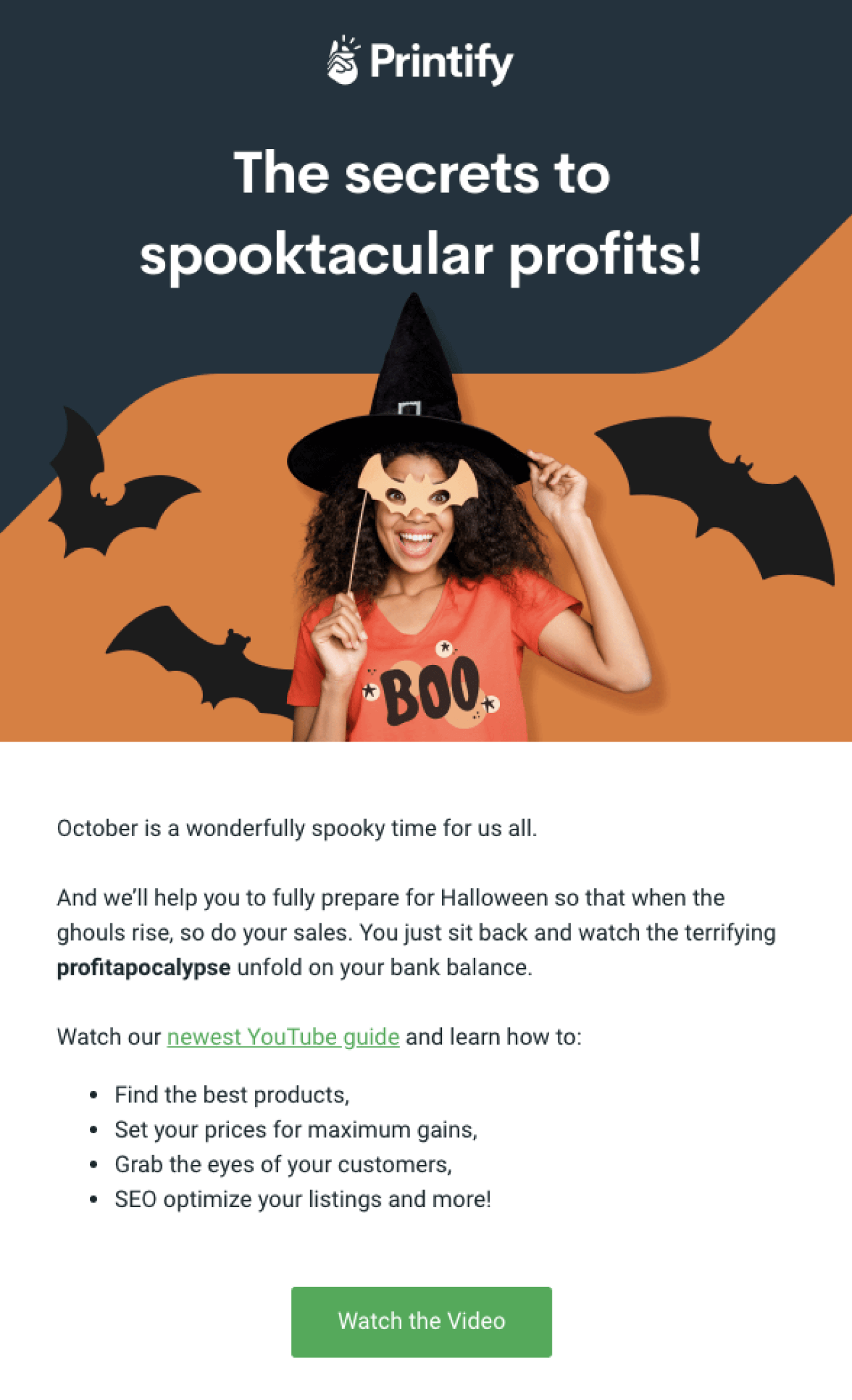 12. Share Your Team or Yourself in Costumes
Authentic brands are never afraid to show behind the scenes, and people love them for it. Seeing that they're dealing with real people lets your customers form a deeper connection. 
Get into your Halloween costumes and share the playful side of your business. Post fun pictures, videos, and stories on your social media channels. It's a fun way to introduce a Halloween contest, promotion, or giveaway.
13. Create Time-Sensitive Offers
Halloween celebrations last one to two evenings, making for a great time-sensitive campaign.
But which ones work best out of all the Halloween marketing ideas?
Flash sales and time-limited offers. These Halloween selling ideas are something business owners use to nudge people and increase their sales and traffic. When visitors see a deal that will end soon, they experience the fear of missing out, which drives them to purchase. 
Why promote time-sensitive offers?
Attract new customers to your Halloween-themed landing page.

Create a sense of urgency, nudging people to buy even weeks before Halloween.

Reduce cart abandonment, urging customers to buy here and now.
An effective way to increase urgency in your store is to add a countdown timer for products on sale, making customers make their decisions faster.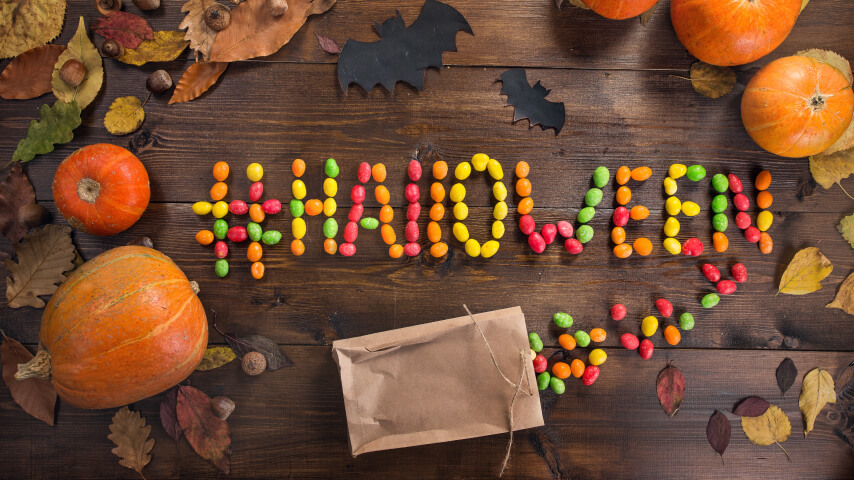 Hashtags come in handy on social media platforms. They help others find you in their Halloween-related searches and give you extra exposure for your posts, reels, and videos.
Use unique, location-based, popular, and promotional hashtags to drive people to your brand page and raise awareness during this shopping season. It's the easiest way to attract people on social media and send them directly to your Halloween-themed product pages. 
Popular Halloween hashtags:
#Halloween2023

#HalloweenCostume

#HalloweenMakeup

#TrickOrTreat

#HalloweenRecipes

#HalloweenSale

#Spooky

#Enchanted

#HalloweenContest

#October

#Pumpkin

#HalloweenGiveaway

#Horror

#SpookySeason
15. Run Halloween Ads to Increase Brand Awareness
The spooky season is the perfect time to introduce your brand and merchandise to a new audience. With Thanksgiving and Christmas around the corner, use Halloween sales to raise brand awareness and popularity.
Create different ads with your products, services, and Halloween sales, showcase them on multiple channels like Instagram and Facebook, or try Google Ads. Tell everyone about your offers and send them directly to your store page with just one click.
16. Host a Halloween Event
Halloween-themed fun is not limited to brick-and-mortar stores.
Host live events on social media to engage your audience and promote your Halloween products.
Consider positioning it as an exclusive event where the participants can buy limited-access products or special discounts.
It's also a great way to strengthen your brand's connection with shoppers.
17. Consider Influencer Marketing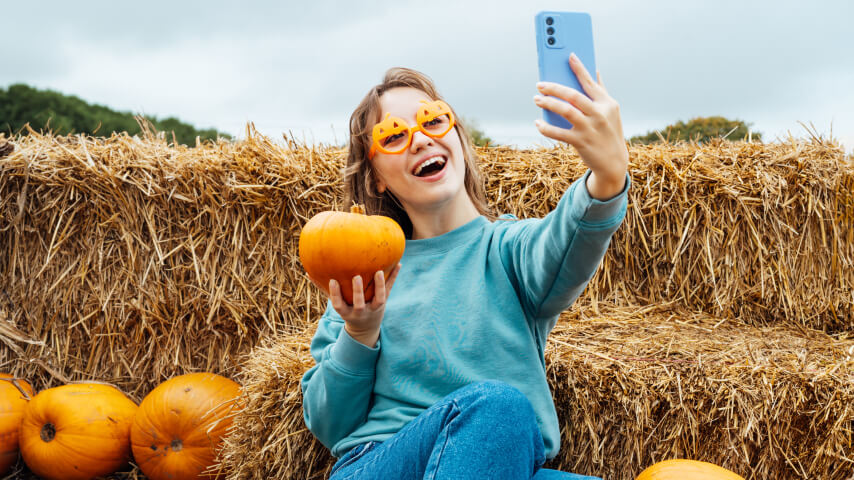 Social media is booming with influencers in every industry and product category. The best part is that they have a fanbase that seeks out influencers for advice and product suggestions.
1 in 4 marketers use influencer marketing, and of those, 92% admit that it's effective in improving their sales.
Partner with successful content creators on various social media platforms. Consider apps like TikTok, Instagram, and YouTube to spread the word about your business and epic Halloween promotions.
This is a fun and creative way to showcase your products, promote your sales, and engage with potential customers. Be sure to pick an influencer that matches your brand values and principles.
18. Partner with Other Brands
If influencers aren't your thing, try partnering with other brands – complementary to yours or completely irrelevant. The more fun, the better.
How do your trick-or-treat sales benefit from co-branding?
Expanded Reach.

A partnership allows you to tap into another brand's customer base. Collaborate with a brand with a different target audience to increase your chances of higher traffic and sales.

Shared Resources.

Co-branded partnerships often mean shared resources, making a cost-effective marketing campaign for Halloween promotions.

Innovation and Creativity.

When two fantastic brands come together, the sky is the limit for creativity and innovation. Together, you can come up with ideas that will surpass the competition and lead to epic Halloween sales.

Increased Credibility.

This is an exceptionally great benefit for smaller businesses partnering with bigger brands. When two entities collaborate, it enhances the credibility of both – leading to increased trust and loyalty.
19. Don't Forget About SEO
Help excited Halloween shoppers find your store and spooky sales faster with a bit of help from search engine optimization (SEO).
Think about keyword-rich Halloween content, snippets, and meta titles and descriptions for your blog posts, videos, and social media posts. Make sure your website has everything an enthusiastic Halloween shopper might look for.
Free shipping is the top attribute that convinces consumers to make a purchase. It is a well-known selling technique used by 74% of retailers worldwide.
It's a win-win for sellers and buyers.
Boost your traffic and improve your brand image.

Gain a competitive advantage over other brands.

Buyers feel like they're getting a great deal.

Improve the perceived value of your Halloween offers.

Buyers gain a positive shopping experience.
Remember to announce the free shipping of your Halloween-themed content across multiple platforms to spread the word further and generate more traffic and sales.
Famous brands have made it a Halloween tradition to post contests, giveaways, and online events to spruce up holiday shopping. Community events like these are great for collecting and sharing user-generated content.
Just make sure to give away something your followers will like and appreciate. For example, Halloween treats in the shape of a gift card, Halloween-themed merchandise, free shipping, and more.
Use these Halloween discount ideas and marketing tips to create an epic sales campaign and turn it into a Halloween tradition.
Start your Halloween-themed campaign early.

Consider the opportunity costs and pursue only the opportunities within your budget.

Add a Halloween theme to your store page and social media channels.

Re-engage last year's shoppers and use pop-ups to attract new visitors.

Run themed merchandising, ads, and social media marketing campaigns.

Take advantage of content marketing by providing relevant content to Halloween shoppers – such as online videos and blogs.

Engage with your customers on all social media platforms.

Host a Halloween-themed live event.

Offer free shipping.
There you have it. That pretty much covers everything you need to know to win this Halloween season, boost your sales, and build brand awareness for your small business. Be creative, spooky, and enticing. 
Happy Halloween!
Share the article
Topics