Add a touch of the 1920s to your customer's walls with art deco posters that celebrate luxury, glamour, and exuberance – get started today with no minimum order and no set-up costs.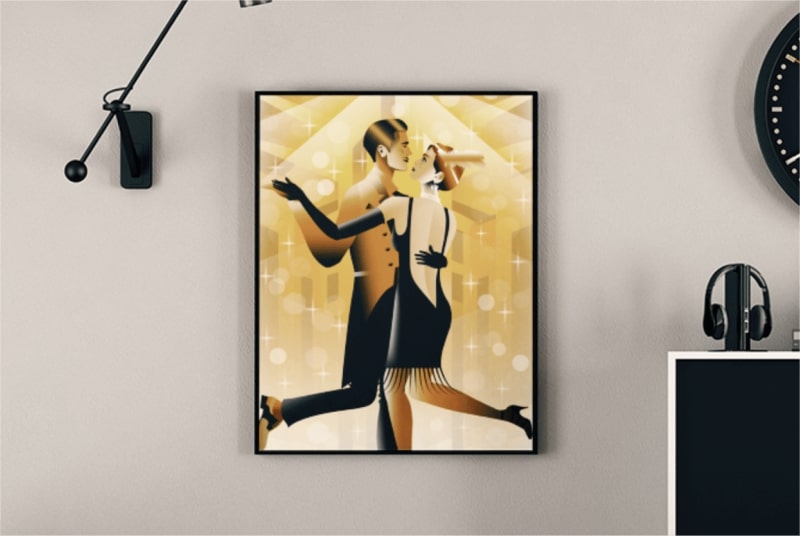 Create Your Own Art Deco Posters
The art deco movement began in the 1920s and influenced everything from the design of buildings to vacuum cleaners and even ocean liners. The mixture of cubism and bright colors was revolutionary and would set about changing the face of art and design as it was known. 
Some of the most recognizable art deco posters and artwork that we have today, come from or draw their inspiration from this period, and vintage art deco posters are still in demand. During an era of poster advertisement, the art deco movement would become synonymous with posters like the 1933 Chigaco World Fair and Southern Railways advertisement for their new routes.   
Art deco posters have remained in fashion ever since, with movie posters and in particular restaurants and cafes using this style to advertise. However, there is also a huge demand for interior design, vintage art deco posters go with just about any interior design and the bold colors are perfect for matching up with the palette. It's not just artists and designers who will buy art deco posters, but also movie buffs, and anyone with an affection for this style of art.
Start Selling Custom Art Deco Posters!
Art Deco Posters Printed on Demand
The print on demand poster industry is booming right now, and this is great news for merchants. By looking at a style like art deco you are jumping into a niche that is large enough to make great money, but specific enough to appeal to a captive market. With this in mind, our range of posters includes everything from standard 175gsm wall posters to museum-grade Giclee fine-art paper, perfect for capturing the bold colors in your art deco poster. 
Another product that you might consider is wall decals, especially where using frames and wall fixing kits is not possible. Our decals are easy to apply and remove, without damaging the surface. Decals are a great way to create a statement piece in any room.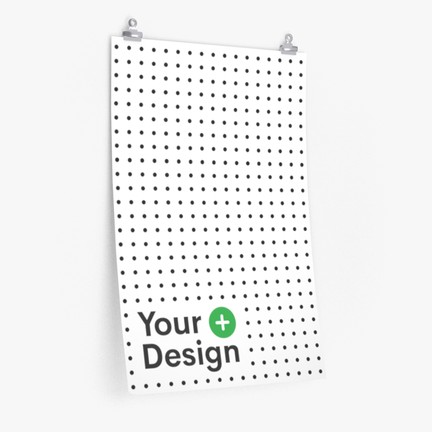 Both decals and our posters are available from print providers in the US and Europe, and this is great news for you – why? Because it means we can ship to your customer faster, with an average fulfillment time of fewer than 3 days, your customers will not only be blown away by your designs, but also the speedy delivery.
7 Vintage Art Deco Poster Ideas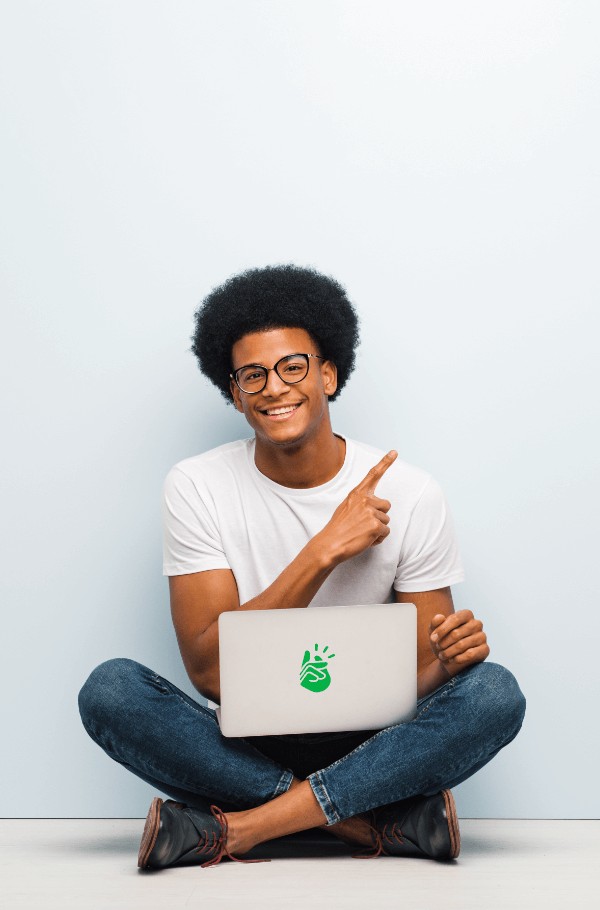 Art deco captures people's imaginations for many reasons, but mainly because it's the representation of many different styles. It combines shapes and lines that shouldn't go together, sharp angles mixed with swooping curves, hard edges followed by smooth lines. It is this mixture that was exciting in the 1920s and remains a favorite among millions today.
Its major characteristics include:
Heavy geometric influences

Triangular shapes
Zigzags
Trapezoidal shapes
Straight and smooth lines
Loud, vibrant, and even kitschy colors
Streamlined and sleek forms
Sunburst or sunrise motifs
Exaggerated curves
Hard edges
Low reliefs
Stepped forms
Ziggurat patterns
Stylized, floral patterns
This mix-match of elements allows for some room to move in your designs, it allows you to determine what looks good, without being constrained by the rules of other art movements and styles – to help you with some design inspiration, we have selected 7 design ideas that have come from the art deco world.
The Industrial Age of Art Deco
Art deco was widely known for its adoption of 'the machine age', a strong connection to the industrial growth that took place between the end of the 1800s and mid-1950s. This style could be seen in famous posters like A.M. Cassandre's iconic art deco posters that stylize the marvels of modern machinery. 
Cassandre was a pioneer of the art deco movement, designing posters that would shock and awe the public. His use of abstract geometry and typography would change the way brands advertised their products and services forever.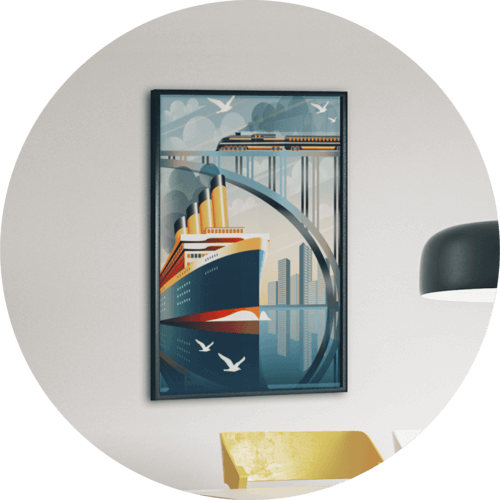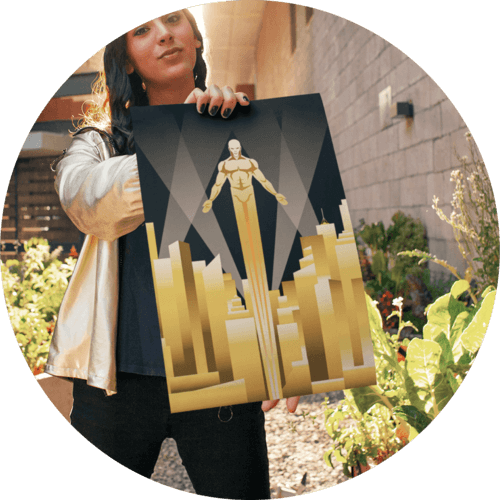 Your Gonna Be a Star Baby
When you think about Hollywood movies from the 1930s, you can't help but envisage the bright lights of Broadway, art deco had a huge impact on movie culture and it's here that some of the most recognizable elements of art deco can be seen. 
The introduction of elongated triangles to mimic a stage light or a burst of sunrays, as seen by this modern take on the classic King Kong movie by art studio La Boca, these art deco posters have become iconic in their own right.
Symmetry and Geometry Is the Key to Success
One of the hardest things to achieve is simplicity. Vintage art deco posters could go either way, but they nearly always featured symmetry and geometry. When most people think of art deco, this is the style they think about, as featured in this poster of the Chrysler building. 
The next most common use of lines and symmetry comes in the form of how we envisage the 'roaring 20s', just think about The Great Gatsby movie for example or other opulent vintage art deco posters like this one from VOGUE.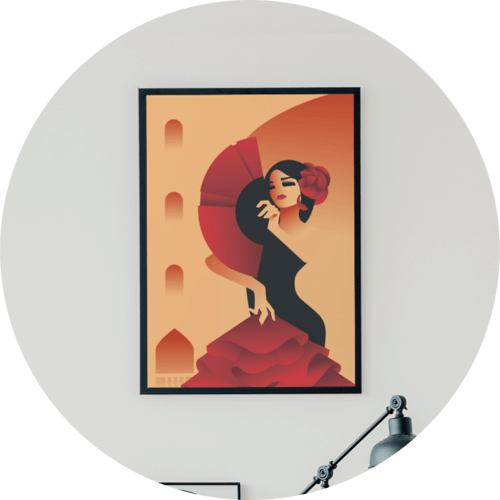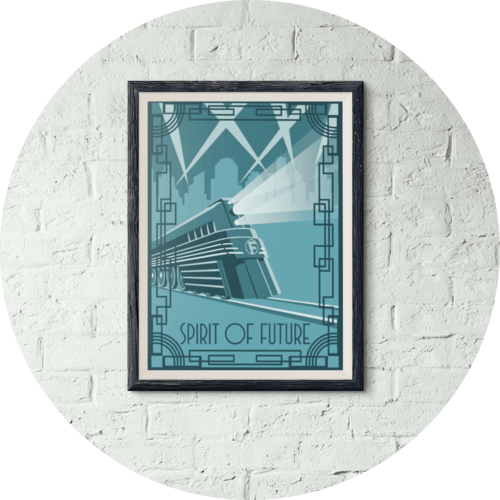 Art deco isn't all about the straight lines, the movement also had a firm eye on the future, and as far as many were concerned, the future was round. It was full of smooth lines and sweeping curves that highlighted motion, movement, and speed. Take for example this poster featuring the new 'Comet' train – a beautiful blend of lines and curves that make you feel like the train is in motion. 
Remember that the art deco era influenced everything, including how cars were designed. Overstated lines, big features, and gentle curves led to some of the most memorable models ever built.
Drawing on inspiration from the past will always help you move forwards. Art deco managed this by taking elements from ancient Egypt. Let's not forget that it was 1922 when a certain Howard Carter discovered Tutankhamun's tomb. This inspired a generation and fascination around the ancient world grew. 
Although this influence was seen less in posters, it was used heavily on buildings and other architectural aspects, in particular on doors and facades.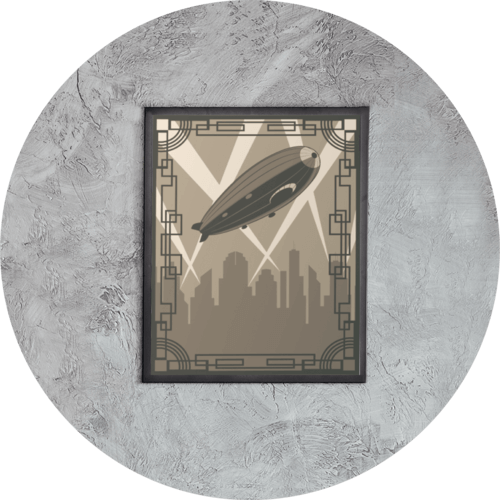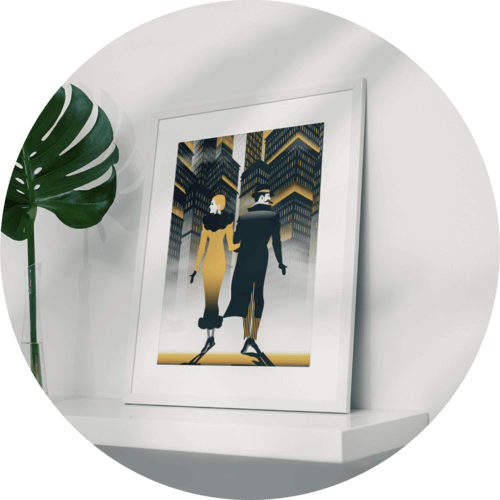 A Time of Opulence and Status
One thing is for sure, the art deco movement also had a way of showing a richer side of life. With gold and black being a favorite color pairing. This has carried on into modern takes of classic art deco designs, creating some vintage art deco posters that have become timeless.
It Wasn't Prohibition Everywhere
From 1920-1933, the sale of alcohol was banned in the US, in a period called prohibition. This didn't stop the parties elsewhere, and some of the most popular, enigmatic poster designs around the world's favorite drinks, came from this period. 
Take for example Campari and Martini, who expressed their style through the use of art deco posters. Creating designs that captured the essence of their brand, in a bold but stylish way. This has likely shaped how we view these brands today.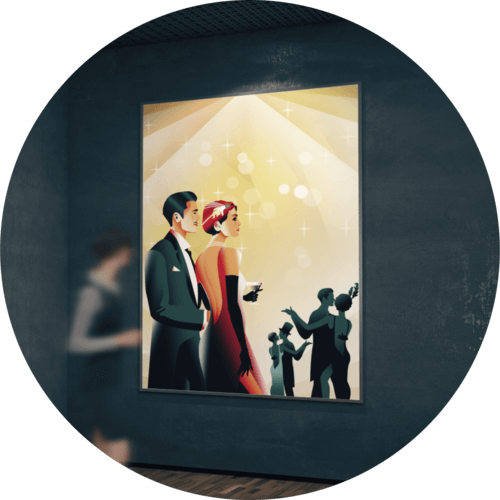 Start Selling Custom Art Deco Posters!
Custom Printed Art Deco Posters
With such a great selection of poster styles for you to choose from, there is no time to waste. Sign-up for your Printify account and start selling your art deco poster collection today.
Free Art Deco Poster Maker
Creating Your First Poster Design – How to Do It?
It really couldn't be easier, we have created an online design tool that is not only easy to use, but it's also fast and easily integrates with platforms like Etsy, WooCommerce, and Shopify (plus more). 
Our goal is to provide you with all the tools needed to start, grow, and be successful with your art deco poster business. No matter if you are looking to run it as a side hustle, or as your main income, the tools we have created are there to help you every step of the way. 
You are only a few steps away from launching your very own vintage art deco poster store, that you can either run online or even offline in your own physical gallery.
Vintage Art Deco Posters With No Minimum
That's right, no minimum order, meaning you don't need to order stock to fulfill your orders. It also means that you only pay us, when you get an order, which is perfect for any business that is just getting started, in fact, it's perfect for any poster business full stop. 
This allows you to concentrate on other aspects of your store, such as marketing through social media, creating new designs to add to your collection, or finding ways to get inspired. Using Printify makes all these things possible, allowing you to concentrate on the really important things. 
By having no minimums on your orders, you can start to upload and sell your designs in no time at all. There is also no limit to the number of designs you can upload, and, at the end of the day, the more designs you have, the better the chance of selling your art deco posters.
Creating Art Deco Posters - A Step-By-Step Guide
Launch Your Art Deco Poster Store Today With Printify!
Choosing Printify to launch your vintage art deco poster store means using a platform that can not only help your store grow, but also help you to scale your business in a way that's not possible with a standard print shop. In truth, the only investment you need to make is time, and while time is money, it will be time well spent. The demand for art deco poster designs is there and using Printify means getting online quickly and with high-quality print providers that know the business inside out.
Take your art deco poster prints to the next level – get started with Printify today!