(Updated) What's New in the Printify Mockup Generator?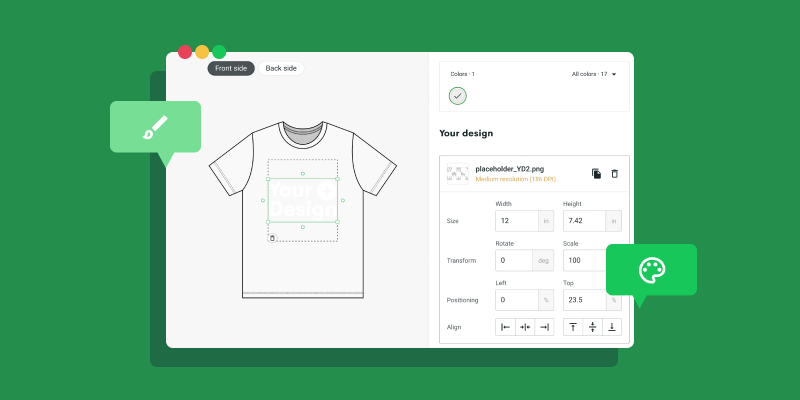 You asked for it – we did it. Introducing the upgraded Printify Mockup Generator experience with new and improved functions, fonts, and the highly-anticipated support for vector format graphics.
We always strive to give you the best tools to design and sell products faster and with more ease. The Printify Mockup Generator is free for our merchants. Create as many mockups you want for all our products and use the realistic visuals in your product listings.
Let's take a look at what's new.
New Pattern Creation Tool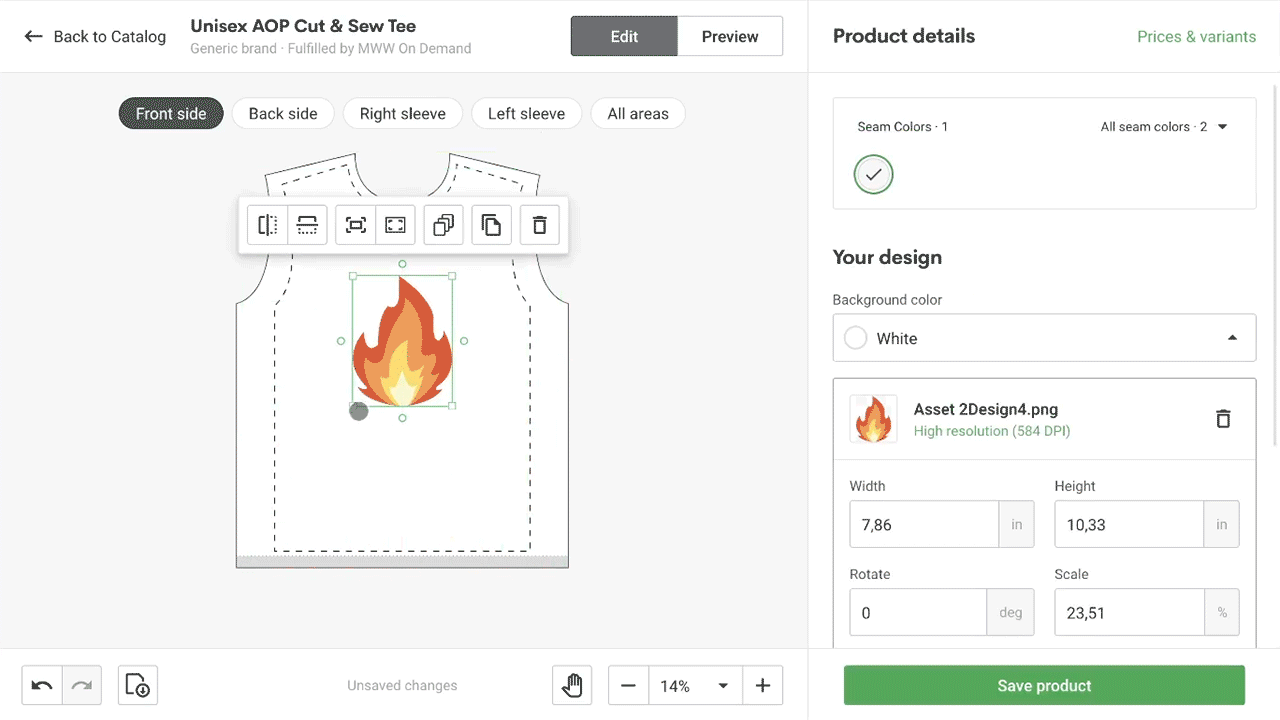 No more outsourcing third-party design tools – create all-over-print patterns directly in the Mockup Generator. Upload a single element (text or image) and fix the size, position, or scaling to multiply nothing but perfection.
Create a pattern and adjust it to your liking, from pattern type (grid, horizontal, vertical) to various other features such as offset, cropping, spacing, and more.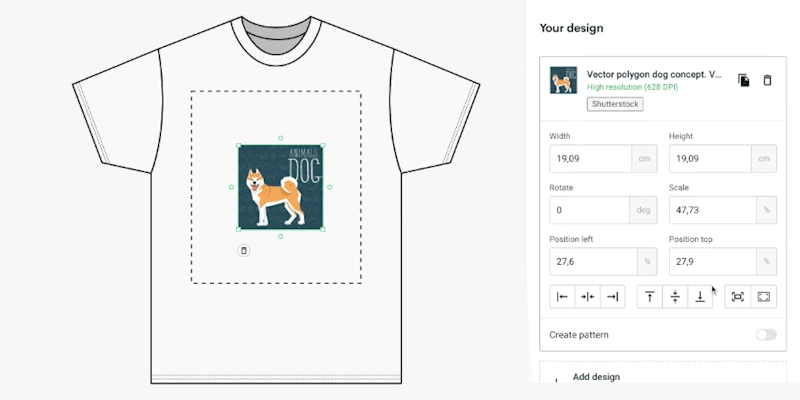 We're adding a Fit and Fill feature to our Mockup Generator to speed up and ease the image placement process. You can choose between fitting the design to the placeholder or filling the whole print area with the visual.
We also improved how our system scales the images. Now, the scale is automatically set relative to the original image size for more precision when scaling layers.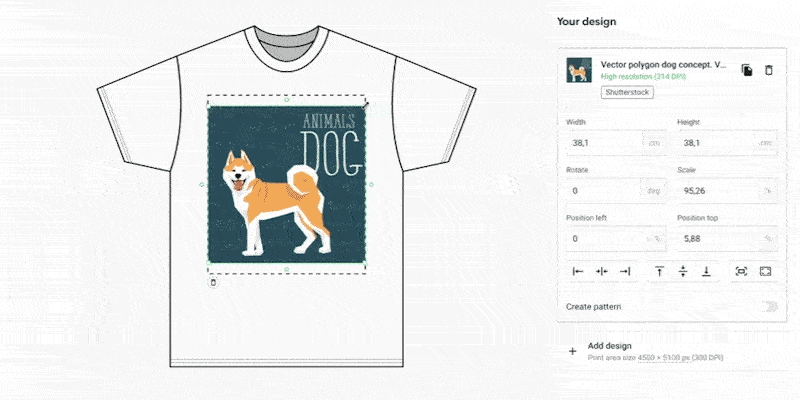 Previously, the whole visual was subjected to scaling when dragging an image from a corner. Now, it resizes only from the corner you drag it from.
If you want to scale the whole image all at once, like before, press Alt (Windows) or Option (OS) while dragging the image.
Applying Designs to All Print Areas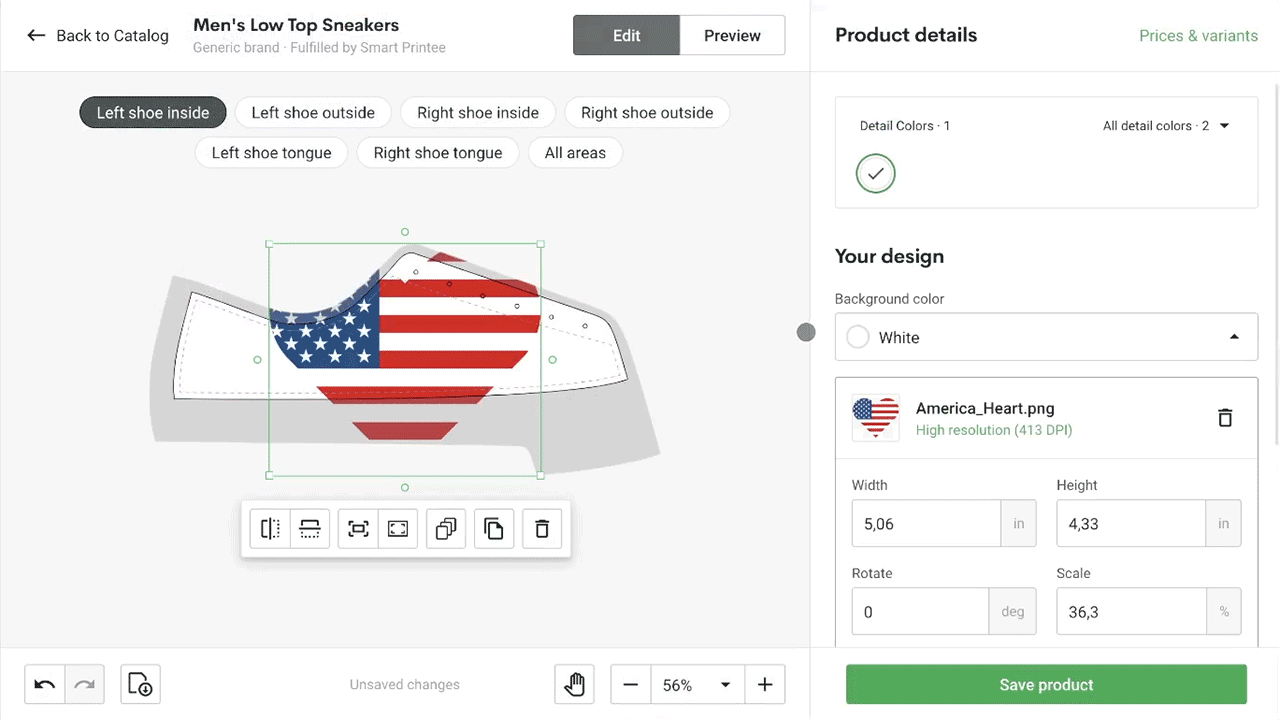 Duplicate a design to all available print areas with just a click of a button. This feature comes in handy when you're working with a lot of layers, especially all-over-print products.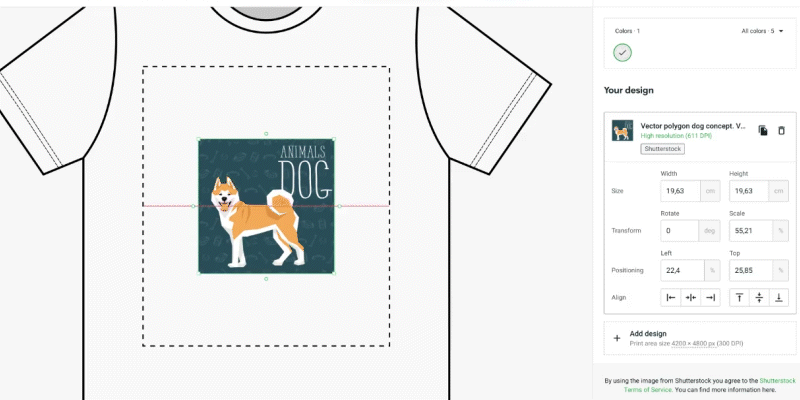 The new guideline and snapping features make it easy for you to precisely position designs in the center or alongside the edges of the printing area.
If you've ever used photo editing/design software, then you'll find this very familiar. Just drag the visual where you want it, and the guidelines will show up when the artwork moves closer to the center or near the outer edges. It will automatically snap into place.
Improvements to the Magnifier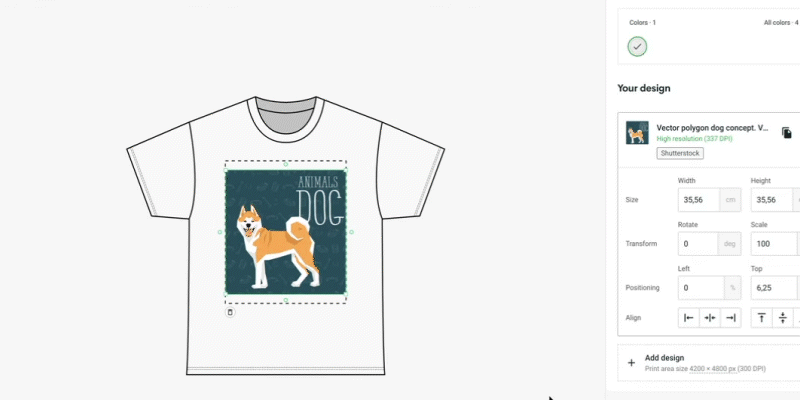 Small details make a big difference. Now, you can inspect your designs more closely with the improved zoom-in/zoom-out feature on desktop and mobile devices.
Review intricate elements of your design and make sure the artwork doesn't go over the boundaries of the print area. Wrong placement can lead to your artwork getting accidentally cropped during printing.
New Fonts in the Custom Text Editor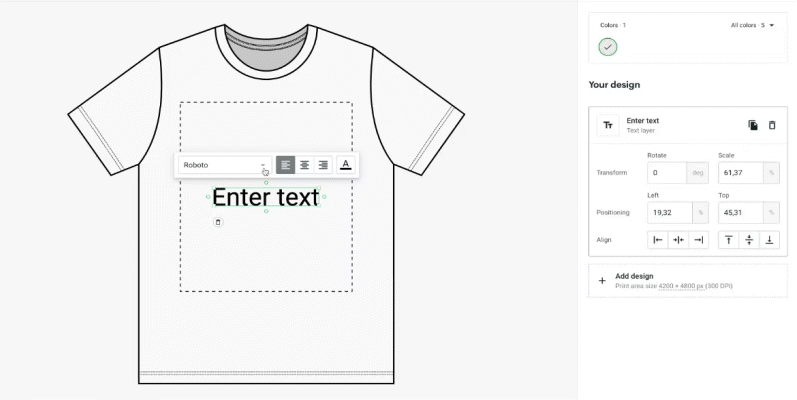 Finding the right font to compliment a design is crucial for the success of text-based products. They're not there to just look pretty – fonts also convey the mood and emotions you want your customers to experience.
For example – would you choose strikingly bold or sleek, fine-line lettering for a minimalistic t-shirt design?
To help you quickly find the right one for your product, we've added 32 new fonts to our Mockup Generator, featuring popular choices like Open Sans, Merriweather, and Indie flower. See which one is the best fit for your next product and try it on.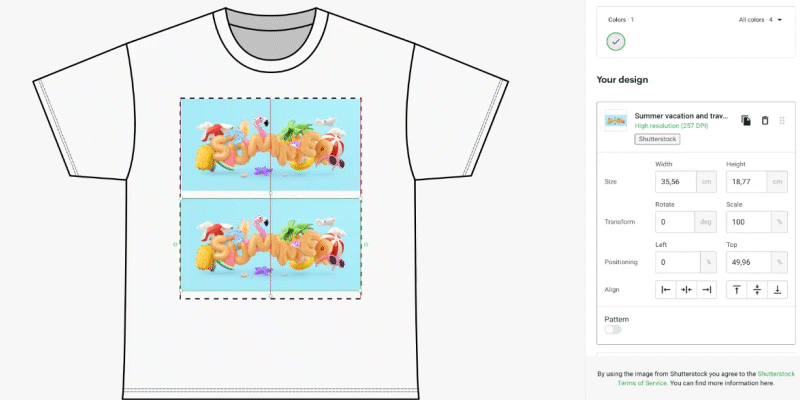 A lot of product designs consist of multiple artworks mixed together. It could be a combination of text and drawing, different visuals, or the same image or pattern printed on all sides of the item.
Aligning them with perfect precision can be tricky, but now, thanks to the new guidelines and snapping, the Mockup Generator does it for you. Just drag the visuals together, and they will snap in place without gaps or overlap.
Use these improvements to explore designs with seamless patterns featuring this season's trendiest colors.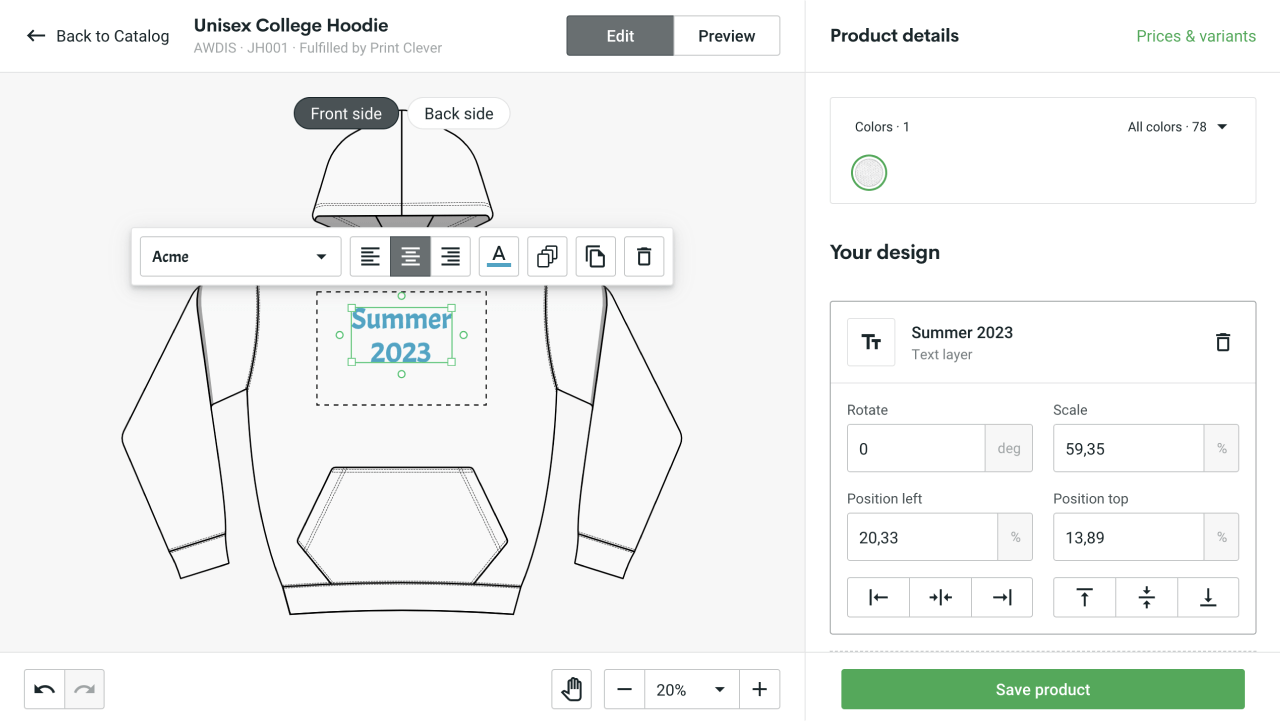 Multiline text is now available for your designs! Create multiple lines of text directly on the product in one go without the hassle of making separate text layers and time lost in the process. While the recently added text toolbar allows quick and easy customizations to fonts, colors, and alignments.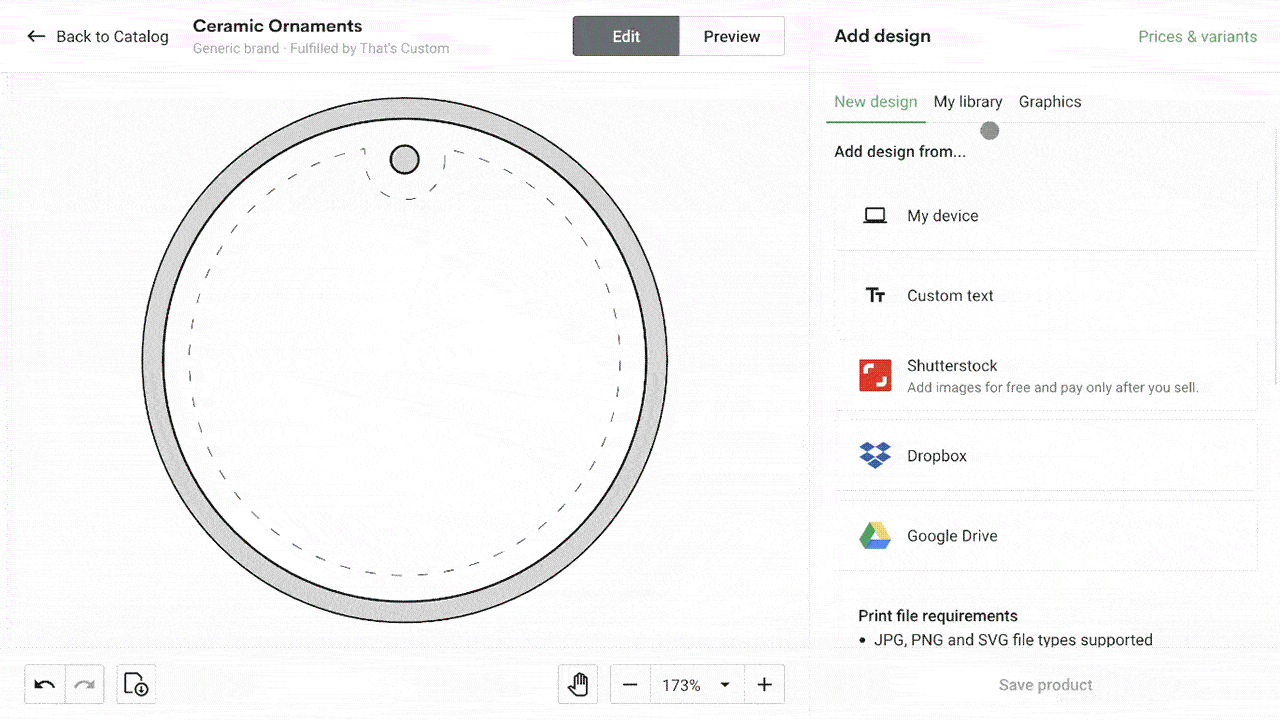 From fun experiments to top-notch designs, what can be better than free high-resolution visuals for your product customization where half the work is already cut out for you? 
In case you're low on inspiration or just trying things out, our team of designers has created a graphics tab on the Mockup Generator with over 150 free images at your disposal. Create your first product with fun patterns, seasonal themes, or even cute pet designs, and see where to go from there.
Reduced Layer Limitations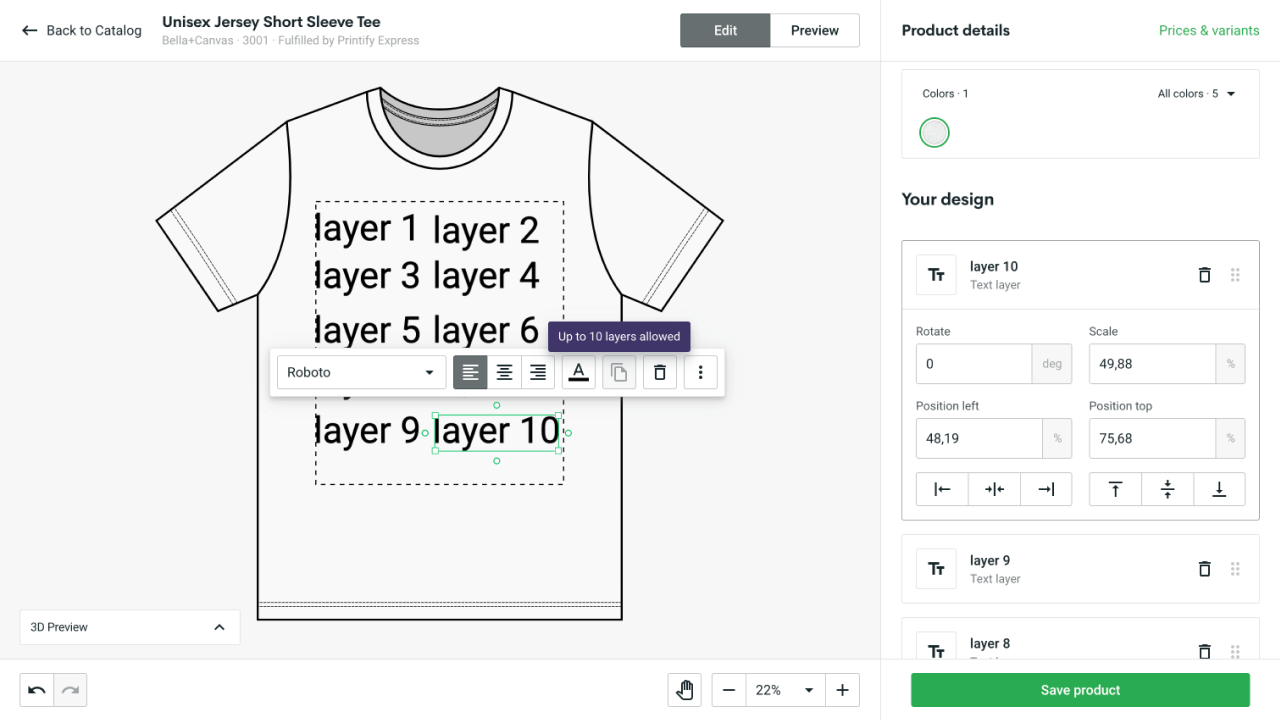 Previously, the five-layer restrictions upset merchants, limiting their full design potential. But worry no more! We listen and take action to provide a better overall experience for you in the design process. 
Now you can create up to 10 layers per print area for most products (20 layers for stickers). While there are still some limitations for embroidery products, kiss-cut stickers, and canvases, this new feature will provide greater freedom for creativity and unique design elements.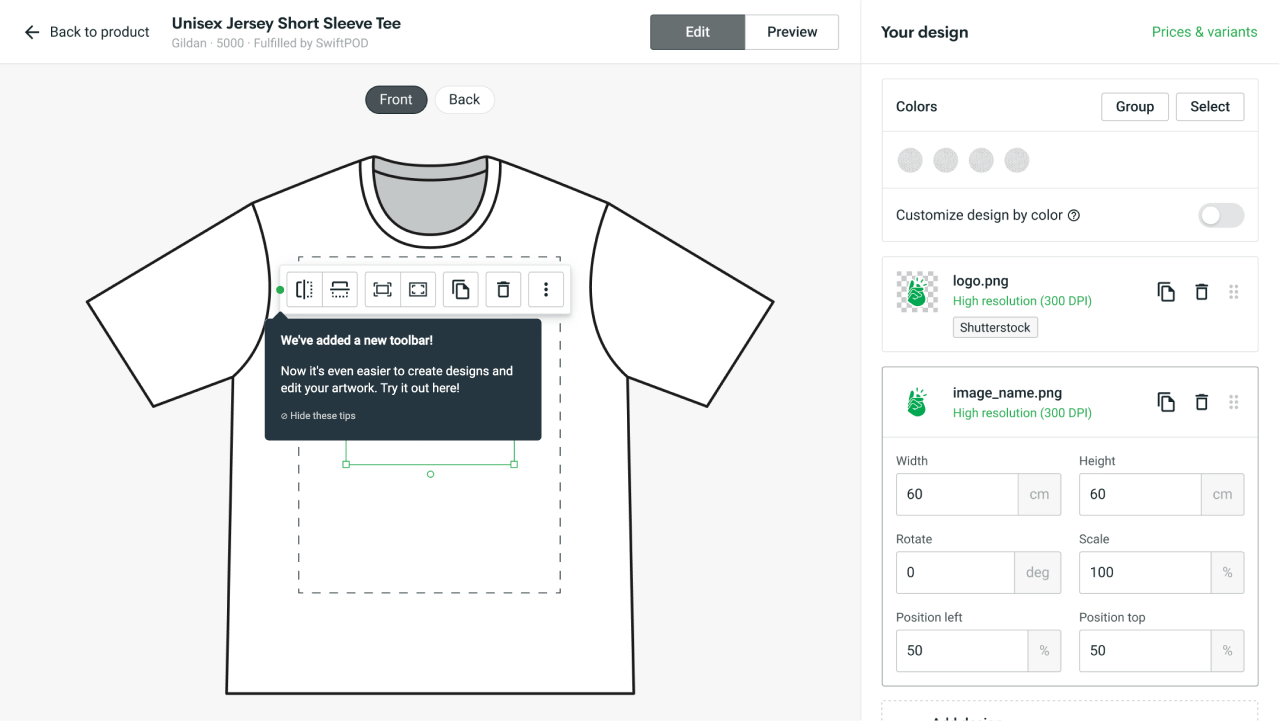 We've created the new artwork toolbar to ensure a more convenient, faster, and easier product creation process throughout all the steps and layers.
This feature allows you to interact with your design and layers directly on the canvas. Flip, fit and fill, duplicate, delete, and customize your artwork to perfection. Edit all visuals in a faster and more intuitive way by discovering all the options for customization right in front of you.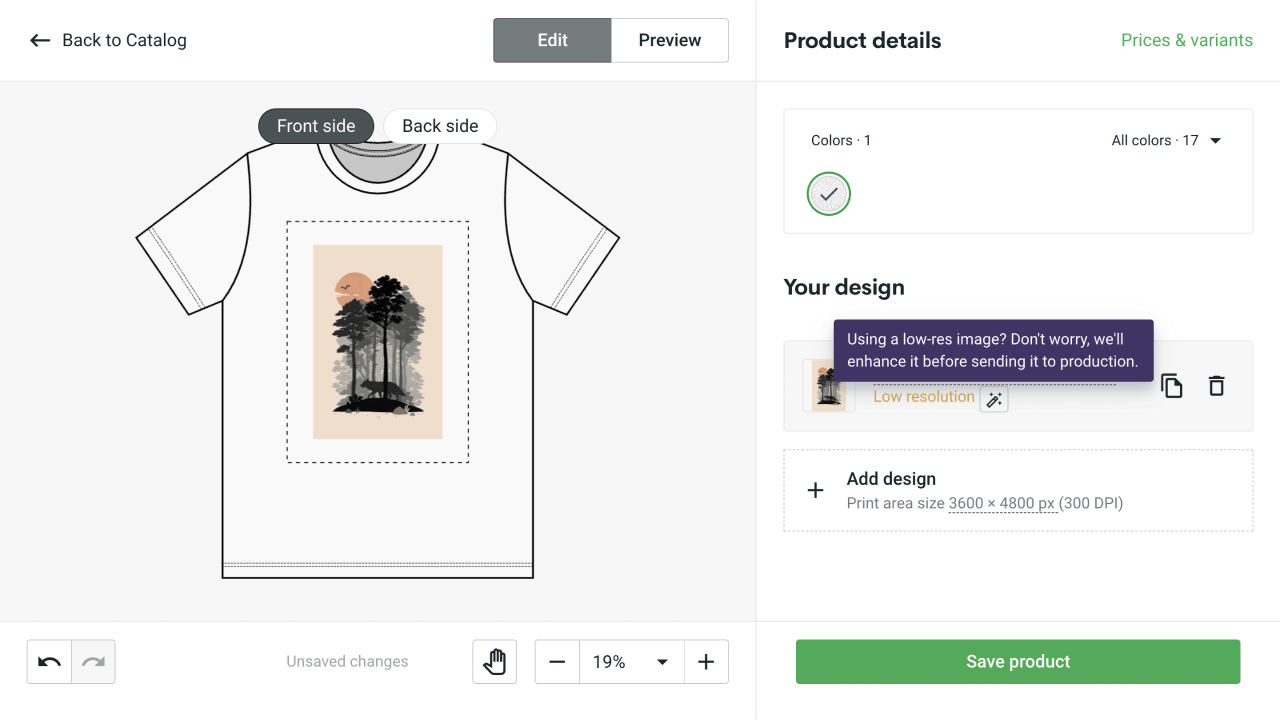 While high-resolution images are always best for printing, low resolution can be a problem for merchants just starting out or for people trying to create something unique for personal use.
To make the design process easier and smoother, especially for beginners, we want to ensure top-quality designs for all your products. For that, we offer image enhancement for lower-quality uploads. 
With this feature, you can now save designs with low-quality images. Before they're sent to production, we'll enhance them automatically using an enhancement API, ensuring quality prints on the final products.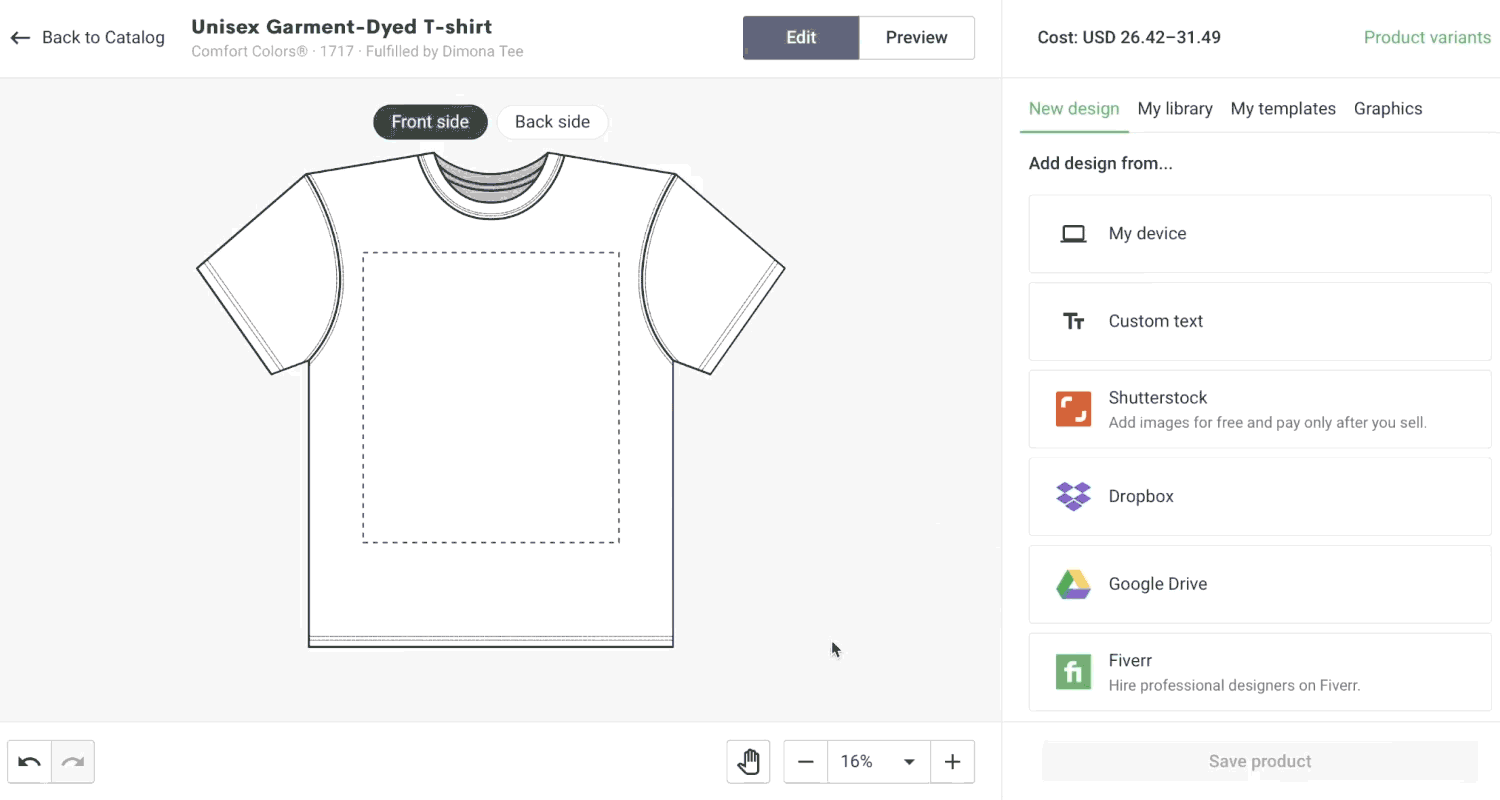 Create, edit and reuse designs with our Templates. It's the quickest way to roll out new products and test what sells with minimal effort.
Upload various design elements, like images and text, or browse our free Graphics tab for ready-made art. Group them and right-click Save as template.
Forget about resolution requirements and pixelated prints – vector graphics have entered the discussion.
From now on, you can upload Scalable Vector Graphics (SVG) files to our Mockup Generator and see your designs in picture-perfect quality, no matter the size of the print area.
Many merchants and their designers prefer using SVG files to reuse the same artwork elements on different products. This way, you don't have to create new design files for every single blank item.
If you're working with other types of vector formats, like AI or EPS, you'll have to convert it to SVG before uploading it to the Mockup Generator. It's super easy to do through a trusted online converter or design software.
We recommend you use JPEG or PNG formats for photographs and raster images to ensure the best quality prints.
How to Use Our Free Mockup Generator
Check out our video to learn about creating realistic visuals for your product in less than four minutes by using the Printify Mockup Generator. If you prefer reading instead, scroll down to see the six-step process.
Step One: Log in to Your Printify Account
Our Mockup Generator is free for all Printify merchants. Create an account or log in to an existing account to get started.
Go to our Catalog and choose one of the more than 750 blank products to customize with your original artwork.
Step Three: Choose a Print Provider
When you're on the product page, scroll down to see a list of print providers that offer the blank item.
Click Start Designing to open the Mockup Generator.
Step Four: Add Your Designs
You can upload design files straight from your computer or smartphone or by connecting your Dropbox and Google Drive accounts. You can also browse the Shutterstock stock image gallery for high-quality photos, or choose the Custom text option to create a text-based design.
Check out our Design Guide to learn more about the requirements and best practices when creating unique print-on-demand products.
Step Five: Position Your Design
Use the new layer guidelines and snapping to move and align your artwork with maximum precision.
Navigate to Preview to see various realistic visualizations of your customized product. Save and use them to create beautiful product listings for your online store.
Click Save product when you're done.
Check out the freshly upgraded Printify Mockup Generator and tell us what you think about the improvements and new features. Design a couple of best-selling products while you're at it.
Try the Mockup Generator Today
If you have ideas and feedback on how we can make our Mockup Generator experience even better for you, please reach out to us.
Share the article
Topics