Immense comfort? Unique designs? Our custom sneakers have it all. Start selling your one of a kind footwear and bring some color to the streets!
Create Your Own Custom Sneakers
Custom Design Sneakers With Printify
The custom sneaker market has been on the rise for years, with all major footwear brands offering customizable shoes to buyers. Don't miss out on the growing trend. With Printify, you can design your own original sneakers and sell them online. Let your imagination run wild and get your custom designs out to the world.
A pair of low-tops are a must for any closet. They go great with any outfit and are super comfy.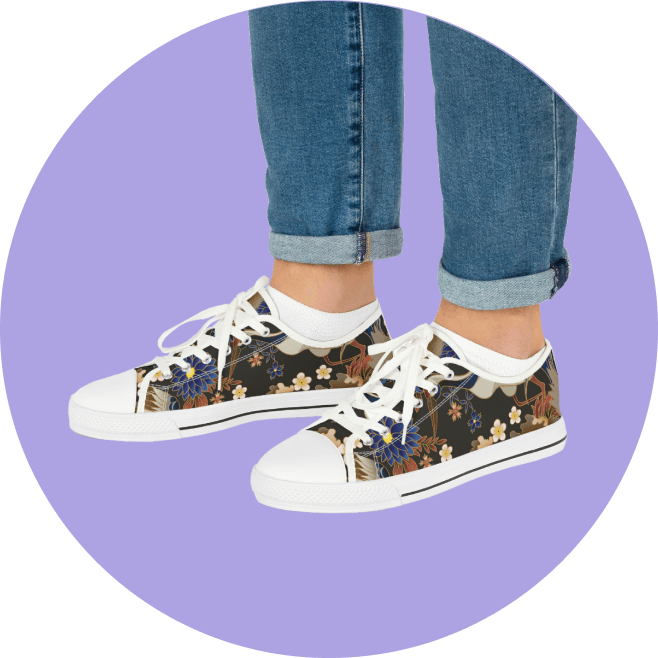 Our catalog offers two low-top options for men. Both sneakers are built to last due to their durable rubber outsole and pleather round toe. Wearers of these shoes will be delighted with their fine weave texture fabric and the foamed lining.
The sneakers offered by ArtsAdd come in black and have a nylon canvas that will match all of your colorful designs. Their breathable soft foam insole protects against heat, moisture, and corrosion. Coming in sizes 6 to 14, you can't go wrong with this lightweight silhouette.
If you decide to go for Smart Printee's sneakers, you can choose between white and black for the soles and laces and add a print to the tongue. This pair has a light and flexible EVA sole and comes in sizes 5 to 14.
Prices start as low as $27.61 ($21.26 with Printify Premium).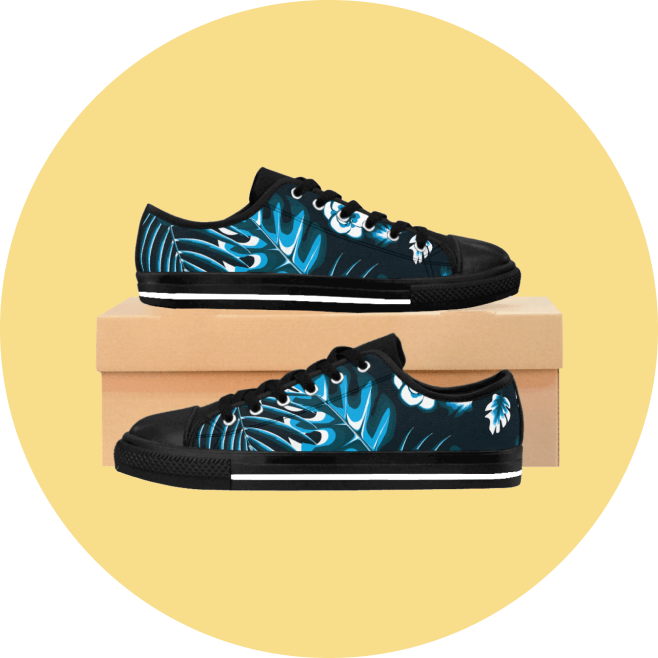 Same as with men's sneakers, there are two pairs of low-tops you can customize for women. You can be sure that your unique designs will jazz up the streets for many years to come, thanks to the durable rubber outsole of the shoes. The foamed lining and fine weave texture fabric make these sneakers super comfy, and the metal eyelets provide extra durability.
ArtsAdd low-tops have a black inside interior and sole, and their nylon canvas will be perfect for all of your eye-catching designs. Add these lightweight and durable sneakers to your shop and see the sales roll in.
If you'd like to go with white instead of black for your sole and laces and wish to print the tongue of your sneakers, check out what Smart Printee has to offer.
Sizes for women's low-tops range from 5.5 to 12, and the prices start at $27.61.
Additional ankle support and more room for your fantastic designs – check out our custom high-tops.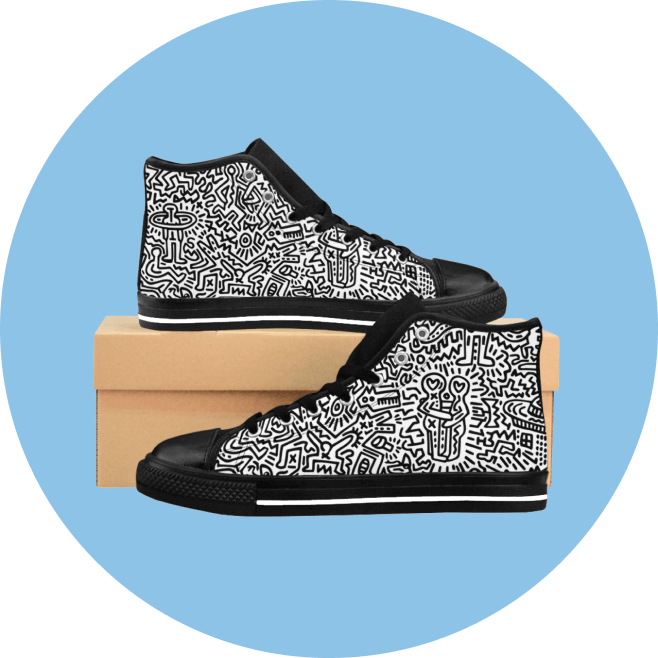 If you want some additional space for your unique design, the high-top is the shoe to go with. These custom men's sneakers come with a durable rubber outsole and are very comfy, thanks to the soft fabric used in their production. Your customers will appreciate the pleather round toe and metal eyelets that will help the sneakers last even longer.
Our Men's Classic Sneakers come with a black sole and nylon canvas with plenty of space for your colorful designs. Not only do they look amazing, but they also take care of the wearer's feet with the breathable foamed insole that protects against heat, moisture, and corrosion. Price starts at $38.81, and sizes range from 6 to 14.
The other Men's High Top Sneakers come in black and white. The memory foam insoles and EVA shock-absorbing layer provide buyers with a smooth ride, and the full wrap-around print lets you fulfill your wildest design ideas. They come in sizes 5 to 14, and the price starts at $29.85.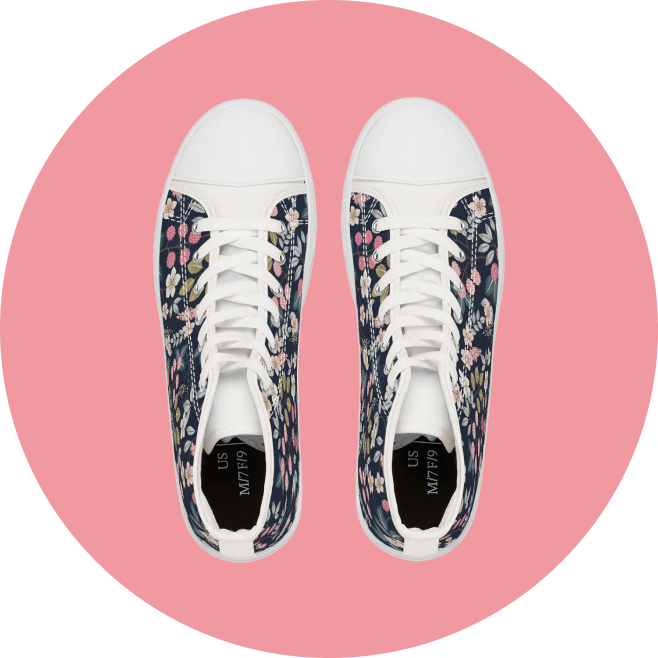 Women's High-Top Sneakers
Printify's custom high-tops for women are available in two options. Add these to your online collection, and you can be sure that your female customers will appreciate how comfortable and durable these sneakers are. Women's high-tops are perfect for bright colors and radiant designs – a true style icon.
Our Women's Classic Sneakers are an excellent option for your spectacular design ideas. The prints will look great on the nylon canvas, and you can be sure that your buyers will be comfortable with these high-tops on their feet.
If you decide to go with the other Women's High Top Sneakers, the print will go on a polyester canvas, and you can pick between white and black for the sole and laces. A great option that your customers will enjoy wearing.
The price of the sneakers starts at $29.85, and your buyers can pick between sizes 5.5 and 12.
Printify Is Trusted by 2 million+ Merchants Worldwide With More Joining Every Day
I don't have to invest the money I can't lose into my business. With Printify, I only pay the fulfillment fees, and the rest is all profit.
I really appreciate working with Printify on my brand. Afro Unicorn was only supposed to be my design on a white shirt. It is so much more. Printify allows me the time to run the business and not work in the business.
Printify helped me start a completely hands-off revenue stream. When you spot a niche that you want to enter quickly, you don't have to worry about buying stock or equipment.
My experience has been amazing so far. With thousands of sales, there's always going to be obstacles to overcome. But, when something has needed fixing, it has always been amazing.
Printify Premium has helped my profit margins tremendously, and spending $20 a month has probably saved me over $200 a month.
Using Printify saved our struggling business of 6 years and gave us more time with our family.
I like Printify products because they tie in with our organisation's message.
I love the Printify Mockup Generator. It keeps everything consistent and allows me to keep my brand looking sharp and professional.
Personalized Sneaker Design Ideas
The best thing about sneakers is that there are no limits to when and how they can be worn. You need to seize the opportunity. Whether it's a holiday-themed design, a cartoon print, or a wedding-inspired style – everything goes with custom sneakers.
Printify's Mockup Generator and all-over printing method will help your most creative design ideas come to fruition. Just think of a niche you'd like to target and design your best custom sneakers. Here are some ideas to explore.
What better way to make that special day stand out than by wearing a pair of beautiful custom sneakers to the altar? There are several ways you can play with this design idea. For example, his custom sneakers could say "Mr." and hers – "Mrs." You can make the bride's sneakers white to match the dress and design the groom's pair of shoes to be darker to match his tux. The possibilities are endless.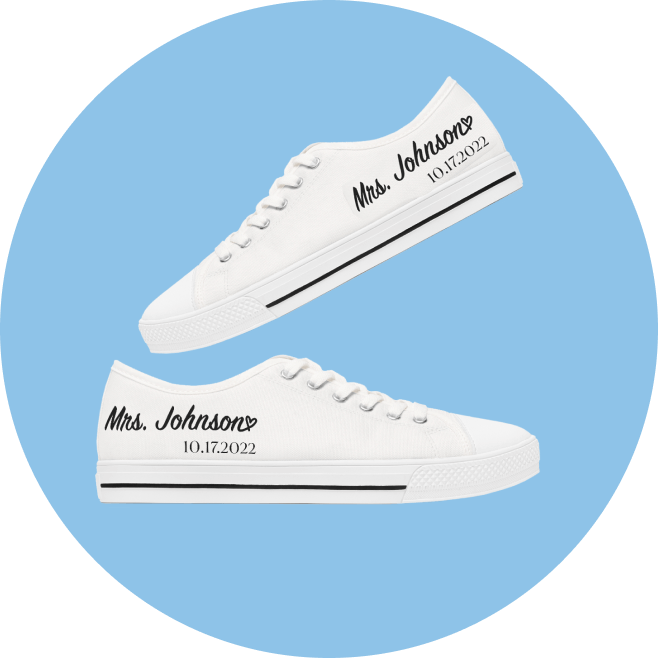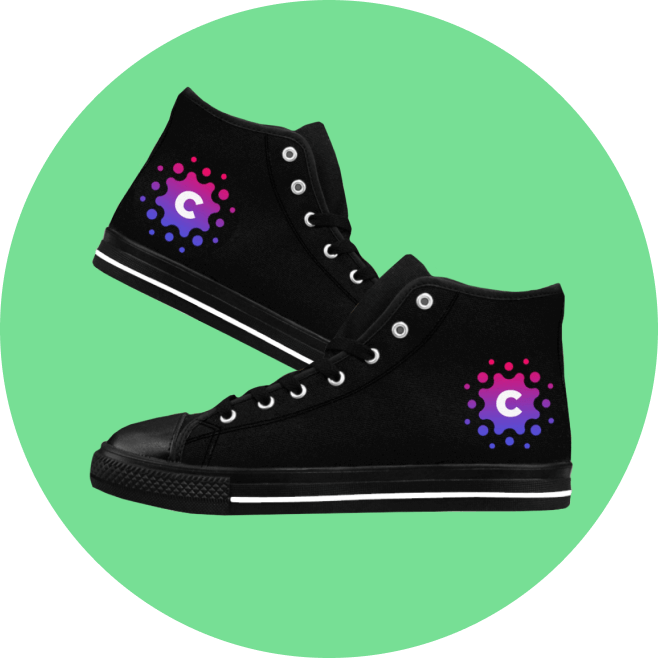 Personalized Sneakers with Logo
Why not add a logo to your custom shoes? Whether you're looking to create a design for a specific company or organization, design custom merch for an event, or want to spread the word about your business, creating a personalized sneaker design with a logo can go a long way.
You can also offer your customers the option to send in their logos and then create custom designs by incorporating them into the final product.
People love to stand out from the crowd, and custom sneakers with a cartoon design can help. Bright colors, bold design elements, clear shadows and lines, cartoon characters – all of these details make up a great cartoon sneaker.
Look online for inspiration and creative ideas, and let your imagination run wild. There are no limits to what you can print on the sneakers. This is still a growing niche, and it's a great time to get in on the trend.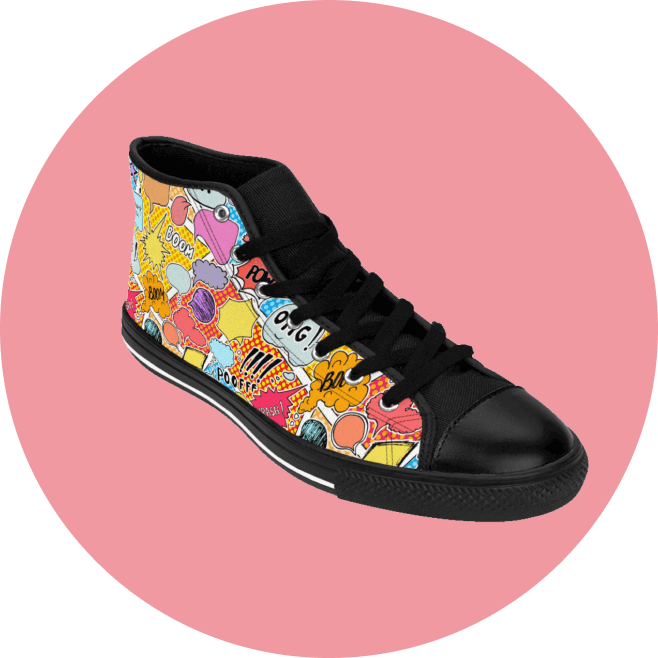 Create Your Own Custom Sneaker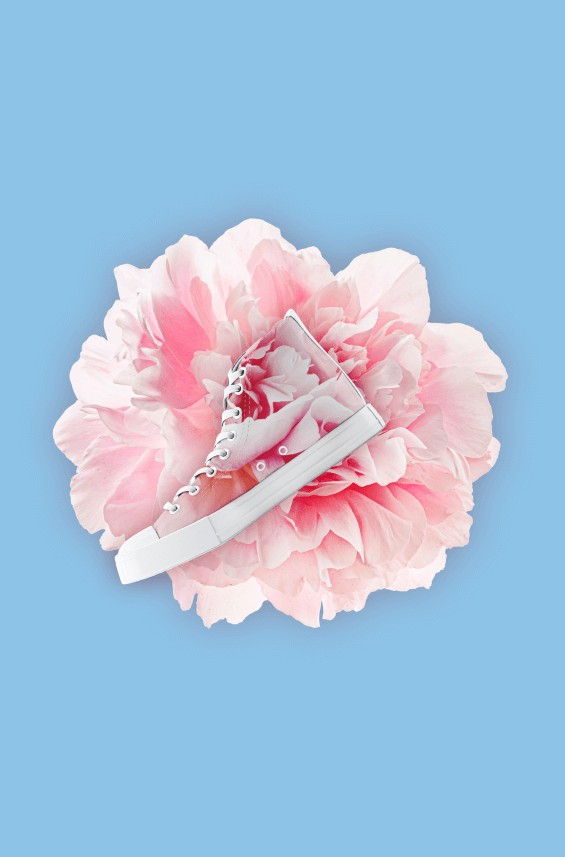 Start Selling Custom Print-on-Demand Sneakers
Frequently Asked Questions
With the global sneaker market growing year in and year out, now is the perfect time to start selling your custom sneakers and grab a slice of the pie.
Designing your unique footwear with Printify is free, and you don't need to pay anything upfront. Create your custom sneakers, list them on your online store and let Printify take care of production and shipping. It's that easy.
Start Selling Custom Sneakers Today