From ballers and streetwear lovers to runway icons – everyone will be noticing these custom basketball shorts. Decorate them with your original designs and slam dunk those sales, one after another.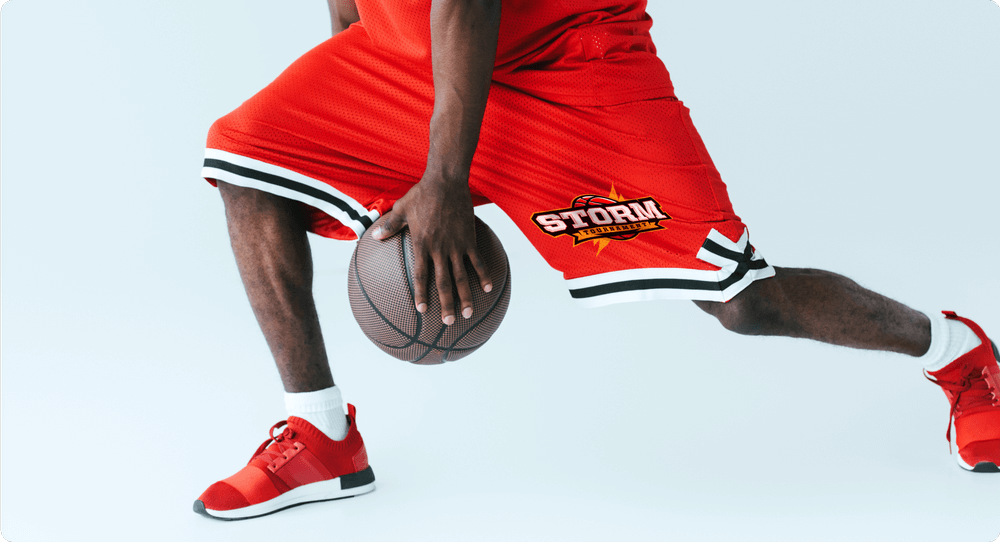 Custom Basketball Shorts Are a Trending Product
Like the game itself, basketball shorts are huge in the USA. Unlike the game, their interest doesn't peak in specific seasons – people buy them all year round.
The basketball apparel market is on the rise, with no signs of slowing down. Streetwear fans have pushed the boundaries of this category past basketball uniforms, making them a comfy and stylish choice for everyday wear. Plus, many fans want to show support for their favorite team, especially now that we can finally go and see the games live.
For market watchers, this is good news. With people adding more of these items to their cart, we expect to see a $4.6 billion growth in market size in only four years.
Make Your Own Custom Basketball Shorts
Start Selling Custom Basketball Shorts in 7 Easy Steps
Every year people make hundreds of thousands of dollars by selling merchandise on-demand. Now, it's your turn.
We know that getting started can feel scary, but remember – the key is to go for it. You don't need to have it all figured out. Even established sellers switch things up because they learn more about their customers as time goes by.
We've chopped the whole process down into seven simple steps to help you start selling faster.
Printify Is Trusted by 2 million+ Merchants Worldwide With More Joining Every Day
I don't have to invest the money I can't lose into my business. With Printify, I only pay the fulfillment fees, and the rest is all profit.
I really appreciate working with Printify on my brand. Afro Unicorn was only supposed to be my design on a white shirt. It is so much more. Printify allows me the time to run the business and not work in the business.
Printify helped me start a completely hands-off revenue stream. When you spot a niche that you want to enter quickly, you don't have to worry about buying stock or equipment.
My experience has been amazing so far. With thousands of sales, there's always going to be obstacles to overcome. But, when something has needed fixing, it has always been amazing.
Printify Premium has helped my profit margins tremendously, and spending $20 a month has probably saved me over $200 a month.
Using Printify saved our struggling business of 6 years and gave us more time with our family.
I like Printify products because they tie in with our organisation's message.
I love the Printify Mockup Generator. It keeps everything consistent and allows me to keep my brand looking sharp and professional.
Make Your Own Custom Basketball Shorts
Get Inspired by These Basketball Shorts Designs
With so many options to choose from, it's easy to get stuck when picking a winning design. Take a look at these examples and think about ways you could adapt them for your niche.
Come up with a catchy phrase, a funny, new team name, or offer your customers to choose their own text to create a custom order. The advantage here is that you only need a basic text editor to create the design.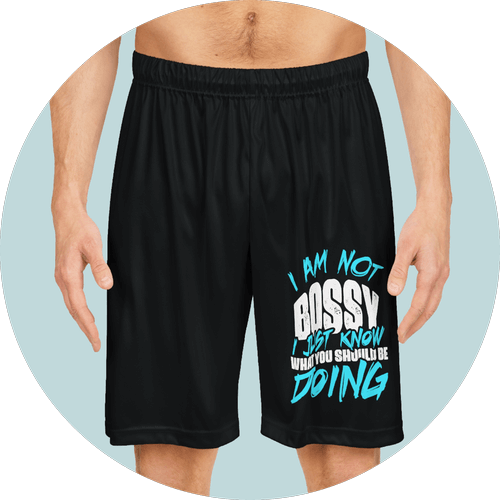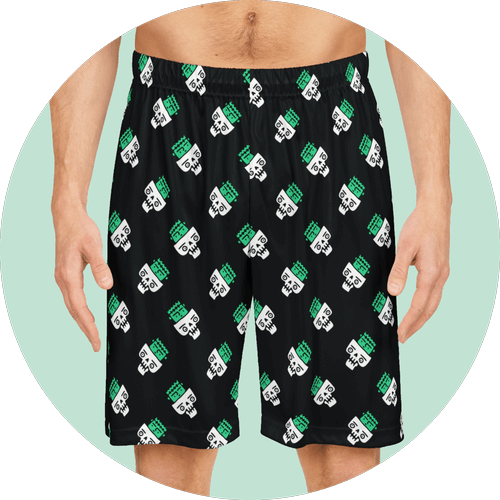 Remember, these shorts don't necessarily have to have anything to do with basketball. Decorate them with cool and colorful patterns of your choice – stripes, waves, zig-zags, or even cute flower prints – perfect for those hot summer days.
Funny prints make for great, memorable gifts for friends and loved ones. Come up with your own original characters or allow customers to upload their own visuals. Multiply them to fit all over the printing area, and you're done.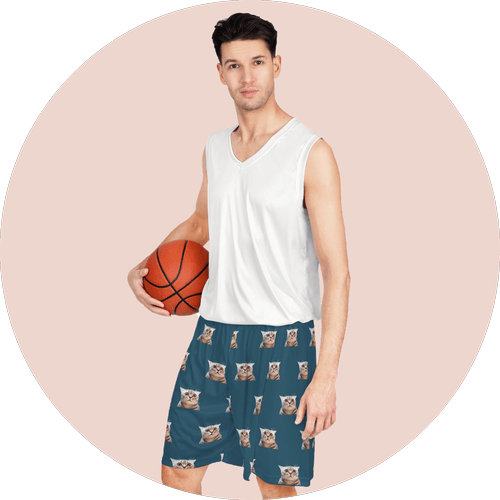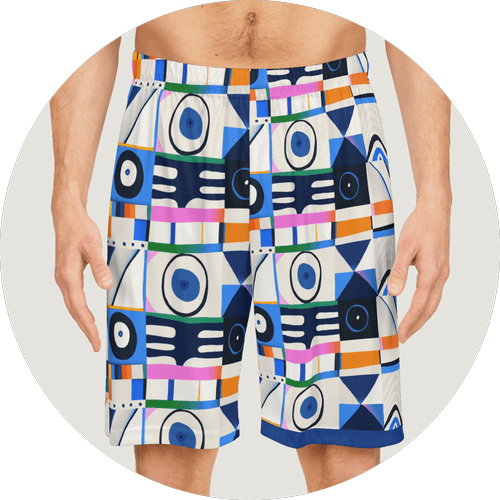 Bold graphics look fantastic when made by our all-over-print providers, and they make for eye-catching short designs. Get inspired by the world's greatest abstract artists like Jackson Pollock and Georgia O'Keeffe, let your imagination loose, and create a wearable art masterpiece.
Maybe you'll take it to the next level and design stylish two-pieces, with matching custom basketball jerseys.
Who said you can only put pictures in frames or photo albums? Not with all-over print. Create a walking gallery with stunning-quality photographs taken yourself, or from an online stock photo library like Shutterstock.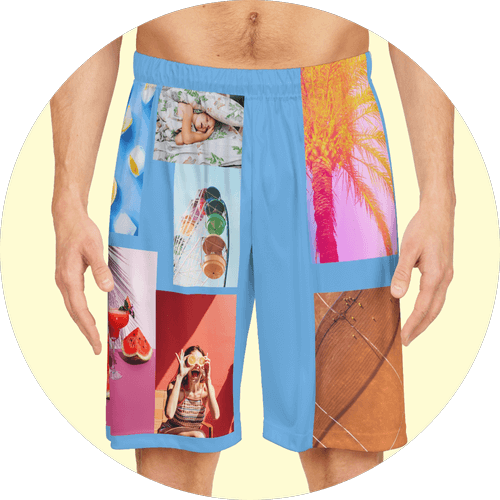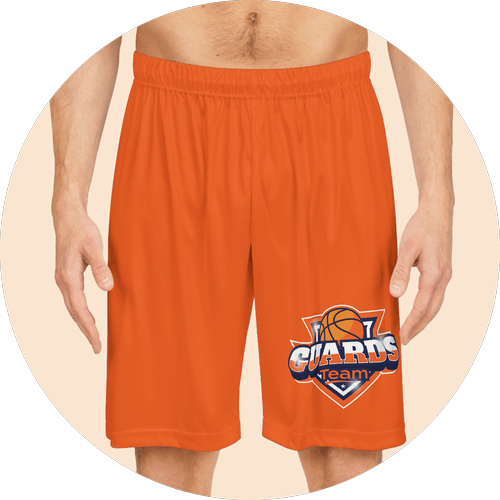 You can always stick to what's tried and true and help millions of basketball fans show their support when the NBA season kicks in.
Remember: If you use a design with team names or logos that already exist, please double-check that you have the appropriate commercial license for distribution. Otherwise, you might run into some legal problems, and you don't want that.
Frequently Asked Questions
You now know everything you need to start selling custom basketball shorts with ease. Next step? Sign up to Printify and begin reaping the sweet, sweet benefits of our vast product catalog, seamless sales channel integrations, and competitive pricing.
Start Selling Custom Basketball Shorts