From ballers and streetwear lovers to runway icons – everyone will notice a pair of custom basketball shorts. Decorate them with original designs and score a win for yourself, your team, or your online store with customized shorts.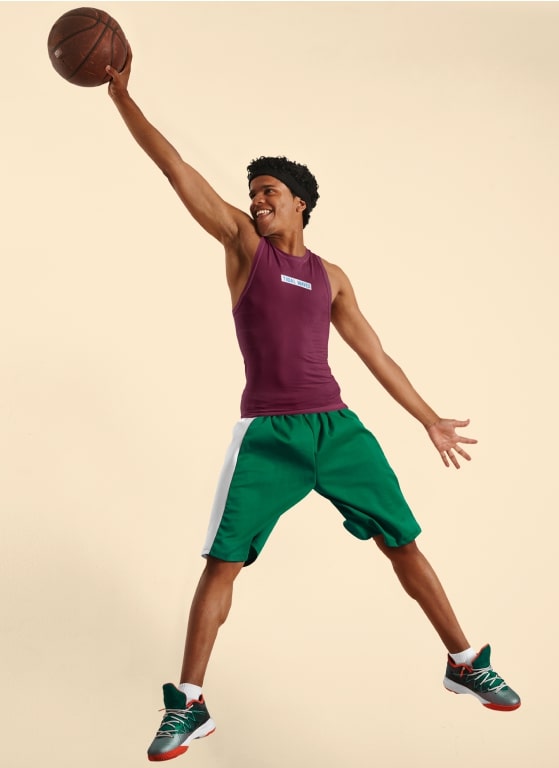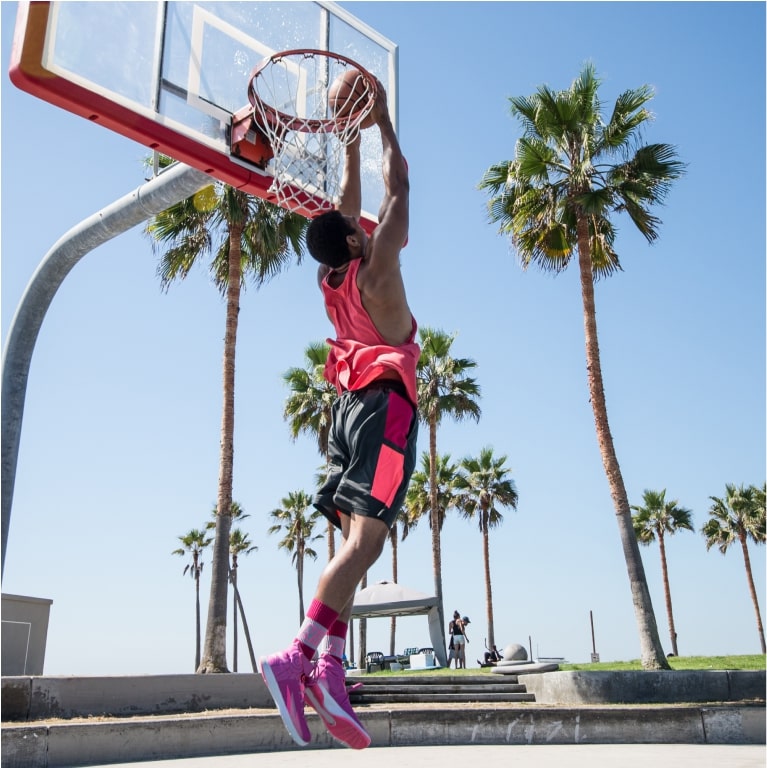 Design Custom Basketball Shorts with Printify
Create Your Custom Basketball Shorts
Why It's Worth Selling Custom Basketball Shorts
Like the game itself, basketball shorts are huge in the USA. Unlike the game, their interest doesn't peak in specific seasons – people buy them all year round.
The basketball apparel market is on the rise, with no signs of slowing down. Streetwear fans have pushed the boundaries of this category past basketball uniforms, making them a comfy and stylish choice for everyday wear.
Plus, many fans want to support their favorite team, especially now that we can finally go and see the games live.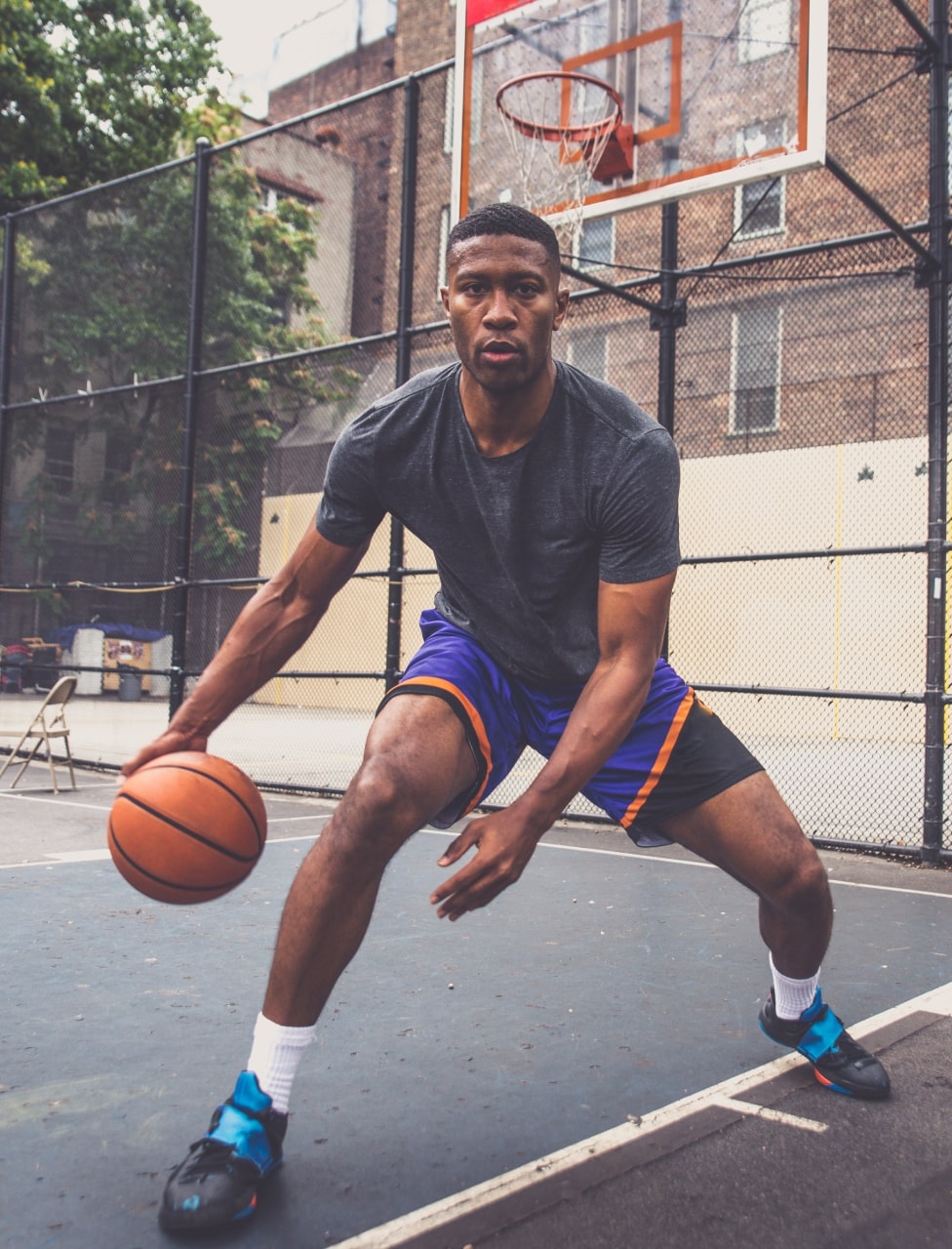 Sell Custom Basketball Shorts With Printify
Let's look at the MVP – the basketball shorts you can find in our catalog. Perfect for youth team uniforms, stylish summer pieces, or cozy home outfits. Choose Printify and design a pair of unique basketball shorts for every occasion and taste.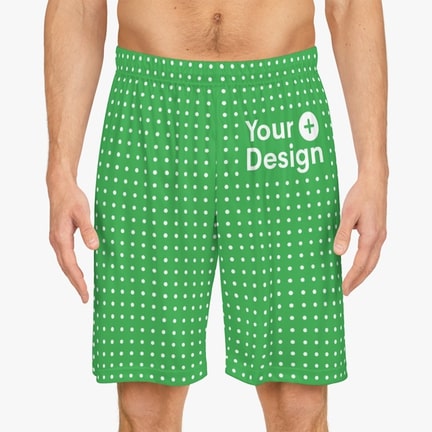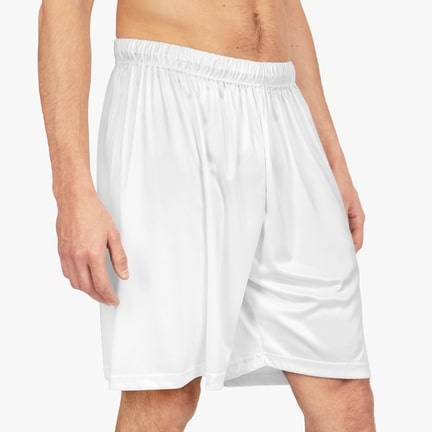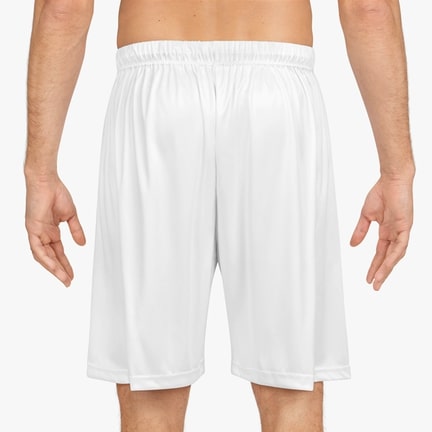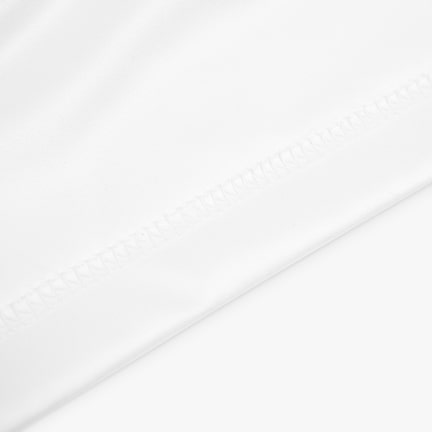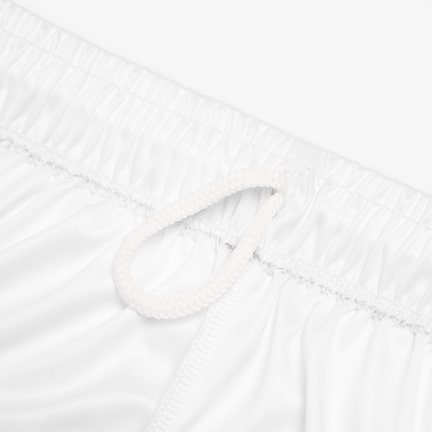 Not only do they look great, they feel great too. Made from 100% polyester, an extra-light, moisture-wicking material, these shorts will stay comfy and fresh come hot weather or sweaty training sessions. These shorts are available in six sizes – ideal for youth and adult team uniforms or athleisure wear.
Your design will be printed with the all-over-print method. It lets you lay out amazing graphics and patterns in vibrant colors from seam to seam.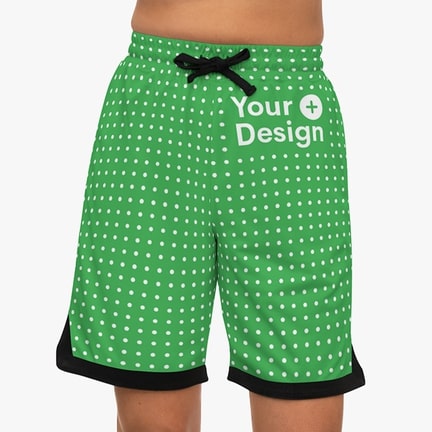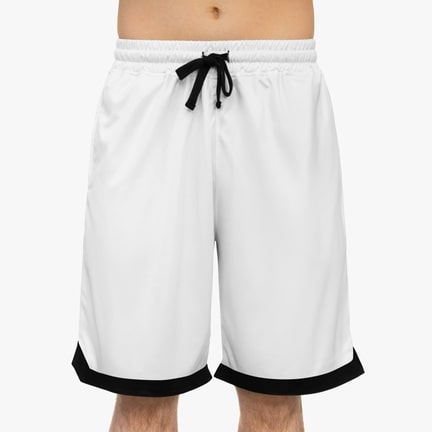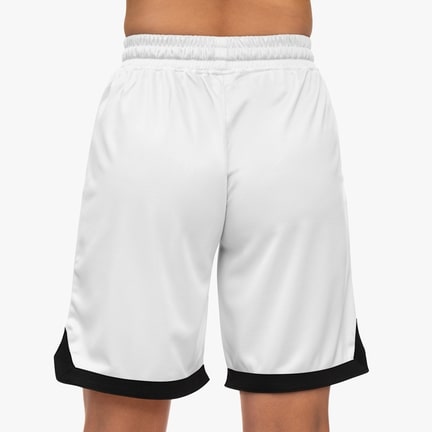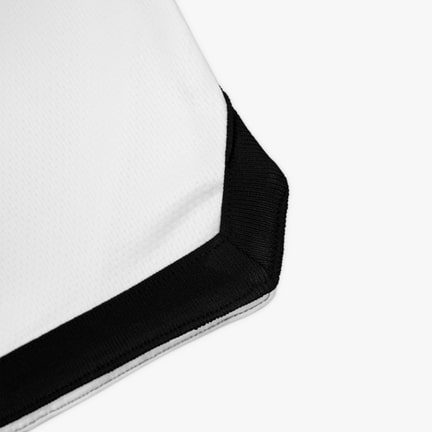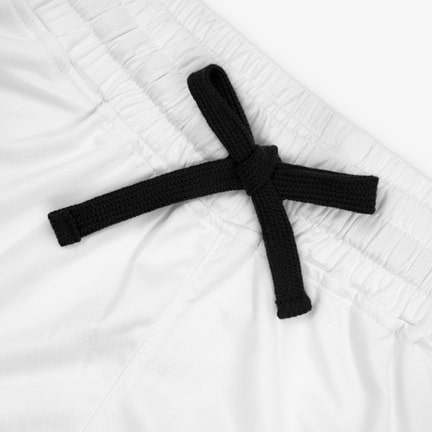 These trendy basketball shorts with two handy pockets on the sides and black detailing will be a great addition to any locker room, eCommerce store, or wardrobe. From professional athletes to comfort enthusiasts, this piece of clothing will complement every outfit, court, or beach attire. 
Available in eight sizes, made of moisture-wicking material, and with a fully customizable surface – this is the go-to product for comfort and style.
Ready to Sell Custom Basketball Shorts? We've Got You!
It only takes a couple of simple steps to get your shorts customized and listed online. Create a Printify account, choose your product, and slap on a design no youth team or shorts enthusiast can pass.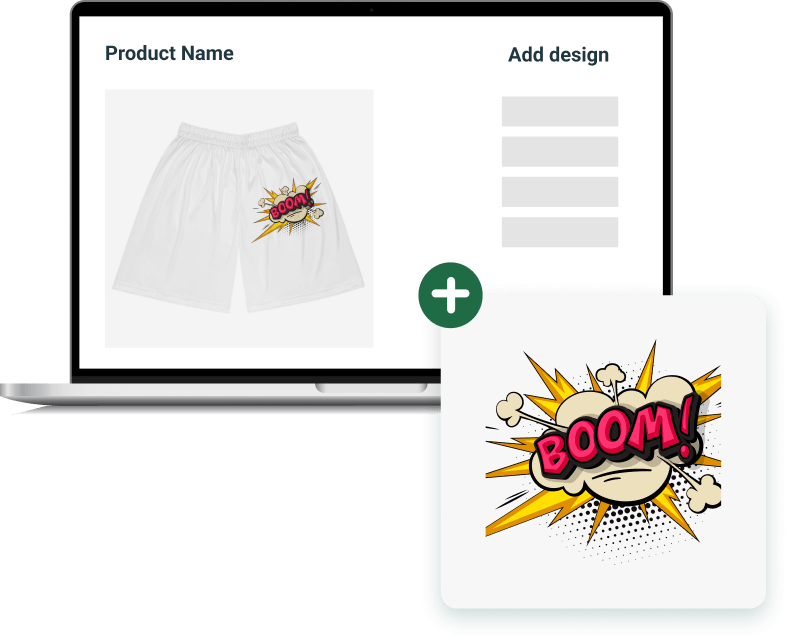 Sign Up and Customize Your Product
Sign up to Printify with your email address or log in to your account and head over to the catalog. Find the basketball shorts, click Start designing, and utilize our Mockup Generator to the fullest. Add an image and text, choose a font and color, design sides, and add numbers. Customize your shorts to perfection.
Order Samples to Ensure Quality
The only way to ensure your customers get only the best quality material, design, print, and overall order fulfillment, is by getting samples yourself. Order your customized shorts and check them seam to seam. Add some changes if necessary and get ready to list them online.
Publish on Your Selected Sales Channel
Choose your eCommerce favorites. Printify offers integrations with the top platforms and marketplaces. Such as Etsy, Shopify, PrestaShop, Wix, and more. Choose the one that fits your skills, brand, and vision, and create listings too good to pass.
You Focus On Your Business While Printify Does the Work
Our printing partners will take care of every single order. From printing and packaging to shipping to your customers. While you get to focus on growing your brand, marketing, and selling your custom basketball shorts. Wholesale, retail, the choice is yours. Printify's got your back.
Start Selling Custom Basketball Shorts
Printify Is Trusted by Over 2 Million Merchants Worldwide, With More Joining Every Day
I don't have to invest the money I can't lose into my business. With Printify, I only pay the fulfillment fees, and the rest is all profit.
I really appreciate working with Printify on my brand. Afro Unicorn was only supposed to be my design on a white shirt. It is so much more. Printify allows me the time to run the business and not work in the business.
Printify helped me start a completely hands-off revenue stream. When you spot a niche that you want to enter quickly, you don't have to worry about buying stock or equipment.
Printify Premium has helped my profit margins tremendously, and spending $20 a month has probably saved me over $200 a month.
Using Printify saved our struggling business of 6 years and gave us more time with our family.
I like Printify products because they tie in with our organisation's message.
I love the Printify Mockup Generator. It keeps everything consistent and allows me to keep my brand looking sharp and professional.
Creative Designs for Custom Basketball Shorts
If you're looking for inspiration or suggestive ideas for your custom shorts, we've got you covered. Below are six different design options for you to try, from team uniforms to cozy home outfits and stylish designs for people on the go. Browse the list, get inspired, and start designing your own.
Basketball Shorts With Simple Lettering
Come up with a catchy phrase, slap on your team name, or offer your customers to choose their own text to create a custom order. The advantage here is that you only need a basic text editor to create the design. From numbers to letters of all shapes and sizes. Pick a font and color, and get creative with the texts.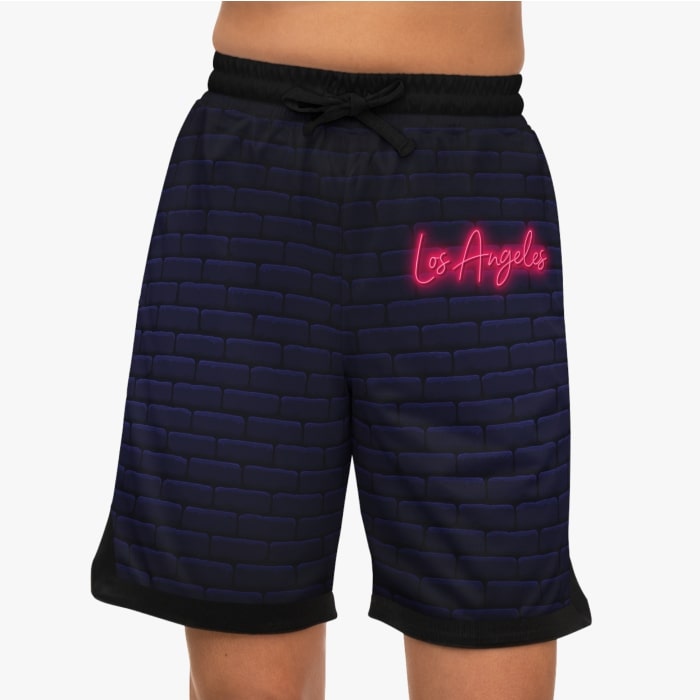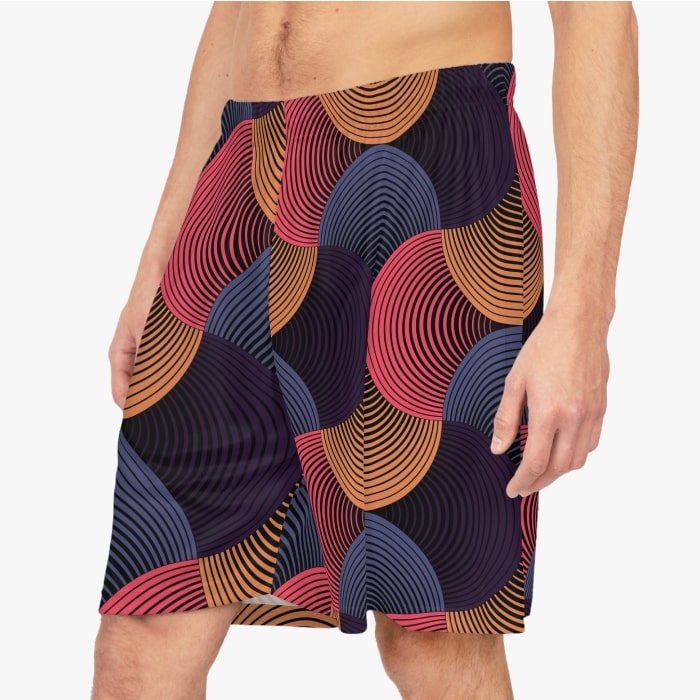 Custom Basketball Shorts With Repeating Patterns
Remember, these shorts don't necessarily have to have anything to do with basketball. Decorate them with cool and colorful patterns, from stripes and waves to zig-zags or even cute flower prints – perfect for those hot summer days. Customized patterns will be a hit for those looking to combine comfort with a dash of style.
Funny Faces & Basketball Shorts
Funny prints make great, memorable uniforms or gifts for friends and loved ones. Come up with your own original characters or allow customers to upload their visuals. Multiply the design to fit all over the printing area, and you're done. Funny prints will ensure you, your team or your customers will stand out from the crowd of boring designs and uniforms.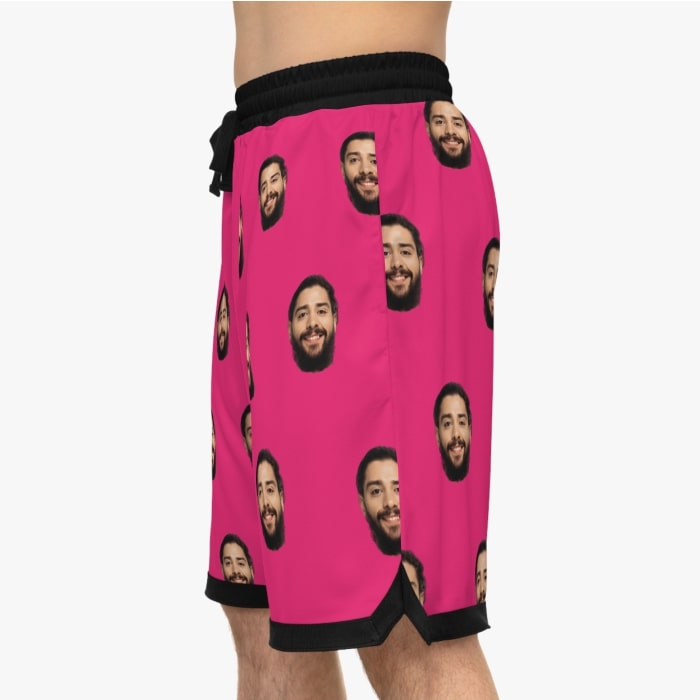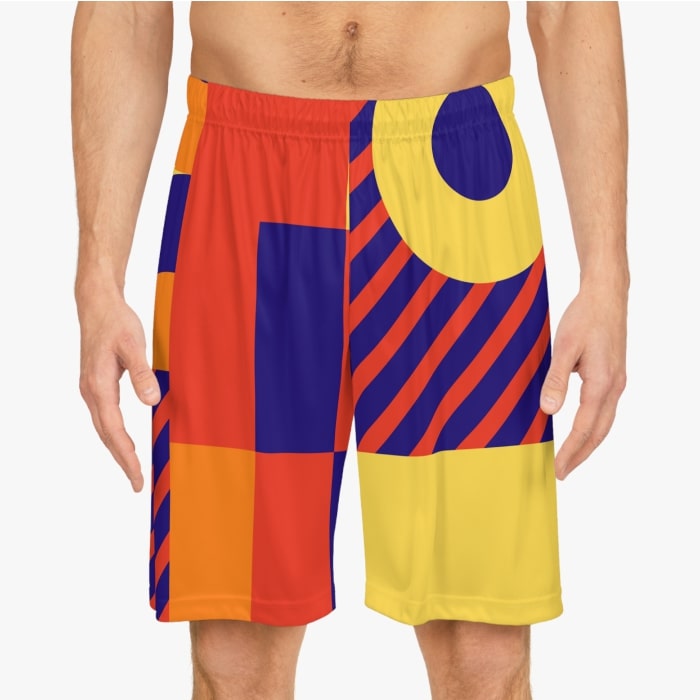 Custom Basketball Shorts and Abstract Graphics
Bold graphics look fantastic with the all-over print. And they make for eye-catching short designs. Let your imagination loose, and create a wearable art masterpiece from unique color patterns to odd shapes in mysterious sizes and settings. Get the creative juices flowing and design awe-inspiring abstract uniforms or basketball shorts for any occasion.
Add a Team Logo to Your Basketball Shorts
You can always stick to what's tried and true and design basketball shorts mainly for youth and adult team uniforms. Stick a team name or logo, offer all provided sizes, and ensure basketball teams with quality print, material, and design. Add team uniforms to your store inventory and watch sales roll in, one order after another.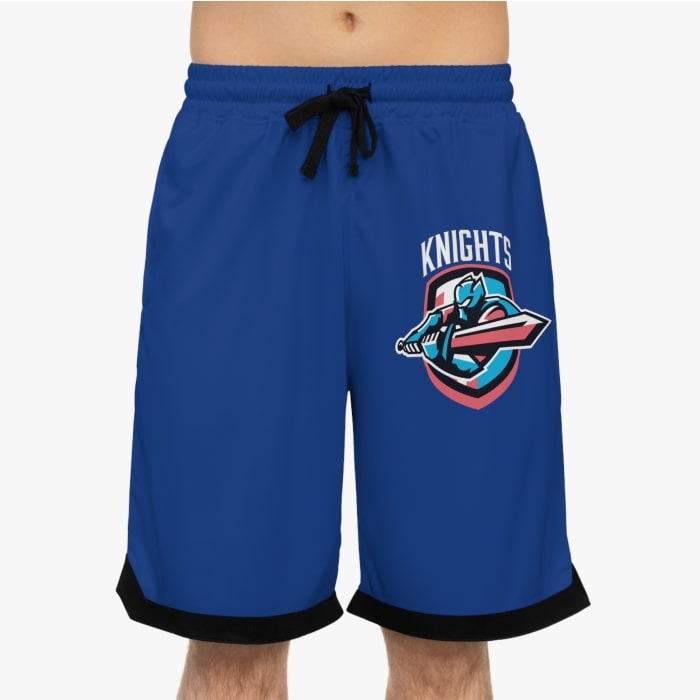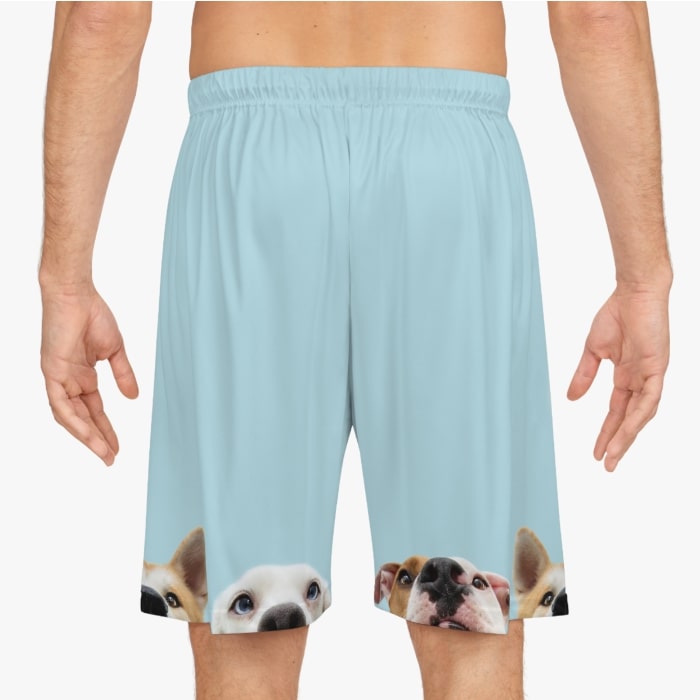 Use Photographs for Your Custom Basketball Shorts
Who said you can only put pictures in frames or photo albums? Not with all-over print. Create a walking gallery with stunning-quality photographs taken by yourself or from an online stock photo library like Shutterstock. Utilize the power of photos and create unique themed designs. From pets and people to specific niches like sports, food, tropical, and more.
Design Your Custom Basketball Shorts