Start Selling Custom Socks in the UK
Printify makes it possible! Socks will always be popular, and you can make them even more attractive with your own custom design.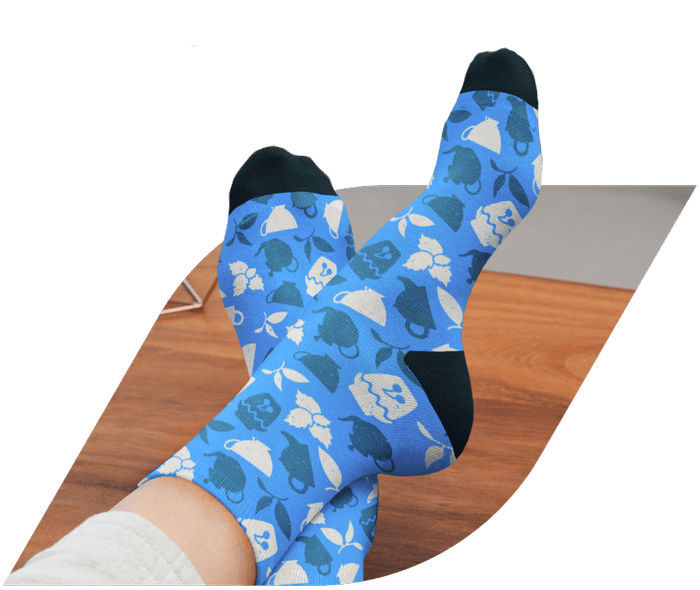 How to Make Personalised Socks
It's easy to use our online mockup generator and create some never-before-seen socks. You can design socks in a few minutes. Our mockup generator will take you through the process step by step. 
Because the socks are custom print, you can be as creative as you like. Each part of the sock can have its own pattern. Once your first design is uploaded you will be ready to get your entire custom sock collection online and ready to sell.
We Have The Best Socks for Your Custom Designs
Our sublimation socks come in three different sizes. They're our best-selling model, and it's easy to see why they're so in demand! They're snug and plush with cushioned bottoms for an extra level of comfort. 
These custom socks got their name because they're printed using a flat sublimation method. This method is perfect for light-coloured prints. The process involves heating a transfer paper with your design to 350 to 400 degrees Fahrenheit. At this point, the design becomes a gas that permeates onto the garment. The result is a high-quality, long-lasting image with bright colors.
Custom sock printing in the US and EU, costs from $7.46.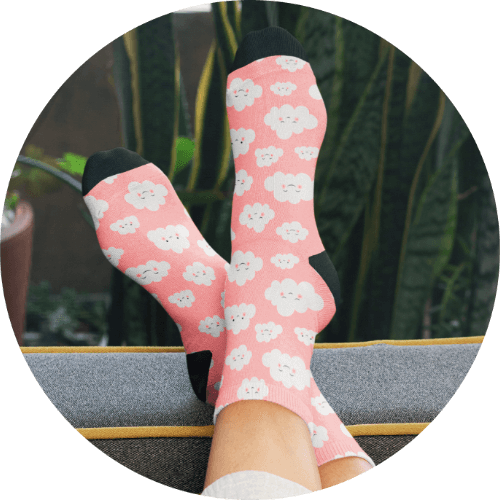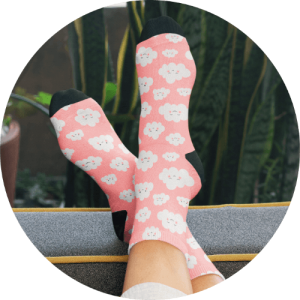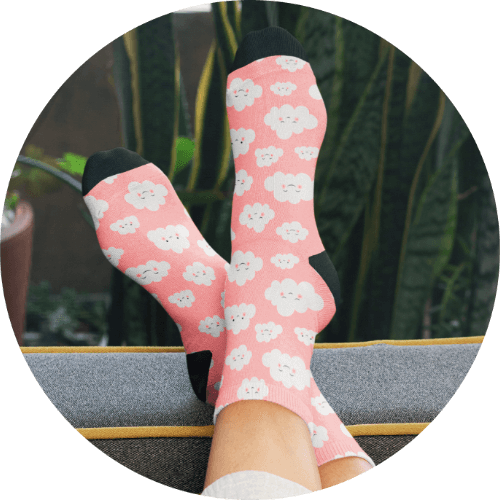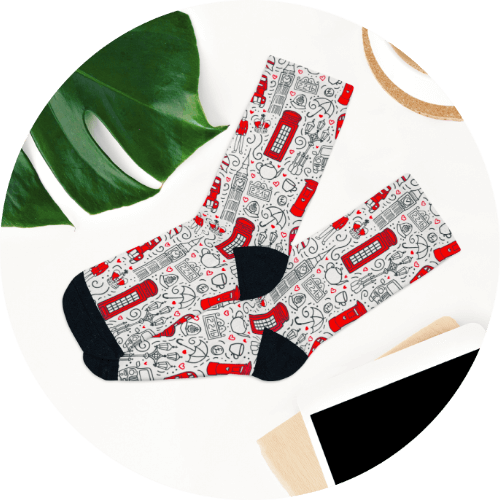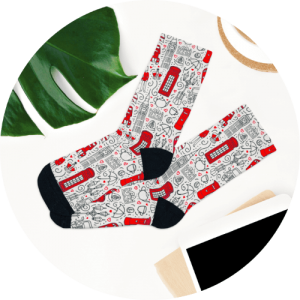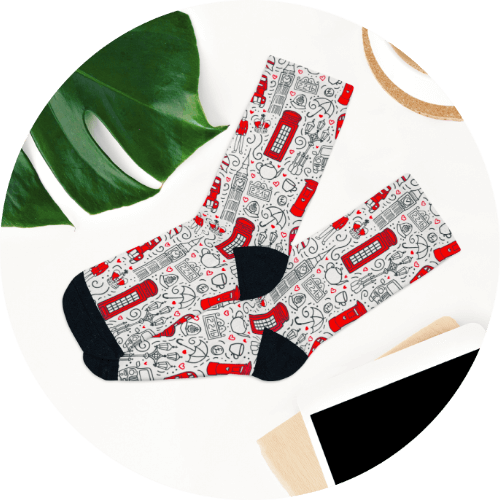 Talk about broad appeal: these socks are one size fits most! They're an eco-friendly choice as they're made from 58% recycled polyester. Nylon, cotton, and elastane make up the rest of the blend, so they'll stay soft and comfortable wash after wash.  
DTG stands for 'direct to garment' print. Using high-quality specialized inks, the material soaks up the ink which results in a longer-lasting, higher quality image. For custom printed socks this is perfect, due to the average amount of wear they receive every day.
Custom sock printing in the US, costs from $10.45.
Start Selling Custom Socks!
Design Custom Socks With All-Over-Print Designs
Did you know that you can print your custom design over every inch of your custom sock? Thanks to our all-over-printing option, eye-catching, attractive, and impactful designs are easily achieved.
Frequently Asked Questions
Start Selling Custom Socks in the UK With Printify
Printify makes it easier than ever to design and sell your own custom socks in the UK. Print on demand means that you avoid any upfront costs or financial risk, and you can choose from a range of premium products to express your brand message.
We use reputable print providers to ensure every product arrives in immaculate condition. Your customers will be delighted when they're delivered! Printify really makes it easy to make some money selling custom socks in the UK.
With your unique designs, customers can put their best foot forward whenever they want. They can add some eccentricity to their everyday wear in the form of cute and colorful custom socks.
Custom socks are such a great addition to an online store. They're a product that absolutely everybody needs — especially during the chilly winter months.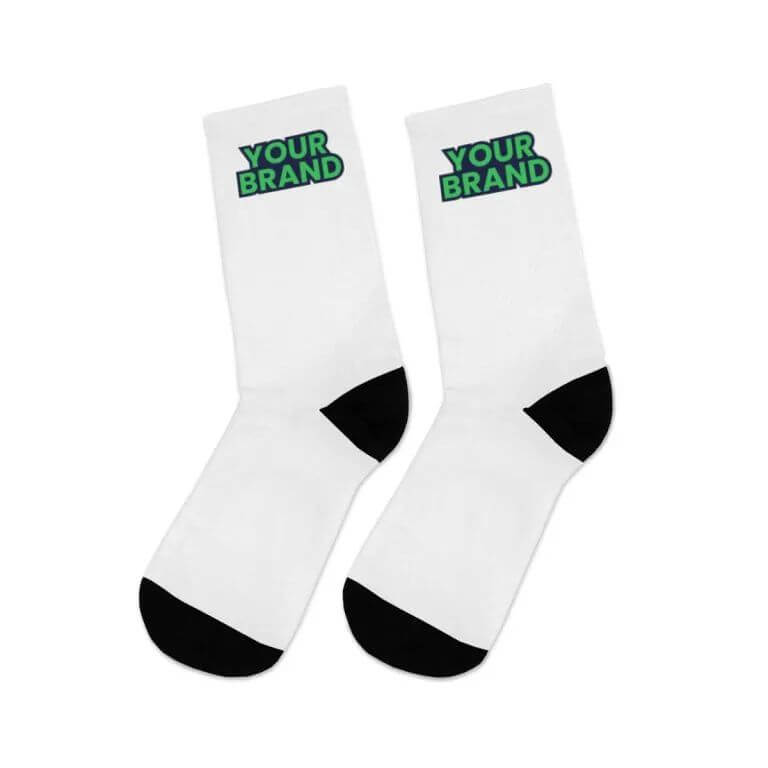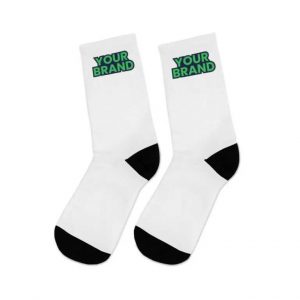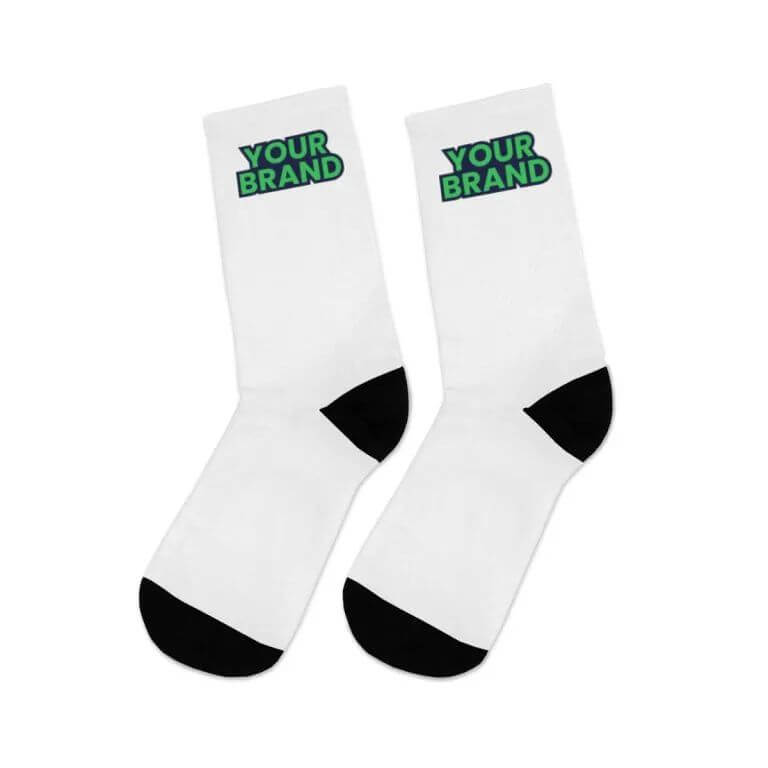 Ready to Sell Custom Socks in the UK?