Start Selling Personalised Socks
Create personalised socks for selling in the UK and worldwide, or make them for yourself. Printify makes it possible and easy. Sell personalised socks today.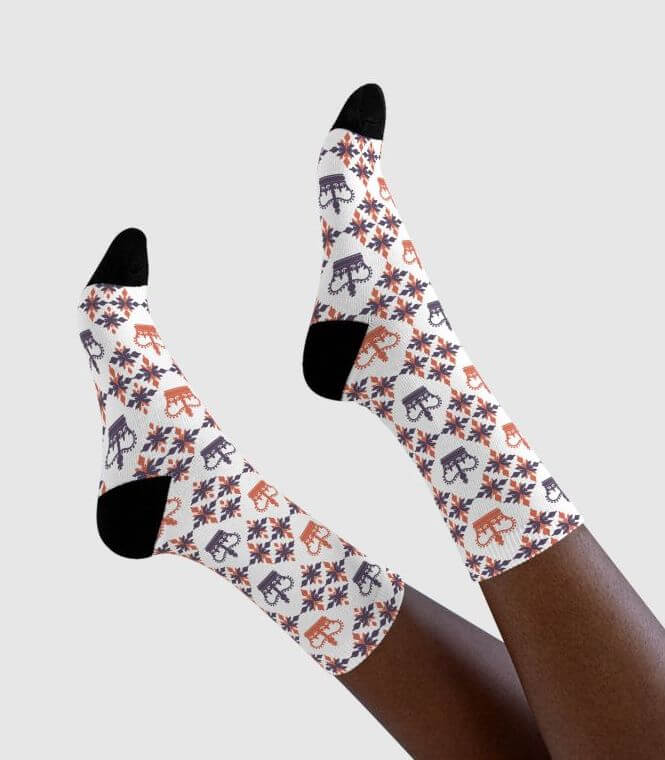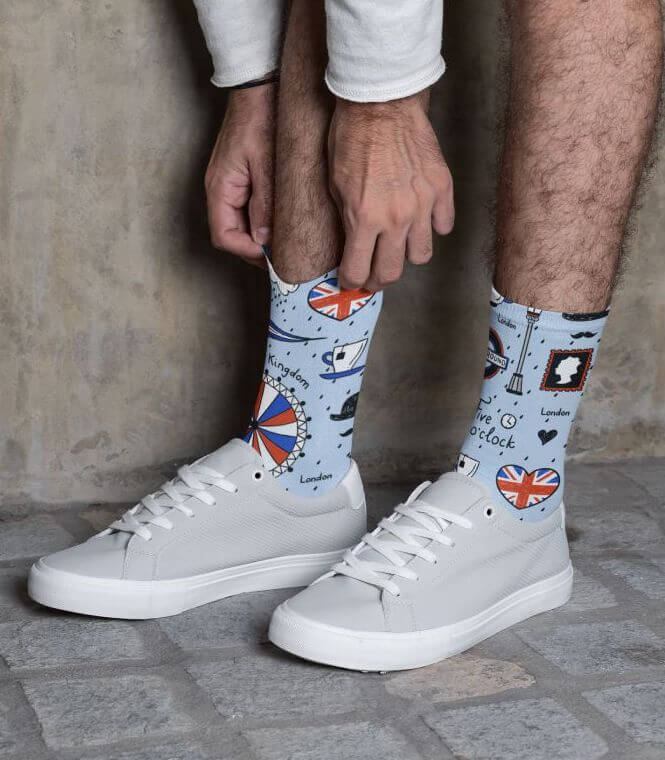 Create Your Own Personalised Socks!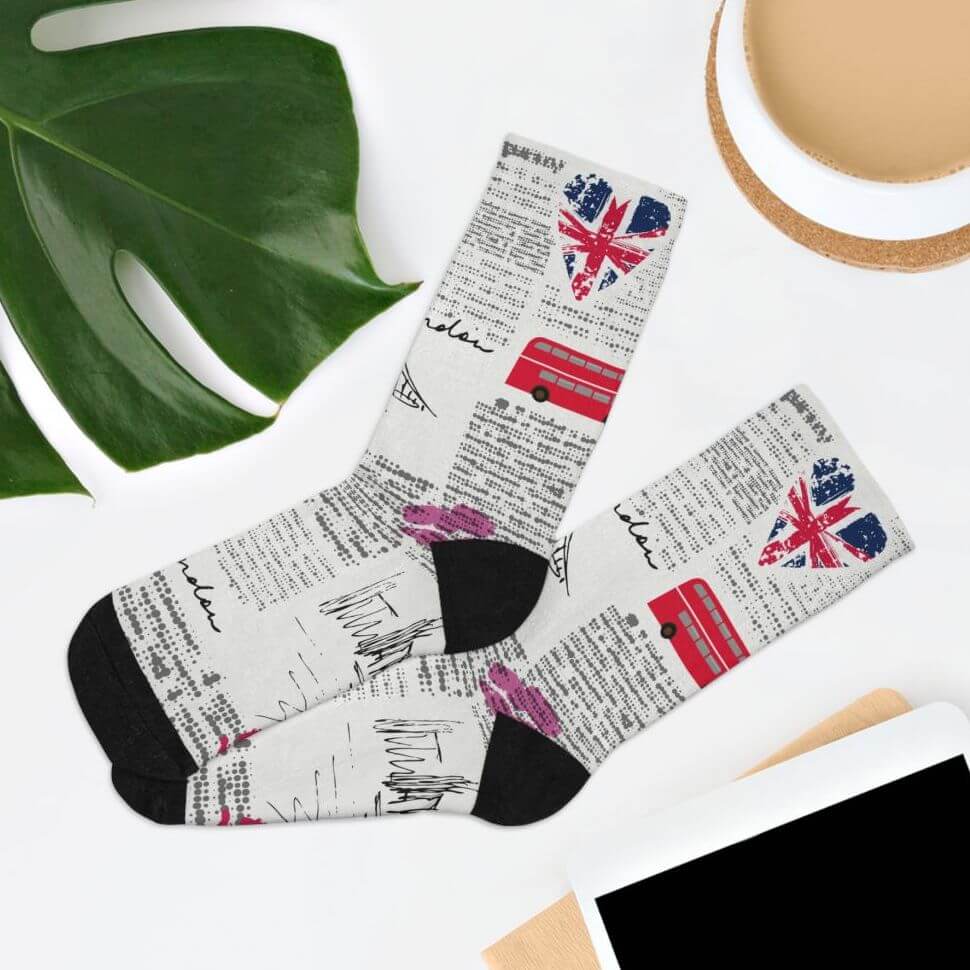 Make Personalised Socks With Printify
It's easy to use our online Mockup Generator and create never-before-seen socks. You can design them in minutes. Our Mockup Generator will take you through the process step by step. 
As the socks are custom printed, you can be as creative as you like. Each part of the sock can have its own pattern. Once your first design is uploaded, you'll be ready to get your entire custom sock collection online and ready to sell.
We Have the Best Socks for Your Custom Designs
These personalised socks got their name because they're printed using a flat sublimation method. This method is perfect for light-coloured prints. 
The process involves heating a transfer paper with your design to 350-400 degrees Fahrenheit. At this point, the design becomes a gas that permeates the garment. The result is a high-quality, long-lasting image with bright colours.
DTG stands for 'direct to garment' print. Using high-quality, specialised inks, the material soaks up the ink, which results in a longer-lasting, higher-quality image, less prone to small flecks of white. 
This is perfect for custom-printed socks due to the average amount of wear they receive daily – any pattern or solid colour printed in the pair will stand. 
Our DTG line also offers eco-friendly socks.
Start Selling Personalised Socks in the UK
How to Design Personalised Socks
Did you know that you can print your custom design over every inch of your custom sock? You can even produce a pair of printed socks with different designs on the right and left foot. 
Our quality Print Providers handle the manufacturing with all-over-printing options, delivering eye-catching, attractive, and impactful designs.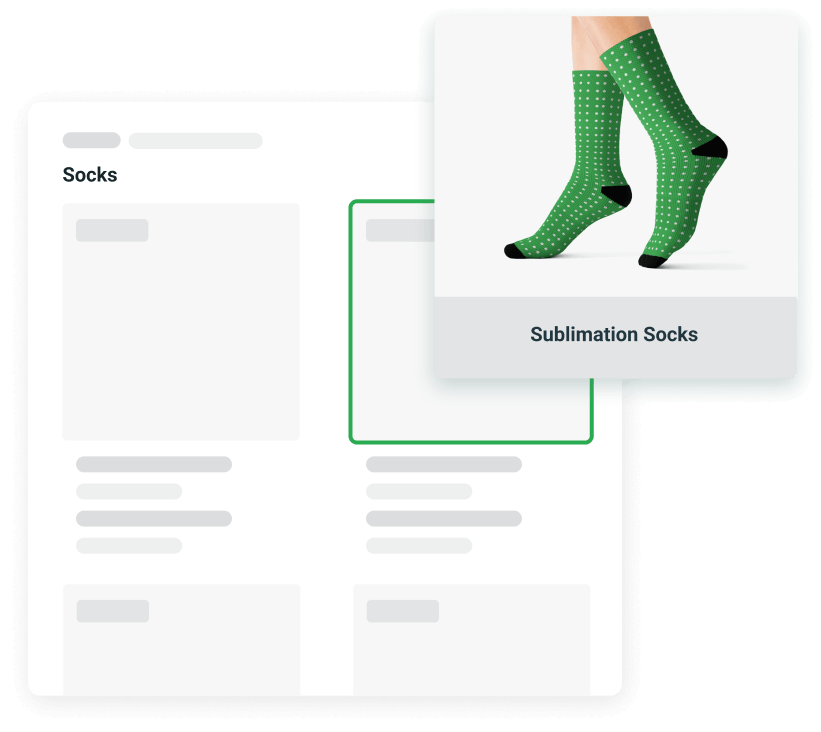 Why not target a particular market, design a novelty range, or theme your socks around holidays and special events? Choose one of the following options for designing and printing socks:
Create designs yourself or with the help of an expert. 
Choose from more than 300 million high-quality images without upfront costs. Adjust them with the built-in Shutterstock Editor, and don't worry about licences and fees – all images come with a commercial licence, and $0.99 per image will be added to the product price only when ordered.
Printify's free library includes holiday designs, pets, chill, retro vibes, abstract shapes, and plenty more funky designs and graphic assets for creating instant best-sellers.  
Once you upload or pick the right design, you can adjust, resize or move it around using the Mockup Generator or change the sock's colour.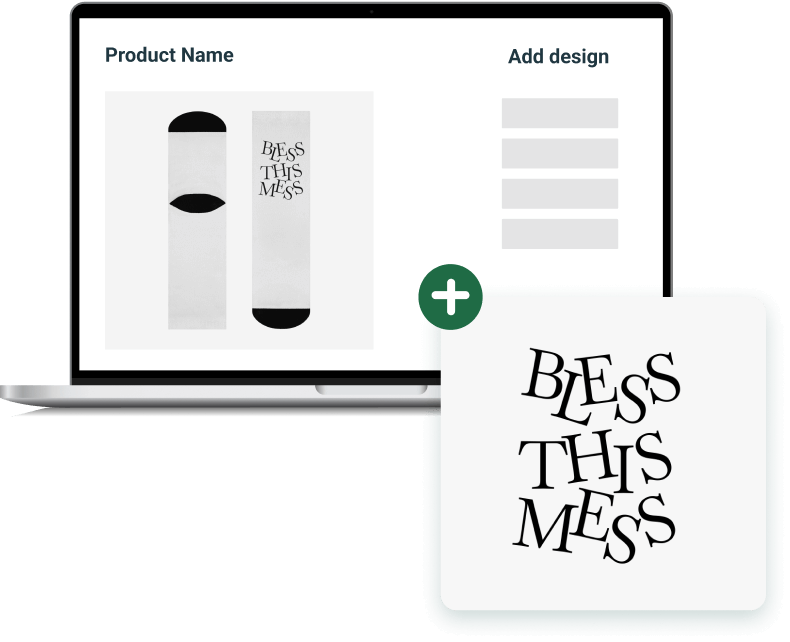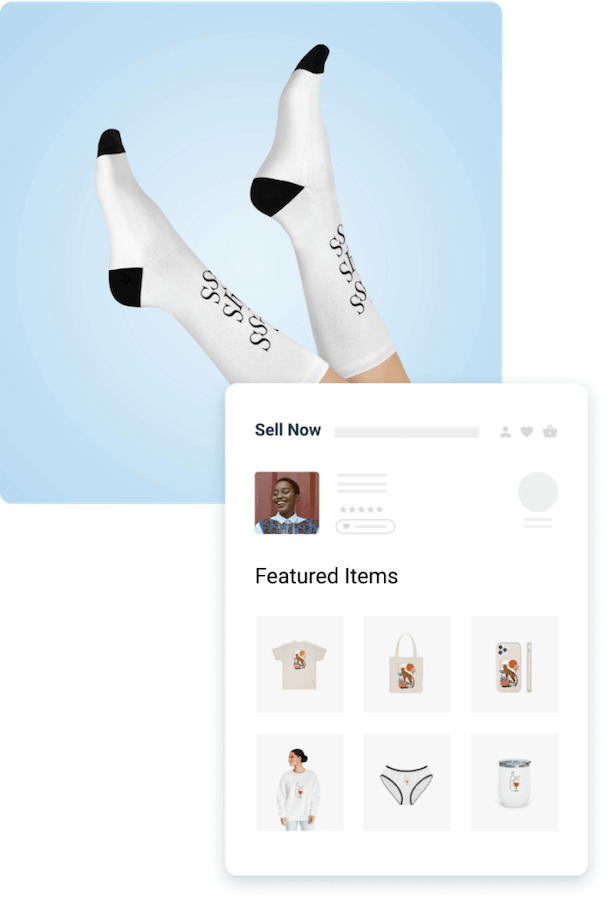 Connect Your Store and Start Selling
You don't have to wait to sell. Printify's no minimum order policy means customers can place orders right away. Individuals, small businesses, and large companies may produce and sell printed socks without upfront costs. 
Connect your Printify account with the leading eCommerce platforms and start selling socks in the UK. 
Printify integrates with:
These marketplaces have internal rules and policies and don't offer customised storefronts. However, they provide a vast following and traffic from the start and no subscription fees.
These eCommerce website builders will help you create a standalone eCommerce website without the restrictions of marketplaces. Your main challenge will be generating traffic. 
These are open-source platforms that give full ownership of an eCommerce website. Unveiling their full potential may require the eventual purchasing of themes and plugins. They are recommended for tech-savvy and experienced users, as they require a steep learning curve.
Do you still need additional personalisation? Check out Printify's custom API.
Printify Is Trusted by More Than Two Million Merchants Worldwide With More Joining Every Day
I don't have to invest the money I can't lose into my business. With Printify, I only pay the fulfillment fees, and the rest is all profit.
I really appreciate working with Printify on my brand. Afro Unicorn was only supposed to be my design on a white shirt. It is so much more. Printify allows me the time to run the business and not work in the business.
Printify helped me start a completely hands-off revenue stream. When you spot a niche that you want to enter quickly, you don't have to worry about buying stock or equipment.
Printify Premium has helped my profit margins tremendously, and spending $20 a month has probably saved me over $200 a month.
Using Printify saved our struggling business of 6 years and gave us more time with our family.
I like Printify products because they tie in with our organisation's message.
I love the Printify Mockup Generator. It keeps everything consistent and allows me to keep my brand looking sharp and professional.
Start Selling Personalised Socks in the UK
Design Ideas for Custom Sock Printing
Plain socks keep your feet warm. Personalised socks keep your feet cool. Women's stockings, personalised men's socks, face socks, holiday and Christmas merch – the potential for best-selling products with socks is limitless. 
Here are some design ideas for you to make and start selling in no time.
Funny socks are the perfect gifts for close friends and the whole family. Pick the right colour and fabric and create a pair of socks with funny quotes, jokes, or photos. Personalised face socks, for instance, are trending and can be hilarious.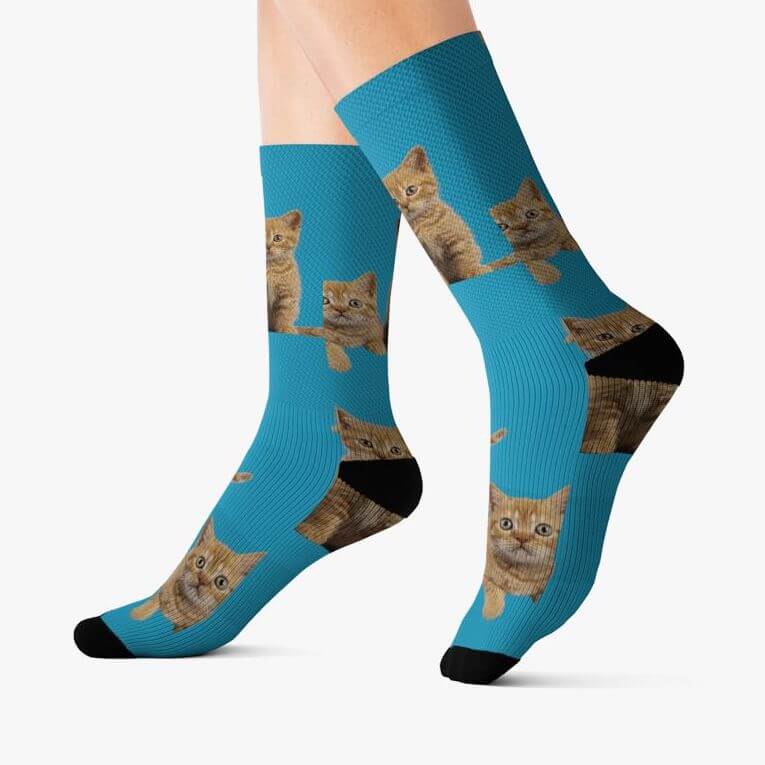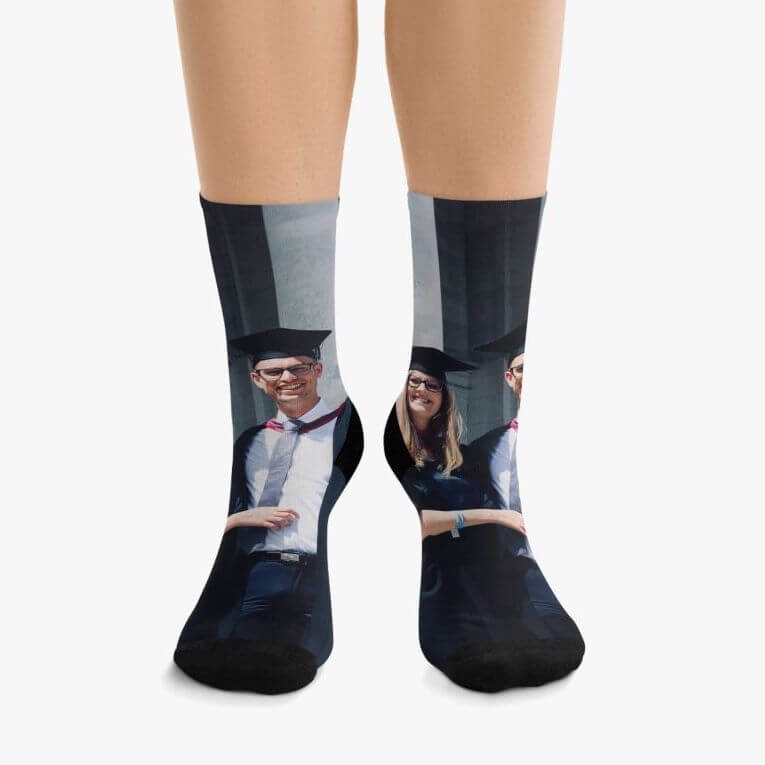 Personalised socks with photos can make terrific gifts and convey a range of feelings to those close to you. Use them to commemorate and remember precious moments such as the birth of a baby, graduations, or anniversaries, or create unique funny socks with faces or other photos. Also, socks with sons' and daughters' pictures will make the day for moms and dads.
Remember that it's also possible to use a different colour or picture for each foot to add extra customisation.  
Socks With Original Artwork
Original artwork will make the most stylish personalised socks. Of course, that will depend on your skills, but it's always possible to hire an expert designer to create remarkable and artistic pieces of clothing for you or your customer's feet.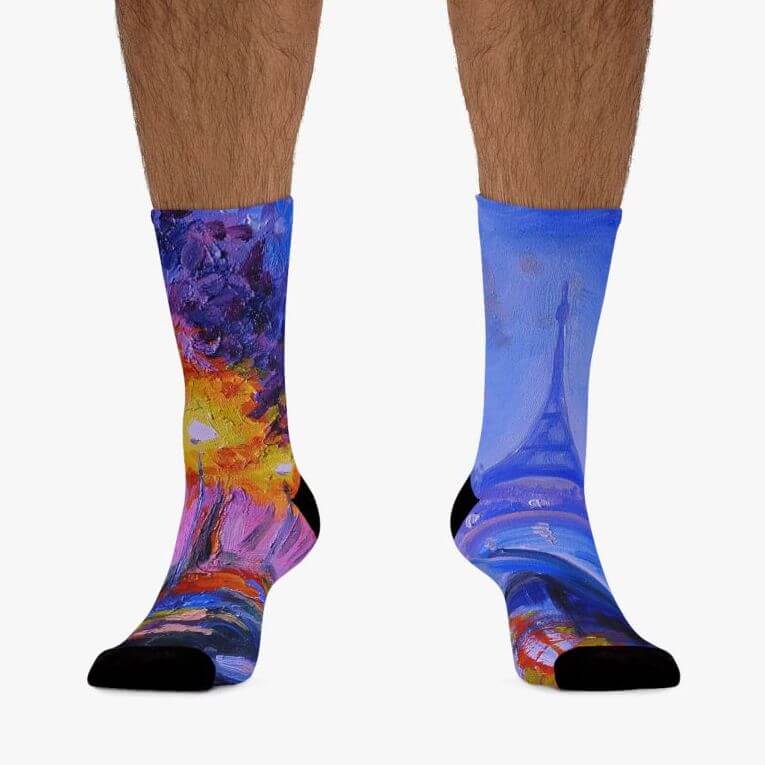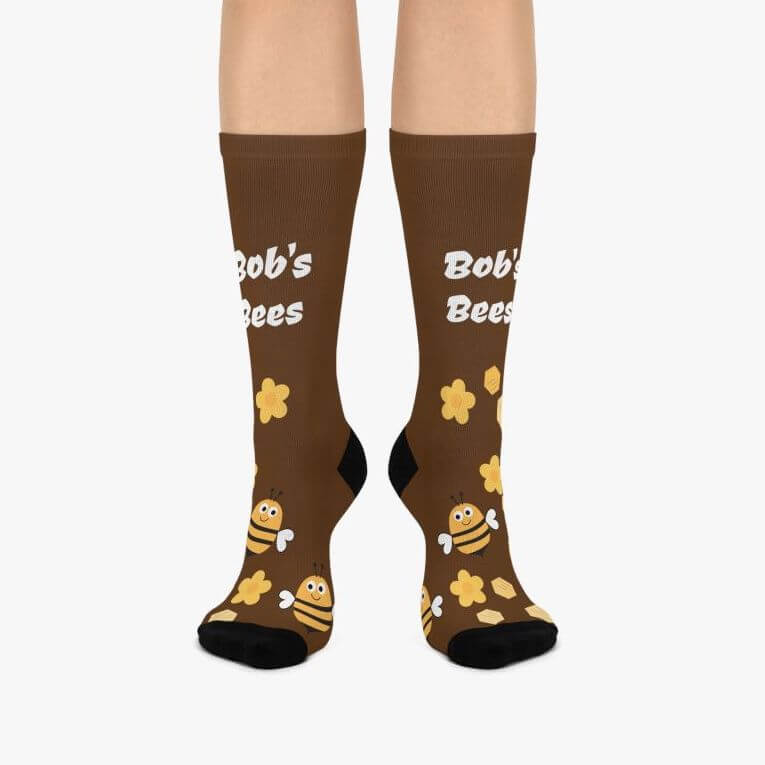 Finally, consider also offering socks with a logo or trademark for offering business merch or uniforms. 
Frequently Asked Questions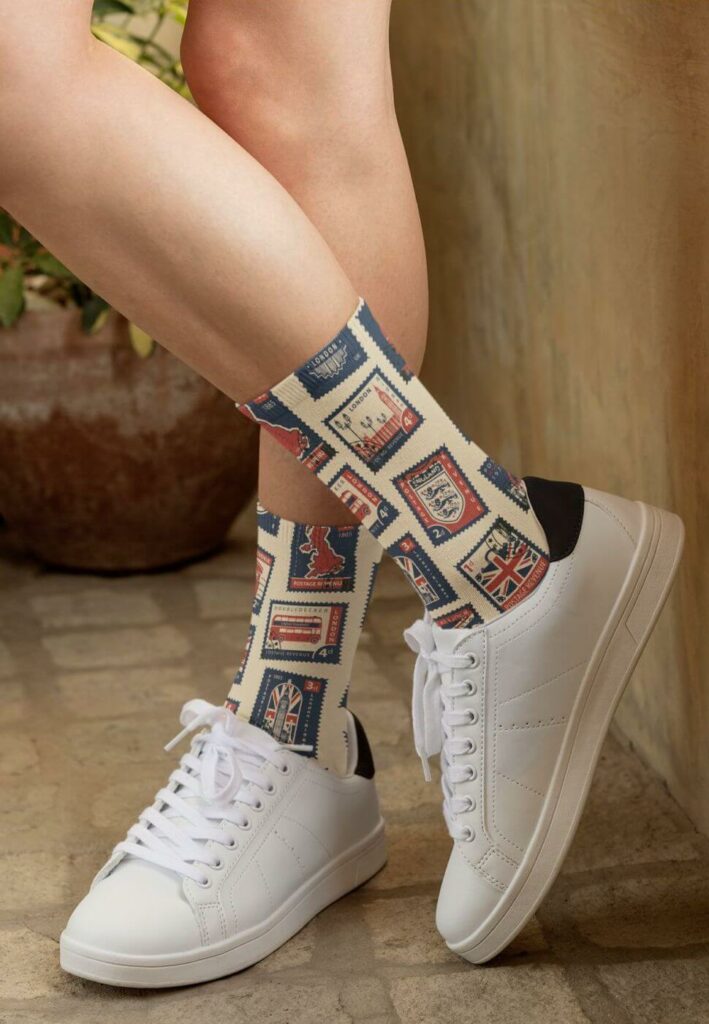 Start Selling Personalised Socks in the UK With Printify
Printify makes it easier than ever to design and sell your personalised socks in the UK. Print on demand means you avoid any upfront costs or financial risks, and you can choose from a range of premium products at the best price to express your brand and business.
We use reputable print providers to ensure every pair of personalised socks arrives in immaculate condition. Your customers will be delighted when they're delivered. Printify makes it easy to make some money selling personalised socks in the UK.
With your unique designs and the right fabric and colours, customers can put their best foot forward whenever they want. They can add some eccentricity to their everyday wear in the form of stylish and colourful custom socks.
Personalised socks are such a great addition to an online store. They're a product that absolutely everybody needs — especially during the chilly winter months.
Check Out More Products From Our Catalog
From fashion to home decor, explore the depths of our Product Catalog to find the best items for your shop.
Ready to Sell Personalised Socks in the UK?