What could be more quintessentially British than a good cuppa tea? Improve the everyday tea ritual with personalised mugs for every taste, person, or special occasion. Create different designs for the morning brew and customise cheeky mugs to start the day with a smile.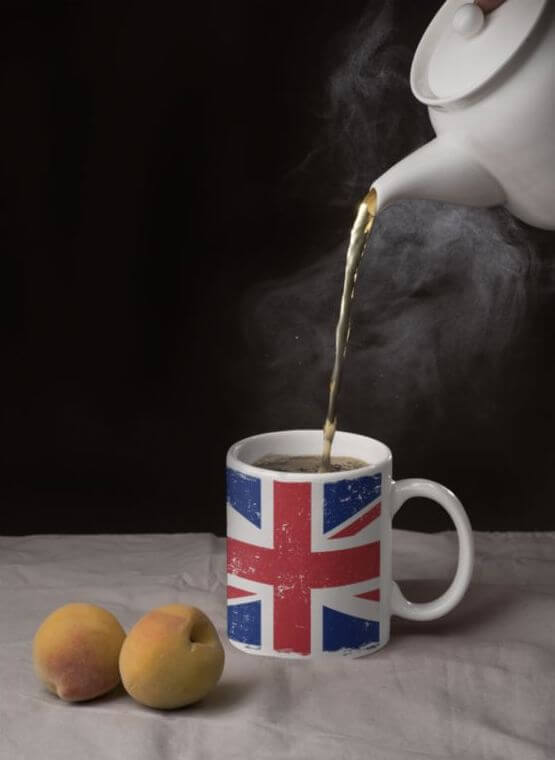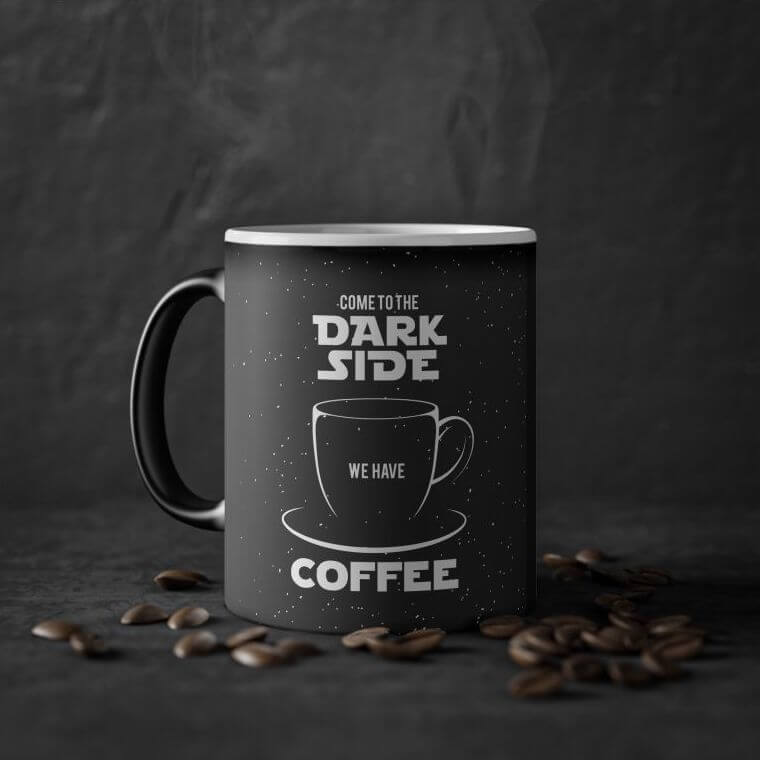 Custom Mug Printing With Printify
Create Your Own Custom Mugs!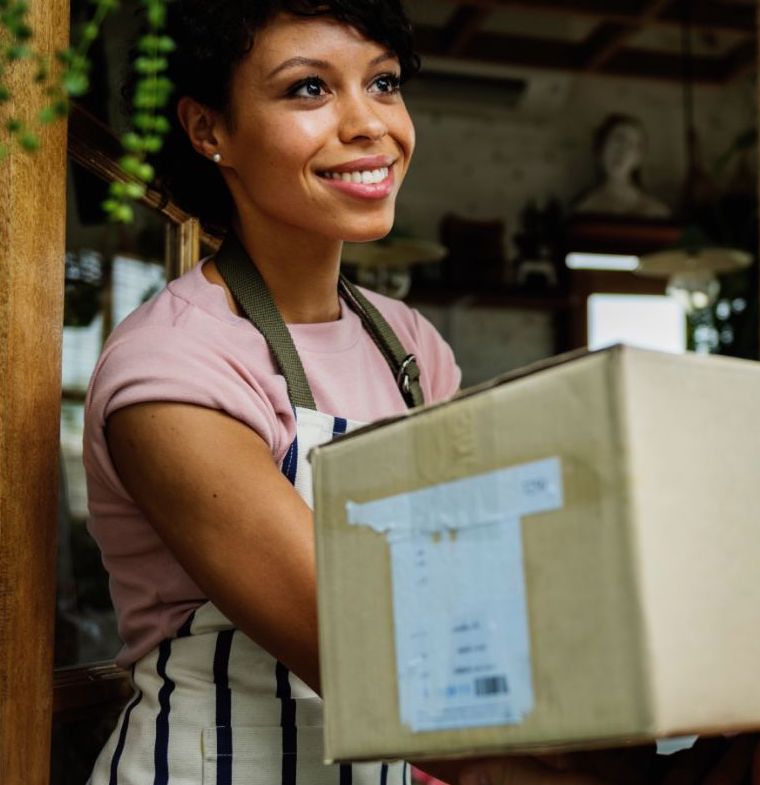 Custom-Printed Mugs With No Minimum Order
Create your personalised photo mugs, promotional ones, funny mugs, or any other types, and order them in whatever quantity you want or need. Each order is custom-printed on demand, allowing complete freedom in quantities.
From one personalised mug to a couple of them for friends and family, or a whole bundle for work, charity, or other types of events. Single and bulk orders are a go for print-on-demand mugs. Most are even bulk-discount eligible.
Create Your Mug in Three Simple Steps
Customise mugs for birthdays, Mother's Day, anniversaries, or other occasions. A personalised mug will be a great gift idea, and you can make one in three simple steps. Join Printify, choose a mug to customise, and create unique designs with various elements.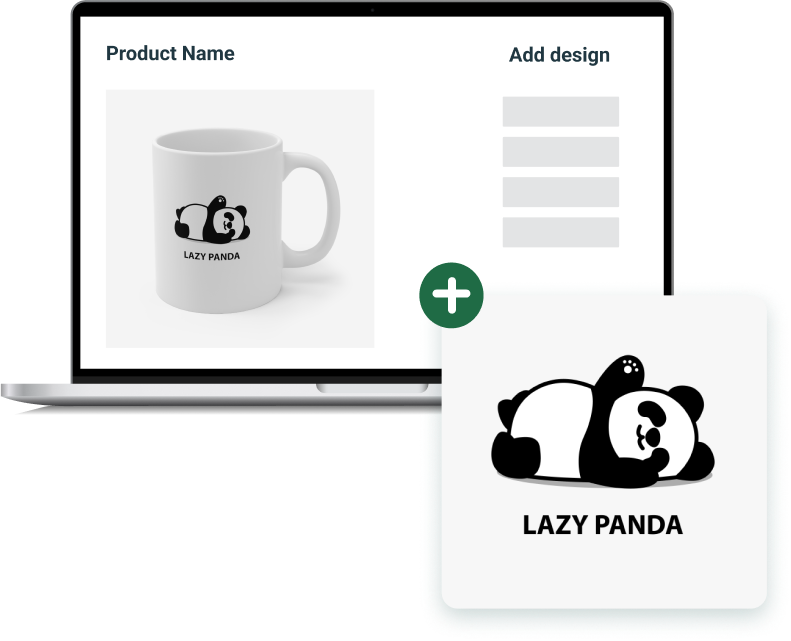 Register on our platform using an email address and fill in the blanks to create a Printify Account. For even better deals, check out Printify Premium. It will ensure a 20% discount on all products, allowing you to create cheap personalised mugs with higher profit margins – still ensuring top quality.
Our Catalogue is the right place to get inspired. We have a vast selection of mugs – for every style, occasion, and type of use. Rest assured, it will have something for everyone, from durable camping and travel mugs to coffee mugs for the office and even magic mugs for a special loved one. Choose a mug to match your needs and intentions, and click Start designing.
The Mockup Generator will not only provide you with file requirements for top-quality images it will also equip you with epic tools to create unique patterns, pictures, texts, and overall designs. Simply add an image, create layers, add text, change colours, and do just about anything else to match your ideas with our mugs.
Personalised Mugs From Our Catalogue
Let's dive into the range of mugs offered in our catalogue. From different colour options to styles, types, materials, and types of use. We have it all. Explore our personalised mug collection and get creative with your designs.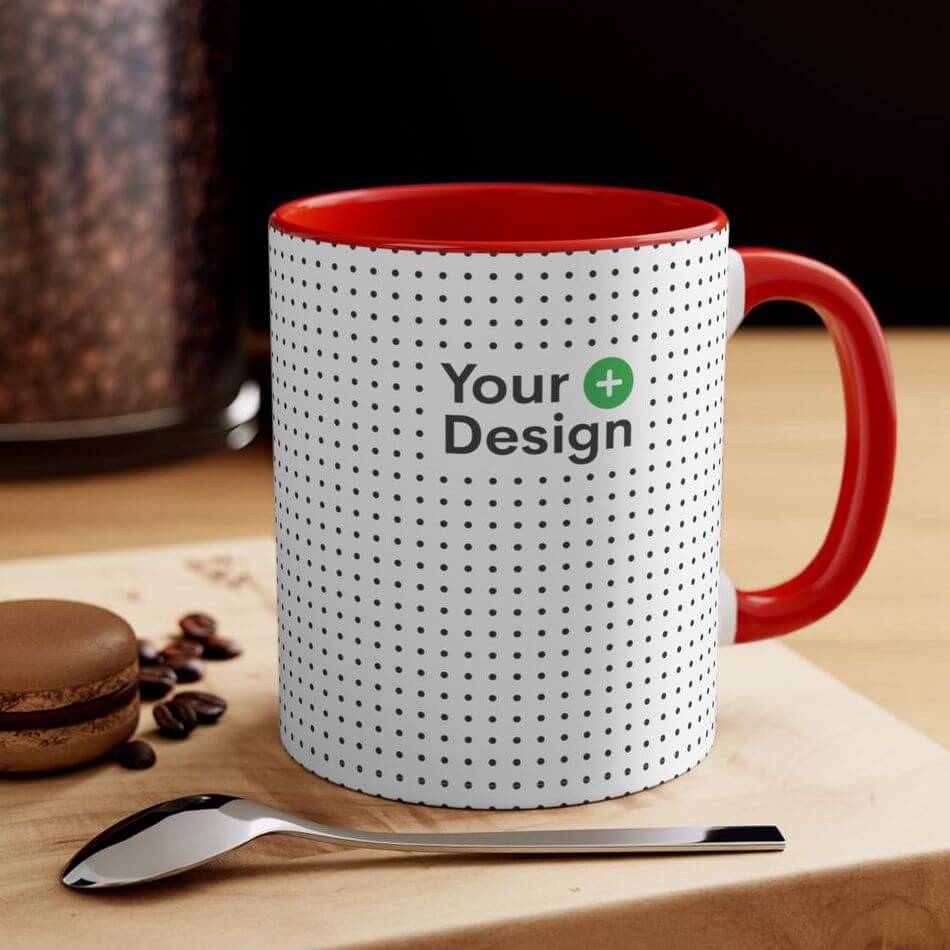 A regular white mug will be the ideal canvas for your artwork. Custom mugs are the perfect way to start a day with a nice hot beverage and a smile. We have a wide range of coffee mugs. Two-tone ones, accent mugs, 11oz, jumbo mugs, cups with heart-shaped handles, and more.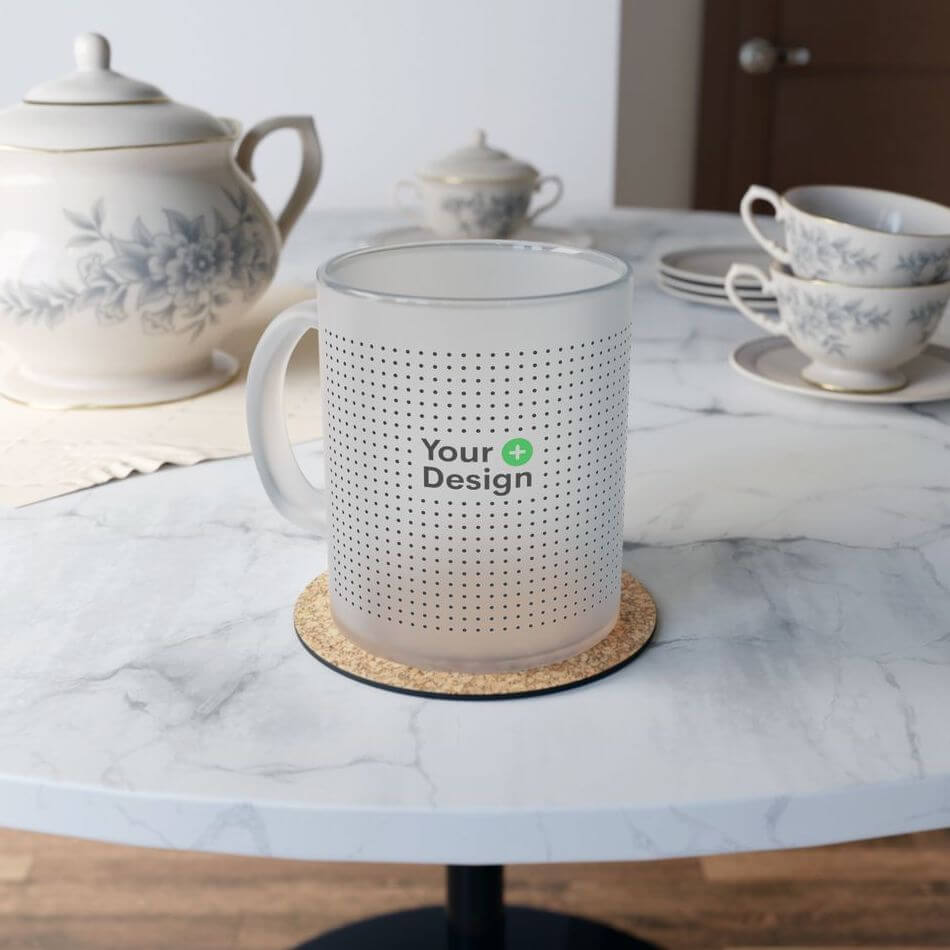 If traditional ceramic mugs aren't your thing, you can always fancy it up with glass mugs for tea, coffee, and other beloved beverages – hot and cold. Let every mum, dad, or even the grandparents enjoy a cup of tea from a unique glass mug before the kids get up. We have different styles for different vibes.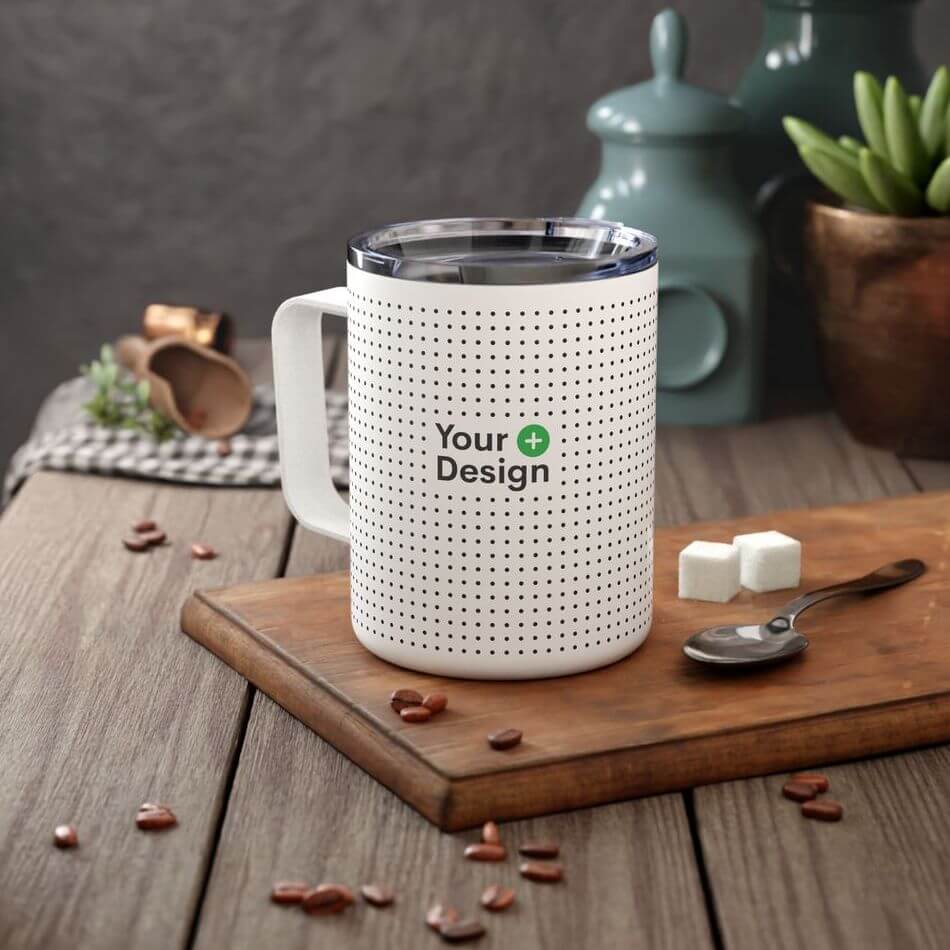 Personalised Travel Mugs and Tumblers
Grab your favourite drink while out and about. Custom-printed travel mugs and tumblers will be great companions, reminding people of their loved ones, hobbies, interests, and memories while on the go. From a daily commute to road trips, our travel mugs will keep friends and family refreshed and entertained with custom designs.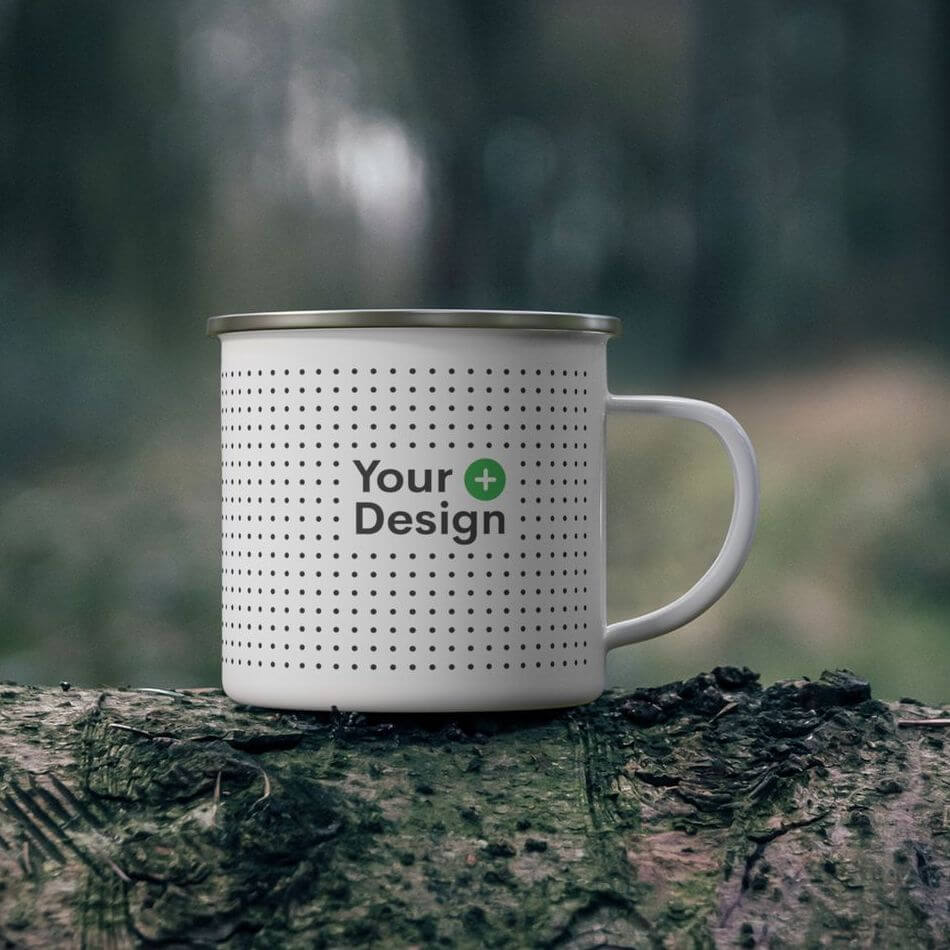 Improve the camping experience in the UK with customised enamel mugs. Create a collage mug with nature elements or cover them in fun designs with inspiring messages. Our enamel mugs will ensure quality and durability throughout the wildest adventures. Bring the heat with you in both – the thermos and your designs.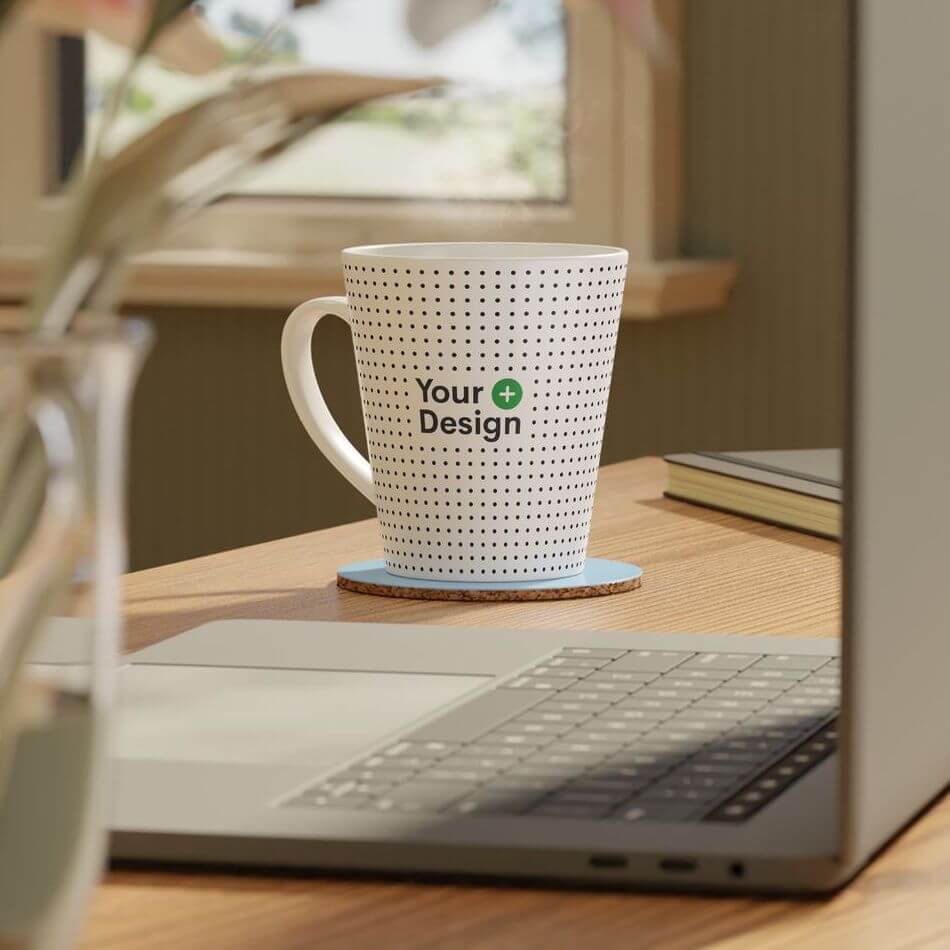 Those who enjoy a different range of coffee know that each type deserves its own cup. A latte mug with the right caption can be the perfect gift for a true latte fan. The elegant shape comes with a scratch-resistant finish, dishwasher and microwave-safe body, and long-lasting image print.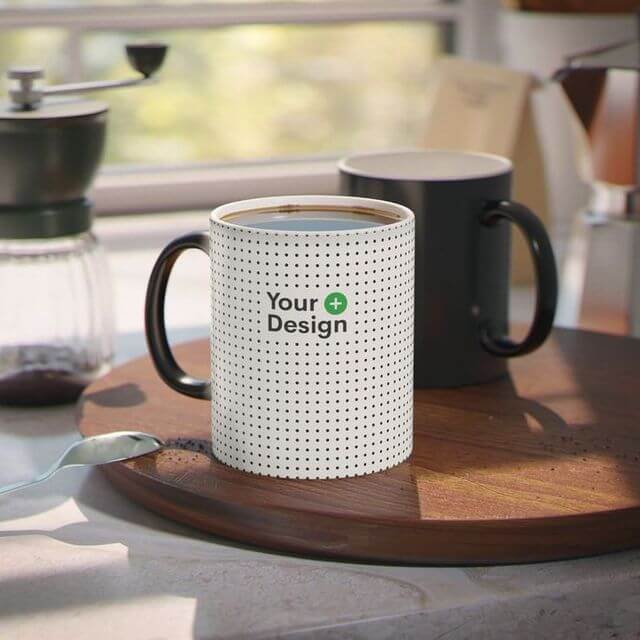 Customised mugs can also bring a little magic into every home, kitchen, or workspace with the right features. And we have them all. Our colour-changing magic mugs will bring the heat and keep it, revealing unique image patterns and messages underneath. The heat-reactive design will be a fun gift for mum, dad, and everyone else who can use a little magic in their life.
Start Selling Custom Mugs in the UK
Design Ideas for Personalised Mugs
A range of personalised mugs asks for a range of designs. Adjust each style to different people and occasions and dominate the eCommerce market or your gift game with custom mug designs. In case you're low on inspiration, we've got you covered. Below are five trendy and fun ideas for your custom mugs.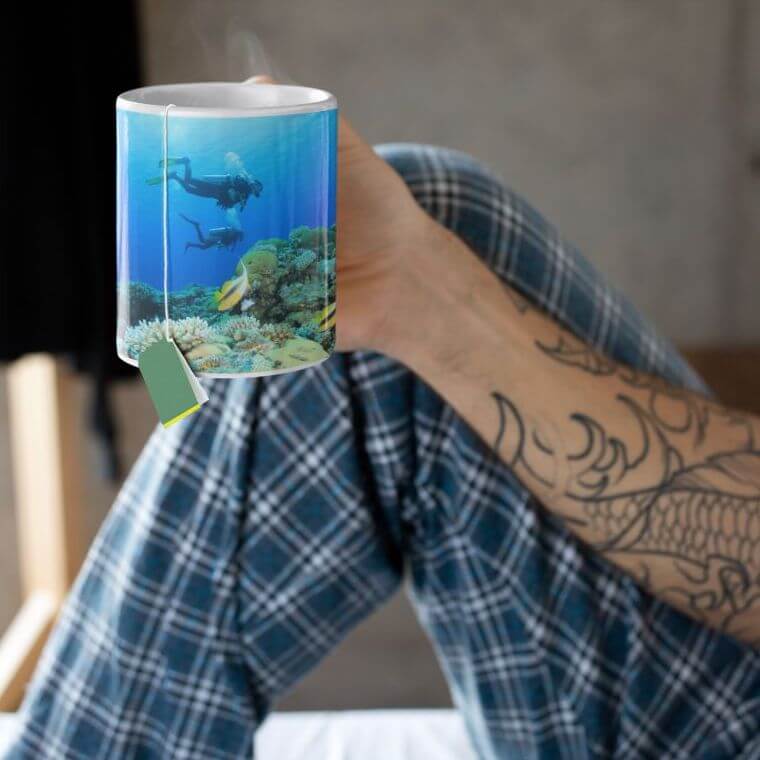 Photo mugs or photo collage mugs are a great way to preserve memories in a unique and long-lasting way. It's the perfect birthday, Mother's Day, or anniversary gift. Photo mugs can be lovely, funny, or simply beautiful. From pets and family to sceneries and more. Snap a photo and put it on a mug – it's that simple.
Names are another way to make a gift extra special. And not just names, but titles as well. Every "World's best dad," "Little Princess," or "Wifey" will appreciate a custom mug. And while we're at it, don't forget about numbers too. A special birthday can be commemorated with a mug as well.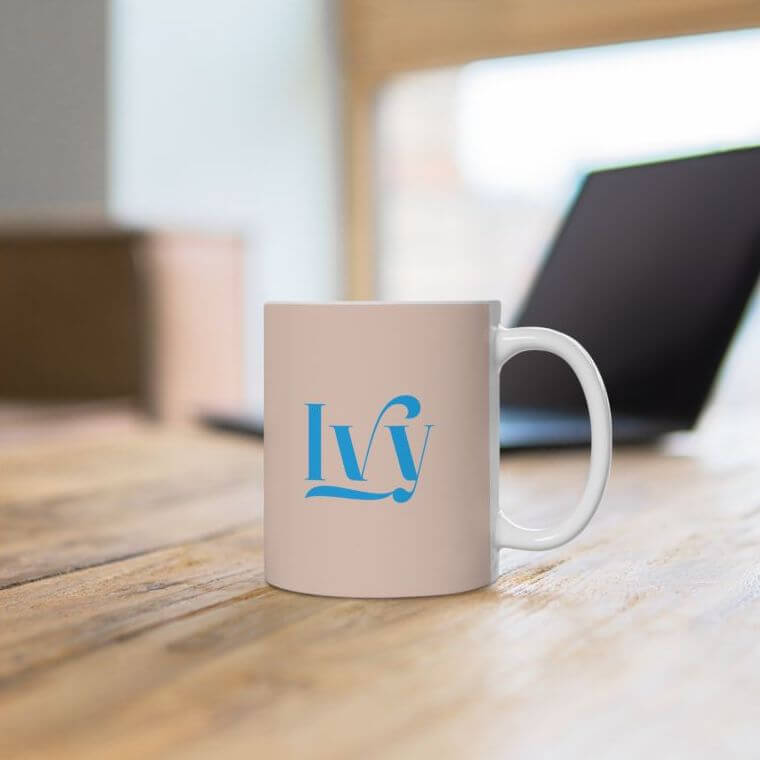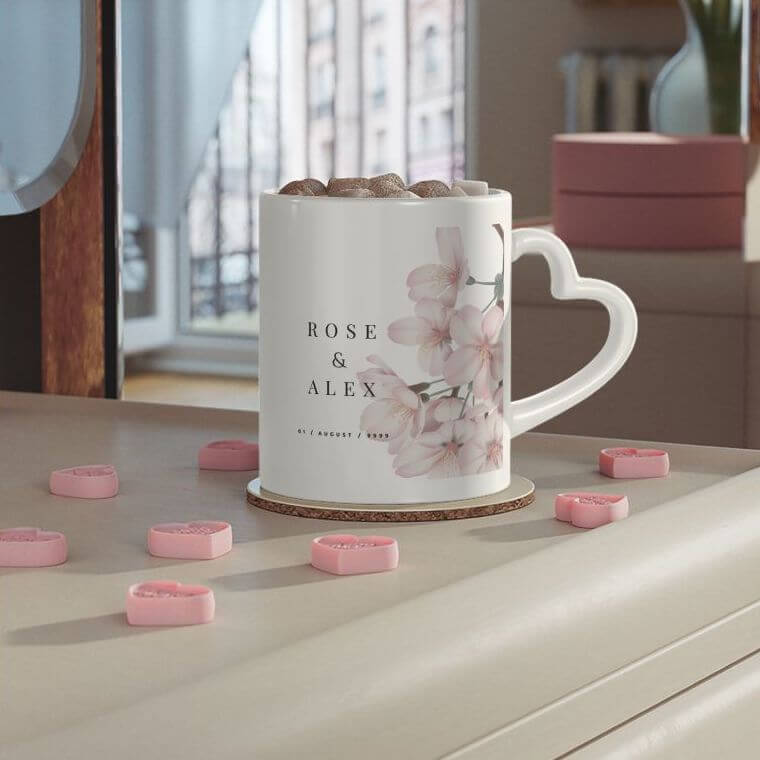 Personalised Mugs for Special Occasions
Design Christmas mugs, customised mugs for weddings, birthdays, or anniversaries. Create magic ones for Halloween, Valentine's Day, or Independence Day, or pick unique designs for any other local or global special occasion. The design world is at your fingertips.
If an image is not enough, add words to it, from cheeky dad jokes to humorous sayings and personalised texts. Add a little spice to your custom mugs with amusing and whimsical elements to start the day with a smile.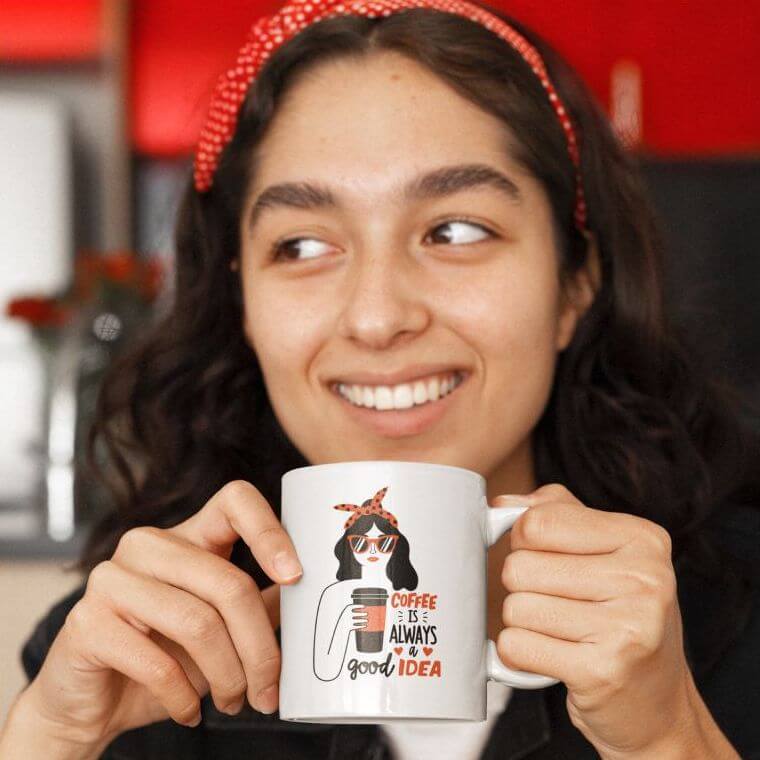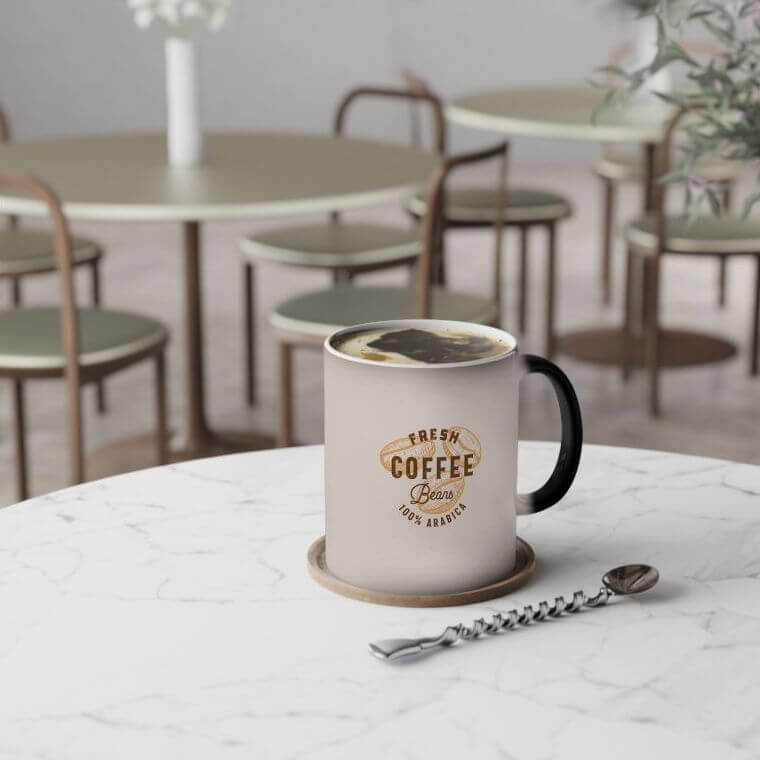 Promotional mugs are a great way to spread brand awareness and appreciate your employees. These can be gifts and promotional materials at fairs, business meetings, open-door events, or presentations. Create personalised mugs with company logos, names, monograms, and more.
A product like a mug is a great start in the eCommerce world or an addition to an existing product scope due to its universal appeal. And you can make it even more attractive with your individual design.
that's where the global drinkware market is headed in 2023, indicating that there's plenty of demand for custom mugs. If you were looking for a sign to start a business selling personalised mugs, this is it.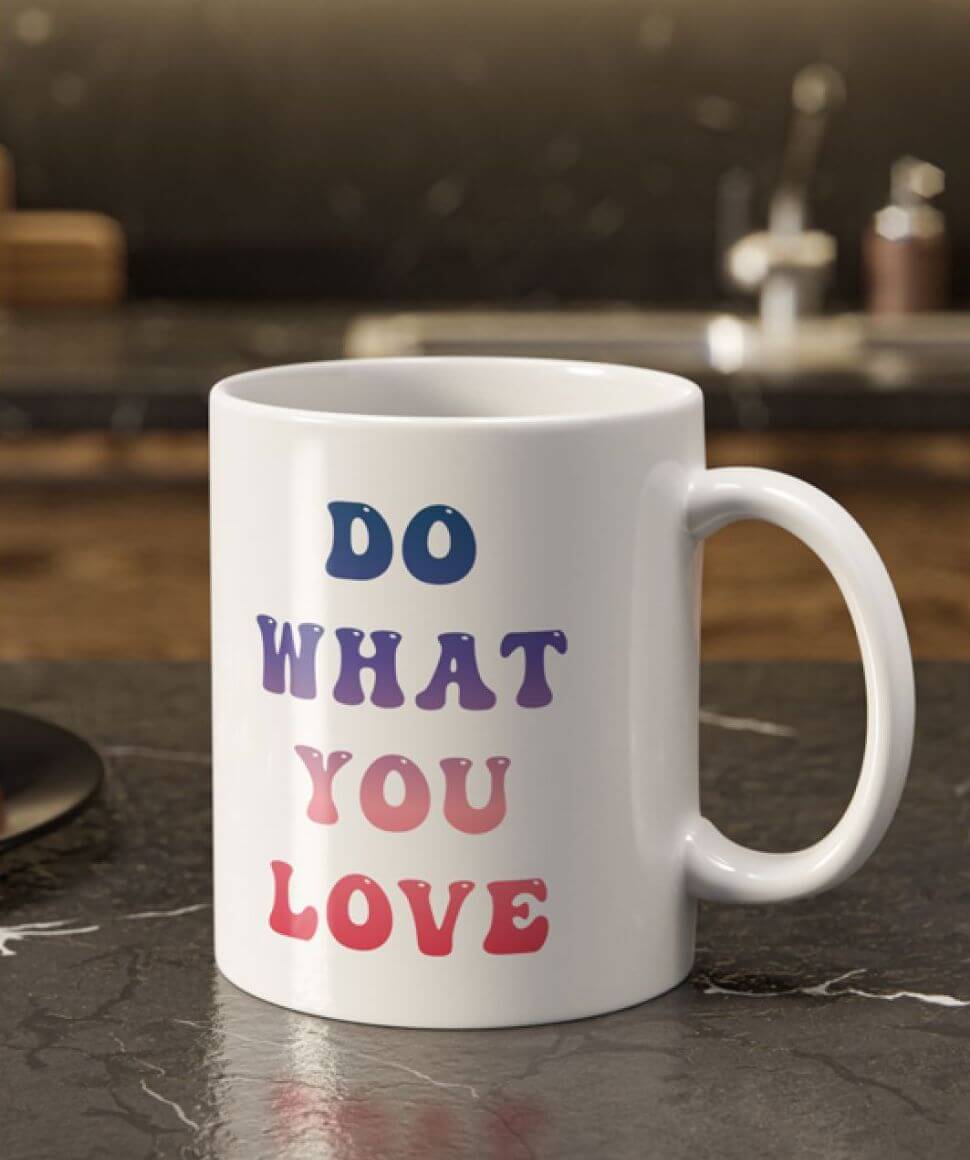 Sell Custom Mugs With Printify
Join Printify and enjoy all of our platform's magical benefits – aside from magic mugs.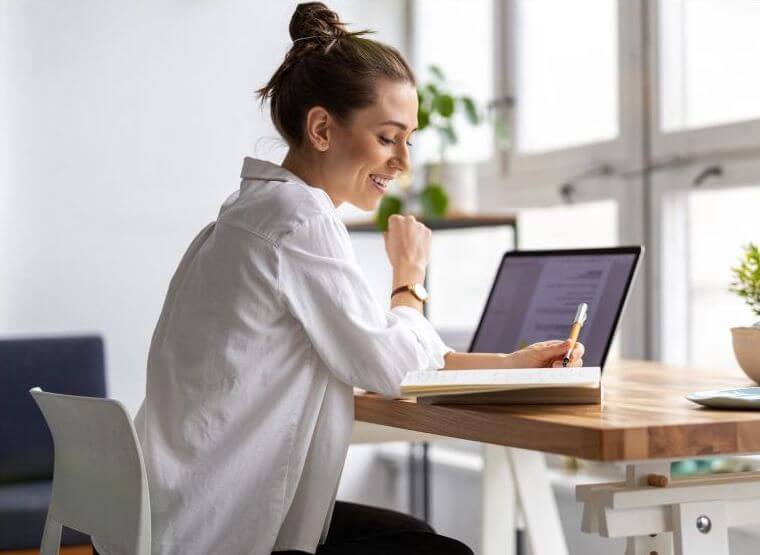 Frequently Asked Questions
Start Selling Custom Mugs in the UK