How to Start a Business With No Money in 2023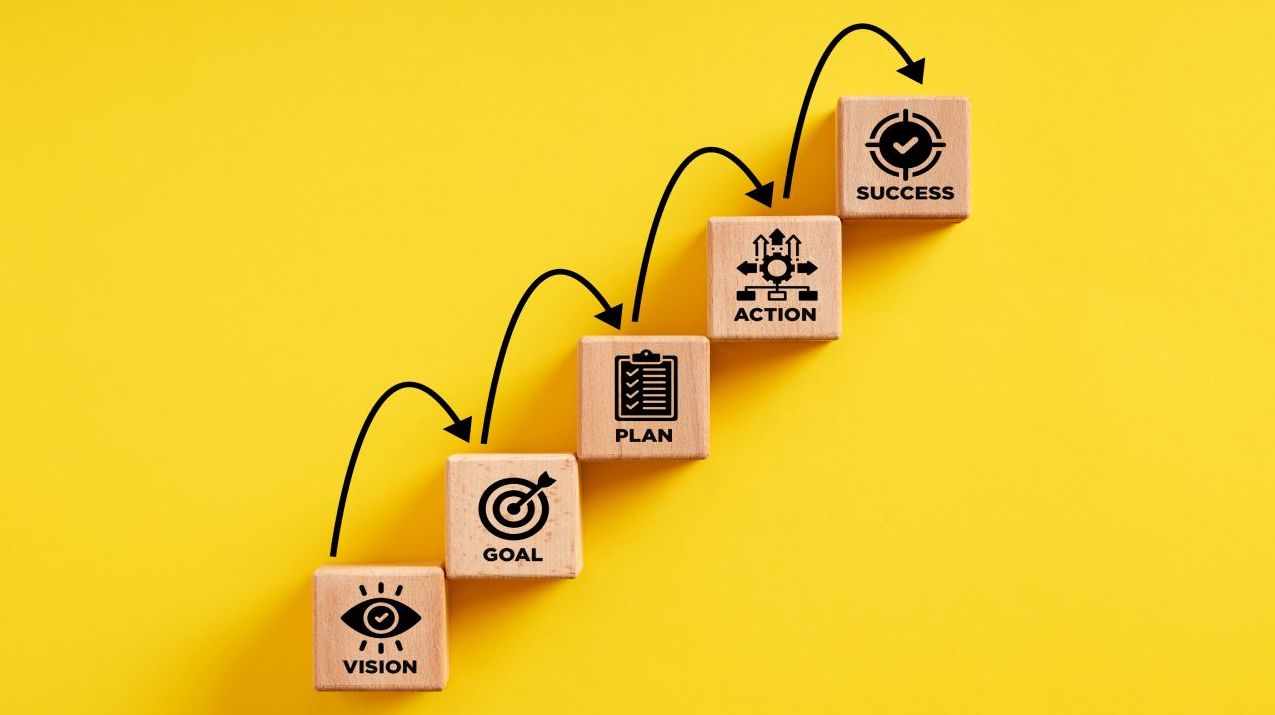 Many people would like to be their own boss and move away from a full-time job, or at least to have a side business for some extra cash. However, starting a new business venture may look daunting, especially for those with little or no money. 
In this article, we will teach you how to start a business from scratch, with no money. We'll guide you through the essential steps, from picking a business idea to writing a plan and setting up an online store.
With the right approach, a great idea, and persistence, you'll have your small business running in no time. 
How to Start a Business With No Money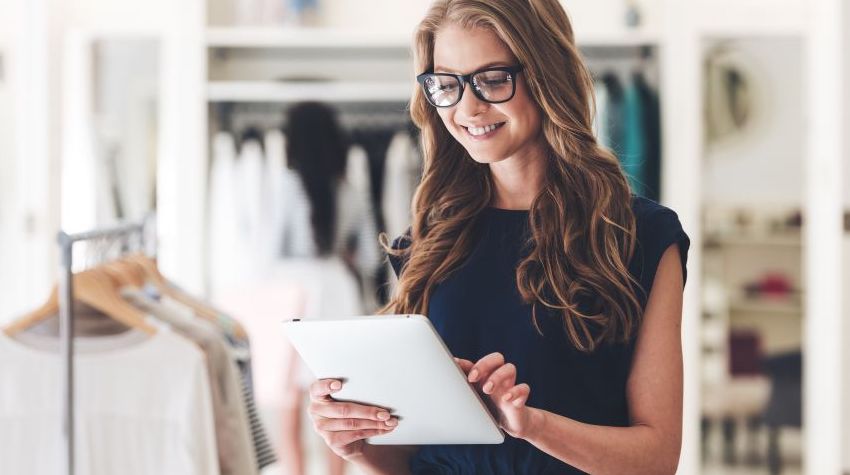 No matter how small, most businesses require some form of investment: time, effort, or money. 
However, if you are willing to put in the work, starting your own business can be a rewarding experience and a great way to create financial stability. 
Here we share some tips to make that journey easier. Online business ideas without investment have a natural edge as they offer more flexibility and don't require startup capital for offices, personnel, and facilities.
1. Choose and Vet a Great Business Idea
The first step to developing a business idea is identifying a need, a problem that needs solving, or an opportunity to be taken. 
Look for gaps in the market and how to fill them. Offer a unique value proposition that fills that gap or solves the problem, and try to validate it with potential customers to see if it is salable.
The following is a list of some of the best businesses to start with little money.
Print on Demand

is a business model where products are printed only after they are ordered. POD businesses can offer a wide range of merchandise without holding inventory or investing in high startup costs.

Dropshipping is a fulfillment method where the business doesn't keep inventory. When the store sells the product, a third-party supplier ships the product directly to the final customer. Dropshipping requires little to no upfront capital.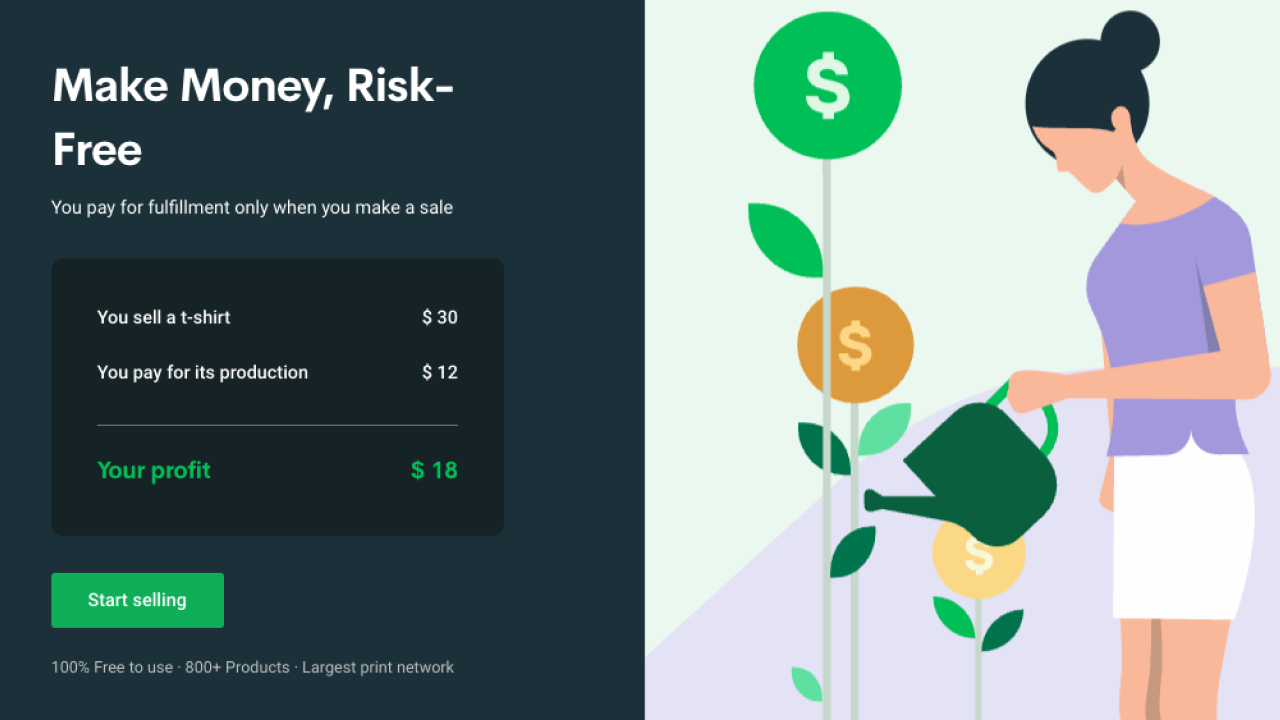 Freelancing

– consider offering freelance writing, social media marketing, or graphic design, for example. Keep up-to-date portfolios and list yourself in an expert repository, like the

Printify Experts

program, for increased visibility. 

Online courses

– demand specific knowledge and require upfront capital for equipment to record audio and video, subscriptions to platforms, and website builders. 

Selling

digital products

and well-designed courses can provide a steady source of passive income. 

A business in art or music

–

depending on the field, it may require very specific skill sets and equipment, tools, or gear. However, art can become one of the most fulfilling activities. Learn about

how to make money as an artist

on our blog.

Service businesses – this type of work will demand time but not necessarily a robust skill set, depending on the activity. Some popular services people are willing to pay for include handyman work, babysitting, dog-walking, groceries, or a lawn-mowing business, to mention a few.  
Check out more online business ideas without investment and 20 ways to make money on our blog. You may also be interested in how to start a t-shirt business with no money
Remember that there is a difference between developing a regular service-based business and offering individual services sporadically. Growing toward an established business requires developing brand awareness, patience, and professionalism.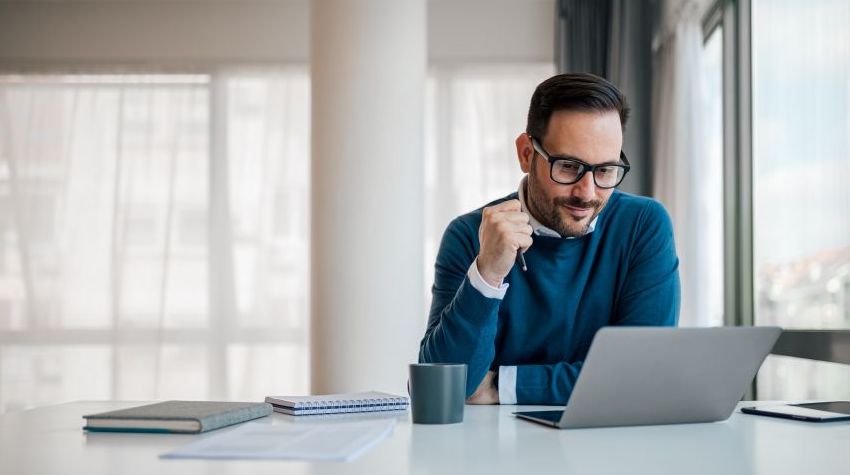 A business plan is a guide to running a successful business. It outlines the company's goals, strategies, and timeline for achieving them.
Creating a plan helps to develop strategies for analyzing the market, acquiring customers, and attracting potential investors or partners. When researching and writing your plan, you'll evaluate getting special business licenses, additional documents, or small business loans.
Finally, by writing many business ideas into a comprehensive plan, entrepreneurs increase their chances of making informed decisions.  
There are two main types of business plans: traditional and lean.
A traditional business plan suits detail-oriented entrepreneurs who intend to grow and get funding from third parties. It should cover every aspect of the business, including product lines, financial projections, and funding requests. 
A lean business plan is ideal for a small business requiring a simple structure and flexibility or for entrepreneurs learning on the go. This type of plan can be written in chart form. It should cover key elements, including unique selling propositions, revenue streams, and possible partnerships. 
Check our blog for a detailed guide on how to write a business plan. After you have decided which kind of plan to write, download free templates from the US Small Business Administration (SBA).
3. Research the Market and Brand Accordingly
Do

market research

to understand what the competition is doing and if there is space for your business idea. Looking for similar products to what you intend to offer in search engines and marketplaces like Etsy is a good start.
Observe the competition, the best-selling and trending items, and check reviews and comments on products to get an idea of what customers really need and want. Observe repeated complaints.  
Take note of competitors' strengths and weaknesses and plan how to offer the best service.  
Refine your search and acquire more data by looking for keywords gathered in these previous searches in Google Trends. This will provide information on related queries and demographics, what is trending and fading out, and seasonal influences.   
Choose a

business name

that reflects your brand. An ideal name is short, memorable, and easy to spell. Use the same name on your internet domain.
Consider using a name generator if you don't have a brand name. Type the central characteristics of your products and services, and pick a business name. Then check on DomainWheel or GoDaddy to see if it is an available domain.   
Trademark your brand name. You don't want other businesses to steal it after you've done all the work in marketing your business and making it take off. 
4. Look for Alternative Funding Options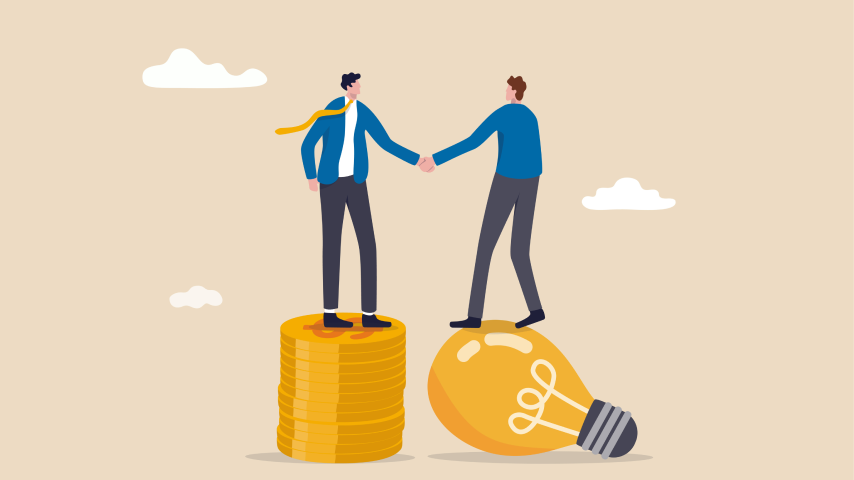 Entrepreneurs who want to start a business with little or no money have several alternative funding options: 
Supportive

friends and family

can provide money for entrepreneurs under better repayment terms than a regular bank loan. 

Angel Investors

are usually entrepreneurs or experienced business individuals who invest money in small businesses in exchange for a minority stake. 

Incubators and accelerators

provide mentorship, resources like office space, and seed funding to early-stage startups.  

Venture capitalists

work similarly to angel investors, lending money to early-stage businesses in exchange for equity. However, they do not invest their own funds. Instead, venture capitalists work on behalf of larger companies that invest funds obtained from investors, foundations, or funds.   

Bootstrapping

– this funding method means starting a business with personal savings and generating revenue as soon as possible to keep the company growing. This requires dedication and discipline but gives full ownership over the business.

Crowdfunding lets entrepreneurs raise funds from many people via the internet. They can create a campaign and share it with social media accounts or other platforms to reach potential backers.
Be Aware of Small Business Loans
You may also consider getting small business loans from banks or online lenders or applying for small business grants from governments or other institutions. However, when obtaining loans from institutions, carefully factor in interest rates and your capability of fulfilling the obligations.
How to Start a Business for Free With Dropshipping and Print on Demand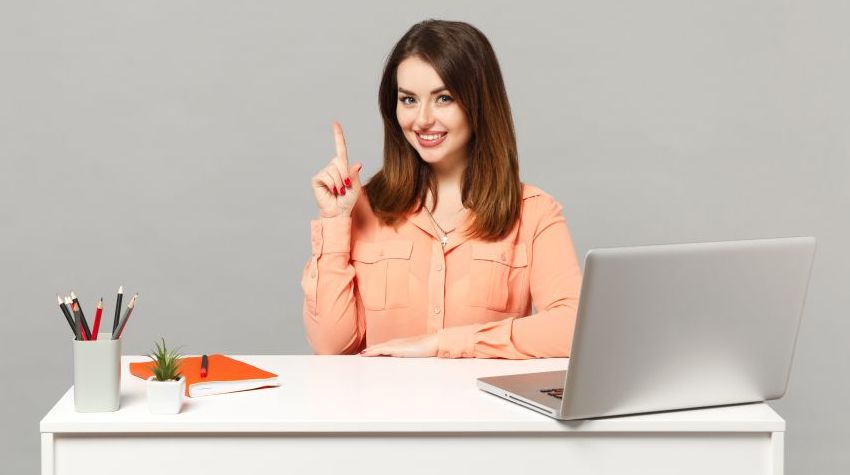 Starting a dropshipping business with no money could be one of the best options for small business owners – it's possible to start with just a laptop and an internet connection. This method is best used in conjunction with Print on Demand, which is our specialty.
In the following, we'll guide you through the process of setting up a POD business with no money.
A niche is a target market and the people more likely to purchase from your business ventures. Defining a niche can be challenging, but is one of the most important steps in creating a business.
Look for a niche among the things you're really passionate about – sustainability, koalas, plush spiders, or horror movies. The more specialized a niche is, the better – you can't sell to everyone, but can properly target the group for which your product is intended. 
After that, look for profitable segments of that niche or market. For instance, check if people are searching for products with koalas on Google Trends, marketplaces, and online stores. Check at Etsy, Amazon, Walmart, Google, and Bing. 
Ideally, you could find a niche that is not over-saturated. 
If there is too much competition in the chosen niche, consider the pros and cons of the competition, and be sure you can add something new or better. Otherwise, consider pivoting to a related niche with better profitability perspectives.
2. Choose Products and Add Designs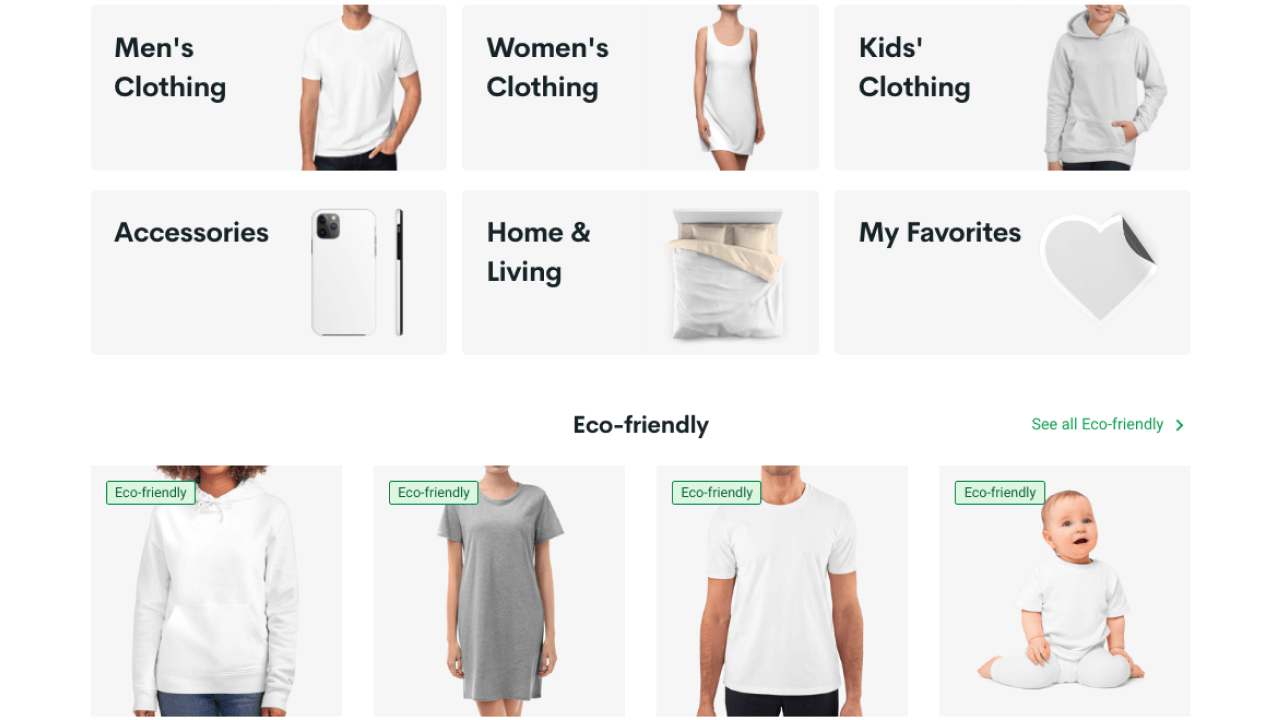 Sticking with Print on Demand will give you plenty of possibilities to sell customized products, from classic t-shirts and mugs to unique items like Bluetooth speakers and art canvas.
Choose products that fit your unique selling proposition and solve your customers' problems.  
Research on other marketplaces and the internet can still provide relevant information when picking the best products. Pay attention to customer reviews, as they show what users appreciate the most in the items but also reveal what customers want in the product.   
With that information in mind, create products with your brand, USP, and niche. You can look for design ideas and inspiration on platforms such as Pinterest or Dribbble.
Test and validate product ideas by ordering samples and publishing pictures and polls on social networks.  
If necessary, hire freelance designers to get professional results on platforms like Printify Experts, Fiverr, or Upwork. This one-time investment can revert to a passive income for a long time.
Create a storefront or an online store on the most appropriate platform for your new business venture. 
Choose a

marketplace

like

Etsy

,

eBay

,

Amazon

, or

Walmart

if you prefer to start on a platform with existing traffic. Some, like Etsy, don't charge monthly subscriptions and are fairly easy to work with. Others, such as Amazon, can be more challenging to approve merchant accounts. In any case, the storefront customization possibilities are limited, and merchants must abide by internal policies. 

Go for a specialized eCommerce website builder such as

Shopify

and

BigCommerce

for creating a stand-alone website with professional business features and appearance, a user-friendly experience, and no necessity for coding. These platforms are well supplied with eCommerce functions but are limited when it comes to content, blogging, and SEO. They also charge monthly subscriptions. Some functions require subscribing to advanced plans or even additional subscriptions for plugins or apps. 

Pick an all-in-one solution like

Wix

or

Squarespace

for creating online stores capable of advanced blogging and content management, plus reasonable SEO optimization. As with other website builders, these platforms charge subscriptions, and costs may add up when adding functionality through plugins or extensions. 

Finally, experienced users or tech-savvy entrepreneurs should consider open-source platforms such as

WordPress+, WooCommerce,

or

PrestaShop

. These give complete control over the online store with advanced eCommerce features and full optimization. The only mandatory costs are purchasing a domain name and hosting. Still, such annual expenses are pretty small, given the range of features these platforms offer. Additional paid plugins may be required to add functions and features, depending on the business needs.   
Most website builders will work with well-structured templates, and your main task will be to fill in and customize them. 
A general structure for an online store website may look like this:
Home

– insert call-to-action buttons, showcase new products and promotions, explain the USP 

Shop

– contains products and collections

Blog

– include articles about products, news in the industry, or trends. Will bring organic traffic.

About Us

– it tells the brand's story.

Login / Create Account & Cart – make it easier for users to create and access their accounts and carts. Web builders will automate these parts, including payment details, checkouts, and similar pages.
The menu should replicate the site structure as much as possible.

Use a side menu for easy navigation in desktop versions.

Create separate menus and website versions for laptops and mobile devices. Most website builders will do that automatically, but tweak the mobile version as much as possible.
4. Brand and Market Your Business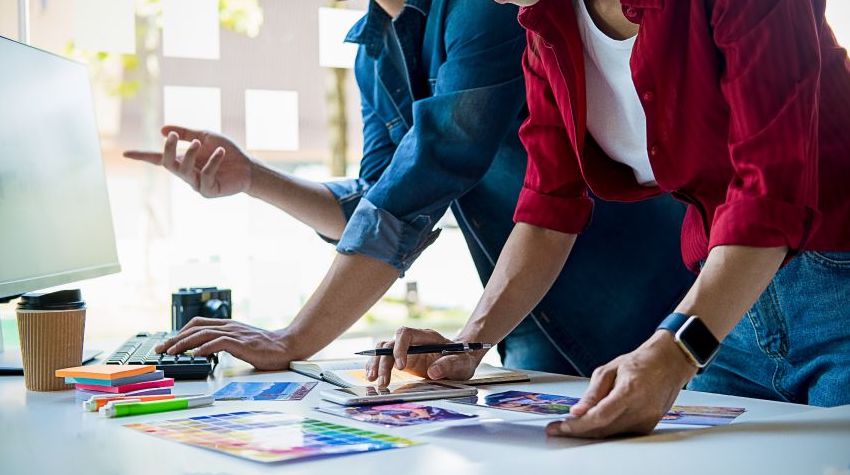 Producing the right marketing materials and branding is crucial for any business. Finding the best channel will take your brand to the next level, but picking the wrong marketing strategy will consume your most valuable resource – time. 
Develop a marketing strategy, including omnichannel marketing and SEO optimization.  
Marketing channels are tools, services, or platforms used to promote products or services to a target market. That may range from an Instagram profile to Etsy paid advertising.  
It is possible to create a free marketing campaign through social networks. When developing social media marketing, focus on the platform most tuned to the target audience – that includes demographics and niches. For instance, Facebook's audience is older than Instagram's, and Etsy shops benefit significantly from marketing with Pinterest. In any case, prioritize relationships over sales and cultivate your social media presence.
Content marketing is a low-cost marketing strategy. Publish relevant content and deliver value with blog posts, articles, news, product information, and reviews. That will make you an authority in the area and bring organic traffic to your store.
Every website builder offers blog capabilities and custom domains with paid subscriptions. The best options for content are WordPress+ WooCommerce, Wix, or Squarespace.
If you have a storefront on a marketplace and don't own a basic website, it is possible to create a blog for free or with few costs. 
Wix offers a free plan and good blogging capabilities, but with a Wix subdomain, which is not the best option for SEO. Creating a blog on WordPress is free but requires hosting, and a small annual cost.  
Finally, consider utilizing influencer marketing. Partnering with influencers and sending them sample products is an effective way to grow your store and even go viral. 
You may find a detailed guide on creating a POD business on our blog.
You've read how to start a business with no investment or experience. This can be achieved by finding a business model with low start-up costs, leveraging free resources, and being creative and resourceful.
You've also learned that a free online venture, when paired with a profitable method like POD, has the edge over other types of businesses by requiring only a desktop and an internet connection.   
Remember that Printify is here to assist you every step of the way.
Share the article
Topics