How to Put a Logo on a T-Shirt: Easy Step-By-Step Guide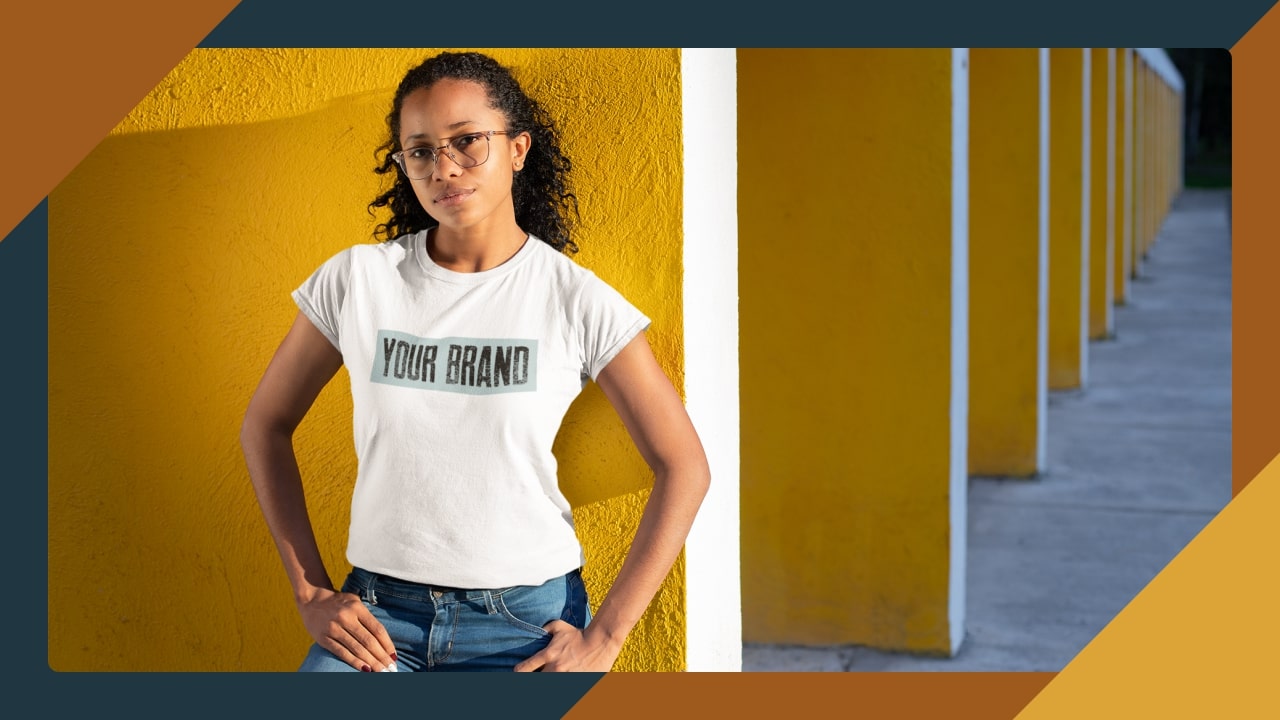 Want to print team, organization, or company logo t-shirts but don't know how? Prepare an epic logo design and place it on custom shirts in minutes. Our user-friendly platform has all the tools and guidelines for successful branding. 
There are many benefits to having your logo on a t-shirt. It shares information about your brand, team, or cause, and adds recognition and professionalism.
In this article, you'll learn how to put a logo on a shirt – and the best spots for it. Browse our t-shirt Catalog for multiple styles, get creative, and design promotional t-shirts for your team, company, charity cause, or other purposes.
Where to Place a Logo on a Shirt?
T-shirts have many printing areas for your logo design – from spots on the front and back to sleeves, pockets, and neck labels. Choose the perfect fit for your unique t-shirts with custom-printed logos. 
On the Inner or Outer Neck Label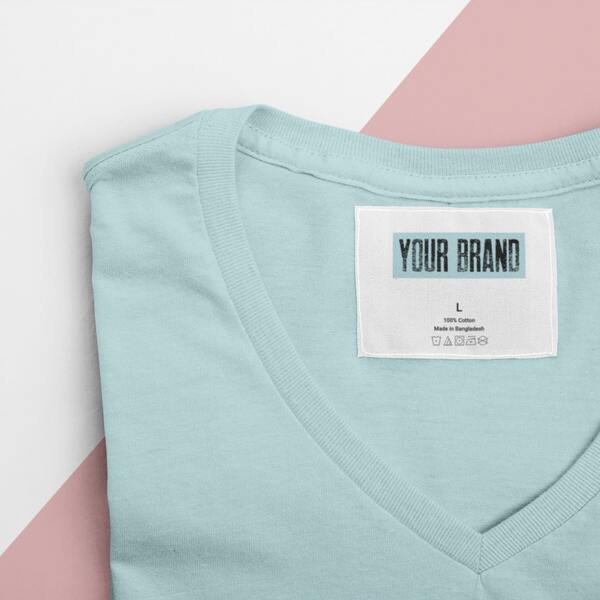 Pick a tee that allows neck label customization for your promotional shirts for a more personal and practical design. When browsing our Catalog, filter shirts with the neck label print area and choose one that matches your criteria.
On the Pocket or One Side of the Chest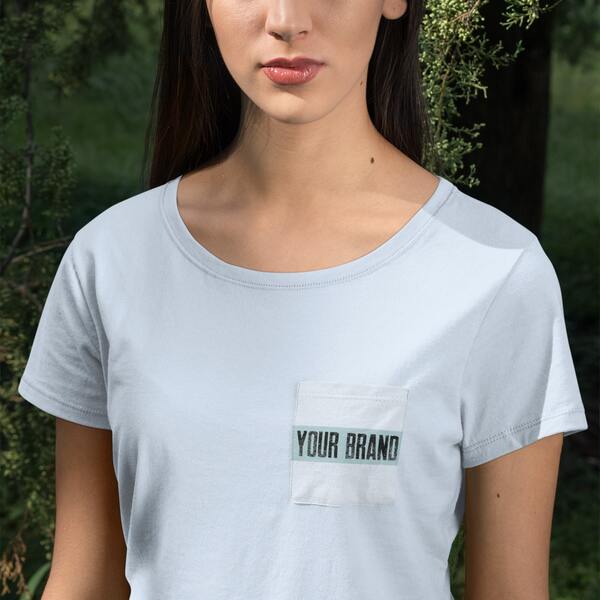 This is a classic and common spot for branding – especially on the left side. Direct, visible, and easy on the eyes. Why on the left? When reaching for a handshake, the majority of people extend their right arm – covering the right chest design. Therefore, left-side logos are guaranteed to stay visible for most daily interactions.
While an interesting fact to consider when printing logos on custom products, don't limit yourself to popular beliefs. Put your logos wherever you want to bring your ideas to life.
Keep it simple and avoid detailing – people won't see it.

The logo design should be approximately

3" to 4"

wide.
On the Front of the T-Shirt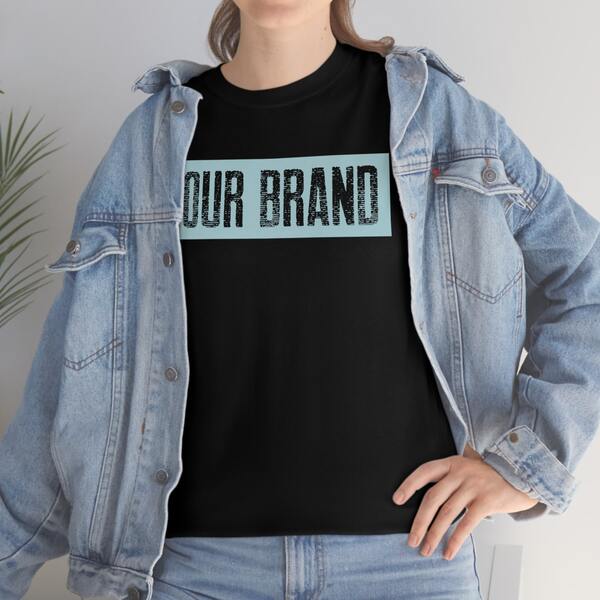 The front print area provides two options – full front or center chest printing. This kind of logo design is fully visible and allows more detail for your artwork. You can add a slogan, company name, or other design elements to complement the logo.
The center chest area is

8"

wide on average and placed approximately

4"

from the collar.

The full front print is usually

12"x14′'

on average. Don't forget to

scale the logo design

for different-size shirts.
Don't go overboard with your design ideas. Even if your promotional art seems epic to you, people usually don't prefer to be walking billboards. Keep the design modest, but fun. Something to wear on various occasions that blends well with different outfits and settings.
On the Back of the T-Shirt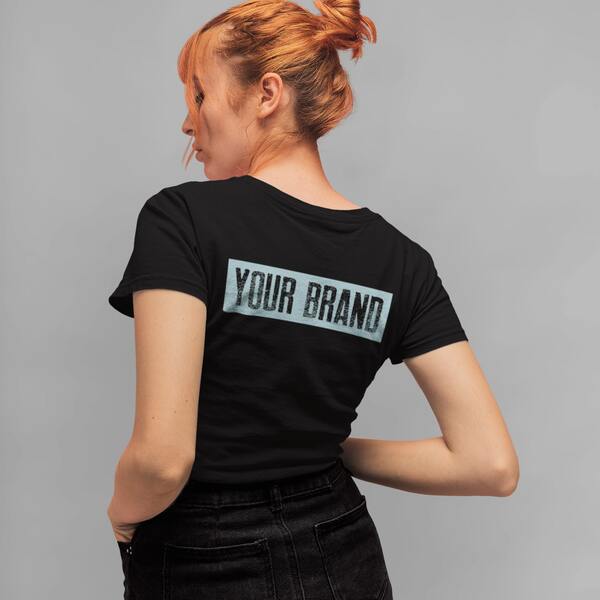 The back design can also differ in size and printing options – upper back and full back.
The upper back placement is ideal for one-two word combinations, enterprise or event names, and titles. The full back print is perfect for displaying more than just a name. The full-back usually pairs well with a small front-chest logo, displaying more on the back while the front stays professional.
The upper back area is usually

12"-14"

wide and placed approximately

4"

below the back collar.

The full-back is

12"x14"

on average, depending on the shirt size.
The full-back is a much better choice for oversized prints than the front. With these, you can go overboard and create the perfect billboard for your business, team, or event.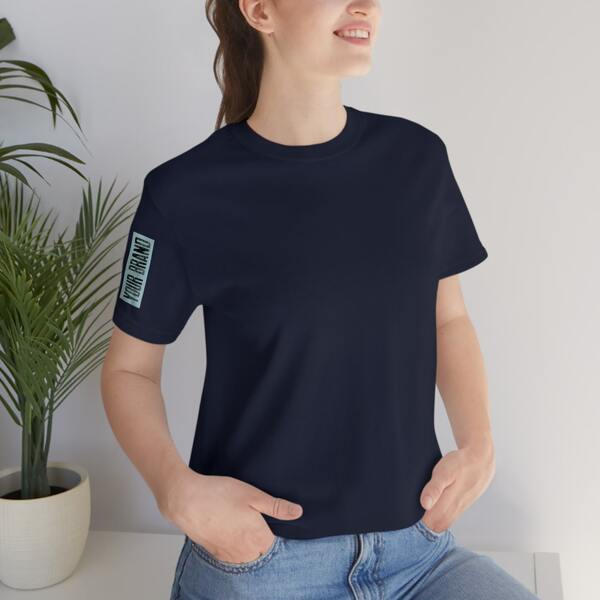 You can also decorate the tee sleeve with fun and promotional artwork.
The sleeve is ideal for simple and small logos that are easy on the eyes and comprehensible. Too many design elements will overpower the logo itself and appear too complicated. Keep it around 3" wide and approximately an inch above the hem.
If you're also getting a logo printed on the left chest, select the right sleeve to balance out the design.
Integrated Into a Larger Design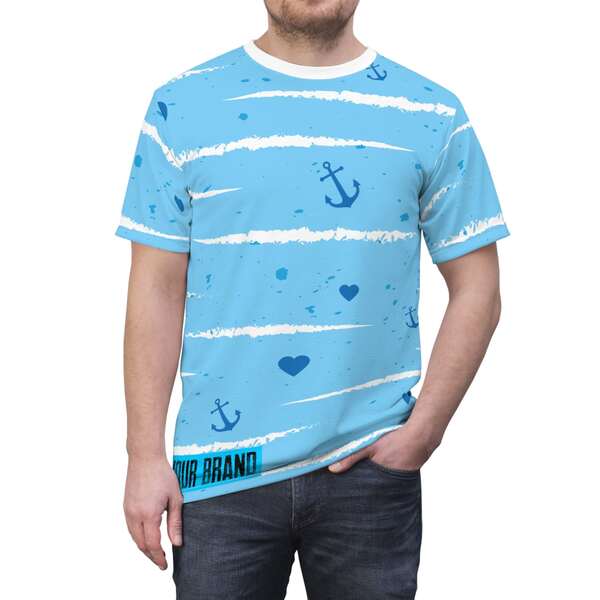 Design a custom t-shirt with the logo integrated into unique artwork with oversized designs.
When the scale of the print is larger than average, don't go overboard with the amount of ink used. Avoid colored backgrounds and "sweat patches." Create a light and breathable t-shirt design with your logo as the centerpiece.
Design high-quality products with various logo placements to appeal to different audiences, occasions, and styles. Logo placement is not set in stone – design business shirts that match your ideas and cause.
How to Put a Logo on a T-Shirt With Printify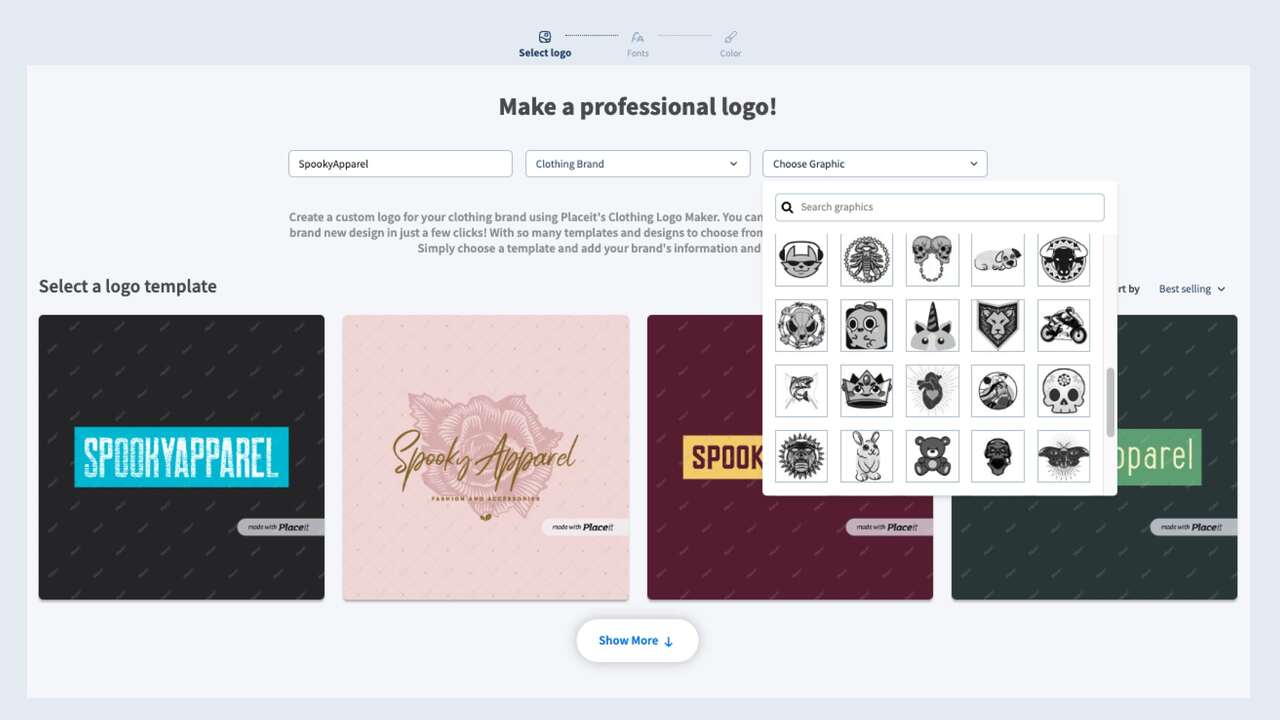 There are many ways to make your business logo – from free online templates to outsourcing. Take a closer look and see what fits best for your needs and skills.
Design Your Own Logo.

This should be an easy task if you're an artist at heart. Use third-party software like

Photoshop

or any other program to

make the perfect logo

for your brand or cause.

Use an Online Design Generator.

Online tools like

Placeit

or

Shopify's Logo Maker

have free templates at your disposal. Choose themes, slogans, and elements, and design your logo with online generators. 

Hire an Expert.

Printify's

Experts Program

lets you hire a professional to do the work for you. Outsource someone else's talents for the perfect logo for your promotional t-shirts.
2. Pick a T-Shirt Based on Style and Printing Method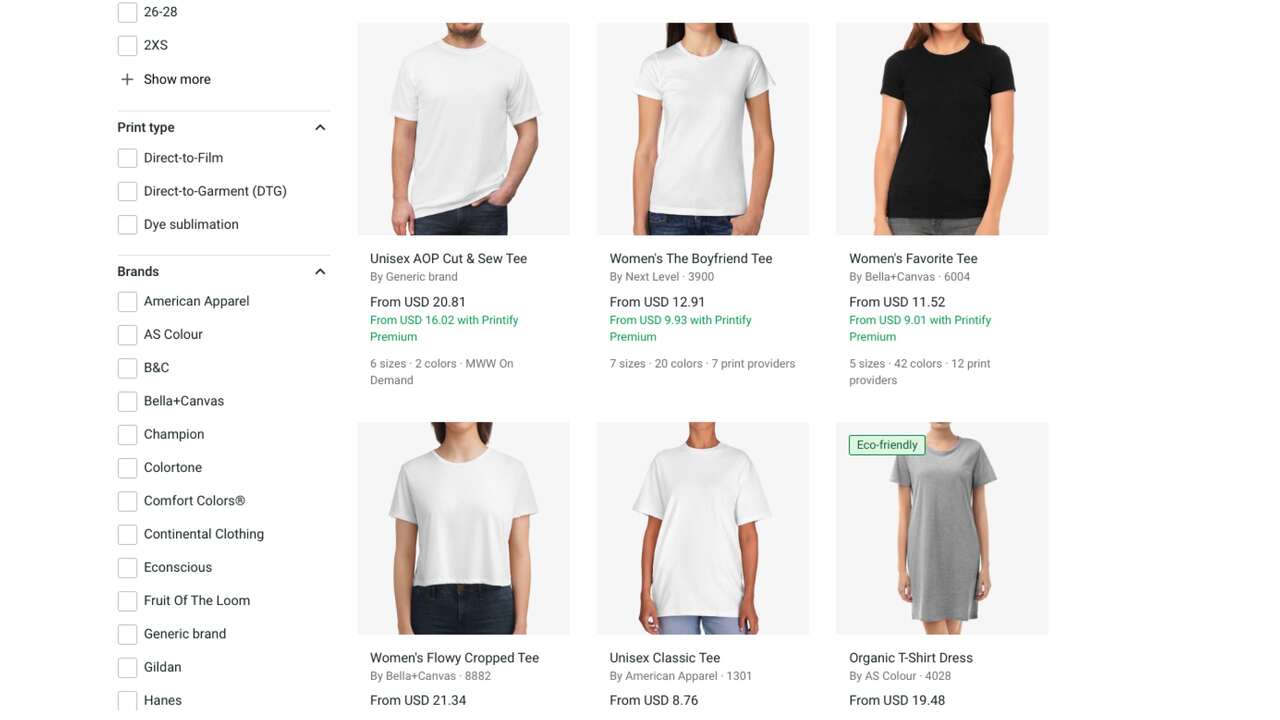 The Printify Catalog has over 850 products, the majority being t-shirts of various sizes, styles, printing methods, and other important features.
From direct-to-garment printing and dye sublimation to different sleeves, necks, and materials – choose t-shirts that match your style, expected quality, and Print Provider options.
When browsing t-shirts, filter important features on the left side, pick the one that catches your attention, and click Start designing.
3. Apply and Position Your Logo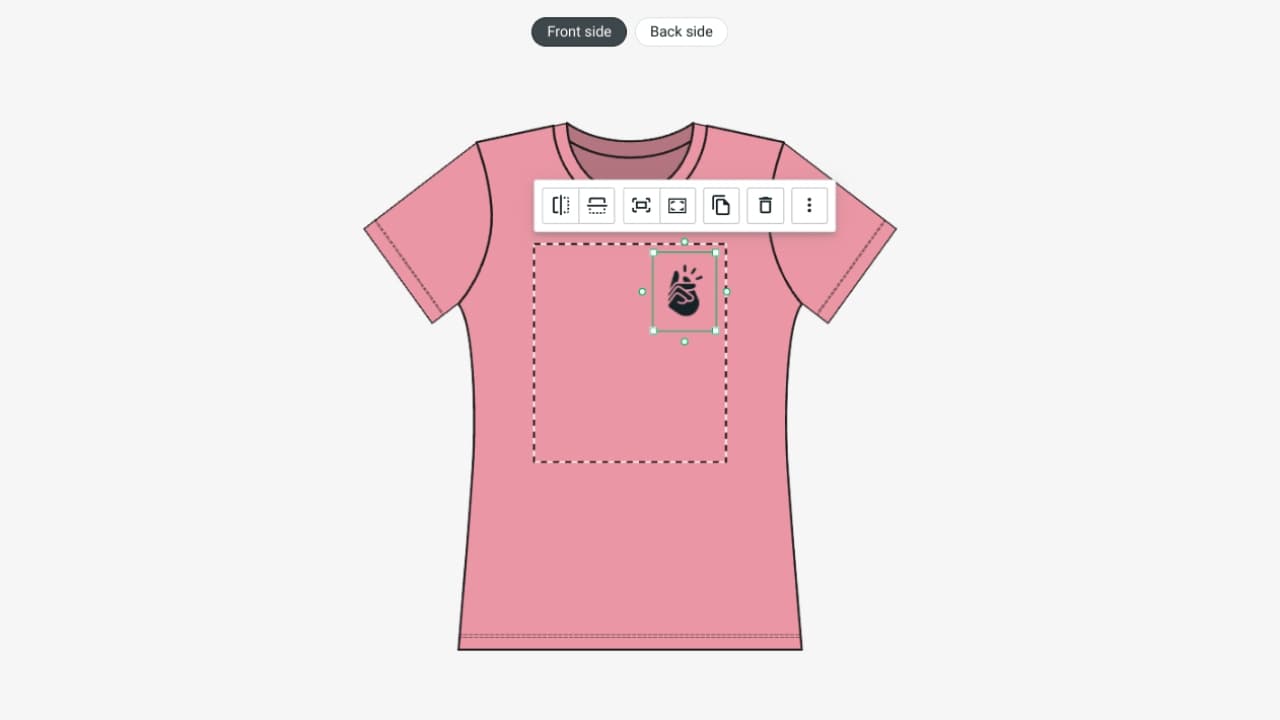 Our user-friendly and cost-free Mockup Generator has all the features you need to create an epic design and place your logo anywhere on the tee – from sleeves and neck labels to full back and front options.
Switch between colors, add text, flip, scale, and adjust the design. Don't forget to preview it in 3D images and make adjustments before clicking Save.
4. Order for Yourself or Start Selling
Purchase your promotional t-shirts by submitting an order from your Printify Account. Then list them online and ship them to your customers worldwide.
Our Print Providers take care of each order – from printing and packaging to delivery. Order or sell logo t-shirts in any quantity to provide promotional attire for any team, enterprise, or event on a global scale.
You can put a logo on a t-shirt in three simple steps. First, design a logo. Do it yourself, use an online logo maker, or outsource to a professional artist. Then, join Printify and choose a shirt to customize. Via our Mockup Generator, upload your logo and place it anywhere you want. Click Save and order or list your logo t-shirts online.
If you choose to sell them, it will cost you nothing. Printify is a free-to-use platform where you can upload logos on shirts, customize the design, and list them on your store for free. If you want to order logo shirts, the prices will differ – depending on the chosen product, type of print, Print Provider, and delivery.
Existing brand logos can't be printed without the permission of the trademark holder. Follow our guides on copyrights or intellectual property policy to avoid any legal issues with your designs.
Share the article
Topics