50 Cup Design Ideas to Try – Get Inspired With Printify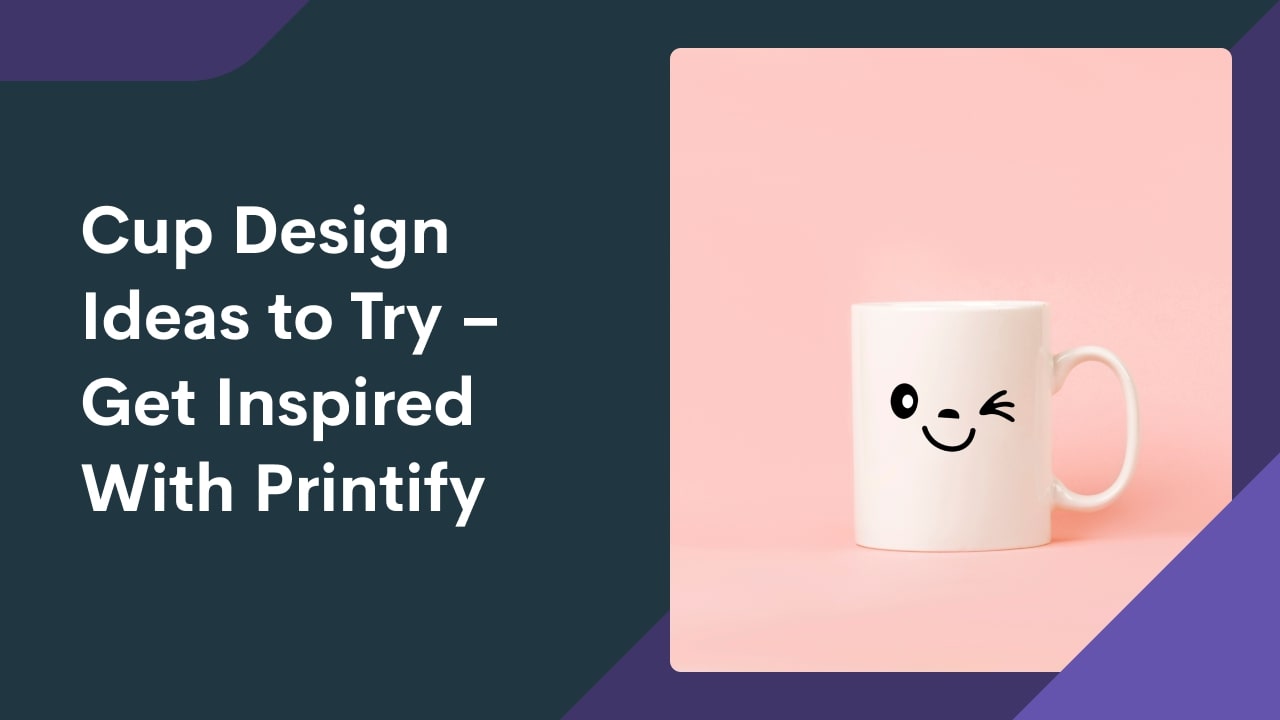 Why settle for ordinary mug designs when you can have your customers sip in style? From morning brew to other beverage favorites – bring their daily cup game to a whole new level with simple yet beautiful cup design ideas.
To get you on the creative path, we've listed 50 interesting designs for different types of mugs. We'll also show first-time designers how to create custom mugs and where to get designs for your business. So without further ado, let's get started.
50 Creative Design Ideas for Cups
We've researched top eCommerce stores and found many interesting cups – designed for all tastes, occasions, and events. Let's look at some fun and heartwarming mug designs and see what we can learn to help you spruce up your brand offers.
White Coffee Cup Design Ideas
Most of us have a white coffee mug at home – and for a reason. Apparently, the color of the mug can affect the taste of coffee. And with no surprise, coffee tastes the most intense in a white mug. Whether true or not, you can appeal to coffee enthusiasts with creative white mug designs.
Black Coffee Mug Design Ideas
If white mugs ain't your cup of tea (pun intended), go for black. While the study mentioned above claims white is the superior mug – intensifying flavor – that's only because they never gave black mugs a chance. But you can. Pair black mugs with creative designs and give the world a black cup to enjoy.
Color Changing Cup Design Ideas
Who doesn't like a little magic in their life? Creatively designed color-changing mugs can be your next best project. And placement is key. Add images or words that show in different temperatures and spruce up your business with unique mug designs.
Some people prefer their coffee on the go. For them, the world has created tumblers or travel mugs. From safe and spill-proof packaging to quality designs, these sustainable products make daily liquid consumption easier and more pleasant while out and about – while preserving nature at the same time.
Two-Tone Accent Mug Design Ideas
Why stick with one color when you can have two? This type of mug shows extra creativity and makes things a little more special with an accent. Spruce up your brand with two color mug designs and turn a simple product into a masterpiece everyone will love.
Why Creating a Great Cup Design Matters
Custom-created mug designs are not only appealing aesthetics, but they also enhance the entire drinking experience. While you can get inspired and learn from your competitors, original designs are essential for your store's success.
Showcase Your Brand Identity
Use cup design ideas to promote your brand and its values. Incorporate design elements close to your brand and heart – such as logos, slogans, or colors – and creatively craft a visual representation of your company.
Attract Customers With Unique Cup Design Ideas
Be the type of merchant that stands out from the sea of similar-looking mug designs by offering something unique and never seen before. While the above-mentioned cup design ideas are successful enough, read between the lines and make your own designs even better.
Inspire Others With Your Product
You can evoke emotions with mug designs created to inspire and relate to your target audience. Design a mug that tells a story, showcases expressions, or creates a sense of nostalgia – and you'll have mugs that delight customers and start conversations. 
Explore Combination Possibilities With Other Merchandise
You can design your mugs with other related products for a cohesive and complementary collection. From coasters to t-shirts, the opportunities are endless. Use your cup as a centerpiece and incorporate design elements into other products to encourage customers to buy more.
How to Create Your Own Mug Designs With Printify?
Register to Printify with a working email address and browse our Catalog for mugs. Our ever-expanding product vault stores plenty of options to choose from. Filter mugs by type, Print Provider, location, type of print, and other criteria, pick your favorite cup, and click Start designing.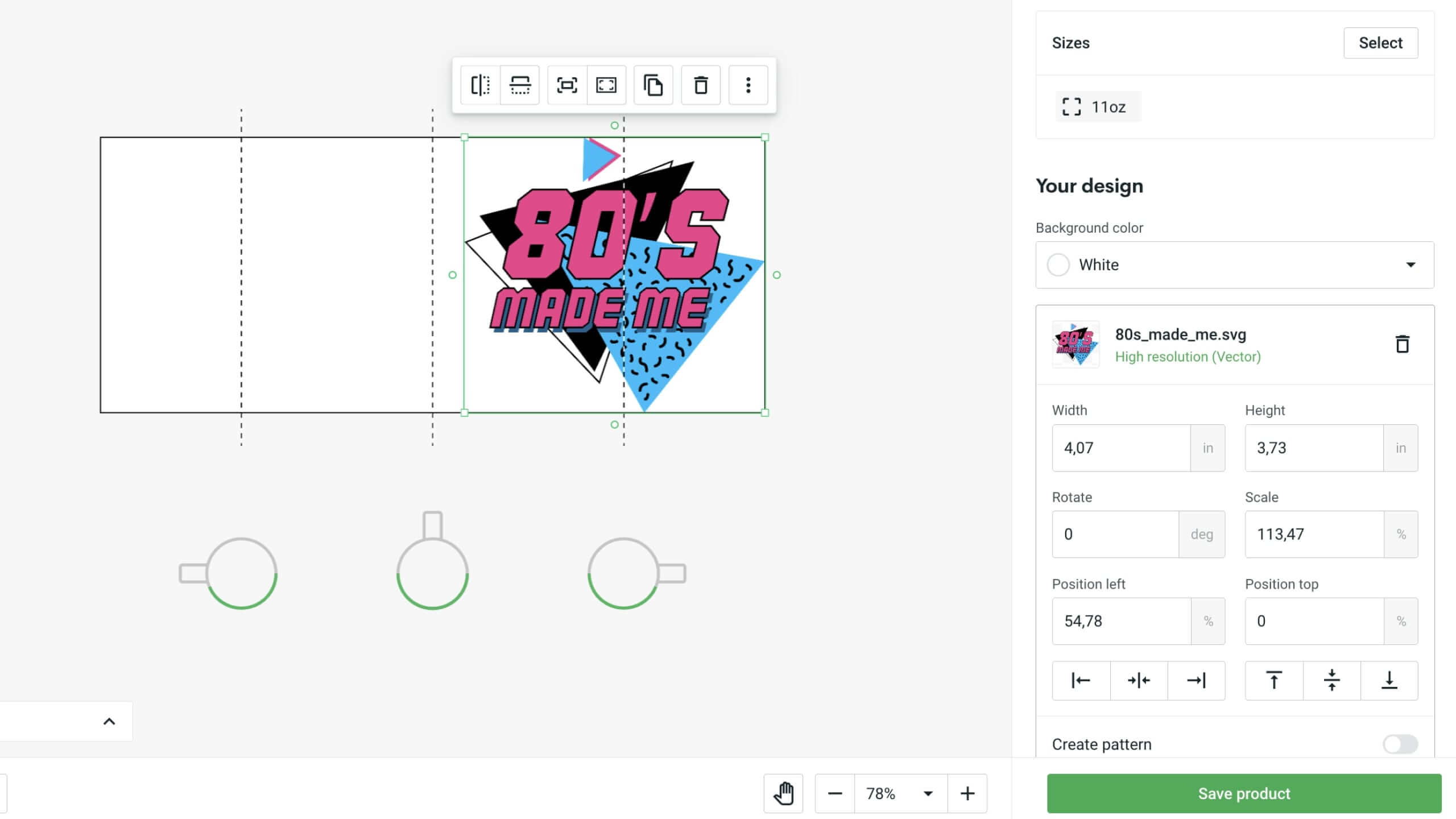 Our free and user-friendly Mockup Generator is equipped with all the tools and features needed – making the designing process as easy and smooth as possible. Bedazzle your mug with text, photos, patterns, and various elements, and bring your epic idea to life in a few clicks.
Connect a Store and Sell Cups Online
Choose any of the leading sales channels – based on your skills, needs, and eCommerce preferences – and integrate them with Printify under My stores – Add new store. Printify cooperates with all the top marketplaces and platforms, like Shopify, Wix, Etsy, and more.
Where to Find Creative Mug Design Ideas?
Printify's Mockup Generator
If low on inspiration, the Mockup Generator is a great place for outsourcing mug designs. Our free graphics library stores many unique blueprints for you to use. While the Shutterstock integration allows you to implement free stock photos into your designs with the option to pay for them only as you sell.
Online Design Resources and Social Media
Professional Designer Services
Sign up to Printify and choose a cup from our Catalog.

Click

Start designing

.

Upload photos, add text, create patterns, change colors and fonts, and customize the design to your liking.

Click

Save

, and your personalized mug is done.
Each mug has the instructions listed on its product page. The majority of our mugs are dishwasher-safe.
Each Print Provider has their own packaging methods. But most mugs are shipped in either polystyrene boxes or cardboard boxes with additional inserts for padding, such as bubble wrap. If you want to know the specifics for each mug, choose a product, click More details and Production.
Create Your Unique Custom Cup Collection Today!
You don't need to be a seasoned designer to bring your ceramic mug design ideas to life. With Printify, it's a simple three-step process. 
Infuse the mugs with your brand identity and a splash of creativity to combine functionality with aesthetics – and boost the morning routine with minimalist elegance or whimsical charm on your one-of-a-kind mug designs.
Share the article
Topics