When self-expression and eco-consciousness are at an all-time high, a custom woven tote bag made from 100% recycled materials is a must-have item in your store. Help people make an eye-catching fashion statement by designing and selling your own bags with no upfront costs.
Design Your Own Woven Tote Bag
Our Custom Woven Tote Bag
This woven tote bag will be a trusted friend for any conscious shopper, whether they're doing a grocery run, commuting to work, or going to soak up some sun by the beach. It's hands down the best alternative to single-use plastic bags that pollute our land and oceans.
Small details like double-folded edges and shaping seams give this bag a clean finish and allow more room for storage. You can choose between three color options that'll match any occasion – Black, Natural, and Heather Grey. Customize each one with your unique designs printed in picture-perfect quality on each side.
Our competitive pricing model, fast shipping times, and no upfront production costs put you ahead of everyone else in the tote bag market.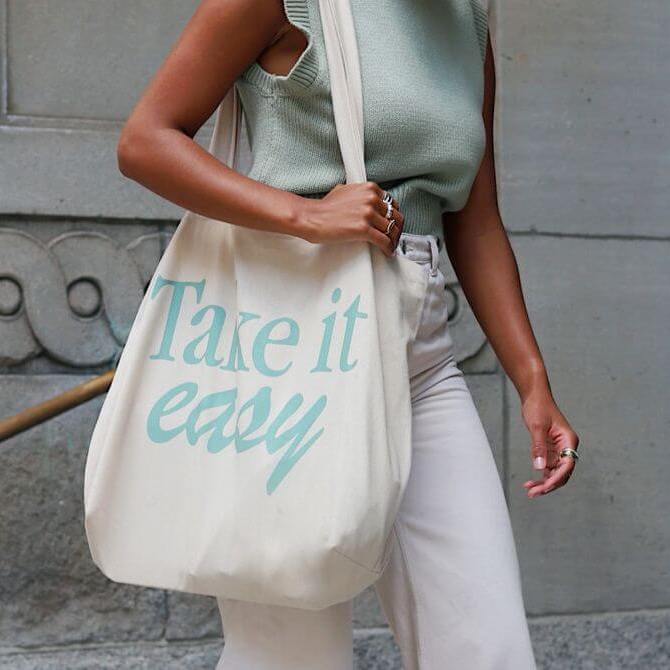 Start Selling Custom Woven Tote Bags!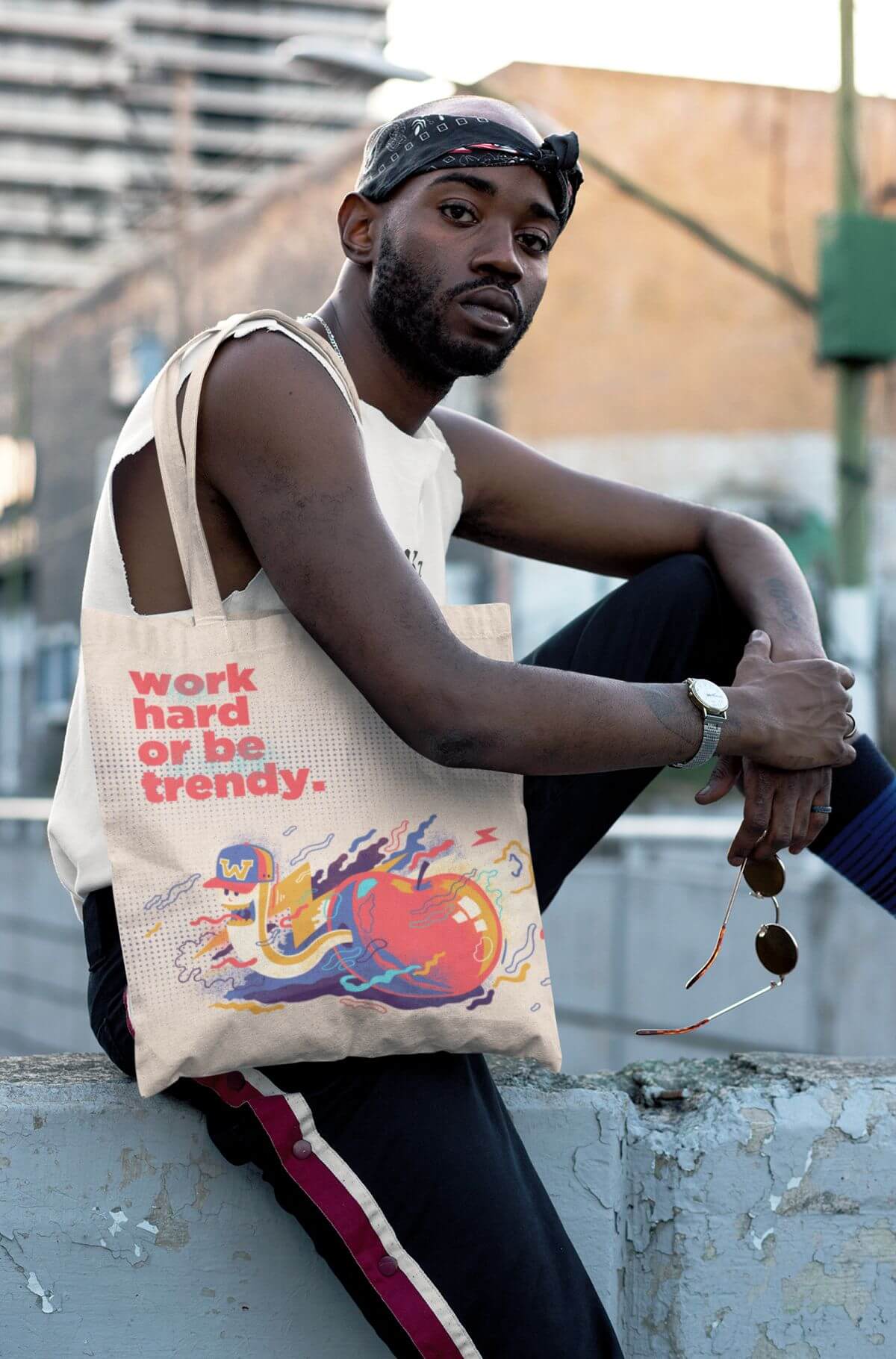 Is It Worth Selling Tote Bags?
With a growing number of consumers considering themselves eco-conscious and looking for sustainable alternatives to everyday purchases, designing and selling your woven tote bags might just be the right move for your business.
Thanks to more people choosing to combine style with practicality, these accessory bags have made their way back into fashion—even high-end designer brands like Dior and Saint Laurent feature tote bags in their newest collections. Unlike most types of handbags, everyone can wear these all year round.
We suggest you find a particular niche with an original tote bag design. It could feature a catchy phrase, a drawing, pattern, or graphic art—the sky's the limit. Research the latest trends for inspiration or come up with a completely new idea and become a trendsetter yourself.
Pricing is crucial. Sell it for too much, and no one will buy it. Set the price too low, and say goodbye to making money. With our competitive pricing model, you're in the best position to build a successful tote bag business and rake in more profit.
Sell Woven Tote Bags With Printify
Printify gives you all the tools to build your empire from the comfort of wherever you call home. Getting started is super easy—all you have to do is pick a blank item, add your designs, and upload the final product to your online store. Printing, shipping, and customer service – we handle everything from there. Let's take a closer look at each step.
Start Selling Custom Woven Tote Bags!
Explore Other Printify Tote Bags
When you have no upfront costs to worry about, you're free to experiment with other types of tote bags to see which one works best for you and your customers. Choose between different materials, print areas, and sizes.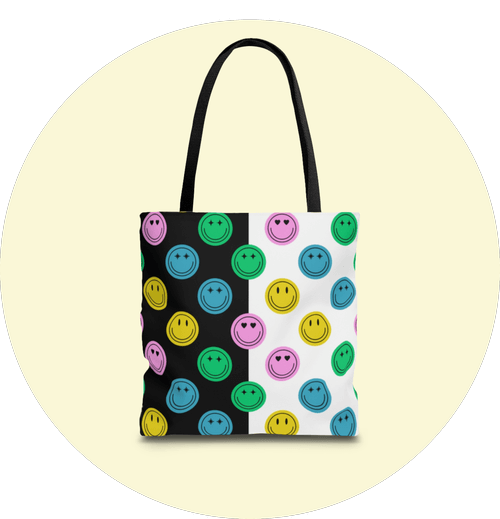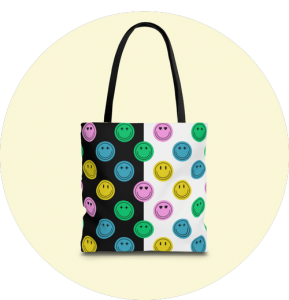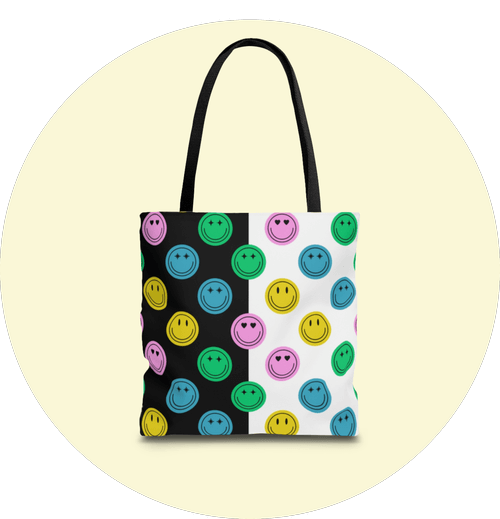 Made from 100% durable polyester, this tote bag is perfect if you want to print your original illustrations or seamless patterns all over the bag's exterior. It will definitely make anyone stand out from the crowd, whether browsing the cute local bookstore or strolling down the streets of New York City.
Classic and practical, these bags are perfect for promotional merchandising. The cotton fabric is a great medium to print high-quality designs and photographs. It also features double-crossed stitching on its handles that keep the bag from flapping around and creasing near the top.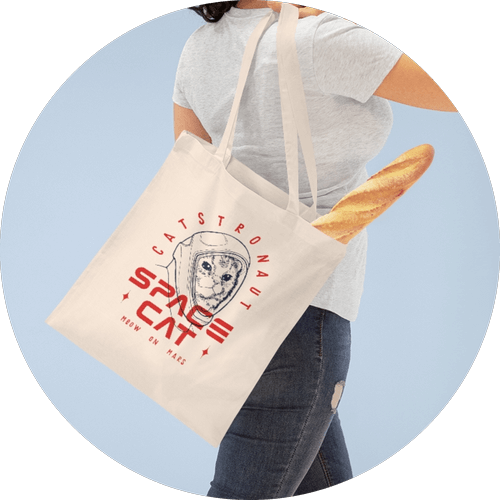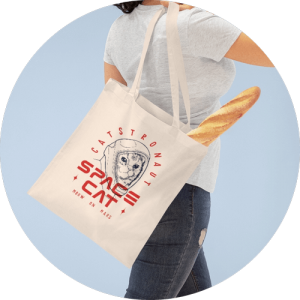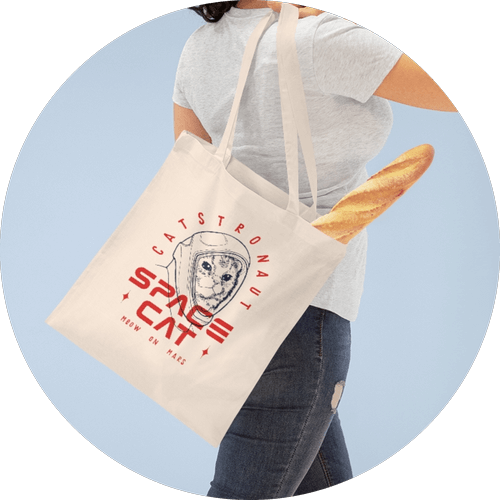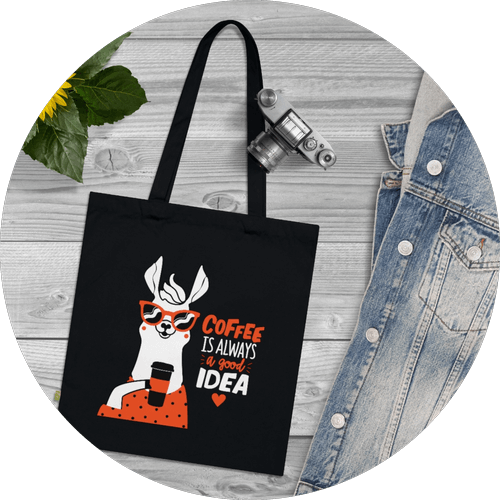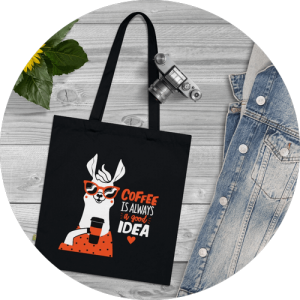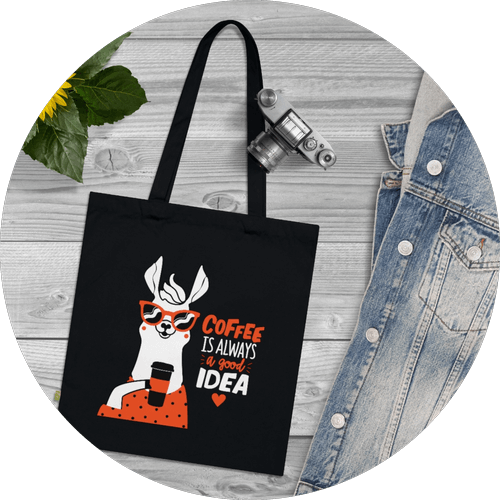 What's Organic Content Standard-certified, can fit a whole book series, and looks as good as it feels? This tote bag is the real deal. It has a large print area where you can let your creativity shine, reinforced stitching on the handles for extra strength, and a 10L internal compartment to fit all weekly shopping in one go.
This bag with its long top handles and a very spacious internal compartment takes home the gold for the most comfortable and practical purchase ever made in your shop.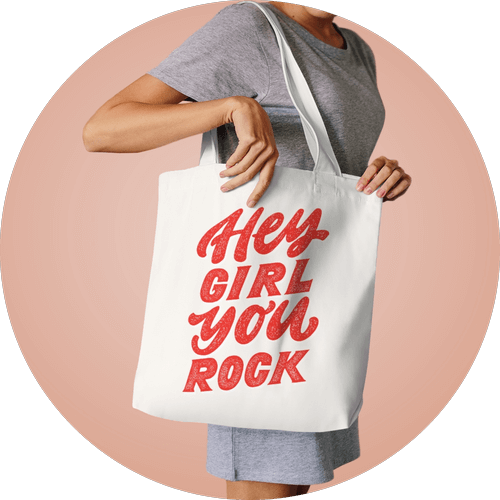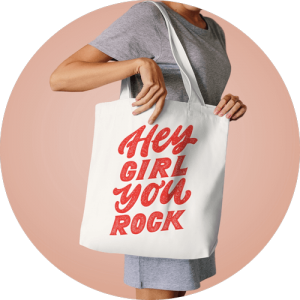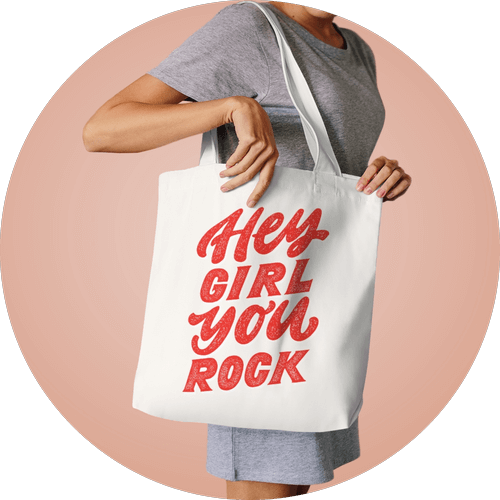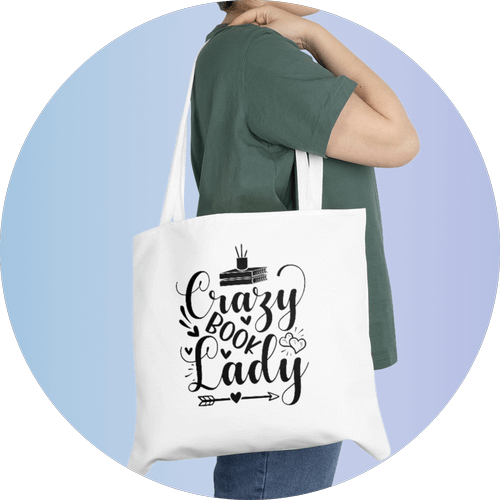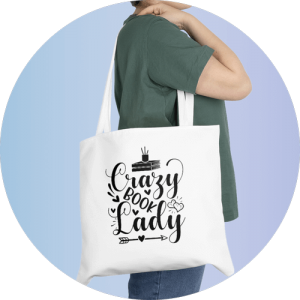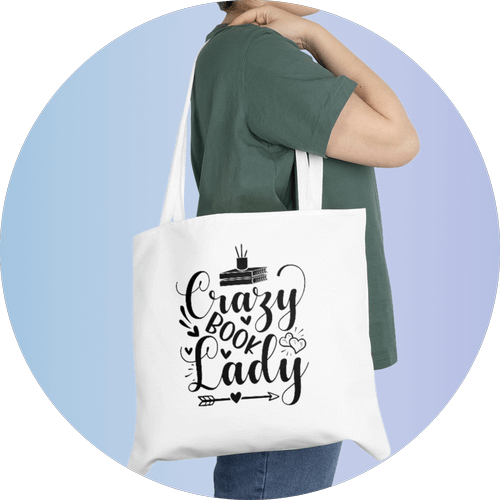 Light like a feather, don't let this tote bag fool you – its polyester fibers are incredibly durable and will make sure everyone's books and weekly grocery hauls make it to their destination intact. Add some personality to this bag by printing your unique designs all over its exterior.
Sometimes people come across items they didn't even know they really needed in their lives. This wine tote bag is one of them. Red, white, or rosé, the 100% neoprene fabric will keep any wine bottle at the right temperature for hours on end.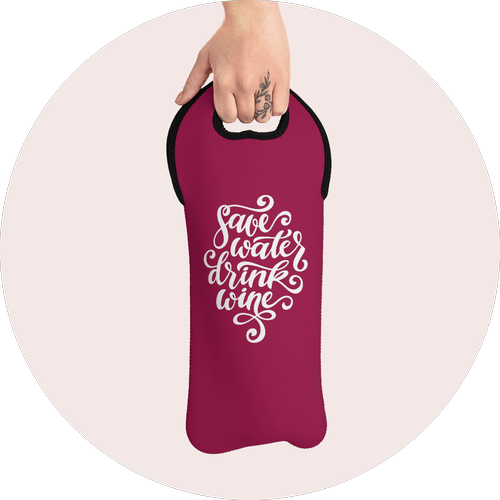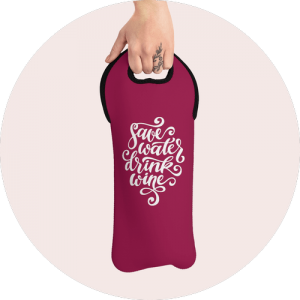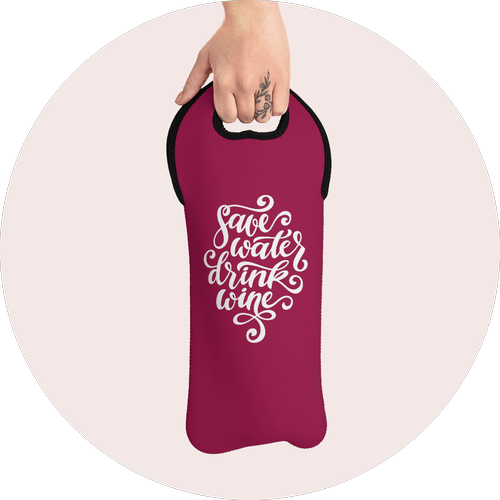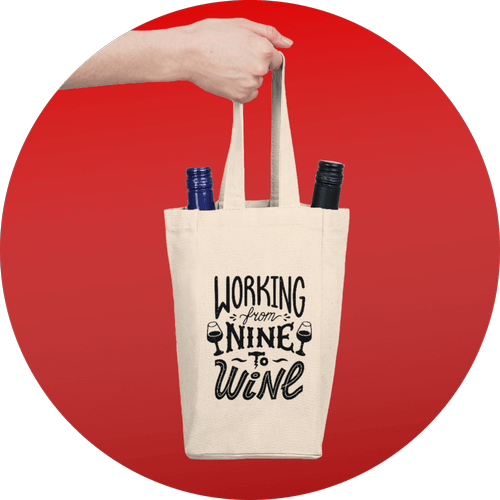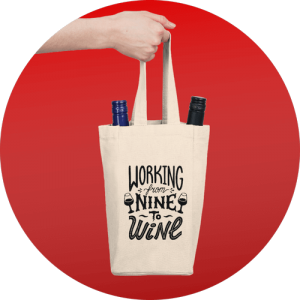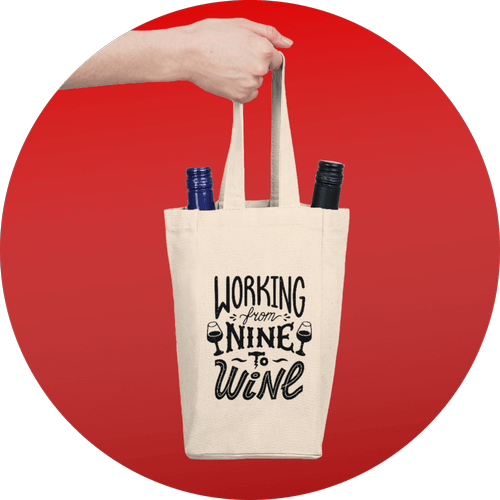 They say that sharing is caring, and that's what this tote bag is all about. It features a sturdy bottle divider in the inside compartment to keep bottles from clinking and falling over. The heavy cotton fabric ensures extreme durability and can perfectly hold two 25 fl Oz (750ml) wine bottles. 
Easy to fold up and put in smaller purses or sling across the shoulder, our 100% cotton canvas tote bag is a great accessory that's very vogue and very useful at the same time.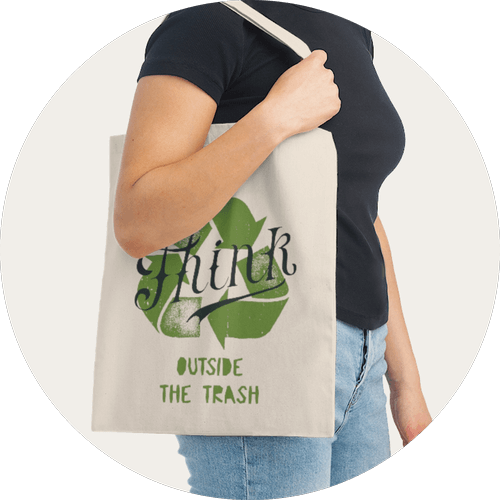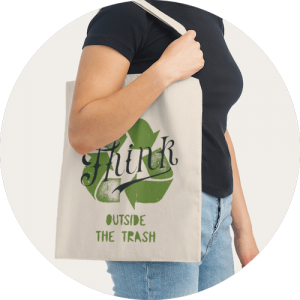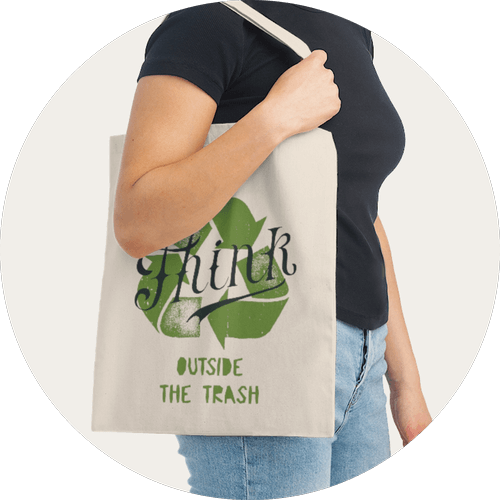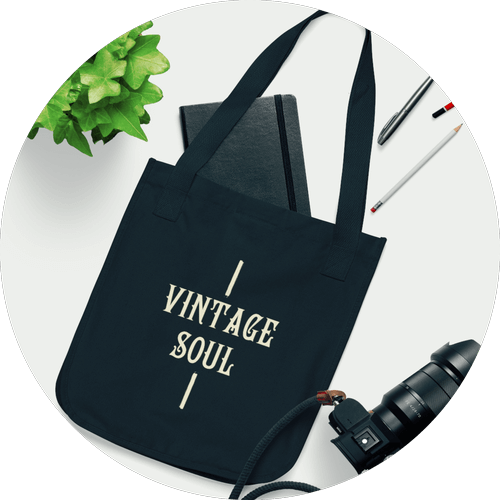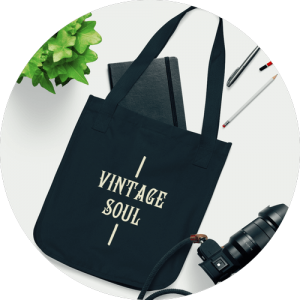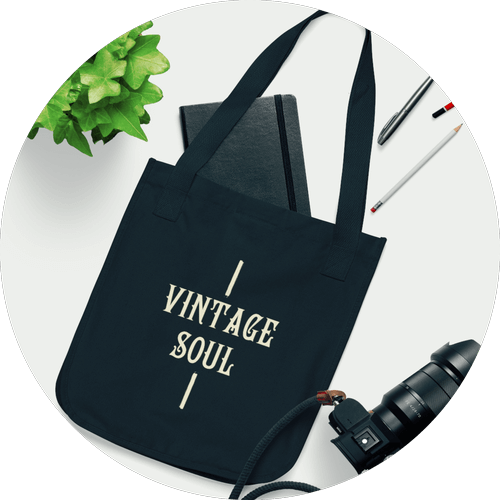 Here's another eco-friendly tote bag choice. The 100% certified organic cotton is grown without any pesticides, herbicides, or other chemical fertilizers, keeping our environment as safe as possible.
Start Selling Custom Woven Tote Bags!
Ready to become the favorite seller of book lovers, wine guzzlers, and fashionistas worldwide? Create your own woven tote bag in a few clicks and start selling it today.
Start Selling Custom Woven Tote Bags Today!