Whatever niche you cater to, St. Valentine's Day provides a one-of-a-kind opportunity to add extra sweetness to your store – cute and romantic Valentine shirts your customers will fall in love with.
Make Your Own Personalized Shirts & Start Selling
Create St. Valentine's Day Shirts Online Today
Whether your customers are single, in a relationship, or married, everyone loves an awesomely designed shirt. With Printify you can easily create a cute collection of romantic Valentine shirts to help your love-struck customers celebrate the day of love – St. Valentine's Day – in style.
You probably know that getting the perfect gift for that special someone isn't easy. For some, it's unbelievably hard. A surefire way to attract customers and increase your sales is by helping in these endeavors.
In case you don't have any Valentine t-shirt ideas, don't worry. Our team has prepared a bunch of awesome and print-ready St. Valentine's day designs. They're all free for commercial use, so you can start using them immediately. If you want, you can modify them to suit your needs. 
There are plenty of awesome shirts to choose from, but let's look at one of our bestsellers that can be used for your Valentine's day t-shirt designs.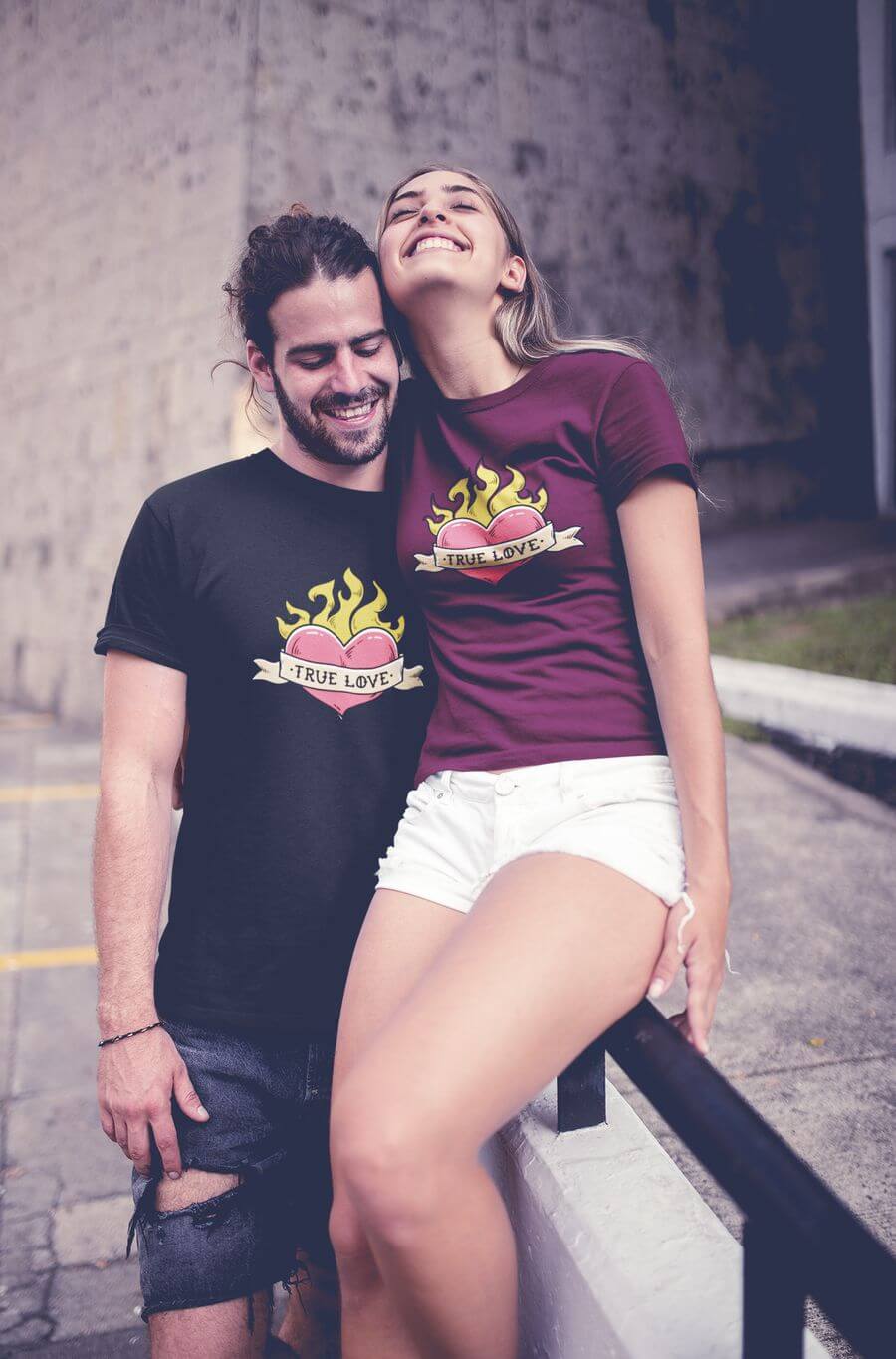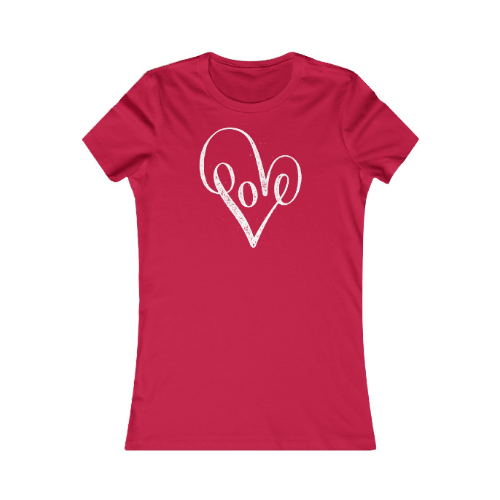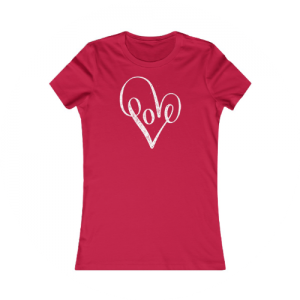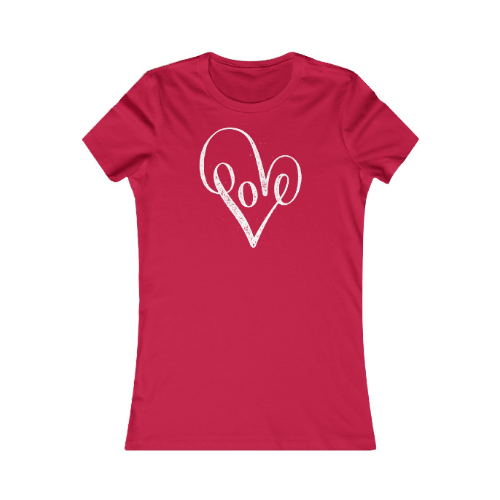 Whether you're looking for a profitable Valentine's day item to add to your store or a gift for your sweetheart, this t-shirt by Bella+Canvas is the perfect choice for him or her.
The best part is, you can easily add your design or a Valentine's day catch phrase and make your customer fall in love with your brand.
Let's take a look at some of its features:
Create Your Own Shirt Today!
When Is St. Valentine's Day?
The day of love is celebrated annually on February 14. St. Valentine's Day is a big day for eCommerce. It is a great way to strike an emotional chord with your customers and boost your sales. As with many other holidays, you can expect some last-minute shoppers that'll happily take your offers before time runs out.
Valentine's Day T-Shirts and Designs
When brainstorming for Valentine shirt ideas, think about what would help your customers express their love to their significant others. In our day and age, a t-shirt is worth a thousand words. However, there's the other side of the coin – the St. Valentine's Day haters. Why not also provide a fun way for your shoppers to express their contempt for the Cupid and his indiscriminate yet well-intentioned arrows?
You know your customers, their styles and interests, and you'd do well by offering them products and Valentines t-shirt designs that match their emotional needs, whatever they may be.
Valentines Day Couple Shirts
There's nothing lovelier than matching Valentine shirts with eye-catching designs. If it's couples you're going after – more power to you. These shirts open up a lot of possibilities for stylish ideas. If your customers are a match made in heaven, they'll want to have one of these matching couple's t-shirts.
I Love My Girlfriend Shirt
A fun and charming way to express your love to your significant other. With our free design tools you can add any text you like, so it can read girlfriend, wife, or fiancée. Unleash your creativity, add your design, and create the perfect St. Valentine's Day item for your store.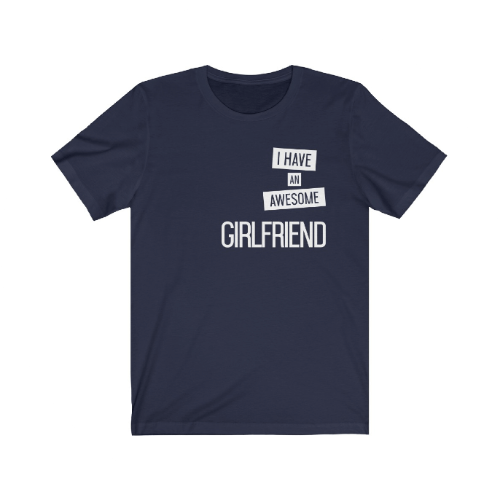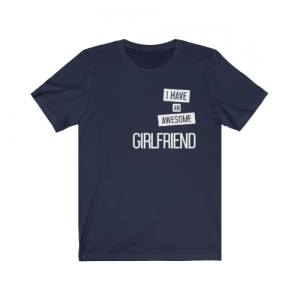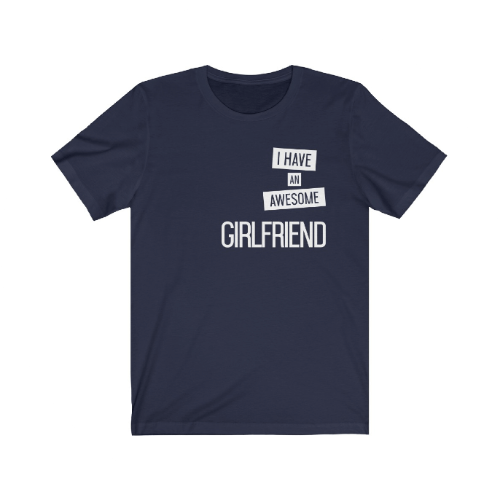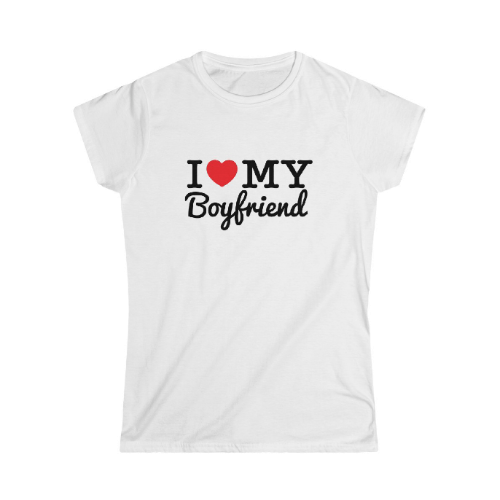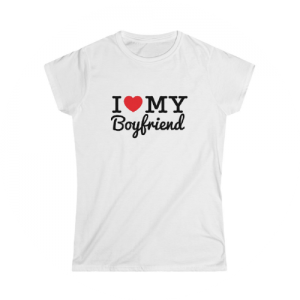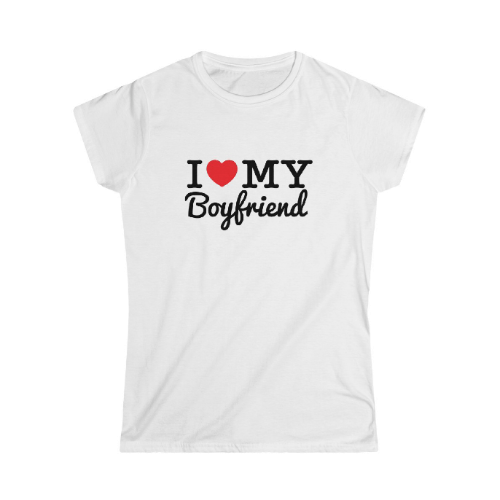 I Love My Boyfriend Shirt
Any store can benefit from a touch of sweetness. If you're adding one for him, don't forget about her – these sell well together and spark joy like nothing else. If it fits your niche, you can put your shoppers in a romantic gift-giving spirit with a St. Valentine's Day-themed storefront, highlighting top-selling products or adding some charming banners. 
With our print-on-demand service, you can easily create unique couple's t-shirt designs that are sure to strike that Cupid's arrow through your customers' hearts.
Whether people have been together for a week, a month, or a year, the value of humor cannot be overstated. A balanced sense of humor can have a positive effect and far-reaching impact on any relationship.
If simple St. Valentine's Day shirts aren't a thing your customers would love, perhaps something funnier would catch their eye. Our powerful Mockup Generator allows complementing your Valentine t-shirt designs with text, so you can modify any shirt to your liking. While there's nothing wrong with shirts that say "I love my girlfriend", adding "but my wife hates her" or "yes, she bought me this t-shirt", will surely steal some smiles.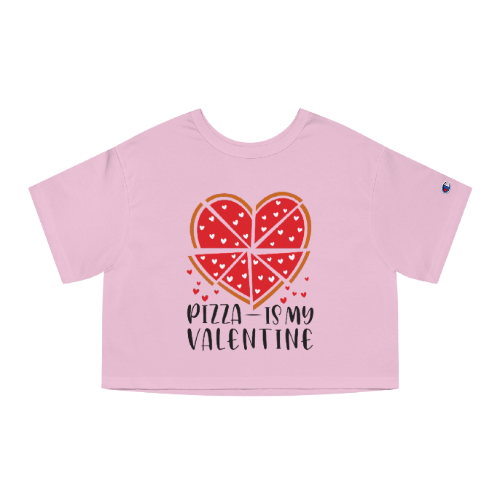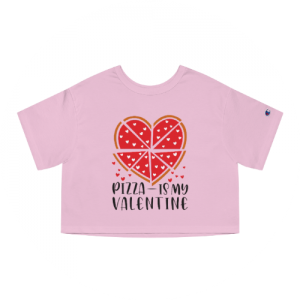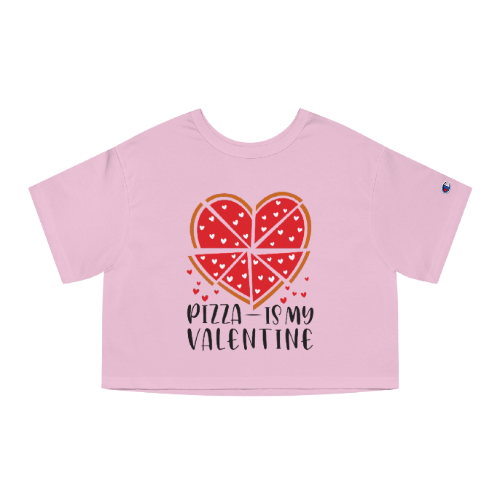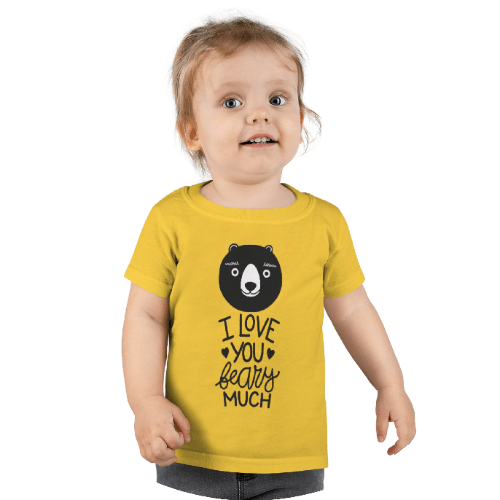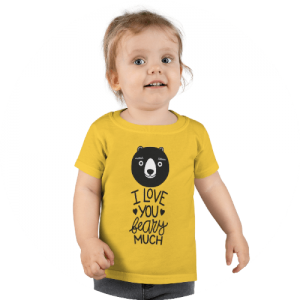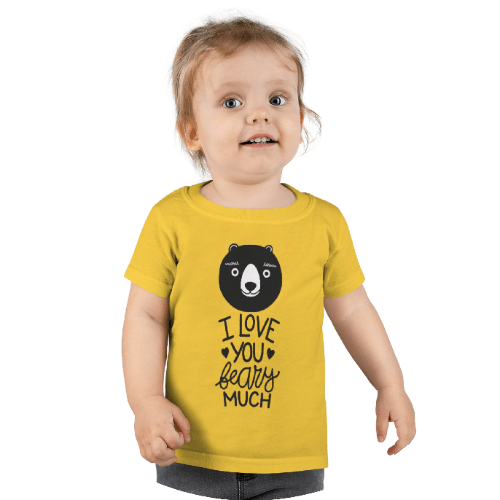 Valentine Shirts For Toddlers
As a store owner, you shouldn't forget about your customers with children. A beautifully designed shirt for a toddler is a must-have for every parent. With matching items for the whole family, you can increase your sales and add some sweetness – minus the sugar crash – to their St. Valentine's Day celebration.
Plus-Size Valentine Shirts
As people get ready for the celebration of love, make sure to add Valentine's t-shirts of all sizes, so that nobody feels left out. With Printify, you can easily add additional size options and make your items a big hit.
Whatever style or size your customers are after, all that's needed is your design, and you're off to a good start. With our free design tools, creating and selling custom Valentine shirts has never been easier.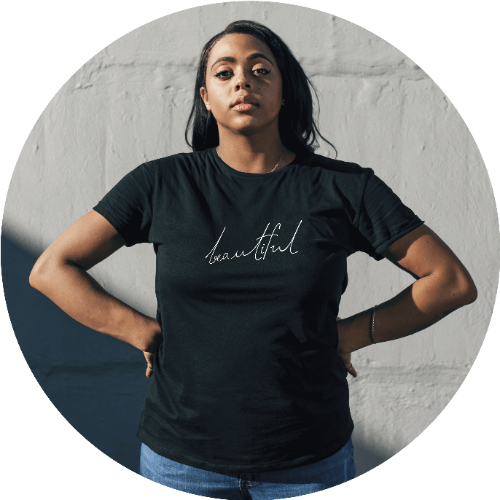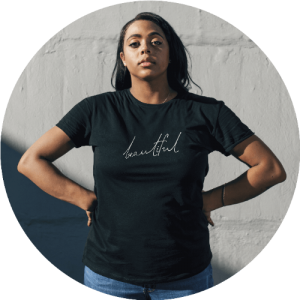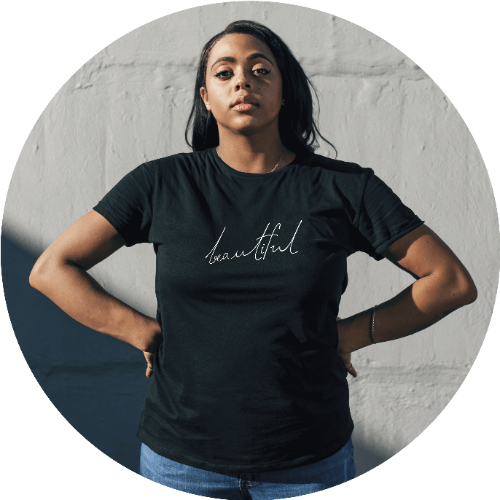 Create Your Own Shirt Today!
Start Your Own Business From Anywhere in the World
What's so great about Printify? Well, one of the best things about it is that anyone can start their own business from the comfort of their home, wherever that is.
Whatever your goals may be, our mission stays the same – to help you make more money with less effort. We pride ourselves in enabling people to achieve their life-long dreams of financial success.
We are a transparent and user-friendly print-on-demand and dropshipping platform that allows anyone to start their own business and become their own boss.
What's more, once you make a sale, we handle everything else – printing, packing, and shipping.
Frequently Asked Questions
Over 500 thousand merchants trust Printify. Our service is free, easy to use, and available to everyone. Simply sign up for a free Printify account and you can start selling in no time.
Start Your Own Print-On-Demand Business Today!