Custom journals to inspire the next generation of writers
Personalized journals are a place where we record our private thoughts, beliefs, and ideas. They should be unique and not mass-produced. Design your distinctive and individual custom journals and start selling today, it's 100% free!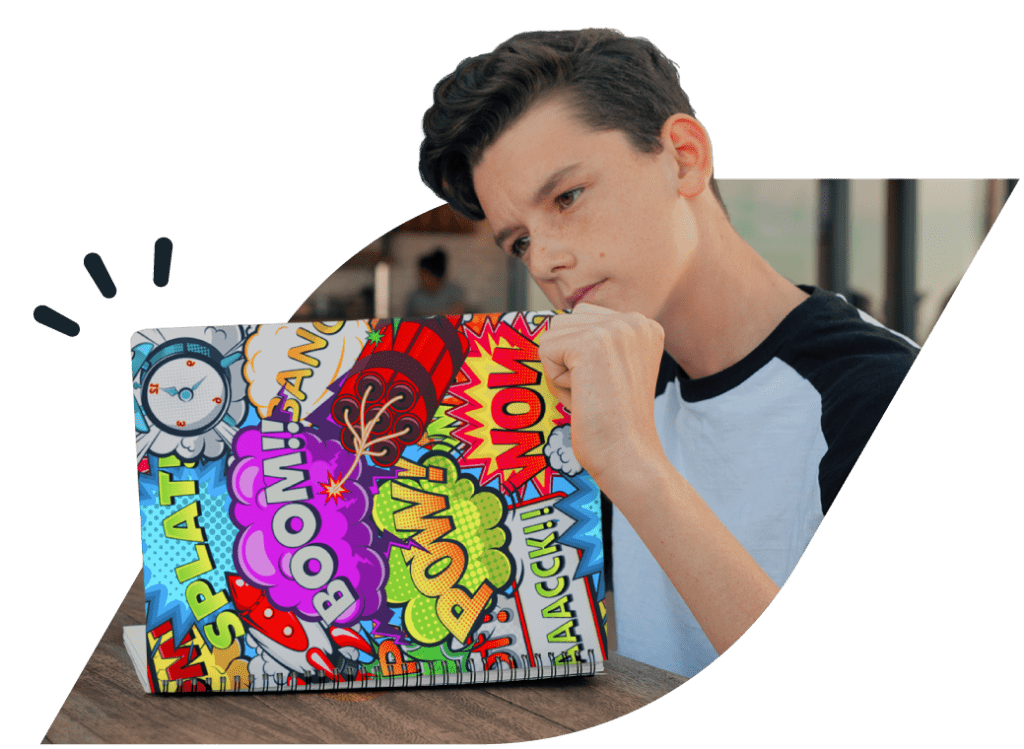 Create and sell custom printed journals online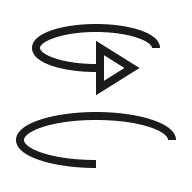 Make your custom journal stand out from every other diary and chronicle out there with unique designs.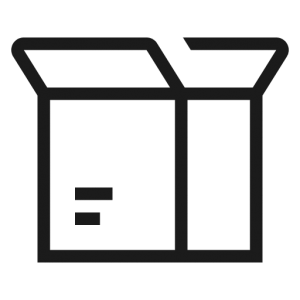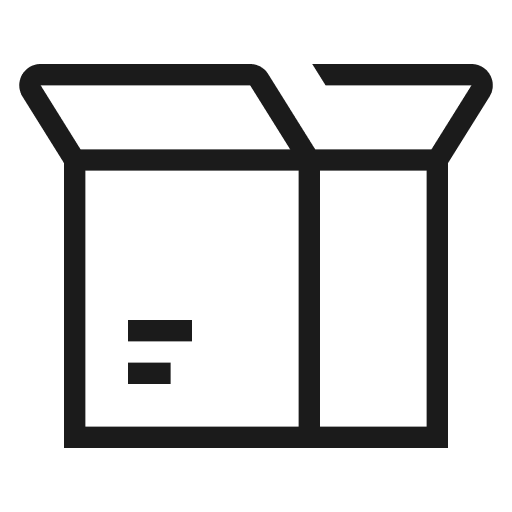 Design, create, and sell as many custom journals as you would like. There are no minimum orders, meaning you can order 1, 10, or 101 copies!

Print providers in the US and the European Union
These custom Christmas sweaters are big sellers during the months leading up to Christmas. It's just sensible to release a few during the peak season, then cut back during the summer lull.
What custom journal styles do we offer?
We offer three different styles of custom journal meaning you can find the perfect style of journal for your individual needs. Journals can be used for dozens of different reasons, be it as a creative diary, a food journal, or for scribbling down artistic muses. Alternatively, design unique journals and add them to your online store. But before you get busy designing, what different styles of journal do we offer?
A blank canvas offers limitless possibilities from novel drafts to art sketches or to-do lists. Blank journals come with a semi-gloss laminated hardcover and wraparound high-quality print, meaning you can design beautiful unique covers and carry the journal with you wherever you go without fearing the contents will be damaged by inclement weather or the rigors of using public transport. Blank journals come in 90gsm paper with 128 blank single pages.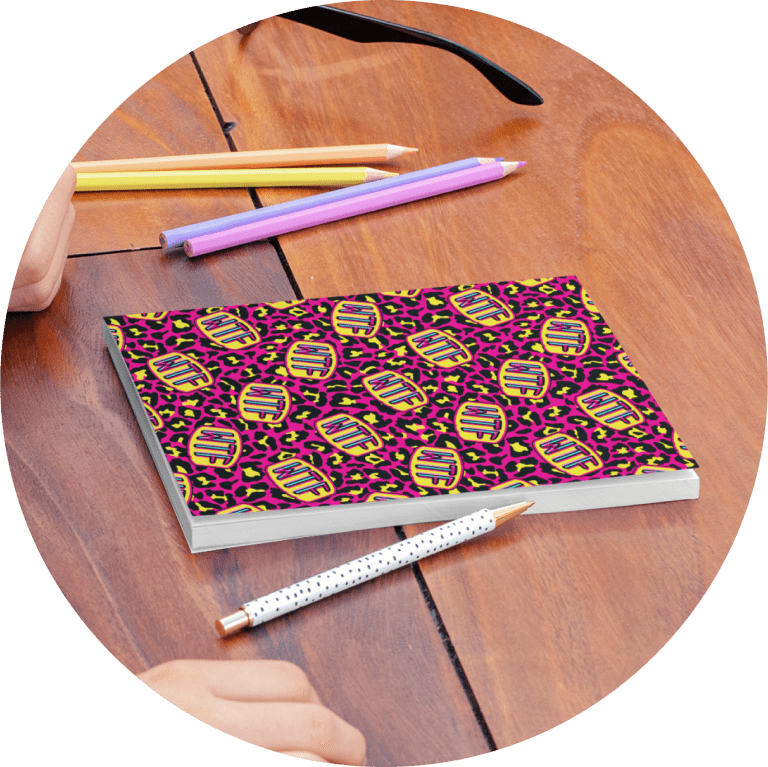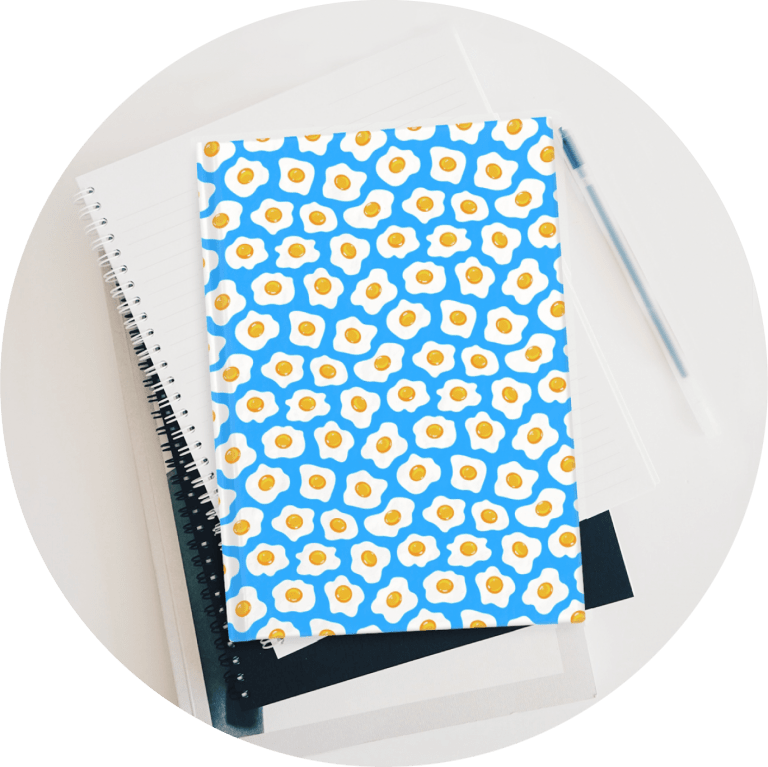 Many people, especially those using journals to express their thoughts through creative writing, lists, and project ideas, prefer to use ruled line journals. 128 page hardcover offers wraparound durable print from the front of the journal to the back. This is definitely a great option for aspiring authors.
Some people cannot imagine a journal without it coming with a spiral case wrap binding. For many, it is just more comfortable and practical. Spiral journals come in a variety of styles including a dot grid, blank, lined, and task.  
These journals boast 80 single pages of 90gsm paper and a flexible, sewn spine that enables the writer to lay their journal flat on surfaces when opened.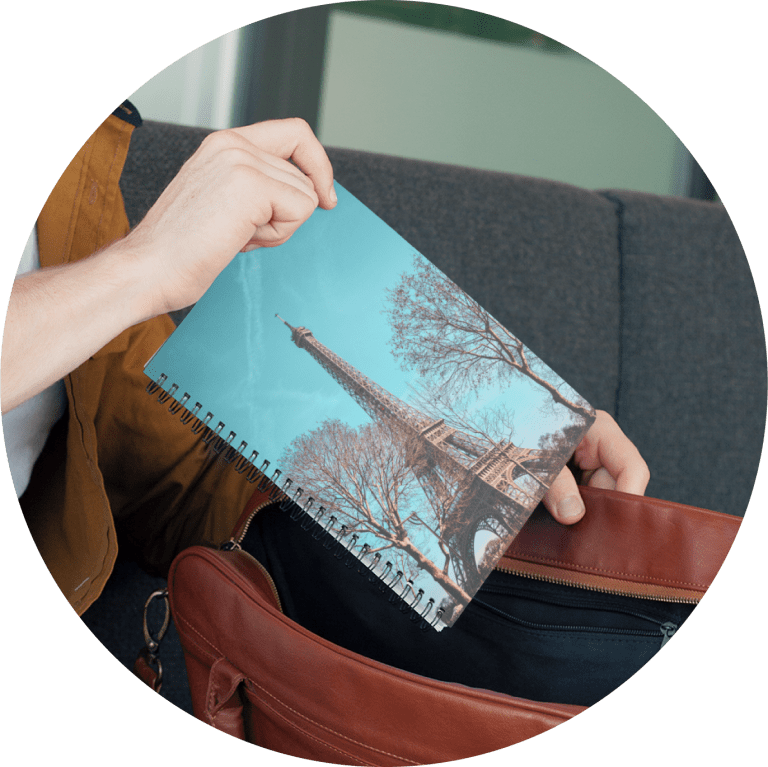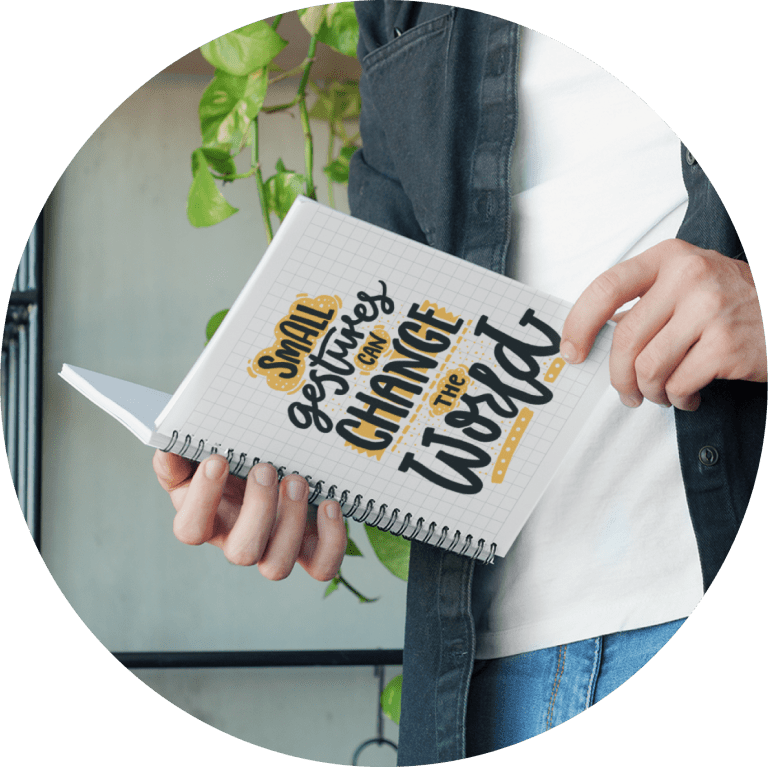 You can also offer your customers a stylish finish with this matte hardcover journal. Perfect for more contemporary designs and understated luxury. Available in 5.75"x8" with 75 single lined pages, you can customize these journals on both the front and back covers for a truly unique, personalized touch.
Complete with a flexible sewn spine, the journal will lie flat to the surface when open, which is perfect for jotting down inspiration, notes or thoughts.
Why are custom journals popular?
It perhaps seems odd that in a time when almost everyone is spending more time online, many of us are resorting back to pen and paper and custom journals. But, then again, perhaps it isn't so strange. Our online life takes place across so many different mediums and platforms from emails, to Google Docs, to Instagram posts that in reality, we live in chaos to some degree, rather than simplicity. A written journal enables us to put all our thoughts and ideas in one place, be it our creative ideas or facts and figures related to a particular project. And, truthfully, our privacy is increasingly being lost in the online world while a personal diary or journal can be kept completely private and away from the prying eyes of the rest of the world. 
Paper diaries also encourage productivity and a timely escape from technology and the internet. Let's be honest, sitting with a coffee and a pen and paper feels much more relaxed and stress-free than sitting instead with our laptops or mobile devices open, getting constantly distracted by notifications, messages, and Facebook updates. Custom journals are a powerful tool for anyone wishing to improve the quality of their life. They enable us to explore our creative side, be more organized, productive, honest…and free! And, don't forget, people have been keeping journals for many many centuries!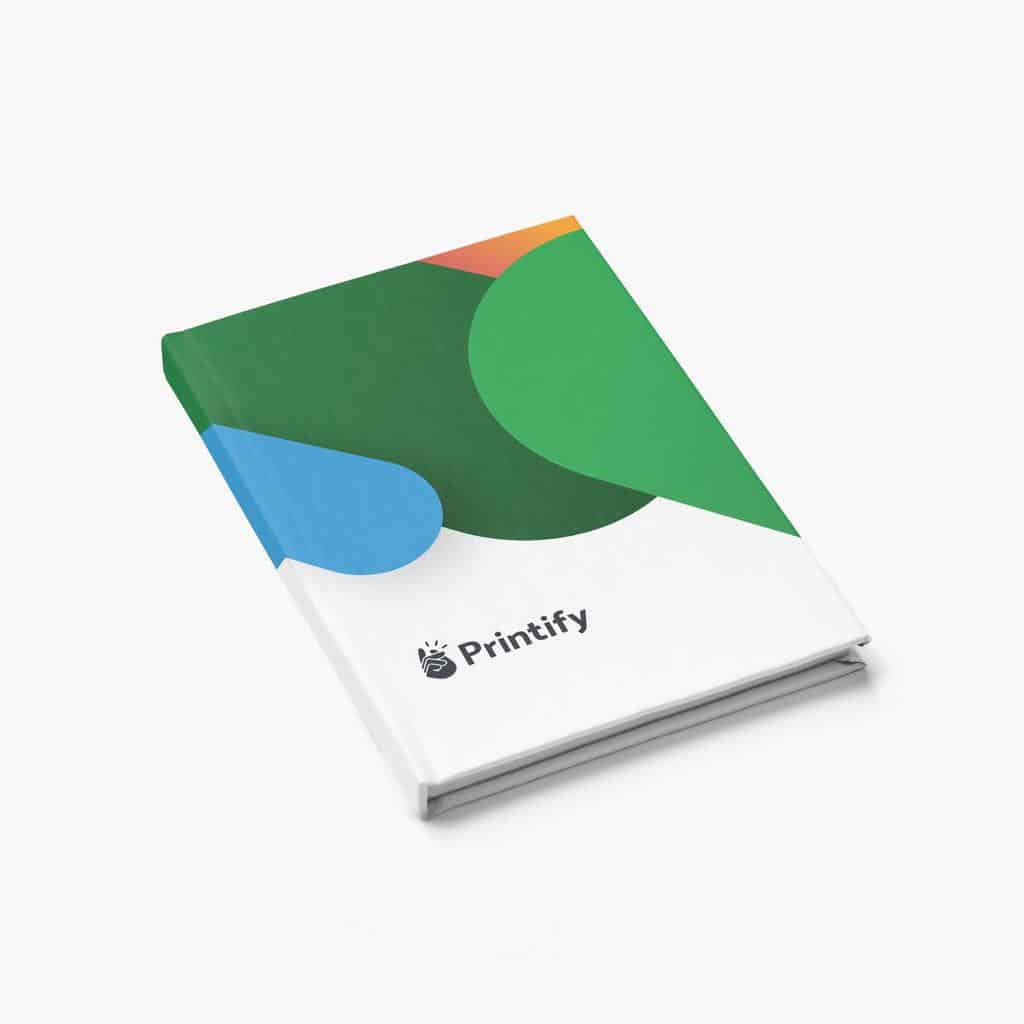 Custom journals are the essence of creativity and organization
Custom journals have never been in greater demand, particularly now that so many of us are working from home. While mobile devices and laptops are omnipresent in our lives, many of us realize that writing our ideas, plans, and thoughts down on paper the old fashioned way is often more productive and enjoyable. From keeping track of our expenditure to jotting down our imaginings for our killer novel, custom journals can go with us anywhere, anytime. 
For any entrepreneur wishing to design and sell unique personalized journals for their online customers, custom journals are simple and fun to design.
The top 20 types of custom printed journals to keep
Travel journal – Personalized travel journals have become especially popular as backpacking and taking a year out have become the norm. Record your travel memories so you can look back on your adventures for years to come.
Personal notebook – you can scribble down anything here. And, what's more, unlike the internet, here your thoughts remain completely private!
Yearly diary & journal – the most popular custom journal for many people. Practical day planner with diary notes.
Art journal – instead of drawing designs on random bits of paper, keep all your art ideas in one place.
Coaching – coaches of all sports and pastimes need to keep a record of what they have taught and their plans for future lessons to help their students develop.
Dream journal – why am I having such weird and wonderful vivid dreams? And why do I forget them soon afterward? Keep a dream diary by your bedside and note down your dreams straight after you wake up.
Exercise & workouts journal – sometimes the extra motivation we need is seeing what we have achieved written down. It's the perfect way to motivate ourselves to achieve even more!
Food journal – whether it is to keep special recipes, or to maintain a record of what you are eating for health or dietary reasons, personalized food journals are increasingly popular.
Gratitude book – if you have never kept a gratitude diary then it is well worth considering. By writing down 3 or 4 things we are grateful for each and every day, we suddenly realize that life is much more positive than we perhaps understood it was. Gratitude is believed to significantly boost our mental health.
Expenditure journal – the majority of people don't know how much is going out the door until their bank account is empty. An expenditure diary sounds a bit old school perhaps but it is the perfect way of discovering what we are actually spending and finally getting on top of our finances.
Secret journal – particularly popular with teenage children, a secret journal is our personal private place to write down and keep our private thoughts.
Reading – keep a record of everything you are reading including book titles, authors, and publishers. It's the ideal way of discovering other work you will enjoy later.
Projects & ideas – we all have lightbulb moments but often forget to write down our change-the-world ideas. Use a project and ideas journal to keep all your thoughts, ideas, and project plans together.
Things you like – it's annoying when we hear a song we love but forget to write down its name, sometimes never to hear it again. The same thing might happen with a movie or TV series trailer for a new movie you want to see. Keep all the things you like in the same place: films, books, songs, and more.
Gardening – growing plants and flowers isn't as easy as some imagine. It takes time to learn what works and when it works. Nature is an incredible thing. Keep a gardening journal to develop your gardening skills.
Pregnancy –  many pregnant women like to keep a pregnancy journal to write down their symptoms at various times of the day and to better understand their unique private journey to motherhood.
Lists and bullets – stick down all your need to-do lists in one place.
Poetry – a poetry journal was one of the original journals, already popular for centuries.
Health – give up cigarettes or cut down with alcohol using a health journal. Eat better, sleep better, count steps, hit your personal goals, and targets for a healthier and happier life. 
Creative writing/consciousness/reflections – all of us have thoughts and reflections that we often keep inside our heads rather than committing to paper.
Everything you need to know about custom journals

This blank paper is perfect for expressing yourself without any limitations. 90gsm paper is higher quality paper than you often find in mass-produced journals. It absorbs the ink and is ideal for using colors with. By comparison, standard printer paper is usually around 80gsm. Typically the higher the GSM the thicker the paper.

Our case wrap binding comes with a flexible, sewn spine that allows the journal to lie flat on surfaces when opened. Most people using a journal want it to sit flat and comfortable to write or draw in.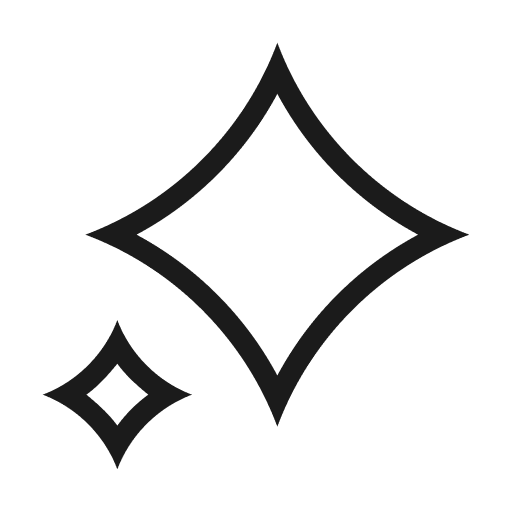 Semi-gloss laminated cover
To give your cover a smooth look, with lots of durability. The cover of any journal is incredibly important. It is the cover that tells others what the journal is about and sets it aside from all other journals, diaries, and manuscripts out there. If you want to be successful in selling custom printed journals, then a semi-gloss laminated cover will enable you to stand out from the competition. Think quality and durability.

Choose from 80 or 128 pages. 128 pages represent more than fifty percent extra pages and therefore might typically be more popular with anyone writing stories or manuscripts. The 80-page option is usually more sought after by anyone using custom journals for bullet points or for anything that requires carrying around a smaller, lighter journal.
Design ideas for custom journals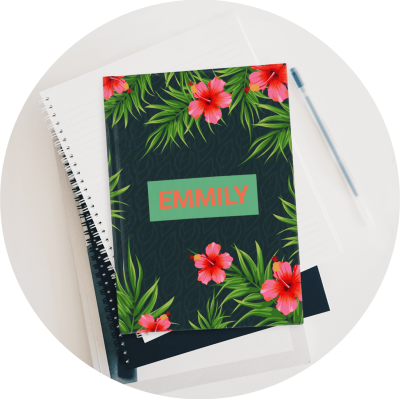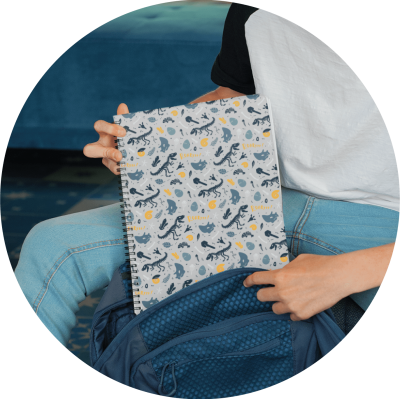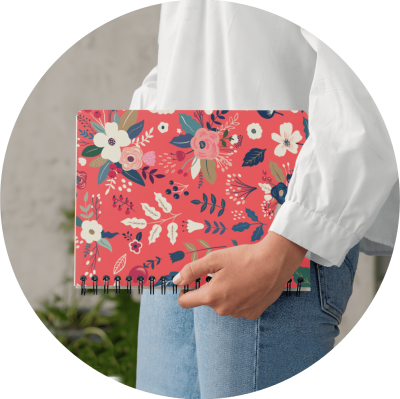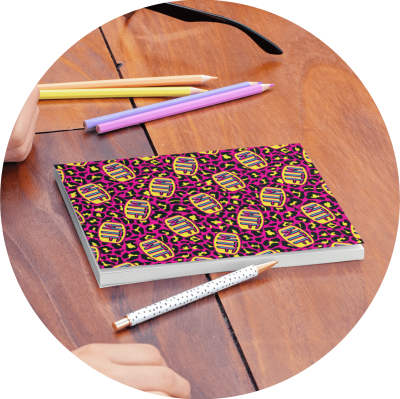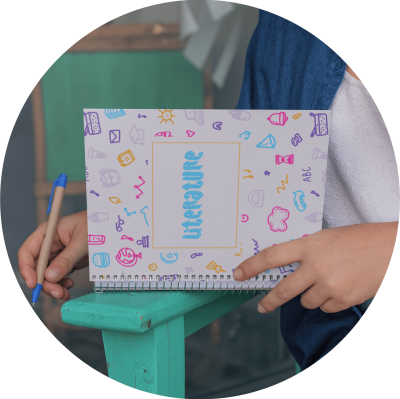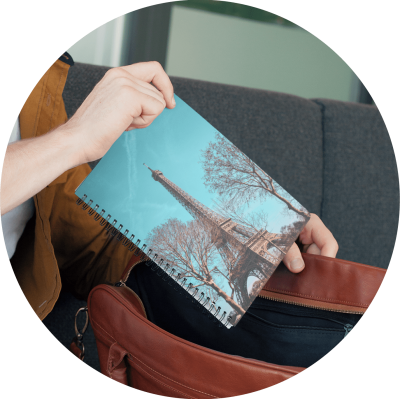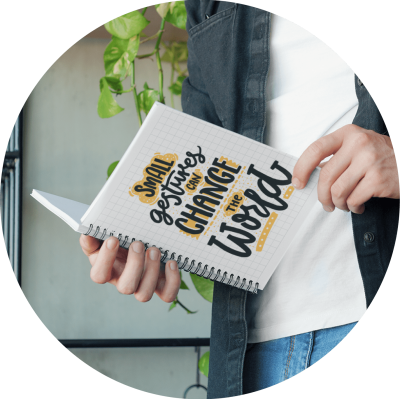 With our easy-to-use Printify online design tool, you can assemble the design without any hassle. Simply select the print style you like and use our step by step mockup generator to complete your unique designs.
All our journals are custom print meaning you can be as imaginative as you like with the design ideas. Play around with lots of different styles and techniques until you are accustomed to our free design tool.
There are dozens of different types of journals and custom printed notebooks popular amongst people all over the world. From pregnancy to poetry journals, limitless images or design ideas to suit every journal and diary. The sky, as they say, is the limit when it comes to creating unique ideas. If we take art journals as an example, you can design collage art journals, quote art journals, doodles, poetry art, gratitude art…the list just goes on and on!
8 most frequently asked questions about selling custom journals online
How to choose the right kind of custom journal?
Never trust a book by its cover, they say. But almost all of us do it. When we are thinking of designing custom printed journals, the cover is certainly one of our most important considerations. But what else do we need to consider? Well, one obvious question is would you prefer spiral or full wraparound print? Blank pages or ruled lines? 80 pages or 128 pages? There are many things to consider before you decide on what kind of custom journal you wish to go with.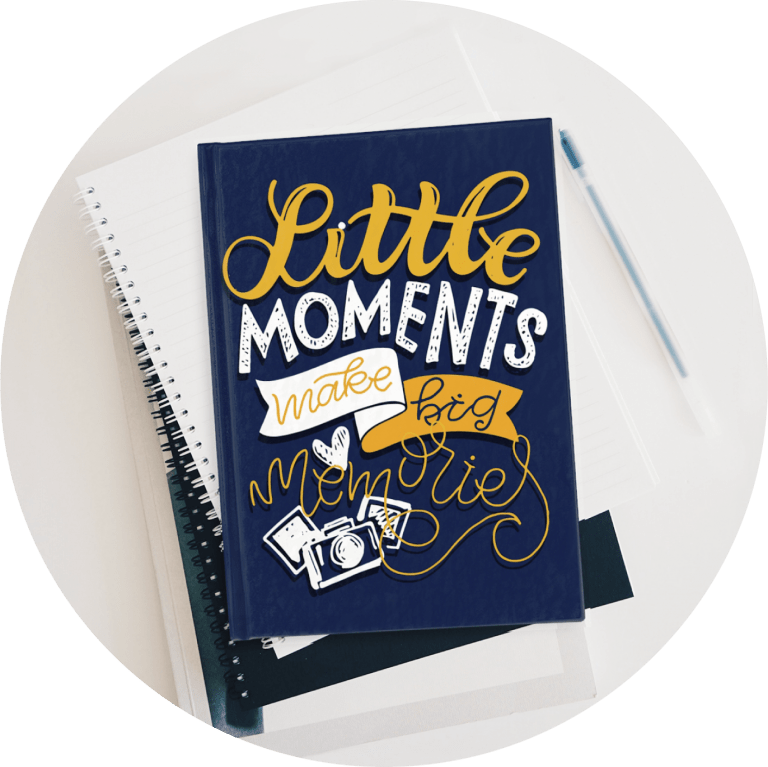 Custom journals no minimum order
Printify likes to make life easy for you. We understand that if you are happy, then we are. One of the advantages of using our service is that we have no order minimum for our products. If you only need one custom journal that is fine. If you want a few or a lot that is equally fine with us. Use our Mockup Generator and whether you want 1 journal or 101 journals, we are ready to supply exactly what you need. 
Print on demand means you do not have to hold stock or invest money that you might not have when you start your online shop. Order as many or as few custom journals as you need. Ideally, as well, keep some sample products for yourself so that you are completely aware of the quality of the product you are selling. You can also utilize your sample products for marketing purposes, be it through high-quality social media and online shop photo images, free giveaways, or for competitions. 
Your custom journals are shipped right to the doorstep of your customers. There is no minimum order. There is no middle man to deal with. 
We now have a new and improved Mockup Generator
Our customers love our free mockup generator. Recently, we upgraded it to make it even better!  
We have kept most of the important elements of our mockup generator but made a few changes and optimizations.  
The Printify mockup generator is the key to your success with your custom journal business. Below are the changes we have made to this service ensuring that it now makes your experience twice as good as it was!

A UI update means the mockup generator is now more appealing and smoother to use.

Redisigned, easy to used design panel
Our right-hand side design panel enables you to switch layer positioning and functions.  

Products can now be created even more quickly than previously. Take advantage of this improved service and upload them to your online eCommerce shop.

Optimized mobile device use
We have made improvements with how the mockup generator looks and feels when using it on mobile devices.

Our preview service has been optimized and allows you to now see your custom journals exactly how your customers will see them.  
The Printify mockup generator could not be easier to use: once you have your design ready, you drag and drop this so that it is uploaded. Once this is done, you can experiment with the colors and layering to find the look that is exactly what you are looking for. 
Before you start using the mockup generator, we suggest you read our guide to top design mistakes.
Get started with Printify?
Now that you are ready to get started, you can begin the process of designing, customizing, and printing your custom journal.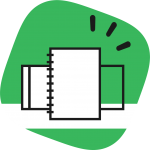 What kind of custom journal ticks the boxes for you? Once you've chosen the journal that suits your taste, you now know the production time, shipping, availability, and pricing of each unit you are selling.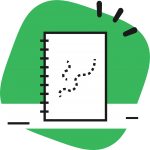 The design of your journal is easily managed. Using our design tools, you can add elements to how your journal looks. Once this is done, use the mock-up tool to see how your journal will look in the real world.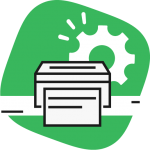 Now your designs are uploaded, it is time to start selling your custom journals to the big wide world out there! As soon as you receive your first order, you can send your new custom journals for production.  
Start selling custom journals today!