Slip on these custom flip-flops and slide into summer with style. They're super-comfy, versatile, and affordable—great for anyone looking to stay cool for the summer. Create your stunning flip-flop design and start selling them today.
Design and Sell Customized Flip-Flops
Gone are the days when flip-flops were exclusive to garden chores and beach days. This footwear has evolved from practical to popular and conquered the likes of billions of customers worldwide.
Today, you can even spot flip-flops on style icons posing in fashion weeks and models strutting down the runway. Everyone wants a slice of the golden trifecta—functionality, comfort, and style.
Making and selling your own flip-flops has never been easier. With Printify, you can start a footwear brand from anywhere in minutes with no inventory. All you need is an internet connection.
If you're looking for a reliable source of income, print-on-demand flip-flops are it. They've been in constant demand throughout the past decade, and the market is predicted to grow steadily for the foreseeable future.
These are not your typical sandals. Each flip-flop features a comfy, black PVC strap that's very durable and easy to clean.
Their soles are made of a 5/8″ (15 mm) Ethylene-Vinyl Acetate (EVA) plastic that mimics the grip of rubber but is lighter and more flexible.
Your stunning designs will be printed on the 100% polyester surface to help the colors pop and stay vibrant for years to come.
A pair of these unisex personalized flip-flops is the complete package for those who love an even sturdier feel. Their soles are texturized and made from lightweight 100% foam rubber to improve durability and reduce the risk of slipping. 
The black, texturized straps will complement and help your flip-flop design stand out from the crowd without overpowering the artwork. 
Create Your Own Personalized Flip-Flops
Why Choose To Sell Personalized Flip-Flops
Historians and archeologists have dated flip-flops back to 4000 B.C. in ancient Egypt. How have these simple shoes stayed relevant year after year throughout millennia?
A Summer Wardrobe Essential
When the summer heat kicks in, socks and closed-toe shoes become a relic of the past, and it's time for custom flip-flops to shine. They're people's go-to choice for hot beach days, music festivals, and pool parties.
For sellers like you, this summer is the most opportune moment to offer your customers stylish, personalized flip-flops that'll keep them both looking fresh and feeling fresh.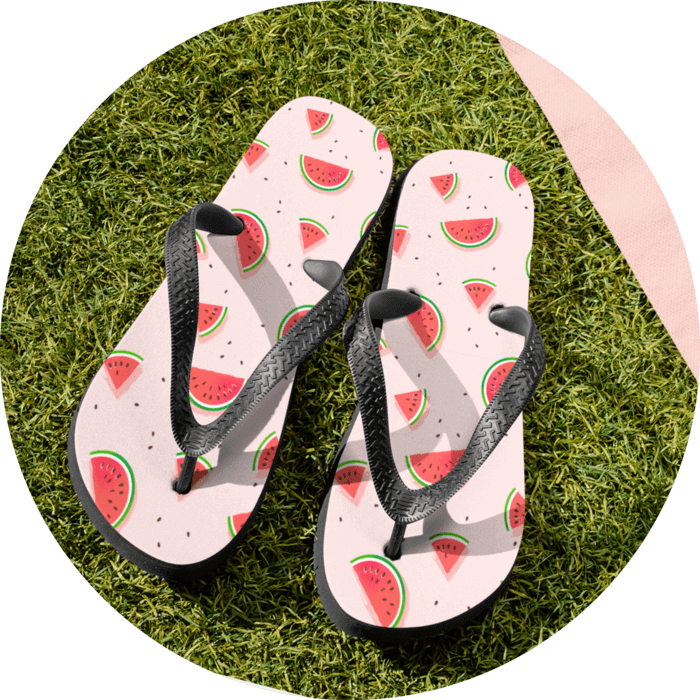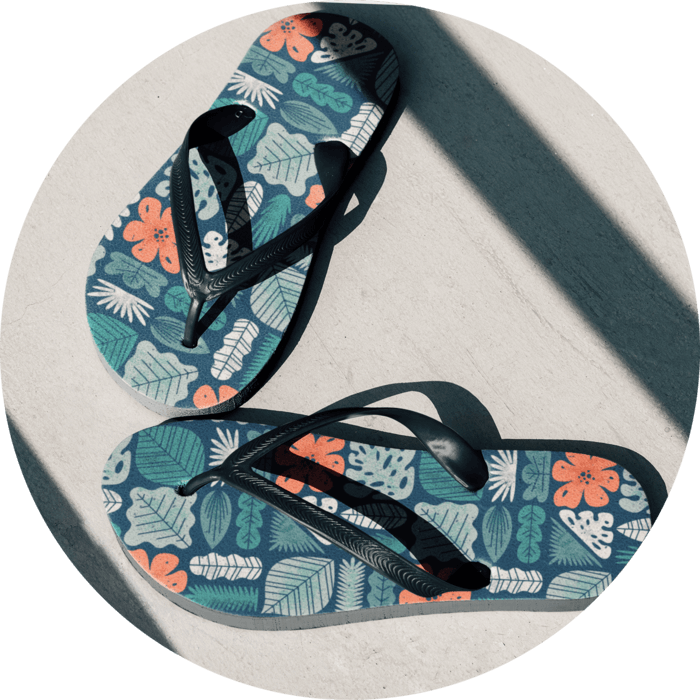 No wonder these feet whips have stayed with us since ancient times—people will always love products that make their lives easier and more comfortable. 
Aside from looking like a million bucks, a single pair of well-made custom flip-flops will be a trusted companion in various situations no matter the season, e.g., at home, the gym, pool, and spa.
Flip-flops are made for everyone, regardless of their gender, age, or other demographics. This versatility opens you up to a whole world of potential customers. Plus, you don't have to settle for a single target customer—branch out and create multiple collections in different niches.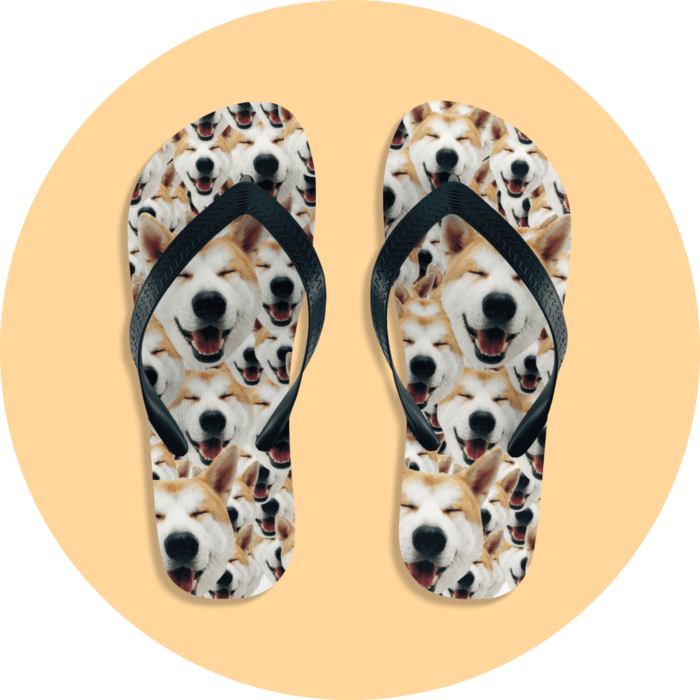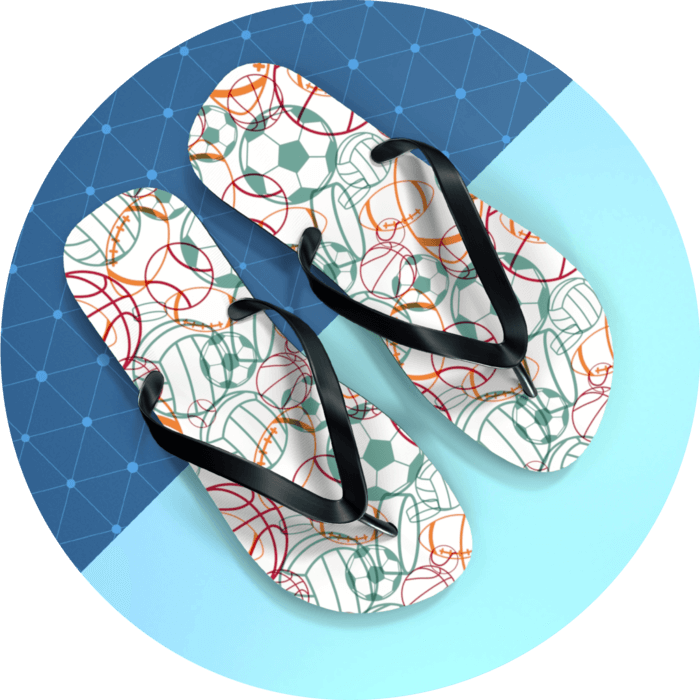 The sky is the limit when it comes to our All-Over-Print custom flip-flops. This printing method covers the whole base and the sides of the sandals with your unique, eye-catching designs. The designs can be reserved, minimalistic or crazy, and bright with bold colors. It all depends on who you're selling them to.
You could make custom flip-flops with logo designs for a business that wants to sell merch at networking events. On the other hand, you could sell monogram flip-flops as personalized gifts on special occasions. Most importantly, try to find a niche where you can stand out from the competition.
Flip-Flops Are Affordable
While our custom flip-flops are made from high-quality materials, their production costs are relatively low. That means that even if you set a higher profit margin, let's say 30%, you still stay in the affordable range for your customers.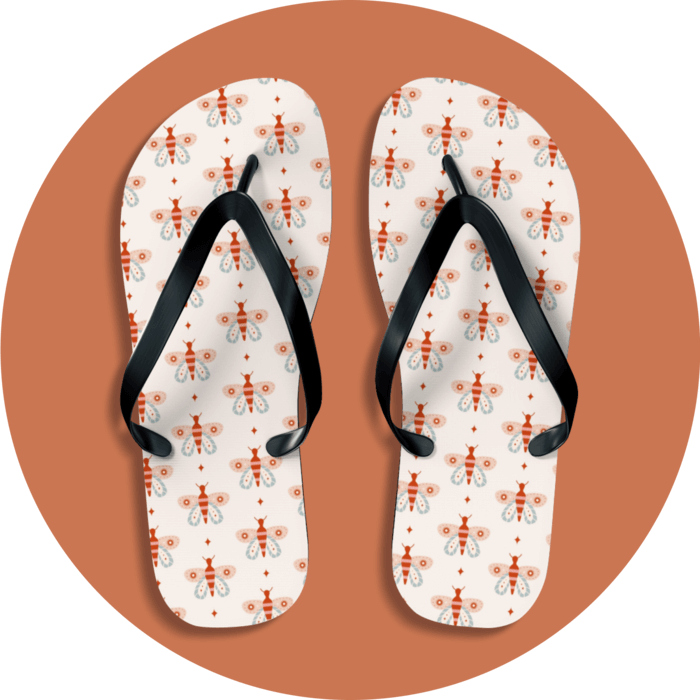 Printify Is Trusted by 2 million+ Merchants Worldwide With More Joining Every Day
I don't have to invest the money I can't lose into my business. With Printify, I only pay the fulfillment fees, and the rest is all profit.
I really appreciate working with Printify on my brand. Afro Unicorn was only supposed to be my design on a white shirt. It is so much more. Printify allows me the time to run the business and not work in the business.
Printify helped me start a completely hands-off revenue stream. When you spot a niche that you want to enter quickly, you don't have to worry about buying stock or equipment.
My experience has been amazing so far. With thousands of sales, there's always going to be obstacles to overcome. But, when something has needed fixing, it has always been amazing.
Printify Premium has helped my profit margins tremendously, and spending $20 a month has probably saved me over $200 a month.
Using Printify saved our struggling business of 6 years and gave us more time with our family.
I like Printify products because they tie in with our organisation's message.
I love the Printify Mockup Generator. It keeps everything consistent and allows me to keep my brand looking sharp and professional.
How to Start Selling Custom Flip-Flops With Printify?
Every year, merchants just like you make tens of thousands in profit from selling custom flip-flops. What are you waiting for?
Printify is a Print On Demand platform that helps you make more money with less effort by taking care of production, delivery, and customer service.
Follow these four simple steps to get started.
Frequently Asked Questions
Congratulations! You're now fully equipped with everything to start your own custom flip-flop business and conquer the soles of millions. Join Printify today to get started.
Start Selling Custom Flip-Flops Today