Slip on our custom flip-flops and slide into summer with style. They're comfy, versatile, and super affordable – great for anyone looking to complete their outfit for the summer. 
Add eye-catching designs and order your own pair, or start selling branded flip-flops online today.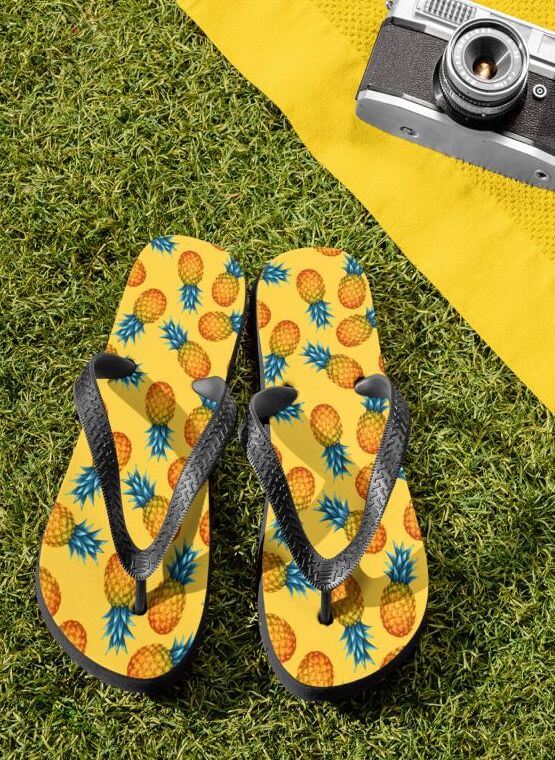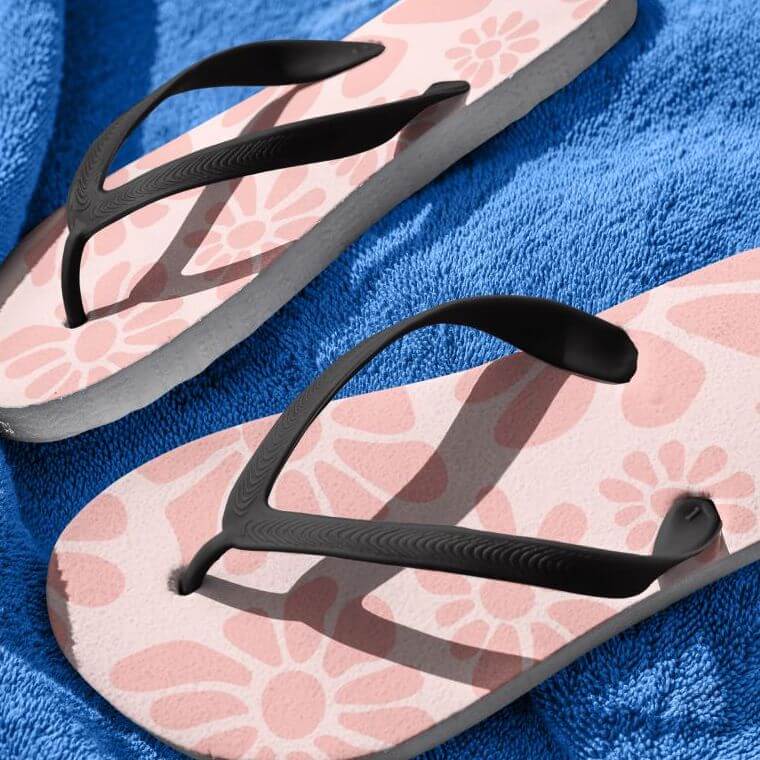 Create Your Own Custom Flip-Flops!
Design and Sell Customized Flip-Flops
Gone are the days when flip-flops were exclusive to garden chores and beach days. This piece of footwear has evolved from practical to popular and conquered the likes of millions of customers worldwide.
These days, you can even spot a flip-flop sandal on style icons posing at fashion week and models strutting down the runway. Everyone wants a slice of the golden trifecta – functionality, comfort, and style.
Making and selling a pair of your own flip-flops is easier than ever. 
To start printing on flip-flops, you only need a desktop or mobile device, internet connection, and a great design idea.
If you're looking for a reliable source of income, printed flip-flops are the name of the game. They've been in constant demand throughout the past decade, and the market is predicted to grow steadily for the foreseeable future.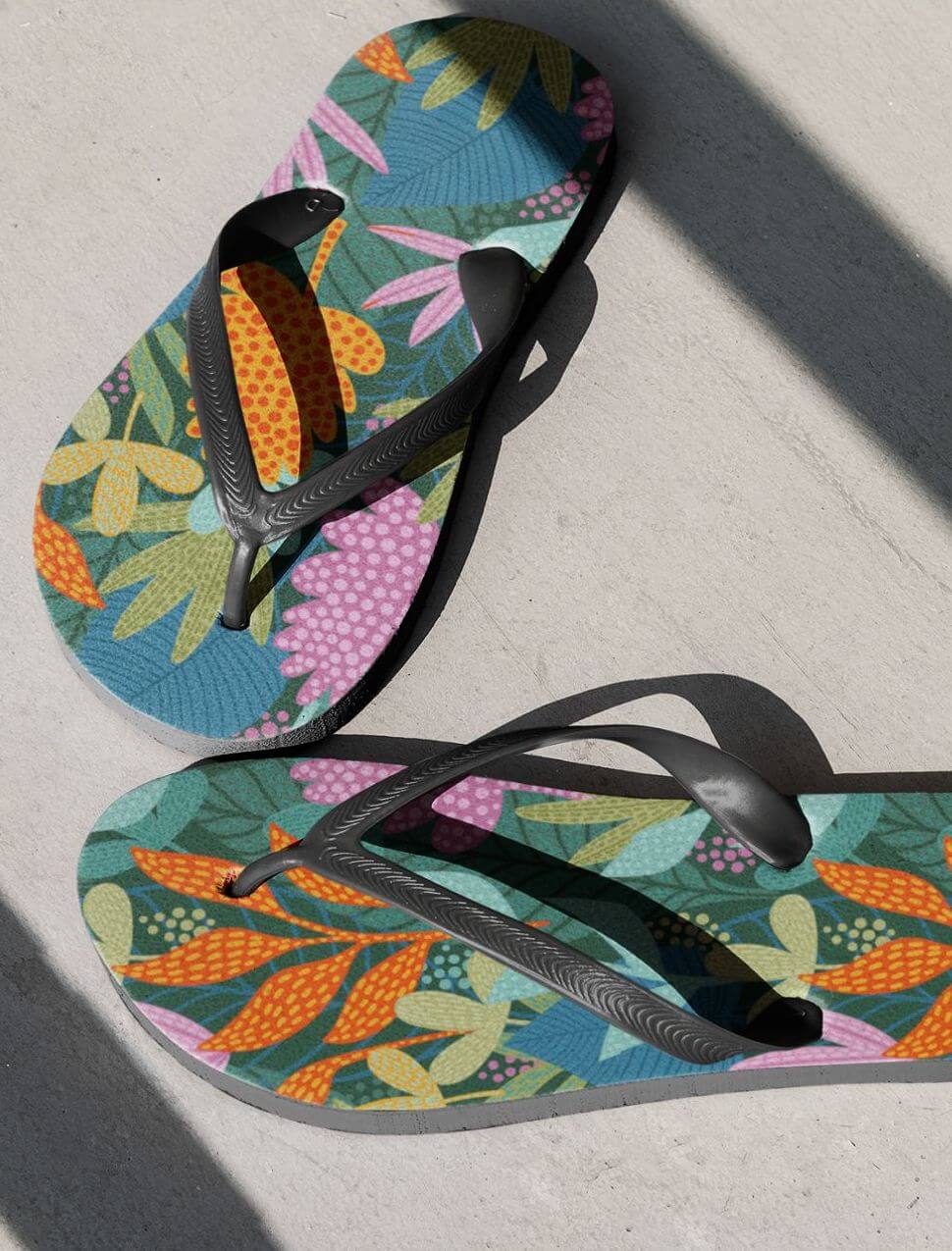 Create Your Own Custom Flip-Flops!
Design Ideas for Custom Flip-Flops
Anniversary and Birthday Flip-Flops
Surprise your loved ones on their special day with personalized flip-flop sandals. They'll walk on clouds not just because they know you care about them, but also because our flip-flops are just that comfy. 
Add personalization with two images on each sandal representing your relationship, or add general birthday or anniversary styles to your store for the masses to enjoy.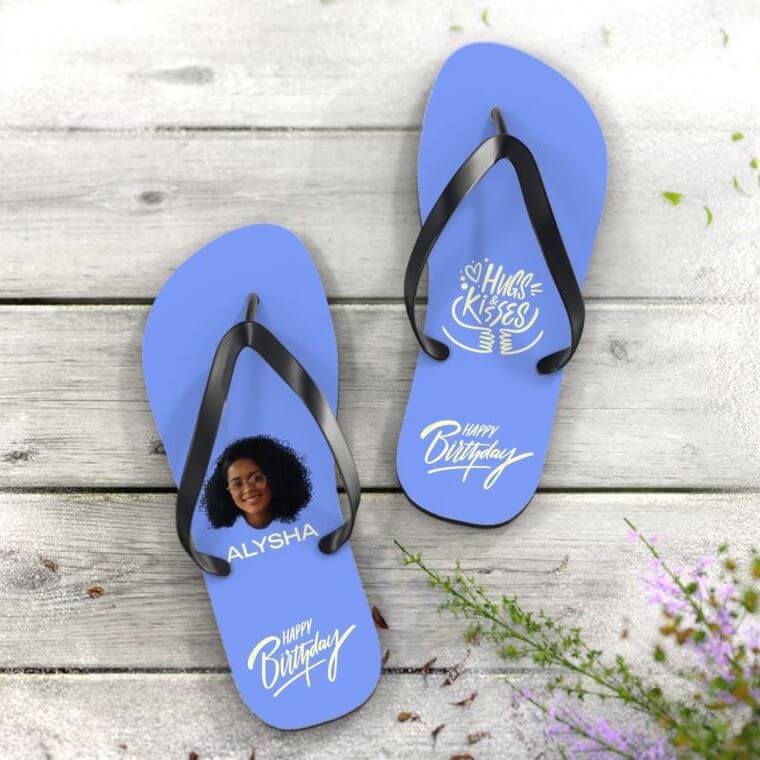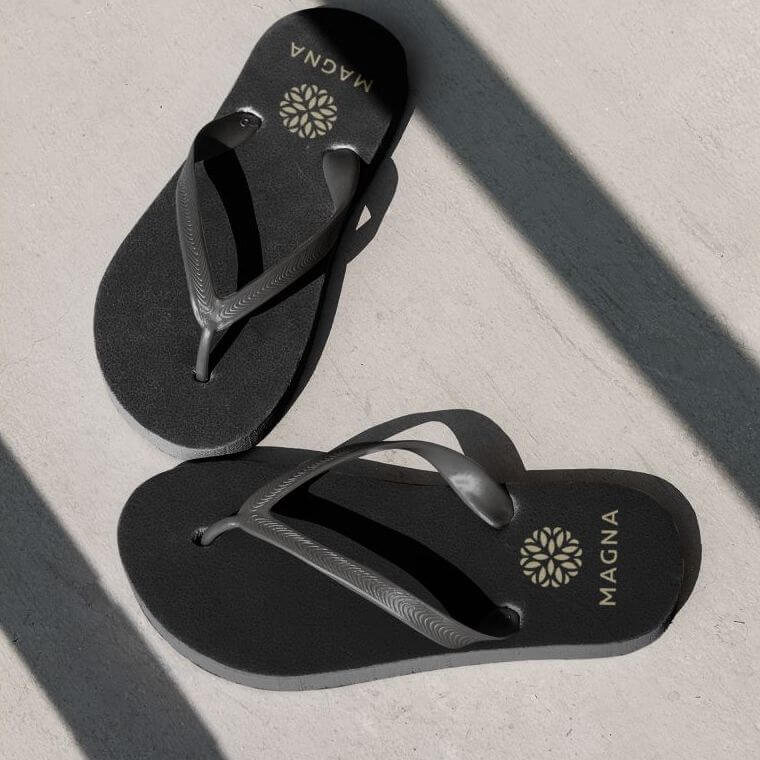 Custom Printed Flip-Flops With a Logo
Custom flip-flops with logos are a fantastic product to let the world know about your brand or business. Decorate the entire insole with patterned-logos or add a single customized logo as a cherry on top. 
Flip-flops with a company logo are a great business present for employees and clients, as they're lightweight enough to throw in a backpack to take with them, no matter where they go.
Personalized Monogram Flip-Flops
Design personalized flip-flops or slide sandals with a monogram on each shoe or one initial on the left and one on the right. 
This design version serves as a great gift idea for various purposes – a business gift, a gift at a beach wedding, or a Father's Day gift because we all know how much dads like flip-flops. We offer size variants that will fit any foot.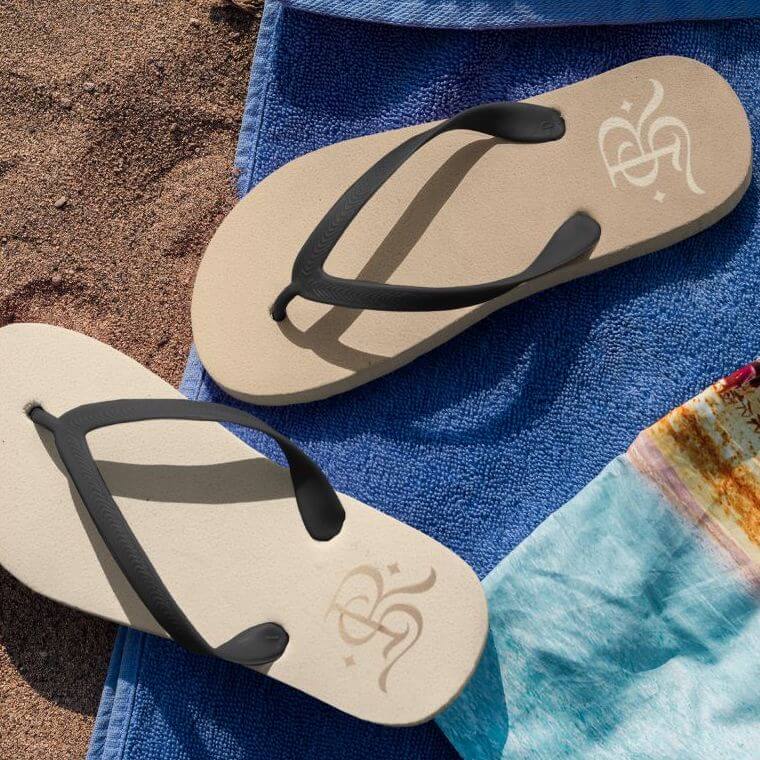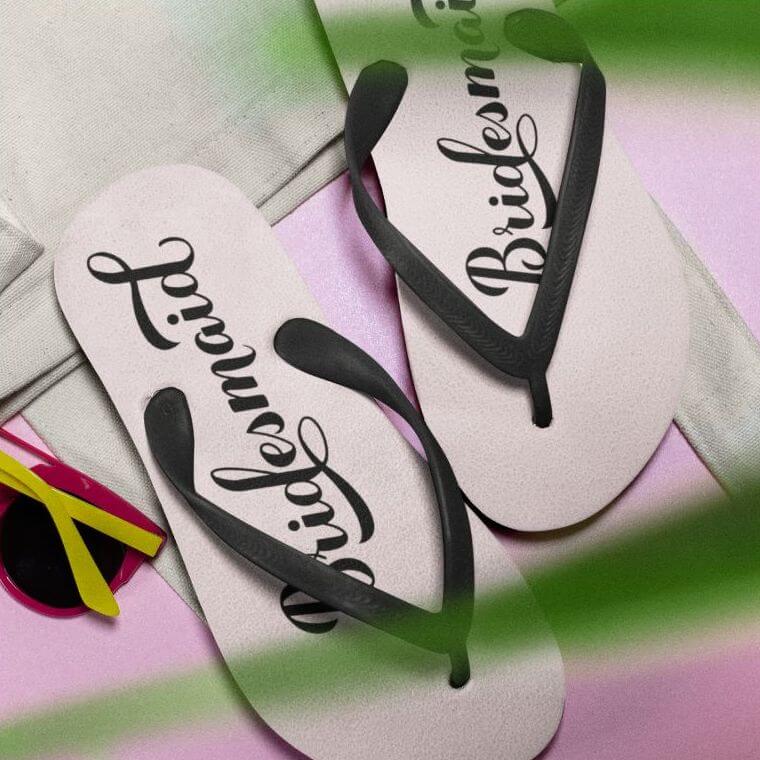 Personalized Flip-Flops: Wedding Edition
Weddings, bachelor, and bachelorette parties are incomplete without a themed garment or accessory. 
Order matching flip-flops for the bridal party with beautifully printed words on a pink (or whatever your color scheme is) background. Use the text edit tool in our Mockup Generator to add the dates and names, or a catchy slogan, to deliver the perfect party favor.
Custom Flip-Flops With Photos
The sky's the limit here – upload photos and images to decorate flip-flops and sliders with special vacation memories, pet portraits, or even your boss' face! 
Add a different image on each flip-flop or sandal so the difference between the left and the right foot is always clear. Personalized flip flops with photos make for a great item to sell since it's perfect for any occasion, for any person.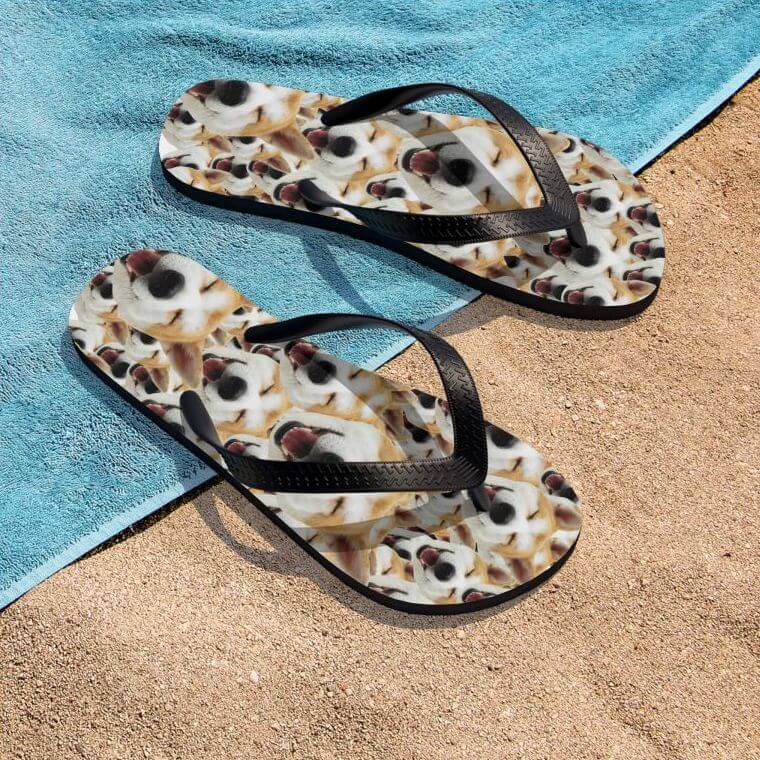 Why Sell Personalized Flip-Flops?
Historians and archeologists have dated flip-flops back to 4000 B.C. in ancient Egypt. How have these simple shoes stayed relevant year after year throughout millennia?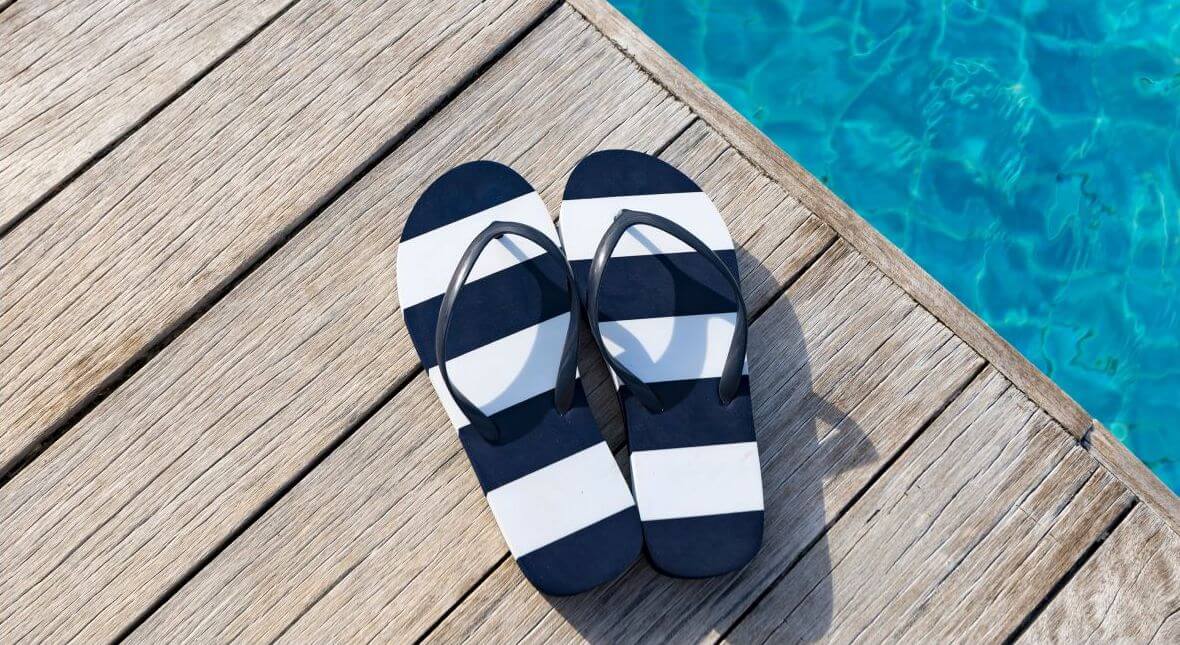 A Summer Wardrobe Essential
When the summer heat kicks in, socks and closed-toe shoes become a relic of the past, and it's time for a pair of custom flip-flops to shine.
They're people's go-to choice for fun in the sun on hot beach days, music festivals, and pool parties. Custom flip-flop sandals add that pop of color to any outfit and style.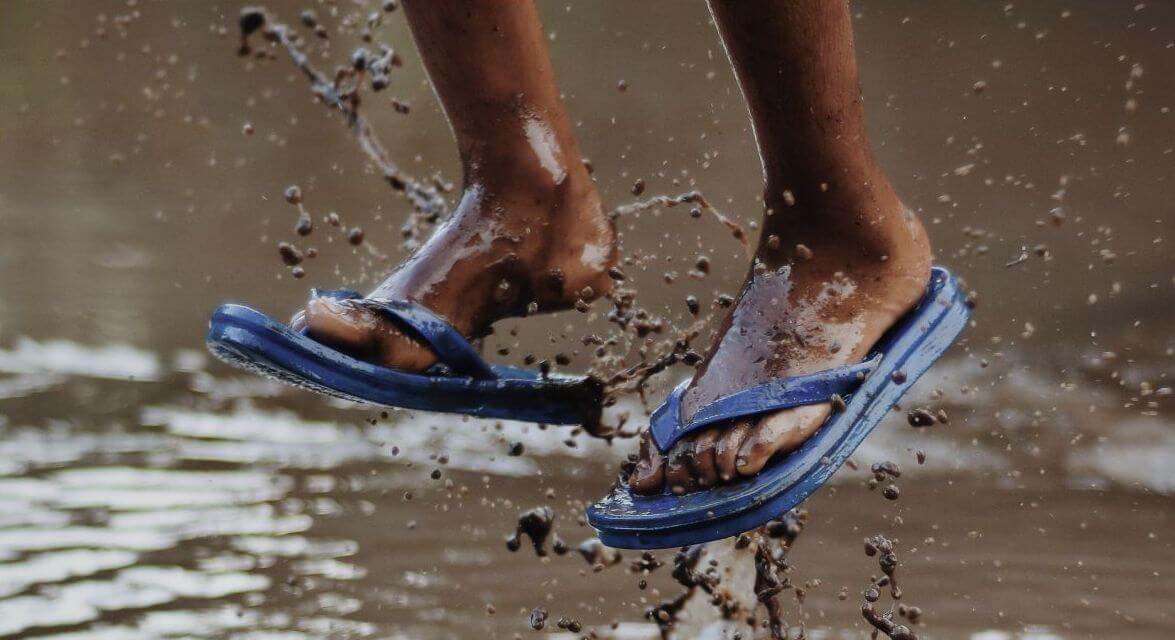 Aside from looking like a million bucks, a single pair of well-made custom flip-flops will be a trusted companion in various situations, no matter the season.
They can be worn at home, out and about in the city, at the gym, pool, and spa. Select the correct size, and you'll wear them comfortably all summer.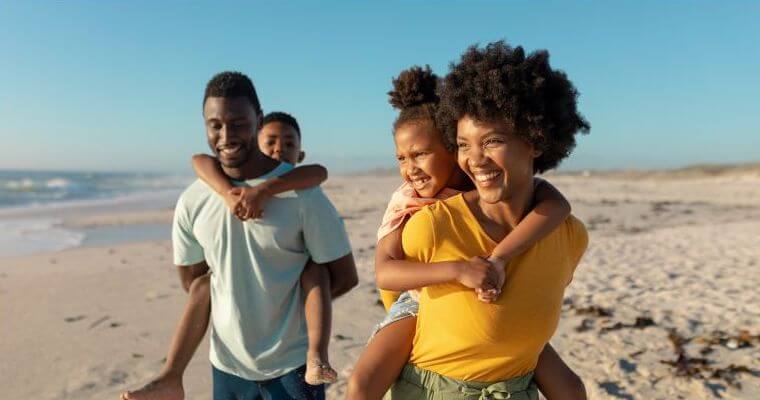 Flip-flops are made for everyone, regardless of gender, age, or other demographics. This versatility opens you up to a whole world of potential customers.
Our print providers ship custom flip-flops worldwide, so you can make your designs shine near and far.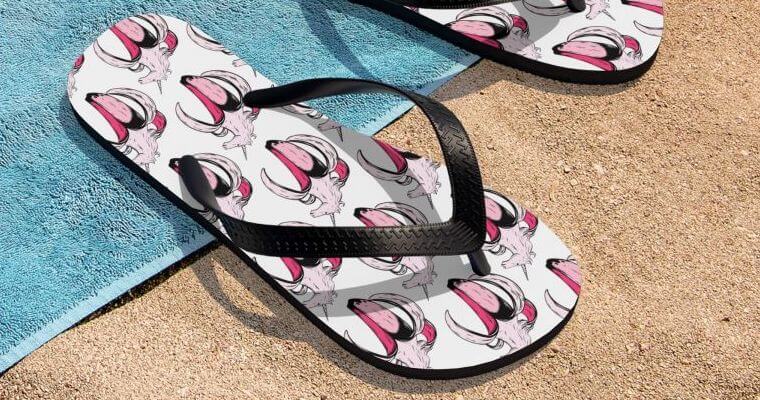 The sky's the limit when it comes to our all-over-print custom flip-flops. This printing method covers the entire base and sides of the flip-flops with your unique, eye-catching designs.
And our custom sandals allow adding colors, photos, and fun on the removable strap that will impress you and your shoppers beyond belief. Add two images and decorate each shoe differently to make the perfect pair.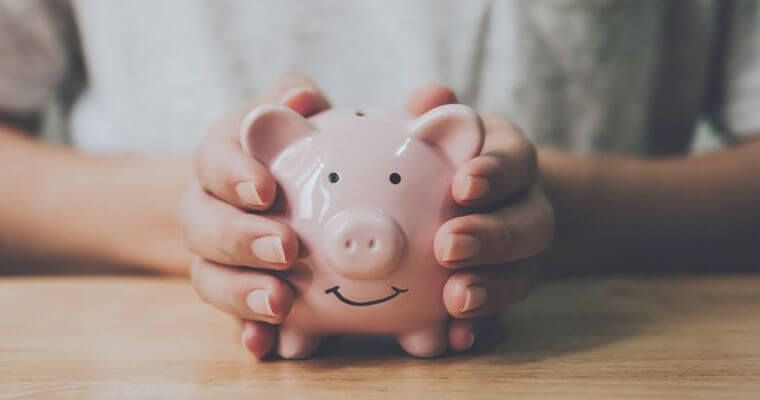 Personalized Flip-Flops Are Affordable
While our custom flip-flops are made from high-quality materials, their production costs are relatively low. That means that even if you set a higher profit margin, say 40%, it's still affordable for your customers.
How to Start Selling Personalized Flip-Flops With Printify?
Every year, merchants like you make tens of thousands in profit from selling custom flip-flops. What are you waiting for?
Follow these four simple steps to get started on your custom flip-flop journey.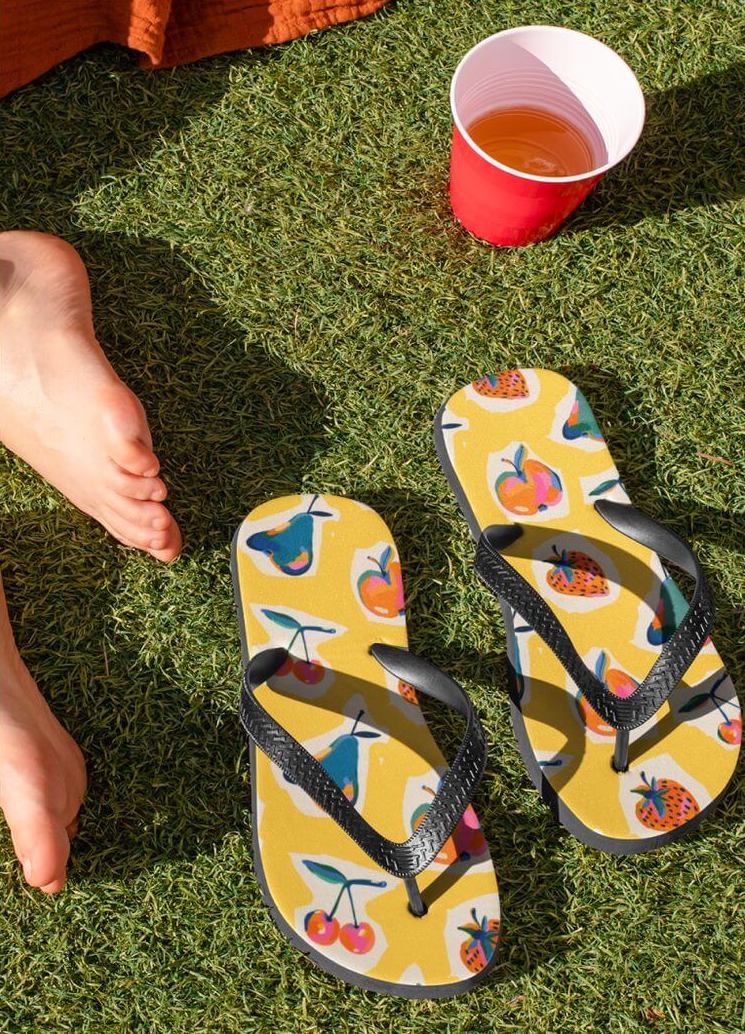 We recommend making a sample order of custom flip-flops before publishing them to your store. Make sure they look and feel like you expect to ensure maximum customer satisfaction.
To earn money from selling personalized flip-flops, you need a place where people can view and buy them. 
Printify seamlessly integrates with the most popular eCommerce platforms that sellers choose over and over: Etsy, Shopify, Walmart, eBay, WooCommerce, Wix, Squarespace, PrestaShop, and BigCommerce. 
If another company hosts your website, Printify API can turn it into an online shopping paradise.
Once you're happy with your personalized flip-flops, press that green publish button. 
That's it. We'll do the rest – production, packaging, shipping – while you sit back and relax or make a marketing strategy to promote your flip-flops to increase your chances of profit.
Frequently Asked Questions
Create Your Own Custom Flip-Flops!