From its everyday practicality to being the perfect canvas for all your designs and logos, the coaster is a simple, effective product everyone loves. Make custom coasters for personal use or start selling them online.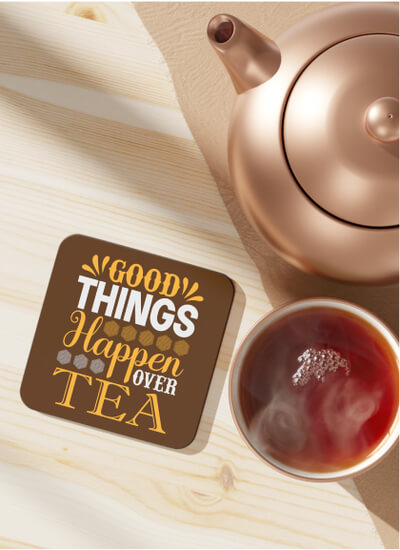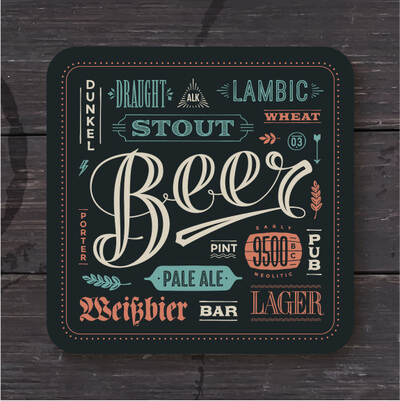 Custom Coaster Printing With Printify
Design Custom Coasters With Printify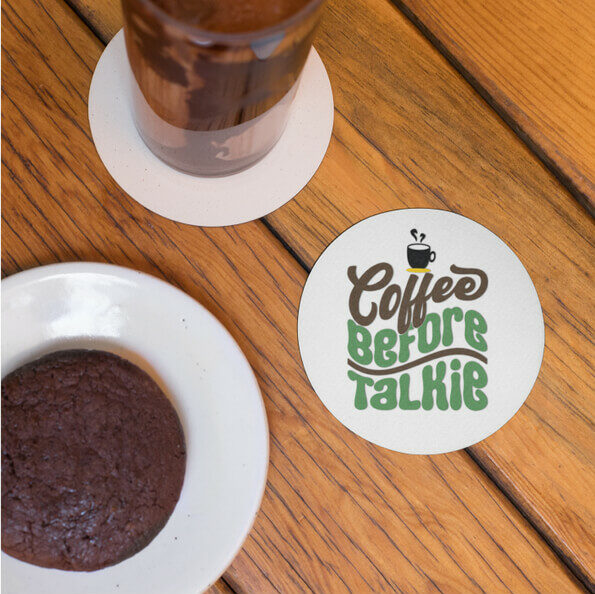 Custom Coasters With No Minimum Order
Do you want to order a couple of custom-printed coasters for yourself or give them to someone as a gift? Are you considering adding them to your online store or selling custom coasters in bulk? Whatever the case, Printify has you covered.
It doesn't matter if you order as little as one personalized coaster or sell custom-made coasters in hundreds – Printify has no order limits.
Design Your Own Custom Coasters in Three Easy Steps
Design the perfect personalized gift or create your next best-selling product in a few simple steps – creating custom coasters is easier than ever before.
Printify's product Catalog has several coasters you can customize and make your own, and our free-to-use and user-friendly design tools make the process super easy. Follow the steps below to get started!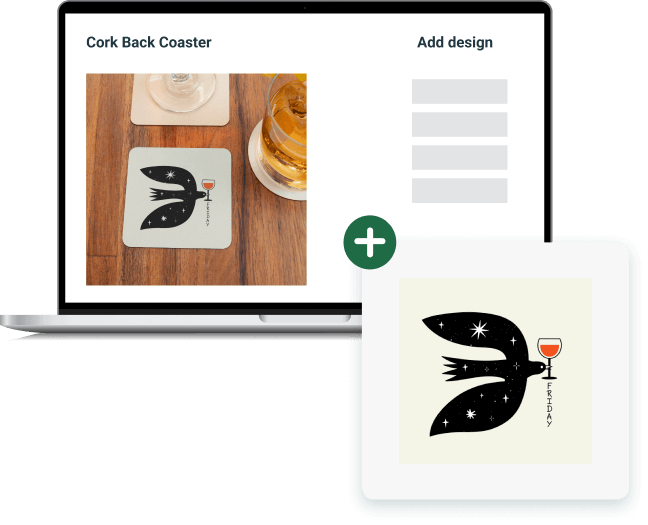 First things first, create your Printify account. You can sign up using your email address or by connecting with Google. Printify is completely free and always will be, but you can also subscribe to Printify Premium to get up to 20% discounts on all products from our Catalog.
Printify's product Catalog has more than 850 products you can choose from. We have everything from apparel and accessories to home decor and anything else you might need. You'll also find several custom coasters – pay attention to their price and materials and pick the one that suits you best.
All that's left is to apply your design. Use our built-in Mockup Generator to add images, text, illustrations, or any other art you'd like to see on your coaster. Simply upload an image file (JPG, PNG, or SVG) and position it on your custom item. You'll also get a real-life preview of the product.
Our Cheap Custom Coasters Under $5
Round or rectangular shape, hardboard back or cork back, a smooth glossy finish, and vibrant print colors – we've got everything for your perfect custom coaster. And guess what? All coasters cost less than $5 to make.
Our custom coasters are cheap to buy for yourself, make great gifts for others, and can bring you large profits if you sell them online.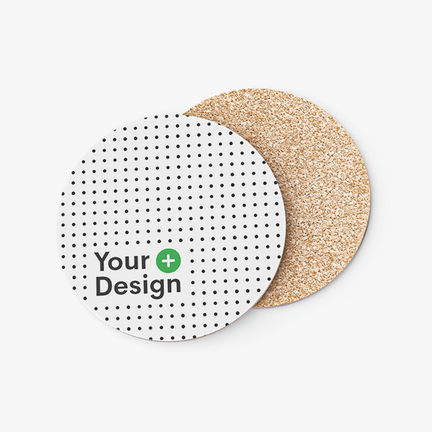 You can't go wrong with these custom cork coasters. They come in one standard size of 3.7″ x 3.7″ (9.5 x 9.5cm), and you can pick between two shapes – round and rectangle. The glossy surface of the coaster will make your custom prints pop on any table or bar counter.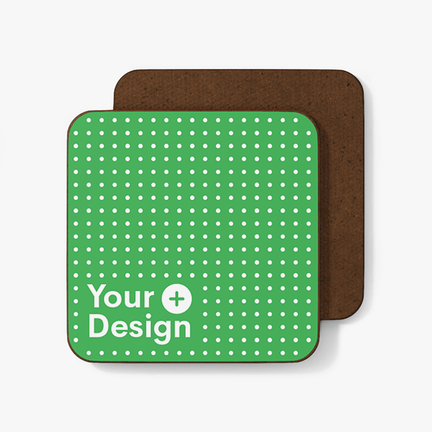 These durable, hardboard-bottom coasters will be a fantastic addition to any room or event. Available in one size of 3.5″ x 3.5″ (8.89cm × 8.89cm), all coasters are assembled in the US and offer vibrant colors for all your custom prints.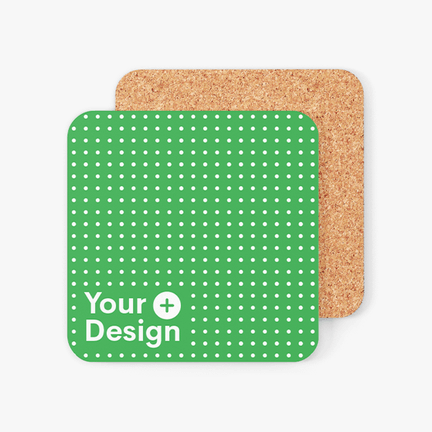 Practical and stylish, these cork-bottomed coasters are sure to make any setting more colorful and fun. You can pick between two shapes – the round coasters are 4″ x 4″, and the square ones are 3.75″ × 3.75″.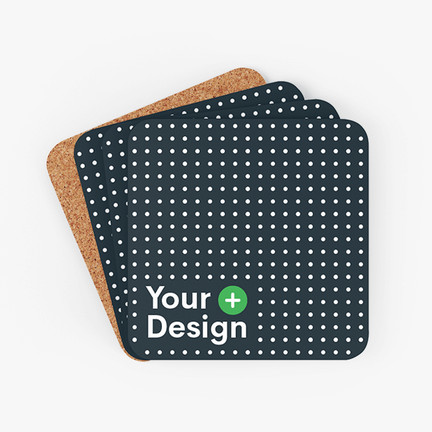 If you need more than a couple of coasters, create a Corkwood Coaster Set.
The personalized coaster set includes four rectangular coasters, each measuring 3.75″ × 3.75″ (9.50cm x 9.50cm) in size. The cork back will prevent your custom-design coasters from sliding, and you can be sure of dazzling and quality print colors on the top.
Cool Design Ideas to Get You Started
Print-on-demand coasters offer you the perfect canvas for displaying photos and art. You can create personalized photo coasters and coaster sets for promotional events, design coasters for weddings, birthdays, and other special events, and make any other creative idea come to life with your special touch. Here are some ideas to try out.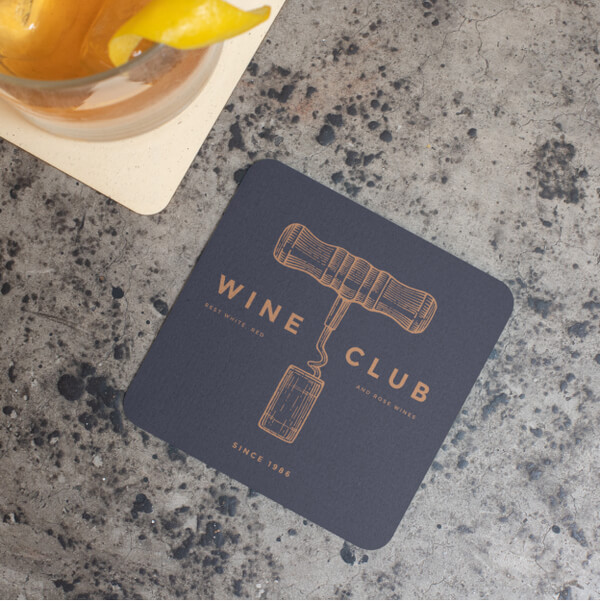 A coaster is a perfect item to promote your brand or business. Add your own logo to the design to create custom bar coasters and coasters for promotional purposes. It's super easy to do with Printify – just upload your logo to the Mockup Generator, place it on the coaster, and enjoy your drinks in style.
Try using photos in your coaster designs – personalize them with pics of loved ones, friends, or pets to create a cool item to keep or give as a present. If you're looking to sell custom photo coasters online, you can ask your customers to send in their own pictures for you to create unique coaster designs.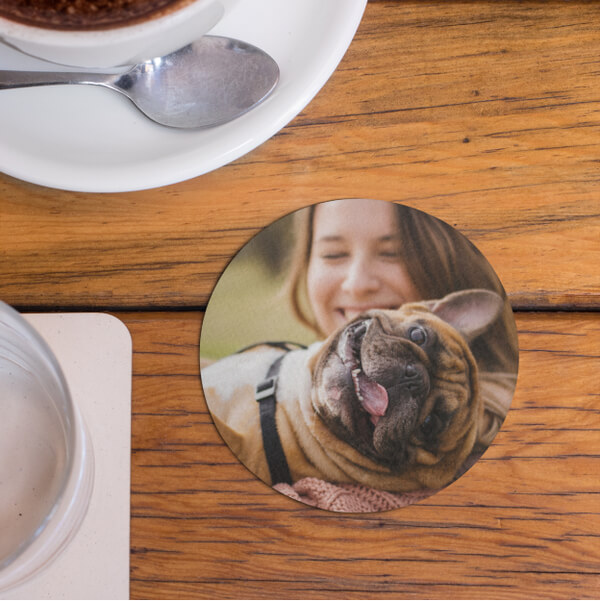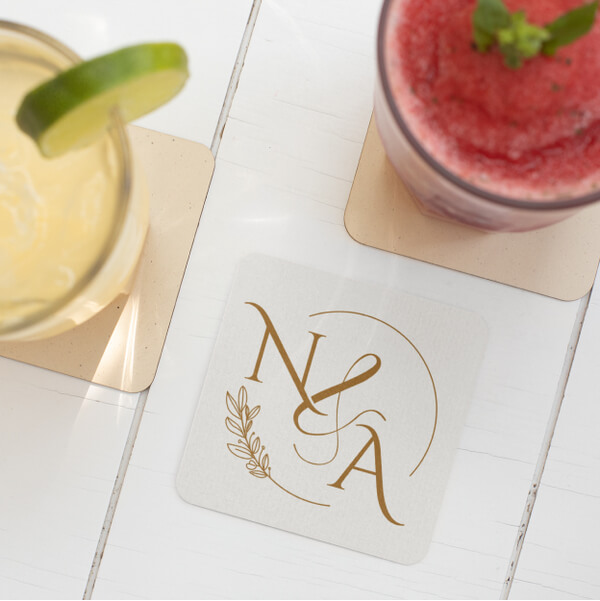 Custom Monogrammed Coasters
A custom monogrammed coaster might just be that perfect gift idea you've been looking for all along. It doesn't matter if it's a birthday, a wedding, or any other celebration, people will love receiving personalized items as gifts. A fun custom coaster provides a personal touch and will serve as a nice keepsake.
Design your own coasters by using images and illustrations. You can upload JPG, PNG, or SVG files, but have no worries if you don't have any designs at hand. Our built-in Shutterstock integration has thousands of beautiful visual assets to use on your coasters. Pick a theme, add the visual art to the coasters, and start selling them worldwide.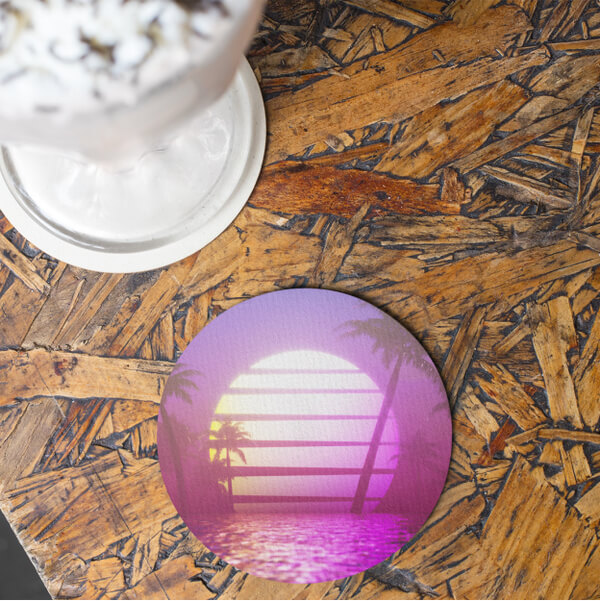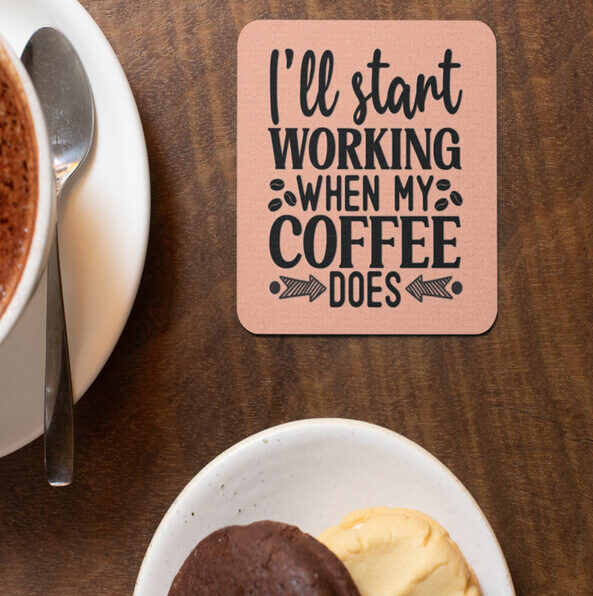 Why Sell Custom Coasters?
Were you looking to create some photo coasters for yourself or your loved ones? That's great, you're in the right place. But have you thought about selling personalized coasters to others? Coasters are easy to design, available for great prices, and they're selling really well without any signs of stopping.
If you're already selling other print-on-demand products online, personalized coasters will be a perfect addition to your online store. They're practical and stylish, making them the perfect addition to any interior – at home or in a public space.
Sell Custom Coasters With Printify
Printify is a print-on-demand platform offering more than 850 unique and high-quality products that you can effortlessly customize and sell. We handle the production and shipping. Our global supplier network lets you reach customers all over the world.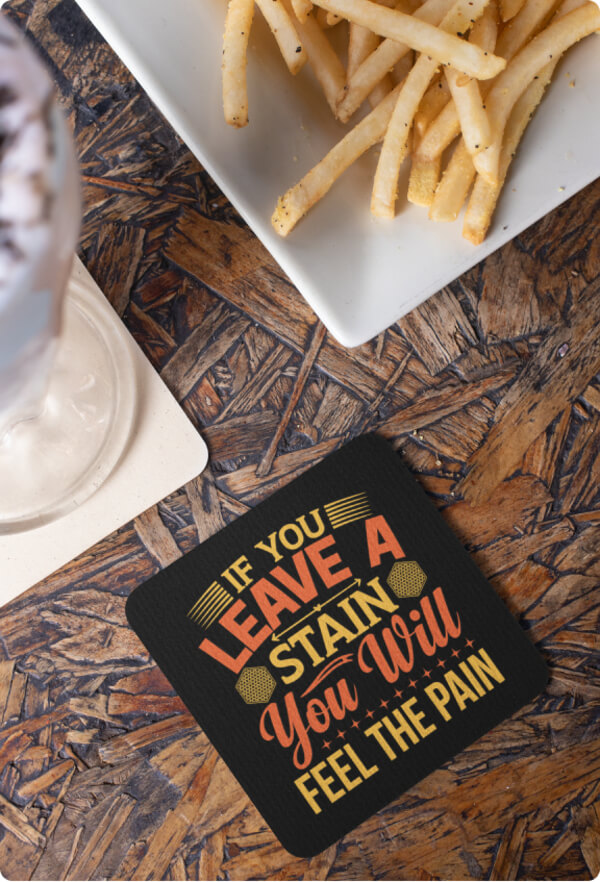 Frequently Asked Questions
Make Your Own Custom Coasters!