From its everyday practicality to being a great blank canvas for all your designs and logos, the coaster is a simple, effective product that everyone loves. Make your own custom coasters today, and start selling!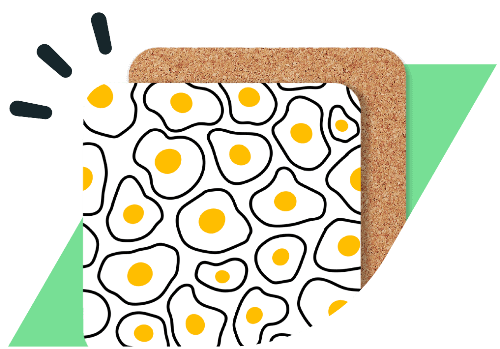 Make Your Own Custom Coasters
Cheap Custom Coasters Under $5
Whether you need just the one or a whole lot, the product costs are almost negligible. This means that custom printed coasters are cheap to buy for yourself or as a gift, and it is highly profitable if you want to sell it online with your custom prints on them.
Its low production cost makes our custom-print coasters an easy-going addition to any store. From the fact that virtually anyone can use it to the fact it's made for high-profit margins, it is a simple choice that makes sense no matter what your store theme is.
Adding to their value, these custom coasters are made in the USA with genuine cork bottom and a high-gloss, polyester-coated hardboard top; in short, it lasts long & looks gorgeous on any table.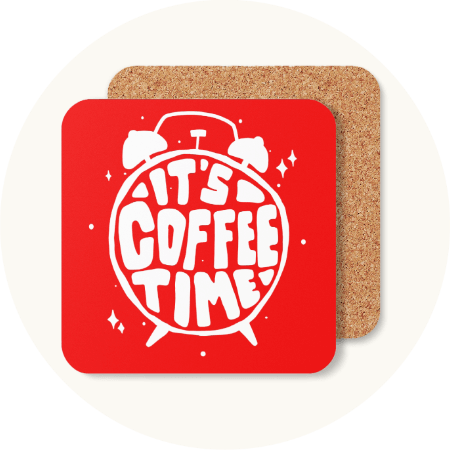 How to Make Custom Coasters With Our Mockup Generator
Creating your first custom cork coaster design might sound a bit scary, but thanks to our Mockup Generator, you'll find that it's super easy.
The Mockup Generator is a really-easy-to-use and intuitive design tool that enables you to place an existing design on your coaster or create one from scratch. Within only a couple of clicks, you can place, create, preview, and order a sample – all within the same, straightforward interface.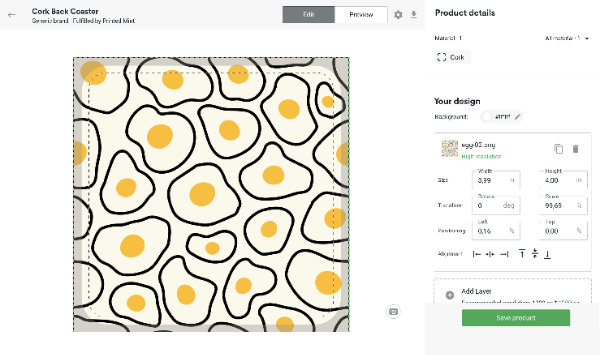 Printify Is Trusted by 2 million+ Merchants Worldwide With More Joining Every Day
I don't have to invest the money I can't lose into my business. With Printify, I only pay the fulfillment fees, and the rest is all profit.
I really appreciate working with Printify on my brand. Afro Unicorn was only supposed to be my design on a white shirt. It is so much more. Printify allows me the time to run the business and not work in the business.
Printify helped me start a completely hands-off revenue stream. When you spot a niche that you want to enter quickly, you don't have to worry about buying stock or equipment.
Printify Premium has helped my profit margins tremendously, and spending $20 a month has probably saved me over $200 a month.
Using Printify saved our struggling business of 6 years and gave us more time with our family.
I like Printify products because they tie in with our organisation's message.
I love the Printify Mockup Generator. It keeps everything consistent and allows me to keep my brand looking sharp and professional.
Make Your Own Custom Coasters!
Cool Design Ideas to Get You Started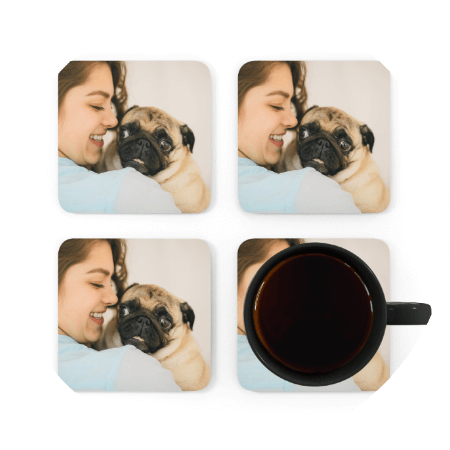 If you have that special moment or that special someone you want to remember every time you take a sip, then custom photo coasters are a great decorating concept. From beloved pets to  family vacay pictures and from breathtaking views to downright silly moments that make you laugh with glee – it's all fair game and bound to look amazing on your table.
Clever puns, favorite sayings, or jokes are all within your palette of possibility. Whether you're appealing to the DIY community, the comic book fandom, married couples, new dads, or anything in between, you can grab a phrase you love and run with it. Find the right font and turn it into a practical piece of art that makes you smile every time it's bottom's-up time.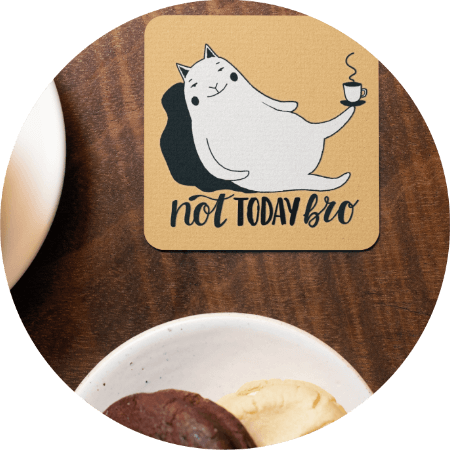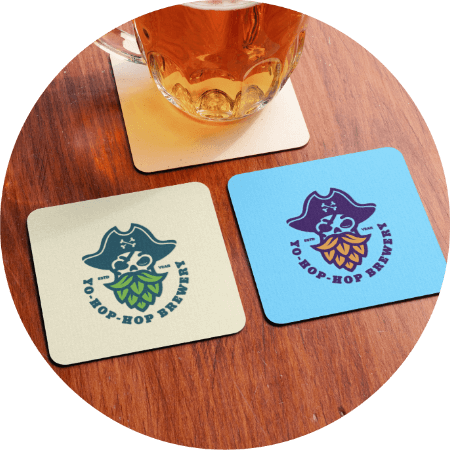 Logos & Branding aka
"We Should Open a Bar!"
Logos and coasters are a match made in heaven; Like Ferrari and red, like Hitchcock and kitchen knives. Especially if you are into DIY, home-brewing, or anything creative for that matter, there's nothing more accommodating for a brand logo than a custom coaster. Whether you're a graphic designer or an illustrator, custom coasters can make that perfect entry-level purchase for customers who want to know you better but don't want to  jump right in with both feet.
From Christmas celebrations with hot wine to birthdays, weddings, anniversaries, and Father's/ Mother's day, coasters can be customized for all occasions. Find seasonal patterns, target milestone B-Days or Anniversary themes with heartfelt designs, and you got yourself a seasonal winner in your store.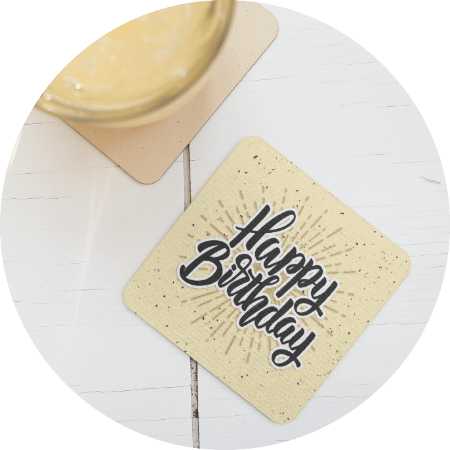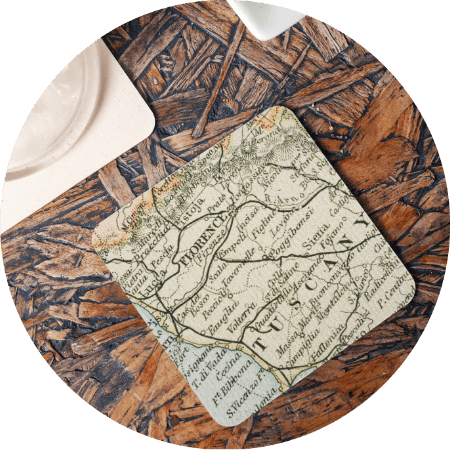 Maps, Flags, and Countries
An emerging trend for custom printed coasters is to print on them maps of famous capitals. Cities like New York, Paris, Tokyo, and Amsterdam are a great starting point and well-suited to our custom coaster type. Additionally, you can take that concept further and experiment with flags, or country-specific quotes and sayings.
If your audience is centered around living the healthy life while enjoying organic teas or coffee, then custom-made coasters are a product they'll love. From sacred geometry like Mandala to mesmerizing patterns like diagrams of Platonic Solids, you have endless avenues to provide your mindful audience with symbols of natural wholesomeness.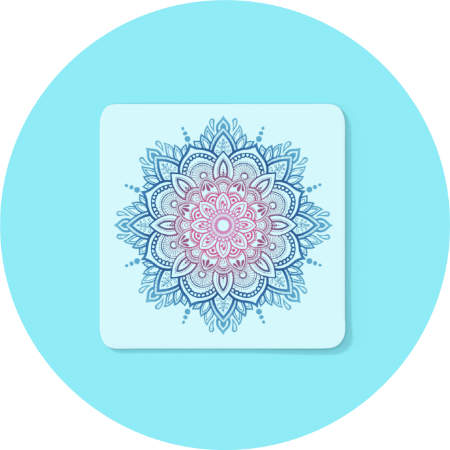 Easily Connect Your Products
You need to reach customers to sell your designs. The best way to do this is by connecting to an eCommerce platform or marketplace. Fortunately, the Printify merch maker supports automatic integrations for Shopify, eBay, Wix, WooCommerce, Etsy, Squarespace BigCommerce and PrestaShop.
Frequently Asked Questions
Make Your Own Custom Coasters!