Dress your entire table in unique themes, patterns, pictures, words, sayings, and more with a custom tablecloth. Grab everyone's attention and leave your guests in awe with fun designs for every occasion.
Make Your Own Custom Tablecloth
Why Sell Custom Tablecloths?
Tablecloths are not only practical tools for protecting tables from spills and stains. They are style elements that add coziness and a special setting to the interior and home aesthetic. Furthermore, custom printed tablecloths can help you cover a not-so-pretty table for special occasions.
In 2018, the global table linen market size was valued at USD 9.6 billion and continues to grow. Custom tablecloths are and always will be in demand, as they are stylish and versatile in their use. There are many upsides to selling custom tablecloths: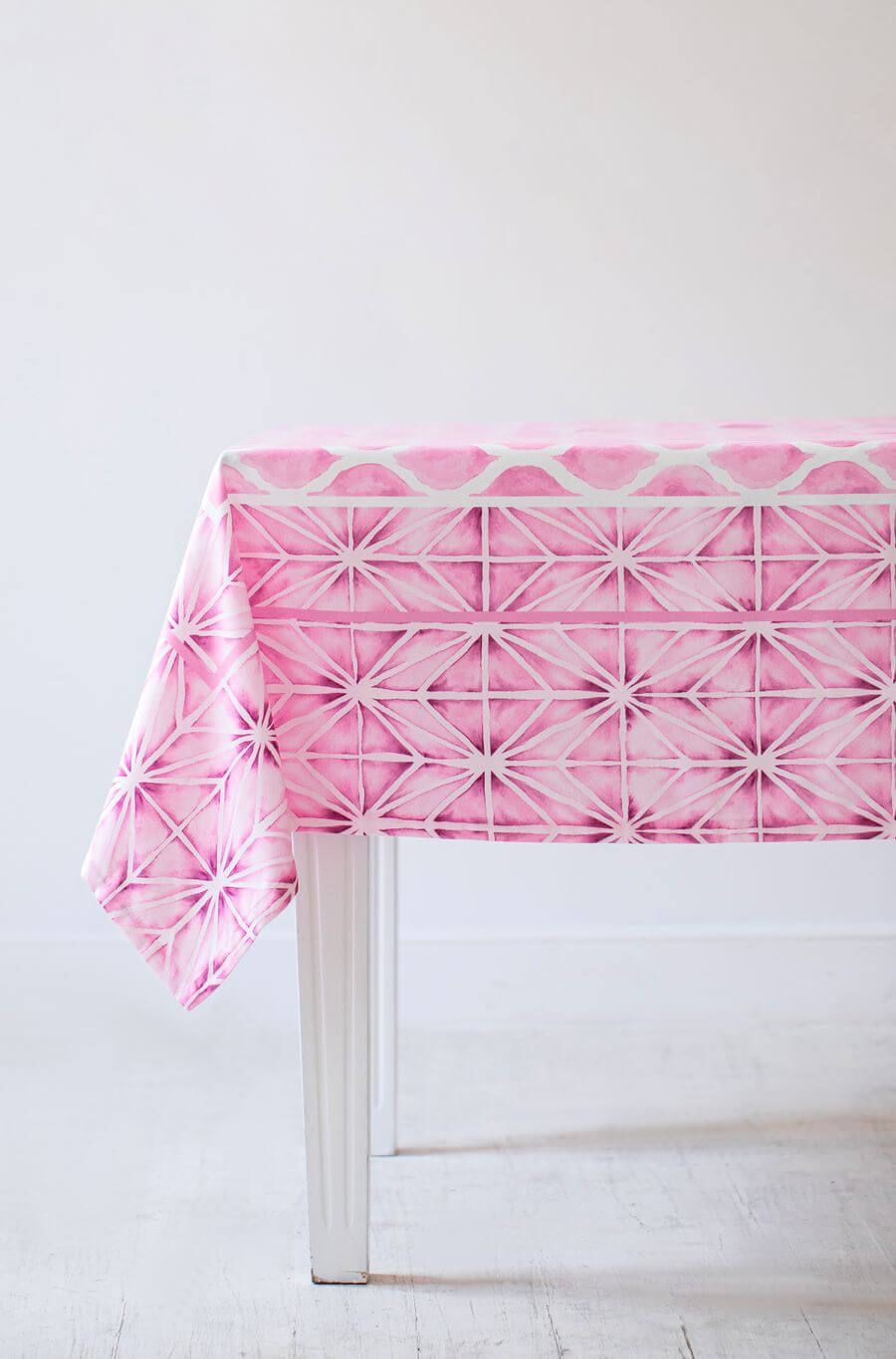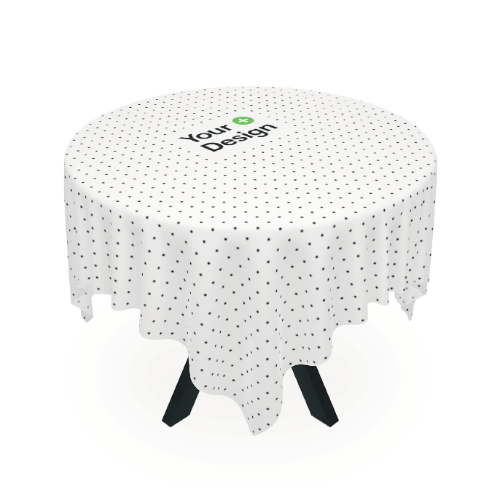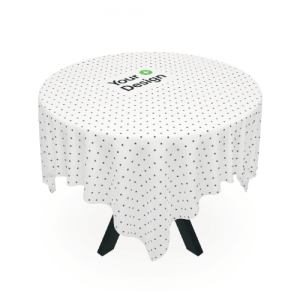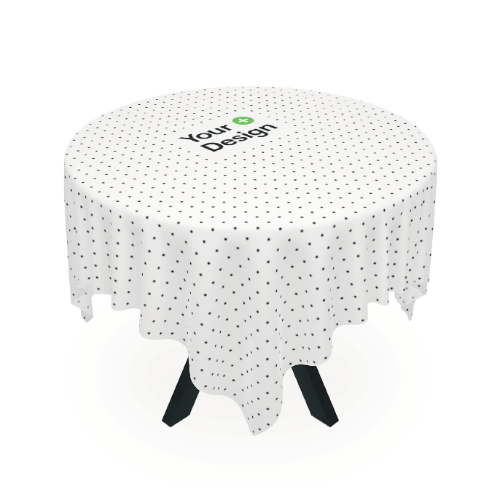 Printify offers merchants a white-label tablecloth to personalize with a design for any taste, occasion, and purpose. These personalized tablecloths come in one size, measuring 55.1″ by 55.1″ and will display vibrant colors and patterns in any home, office, restaurant, or another establishment.
Create Your Own Custom Tablecloth!
Custom Tablecloth Design Ideas
Let's take a look at some popular and interesting design ideas for a custom tablecloth. Base your designs on various occasions, seasons, styles, and more to appeal to everyone's taste.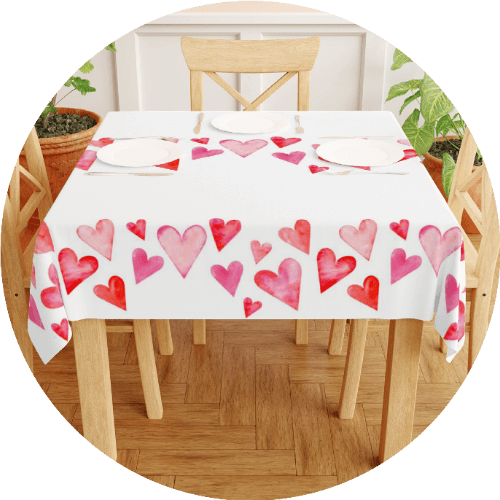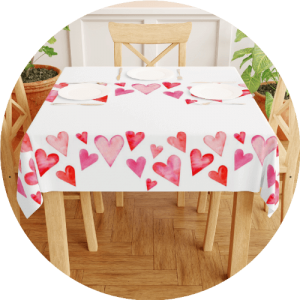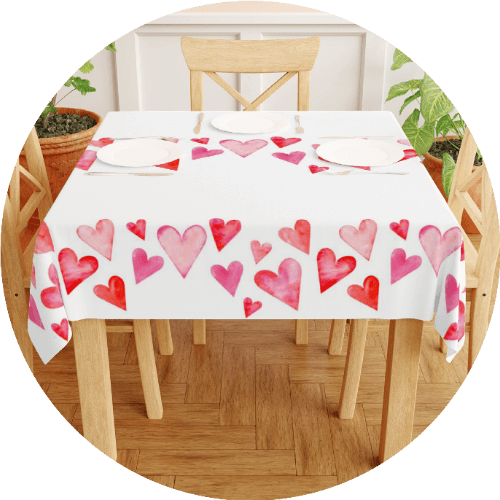 Holidays are around the corner in every season. From Valentine's Day, Easter, Summer Solstice to Halloween, Thanksgiving, and ending the year with Christmas. All of those holidays are often celebrated with families, friends, and loved ones around a table with the holiday feast.
Offer customers the chance to display their gourmet holiday meals on a custom tablecloth. From heart patterns for your Valentine, to ghostly pumpkins on Halloween, pilgrim hats on Thanksgiving, or cozy snowflakes for Christmas Eve. Add holiday-themed elements, symbols, scenes, colors, and more to create the perfect holiday feeling all year round.
Some people like dressing their tables according to the seasons, especially in places where the weather doesn't change that much. Having a custom tablecloth with seasonal elements can help people get a sense of time and enjoy the beauty of each season in their homes.
Design personalized tablecloths with seasonal symbols, elements, sayings, scenery, and more. Spring flowers, birds, and nature work well for spring, the time when everything wakes up from the long winter nap. Bright colors, butterflies, water elements, sun, and trees will be perfect aesthetics for the summer. Orange, yellow, and brown tones with leaves, acorns, fruit and vegetable harvests and more autumn symbols will fit the fall setting. While snow and Christmas-themed designs will fit into everyone's winter wonderland at home.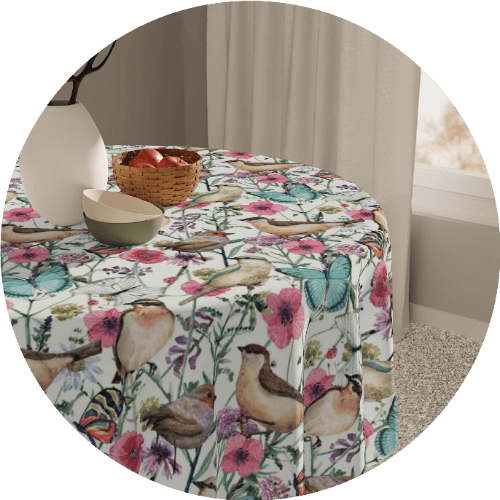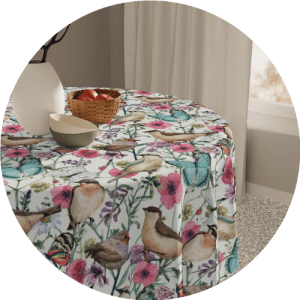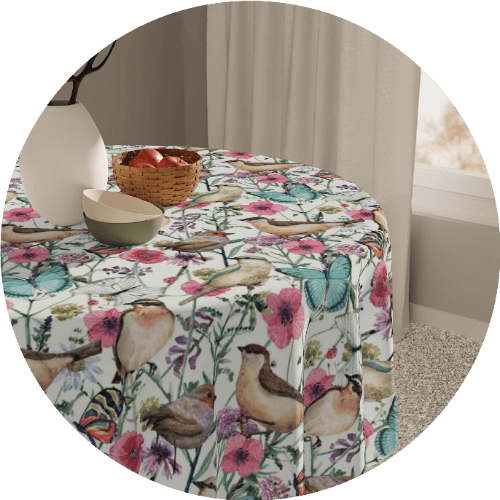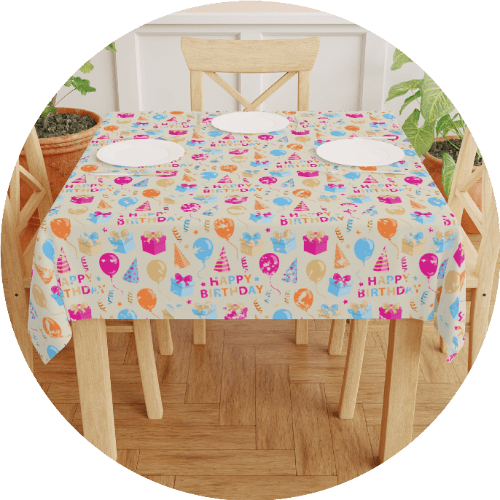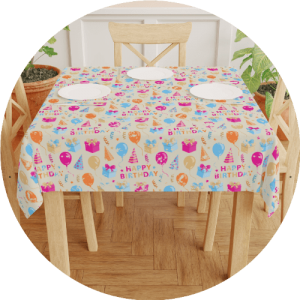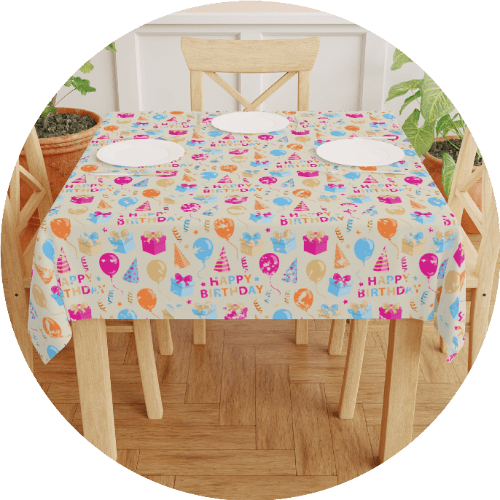 Birthdays are special for any age. Whether you're celebrating your baby's first birthday, the becoming of an adult at 18, your 40th when the real fun life begins, or grandma's 80th. What better way for displaying that birthday cake than on a gorgeous and one-of-a-kind birthday tablecloth?
Make someone's day extra special with custom designs for every age, birthday theme, season, and setting. Add various sayings such as "Happy Birthday", "Happy Sweet 16", and more. Create designs with candles, cakes, presents, party elements, balloons, fireworks, bows, or anything else that reflects having a good time.
Vintage Inspired Tablecloth
Tablecloths used to be an important part of every household. Our grandmothers would most likely never have a bare table in any room. And they would have a special one for every occasion, holiday, season, and event. By designing and selling vintage tablecloths, you give your customers a chance to embrace those childhood memories and add a familiar, cozy feeling to their homes.
Vintage designs might include bright and colorful patterns, various symbols of home, harvest, happiness, or family. Add the vintage vibe by re-creating the embroidered patterns with birds, flowers, vegetables, fruits, and more in your design, to create the feeling you once felt at your grandparent's home.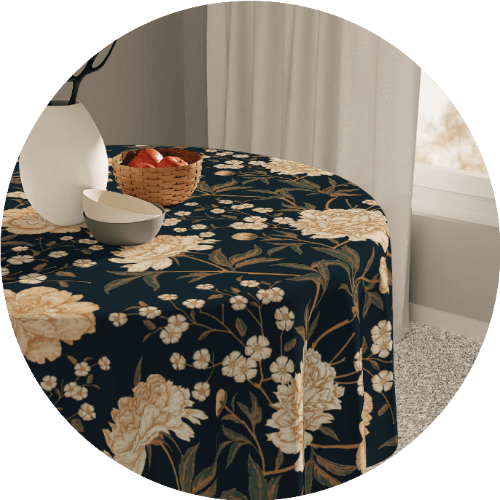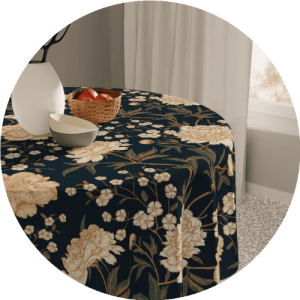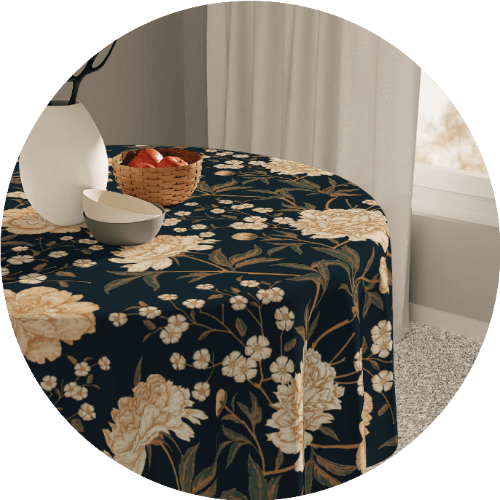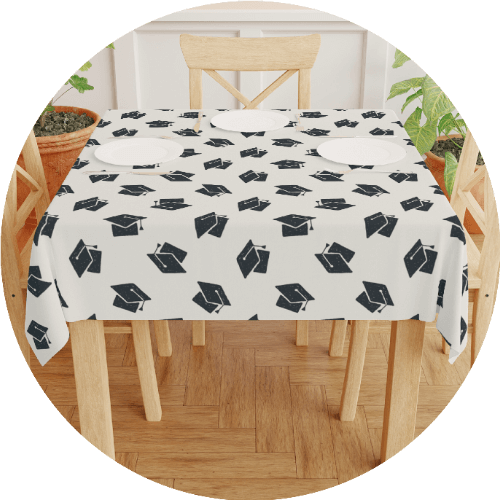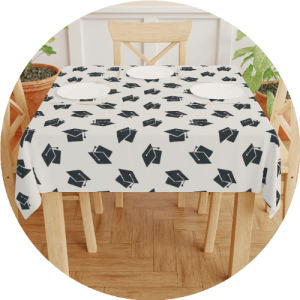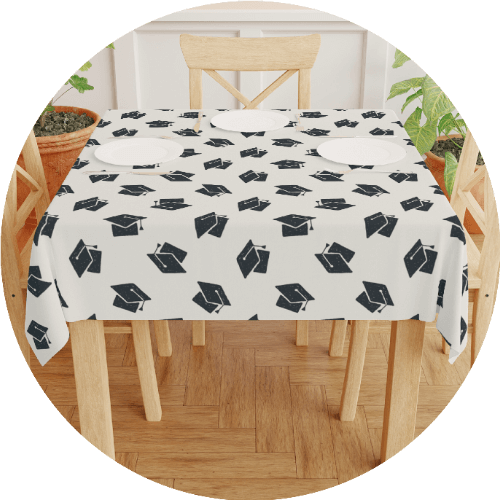 Tablecloth for Special Occasions
There are many different special occasions for people to celebrate, such as graduations, weddings, anniversaries, baby showers, bridal showers, bachelorette parties, and more. Custom tablecloths are useful for all of them, bringing attention to the meaning of the event and adding a sense of style to any setting.
Add designs for special occasions on your custom tablecloths to make every event and occasion one-of-a-kind. Patterns with hearts, doves, champagne glasses, rings, and symbols of love will be perfect for weddings and anniversaries, as well as bridal showers and bachelorette parties. While graduation caps or sayings such as "Congratulations!" will fit the graduation party. Baby-themed symbols such as pacifiers or bottles, little bows, hearts, and more will make any baby shower cute and special. Adjust your designs to fit every celebration.
Not everyone wants something specific on their printed tablecloths. Some people prefer something abstract and unique that fits every season, setting, or occasion. For that we suggest creating abstract custom tablecloths with your own special design.
Creating abstract designs can be fun. Play with various colors, patterns, shapes, symbols, and more to create either a chaotic or thoroughly thought-out design. This is the best option for non-designers out there. Sometimes, simple splashes of color here and there make all the difference. Use tools to design online or make your own art to add to the print. Abstract design is your chance to shine.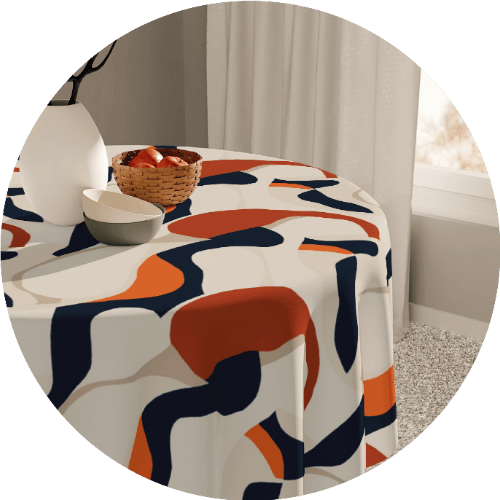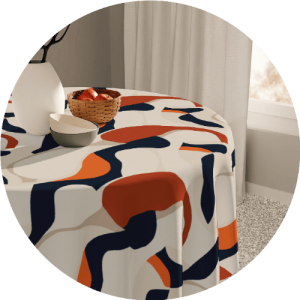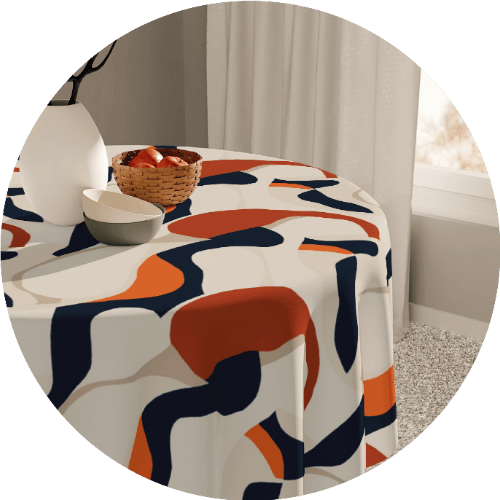 Create Your Own Custom Tablecloth!
Why Should You Choose Printify?
Printify is a leading print-on-demand (POD) company that strives to help merchants earn more with less effort. Design online and sell digital items on a digital platform. Earn a passive income easily and stress-free. What are the benefits of using Printify?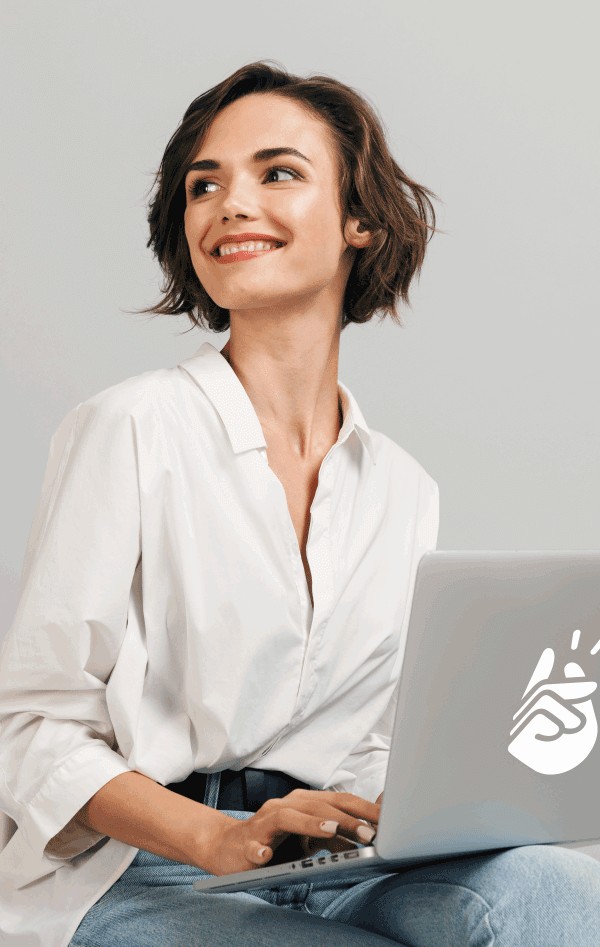 How to Create Custom Tablecloths With Printify
Our user-friendly platform allows you to create awesome products with just a few clicks. 
Frequently Asked Questions
Ready to Sell Custom Printed Tablecloths?