A Comprehensive Guide to Podcast Affiliate Marketing + Tips for Success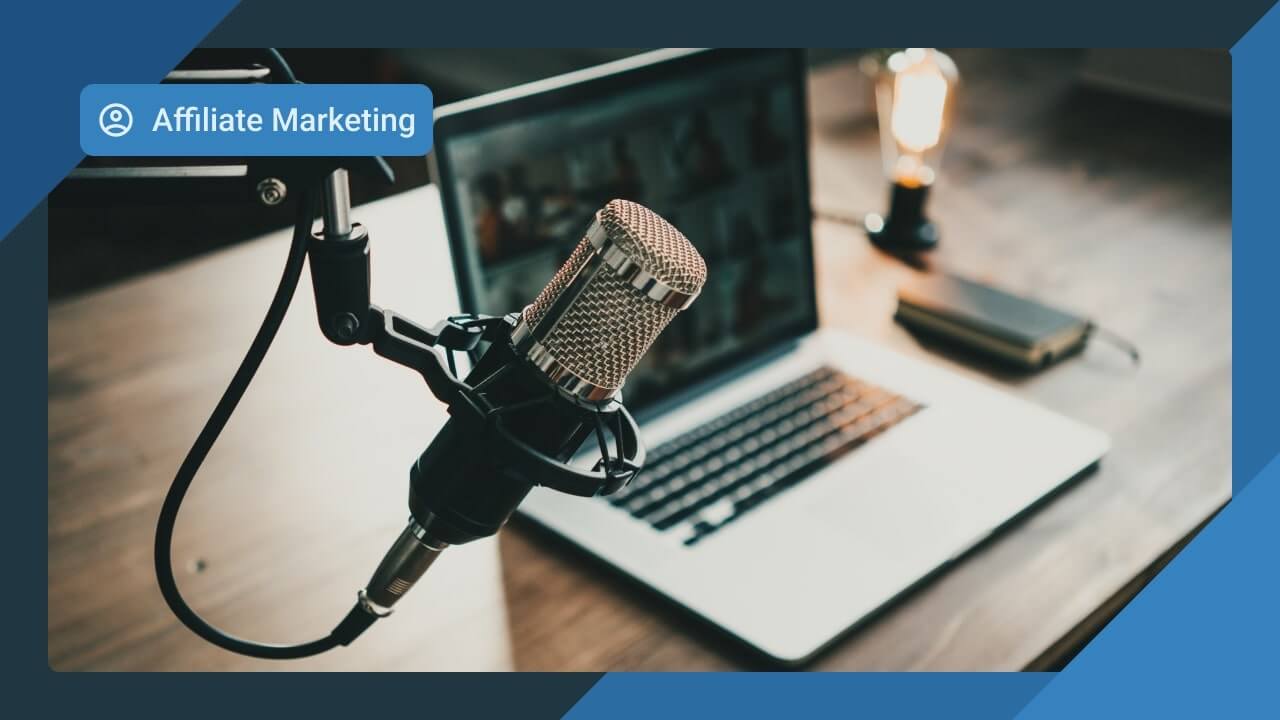 Try podcast affiliate marketing – promoting affiliate links and products to your niche audience. Explore the possibilities of earning extra money in a business model where passion meets profit.
With 81% of listeners admitting they listen to ads and promotions more on podcasts than TV or radio, this is your chance to earn additional income.
This comprehensive guide explains podcast affiliate marketing in detail – from finding the best affiliate program to engaging content and podcast hosting. 
Take your podcast to the next level by becoming an affiliate marketer.
What Is Affiliate Marketing?
In short, it's a convenient partnership between a content creator and a company.  
You earn commissions doing what you love most – podcasting, vlogging, or blogging.

The company gets its products promoted to a global audience.
Here's a short overview of how an affiliate marketing program works:
You join one and get a unique link to promote on your blog, website, or podcast.

You produce enticing premium content – advertising the affiliate link and products – sending traffic to the company's website or landing page.

A viewer is interested, clicks the link, browses the affiliate site, and makes a purchase.

You get paid. Once validated that the order resulted from your link – you get a commission from every purchase. 
The best part of affiliate marketing is the freedom of responsibility. You don't have to handle the physical product or customer service. All you have to do is boost the conversion rates with quality promotions while the affiliate company handles the rest.
How Can Affiliate Marketers Monetize Podcasts?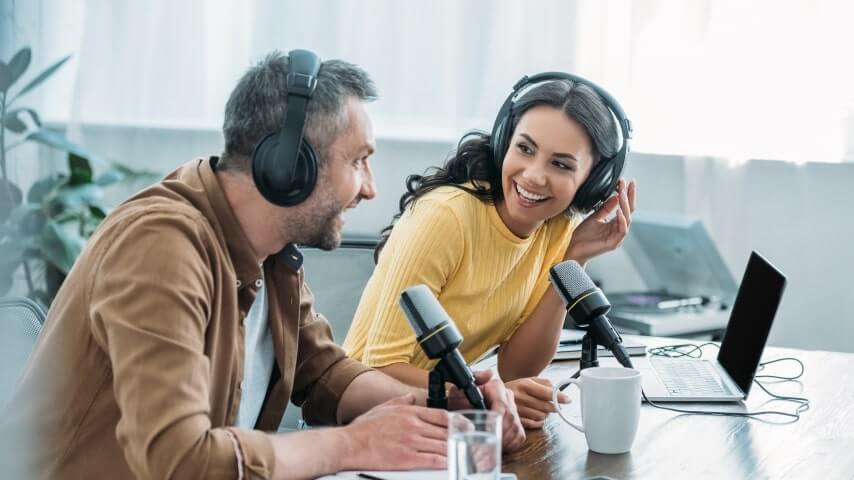 There are a few ways you can and are required to promote your affiliate links and products while podcasting.
You have to be honest with your audience and clearly explain the commissions you earn through advertising affiliate links on your podcast episodes. And that can easily be done with affiliate disclosures. Those are mandatory disclaimers in your show notes, stating your financial relationship with the affiliate company.
Invite your viewers to click the affiliate link by providing strong and enticing CTAs throughout your stream. Promote the products and cooperation in a clear, exciting, and inviting way. Urge people to click the link or use a promo code to check out great deals and support your online business. Make sure to tie the CTAs with your podcast content.
Promote your affiliate links verbally during the show to personally explain to listeners how it works and why they should click the link. This type of promotion is more effective as you engage with your audience and encourage them to take action. Make sure not to sound too pushy or robotic. Promote your affiliate program passionately and freely.
Best Affiliate Programs for Your Podcast
There are many affiliate programs with ready-made resources, tools, and various benefits for podcast hosts. Let's look briefly at some of the great options to choose from.
Printify Affiliate Program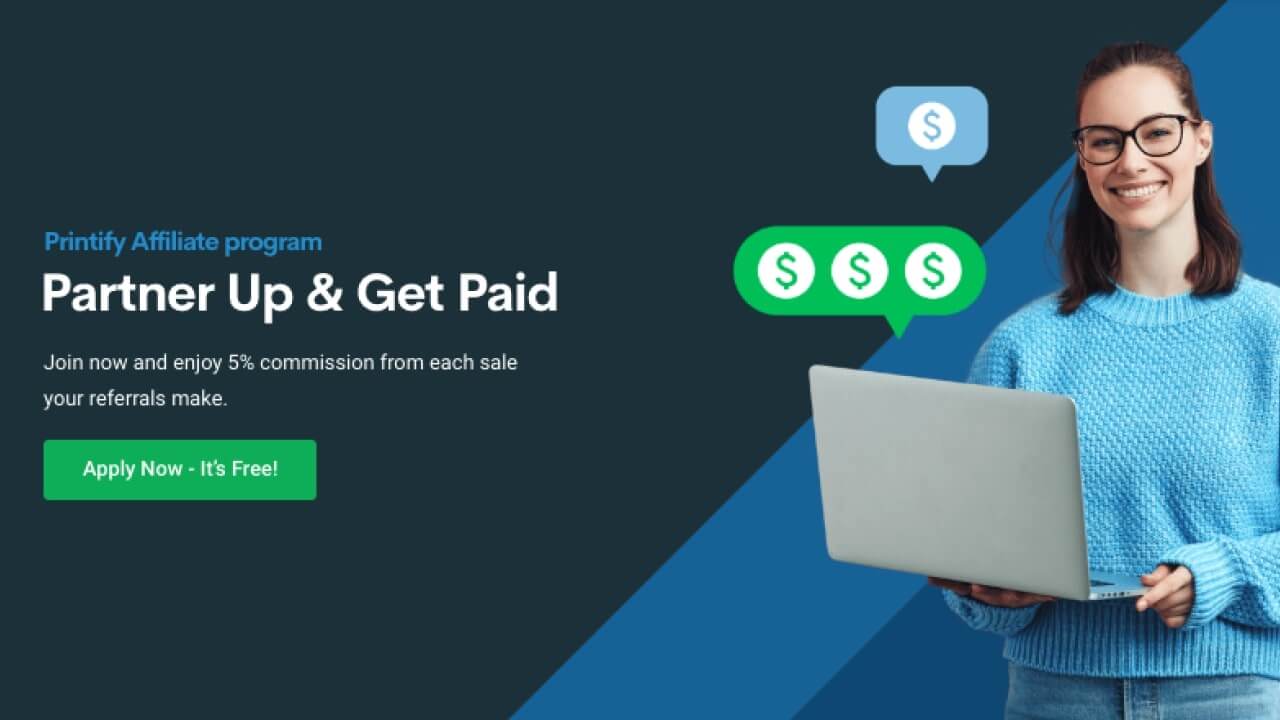 Sign up, promote, and get paid. That's how simple the Printify affiliate program is. 
Forget about monthly challenges, content approvals, or referral limitations. Explore promoting our vast selection of products and features, and make money on your own terms – cashing in 5% commissions on each sale your referral link makes.
Amazon Affiliate Program (Amazon Associates)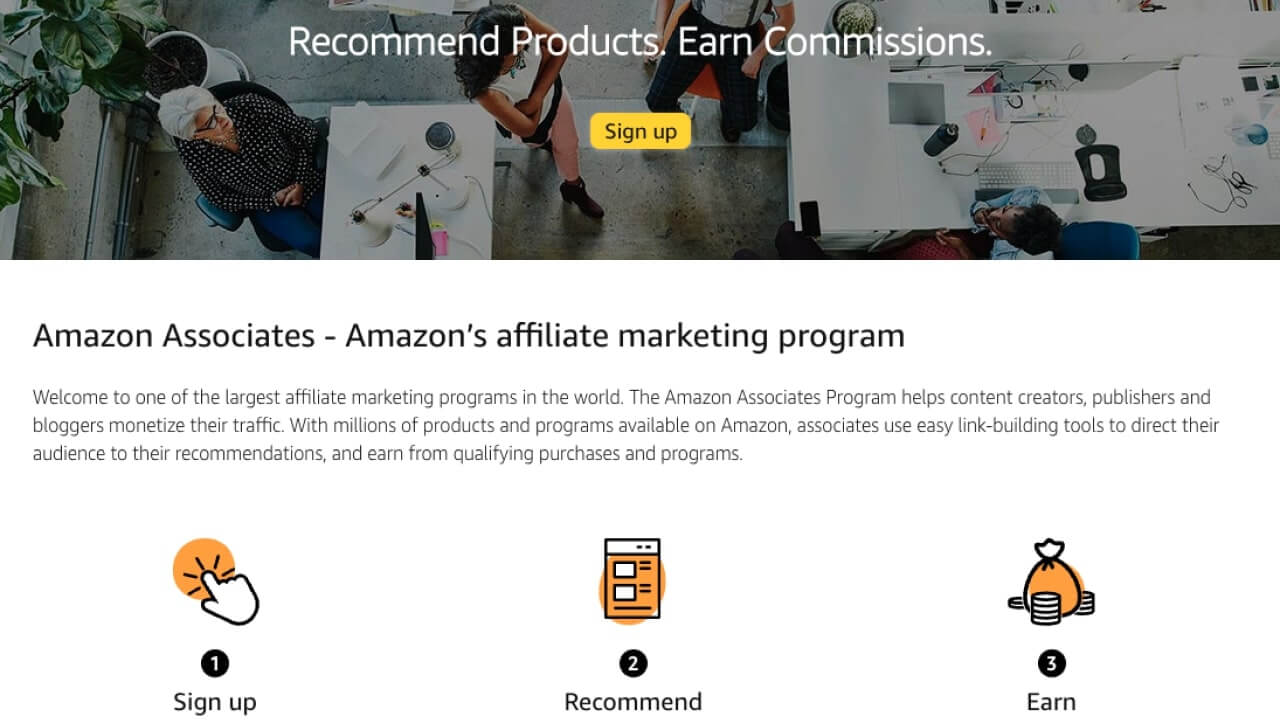 Monetize your site visitors by promoting the world-famous eCommerce marketplace and its products in your content. Amazon associates earn 1-10% in commissions based on product category. 
While this is a great affiliate program, some restrictions apply regarding where and how you're allowed to promote the affiliate link.
Shopify Affiliate Program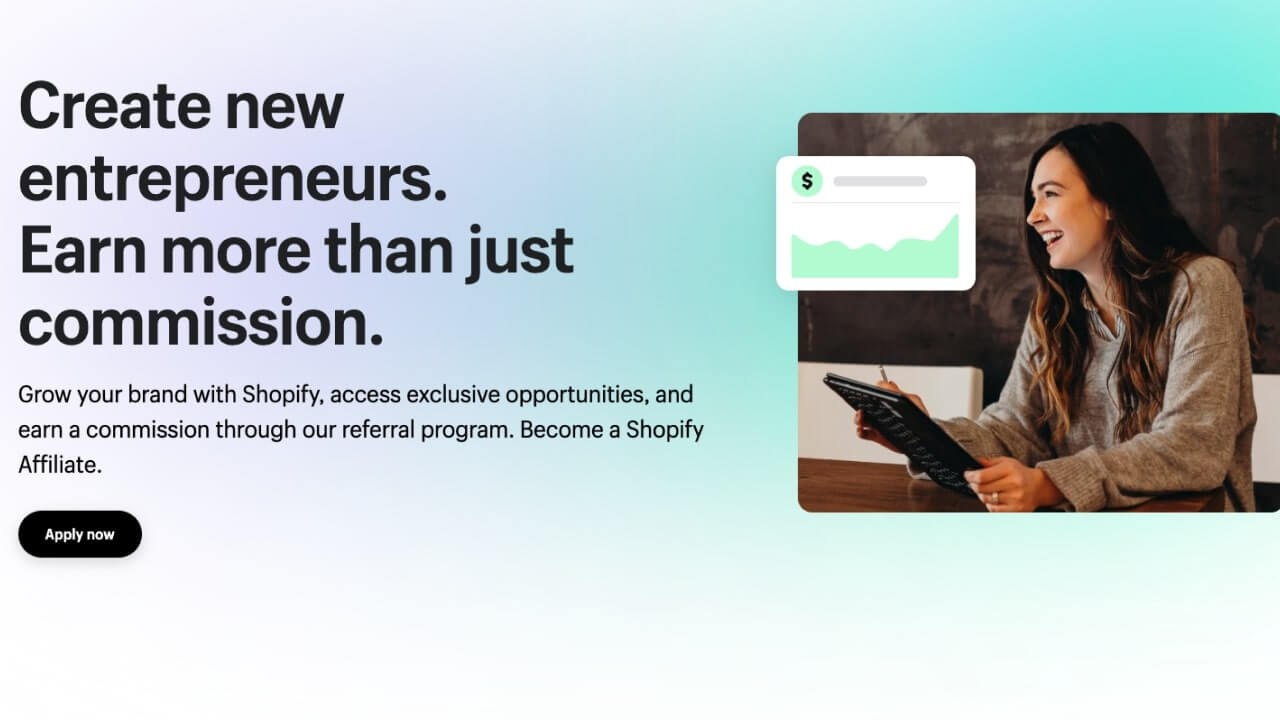 Shopify has a great affiliate program for podcasters willing to promote their platform. 
While Printify and Amazon associates send people to product and landing pages, Shopify affiliates promote the platform to potential merchants as the best website for running an online store. You get paid if your link and marketing efforts lead to new subscriptions to paid Shopify plans.
How to Start Podcast Affiliate Marketing in Three Simple Steps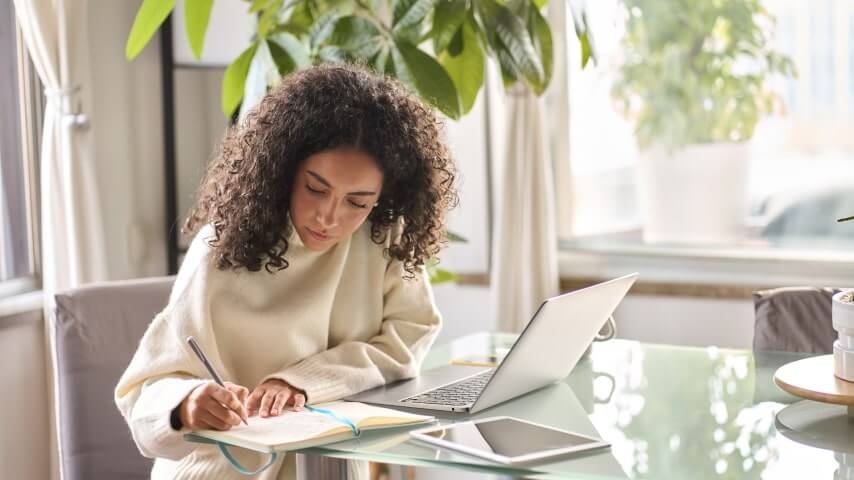 Step 1: Pick a Podcast Affiliate Program and Sign Up
Browse the web to find the best affiliate programs, or use our list above and pick your favorite. 
Make sure the program and products or services align with your niche and target audience, so you can easily integrate them into your content. Sign up, usually by filling out a form, and get creative.
Step 2: Share Your Unique Link With Your Listeners
Now it's time to tell the world about the wonderful products or services of your affiliate company. 
Share links during the podcast in different ways to encourage people to click and buy. Apply creative writing in your show notes, link the promo code in CTAs, and promote the affiliate goods for a more personal approach.
Step 3: Earn a Commission for Every Conversion
You get paid every time a listener clicks on your link, visits the affiliate sites, and finalizes the deal (either subscribes or makes a purchase). 
Each affiliate marketing program has its own rules, guidelines, and commissions. The majority pay them out on a monthly basis. So sign up, promote, and get paid – that's how you make money with podcast affiliate marketing.
How to Pick the Right Affiliate Program for Your Podcast?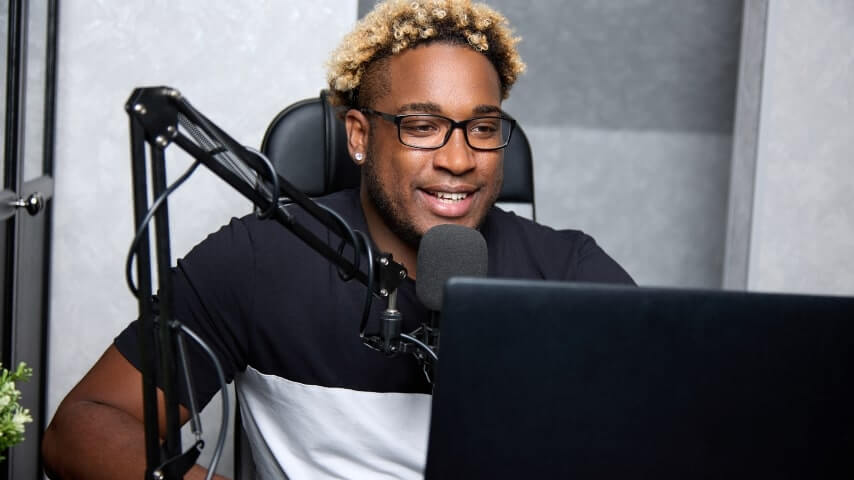 In a sea of affiliate programs, how do you choose the best one for your podcast audience? There are a few factors to consider and steps to make the best decision for your brand. 
Research the Top Affiliate Programs
Research feedback, reviews, and testimonials from people who have tried affiliate marketing programs. 
It is important to pay attention to the guidelines for each one. Check the lists of leading affiliate programs, read the reviews, and look for limitations and agreements to find the best match for your podcast.
Make Sure It's Relevant to Your Audience
Stick to your niche. If your podcast is for dog lovers, pick relevant products and services to promote, like Printify's pet merchandise. 
Or, if your podcast is extremely vegan-friendly, avoid promoting steak houses and fur coats. While this may be an exaggeration, make sure your affiliate links are relevant to your audience.
Test the Product or Service Yourself
Nothing beats promoting products or services you've tried first-hand. You can speak from personal experience and preference, sound more professional and knowledgeable, create a sense of trust in your listeners, and explain the affiliate goods in depth.
Tips for Success: Thrive Among Other Affiliate Marketing Podcasts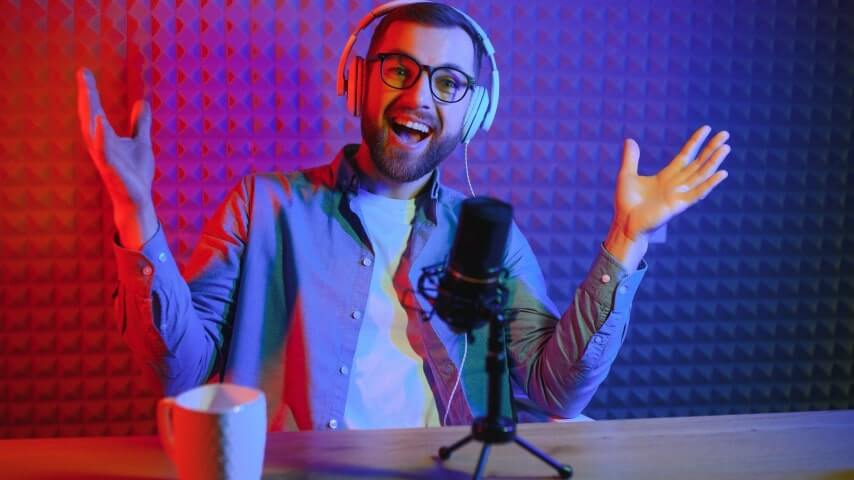 Create Custom Affiliate Links
Your links need to be easy to read and pronounce out loud, since you will advertise them during your show. Customize the link to avoid awkward moments and sound extra appealing to your audience.
Adjust the links to your audience and redirect them exactly where you want them to end up. If you don't want to send them to the main Printify page, choose a custom product landing page and send them to Custom Candles, for example.
Create Valuable, High-Quality Content
Podcast hosting can be just as creative as writing a blog post. To keep your audience engaged, you need to have a structure filled with quality content throughout the episode. Listeners trust podcasts that provide value in their content.
Increase Your Podcast's Exposure
Try different platforms for different audiences to expand your reach. People prefer various platforms for their music, videos, and podcasts, so publish on multiple sites to boost your exposure.
Try some or all of the most popular platforms for podcasts.
Apple Podcasts.

This is

the most popular

listening platform, pre-installed on all Apple devices. It provides a global audience and promotional tools for your podcast. 
Spotify.

Excellent exposure to music and podcast enthusiasts with useful tools from analytics to in-stream polls for improving your podcasting experience.
YouTube.

Make a visual presentation of your podcast by posting it on YouTube. This platform comes with a massive audience and an easy-to-use interface.

Google Podcasts.

Reach new and existing audiences on Android products and boost your podcast exposure utilizing Google search integrations.
Use SEO to Increase Traffic to Your Podcast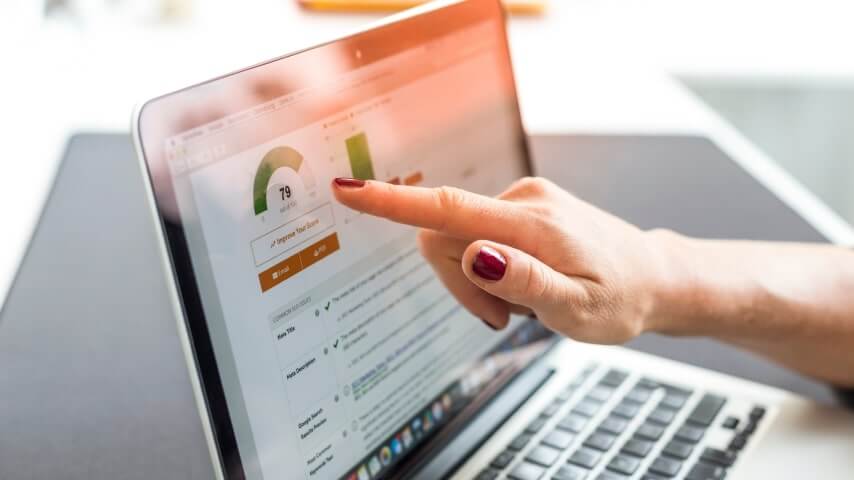 Search Engine Optimization (SEO) means improving your podcast's overall appearance and standings in search results. Implementing the right SEO tools and features increases your visibility and brand reach, letting people find you instead of you finding them.
Keywords are key to success. Use tools like SEMrush, Ahrefs, or Google Keyword Planner to research popular search terms related to your niche and topic. Include these terms in episode titles and descriptions and leverage show notes to optimize each episode with terms people search the most.
Publish Episode Transcripts
Transcripts are excellent for multiple reasons – monetization being one of them. If you want to try podcast affiliate marketing, transcripts provide a space for product promotions and affiliate links.
Publishing a transcript will boost your SEO and visibility since search engines rank text content. Publishing your episodes in a written form also allows readers to share your content.
Comply With the Affiliate Agreement
Stay professional and polish your reputation among other creators and affiliate companies by sticking with the rules and guidelines of the agreement. This benefits not only the partnership but your own business as well.
Avoid violations and penalties, maintain good partnerships, and make sure both sides stick to their legal obligations. Safeguard your reputation to secure long-term success in podcast affiliate marketing.
How Does the Printify Affiliate Program Work?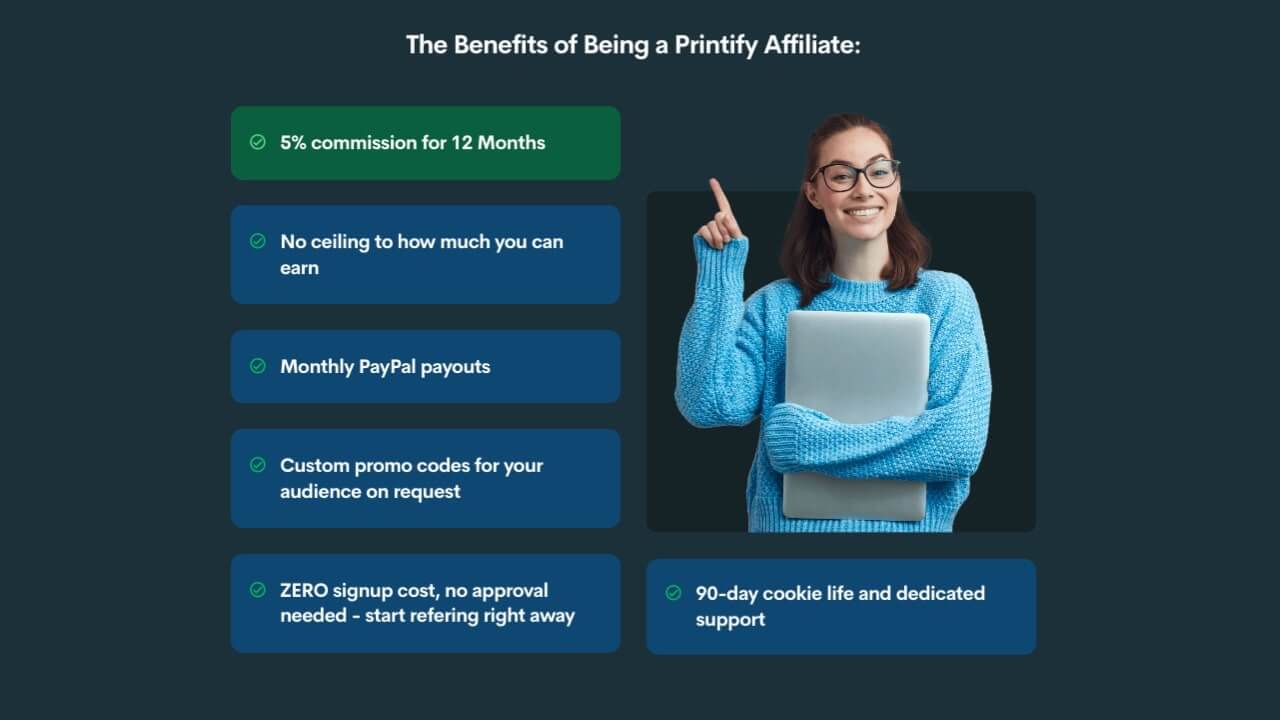 Printify has one of the best and easiest affiliate marketing programs, a simple signup process, and even more simple payouts – join today (for free), refer tomorrow, and get paid monthly.
Complete the application form, which will be reviewed in

1-2

days.

Receive your unique affiliate link (and customize it, if necessary).

Refer to it on your podcast and encourage listeners to take action.

Receive

5%

(of the product price in our Catalog) for each order customers make through your link.

Get a monthly payout to your PayPal account.
Podcast Affiliate Marketing: Final Thoughts
Now you have an understanding of how podcast affiliate marketing works.
Pick a program and sign up.

Advertise your unique links on your podcast in multiple ways (disclosures, CTAs, and verbal promotions).

Earn a commission from each sale.
You need to be clear, encouraging, and knowledgeable to your audience to persuade them to click that affiliate link – make sure to pick a program that aligns with your niche and values.
Join the Printify Affiliate Program for ultimate success. Earn 5% commissions, with no limits, promoting quality products and services. If you have questions or suggestions, contact the Printify Affiliate Manager at [email protected].
Share the article
Topics