Introducing Packaging Inserts and Neck Labels for Branding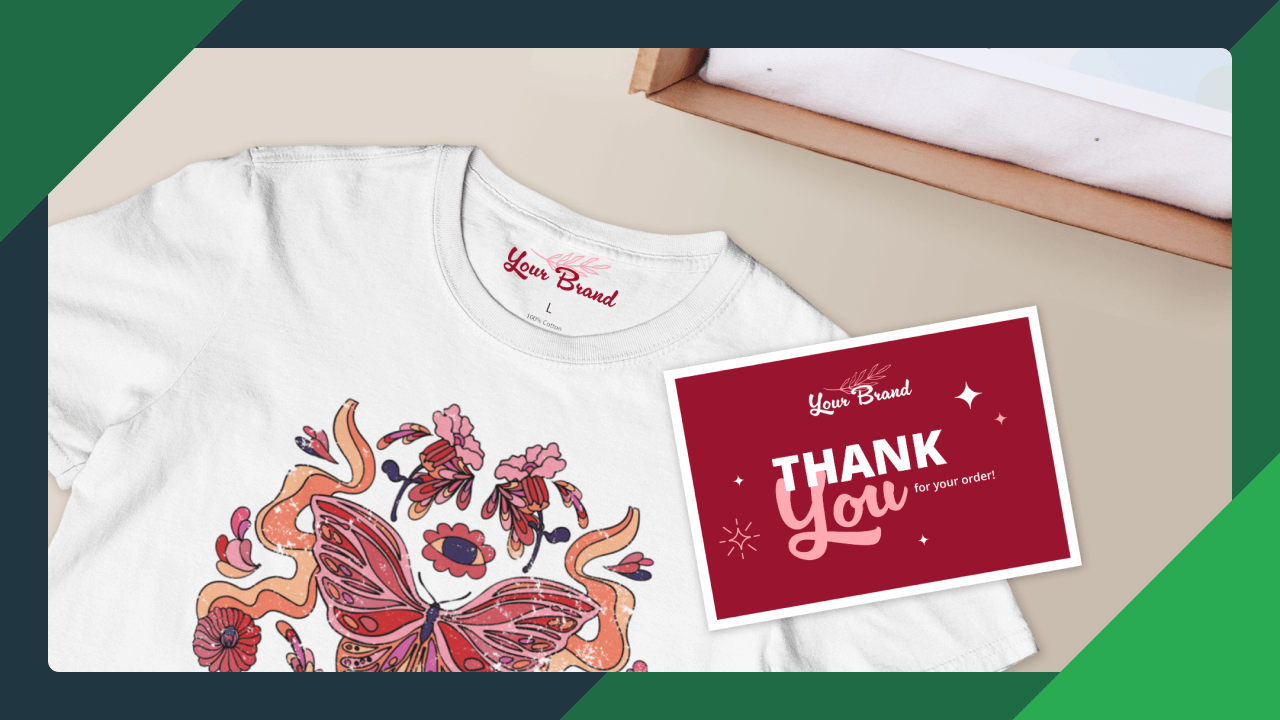 The suspense and pure joy of opening a box you ordered to see what's inside is something enjoyed by people around the world. 
And with the new branded inserts from Dimona Tee, Monster Digital, and SwiftPOD – you can amplify that joy for your customers while promoting your brand at the same time.
Custom Packaging Inserts – a Game Changer for Your Brand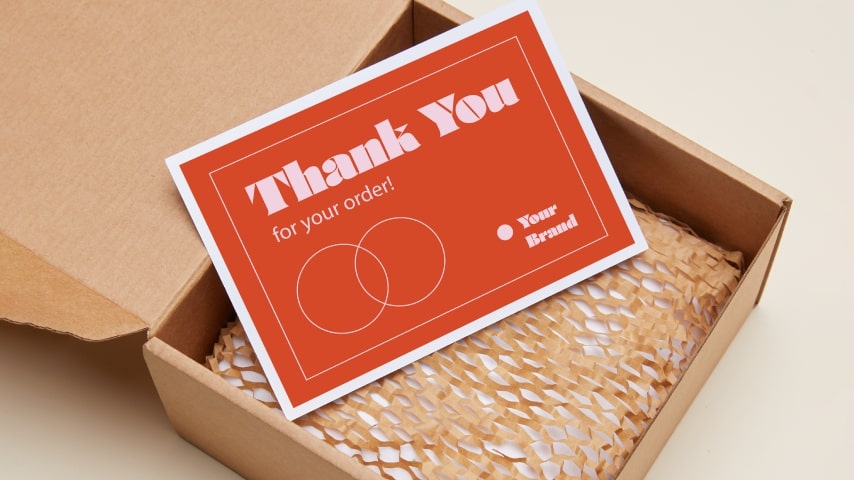 Packaging or box inserts are small gifts for your customers that add more value to their purchase and your brand image.
An insert can come in many different shapes, such as a handwritten note, referral card, discount offer, product review, flyer, care instructions – or all of the above. Whatever the content or shape, custom box inserts serve as a great way to engage and inform both existing and new customers.
Why should you include custom inserts with every order? Because it's an excellent branding tool that will help you turn your small business into a huge success.
Each custom box insert is like a free business card, serving as a fantastic opportunity to bring awareness to your brand and build a loyal customer base in a clever way.
Still not convinced? Check this out. 
Brandable inserts cost only $0.15.

That's 4x cheaper than the competition. Don't miss out!

No need to plan ahead and buy in bulk.

No inventory or bulk orders of anything. Each packaging insert is custom-printed together with every separate order only after it's made.

No need to outsource partners.

Say goodbye to negotiations with third-party partners that print your box inserts in bulk to fulfill your packaging needs. Select Dimona Tee's, Monster Digital's, or SwiftPOD's products, customize your inserts, and delight customers with every purchase.
How to Use Packaging Inserts to Grow Your Business
Let's look at some packaging insert ideas you can use to upgrade your customer unboxing experience and help your eCommerce store exceed  expectations.
Design a personalized packaging insert with nothing but your brand identity. Add your logo, company name, and slogan to create promotional inserts that work as little business cards that accompany every purchase. Make them bright and memorable to lure back customers for future purchases.
Establish a Relationship With Your Customers
You can also boost your unboxing experience with personal notes showcasing your brand personality, values, and narrative. These notes can be lovely, inspirational, or humorous with jokes, quotes, and custom messages from you. A packaging insert like that will create a personal connection between you and your customers.
Nothing boosts customer loyalty like the right thank you note. Often the most simple ones go a long way. Your customer receives a thoughtful gesture, and you appear appreciative and increase your customer loyalty.
Promotional inserts work as referral schemes and sales boosts that not only prompt repeat purchases but allow you to cross-sell and establish a new customer base. Design referral cards, give discount codes when buying multiple items, or special deals for cross-selling products related to the ones your customer bought.
Send people directly to your social media platforms with a unique insert card. List your social media handles or provide a QR code that will allow customers to immediately connect with your brand. This way, you can promote new product samples, allow your customers to engage with you, leave feedback, and find the latest news and updates regarding your business. 
Provide Information About the Product
And finally, you can use packaging inserts to tell your customers more about the product they've bought itself. This is especially convenient for fragile items, ones that need special care – or products that have an epic backstory. Give customers instructions, styling tips, or a one-of-a-kind story to boost their overall shopping experience with one box.
Neck Labels Equal Additional Branding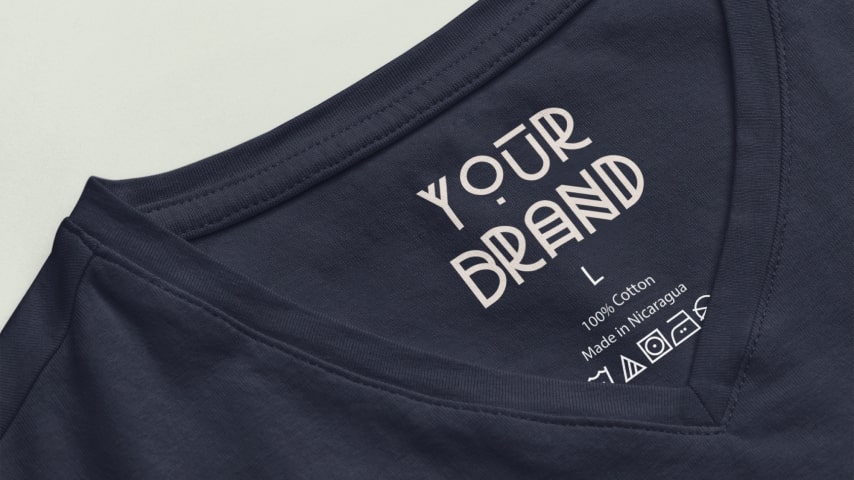 Neck labels are extra low-cost design spaces where you can unleash your creativity and sneak in a little more branding on your products for a small fee – starting at $0.44 for our Premium users. 
Establish credibility.

Custom neck labels will make your brand look more professional, and therefore reliable, turning you into a trustworthy seller.

Differentiate your products.

In a sea of look-a-like tees, custom labels give you a chance to stand out from the crowd.

Tell a story.

This is an extra space to display your brand values, story, and identity.

Protect your designs. Custom neck labels can work as security stamps for your designs – leaving a signature that counterfeiters can't copy.
The Importance of Branding With Packaging Inserts and Neck Labels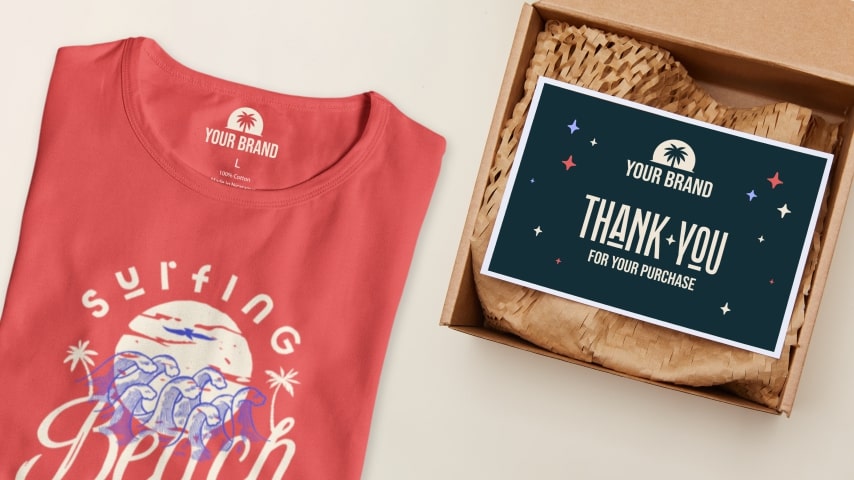 Let's quickly recap on how packaging inserts can help you revamp your branding and improve your relationship with your customers.
A custom insert with each packaging ensures 
Credibility

Brand recognition

Customer loyalty

Communication

Free promotion

Cross-selling opportunities

Additional information
Product packaging inserts are a cost-effective way to enhance the overall presentation of your brand and products. So try them now.
Unleash the Power of Branded Inserts and Labels
Insert labels are excellent tools that allow you to send out thank yous, personal messages, and discount offers while improving the unboxing experience for your customers. Try out different packaging insert ideas to analyze how well they work for you and see which ones succeed in generating repeat business.
While emails and online promotions might end up in spam folders, custom packaging inserts are guaranteed to reach your customers, so don't hesitate and design yours now.
Share the article
Topics