Must-Read Holiday guide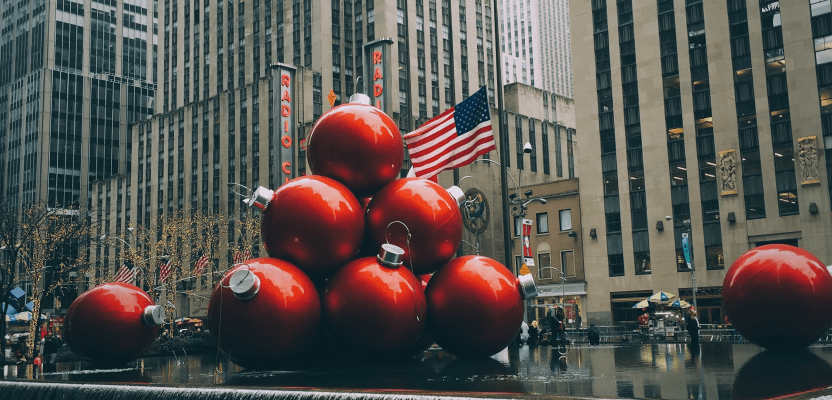 While people are generally overflowing with joy and uncontainable excitement, this season can also cause a lot of stress to merchants as the increase in order volume can overload print providers or a winter storm can drastically impact delivery times.
We created a must-read list of considerations and expectations:
Understand deadlines when to place your orders for Christmas and New Years
Expectations for production turnaround and shipping times during the high volume season
How to best contact support during the holiday rush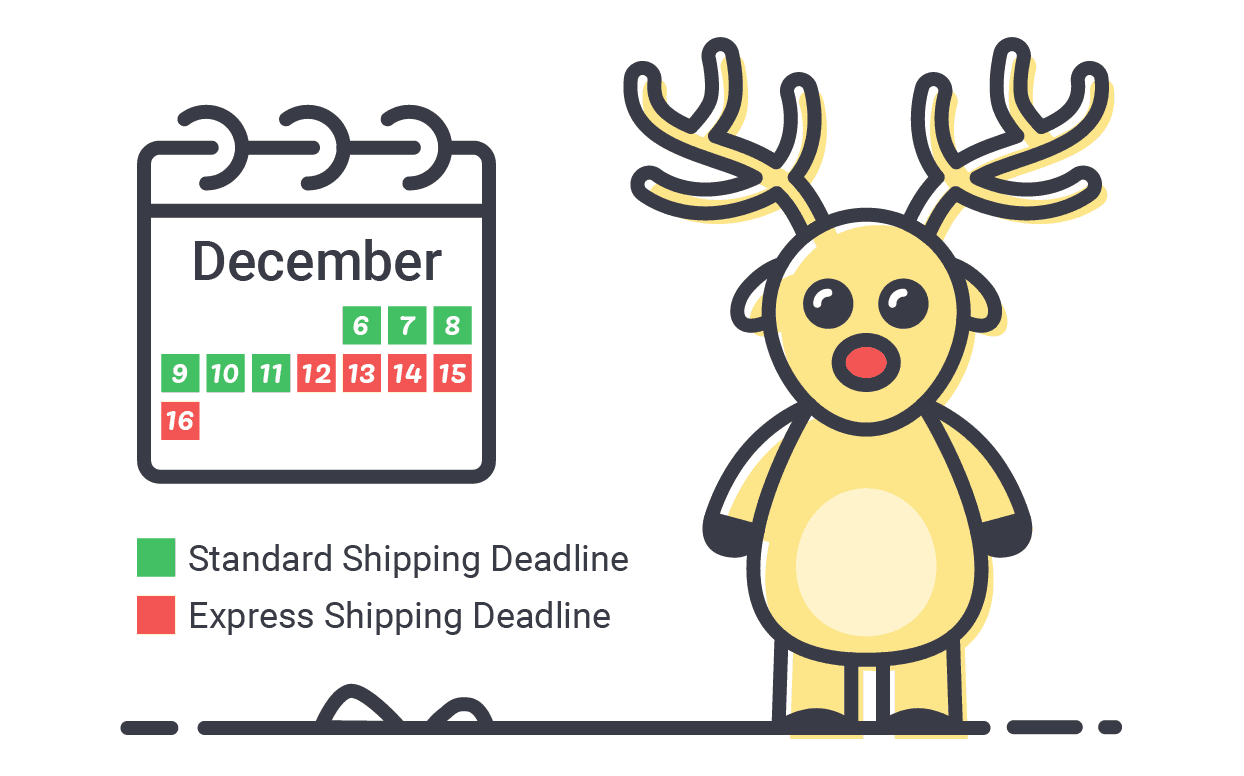 1. Recommended order placement deadlines for holiday items:
Standard international shipping: November 28
Standard US/UK domestic shipping: December 11
Express US/UK domestic shipping: December 16
2. No change of order details
No changes available after placing an order
Production is a streamlined process, especially during the busiest season of the year. Printing facilities can't cope with individual last minute changes or cancellations.
Switch your order fulfilment settings
So, there's time to edit/cancel an order yourself if your customer has accidentally entered incorrect order details. Please read how to change your automatic fulfilment settings here.
3. Avoid large orders from December 1 – 15
What is a large order?
December is an intense time for print providers as well, so be aware that orders with more than 10 products may encounter production delays during peak times (December 1-15) and risk delivery in January.
4. No reprints from December 12 – 31
We are automatically refunding defective orders from December 12 till December 31 – better to refund than leave someone without a present under the Christmas Tree.
You will still need to present images of defective items.
5. Out of Stock Items (OOS)
Usually out of stock items are products or product variations (colors or sizes) that receive an unexpected increase in demand.
Printing facilities always prepare enough stock of top-selling products. If an item goes out of stock, it will be automatically excluded from the order and you won't be charged for it. This way your in-stock items will be printed as soon as possible.
6. Delivery time during the Holidays:
6.1. Quality Check
Up to 24h for newly created designs. You may ignore it if your design has already been checked.
6.2. Production time
Production time can take 4 – 10 Days. Production time depends on the print provider. You can see average info for the last 30 days next to the print provider info.
Holidays and high volume seasons may cause production times to be slower than the listed average.
6.3. Shipping time
Usually, it takes 2-7 business days, but most shipping companies do not work during weekends. Strikes, severe weather conditions, flight delays, increased volumes, and other unforeseeable issues may cause an increase in shipping time.
7. Order Tracking
You can find tracking codes on your Printify account as soon as an order is fulfilled by the print provider
Remember, print providers in the UK DO NOT offer tracking, except for Prodigi.
If you have some problems with your shipping or order tracking, the best solution is to fill out the Help Center issue submission typeform.
8. Merchant Support & Quality Check
We want to notify you that our Merchant Support and Quality Check will be on Holiday December 25 and January 1. We will be back to help you shortly thereafter.
9. Prepare your E-commerce platforms
9.1. For Shopify Users
We recommend merchants add the Printify Shipping calculator to save time on adding tons of products or predicting gross margins more precisely. This option is available only for the Annual Basic plan, Advanced Shopify plans or with the Carrier-Calculated Shipping feature for a Basic plan (it costs an extra $20 in addition to your monthly subscription).
Remember to update and inform your customers of possible Shipping delays – add information to your website or product descriptions (scarcity sells – create a last-minute campaign to rush your customers a bit to buy today).
9.2. For Etsy Users
Check and inform your clients about production time changes
Inform that shipping can take 2x times longer
Update product listings/ descriptions to include all the information – shipping times and production times.
Update your FAQ.
Recommended Order Placement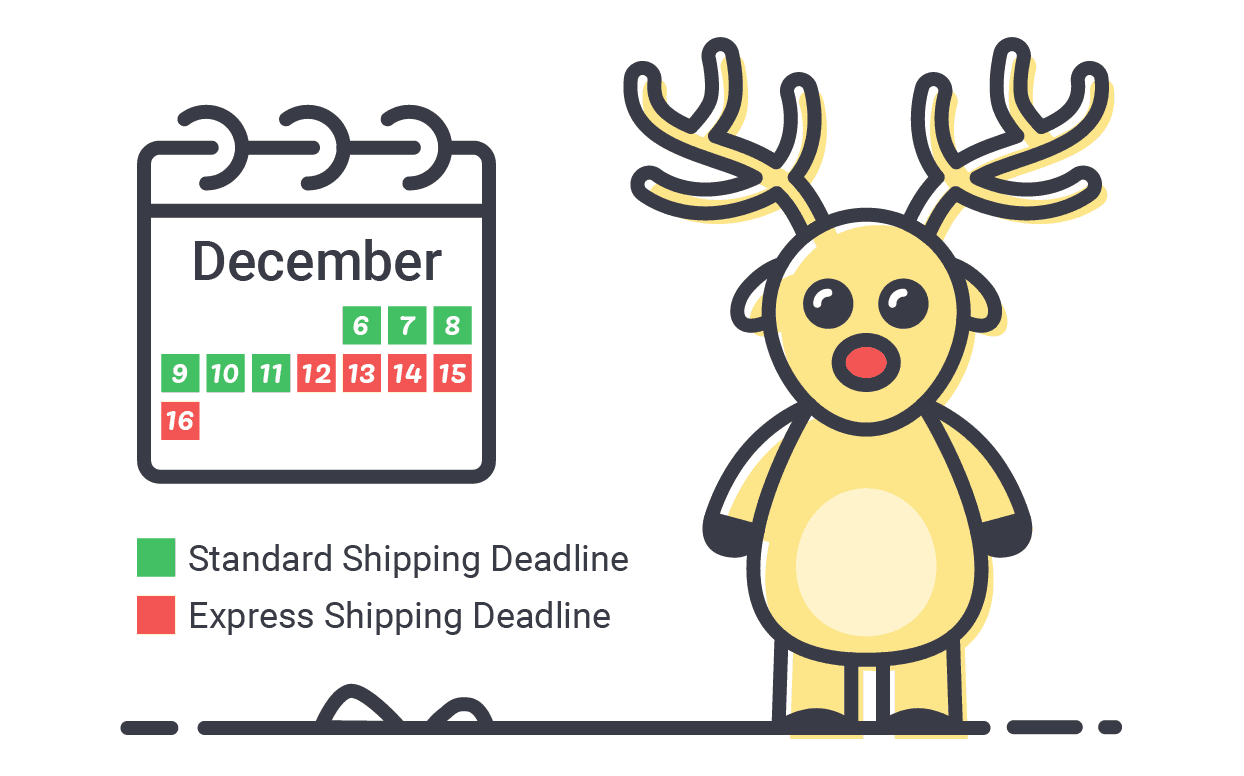 Deadlines and Checklist
[ Save & Print ]
How to Answer Holiday Frequently Asked Questions
[ Use this as a template ]
Q. How long is production time?
Answer:
Hi …,
Production time, on average, can take between 4-10 days* . During holidays and high volume periods, production times may be slower than the average. The elves at the north pole need a little extra time to make your custom made order perfect!
Kind Regards,
[ Your Name ]
*Note. Production time depends on the print provider, see average production info for the last 30 days next to the print provider info.
Q. Can I rush production time?
Answer:
Hi …,
As this is high volume season, production times can be slower than the average 4-10 days*. We are sorry but this is out of our control. We hope you can understand the situation, the elves in the north pole base their breaks around how much work they have to do. Your orders will be processed as quickly as possible and you will receive a notification as soon as it is shipped.
Kind Regards,
[ Your Name ]
Q. Can I rush shipping time?
Answer:
Hi …,
First, we hope your order will be on time. Most shipping companies work from their existing holiday processing schedules, so we can't promise you anything, because shipping can be affected by severe weather conditions, flight delays, increased volumes etc. Even Reindeer struggle to fly during a snowstorm.
Kind Regards,
[ Your Name ]
*Note. Before the order you should offer clients an option to choose express shipping if they want the package sooner. Please keep in mind, once the order is placed there is no opportunity to upgrade shipping.
Q. Where is my order?
Answer:
Hi …,
Your order goes through a couple of steps between when you confirm your payment to when it arrives at your door. You are able to check the order status with the tracking number. As soon as the order is printed, packaged, and ready to ship, a tracking number is generated that is viewable here [ add tracking number ].
Please keep in mind that Print Providers in the UK(except for Prodigi) DO NOT offer tracking and that due to increased order volumes during the holiday season, there may be a slow down in the production and shipping processes of your order.
Happy Holidays!
Regards,
[ Your Name ]
Q. What's the cut off day for Christmas?
Answer:
Hi…,
The cut off date depends on where the print production occurs, and the delivery destination (international vs domestic shipping).
Standard international shipping: November 28
Standard US/UK domestic shipping: December 11
Express US/UK domestic shipping: December 16
While these dates are not set in stone, it is what we expect to see during the holiday season based on previous years experience. It is in your best interest to get the orders in before the cut off date. Even elves have to keep to a schedule so that everything is done on time.
Kind Regards,
[ Your Name ]
Q. There is something wrong with my order… what can you do about that?
Merchant Notes:
Watch for an email from the Quality Control team – If you receive one it means we found a problem that may affect the final product the customer receives. Let's nip it in the bud before it goes live on your store
If a customer has received a faulty item, please fill in the issue submission typeform and Printify Merchant Support will be in touch shortly. If it is a time sensitive order (ex Christmas) the reprint may take longer than normal. If the deadline is missed we will offer a refund assuming the orders were placed within the cut off calendar deadlines.
Each case will be addressed individually on a first come, first serve basis.
Answer:
Hi…,
We hate it when problems happen, it is not our goal. Despite our best efforts we know problems will inevitably slip through the cracks. Here is what we can do:
Assuming the order was placed within the holiday cut off dates, we can offer you a refund or issue you a new item. Keep in mind if you would like a reprint, it will go through normal production and shipping processes, so it could be late.
If the order was placed after the cut off date, we can only offer a refund if the product is damaged or not what you desired.
Kind Regards
[ Your Name ]
*Note. For Delays or Missing packages:
Check order status
Check tracking numbers
Check local Post Office
Email Customer to inform of delays
Contact Printify MS Team immediately using – Live Chat, Email and confirm whether the originally address is correct.
We hope this information will be a helping hand in the coming weeks
Fingers crossed, this will be your best sales season ever! Our team is fully ready to support you in achieving this goal.
Share the article
Topics