Introducing The CamelBak Water Bottle!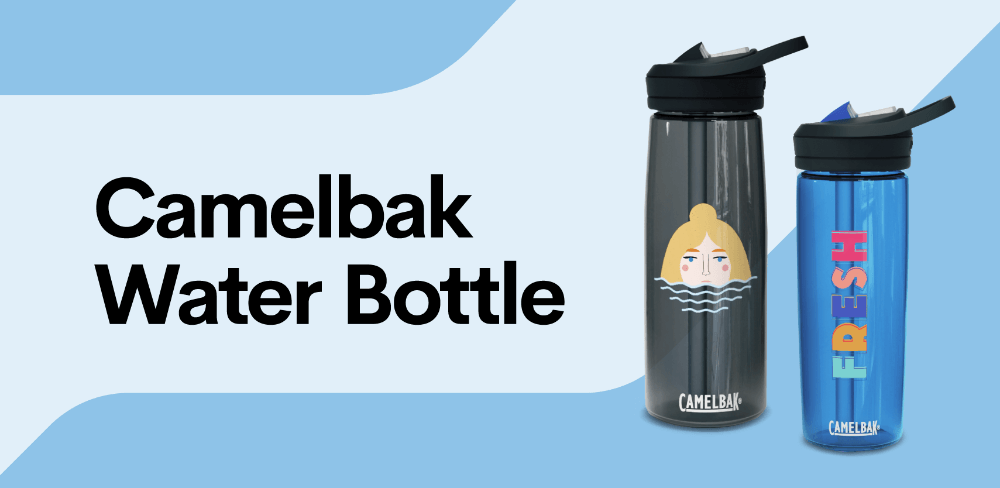 Looking for a practical and popular item to add to your store's summer offerings? Look no further. The CamelBak Eddy® water bottle is now available for customization, and it's bound to cause a splash with your customers…
Why? Because water bottles are already in high demand, and this model is far superior to the average style. Its special features make it stand out from the crowd, even before you add your attractive custom design.

Don't miss the wave when it comes to this functional and fabulous water bottle. Add a range of designs to your store and ensure you satisfy your customers' thirst for products like these!
About the CamelBak Insulated Water Bottle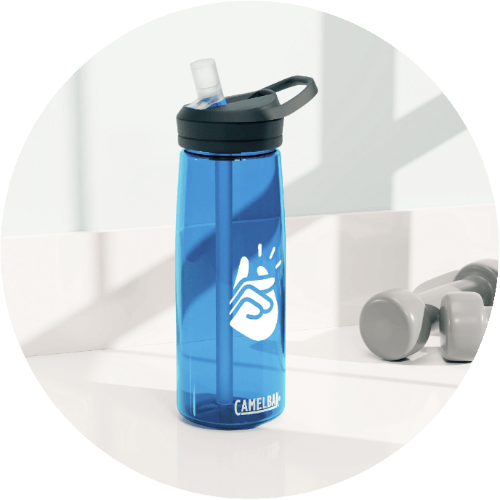 Maybe you're wondering what makes this particular bottle so special. It's not only aesthetically appealing; it's also designed with a wide range of potential uses in mind.

Read on to discover how useful and efficient this model truly is thanks to its functional features. You'll soon see how a cheap CamelBak water bottle can provide your customers with amazing value for money.
If you're an outdoorsy type, you've undoubtedly encountered CamelBak products at some point. This California-based company has an international reputation for top-of-the-range hydration products such as hydration packs and the iconic CamelBak water bottle.

The bold approach of this brand is embodied by its slogan: Hydrate or die!
Believe it or not, the CamelBak hydration pack was invented in 1989 when the company's founder made a prototype using an IV bag of water and a tube sock.
CamelBak products have certainly evolved considerably since that inventive moment.

In 2006, the CamelBak insulated water bottle was born, and it took off quickly! What people love about this product is that it's BPA-free. That means it doesn't contain Bisphenol A in its construction.

Have you ever drank water from a bottle that tasted funky? The bottle probably used BPA. Choosing CamelBak avoids that unpleasant experience.

Since this brand's products have even been used by U.S troops, you can expect the CamelBak eddy water bottle to hold up under pressure!
Who Might Buy a CamelBak Water Bottle?
To decide whether you should add a personalized CamelBak water bottle to your store or not, consider the kind of person that would buy it.

At Printify, we've identified 3 potential demographics you could target with this product. Why not create your CamelBak water bottle designs with these particular groups in mind?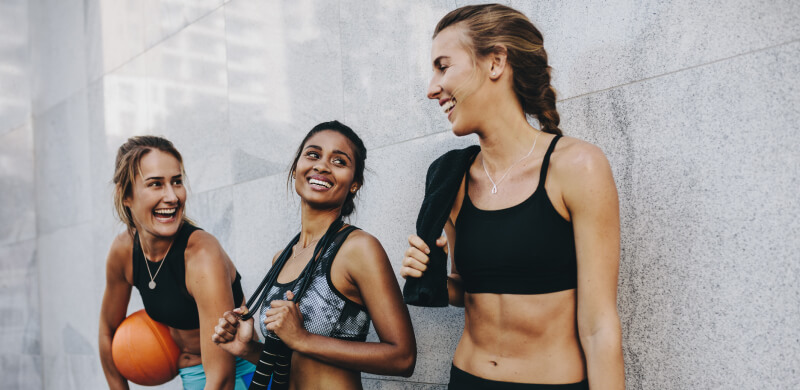 During both indoor and outdoor sports, it's crucial to stay hydrated.

Your athletic customers will undoubtedly appreciate this water bottle since it keeps their drink cool for longer and provides easy access to fast hydration, thanks to its big bite valve.
People Focused on Increasing Their Water Intake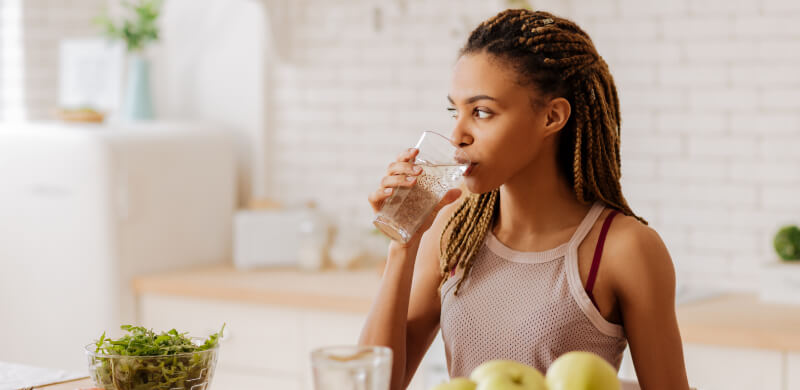 If you perform a quick analysis of social media content, you'll see multiple reminders to drink water.
For physical health, mental wellbeing, and beauty reasons, many people have set a personal goal of increasing their water intake.
Since water from a cheap CamelBak water bottle is cold and delicious – the bottle is BPA free, after all – this model is an attractive option!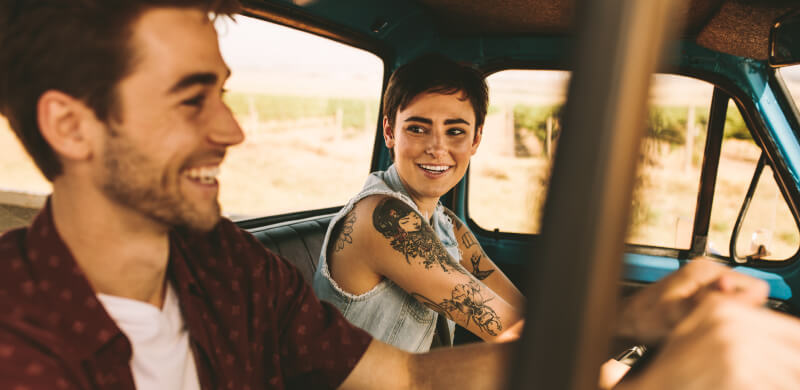 Whether someone is traveling by plane, train, or automobile, the experience is much more pleasant with ongoing access to cool water.
The ergonomic design of a CamelBak water bottle – with its carry loop and anti-spill protection – makes it an ideal companion for journeys long and short.
An Overview of the Water Bottle Market
Given increasing environmental concerns, it's perhaps unsurprising that interest continues to grow in reusable containers.

Ditching the disposable plastic water bottle for models that are designed to last and be filled over and over is one simple way for people to reduce their contributions to the climate crisis.

A custom CamelBak water bottle is just the kind of durable and attractive product that people are increasingly moving towards.

In 2018, the reusable water bottle market in the US alone was valued at 1.17 billion dollars. It's grown since then and is predicted to continue in the same direction. By 2025, it's forecast to reach an incredible 1.48 billion dollars.
The Increasing Interest in Personalization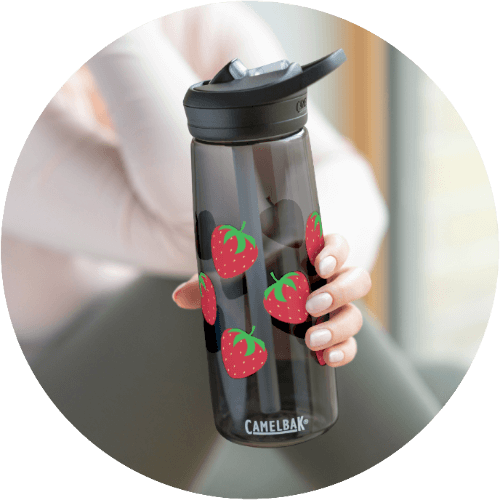 The only way to make the iconic CamelBak water bottle even more appealing is to customize it with a design.

Anyone familiar with the world of eCommerce can testify that there has been a consistent rise in the popularity of personalized products.

Personalized products are also widely seen as ideal for gifting, adding a layer of thoughtfulness to any present. For example, a monogrammed water bottle would make a more intimate, unique gift than a standard water bottle.

People also invest in customized products for their own personal use. Many customers seek merchandise that better reflects and expresses their individuality.
Inspiration for Customization
Planning to add this sturdy but stylish model to your store? Here are some ideas for successful CamelBak water bottle designs.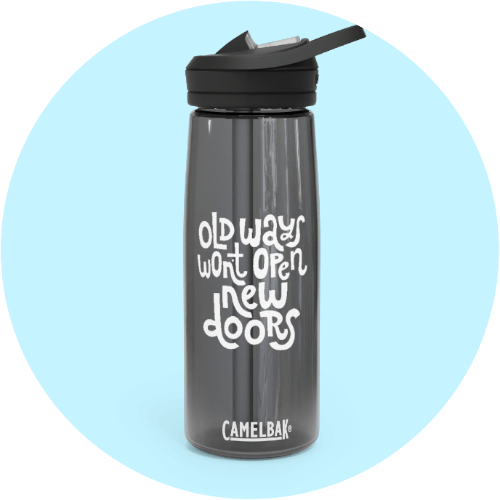 Inspirational Quotes and Silly Slogans
Words can make for amazing customized designs. You might choose to emblazon your bottle with a motivational message. Customers who want to cultivate a positive attitude will be attracted to these inspiring designs.
What about something a little more silly? A hilarious quote will brighten up your customers' day as they carry their water bottles around. "Let's pretend this isn't wine" is one funny idea. You can imagine this becoming a popular gift for friends!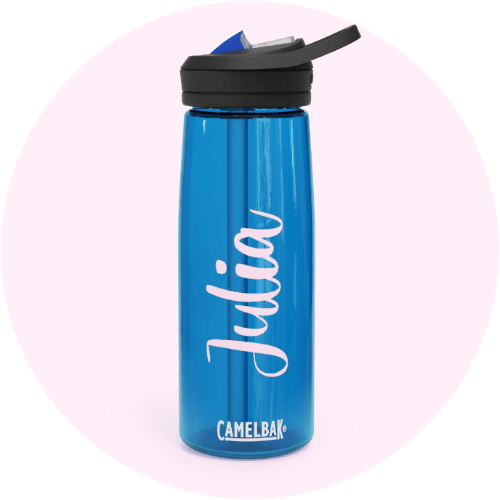 Monogrammed CamelBak Water Bottle
Monogramming items is one easy way to make them super special. Customers can buy bottles with their names printed, differentiating them from others, or they might buy them as personalized presents.

Beyond names, you might choose to focus on the gifting aspect and design bottles for specific family members.

A design that stated "This bottle belongs to the world's best Dad" would have obvious appeal as a present.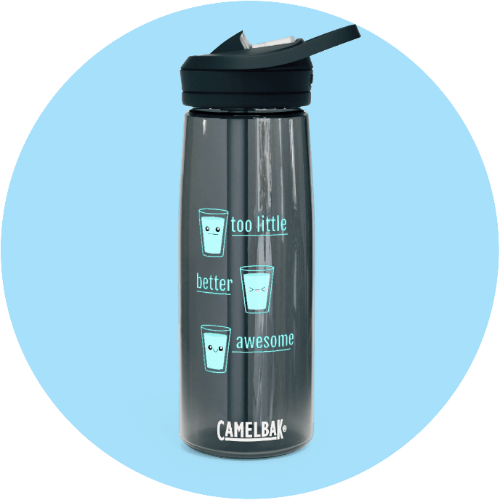 Many people are making an effort to drink more water. However, it can be difficult to get in their recommended amount per day.

You might choose to design a bottle that makes this easier. You could mark different levels with specific times and add refill reminders to help them reach their goal.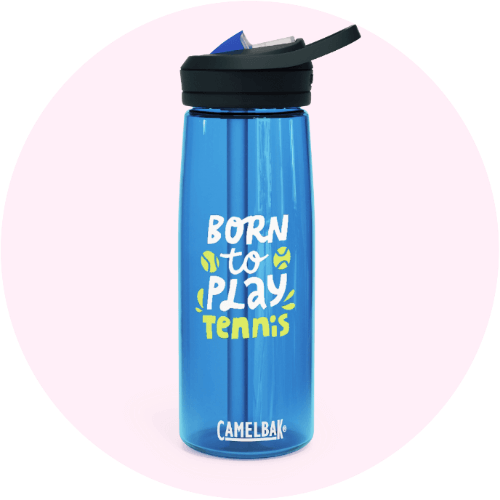 Since many people choose to use their CamelBak water bottle to hydrate during sport or outdoor activities, why not incorporate those themes into your design?

This could take the form of a slogan, for example, "keep calm and cycle" or "just keep skating." Alternatively, you could cover the bottle in images of bicycles or skateboards, making a design that's both attractive and appropriate.

People like to buy items that reflect their hobbies and interests, so it makes sense to cater to their tastes with your products.
Selling CamelBak Water Bottles With Printify
The process of designing and adding items to your online store couldn't be more straightforward. You could start selling your personalized CamelBak water bottle straight away!
Our intuitive customization tool means you can easily upload and position your graphics. Before you commit to a design, you're able to preview how it will look on the product.
Once you're satisfied, you simply add it to your store. Printify is compatible with a range of the best-known eCommerce platforms like Shopify and Etsy.
The best part? Because of our print-on-demand model, there's no cost to add a product to your store. That means you could design a whole range of water bottles and begin your online business today. No upfront investment is required.

Orders will be fulfilled by the Printify providers of your choosing. You won't have to worry about packaging and shipping.

Why not add the CamelBak water bottle to your online store today?
Create Your Own Merch for Free!
Share the article
Topics