Etsy Shop Name Ideas and Best Practices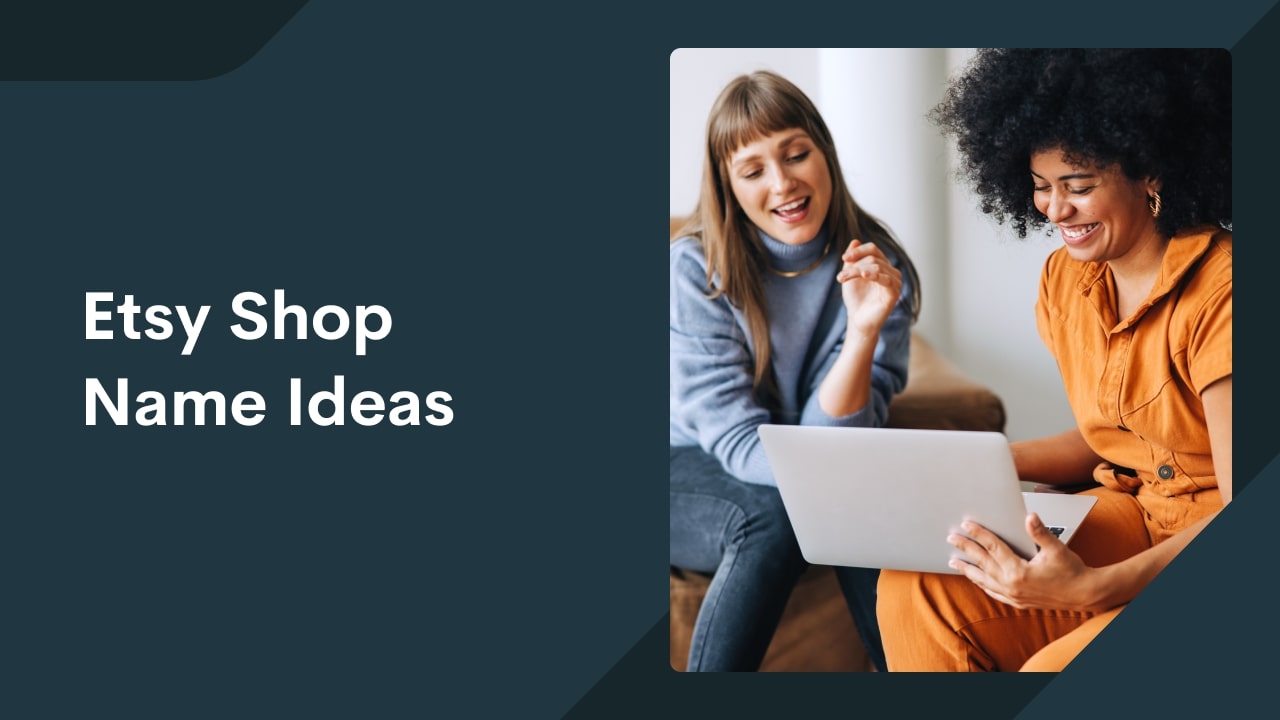 Ready to start an Etsy shop but stuck in the brainstorming phase? In this step-by-step guide, we'll look at some tips and best practices on how to come up with the perfect Etsy shop name ideas. 
Follow Etsy shop name requirements, make sure people know what you're selling, make it user-friendly, check availability on other channels, and use our creative tips and tools to streamline your research. 
Finding a new Etsy store name can be a relatively simple process.
Etsy's Store Name Requirements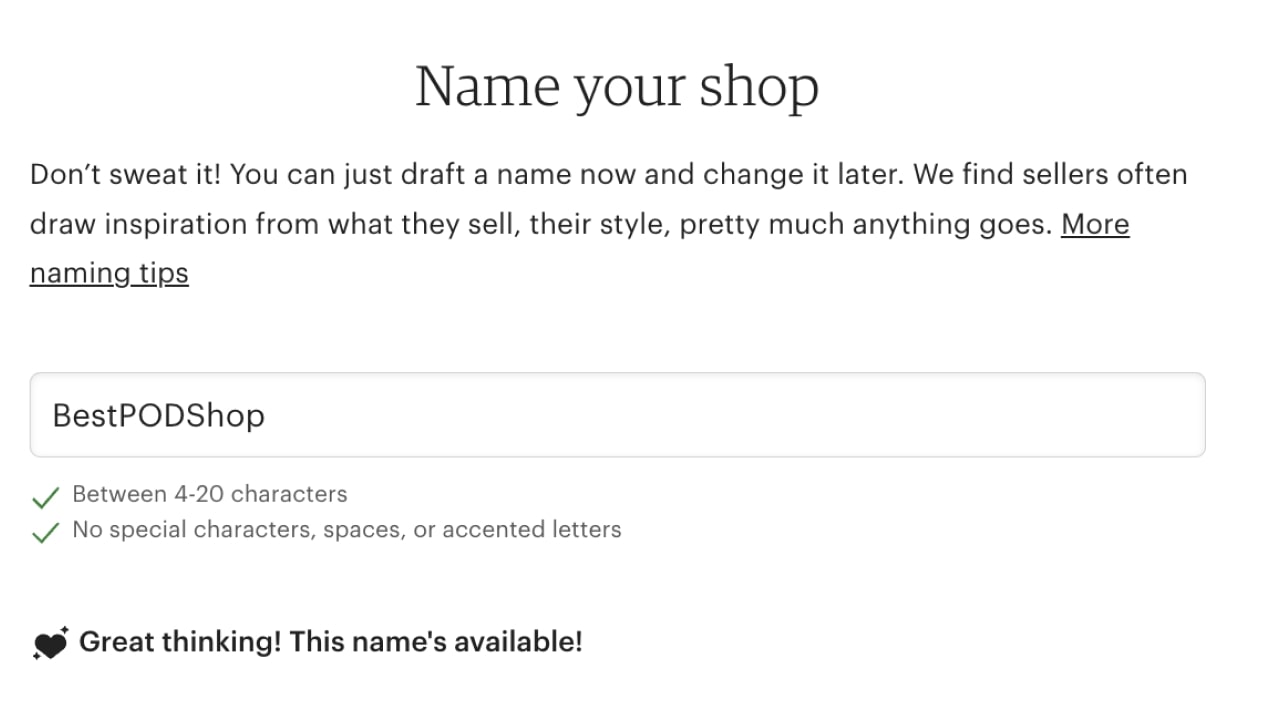 If you haven't already, take a minute to learn about Etsy store name criteria and shop policies. Here's a list of the main Etsy shop name requirements:
Character Limit.

The

Etsy shop name can only contain under 20 characters.

No Spaces.

Separate words can't be divided by spaces. Instead, use capitalization.

No Special Characters. The new shop name can't include punctuation or symbols.
What to Do When Your Business Name Is Already Taken?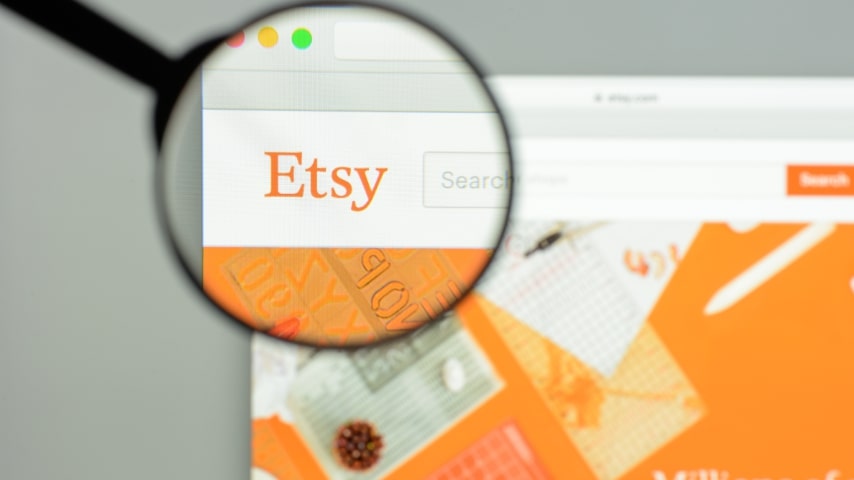 The next process of elimination is checking whether your placeholder Etsy shop name is already taken. 
Each Etsy account needs to have a unique name that can't overlap with other users'. Here's a list of tips to find good Etsy shop names, even if your preferred ones are already in use.
Use synonyms or associations
Likely, common business name ideas are already taken. If you have an existing business identity, it's vital to maintain brand awareness. Align your potential Etsy store with the brand's other commercial accounts and social media as closely as possible.
Use associated words or direct synonyms to create a similar title as an excellent alternative to keep the brand meaning and theme intact. 
For example, words like "Clothing" can change into "Apparel", "Attire", "Ensemble", while "Art" can be "Artwork", "Crafts", etc.
Apply a commercial prefix or suffix
Another example of using a name that's already taken is adding a commercial term at the beginning or end of your Etsy store name ideas. This common strategy used in the Etsy community can benefit already established brands with a set naming convention.
Many Etsy storefronts use words like "Store" and "Shop" at the end of their business names or use verbs like "Buy" and "Shop" at the beginning of the Etsy store name. 
This change counts as a unique and new word while keeping the clarity and catchy title intact.
Add a recognizable descriptor word
Descriptive words provide more information in the Etsy store name, attracting potential buyers from direct search results, especially if combined with popular user search keywords. 
Stationery, craftworks, digital, macrame, and carving – are all descriptor nouns that create a unique store name.
When working with an abstract name, descriptors are especially useful for telling the customer exactly what the store sells while avoiding intellectual property claims from other businesses.
Best Practices for Picking a Name for Your Etsy Business
Look up the Name in the Search Results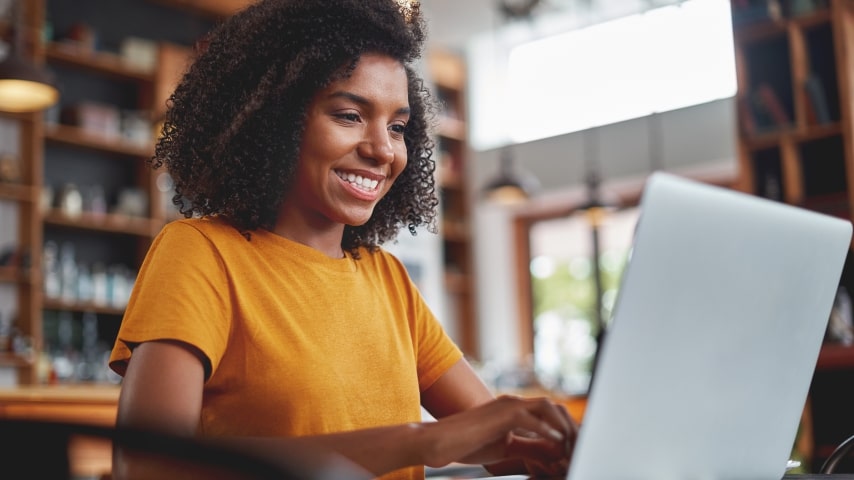 Start by Googling your potential Etsy shop name. This will help you determine if any websites or industry terms have already claimed it. The less used the name, the higher the chance that your business becomes the sole brand association.
Avoid using generic names or phrases. Limit competition from over-saturated search results.
Next, search your Etsy shop name ideas directly on Etsy itself. Since Etsy shop names have to be entirely unique, it can be frustrating to find out the name you've chosen is too similar or already taken by another Etsy store. 
Consider making multiple variations of the same idea.
Match Your Brand and What You're Selling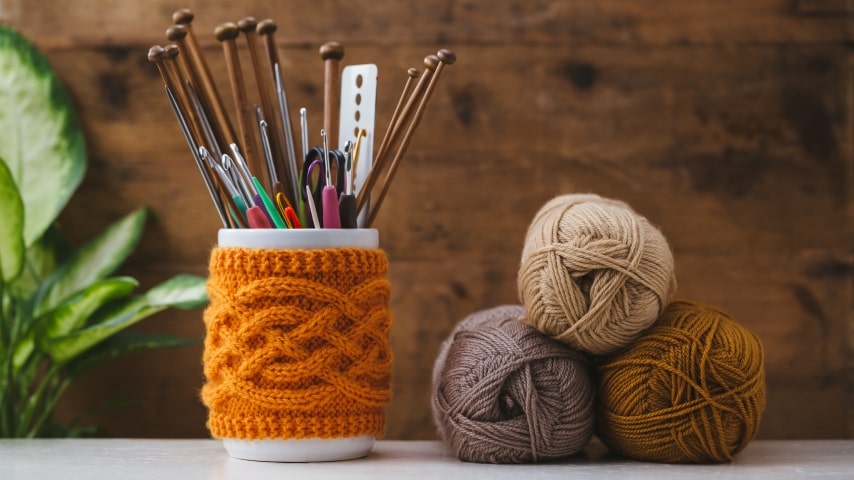 Association is often the key to coming up with good Etsy shop names. Customers want to know what the store is selling before checking out what's in the catalog. Even one word can be a unique selling point for the right audience.
Use suggestive and descriptive words in the title and combine them with your brand identity. 
Using the "product category + business name" formula is often enough to boost organic search results and associate your other online accounts with Etsy product listings.
Keywords refer to common words or phrases online users have consistently typed in their search bars. Google and other search engines track popular keywords to rank websites in terms of their relevance to the search query – better known as Search Engine Optimization.
Include popular keywords in your Etsy shop name ideas to improve the store's visibility. Note, however, that high-ranking keywords are subject to competition. 
It's best to choose keywords specific to your niche. Use tools like Google Analytics to research Etsy SEO keywords.
Make Sure It Is Easy to Pronounce and Spell
Whether you're using an abstract name or an entirely unique one, make sure that customers worldwide can pronounce it sensibly. 
Check whether the potential store name can be divided into clear syllables, has a strong inflection point, and doesn't use special characters.
Keep It Short But Memorable
On a similar note, a short name is a catchy name. If a user can't recall your Etsy store name after one visit, they're unlikely to return and make a purchase later. 
Finding the sweet spot between simplicity and originality is key.
Check If It's Available for Social Media and as a Domain Name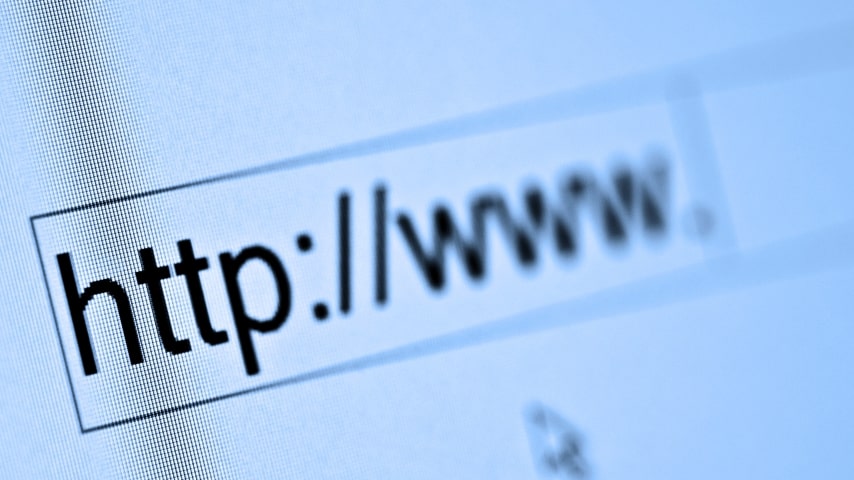 Starting a small business in the age of cross-platform communication requires consistency across multiple channels. 
Once you've settled on a few ideas, test if they're available as business account usernames on social media platforms like Instagram, Facebook, etc.
To guarantee that your brand has room for further growth, checking domain availability might be a good idea. Platforms like Shopify, GoDaddy, NameCheap, and other domain registrars offer comprehensive search options to research and purchase a future store domain.
Check If It's Not Already Trademarked
Even if a potential Etsy store name is available, it doesn't mean that parts of it or the full title are automatically free for commercial use. If you're a US seller, research the USPTO trademark database and cross-reference any mention of your Etsy store name ideas. Find databases for:

It's a good idea to trademark your Etsy store name early. To limit any legal issues down the road, learn how to trademark a name with our supplementary Printify trademark guide.
Tips and Tools for Coming Up With Etsy Shop Name Ideas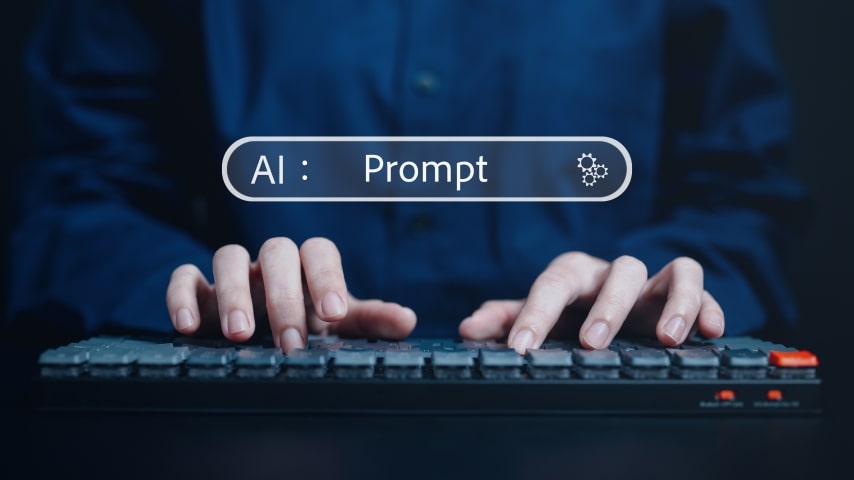 With public access to tools like ChatGPT, AI-powered text software has seen a steady rise in quality and cannot be overlooked as a valuable tool for brainstorming catchy Etsy shop names. 
Some useful AI-based platforms include Hostinger, Copy.ai, Durable.co, and many more.
The best use-case for AI text tools is to find curated names with set parameters – word associations, commercial derivatives, synonyms, and word combinations. 
However, AI gathers information from existing user texts, so it's crucial to follow our advice mentioned earlier.
Use Business Name Generators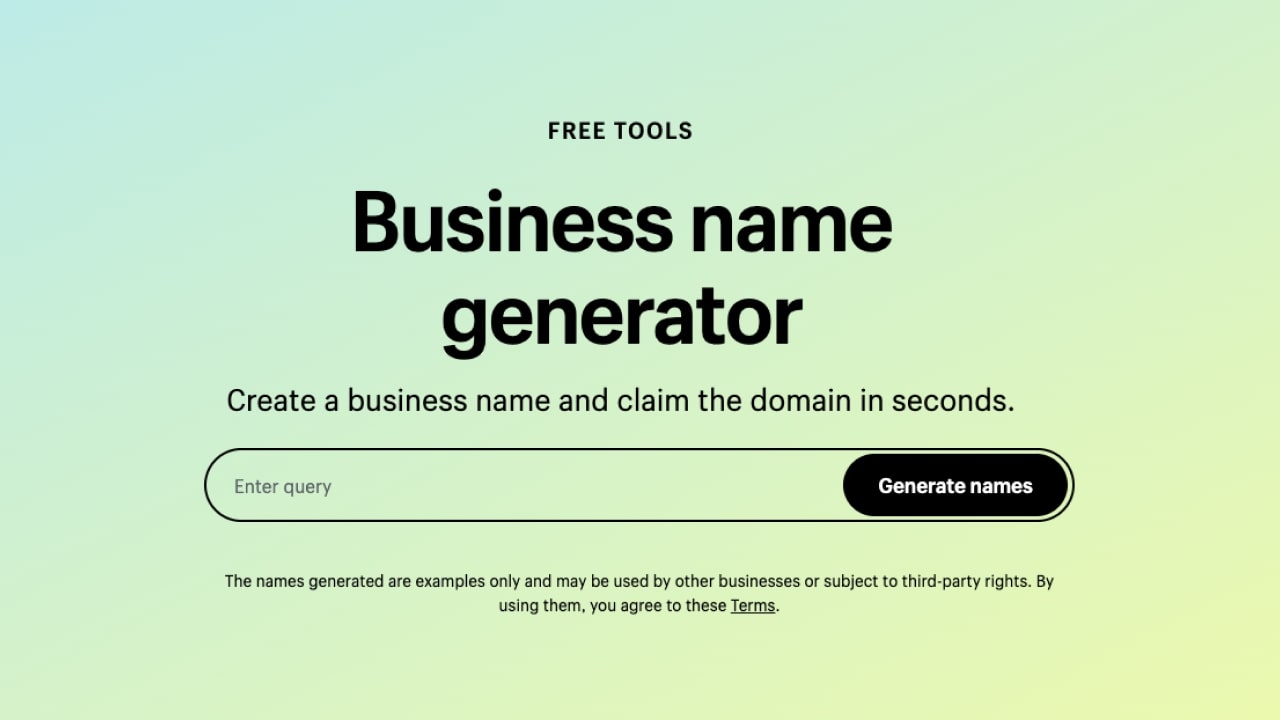 Unlike AI, standard business name generators are more likely to offer conventional online store names and may even provide information on available domains. Use business name generators to filter by niche or industry and check for memorable Etsy store name ideas.
Find useful business name generators on Shopify and Wix, or look for other accessible online resources with a quick search engine query.
Use Etsy Shop Name Suggestions
During the Etsy shop set-up phase, check the box to receive additional help on shop naming. Etsy will offer suggestions and naming tips that can further enhance your branding, including legal advice and a way to contact Etsy Support for additional name changes in the future.
Draw Inspiration From Other Stores
Try to remember the Etsy shop names you've recently visited. Have they stuck in your head, or have some been less memorable? 
Consider which name ideas are more descriptive and catchy, and try to achieve the same result.
Existing Examples of Great Etsy Store Names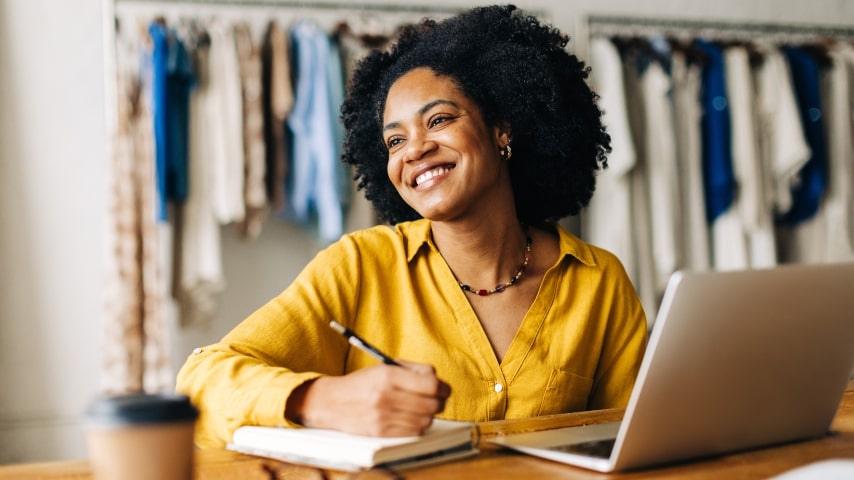 If the words "good, catchy, memorable, and witty" have lost all sense of meaning to you at this point, we've compiled a list of great Etsy store names to inspire you. 
We used a keyword research tool to filter top-performing Etsy shop names in multiple categories.
Names for Etsy Shops Selling Clothing and Accessories
Names for Etsy Shops Selling Home Decor
Names for Wedding-Themed Etsy Shops
Names for Etsy Shops Selling Jewelry
Names for Etsy Shops Selling Craft Supplies
Names for Etsy Shops Selling from Recycled Materials
Names for Etsy Shops Selling Children's Toys
Names for Etsy Shops Selling Digital Products
Location-Specific Etsy Shop Names
How to Start an Online Store With Etsy and Printify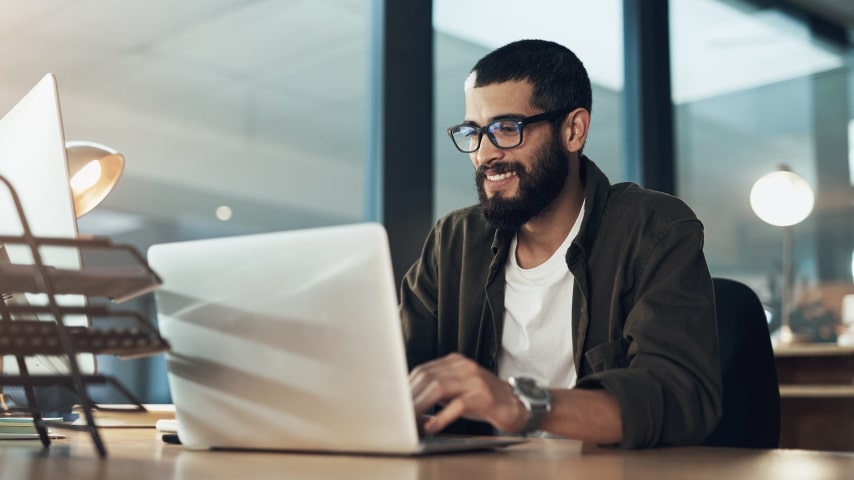 Printify offers Etsy sellers a free print-on-demand product integration and design service. 
Create bespoke custom apparel, accessories, or home decor products with your designs. Sell on your Etsy store with fully automated fulfillment, order delivery, and no initial investment.
Now that you're closer to an ideal Etsy store name, it's time to set up an account, create a shop, adjust Etsy store preferences, and list your products. 
Follow Printify's ultimate Etsy shop guide on everything you need to sell products on Etsy with your very own shop.
Create a Printify Account and Integrate With Etsy
Create an account with Printify for free. Access over 900 custom white-label products for any target audience or niche market, and explore our Etsy guides, marketing resources, and custom design tools.
Go to Add a new store on the left-hand dashboard and choose Etsy as your preferred sales channel integration. Enter your new catchy name in the Manage my stores settings page.
Create and Publish Products
Go to the Printify Catalog – filter by category or type a potential product idea in the search bar. Click on a product to view all manufacturing details and available Print Providers. Select a Print Provider based on merchant ratings and offered features, and click Start designing.
Printify will redirect you to the Mockup Generator design software. Upload an image from your device and use the editing tools to create your final product design. 
Save when finished and go to your My products page to edit product details. Click Publish to make an Etsy product listing.
Start Selling and Marketing Your Online Business
The published Printify products should appear as listings in your Etsy store catalog in just a few moments. Edit any additional details, tags, and keywords to boost store visibility. 
Finally, use social media platforms, ad programs, and other forms of Etsy marketing to make a profit.
FAQ: Ideas for Best Etsy Shop Names
Yes. Change your Etsy shop name in the Etsy Shop Manager and navigate to the Settings page. Locate Info & Appearance and click on Change next to Shop name. Write down the name of the Etsy shop, choosing a new one as many times as you want until it's perfect.
Good Etsy shop names are solely unique, convey a meaning, give customers an idea of the type of products you're selling, and stand out from other competitors in the Etsy marketplace.
No. Etsy store names can be different from your business name. However, it's a good idea for small businesses to use the same name to increase brand awareness.
Coming up with business name ideas is a small but crucial first step toward running a successful Etsy store. Start brainstorming great name ideas with our checklist summary:

Follow requirements.

Etsy shop names must be under 20 characters, can't contain spaces, and should avoid special characters.

Check for originality.

If a name is taken, create a completely unique title by using synonyms, prefixes/suffixes, or descriptor words.

Match your brand: Reflect what you're selling by ensuring the business name aligns with your brand identity.
Include keywords.

Find relevant keywords to improve search visibility, and look for niche-specific words to cater to a desired audience.

Make it memorable.

Short and catchy names are more likely to stick in customer's heads – keep it simple.

Check for availability.

Make sure your name idea is available on other platforms, such as social media and domains, for future marketing efforts.

Use online resources.

Explore AI tools and business name generators, take inspiration from existing examples, and try out Etsy's suggestions.
Share the article
Topics