Custom Reusable Shopping Bags to Market in 2023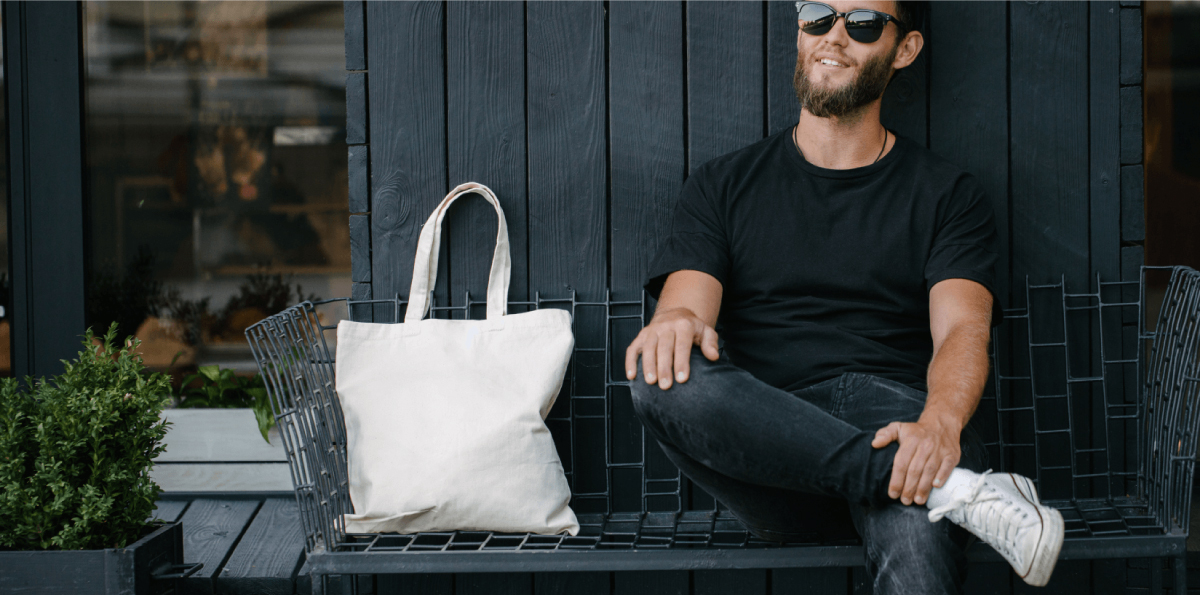 Custom reusable grocery bags are not only the answer to reducing plastic waste but setting a new style trend as well. Personalized grocery bags will look stylish while saving the planet, all at once.
More than 96 million plastic bags were used in the US in 2020, leaving an enormous amount of plastic waste damaging the environment. Help your customers live a little greener and do their part in helping the environment while looking chic at the same time with custom reusable grocery bags.
Custom tote bags are very versatile. Some people use them just for transporting groceries, while others use them for everyday life, in place of a handbag or backpack. 
Grocery Tote.

Make your customers stand out in the crowd at the grocery store with custom designs. A tote bag for groceries is practical and stylish all at once.

Everyday Tote.

Tote bags make the perfect accessory for carrying books to the university or laptops to the office. They are spacious, easy-to-use, and comfortable on the go.

Fashion Tote Bags.

In 2017, Balenciaga released a shopping bag collection for

$1,150

a piece, Showing  there is a market for custom reusable grocery bags that target the fashion industry.  

Customized Beach Tote. Grab your favorite towel, flip flops, sunscreen, and water bottle. Everything will fit easily in a tote for the perfect beach day.
Pick a niche and target audience and thrive in the tote bag market with your designs.
Why Sell Custom Reusable Shopping Bags?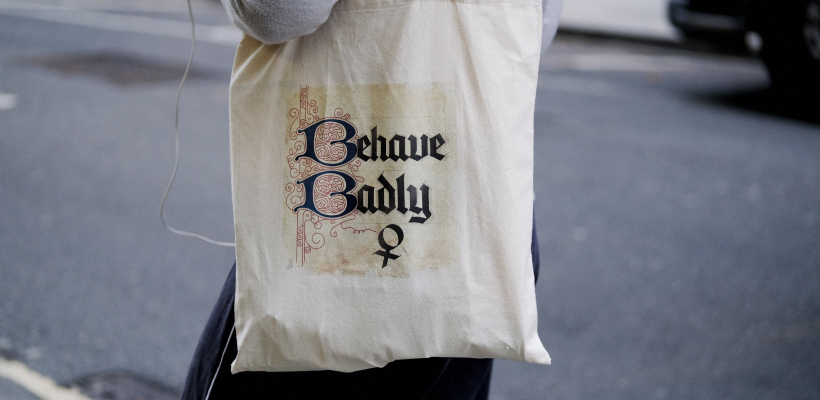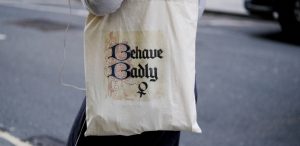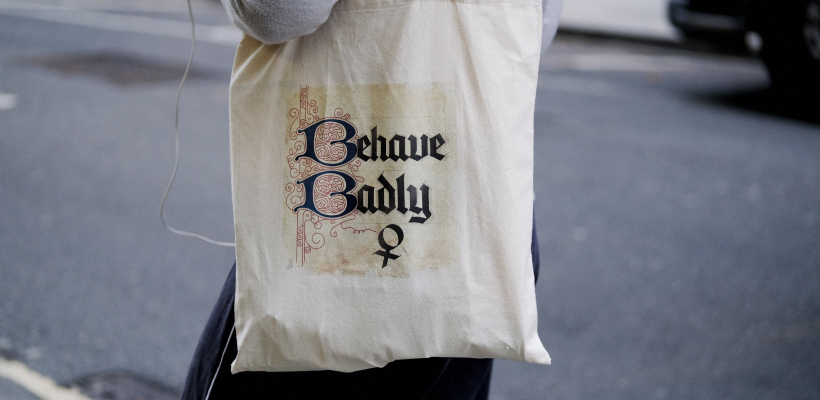 The global tote bag market has been expanding rapidly and is expected to grow by $5.85 bn from 2021-2025. With 45% of consumers being interested in environmentally-responsible brands, this is your chance to shine with multi-purpose, eco-friendly, and stylish reusable grocery bags. 
North America is leading the global tote bag market with the average household using more than one tote bag. Their multipurpose use makes tote bags the perfect accessory. From transporting goods to being fashion icons, these are essentials for everyday life.
Sadly, the market is full of dull, regular, and boring tote bags crying for help and attention. But that's where merchants thrive. With the modern print-on-demand approach, stylish, unique, and practical custom tote bags can be made in the blink of an eye.
Come up with your own designs and allow people to help the environment while looking chic and unique with custom reusable grocery bags. Be an environmentally responsible entrepreneur and make the world a better place while earning at the same time.
Fashion Trends for the Best Reusable Grocery Bags
The best reusable grocery bags are becoming a fashion statement if not a lifestyle statement for those who use them. If you regularly go to a farmer's market or buy local goods, you're likely to see or own many reusable grocery bags. From wicker baskets to cute totes, people are showing off their bags the same way they used to show off Louis Vitton and Gucci purses. 
People who use reusable grocery bags want to try to encourage others to do so. That means drawing extra attention to the bags, their style, and purpose. Design helps merchants achieve both.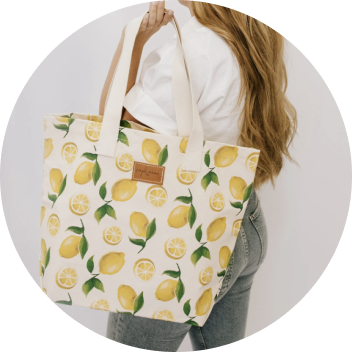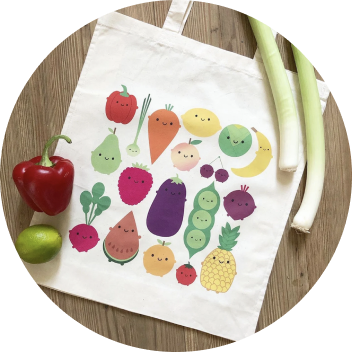 It goes without saying that food-related themes are some of the most popular designs for the best reusable grocery bags. Jars of preserved goods, vegetables, fruit, and bread, in particular, are popular patterns for store owners. This might be because reusable grocery bags can be used for carrying nearly anything. 
Food themes make tote bags look relatable, cozy, and remind of all the goods at grandma's house. The sense of harvest, old-fashioned food patterns, and healthy, delicious products are the way to go.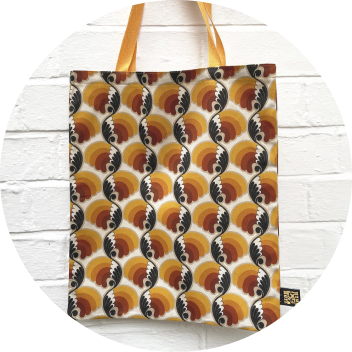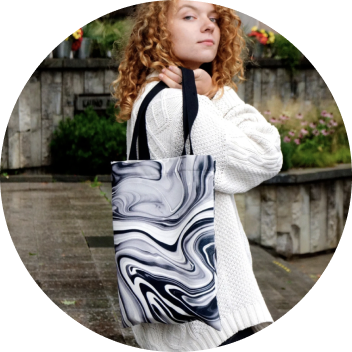 Pattern themes are also very popular for the best reusable grocery bags. Patterns like checkers, picnic tables, or geometric shapes bring a little bit of fun to the bag, but also make it more customized to the personality of the buyer. Your customers don't want some bland corporate logo on their bag. The grocery store is all about food, and sometimes food is all about fun. 
You'd be surprised how many customers try to buy items that they use every day with a cheerful little message just to make sure that when they go about their daily tasks they can get a little smile.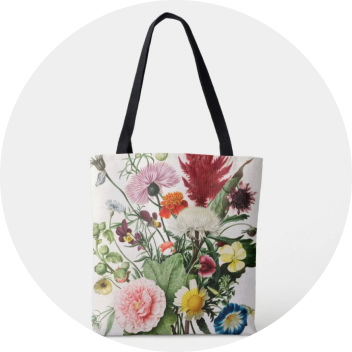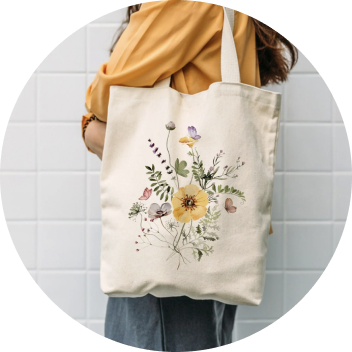 Floral patterns are very popular on all of our products and enjoy popularity among many different age groups. The best reusable grocery bags are no exception, and floral patterns are extremely well-received on totes. 
If you're looking for a safe design and have a lot of customers who appreciate florals, a cozy home feeling, and a little bit of a vintage look, then this is a no-brainer. Get excited and start selling the best reusable grocery bags with some great floral patterns.
Get Your Message Out There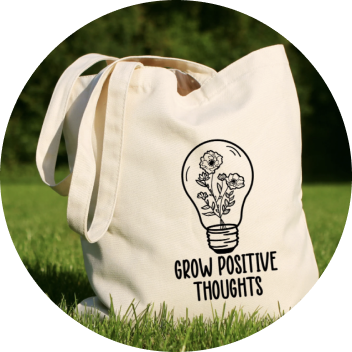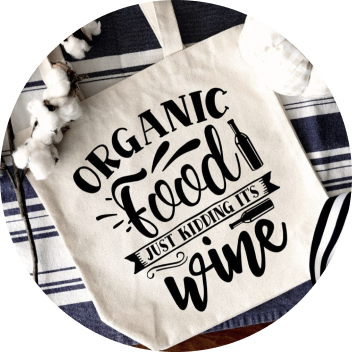 Text-based designs are by far one the most popular when it comes to custom printed tote bags. Think about fun, inspirational, or lovely quotes, sayings, and messages to make your reusable grocery bags stand out from the competition.
Create eye-catching designs with pleasing and appealing fonts, colors, and more. Let the text be the star of the design and capture the attention of shoppers with your message.
Make Your Custom Shopping Bags!
Types of Reusable Bags to Sell
Although tote bags might  traditionally be fairly plain by design, it doesn't mean that your custom printed tote bags should follow suit. With Printify you can let your imagination fly. From different styles and types of the bag to custom design, materials, and types of print. 
Sell woven personalized reusable shopping bags with an all-over-print, embroidery, and more, from regular totes to weekenders. Add printed grocery bags to your online store and dominate the market of those who want to be stylish, practical, and responsible to the environment.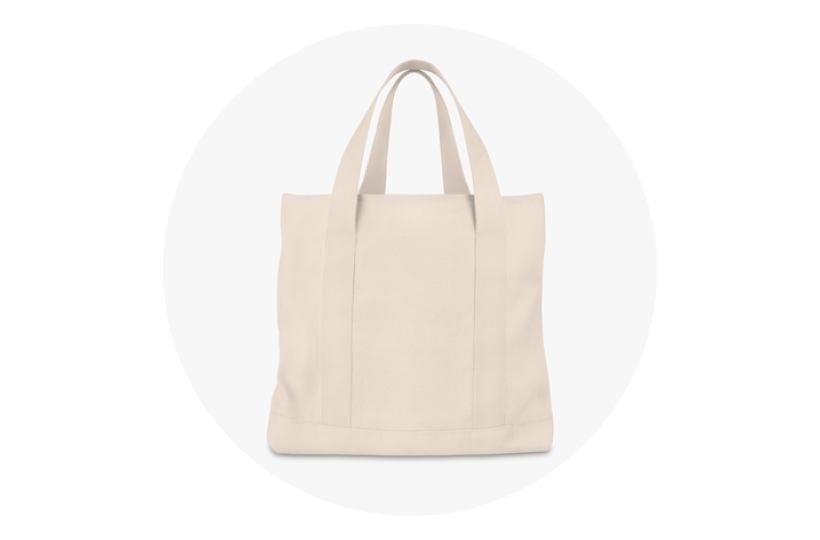 The shopping tote will help customers carry all of their weekly needs in a stylish and strong bag. This tote is 100% cotton twill and has boxed corners. The fabric makes for a durable bag that should last trip after a trip to the grocery store, and the boxed corners mean a stronger hold that won't collapse onto your nutritious cargo. It's also eco-friendly and embroidery ready, for all of your advanced designs.
Key Features: 
100% Cotton Twill 

Cotton Web Handles 

Multiple Color Options 

Boxed Corners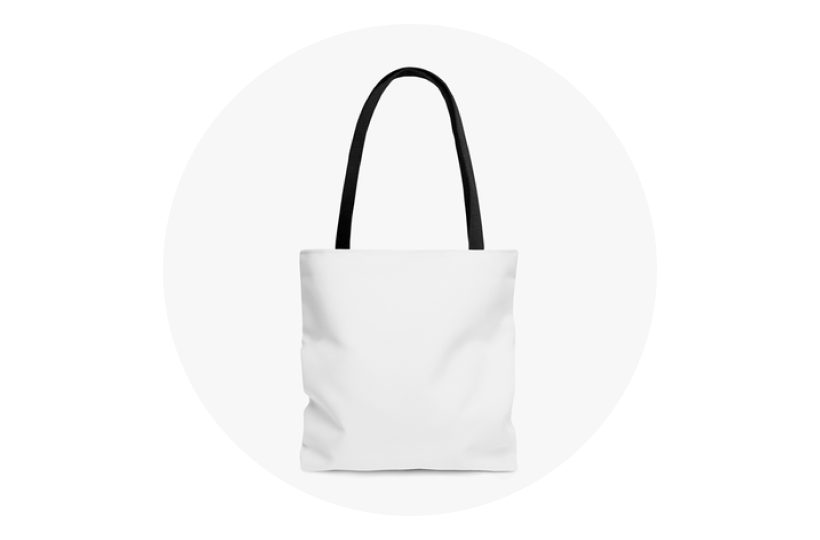 The all-over-print tote bag is one of our best custom reusable shopping bags simply because it is so popular. It's made from 100% polyester, has two attractive black straps that go with nearly anything, and, of course, is extremely durable and design-ready. The boxed corners and black lining on the interior add to the durability that customers come to expect in a grocery bag. 
The reinforced stitching along the handles makes sure that you'll be able to carry heavy loads in this tote bag for years to come. We're proud of this bag and it's a real stunner. We know your customers will love it, too. 
Key Features: 
100% Polyester Body 

Reinforced Stitching on Handles 

Boxed Corners 

Black Cotton Handles 

Black Lining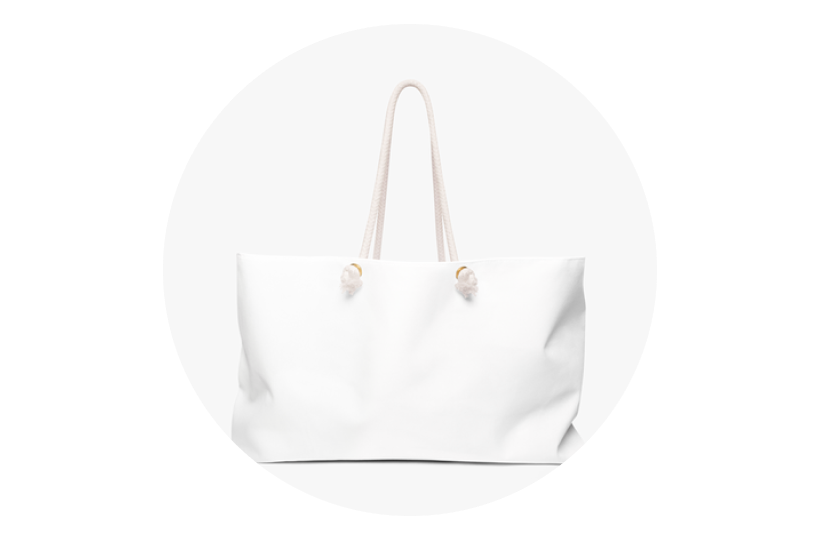 The perfect accessory for the weekend. Whether for shopping, a day on the beach, or running errands all day long, this custom design weekender bag will be helpful on the go. Personalized reusable bags can be easily stored, always practical, and now, stylish as well. Keep your items safe, comfortable, and always with you.
Key Features:
Rope Handles

100% Spun Polyester

T-Bottom
How to Make Your Own Custom Grocery Bags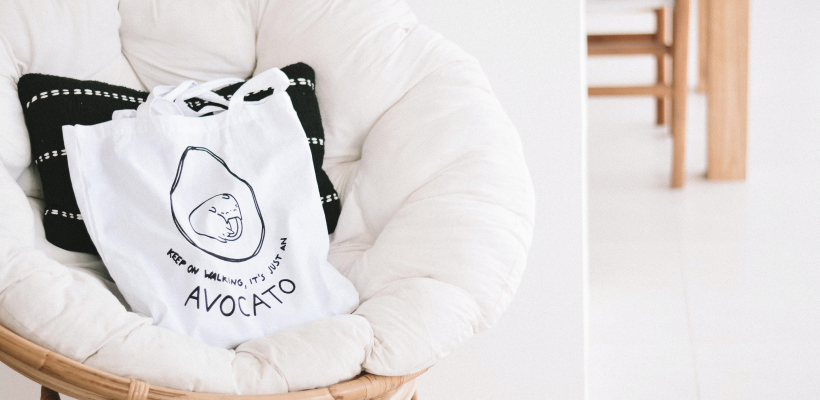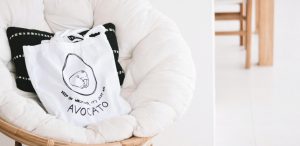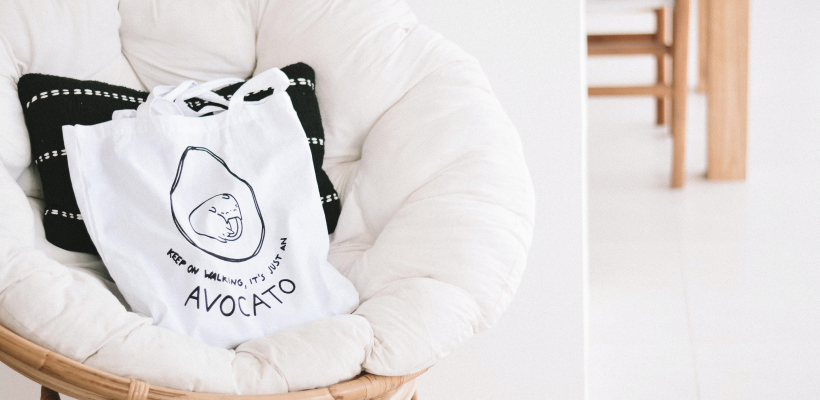 With so many custom reusable grocery bags already out there, how do you stand out from the rest? Be creative. The majority of personalized tote bags have text-based designs. Use inspiring or funny images, quotes, names,  or add your own artwork to give the bag a personal touch. Either way, Printify is with you every step of the way.
1. Create a Printify Account
Starting in eCommerce with Printify is simple, easy, and 100% free. Our print-on-demand (POD) platform is beginner-friendly, easy to use, and in a couple of clicks, you can have your online store up and running.
Create an account and get started. Pick products, add designs, list online, and watch profits grow with no up-front investment. Or sign up for Printify Premium and get up to 20% off of all products, up to 10 stores per account, and unlimited product designs.
Our catalog offers over 600 white-label items waiting for your designs, including various types of tote bags. From AOP totes, woven, cotton, and more. Use our guide on how to pick a product and choose the best tote bags to customize for your brand, business, and target audience. 
Browse important categories such as bestsellers, eco-friendly, or new arrivals to never miss out on the best deals. Offer customers diversity and attract clients all over the world. The AOP tote bag is among the bestselling items. Don't miss out on a chance to profit from this eco-friendly trend.
3. Create a Custom Design
Create a design in just a few clicks using our free and user-friendly Mockup Generator. The many built-in features allow even the non-designers to explore their inner creativity and design the perfect merchandise for their business.
Designing Tools.

Simply upload or drag and drop your design right onto the product. Switch among colors, create layers, and adjust the design to your liking.
Text Editor.

No need to add text as a separate file or image. Simply add it directly to the product, play around with colors, size, and fonts, and customize it to perfection.

Shutterstock Integration.

Printify gives merchants the chance to use free images from the vast Shutterstock library. Pay for the design only after making a sale with the pay-as-you-sell mechanism.
Order samples. Preview your designs and order products to ensure the quality of the end products before offering them to the consumers. Test the colors, print, shipping, design, and overall quality, make adjustments if necessary, and get it listed.
Deciding where to sell is an important step when entering eCommerce battlegrounds. Luckily, Printify offers integrations with all the top eCommerce platforms – Etsy, Shopify, eBay, PrestaShop, WooCommerce, Wix, BigCommerce, and Squarespace. 
When choosing among all the options, keep in mind all the pros and cons each platform has. Visit our blog for multiple platform comparisons, advice, suggestions, and helpful tips and tricks on picking the right sales channel.
Setting a price is a tricky and difficult process. Set it too high and no one will buy your product. Set it too low and you might end up losing everything, including profits, reputation, and reliability as a brand.
Use our guide on how to price a product, decide on the best approach for your business, and set the prices right. Luckily, Printify already helps in that decision, but the final price of the product is 100% up to you as a merchant. Do your research, check competitors, and price your products right.
Once your custom reusable grocery bags are selected, designed, and listed, it's time to start selling. While platforms such as eBay provide traffic to your store from its popularity worldwide, there is still a need to advertise and showcase your products.
Get on social media, market the merchandise, and use Google Ads and other tools to make your product known. After listing, that's basically all you need to do, as Printify and its printing partners take care of the printing, packaging, and shipping products directly to the buyers.
Designing, listing, and selling custom shopping bags is simple, easy, and a great way to earn some passive income while saving the planet at the same time. Offer reusable custom grocery bags and present yourself as an environmentally-responsible business.
These multi-functional accessories are not only easy to store and take care of, but stylish and practical as well. From weekly shopping to everyday use, tote bags are a must-have in every online store. Start designing your own and dominate the market.
Share the article
Topics