How to Start a Custom Candles Business in 8 Steps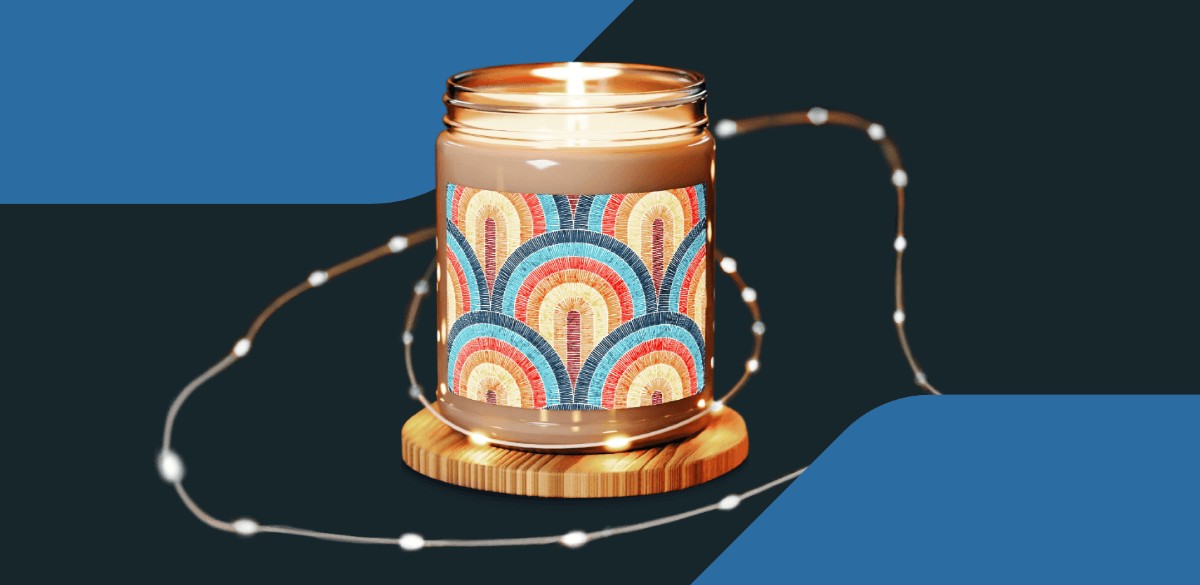 Surround yourself and your home with warm feelings and relaxing aromas. Custom scented candles are the solution to creating the perfect mood in any place.
Want to join the sales world but don't know how? We've got you covered. Starting a business has never been this easy. In only 8 simple steps you can have your custom candles designed, listed, and waiting for your customers at checkout.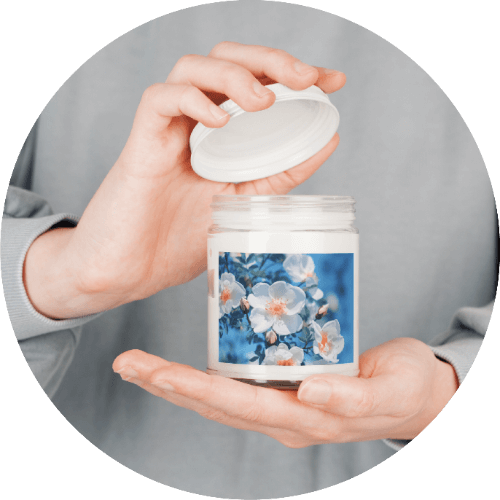 Step 1 – Write a Business Plan
Although we could all do without business admin, a business plan helps people understand their business goals, budget, purpose, strategic objectives, and main competitors. 
Using thorough market research, it is easier to make better decisions on potential customers, products, marketing strategies, business types, and goals in general.
While writing the budget section of your business plan, keep in mind:
While every business model has its pros and cons, pick one that best suits your lifestyle, needs, and expectations.
Why Choose Print On Demand?
Print on demand (POD) is the easiest and best way to earn money on your own terms. There are many benefits of this work model. Earn more with less effort selling custom candles.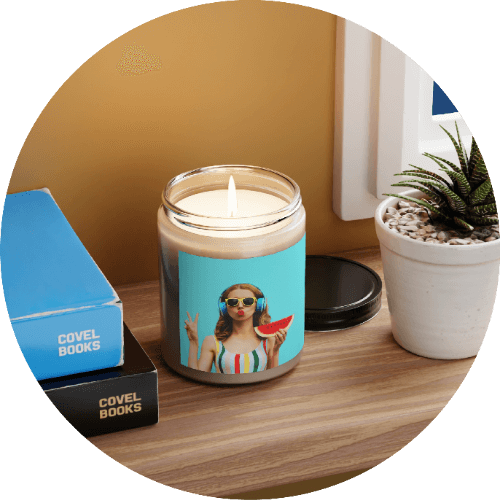 Identify your brand. What type of candles do you want to sell? What will your main audience be? How will you differ from others? Before staking your name in the sales world, do a close search on the custom candle market and your competition. 
Think about your passions and interests.

What excites you? What blogs and websites do you visit? Are you interested in any clubs or groups? If you are genuinely interested in your niche, it gives you a massive advantage over the competition.
Analyze competitors.

What do they sell? What is the quality? Are they successful? What are their pros and cons? Who is their target audience and how do they engage with it? And, could you do it better?
Do Keyword Research.

Understand what people are searching for and how you can rank among the highest results. Use online tools such as

Google Trends

,

Ubersuggest

,

SEMrush

, and others to stay on top of the competition.
Check out reviews, navigate through competitor pages, and contact friends and family to find out what the current trends are in the USA and around the world. Sort through all this information to decide on the best product for your brand. Here's a more detailed guide on finding your niche.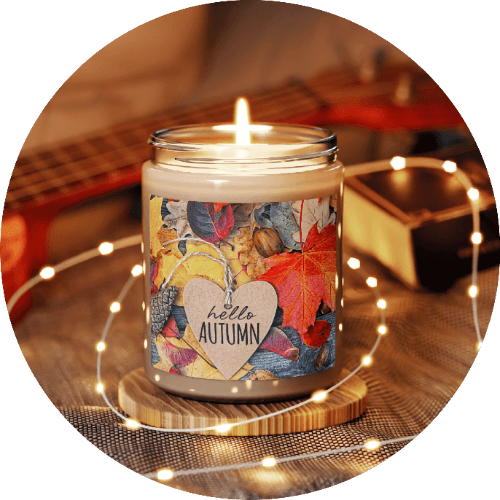 Step 3 – Design Your Products
Now comes the fun part. The main thing that will set your custom candles apart from other brands is the design. A simple candle is a classic. But a handmade design on white-label products will take your custom candle to another level.
Designing products can be hard, but Printify has gone the extra mile to make sure your designing process is simple and easy. Our user-friendly Mockup Generator has all the necessary tools to help you in the making. Here's how it works:
Choose a Design.

Upload or drag & drop your image. Write a message or a quote to compliment it.

Adjust the Design.

Move it around and select the perfect position for the image or text.

Preview Product.

Confirm the product by viewing your candles in a 3D high-quality photo.
For the non-designers out there, Printify has made your life easier with the gift of Shutterstock Integration. Make use of copyright-free designs or revamp design assets. The grand photo vault of 360+ million images is at your disposal. Pick any desired pictures for your candles and add them to your design. Customize the photo, remove the background, crop to perfection with the arrow keys, do as you please. The pay-as-you-sell mechanism lets you explore your inner designer for free. Pay for the design only after making a sale.
Furthermore, you can also hire a professional designer to create products according to your specifications from places like Fiverr, Dribbble, and Upwork.
Pro tip: order samples to make sure your custom candles match your expectations, before adding these items to your online shop.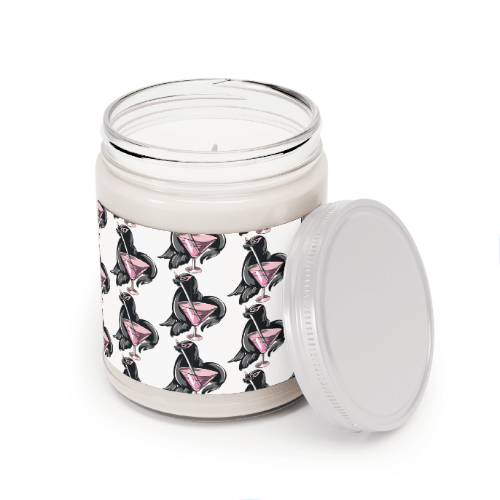 Design Ideas for Custom Candles
Expand your creativity and make your brand stand out, not just with a scent and fragrance, but print as well. Light up your inner design candle and accept the creational flow. Candles are the perfect gifts for holidays, special occasions, and everyday use. Fill your home and heart with a warm feeling and delightful fragrance with candles that not only smell great but look good as well.
If you're running low on ideas for your custom candles, search no longer. We have plenty of ideas for your custom candles business. Consider it our gift to you.
As expected, candles are bought, used, and cherished all year round. They make the perfect gifts and home aesthetics. Customize yours to fit every season. Give your customers the option to purchase a candle for every part of the year as a gift to themselves or others.
Spring Candle.

Spring is the season of birth, a sign of awakening, and new beginnings. Add spring flowers, light and warm abstract prints, or bird and animal themes to your custom spring candles.

Summer Candle.

Summer is the season of relaxation, picnics, holidays in the sun, and cold beverages to keep you cool. Add sunny or water designs, party-themed images, or bright colors to give your customers the ultimate summer experience.

Fall Candle.

Autumn is the season of harvest, color, and changes. Search through fall colors to design your custom candle. Add bright and colorful leaves and abundant designs for this cozy time of the year.

Winter Candle.

Winter is the season of fluffy socks, candles, gifts, and cocoa. Holidays are the best time to get creative with designs. Search through different winter sceneries, pictures of snowflakes, lights, gifts, reindeer, and holiday themes for your candle designs.
Candles For Special Occasions
When it comes to candles, it's the gift that keeps giving. From hearty feelings to a pleasant scent and a glimpse of light during darker hours. Candles are special. And that makes them the perfect gift for many significant occasions.
Fill your online shop with custom candles for special occasions and let your customers celebrate memorable moments with a one-of-a-kind gift.
Create certain designs for a wedding, baby shower, anniversary, Valentine's Day, Mother's Day, Father's Day, birthday, graduation, and other events. Be versatile and lead consumers to your products with every search.
Personalized gifts show love and appreciation. The thought and care put into personalized gifts are what truly matters, because it comes straight from the heart. When giving someone something personalized, it becomes more than just a gift. It's a bonding experience that connects two people even more. Include a personal message, quote, symbol, or photo to create a unique product for your consumers.
Design and Sell Custom Candles With Printify
A candle can be the perfect gift, sign of appreciation, love, and affection, or a beautiful accessory to boost your home's aesthetic. Sell personalized candles with POD and celebrate the growth of your business amongst other brands.
Printify is a leading print-on-demand company. We offer the best prices in the market for a broad selection of 400+ products.
When it comes to candles, the smell and print are everything. Therefore, Printify offers four types of candles with different kinds of fragrance and a custom print to add to your online shop.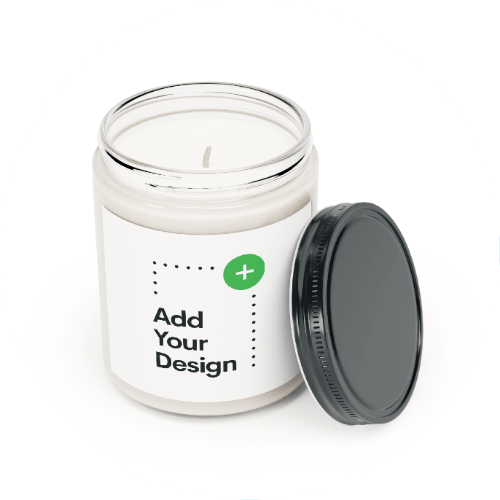 Vegan soy coconut wax

Average burn time – 50 hours

Front side print

2 scents – Cinnamon stick and Vanilla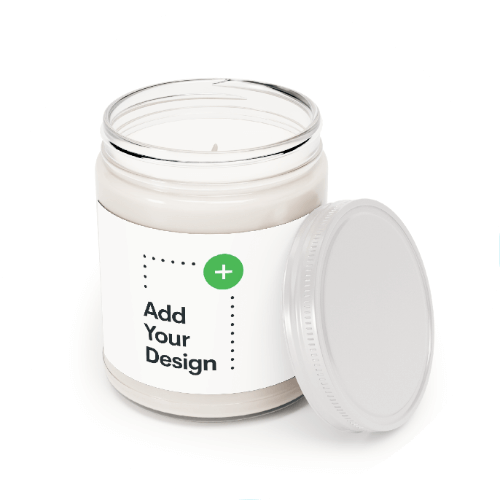 Clean burning 100% Food Grade Soy Wax

Two cotton-cored wicks

Premium 360 degree print on glass

3 scents – White Tea & Fig, Lavender & Sage, and Ocean Mist & Moss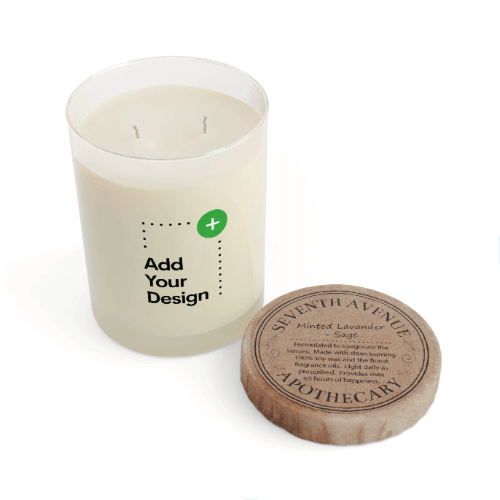 100% natural soy wax blend

Average burn time 50-60 hours

Permanent adhesive label

3 scents – Vanilla Bean, Comfort Spice, and Sea Breeze
Pro tip: subscribe to Printify Premium and get up to 20% off all products. It's a commitment that will pay off.
Step 4 – Choose Your Print Providers
The end product is what defines the success of your store. To match the product with the best quality, pick the right printing partner. The list of providers is endless, however, there are a couple of factors everyone should consider when choosing the one that best suits your needs.
Price and Location.

Depending on your target audience, pick amongst local or global print providers to ensure the best, cheapest, and quickest service for customers.

Their Customer Service.

They must always be available and willing to help. Printify partners up with the best of the best, providing excellent customer service 24/7.

Quality.

Order samples from various suppliers to ensure the best end product. Compare their printing style, technique and quality to choose the one that fits your demands.

Research Feedback.

Check out what other competitors think about specific print providers and which ones they use. Are they able to fulfill orders on time and properly?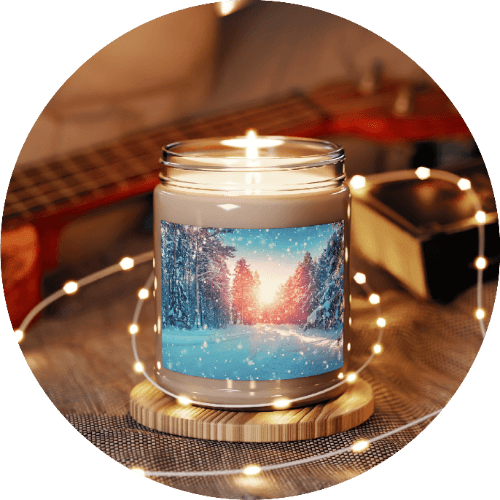 Step 5 – Set Up Your Store
Now that the designs are ready and merchandise created, it's time to get your online store up and running. For this, choose a hassle-free eCommerce marketplace that allows you to set up a store quickly. The chosen platform should provide you with a domain, web hosting, a website builder, and eCommerce functionality.
Some of the most popular platforms are WIX, Shopify, Etsy, eBay, WooCommerce, BigCommerce and many more. For your convenience, choose a platform with integrated themes that are easy to customize to your liking. Add a store name, main information, set up shipping details and everything necessary to run the business as smoothly as possible.
For a more detailed comparison of all the top marketplaces, check our blog posts on Shopify vs. WooCommerce, Etsy, BigCommerce, and WIX.
Step 6 – List Your Custom Candles Online
List your merchandise on any of the top eCommerce marketplaces by linking your store with Printify with one simple click. Our store integration allows you to add all created items in the store automatically without having to manually do it yourself.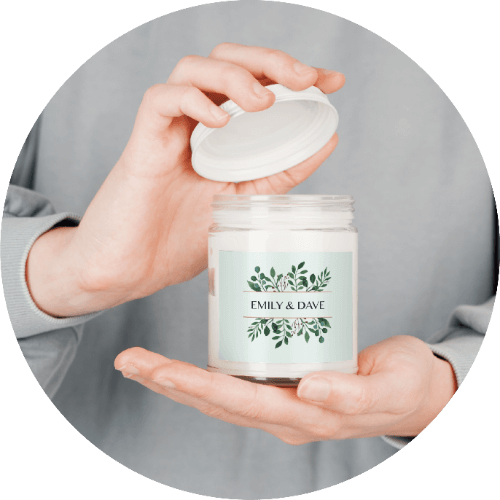 Step 7 – Promote Your Store
Promotion is the main thing that sets your business apart from the competitors. Make it stand out among others and catch everyone's attention with unique, up-to-date marketing strategies. 
Before creating marketing plans, it is important to conduct a SWOT analysis to list all the strengths, weaknesses, threats and opportunities for your business. If you wrote a fully detailed business plan, it will be easier to continue on to marketing and promotion.
Here are some ways of promoting your business:
Social Media. Choose various channels to promote your custom candles in the best way possible, such as Facebook, Instagram, TikTok, and others.
Start a Blog.

Come up with creative ideas and content to attract more followers and advertise your candles locally and worldwide.

Promotional Videos.

Whether it's a YouTube channel or ads on various pages, video promotion is considered to be very effective online.

Learn SEO.

If you want to attract more traffic and make your website visible with every search, the pages must be optimized with SEO. Keywords are the key to success.
Step 8 – Watch Your Business Light Up
Kick back and relax while we take care of the rest. Printify partners with more than 55 print providers all over the world to fulfill each and every order. We take care of the printing, packing, and delivery, while you focus on growing your brand.
Very. Custom candles sell year-round, with increasing seasonal demand. The candle making industry is expected to reach nearly $5 billion by 2026.
It depends on the business model. We suggest choosing dropshipping with print on demand, as it costs nothing to start and is risk free.
Make something that is personal to you or create a completely new design. Research current trends, target markets, or customize the candles for special occasions.
Get Your Flame Game On With Printify
From lit gifts to home accessories and mood setters for everywhere, custom candles are THE thing to sell. Get creative and turn scents into dollars with your very own custom candle business.
Share the article
Topics