20 Christmas Ornaments to Make and Sell in 2023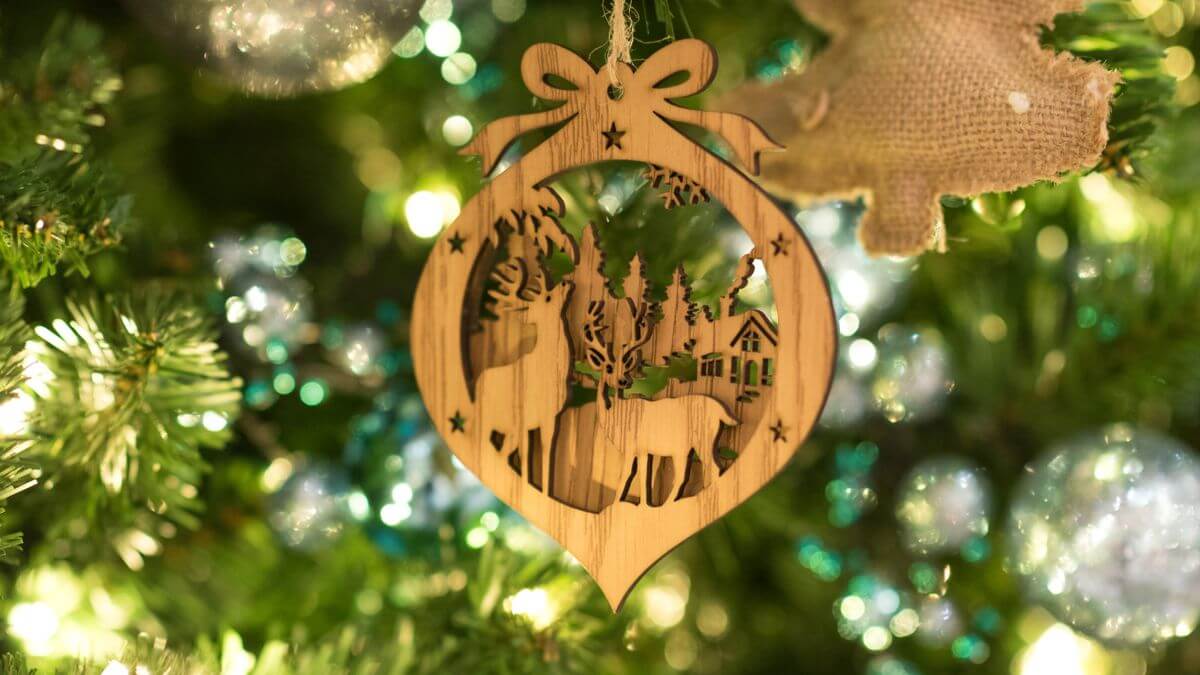 People love to bring a little holiday cheer into their homes or workplaces with dazzling trinkets covered in whimsical imagery to set the scene. To make this holiday season extra special, we've compiled a list of ideas for beautiful Christmas ornaments to make and sell.
Since their addition to our Catalog, online sellers have made Printify's ornaments an instant Christmas bestseller, year after year. Not only that, these little knick-knacks make the perfect gift for yourself or someone special with a personal touch.
So, put on your favorite ugly Christmas sweater, get into the holiday spirit, and browse these 20 ideas for creative DIY Christmas ornaments with Print on Demand.
How to Make and Sell DIY Christmas Ornaments With Print On Demand?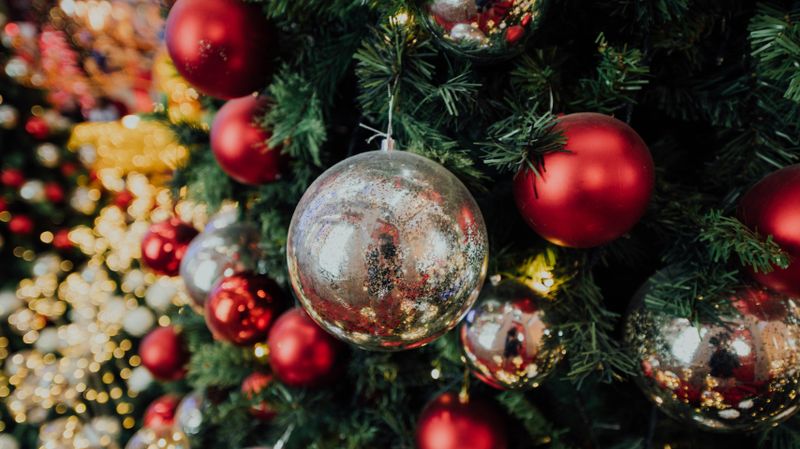 Before we start off our Christmas ornament list, let's look at some fun stats and steps you can take to turn Christmas decor into seasonal profit.
Why Sell Christmas Ornaments With Printify?
Because it's an absolute must in any household, office, or setting where Christmas is celebrated and appreciated. Ornaments don't only go hand in hand with a Christmas tree. You can use those little bedazzled jewels to decorate your home or premises in any way you want.
Not only that, of all Christmas crafts, DIY ornaments are top sellers. In 2021, the Global Christmas Decoration market reached a staggering $5.52 billion, with lights and ornaments leading in this holiday category. 
This year, you can make money selling Christmas ornaments with extraordinary designs like no other in this segment – with a little help from Printify. How? Super easy. Let's take a look.
How to Make and Sell Christmas Ornaments
Create a Printify account in minutes. All you need is a working email address or a Google account, and you're good to go. Fill in your information and gain free access to all the convenient features and benefits our print-on-demand (POD) platform offers.
Browse our ever-evolving Catalog of more than 900 products to find the best match for your Christmas trees and holiday decor. We have the best Christmas ornaments in various shapes, styles, materials, and sizes. 
Pick your favorite, click Start designing, and turn your best ideas into reality – it's going to be so much fun!
Our beginner-friendly Mockup Generator has all the tools and features you need to make adorable ornaments for every taste, home, and Christmas tree. Add pictures, text, or patterns to make this Christmas season the jolliest of all.
Printify offers few-click integrations with all the major eCommerce websites. Whether you run an eBay or Etsy Shop or your own website through Shopify, pick a sales channel that fits your needs and pair it with Printify.
Promote your custom-printed ornaments on social media or paid ads while Printify handles order fulfillment for you. From printing and packaging to logistics, we make sure your Christmas crafts end up in your customers' hands while you focus on growing your brand and earning extra cash.
20 Ideas for Unique Christmas Ornaments to Make and Sell
Let's take a look at 20 ideas for easy DIY Christmas ornaments to make and sell. From classic Christmas symbols to unique ideas for your Etsy shop. Design ornaments of various materials, types, and designs to create holiday decorations for every taste and setting.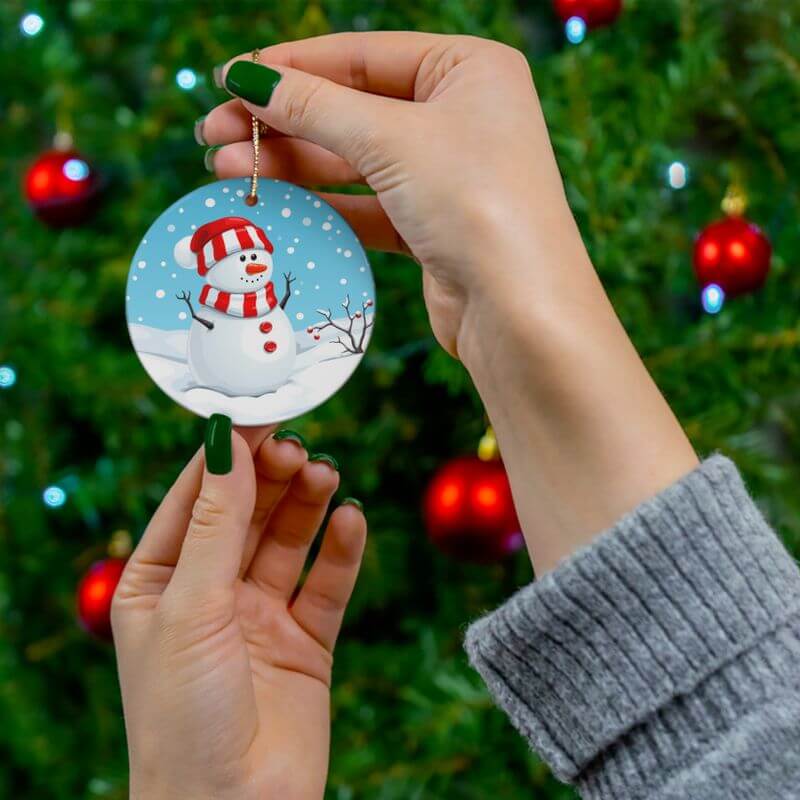 What would Christmas ornaments be without Frosty bringing joy into our lives? 
A snowman is one of the traditional Christmas symbols, and it looks good on decorations and ornaments around the house. Design a snowman in various ways, types, shapes, and colors to pair with other unique homemade Christmas decorations.
2. Funny Christmas Ornaments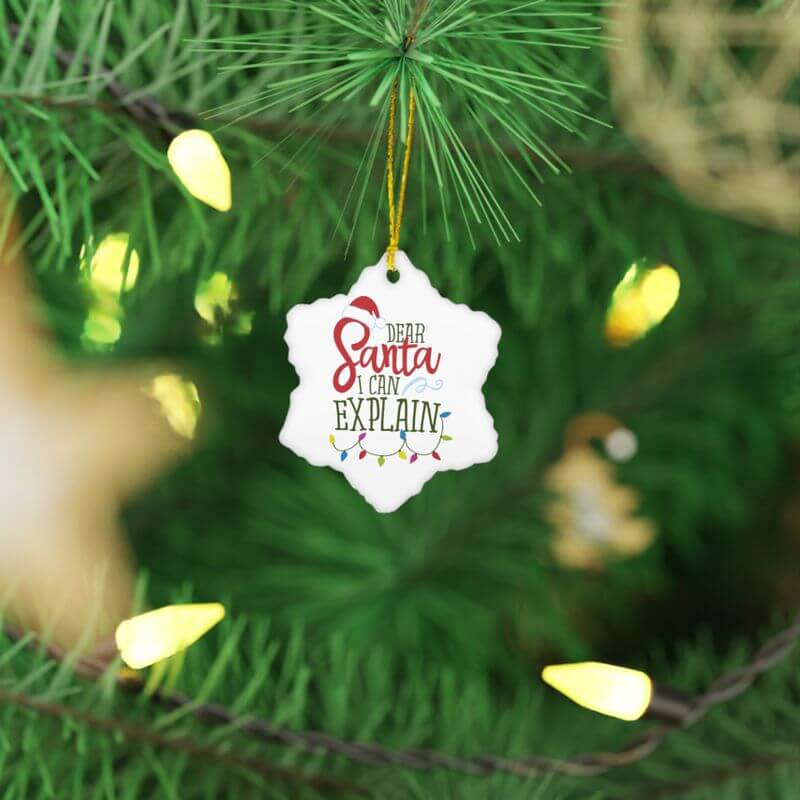 These will be easy Christmas ornaments to make and sell. Humor is a wonderful addition to any holiday season; people gladly pay for it. 
Design wooden, plastic, or glass ornaments with fun and quirky elements to add your own personal touch to every house, office, or setting. From silly images to puns and a dad joke here and there – these pretty ornaments are a fun way to bring laughter to both kids and adults during Christmas time.
3. Photo Christmas Ornaments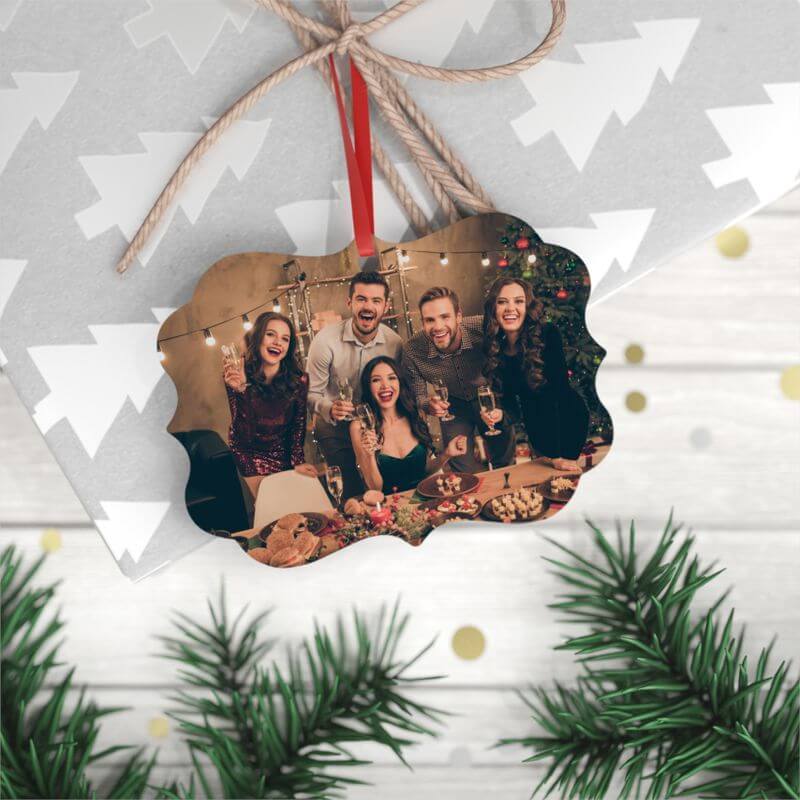 Everyone's favorite Christmas ornaments are the most personal ones – with photos. And that's something you can't find at the local craft store or craft fairs. 
Make and sell photo ornaments for those who want to display their memories and loved ones right on the holiday centerpiece – the Christmas tree. Or use this opportunity to turn your art into holiday designs by printing your photography pieces on custom Christmas decorations.
4. Paw Christmas Ornament
Put various paw prints on ornament designs and sell unique Christmas crafts for pet owners worldwide. 
A lovely paw print on a Christmas ornament is the best way to celebrate our fluffy, feathery, or scaly best friends during the holiday season. And a nice way to make extra money by selling something unique for those who appreciate their companions.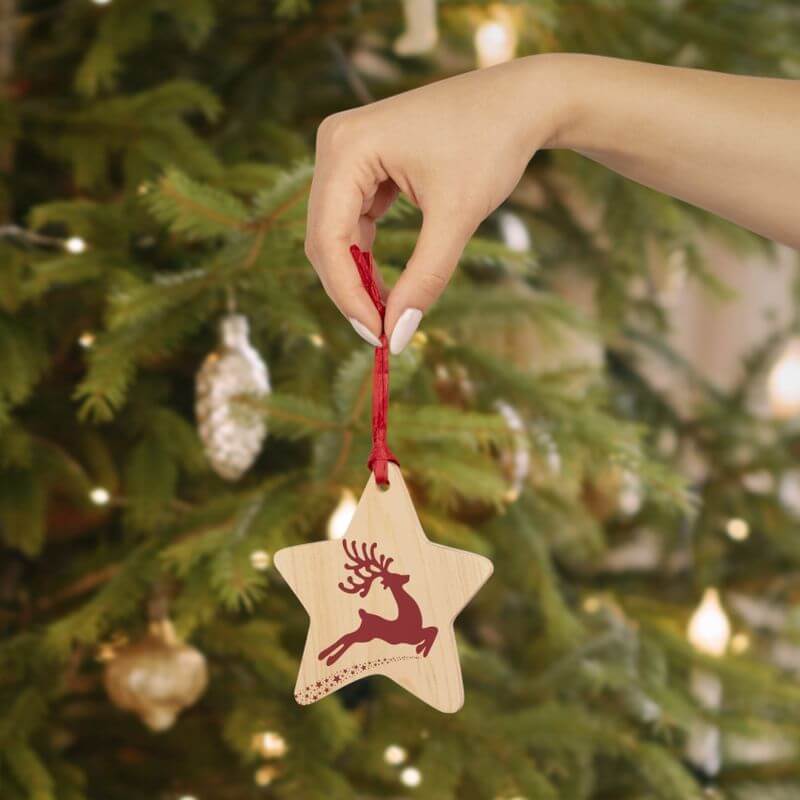 Where would we be without Rudolph and his kind? Pulling the sleighs year after year, bringing presents to kids worldwide. 
Reindeer are among other classic Christmas symbols, making them the ideal design elements for your Christmas ornament crafts. Play with colors, shapes, and backgrounds to design the perfect Reindeer ornaments for a North Pole vibe.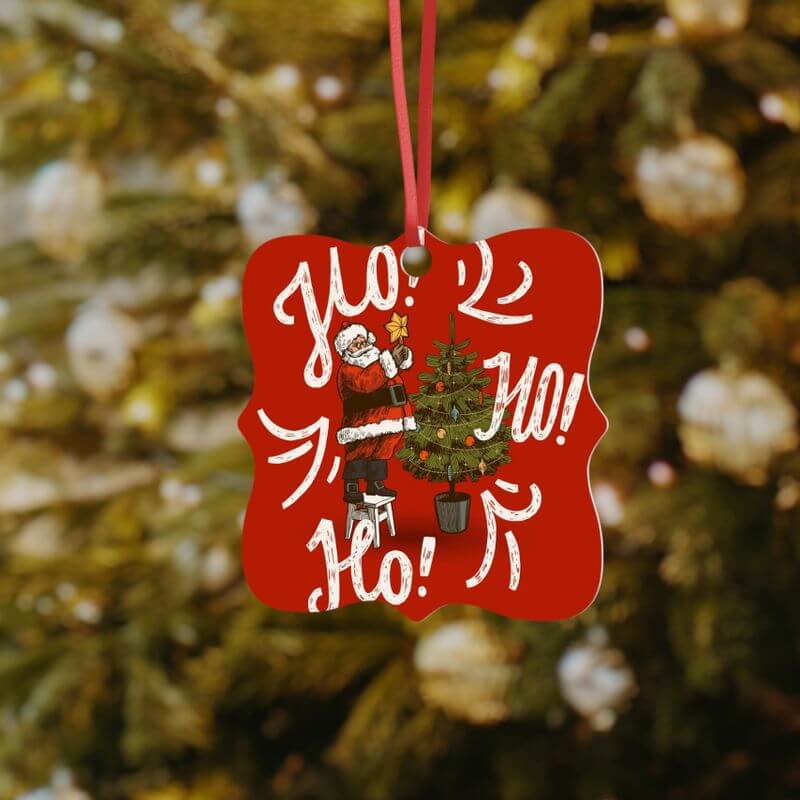 We can't discuss Christmas decoration ideas to make and sell without mentioning the ultimate Christmas symbol – Santa Claus. Providing you with many different design options for your Christmas ornament collection. 
From a silhouette to a face, the whole Santa, or just his head with the majestic beard. Come up with great Christmas ornament ideas with Santa designs for every taste.
7. Engagement Christmas Ornaments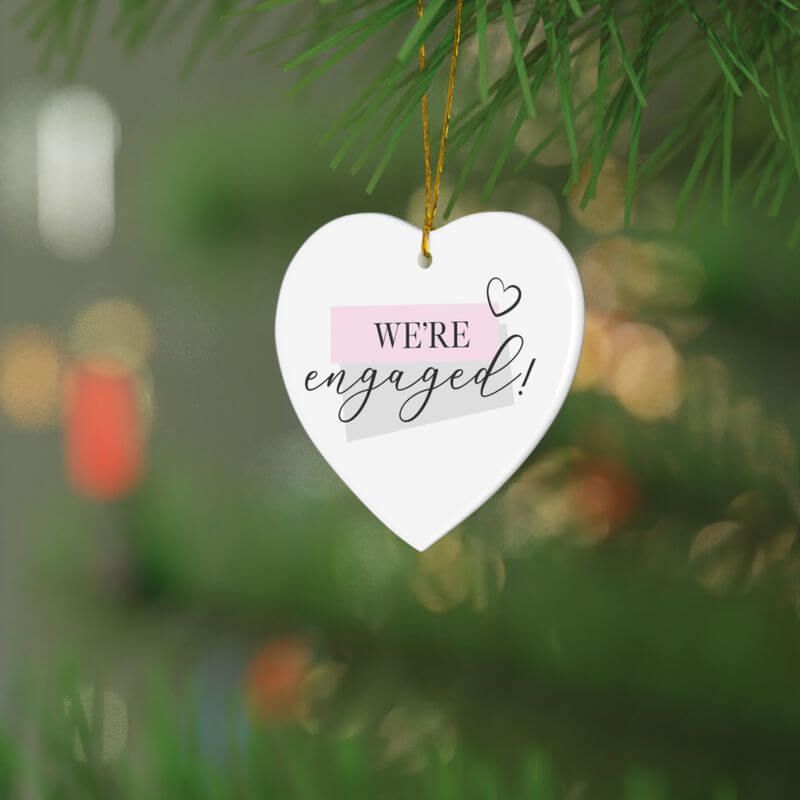 What better way to announce your engagement and share the happiness with the people you love than by displaying the news directly on the tree? 
Show your least favorite aunt that – despite her predictions – you will not die alone. HA! "We're engaged. Merry Christmas to you and your cats!"
But jokes aside, these happy announcements are great Xmas decorations to make and sell. They will make a truly unique Christmas ornament collection to send out to the lovely families of the happy couple.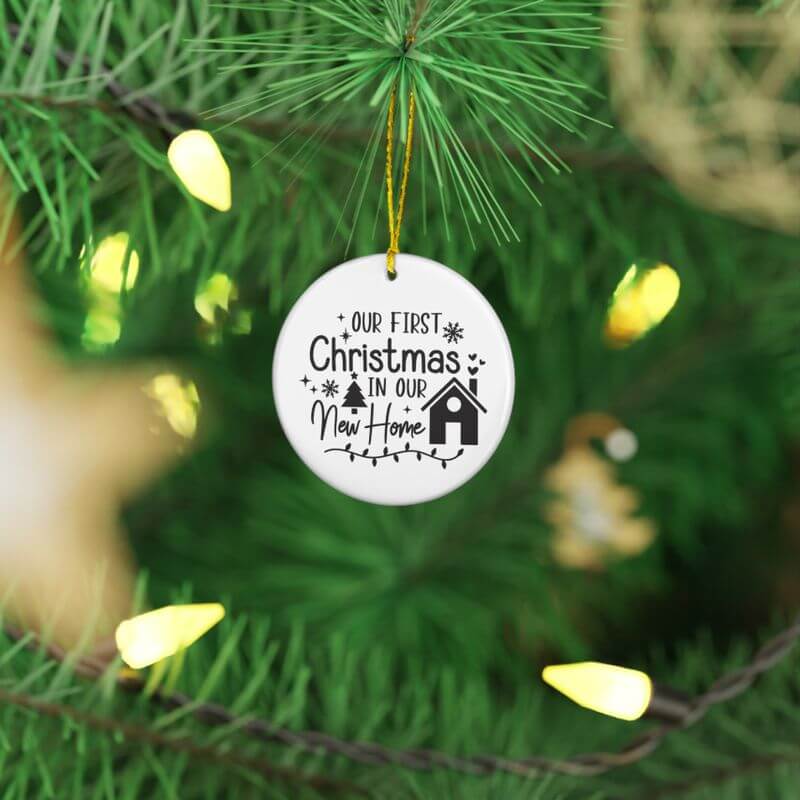 Celebrate the first Christmas in your new home with custom ornaments. 
From "First Christmas in our new home" to something more creative like "New home, new memories", and more. Come up with lovely and fun designs for wooden, plastic, or glass ornaments and sell them to people starting their lives in a brand new place.
9. Rustic Christmas Ornaments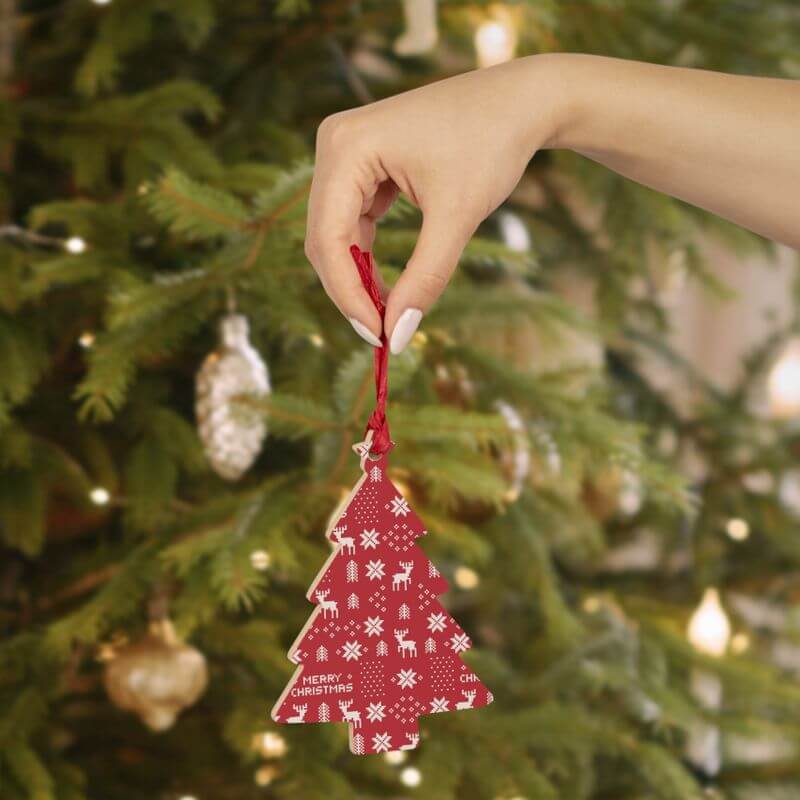 Implement a little nature into your designs and make Christmas ornaments to sell worldwide to create a rustic feeling this holiday season. 
From natural elements like trees and pine cones to designs that will recreate the look of homemade Christmas ornaments. Browse Etsy or local craft fairs for great ideas and inspiration to make and sell your own rustic Christmas decorations for every home and setting.
10. Monogram Ornaments (Ornaments With Names)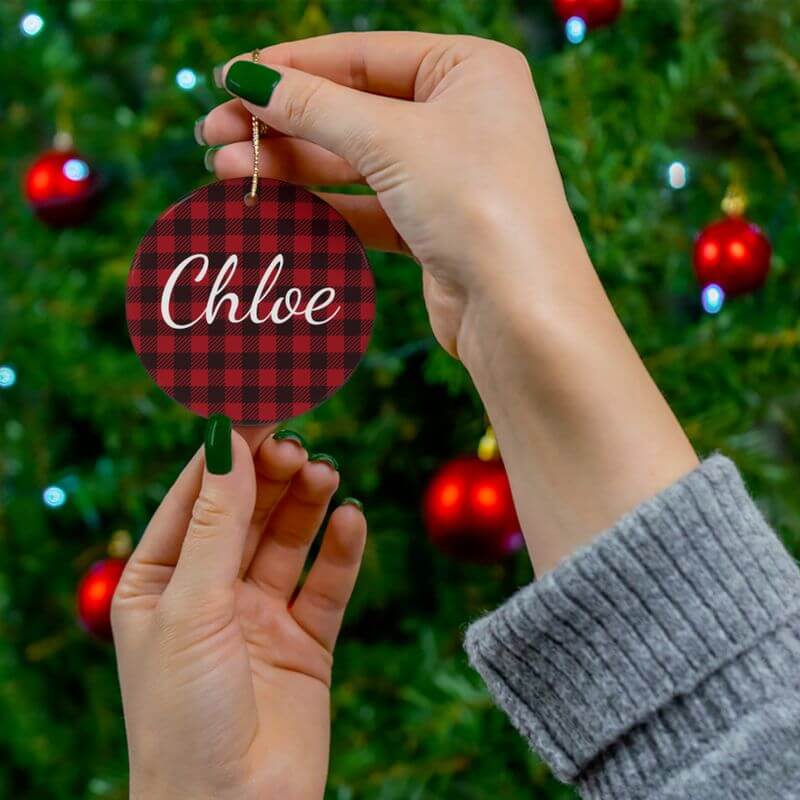 From company names, logos, and monograms to family, friends, and loved ones. You can't go wrong with making and selling Christmas ornaments with names. 
Announce a new family member joining the pack, or create a personalized Christmas gift for employees or someone special. Names and nicknames, positions, family roles, and statuses – they all look great on Christmas trees. 
The "World's best mom" or "dad", "Employee of the year", or "Bestie" will surely appreciate a sincere gift like this, proving custom ornaments the ultimate Christmas decorations to make and sell.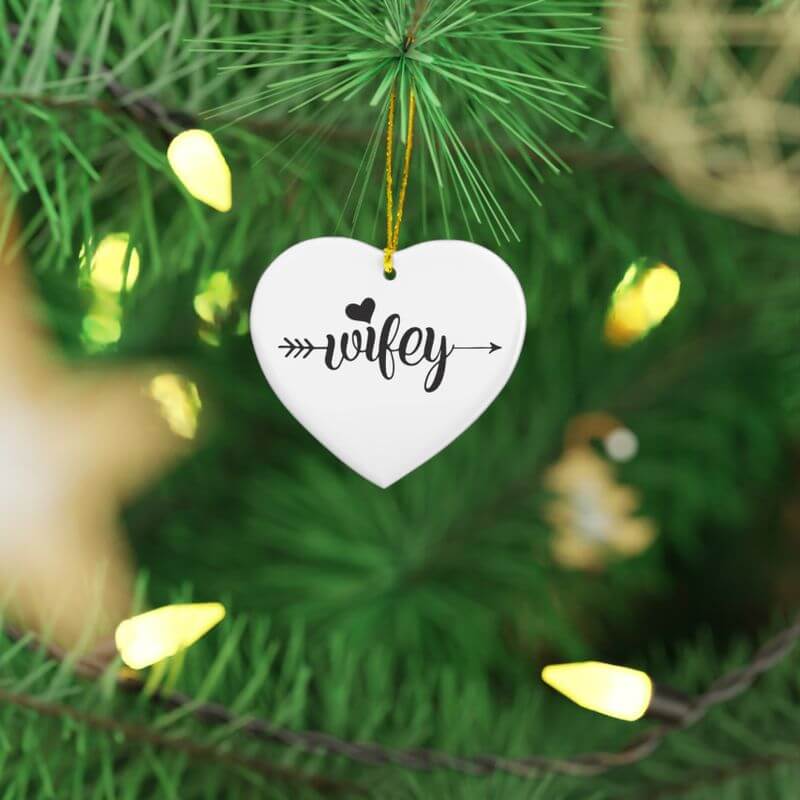 Show off that strong bond between couples with his and hers Christmas ornaments. 
From names and dates to nicknames, titles, and other matching design ideas. "World's best hubby" and "Wifey" will look great together among other goodies on the Christmas tree. Create and sell Christmas ornaments for couples and spread love around the world.
12. Religious Christmas Ornaments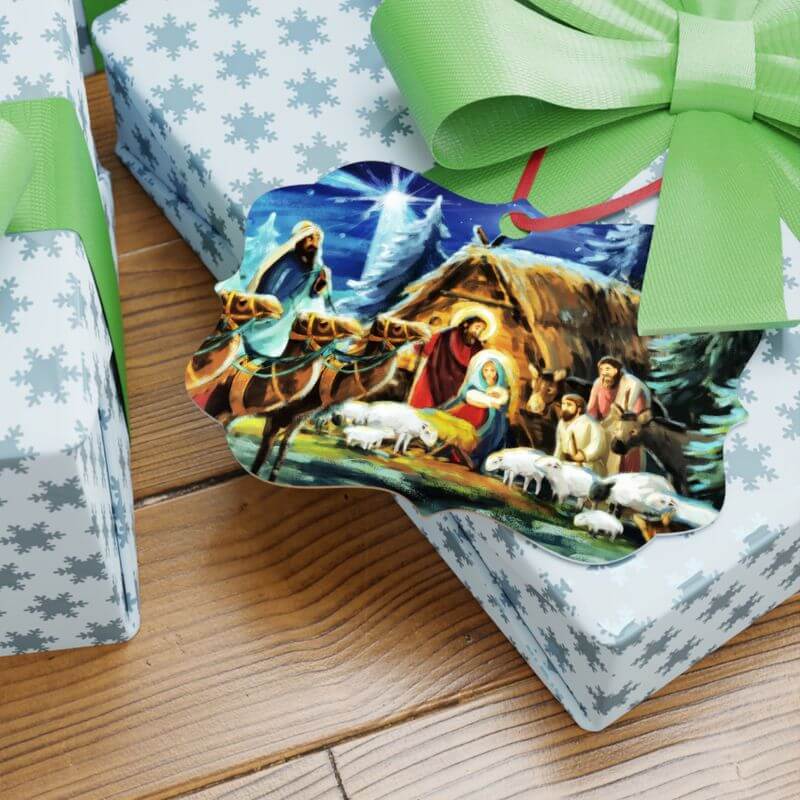 Let's not forget the true meaning of Christmas – the birth of Jesus Christ. Decorate your custom ornaments with religious symbols, personas, names, quotes, and more to create a holy feeling throughout the home. 
From Mother Mary and baby Jesus himself to crosses and other beautiful blessings. These will go hand-in-hand with other handmade Christmas ornaments during the holiday season.
13. Merry Christmas Ornaments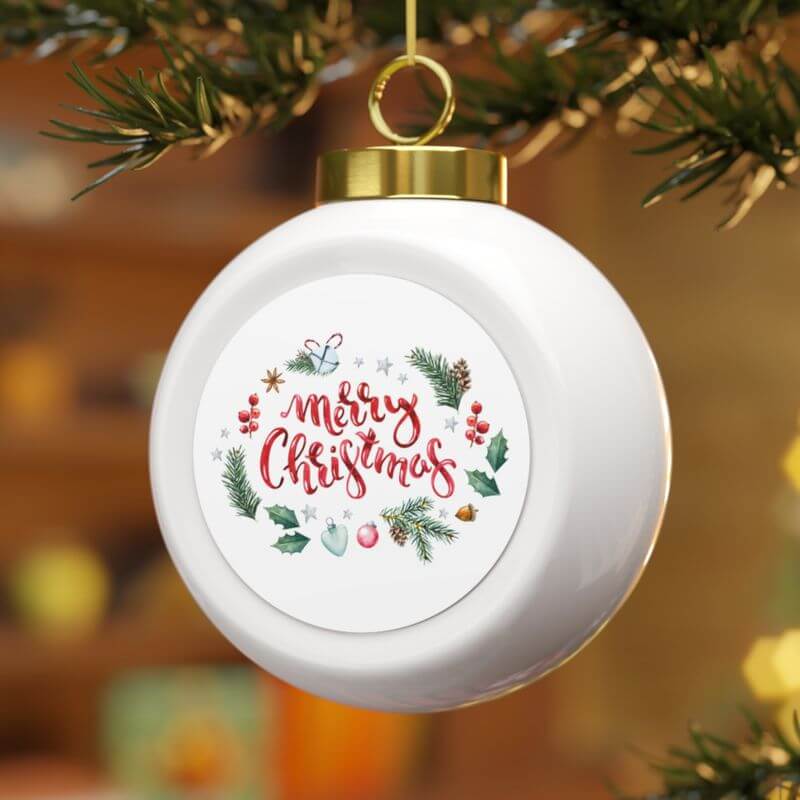 A classic design throughout centuries. While the message is simple, it's still clear, lovely, and fully customizable, from fonts and colors to backgrounds and more. Design the most beautiful "Merry Christmas" decorations to spread holiday cheer worldwide.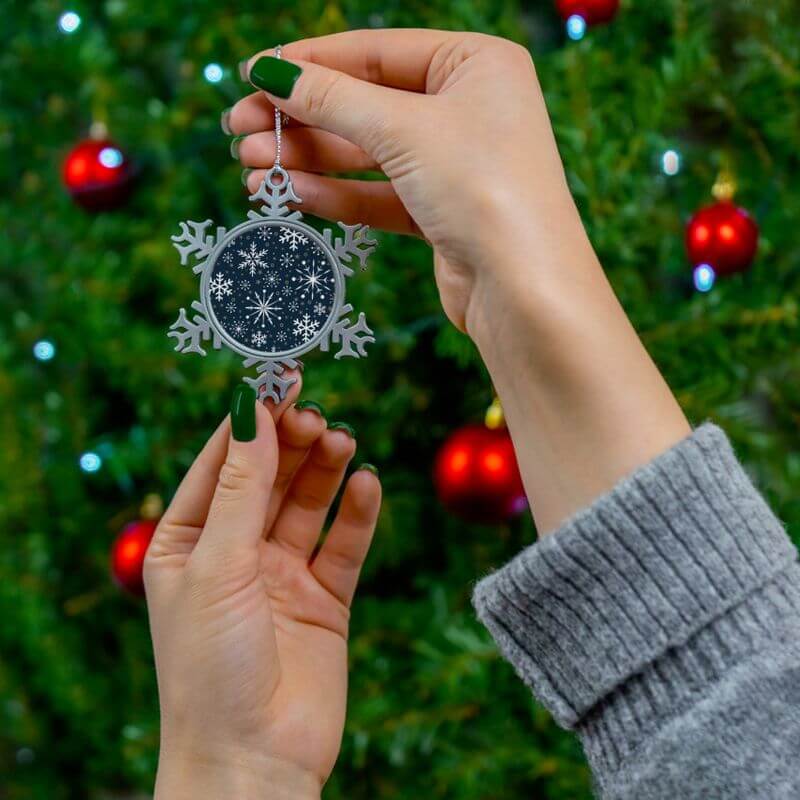 This is where your ideas can shine with a bit of help from Printify. Our snowflake-shaped jewels will beat all other offers at the local Christmas bazaar, craft store, or the fanciest online shop.
The unique winter-themed shape combined with your custom design will look magical, going hand-in-hand with other jolly homemade ornaments sparkling on the Christmas tree. And with a little help from Printify, these will be easy ornaments to make and sell around the globe.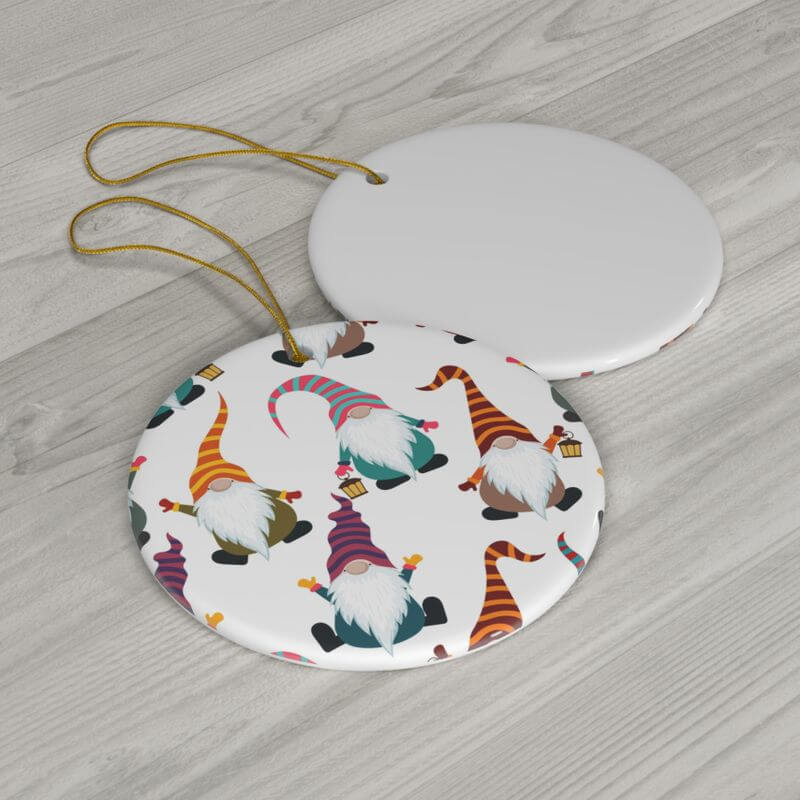 Where would Santa be without his hardworking little helpers? 
Come up with creative gnome designs for your Christmas ornaments and add a bit of fairytale to the holiday spirit. People with kids will especially appreciate child-friendly themes and designs for their holiday decorations.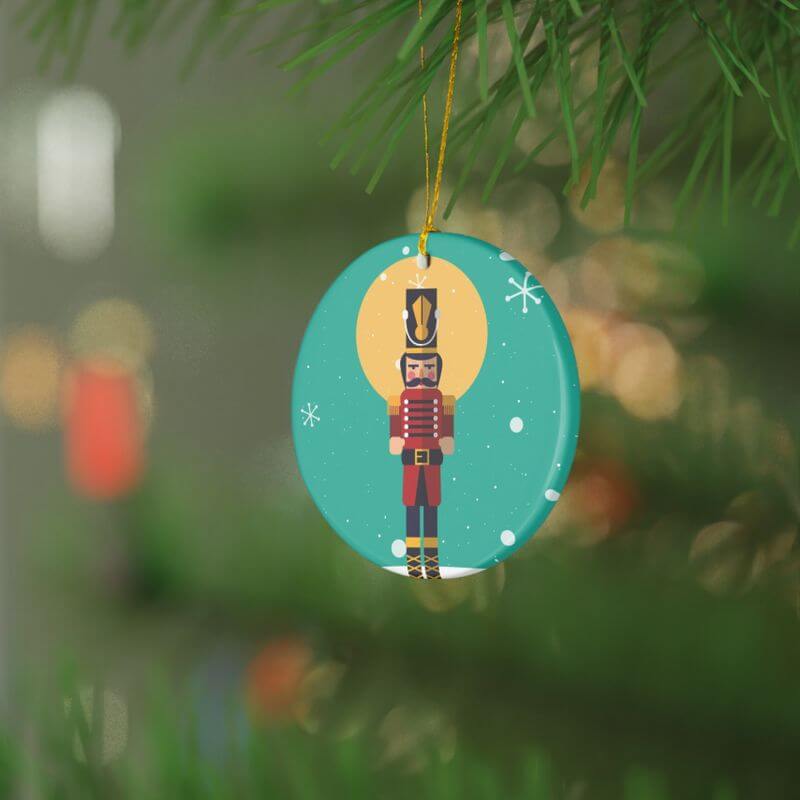 The Nutcracker has become a Christmas symbol around the world. It comes to life on Christmas and saves a little girl's merry night from the evil Mouse King. 
While that is just a tale, the story is heartwarming and well-known to everybody. And this theme is an especially great idea for wooden Christmas ornaments to make and sell. Create unique designs with the Nutcracker to add a bit of fairytale magic to the tree this year – we all love a hero.
17. Angel Christmas Ornaments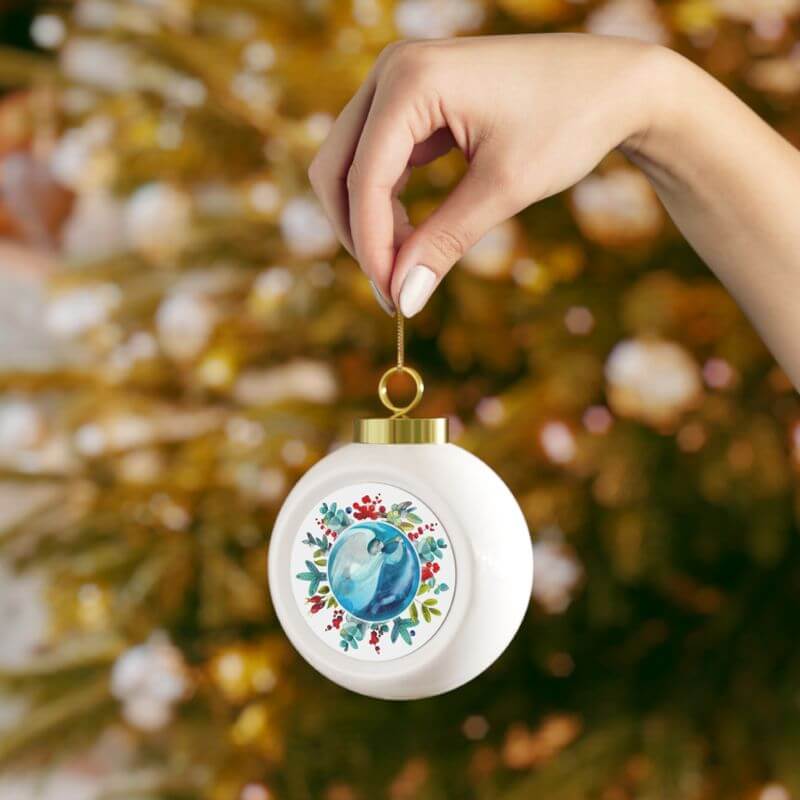 One of the loveliest and equally religious Christmas symbols is angels. Protecting us, watching over us, and spreading joy sitting on top of the tree. 
Design various Christmas ornaments with angels of all kinds to match the centerpiece. From super creative and modern to cute or simple and religious – you can't go wrong with this holiday classic.
18. Gingerbread Ornaments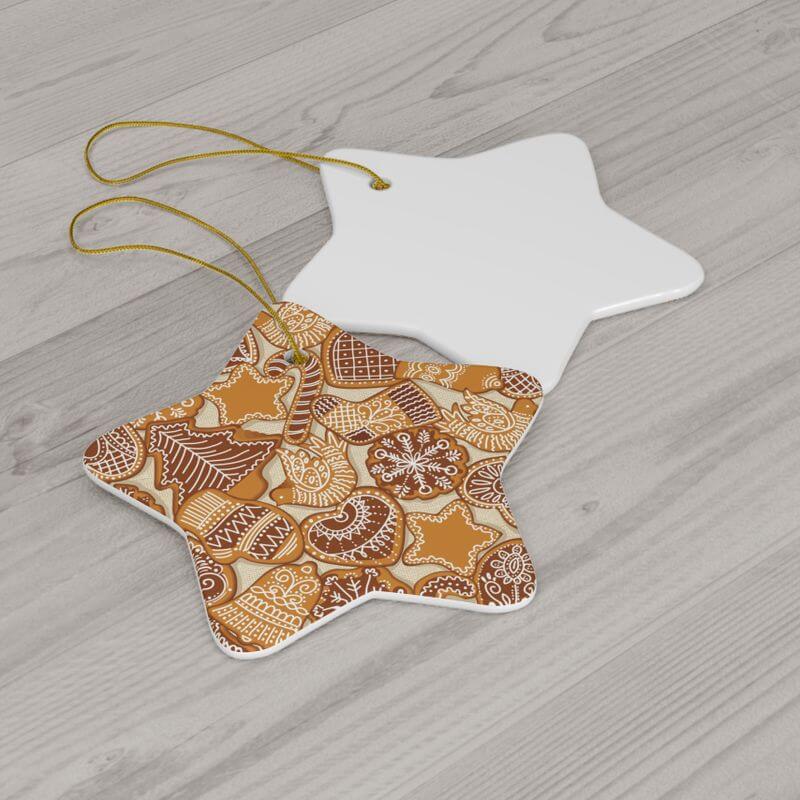 Gingerbread comes in all kinds of shapes and sizes throughout the Christmas season. From gingerbread houses to men and heart-shaped goodies, they bring joy and delicious smells to every home. 
Create cute gingerbread designs and rank your Etsy shop high during the shopping season. Earn extra cash by combining Christmas classics with mouthwatering patterns for everyone celebrating around the world.
19. Bird Christmas Ornaments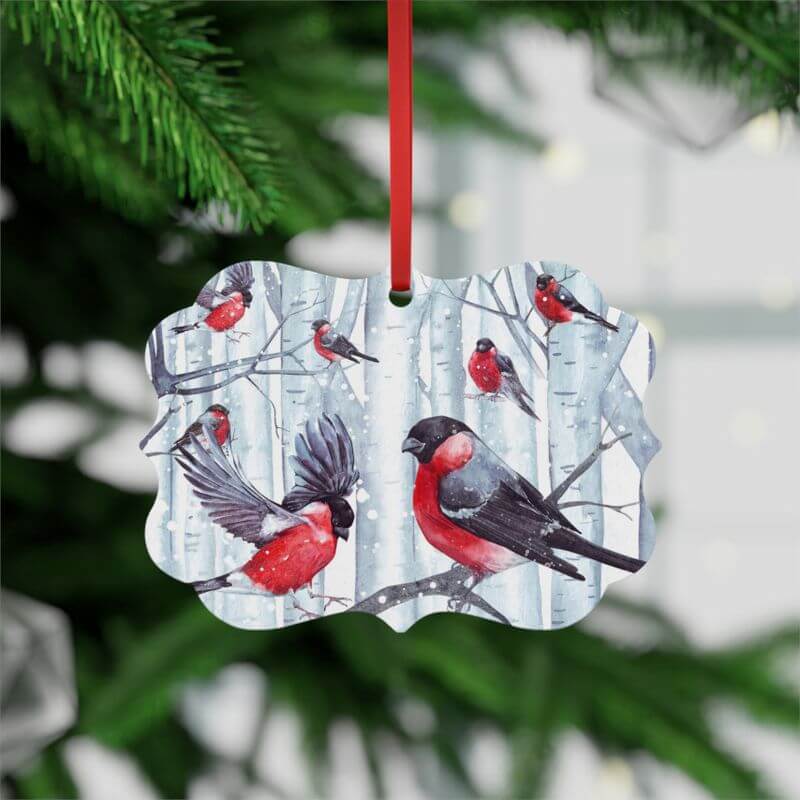 From lovely doves to nighty owls, holiday penguins, and more. Bird designs for your ornaments will appeal to those who are one with nature. 
Some of those majestic creatures symbolize love, protection, and freedom. Implement these feelings in people's homes with creative bird designs on holiday decorations.
20. Cute Christmas Ornaments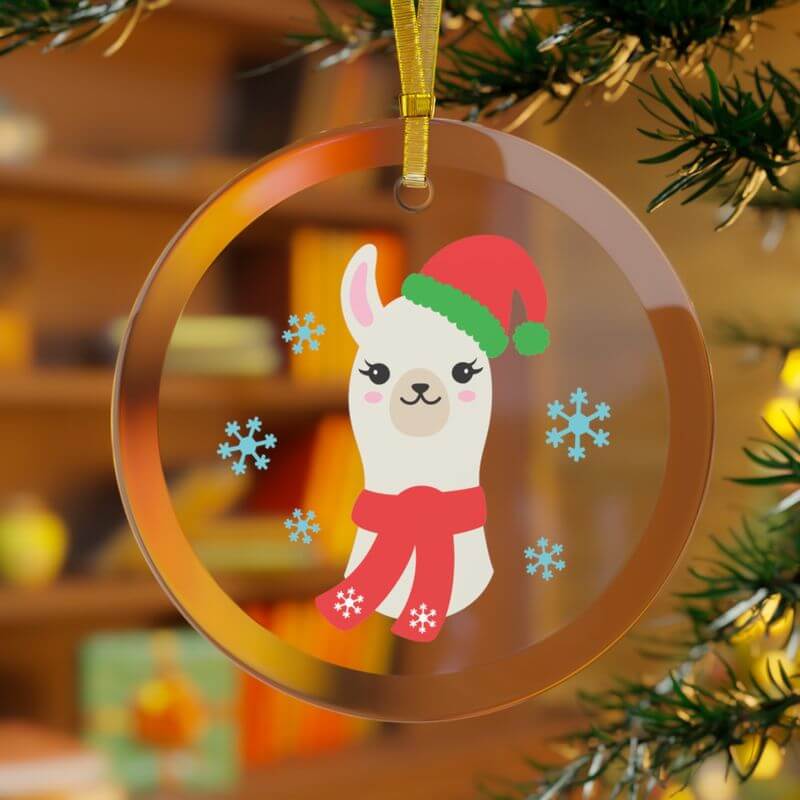 What else is left? All kinds of things. From yearly classics like hearts, bells, and stars to creative patterns, animals, and just about anything else for your ornament collection. Knitted, dyed, and wrapped up like a present – make your designs and sell them to the world.
There you have it. A whole list of ideas for unique holiday decorations to make or sell. For yourself, your loved ones, or buyers across the globe. 
Dominate eCommerce or local craft fairs with unique ideas on custom-printed or handmade ornaments for every taste.
Spread some cheer this holiday season with epic designs of all jolly kinds. Save money, time, and space by choosing POD for your business, and sell Christmas ornaments effortlessly. 
Happy crafting!
Share the article
Topics