The Top Five Affiliate Marketing Skills for 2023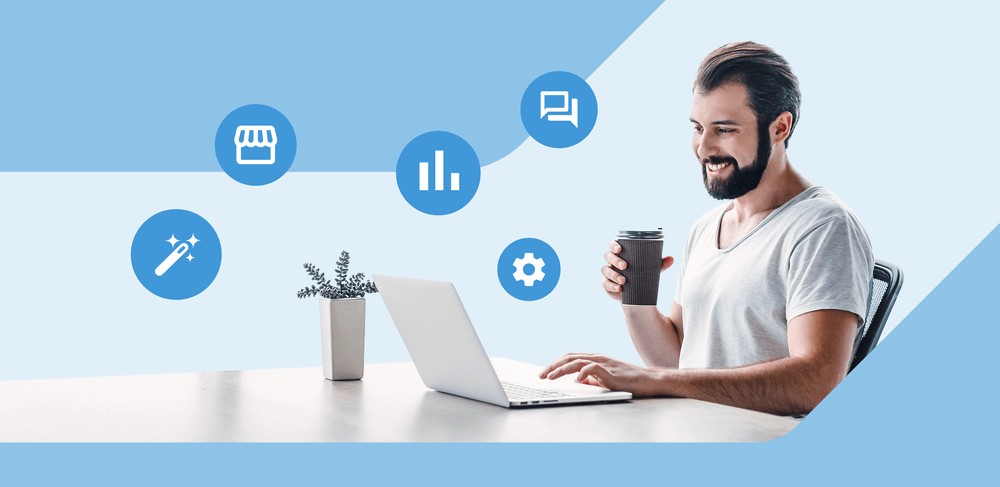 Arguably the best way to capitalize on a following, fan base, blog, etc., reaching a wide audience, affiliate marketing is also incredibly easy. 
The idea is enjoying passive income by monetizing followers, subscribers, etc.; introducing those people to a useful product or service. 
But even with a hefty influence, affiliate profits largely depend on how well the advertised product promises and delivers. That's where we come in.
Best Product Ever:

Printify isn't a once-off commission deal. The people you reach will build productive businesses – helping themselves and you.

Simple + Easy:

Earning a profit with affiliate marketing is as easy as registering, posting a link, and watching the money flow in.

Followers to Dollars:

All your likes, clicks, subscriptions, shares, forwards, etc. out there are valuable. This is a good time to capitalize.
Affiliate Marketing - The Big Picture
Affiliate marketing is doing well. As a whole, the segment has enjoyed significant growth. But, while some doubted the market's viability during the upheavals of the pandemic, eCommerce flourished in the absence of foot traffic. 
The whole idea is that you (as an entrepreneur, influencer, tycoon, etc.), reach out to those in your network, helping them toward a better experience.
How to Make Money with Affiliate Marketing
It all starts with working, advertising, or promoting a quality product. Fortunately for the Printify affiliate, they're introducing fans to our version of print-on-demand dropshipping: a risk-free merchandising service streamlined for success. 
The business model is working very well. And, whenever one of your audience starts earning with Printify, you'll receive a commission on all their sales for a full year.
Top 5 Affiliate Marketing Skills
If you're new to the affiliate marketing game, it's worth looking into some of the most frequently used skills in the space. For the veterans, you're well aware of how important it is to stay current and sharp.
This list is divided into hard skills (schooling, training, experience) and soft skills (interpersonal, emotional intelligence, etc.). It is not comprehensive. However, affiliate marketers are more likely to be successful when they hone these (and other) interconnected skills.
Now, while this list of affiliate marketing skills is not comprehensive, they are a great place to start working toward success. Is affiliate marketing worth it? With these skills, it's much more likely.
There's something reassuring about raw competence in the workplace. When an individual has been through a training program, course loads, or other methods of improving work-related abilities, these are hard-ball, easily measurable traits.
Unlike hard skills, soft skills are more difficult to measure or describe. These are more interpersonal, social factors that affect conversation, teamwork, and communication. 
Why should an audience trust you enough to buy the products, services, goods, etc., that you promote? It all comes down to their relationship with your brand. The name of the game is building and developing these customer relationships. 
Now, while it's wonderful when the product speaks for itself (like with Printify). But, for the most part, it's up to you to do your own marketing, promotion, and advertising. 
As such, it's essential to continually move traffic toward goods, services, and brands under your banner. There's a predictable, self-sustaining feedback loop that occurs during proper marketing: people get excited, exciting others, etc. A successful affiliate marketer must tap into these forces.
At first glance, things can look scary here. After all, it's easily possible to spend years of schooling delving into the inner workings of coding, website design, and other useful matters. Decoding massive amounts of data to unlock the secrets within is no easy task. After all, data scientists are versed in calculus, scripting, clustering, distributed computing, linear algebra, etc.
But fortunately, templating and website building have become more accessible and much easier to use recently. This means that you don't need to build everything from scratch. Indeed, even without extensive scripting and deep learning knowledge, it's possible to thrive in the affiliate marketing spectrum. 
However, even with new advances, it's a very good idea to brush up on your tech basics: the ability to work with/on landing pages, simple tracking, HTML familiarity, image editing, and other simple but incredibly useful skills.
This necessary component entails exploring your marketing strategies, techniques, and practices relative to their performance. The idea is to use these logical methods to position yourself (and the products you work with) in the best, most connectable way possible.
Look into the type of customer that arrives in your scene. What are their needs, wants, hopes, and dreams? These data points are incredibly useful in sculpting popular opinion. 
If you're flying ads online, check out how well they convert. Is there a better way to write a message, include more eye-catching colors, or an option to improve elsewhere? Constant improvement and avoiding stagnation are keys when it comes to affiliate marketing.
While there are many different ways to conduct this research, we recommend focusing on hard, measurable data. Gut feelings can be a good thing in business, but numbers are always numbers.
There's always more than one way to solve a problem. Some have even called creativity the "most important factor in becoming a successful affiliate marketer." One big reason for this is because of how standard, saturated and boring many people's approaches are. 
Creativity is fun. It's finding a new way to get things done — in different, exciting ways — is an exceptionally fast way to get people's attention. This means experimenting with products, niches, strategies, and partners. There are so many subtle variations to be considered. 
Lastly, the creative edge allows for a steady stream of more interesting content, messaging, etc., than those with lame, all-too-familiar approaches.
While there are some overlaps here with sales skills, this one is well worth a separate section. As an affiliate marketer, it's crucial to cultivate a culture of excellence around your brand. Keep in mind, you're not just reaching out to those in your circle to promote a product, you're also reaching up — selling yourself as an affiliate to those companies considering your inclusion. 
As such, maintain the entrepreneurial mindset when communicating. There are so many opportunities to network, build rapport, strengthen relationships, acquire new products, etc. Things can, and do, change quickly. As such, it's beneficial to maintain an open, enthusiastic attitude. 
Perhaps consider the following formula for successful communication:
Affiliate Marketing for Beginners
Also known as performance-based marketing, affiliate marketing is the act of earning commissions via promoting goods and services of various businesses (or individuals). In simpler terms, an associate promotes or markets a product, then receives a piece of each sale (or conversion, registration, etc.) they contribute to making happen. 
Traditionally, this is done through an affiliate link. Whenever a customer clicks on that link, they move along to the product's purchase page. Under this system, some of a customer's purchase flows back to the successful affiliate upon completion.
We would love to have you as an affiliate marketing partner. It's a wonderful product to introduce to friends and family: It's free to try, helps others create businesses, and is continually improving. 
While this article isn't meant to act in the place of affiliate marketing courses, it should provide some useful information. Lastly, if you ever have any questions, please feel free to reach out to our 24/7 support staff or affiliate manager Sofia ([email protected]).
Share the article
Topics