Forget boring mass-produced phone cases. With Printify, you can make your own phone case for various smartphone models and materials – we even have a biodegradable phone case for you to add to your store. Sell your design on beautifully printed phone cases!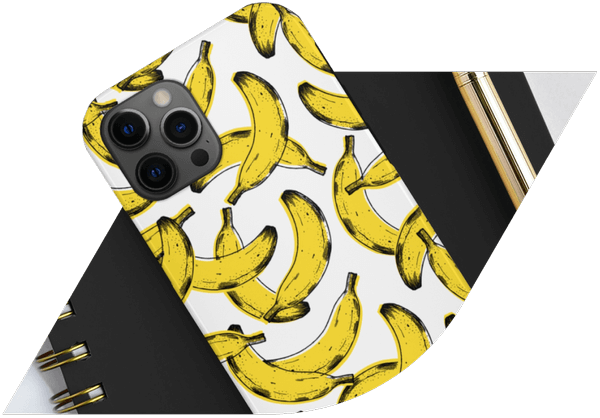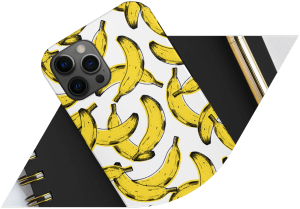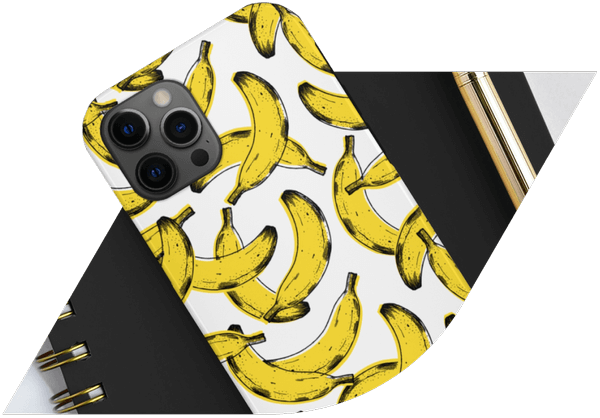 Dropship Printed Phone Cases
All the newest, including iPhone 13, iPhone 13 Mini, iPhone 13 Pro, iPhone 13 Pro Max, iPhone 12, iPhone 12 Pro, iPhone 12 Pro Max, iPhone 12 Mini,  iPhone 11, iPhone 11 Pro, iPhone 11 Pro Max, iPhone XS/XR, iPhone X, iPhone 8, iPhone 7/6.
Samsung Galaxy S21, Samsung Galaxy S21 Plus, Samsung Galaxy S21 Ultra, Samsung Galaxy S20+, Samsung Galaxy S20 Ultra, Samsung Galaxy S20, Samsung Galaxy S9, Samsung Galaxy S9 Plus, Samsung Galaxy S8, Samsung Galaxy S7.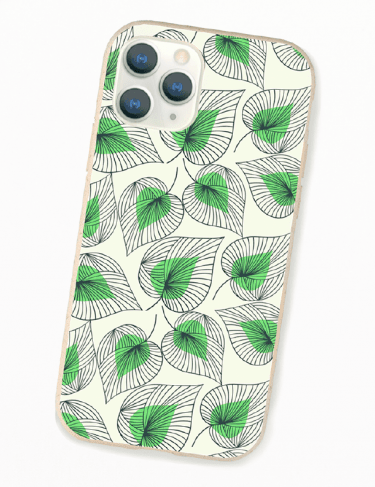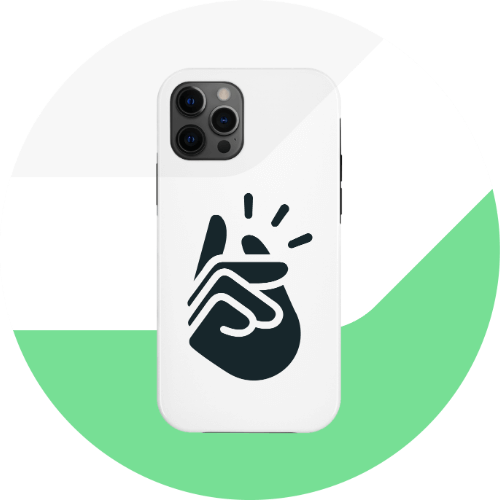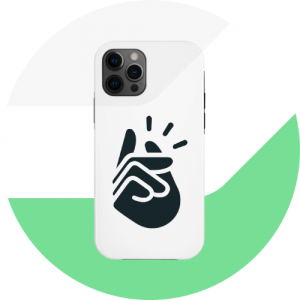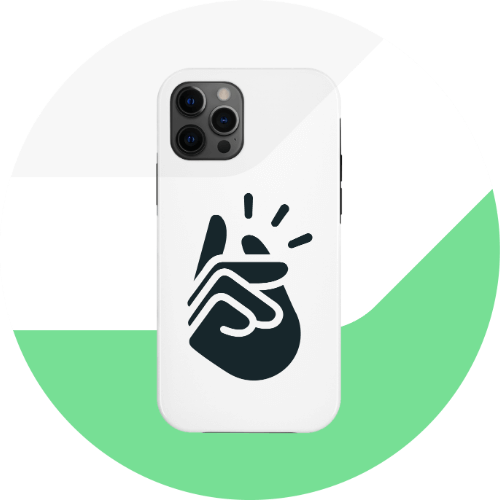 Make Your Own Phone Case With Print on Demand
Print on demand (POD) is a business model for creating custom products on-demand. The production starts only after the customer makes a purchase, which means there's no leftover stock, no boxes of unsold items that take up space in your garage – it's wallet-friendly and sustainable! Anyone can make a line of cool phone cases and sell them online for a profit.
Make Your Own Phone Case Today!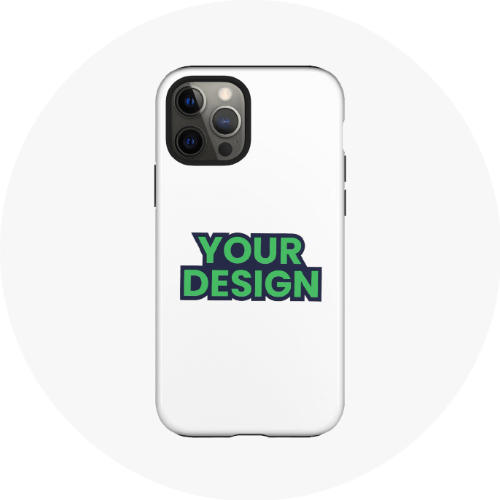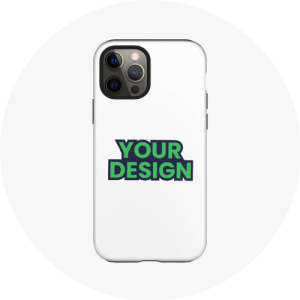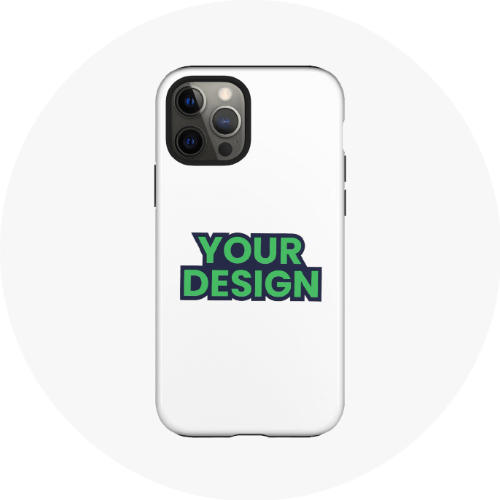 How to Make Your Own Phone Case
In our vast catalog of amazing blanks, you'll find different types of customizable phone cases, including a biodegradable phone case for you to offer to your clients. 
In order to start selling custom printed phone case, you want to follow these three simple steps:
Step 1: Choose the Phone Case or Cases You Like
Once you're into our mockup generator you'll be able to import your own custom wrapping paper designs that you've already created or start a new design from scratch.
Printify also offers you the option of choosing from a vast gamma of pictures to use for your design, via its Shutterstock integration!
With thousands of pictures and patterns at your disposal, you're ready to create something uniquely fascinating.
Step 2: Design Phone Case
After you've selected the phone case you want to either buy for yourself or offer to your clients, take advantage of our straightforward design tool. This is where you get to play around, have some serious fun, and develop some stunning product mockups to add to your store.
To create printed phone cases, simply upload your design – either a photo or graphic, see if the quality suits the requirements (we suggest checking out our Design Guide beforehand). In the design tool, you can change the case's background color, use the zoom, and rotate function, and add custom text.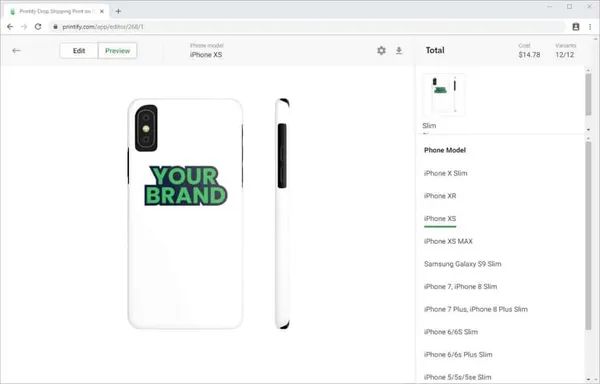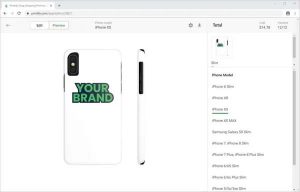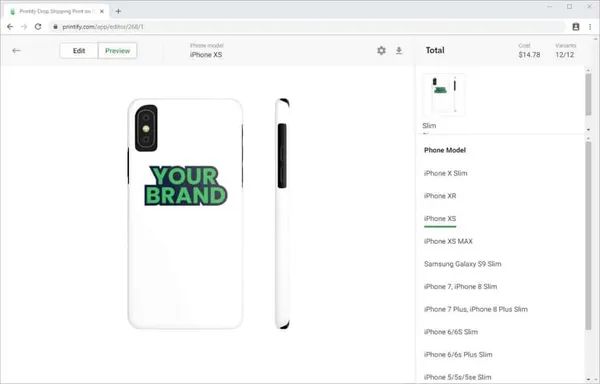 Step 3: Start Selling Your Phone Cases Under Your Brand
Once you have added your designs, you can preview your brand new custom phone case in the design tool by clicking on "Preview mode." You'll be able to use these stunning mockup images in your store and social media. 
After you're done with the design stage, and you've chosen the product variants you want to offer in your eCommerce store, edit the product details: description and pricing. 
The Printify design tool makes it so easy to make your own phone cases within minutes and publish them straight to your online storefront, whether you're using Etsy, WooCommerce, Shopify, eBay, Wix… we've got you covered.
Connect Your Store and Dropship Printed Phone Cases
You need to reach customers to sell your designs. The best way to do this is by connecting to an eCommerce platform or marketplace. Fortunately, the Printify merch maker supports automatic integrations for Shopify, eBay, Wix, WooCommerce, Etsy, Squarespace, BigCommerce and PrestaShop.
Choose Your Print Provider
With Printify, you've got world-class print providers at your fingertips. We love laying low and letting your business shine: your customers will only see your brand and your design when you make your own phone case and sell it online.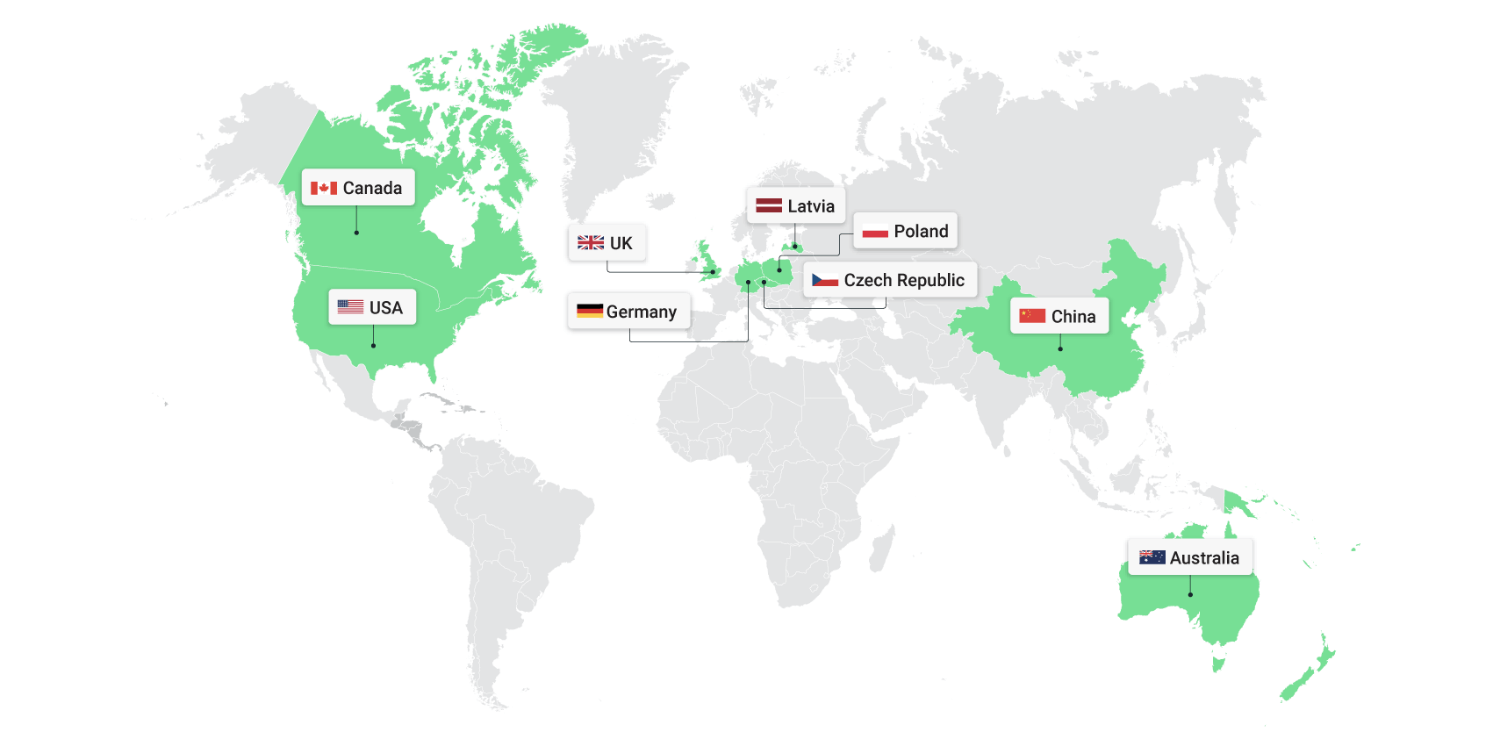 Start Selling
Phone Cases!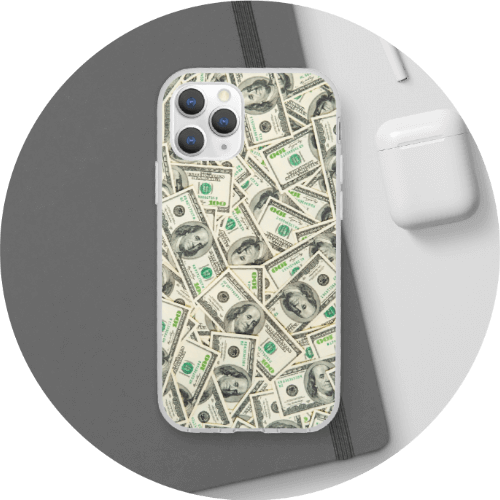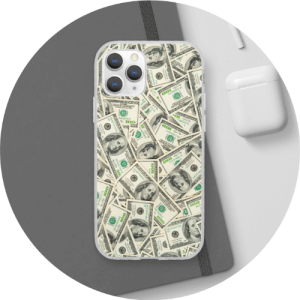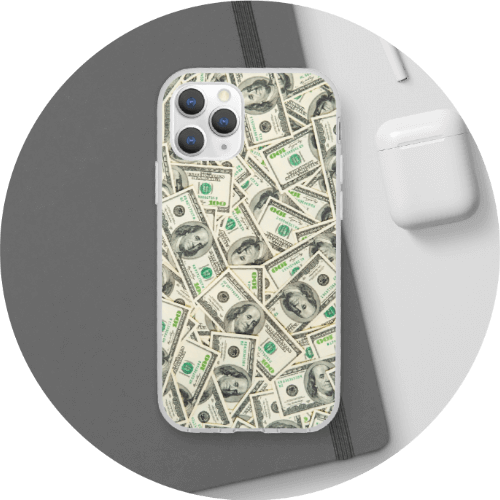 Selling Printed Phone Cases
When it comes to setting the price for your printed case, remember the item price and shipping cost will be deducted from your final sales price. We always encourage our merchants to check out other eCommerce stores and compare the prices for custom phone case printing with the price you are looking to set.
The benefits that print on demand give merchants looking to get in on the phone case printing market are the no money upfront start-up and the fact that your printed cases will not be made until a customer completes an order.
Why Choose Printify for Phone Case Printing
Phone Case Printing With No Minimum
There is no order minimum with POD because digital printing is equally affordable when you're just starting out and if you're a seasoned merchant. You can design and order just one personalized phone case or order a whole shipping container of them – there's no minimum. And definitely no maximum.
Here at Printify, we want to maximize our merchant's opportunities of doing exactly that by offering our no minimum order. This means that once you have created your Printify account, you will have instant access to our range of custom cases and our design tool to make your own phone case. 
You can test out what designs are on point by publishing them to your store with no upfront cost, and you will never have to bulk-buy any of the custom cases you as a merchant are offering for sale. Your printed cases will not be made until an order has been confirmed.
Make Your Own Phone Case That's Good for Our Planet
We have added a gorgeous Biodegradable phone case that contains zero plastic, as it's made of PLA plant polymer with a bamboo binder. The material used for this custom phone case won't add to the landfill – it becomes biodegradable in just 160 days. Even its packaging is fully recyclable!
Our biodegradable phone case is the perfect option for those customers seeking value and products that coincide with their mindful lifestyle. With 3D wrap available, the whole back cover is entirely customizable, and due to the materials used in its production, the case is as tough as any plastic case on the market.
Due to the recent upsurge in consumers opting for sustainable and eco-friendly goods, not having a biodegradable option in your custom phone case range would be a massive oversight for both your business and the environment. 
With its impact-absorbing design and smooth frosted finish, and an extensive range of sizes to design for, including the iPhone 12 and Samsung Galaxy S20, there never was a better time to add our biodegradable cases to your line of custom phone cases.
Make Your Own Phone Case Today!
Printed Phone Case Design Ideas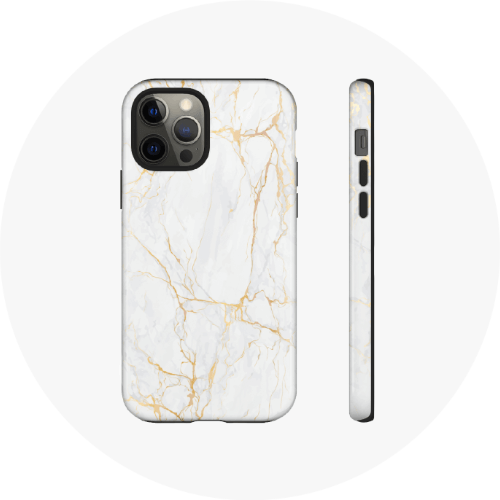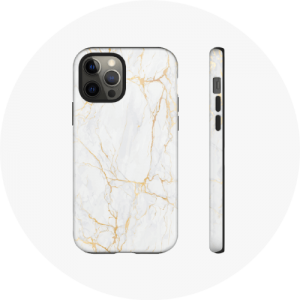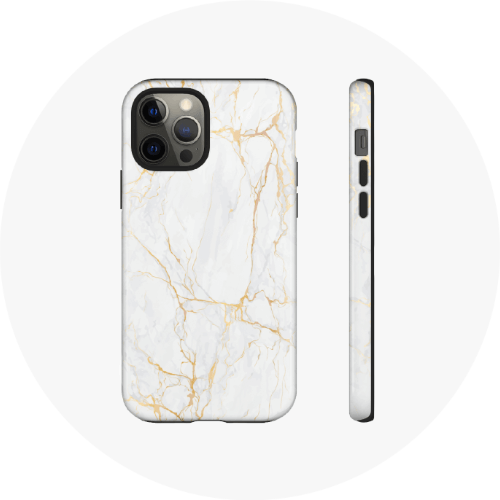 Never of trend and always classy! The great thing about the marbled design is the color choices available to be creative with. From the classic black and white to pinks, purples, and blues, whatever color combination you choose to mix and merge you're guaranteed to create a stylish sophisticated effect.
Inspired partly by tarot cards but mostly by zodiac signs, this is s great alternative design for those looking for an artistic custom phone case. For designers this a perfect opportunity to get creative and interpret individualized star signs, to give a real feeling or personalization.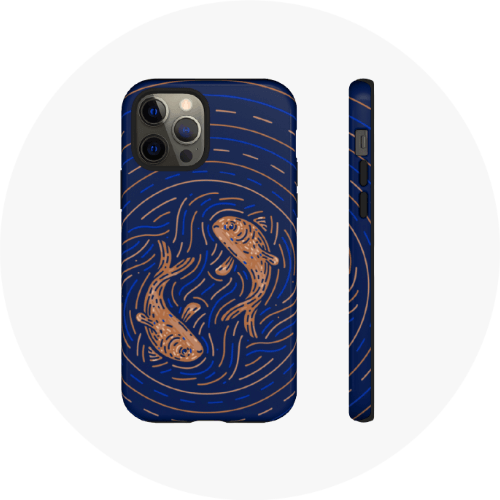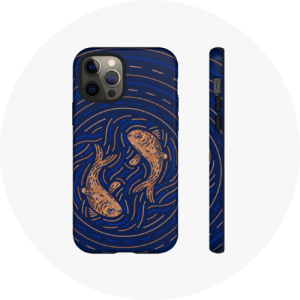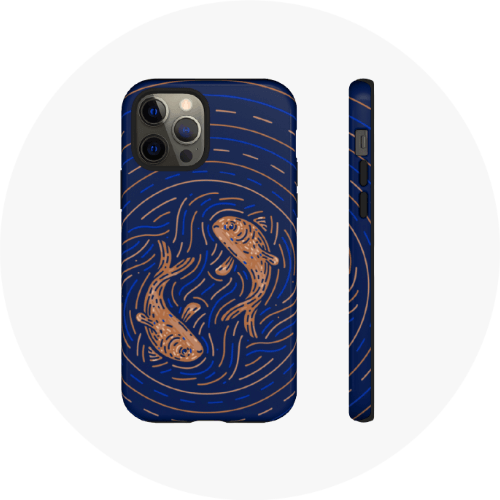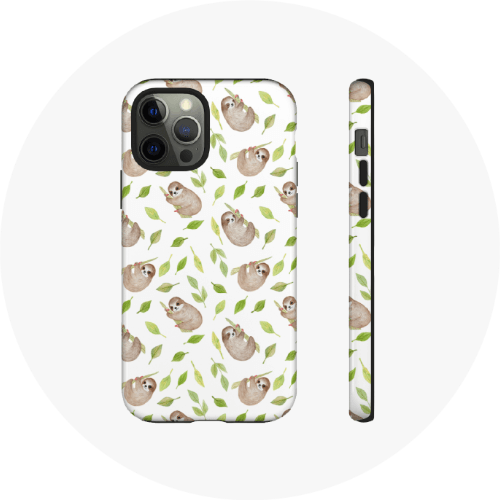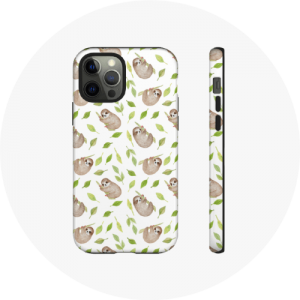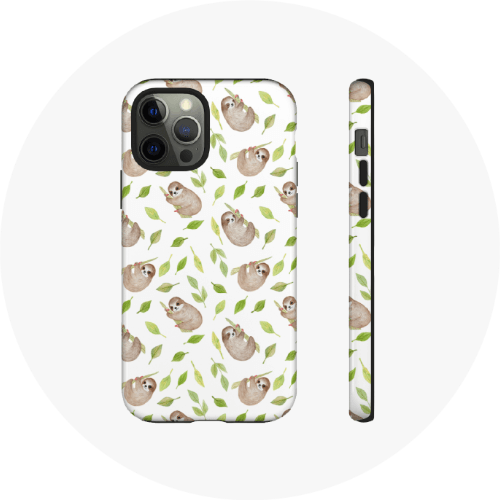 Sloths Everywhere Watercolor
This one is for all animal lovers everywhere! Super cute sloths hanging around on branches, really, what's not to like about this design? The watercolor effect gives the design a playful glossy finish, which brings out the artistry and of course the aww factor.
This design is really on-trend at the moment, giving an alluring feeling of luxury and toughness. Whether you choose a rich oak finish or a seasoned walnut tone, adding a smooth or notched wood effect to your printed case is a sure-fire way of creating a contemporary stylish product.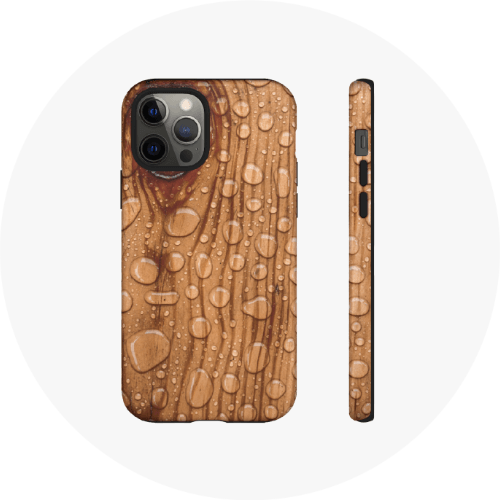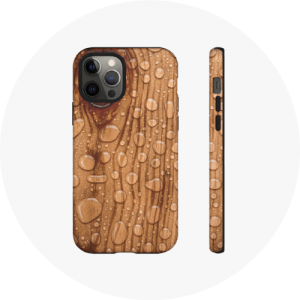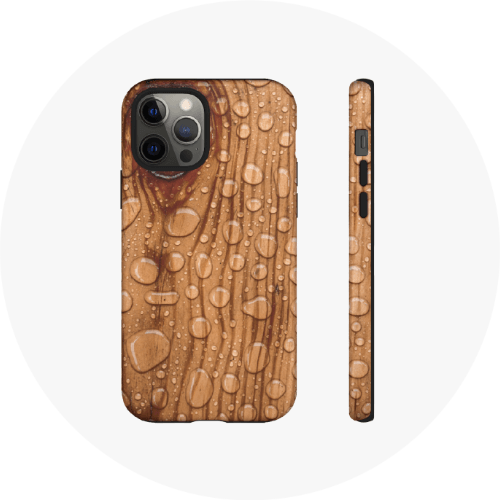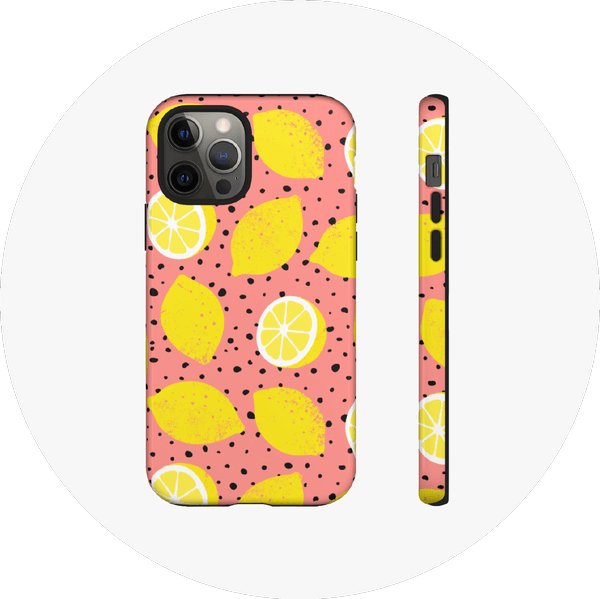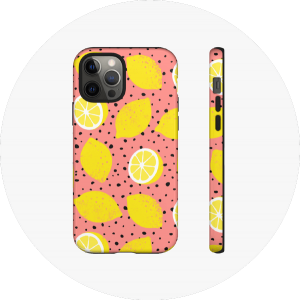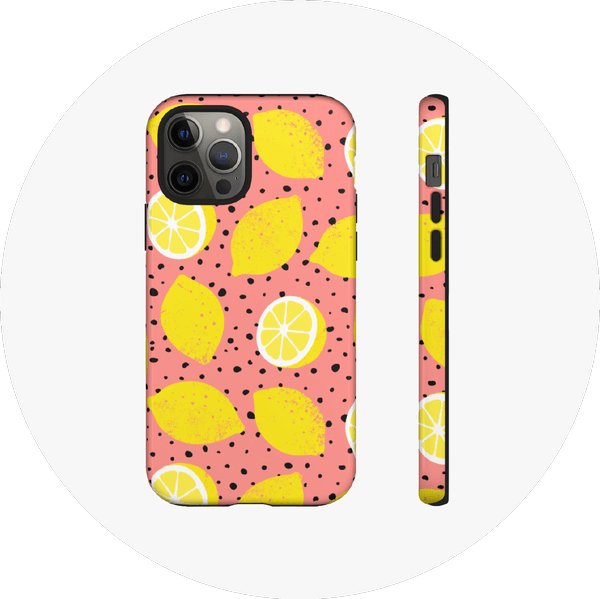 If you want a design that pops with color, then the citrus fruit on deep green leaves is exactly that! The design is somewhat a pastiche or nod to the vintage, boho style while managing to remain fresh and vibrant. A great custom phone case design for those who treat their phones as a fashion accessory.
Make Your Own Phone Case | FAQ Section
Make Your Own Phone Case Today!