Create Your Own Halloween Shirts!
The spookiest day of the year is just around the corner – it's time to get ready. Selling Halloween shirts has never been easier or more lucrative. Stand out from the competition with our wide range of shirts for men, women, and kids!
As one of the world's oldest holidays, Halloween is still widely celebrated across the globe. Halloween is an extraordinary time of year, especially if you're a merchant looking to increase your sales. Your ideas, imagination, and creativity are allowed free rein to create truly unique, incredible, and terrific Halloween shirts for your customers.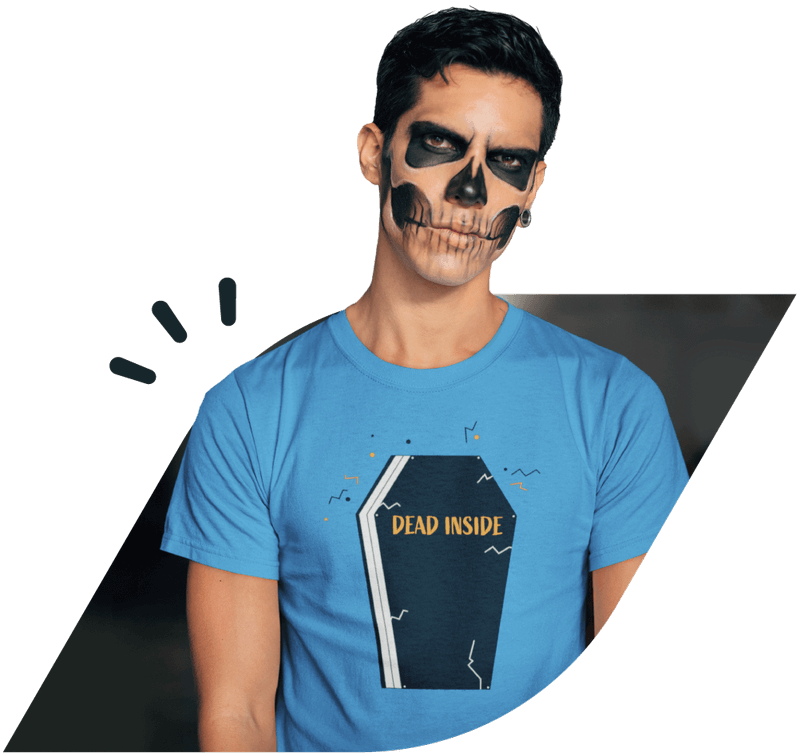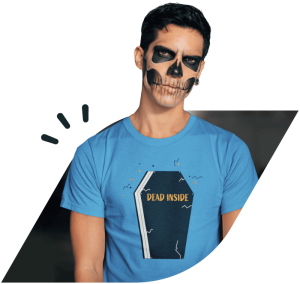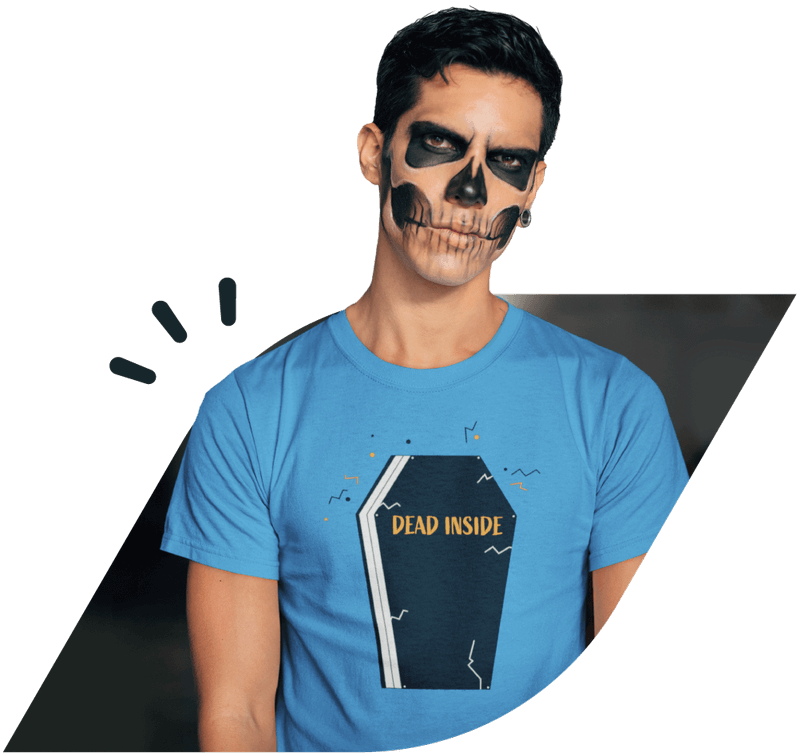 Why Sell Halloween Shirts?
As more and more people – young and old alike – discover the joy of Halloween, this age-old celebration offers a fresh opportunity to generate some good buzz and boost your sales. We offer a vast range of customizable shirts in a variety of styles and sizes – creating inspiring and frightful Halloween shirts has never been easier.
Whether you want to design shirts for kids by using some lighthearted symbols of the eerie theme, or you want to make designs that'll appeal to a more adult audience, there are plenty of options.
When it comes to designing Halloween shirts, anything from Casper the Friendly Ghost to Dracula and Frankenstein's monster has a place and a target market.
Design Ideas for Halloween Shirts
When it comes to picking the style of shirts you want to use as the base for your Halloween designs, there are plenty of options to choose from.
Our ever-expanding catalog of shirts has many different models in every size and fit – they are all waiting to be customized with your spooky designs. Among the options, you will find that we got jerseys, short sleeves, long sleeves, V-necks, tank tops, and cotton crew tees, to name just a few.
What's more, within our large range of customizable shirts, we got brand names like Gildan, Bella+Canvas, Stanley Stella, and many others!
With our vast network of print providers, you can choose the providers that suit you the best – by product, location, and price. Additionally, on certain Halloween shirts, all-over printing is available too!
We want to make sure no one is left out of the festivities, and the whole family participates, so we've made sure our customizable collection of shirts is suitable for every age group, style, and taste.
Now that we've seen the abundance of choices we have, let's take a look at some trending themes for Halloween shirts, and get inspired!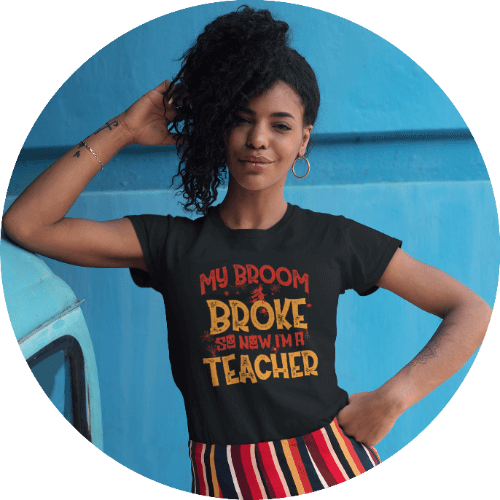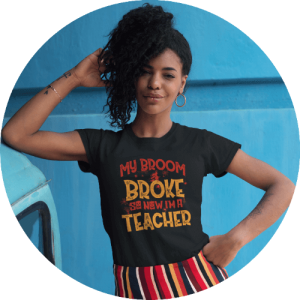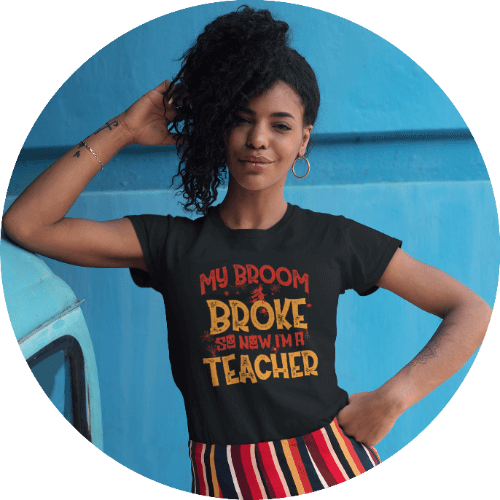 A great way to kick off the spooky season is by setting the mood with some scary-good shirts. Autumn brings Halloween-themed parties, events, and a wide array of occasions where such shirts will certainly get some laughs and warm smiles. Scary, fun, or cute – the options are limitless.
Make your Halloween hilarious – funny Halloween shirts are popular with every gender and age group. Unique customized shirts are ideal for parents and their children who are going trick-or-treating, friends gathering for a fun evening of carving jack-o'-lanterns, or at a lovely Halloween party next door.
Just spark your imagination, create a great design, and you're sure to put a spell on your customers.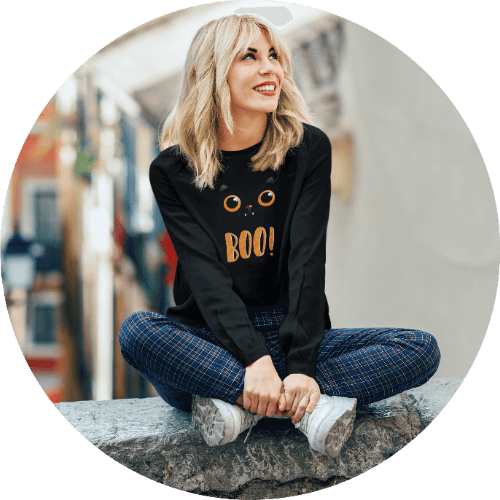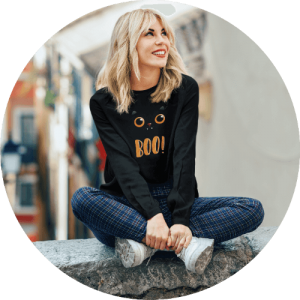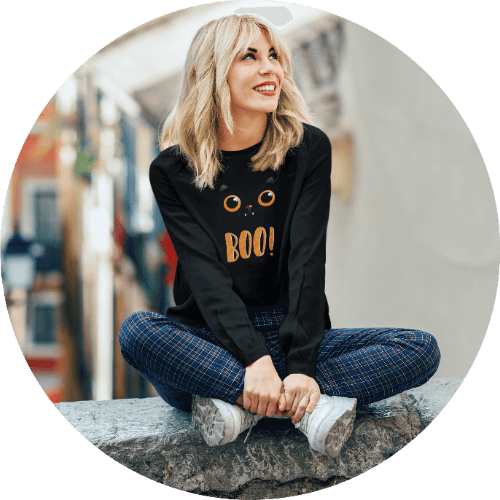 Designing and selling cute Halloween shirts is not only a fun way to express yourself creatively, but it's also a great way to make money. There's certainly a market for all things cute, especially during Halloween, which allows for a wide variety of themes to pick from.
Set the mood for a pleasantly spooky Halloween by designing shirts of friendly-looking ghosts, jack-o'-lanterns, witches, bats, or cats. These appeal to all age groups and are perfect for family-friendly events.
There are plenty of trendy ideas out there to draw ideas from – ghosts that are "Too cute to be scary", mysterious "Purranormal cats" or just a nicely designed "Let's get spooky".
Just pick a target market and start designing your collection of cute Halloween shirts today!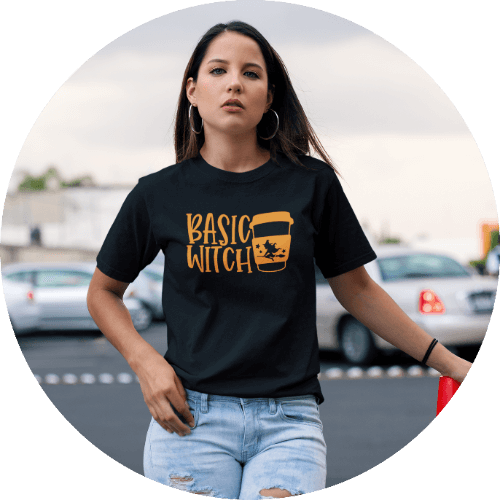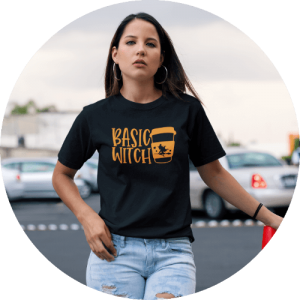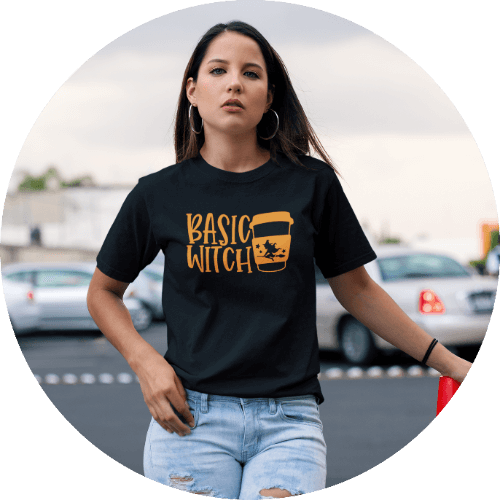 Halloween Shirts for Women
As Halloween nears, embrace your inner witch! A witch flying over the moon on her broomstick in black and orange is a classic Halloween shirt design, and by adding some text like a "Basic witch" or "Support your local witch" gives the shirt a more personalized feel and the overall design a real sense of style.
Our shirts are an ideal canvas for witch inspired designs – they're available in different base colors, and you can be certain that they will be bang on trend!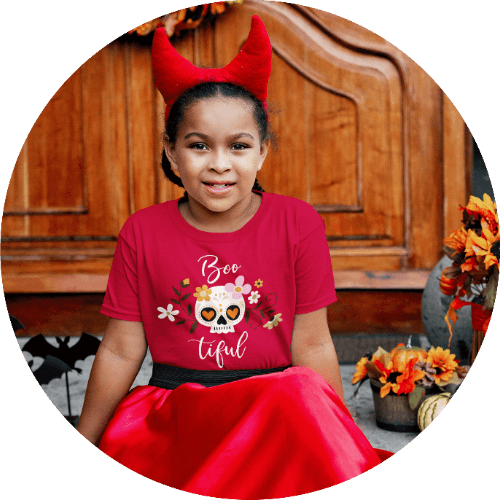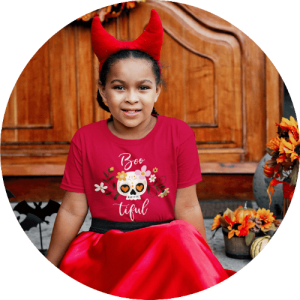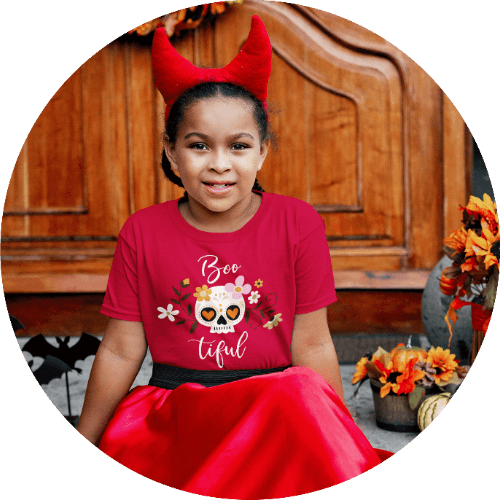 Trick or Treat Halloween Shirts for Kids
Since the beginning of the 1930s, trick-or-treating has grown into one of the most important Halloween customs, becoming a major part of the festivities for both parents and their kids. This, of course, is one of the many solid reasons why you should choose the trick-or-treaters as your target market. Simply put – you have a ready-made customer base!
What appeals to this market and what is trending right now, is to print the word "Treat" on the front and "Trick" on the back of the Halloween shirt. Then it is simply the case of jazzing up the phrase with your chosen Halloween imagery, which could be anything from bat wings, witches' hats, black cats, or misty moons. Either way, adding an extra element to this design will breathe a new lease of life into the tradition. 
Our kids' soft-style tees are made from 100% soft cotton making the material light and airy, which is just what is needed when running around the streets collecting treats or playing tricks on neighbors. With different base color options available, depending on the print supplier and the option of printing on both front and back, these designs are right on point.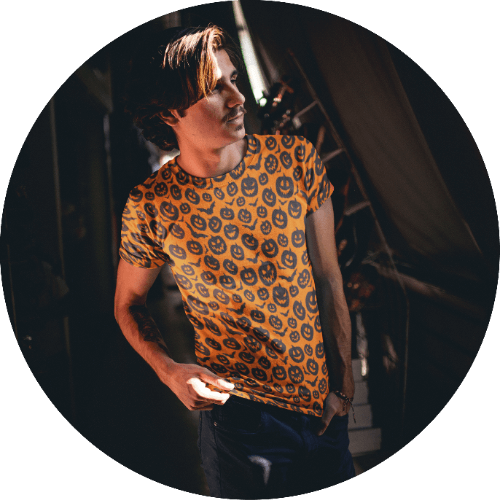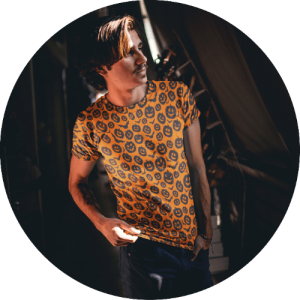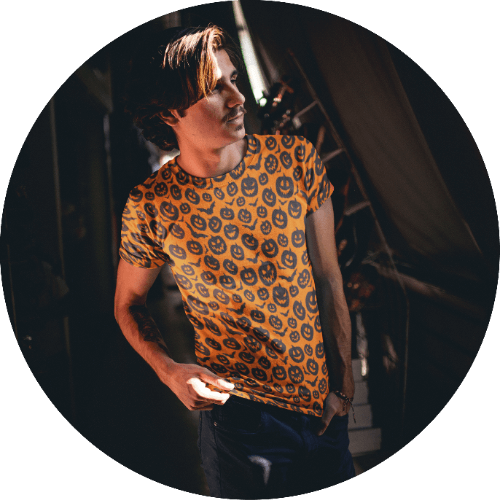 All-Over-Print Halloween Shirts
Nothing spells out Halloween quite like carved pumpkins, but instead of opting for the more traditional design of printing an image of a whole pumpkin, why not try a minimalistic approach instead? By focusing on the details of the pumpkin and doing away with the shape you are left with your chosen base color as the body. Then, when you add your design elements of the carved jagged mouth and triangle eyes of the pumpkin, your Halloween shirt becomes something else entirely!
With our AOP unisex shirts, you have an unrestricted printing area – ideal for big ideas. All-over-print means that all of the Halloween shirt is customizable. What's more, the unisex shirt looks great on both men and women and, due to its high quality, your pumpkin prints are sure to stand out!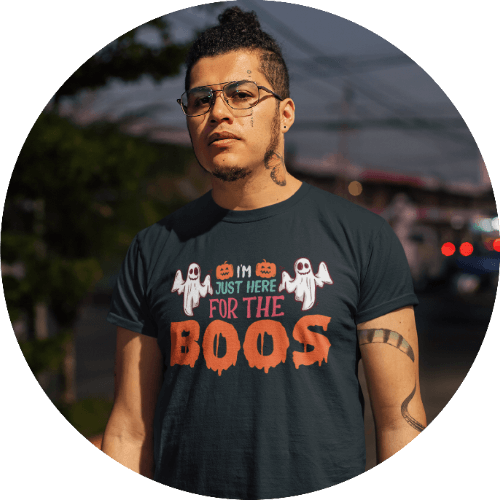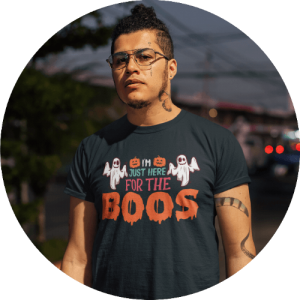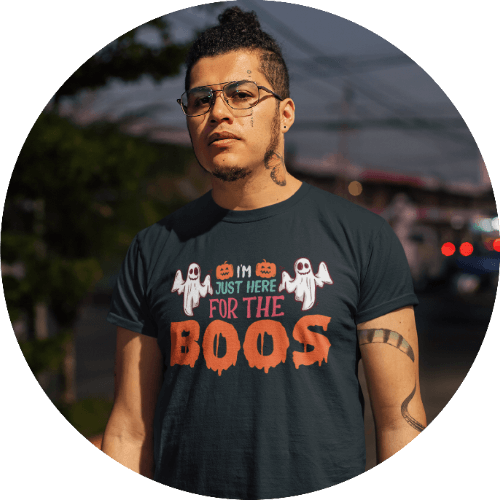 Whether you like it or not, Halloween is going global. As the Halloween spirit takes over, men's Halloween shirts are becoming increasingly popular. If you're looking for ways to increase your sales, you may want to consider adding some of these to your collection.
Men's Halloween shirts with slogans such as "I'm just here for the boos", "Error 404 costume not found", "Bats how I roll", and others work really well in creating a relaxed vibe and a pleasant atmosphere. It's arguably the best holiday to plan a theme party – options for designs are virtually infinite.
Halloween is all about people getting together and having a revelrous night – men's Halloween shirts invite everyone to enjoy a good time together and join the spooky season in comfort and style.
Create and Sell Halloween Shirts
When the Halloween season comes around, we know that every bar, pub, music venue, and event in town will be hosting its own ghostly eerie-themed event. The streets will be full of family trick-or-treaters, and even offices will have costume parties.
This all collides in a huge upsurge in Halloween-inspired merchandise, from balloons to pumpkins, to fangs and bat wings and, of course, costumes and Halloween shirts. 
In America alone, Halloween is a billion-dollar industry. Along with candy and decorations, spooky attire certainly sells well!
By designing a collection of Halloween shirts, not only are you giving the customer a one-stop shop for their spooky attire and saving them both time and stress, but you are also offering them designs the traditional shops will not. Our print-on-demand service ensures our merchants and their customers never have to worry about stock levels – we take care of that too!
Through our experience, we know that when it comes to seasonal products, deciding on who will be your target market is vital to the success of your store. For example, are the shirts for serious horror fans or kids who will be going trick-or-treating with their parents? Or will they be for the office partygoers?
Whatever you choose, Halloween is celebrated in its own unique way with many different customs and traditions. So, by doing your research early and offering consumers the chance of being at the front of the queue, you can be sure your Halloween shirts will literally fly off your digital shelves.
Start Selling Custom Halloween Shirts!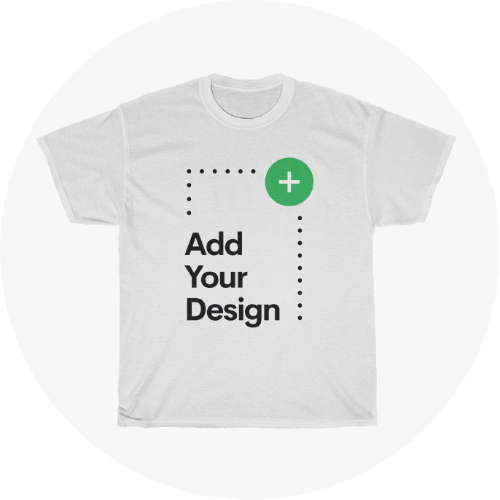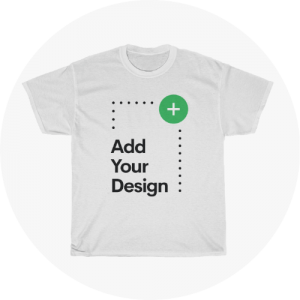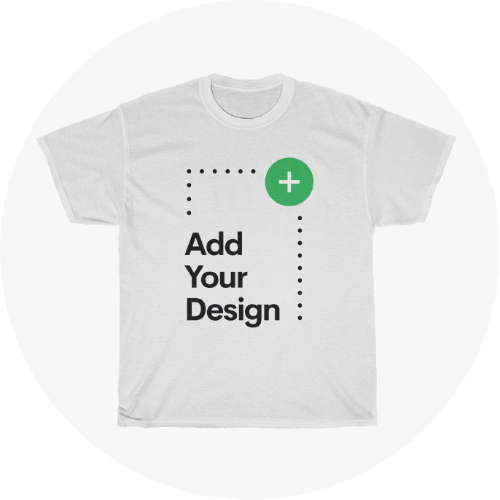 Get Started With Halloween Shirts Printing
So, let's get started! Our catalog has over 800 customizable products and is constantly updated with new ones.
All of our products are available for you to start personalizing immediately, and all that you need to access them is a Printify account. 
Once your account is set up, designing personalized seasonal gifts is a proven way to get into eCommerce, and our range of Halloween shirts will not only spice up the festivities, but it's also a sure-fire way to boost your revenues!
How to Order Your Halloween Shirts
This part of the process is designed to make sure ordering your Halloween shirts is as time-effective and straightforward as possible. We want our merchants spending their valuable time designing and marketing their personalized garments, not being bogged down by logistics and worrying about stock levels!
With us, no up-front capital is required, which simply means that your Halloween shirts will only be made once an order has been confirmed. And there's no order minimum! So, no need for warehousing or hiring staff or any other hurdle a start-up business is likely to face. Our service is designed to be a stress-free experience. 
Once your Printify account has been set up and your store is up and running, there is nothing left to do but wait until the orders come rolling in. 
Once a customer has placed an order, our reliable print providers take care of everything – printing, packaging, and shipping directly to your customer!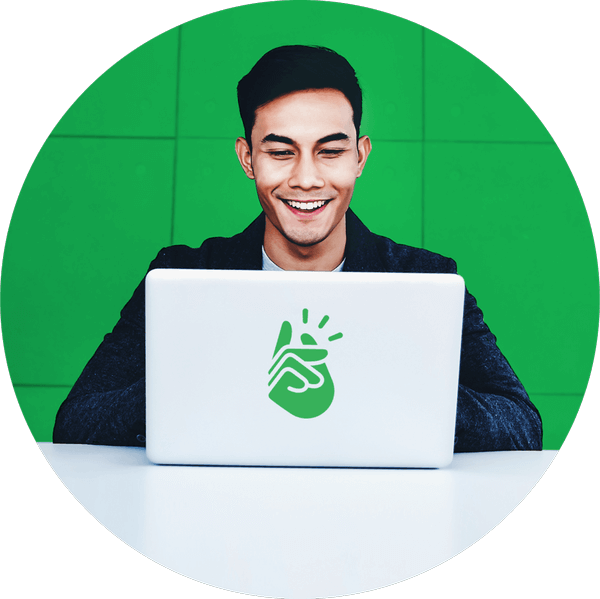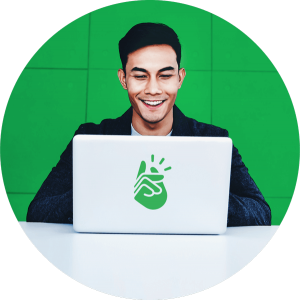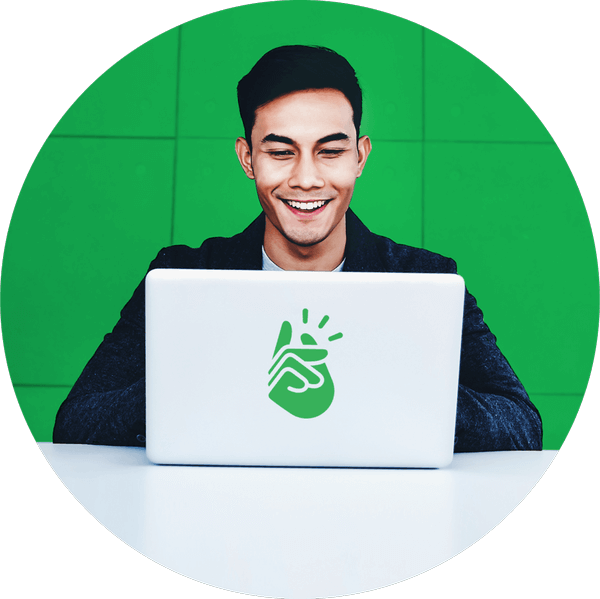 Personalized Halloween Shirts -
A Step-By-Step Guide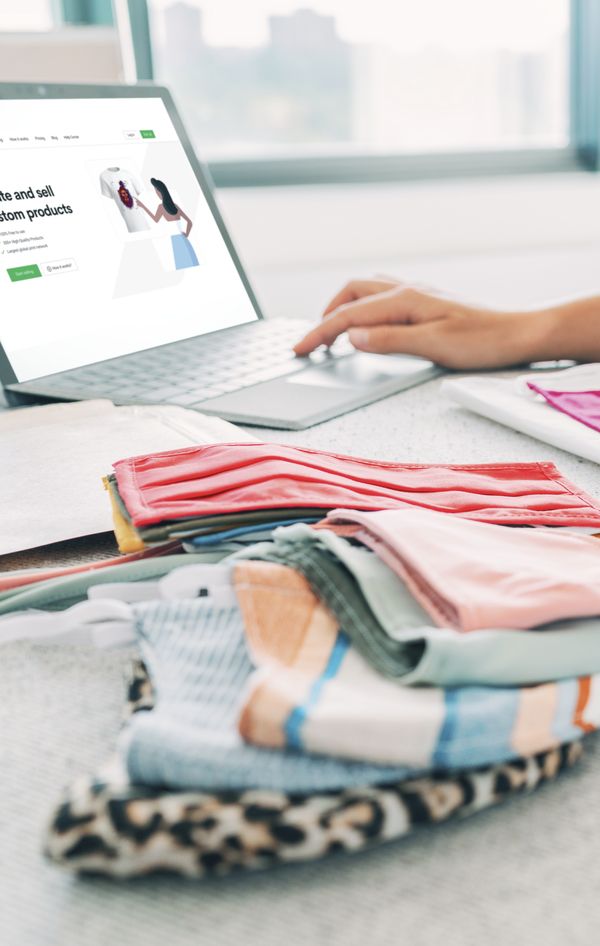 Ready to Start?
Start Designing Your Halloween Shirts
If you are new to eCommerce and are thinking of becoming one of our many successful online merchants, then tapping into the spooky season with our Halloween shirts is the perfect way to test out your designs. 
With our service, you can set up and start selling within minutes! There has never been a better time to see where your creativity can take you – start designing your own Halloween shirts! Additionally, once you have created your Printify account and set up your store, you will have instant access to our 24/7 Merchant Support team, who are always on standby and will gladly help with any questions you may have.
For our more experienced designers and store owners, you probably already know that creating and selling festive products is an almost certain way to boost your revenue. 
Our vast collection of shirts for men, women, and kids are the perfect canvas for your designs. Turn your ideas into cash – Halloween's lucrative consumer market provides a fantastic opportunity to make a killing.
The perfect moment is now – start planning and designing your own unique Halloween shirts!
Start Your Own
Print-On-Demand Business!