Create your own funny Halloween t-shirts!
Creating Halloween shirts has never been more lucrative, or so easy to do! With our catalogs wide range of T-shirts available for male, females and kids, it's time to start designing a range to stand out and cash in.  
Halloween is one of the world's oldest celebrations and its customs are still one of the most popular and unique global holidays. For a designer, Halloween is the time of year where you can let your imagination and creativity take on a world of their own, creating truly unique Halloween shirts for their customers.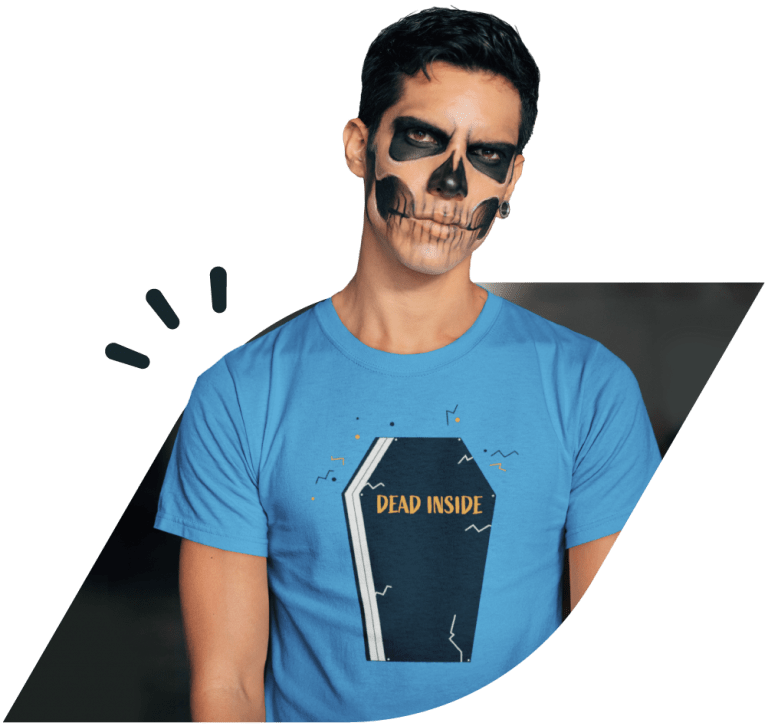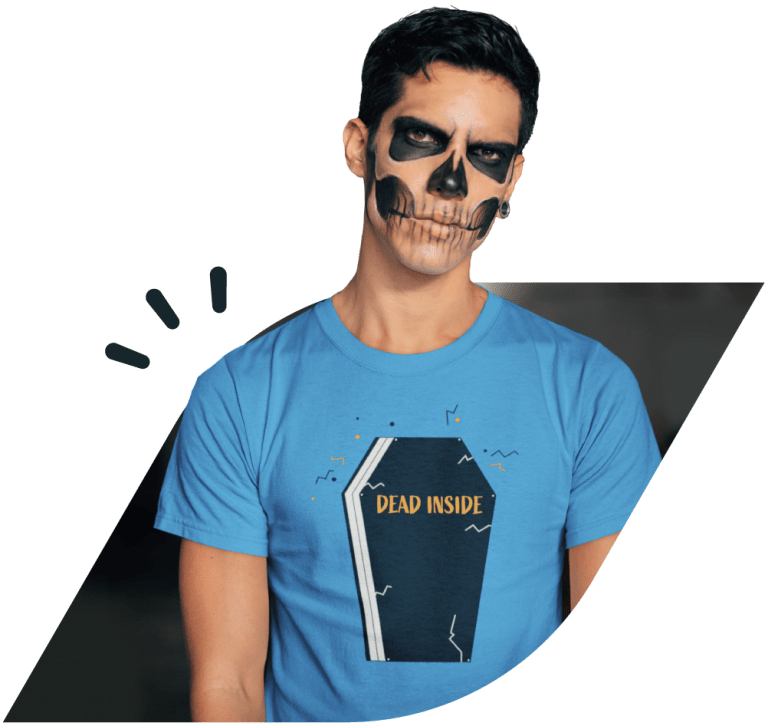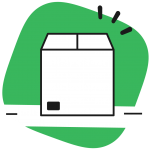 Here at Printify, we do not want you clogging up your spare room with piles of stock. Simply design your funny Halloween shirt and start selling with our no minimum order policy.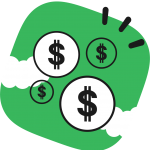 Our no money upfront business model makes creating an account and designing products absolutely entirely free.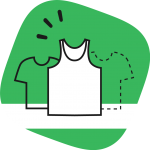 100% custom Halloween t-shirts
With a wide variety of sizes, styles and colours to choose from, it is easy to find the perfect base product for just about anyone.
Why sell Halloween shirts?
Our vast T-shirt range is a great product for designers to use as their canvas and because of the vast variety of different styles and sizes available to be customised, there really is a Halloween-shirt design to suit all age groups. So, creating a collection to appeal to any Halloweenies has never been easier.
Whether you are looking to create Halloween shirts designs for the younger trick-or-treaters by using the more playful symbols of the spooky theme, or you want to create designs that explore the season's more adult dramatic themes.
What this simply means is that everything from Casper the friendly ghost to Dracula and Frankenstein's monster, all have their place and target market when it comes to creating T-shirts for Halloween.
Design ideas for Halloween t-shirts
When it comes to choosing what style of T-Shirts you want to use as the base for your Halloween designs, you will find you will have plenty of options to choose from.
Our catalogue of T-shirts has many different printable models in every size and fit and are all waiting to be customized with your spooky designs. Among the options, you will find that we stock jerseys, short sleeve, long sleeve and V-necks, tank tops, cotton crew Tees to name just a few.
There is even more great news for designers, within our large range of customizable Tees you will find brand names from the likes of Gildan, Bella+Canvas to name a few!
And due to our vast network of print providers, as a merchant, you can test out the different providers to make sure the products match your quality expectations. If that is not enough on certain Halloween shirts – all-over printing is available too!
We also wanted to make sure no one will be left out of the festivities and the whole family or group can all take part! So, we made sure our customizable collection of Tees is ready to be designed for men, women and children, meaning there really is a Halloween shirt out there to suit every age group, style and taste.
Now we know the shirt options you have, let us have a look at some trending Halloween shirts with Halloween inspired designs.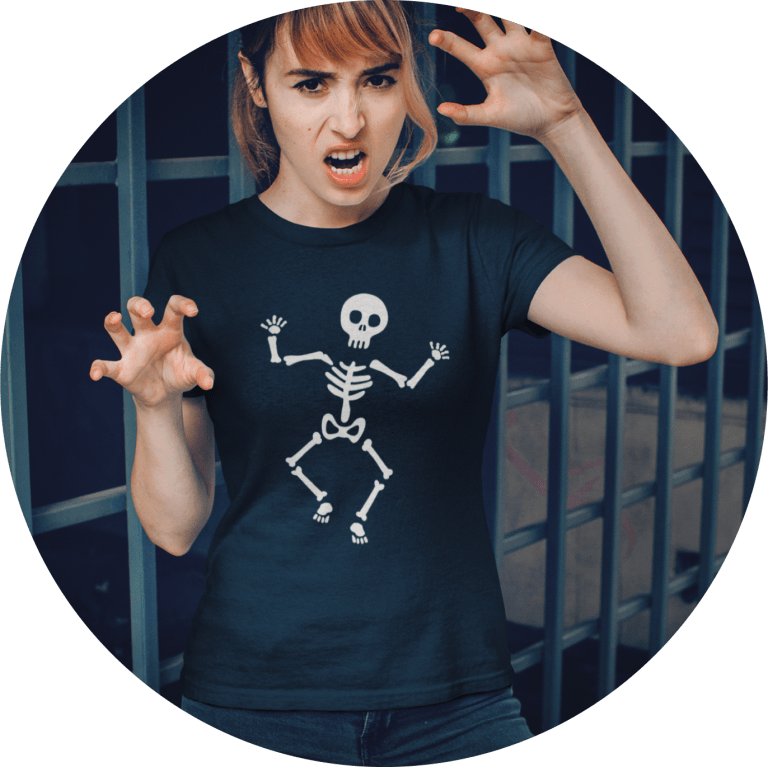 Halloween shirt with Skeleton design
Our unisex heavy cotton tee with ribbed knit collar is a great canvas for spooky designs. The base colour has up to twenty different options, with both the back and front area available to print on. Made from 100% cotton this T-shirt is not only environmentally friendly, but the manufactured cotton gives the T-shirt a thicker vintage feel. 
This makes it a perfect  Halloween shirt for the skeleton design which is always popular with every gender and age group and looks great with accompanying skeleton makeup. Because of the vast array of base colour options, nothing is stopping you from moving away from the more traditional black and white colour combinations and creating something truly unique.
The unisex heavy cotton tee is ideal for parents and kids who are going trick-or-treating. If you wanted to add a style element, why not design the skeleton to appear like an X-ray, to give the design a more realistic effect?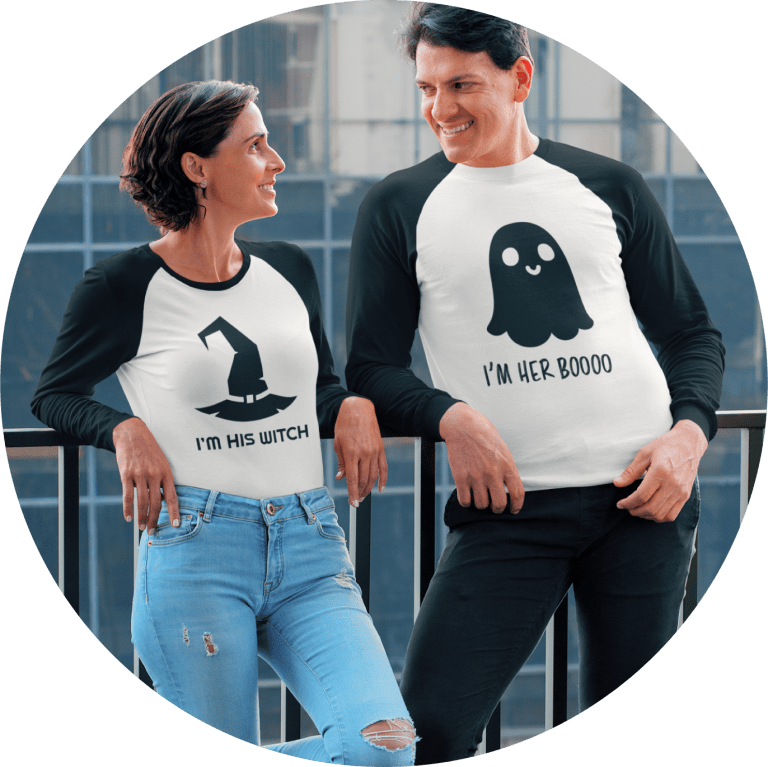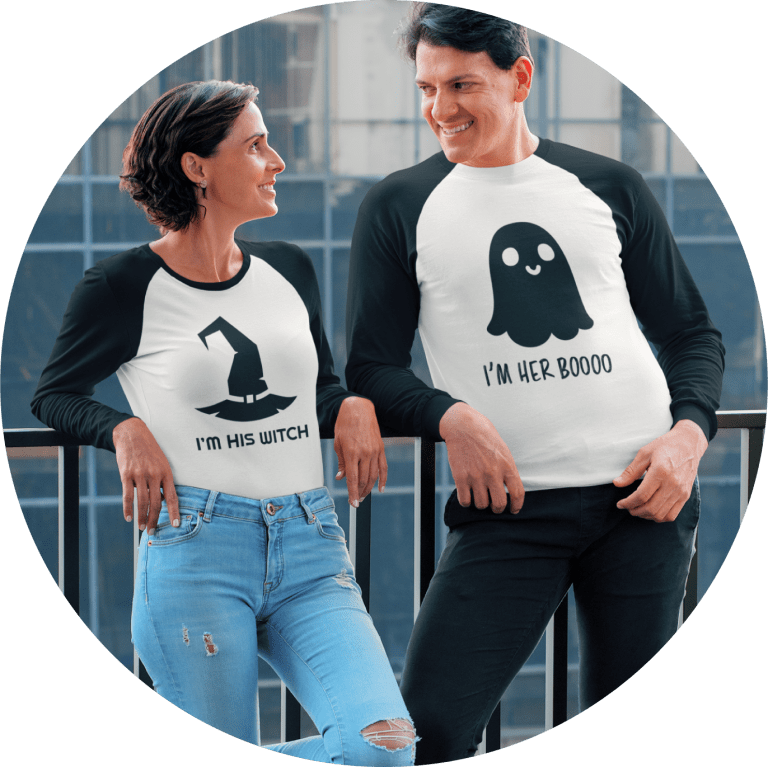 Halloween couples' shirts
Designing and selling couples Halloween shirts is not only artistically rewarding but the couples' market is a perfect way to monetize your creativity. Why not try our unisex long sleeve tees with wide seams for creating your gruesome pairing? Made from 100% combed ring-spun cotton the material is light and durable to wear and with both front and back areas available to print on there are plenty of surfaces to design for.
With different base colours to choose from, you can create images to suit every age group for every kind of relation. What is trending right now for couples Halloween shirts is pumpkin King and queen for kids, these look great in opposing colour combinations. For adults – slogans such as 'I'm with creepy" and " I'm with creepier " or "I'm his boo" and "I'm his witch" work really well, so pick your target market and start designing your range of couples Halloween Shirts today!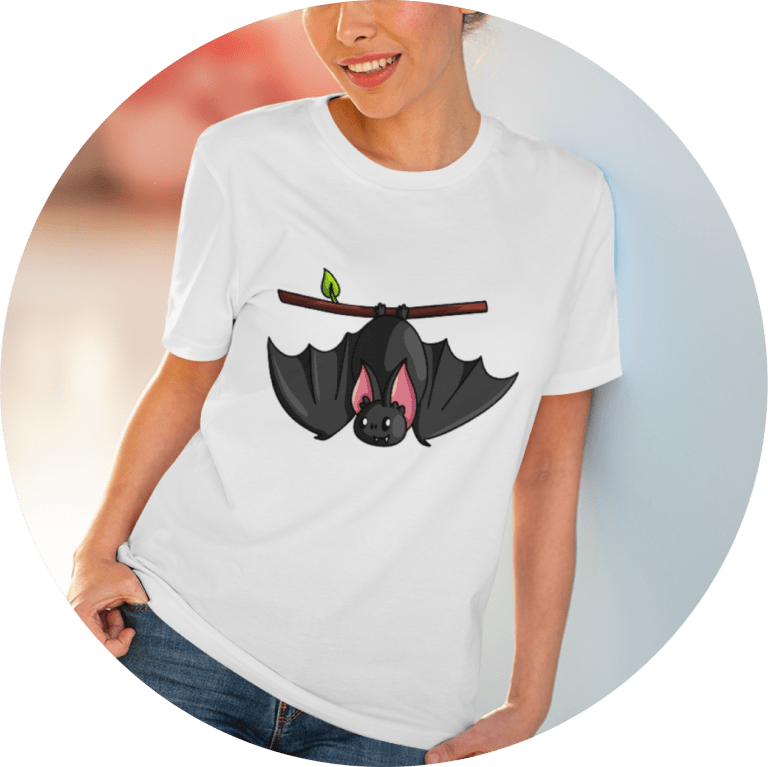 Halloween t-shirts for women
A witch flying over the moon on her broomstick in black and orange is a classic Halloween shirt design, and by adding some text like a "Basic witch" or "Support your local witch" gives the Tee a more personalized feel and the overall design a real sense of style. This is why we thought the combination of this classic design would combine effortlessly with our women's favourite tee.
The classic cut and the slim fit of the women's favourite tee makes this shirt the ideal canvas for  witch inspired designs. The slightly longer body length gives a great shape and with the t-shirt available in different base colours, this means no matter what witch wears this tee, they will be bang on trend!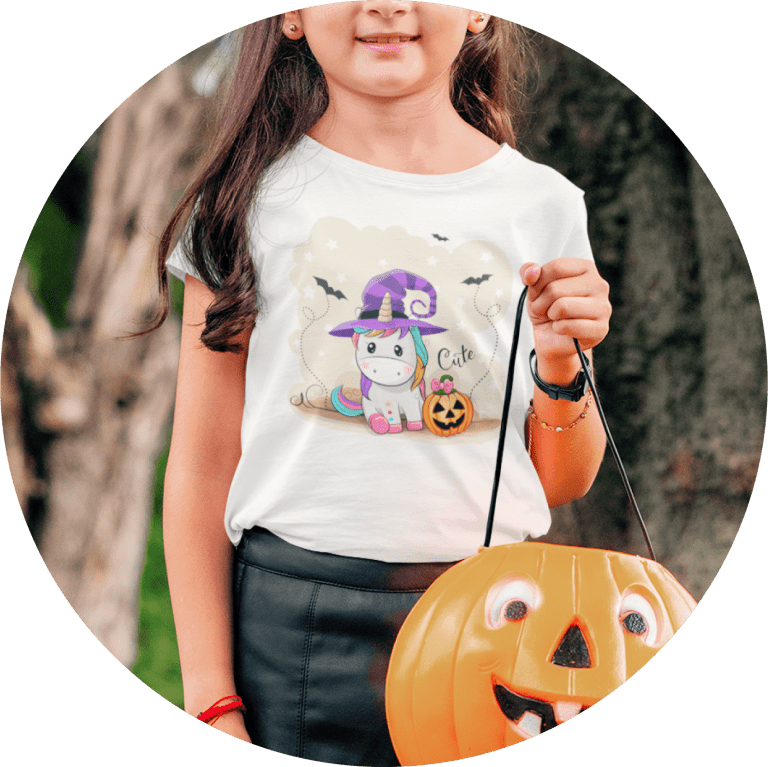 Trick or treat Halloween shirts for kids
Since the beginning of the 1930s, trick-and-treating has grown into one of the most important Halloween customs, becoming a major part of the festivities for both parents and their kids. Which, of course, is one of the many solid reasons why choosing the trick-or-treaters as your target market. Simply put – you have a ready-made customer base!
What appeals to this market and what is trending right now, is to print the treat on the front and trick on the back of the halloween shirt. Then it is simply the case of jazzing up the phrase with your chosen Halloween imagery, which could be anything from bat wings, witches' hats, black cats or misty moons. Either way, adding the extra design element to this design will breathe a new lease of life into the tradition. 
Our kids' soft-style tees are made from 100% Soft cotton making the material light and airy which is just what is needed when you are running around the streets collecting treats or playing tricks on your neighbours. With different base colour options available, depending on the print supplier and the option of printing on both front and back, these designs are right on point.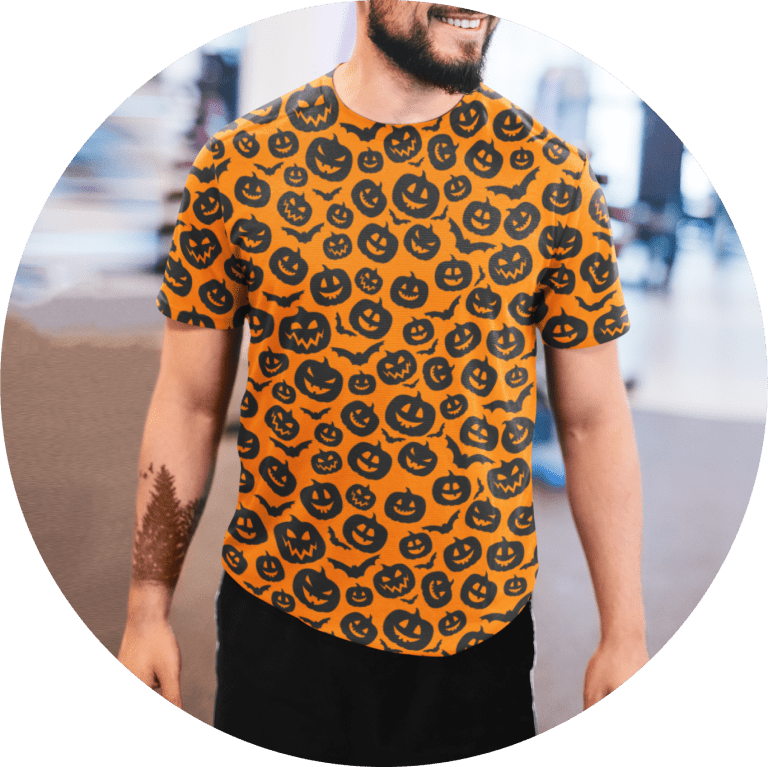 AOP pumpkin Halloween t-shirts
Nothing spells out Halloween quite like carved pumpkins, but instead of opting for the more traditional design of printing the whole pumpkin, why not try a minimalistic approach instead? By focusing on the details of the pumpkin and doing away with the shape you are left with your chosen base colour as the body. Then when you add your design elements of the carved jagged mouth and triangle eyes of the pumpkin, your halloween shirt  becomes something else entirely!
When paired with our AOP unisex t-shirts you will have even more surface to design for, because AOP means exactly that! All-over-print which simply means – the front, back, all, left sleeve, right sleeve of this Halloween shirt is customizable. And, of course, being unisex means, they look great on both women and men and your design choices can reflect their versatility. Made from 100% Polyester the microfibre knit fabric ensures this tee is high quality and that your pumpkin prints will really stand out!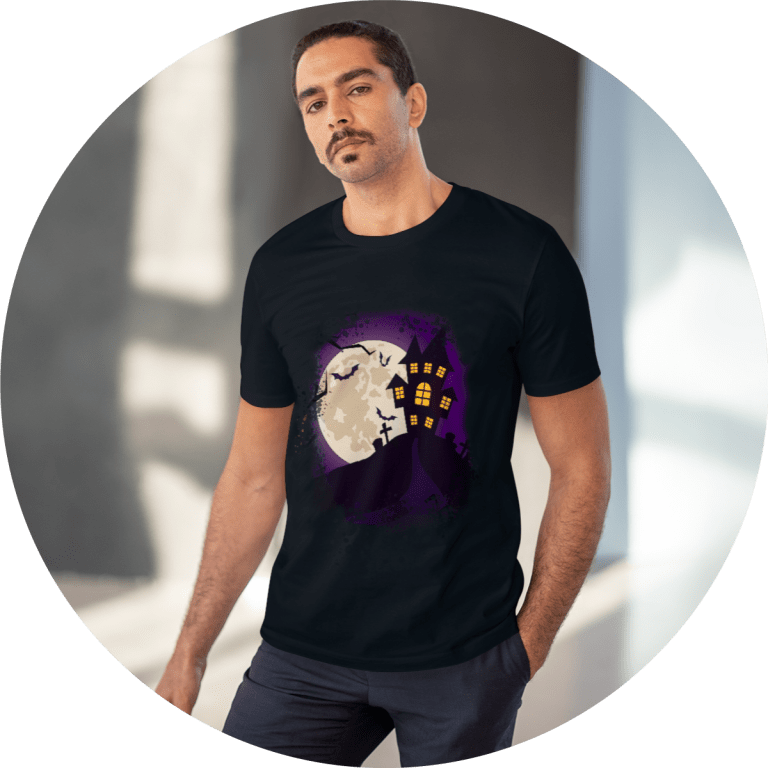 Moon and silhouette Halloween shirts
The moon is the ultimate symbol of Halloween which makes it the right backdrop to create spooky scenes on. As the moon symbolizes the magic of nature and Halloween, we thought our organic creator t-shirt is the perfect base for your designs. Made from 100% responsibly sourced organic cotton with the printing area on both front and back.
Casting silhouettes or shadows on a high-resolution print of the moon can create stunning Halloween shirts! Why not try creating a blacked-out graveyard to fit around the base of the moon with bats flying into the centre? This design looks great on a white or grey background colour. And as equally impressive is a close-up silhouette of a black cat perched against a spooky moon.
Remember, these designs work with multiple colour combinations and most Halloween inspired symbols will look fantastic when their shadows are cast against a crisp full moon.
Create and sell Halloween shirts
When the Halloween season comes around, we know that every bar, pub, music venue and every event in town will be hosting its own ghostly eerie themed event. The streets will be full of family trick-or-treaters and even offices will be having costume parties.
This all collides in a huge upsurge in creepy inspired merchandise, from balloons to pumpkins, to fangs and bat wings and, of course, costumes and Halloween shirts. 
In America alone sales of the merchandise have translated into a billion-dollar worth industry! We also know that with those sales a high percentage would have been on spooky attire.
By designing a collection of Halloween shirts, not only are you giving the customer a one-stop-shop for their spooky attire and saving them both time and stress, you are offering them designs the traditional shops will not stock. Our print-on-demand service also ensures our merchants and their customers never have to worry about stock levels as we take care of that for you too.
Through our experience, we know that when it comes to seasonal products, deciding on who will be your target market is vital to the success of your store. Because Halloween is enjoyed by all age groups on different levels, this means you have many customers to design your Hallowneen shirts for.
For example, are they for the serious horror fan or the kids that will be going trick-or-treating with their parents? Will they be for the office partygoers? Or will they be designs the whole family can wear?
Whatever you choose, Halloween is celebrated in its own unique way with many different customs and traditions. So, by doing your research early and offering consumers the chance of being at the front of the queue, you can be sure your Halloween shirts will literally fly off the shelves. 
Get started with Halloween t-shirts printing
So, let's get started! As well as our collection of Halloween shirts our catalogue has over 300 customizable products and is constantly being updated with new exciting inventory.
All of our products are available for you to start personalizing immediately and all you need to access them is a Printifiy account. 
Once your account is set up, designing personalized seasonal gifts is a proven way to get into e-commerce and our range of Halloween shirts will not only spice up the festivities, it's a sure-fire way to boost your revenues too!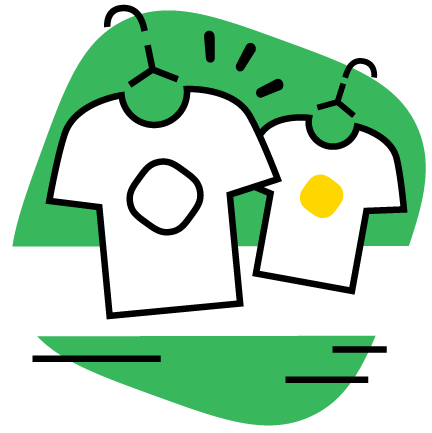 Well, if you're having any trouble isolating exactly what item(s) could brighten your masculine recipient's day, why not take matters into your own hands? After all, as the initiator, you're the one occupying the command seat – take full control. 
Now, some people may (initially) doubt their ability to build a personalized gift for him. But, the great news here is that this process is actually a whole lot easier than you ever might've imagined. In fact, it's our goal to help people just like you in their quest to put a smile on other people's faces. 
Additionally, it can be super profitable. Incorporating a few personalized gifts for him into your online store's product inventory means opening up your market demographics to an entirely new array of niches. Even securing a small piece of that huge pie equates to sales galore. 
How to order your Halloween shirts
This part of the process has been designed to make sure ordering your Halloween shirts is as simple and time-effective as possible. We want our merchants spending their valuable time designing and marketing their personalized garments, not being bogged by logistics and worrying about stock levels!
That is why here at Printify there is a no money upfront policy, which simply means that your Halloween shirts will only be made once an order has been confirmed. Which is great news for designers because this also means there is no minimum order! So, no need for warehousing or hiring staff or any other hurdle start-up business is likely to face. Our model has simply been designed to be a stress-free process.  
Once your Pintify account has been set up and your store is up and running there is nothing left to do but wait until the orders come rolling in. Once a customer has placed an order, due to our hybrid service of POD and drop-shipping, we take care of that too!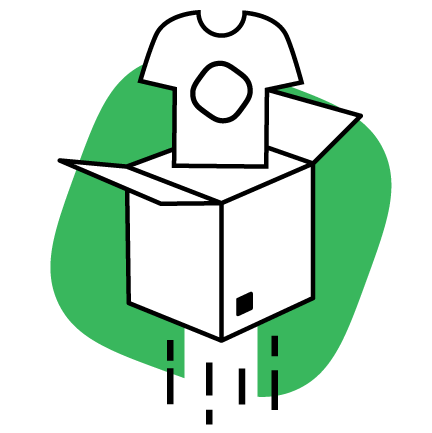 Personalized Halloween -
a step-by-step guide
Create a Printify account
Select the style of shirt you want to customize
Add your designs to your chosen product
Check the quality of your designs
Start designing your Halloween t-shirts
If you are new to e-commerce and are thinking of becoming one of our many successful online merchants, then tapping into the spooky season with our Halloween shirts is the perfect way to test out your designs. 
With our POD no minimal order business model you could be set up and selling within minutes, not hours! With our no upfront cost business model there has never been a better time than now to see where your creativity can take you and start designing your range of Halloween shirts! And not to forget – once you have created your Printify account and set up your store you will have instant access to our 24-hour technical assistance who are always on hand to deal with any queries. 
For our more experienced designers and store owners, you will know that creating and selling festive products is an almost certain way to boost your revenue! Our vast collection of T-shirts for men, women and kids are the perfect canvas to print your designs on, and the perfect product to turn into cash in Halloween's lucrative consumer market. 
So now is the optimal time to start planning and designing your own unique range of Halloween shirts!