45 Scare-Riffic Halloween Gifts for Friends, Family, or Your Store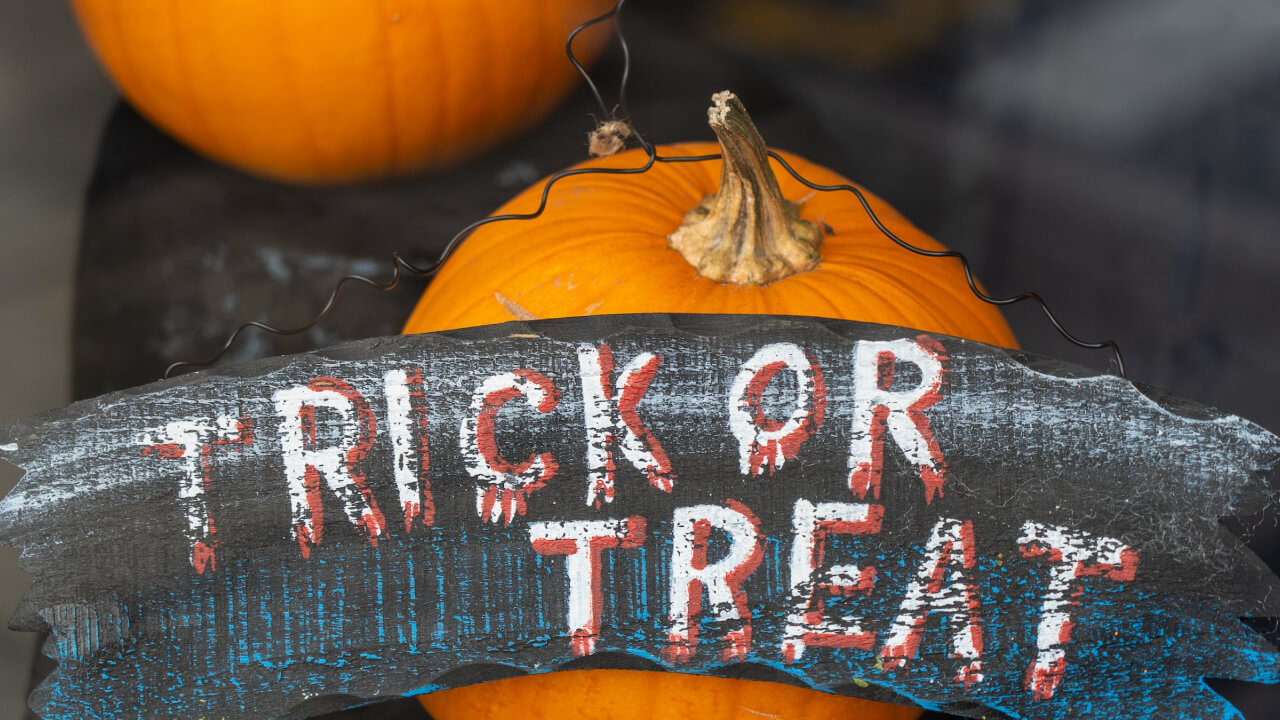 Hold on to your witch hats and black cats, Halloween enthusiasts. The spooky month of October is right around the corner. With that comes trick-or-treating, epic costumes, and scary-good fun. 
But treats are not the only thing you can give or get on Halloween, and we're not talking about tricks here. We're thinking of high-quality, customizable goodies, perfect for horrifically good designs and dark surprises for every child and adult alike.
With our help, add some extra hocus pocus to Halloween night by choosing products created just for this spooky season – personalized gifts.
20 Halloween Gift Ideas for Kids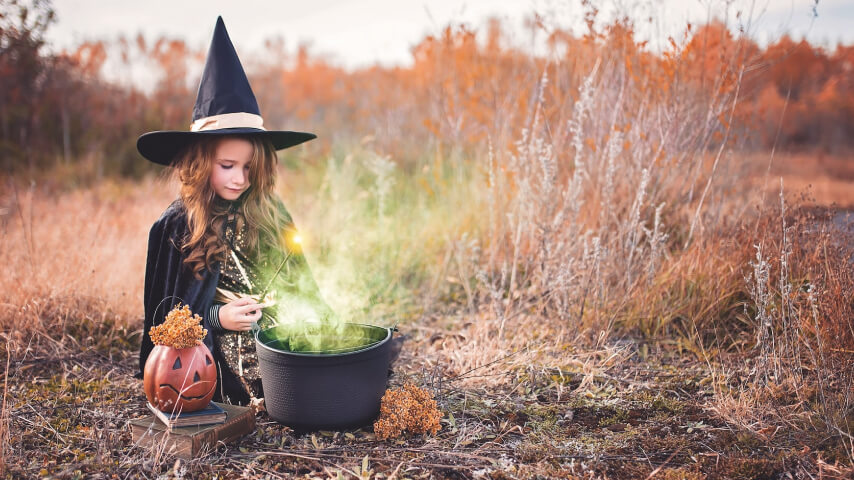 When it comes to the little adorable trick-or-treaters, the best Halloween gifts don't have to be candy. There are plenty of cool and practical items you can customize with candy corn and pumpkin designs.
A personalized Halloween bag is not exclusively for a trick-or-treater. It can also be a perfect addition to a party outfit or a casual holiday greeting. 
We offer various custom totes for collecting treats. Imagine a treat bag with a cauldron design – it's the ideal accessory for a wicked witch.
Or should we say boo-rd games? Probably not. Cringy jokes aside, kids love fun and magic-packed board games, especially around the spooky season. With fun ghost stories, mysteries, witches, and bats, it's a gift that keeps on giving.
From cards to escape rooms and riddles, board games are the perfect Halloween gift for kids.
A great gift for boys and girls who love Halloween and adorable animals. Plush toys come in all shapes, colors, and sizes, from a cute teddy bear to the entire animal kingdom.
Customize their little outfits with fun and spooky designs to make the best gift for an enthusiastic Halloween lover.
Everyone with some seasonal spirit gives out candy on Halloween. It's a great tradition, but wouldn't it be cool if you had other surprises to offer? 
A sticker is a relatively inexpensive Halloween gift you can purchase in bulk. They're also perfectly sized to pop straight into a goodie bag for a pleasant surprise.
These cute little knick-knacks make the best Halloween gifts throughout the spooky season. Funny, colorful, and a bit crazy – they're the perfect accessory to a costume, outfit, or Halloween decor.
Pins are playful, light, and wallet-friendly. Something every little Halloween lover will appreciate and cherish.
Kids love to dress in themed PJs all year round. From Easter to Christmas, so why not in October? Themed PJs are the perfect Halloween outfit for spooky bedtime adventures.
Mix in some Halloween colors like purple, black, and orange, add a pumpkin, a witch, or a cat, and celebrate the scary part of fall in cute and cozy sleepwear.
What better way to celebrate the Halloween season than with custom school essentials? Those fab-boo-lous designs make fun gifts for kids who appreciate Halloween in all its glory.
Don't limit yourself to school – these spooky gifts are practical and adorable, perfect for trick-or-treating, a Halloween party, or a costume that's missing a piece.
Sweet, scary, or funny – these playful items make cute Halloween gifts for adorable Halloween enthusiasts. From witches and bats to scary ghosts or dreadful puns, anything Halloween-related works on a magnet.
Kids can stick them on their fridges or school lockers to showcase their sense of humor and love for the spooky season.
Festive and colorful balloons are fantastic gifts for kids. From Halloween parties to trick-or-treating, a balloon is the perfect companion – especially if held by a creepy clown.
Decorate them with glow-in-the-dark ghosts, orange pumpkins, black cats, or bats to surprise your loved ones with dark designs and memorable experiences.
Unique socks are the best Halloween gifts for teens, children, or adults who love spooky accessories.
Classic Halloween combinations include black socks with silver spider webs, purple socks with bats, or orange designs with pumpkins and ghosts.
Provide hours of entertainment with scary but captivating Halloween puzzles. Fun for the whole family.
Puzzles are great for training your mind and problem-solving skills, making this Halloween gift the heart of the party. Design custom puzzles with thrilling witches, ghosts, and magic pumpkins.
12. Halloween Notebooks and Journals
Writing scary stories, school notes, and life adventures in Halloween-themed notebooks and journals will be extra fun all year round.
Adorable and creepy designs fit well throughout the month of October, helping kids set the mood for amazing costumes, mischievous tricks, and scare-rifficly sweet treats.
A coloring book is a great gift for little Halloween lovers who love to develop their imagination and unleash their creativity with spooky, witchy, or pumpkin designs.
Kids love to bring pictures to life with vibrant colors, further training their artistic talents. This book provides a fun activity for rainy fall nights, delighting children with enchanted Halloween imagery of all shapes, colors, and sizes.
Dark skeleton bracelets, pumpkin necklaces, themed rings, earrings, and princess tiaras – surprise every kid with amazing designs and a bit of magic on the night of ghouls and goblins.
Kids love fun and adorable jewelry, especially themed for a specific holiday. Design the perfect Halloween gift for a boy or girl to wear and cherish all the way until Christmas.
15. Halloween Jewelry Boxes
What better place to store their Halloween jewels than a customized jewelry box? Perfect for practicality and style as a great addition to Halloween decor with the right design.
This fun and boo-tiful keepsake is a nice place to store trinkets and valuable treasures all year round.
Custom posters are a great gift for big Halloween fans. Everyone who loves to decorate their room with season-appropriate elements will be ecstatic to put up a pumpkin, ghoul, or black cat poster.
Mix that with a cringy quote or funny Halloween joke, and you've got the perfect decor to show your friends and family.
Kids love to get their hands dirty in all things crafty. Making their own Halloween decorations, costumes, and masks will be great fun. Plus, it's a bonding experience with their loved ones.
Put together crafting kits for the Halloween season, such as orange, black, and white paper, jars, glue, and thread. Inspire kids to be creative and watch them glow as they bring their imagination to life.
18. Halloween Kids Shirts
Sprinkle some Halloween magic into kid's wardrobes by making tees with Halloween designs. Boys and girls will gladly showcase their holiday spirit at school, parties, or while trick-or-treating.
Tees are light, comfortable, and practical. A great gift to use all year round – even after the festive Halloween season has ended.
This year, the witch's brew and sweet pumpkin nectar can be served in truly epic cauldrons – sorry, mugs. 
With a variety like ours, you can design them for every taste, beverage, and occasion. Get creative and design mugs for those who love Halloween.
What would Halloween be without decorating pumpkins on the front porch? Carving pumpkins is so fun, there's no surprise adults enjoy it as much as kids.
Pumpkin carving kits are the best Halloween gifts for those who can't imagine their October without a creepy face carved into a vegetable – and rightfully so. They're fun, spooky, and ridiculous. The perfect holiday combo!
25 Halloween Gift Ideas for Adults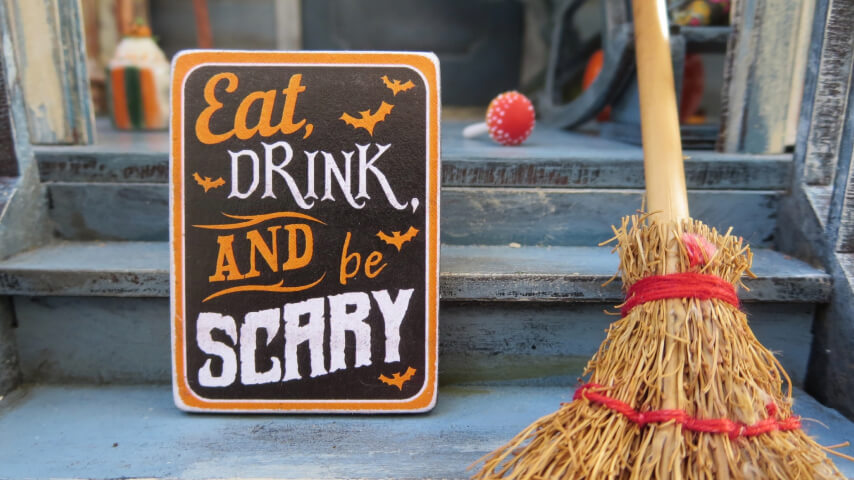 Halloween is not only for kids. Some adults light up at the idea of laying out seasonal decor, baking and buying yummy treats, and dressing up like witches and ghouls. So, let's look at some happy Halloween gift ideas for adults.
Customized Halloween calendars make sure nobody misses out on plans, parties, pumpkin carvings, and important activities leading up to the big night.
Calendars are excellent Halloween gifts for adults. We're the ones who like to keep up-to-date or need a reminder of what day it is before we've had our morning cup of witch's brew.
Candles are Halloween essentials, together with scary decor and a bowl full of treats. They are the main ingredient in turning a plain old pumpkin into an epic jack-o'-lantern. They also help set the mood for spooky yet cuddly October nights.
For an eco-friendly gift, go for the soy candle options. Our Catalog has plenty to choose from – different scents, sizes, and types of print.
3. Halloween Rugs and Mats
Spruce up the living space with a unique Halloween-themed rug or mat to capture the creepy but charming mood leading up to Halloween. 
While kids are mostly interested in costumes and treats, adults get excited about home decor. It's their chance to showcase creativity and create lighthearted competition. A custom rug or mat will easily win over hearts and maybe stir a little envy.
What goes great with Halloween rugs? That's right, matching pillows to intensify the haunted house-type setting.
From indoor to outdoor pillows, round, square – we have them all. Decorate with bats, cats, or pumpkins to create the perfect eye-catcher for every house guest.
Let's take it up a notch and throw custom curtains into the mix. You don't necessarily have to design black curtains to create an eerie atmosphere.
Halloween fits well with the overall fall vibe. Think orange, silky pastels, pumpkins, and light autumn accents to elevate the room. Whichever way you decide to go, curtains are a great Halloween gift.
Snuggles, candles, and something sweet to eat. Is there anything missing in this ultimate fall setting? Yes – a cozy blanket with a large pumpkin, black cat, or cute little ghost design.
Fluffy, soft, and practical. A personalized blanket is the ideal Halloween gift for a loved one or a friend. Keep yourself warm during rainy fall nights, or lay it out for decorative purposes.
Add flair to every Halloween costume or outfit with mysterious designs, including colorful patterns, eerie texts, or Halloween imagery.
Custom scarves provide the perfect blend of Halloween spirit and style, keeping adults warm and cozy with a one-of-a-kind accessory. A sweet gift for fashionistas on chilly fall days and spooky Halloween nights.
Cast a grim or mysterious light in the house with epically unique lampshade designs. These will be centerpieces for Halloween decor and themed parties, adding a glow to the room that'll set the right mood.
A custom lamp is a great Halloween gift for those who love something memorable and unique that fits the holiday vibe.
Shirts might be the safest and most versatile gift of all. No wonder Etsy has millions of listings in t-shirts alone. 
Tees, long-sleeves, and tank tops are a hit all year round. Especially customized with themed designs. They go great with every outfit, style, and occasion – from Halloween parties to spooky yoga with your boo.
Every adult appreciates mugs in all shapes, colors, and sizes for their home or workplace. Mugs are versatile, useful, and, quite frankly – cute. They're the perfect gift combining Halloween magic with practicality.
Add a custom design for a daily pumpkin-spiced latte, autumn tea, or a witch's brew to make every sip a spooky delight.
Beanies, truckers, and baseball caps make the perfect Halloween gift for a friend or loved one, combining style with playful designs.
Halloween hats can play a part in someone's costume, be a show stopper at a themed party, or start conversations while out and about. Practical, cute, and essential for the rainy fall season.
Complete a cozy attire for a scary-movie night with personalized slippers with a spooky Halloween aesthetic. 
Warm, soft, and comfy slippers complement any Halloween PJ set, soft blanket, or themed t-shirt. It's a sweet gift for a loved one – or a cheeky one for a friend. Whatever the case, it will be much appreciated.
A Halloween-themed care package is exactly what adults need. Especially those who sometimes forget to take care of themselves.
This can include a soy candle, lotions, and bath essentials. Anything that would make someone's day – if not life – a bit more relaxing.
We all have those friends and family members who are a nightmare to shop for. Some don't like anything, and others already have everything.
For people like this, a gift card is the best gift on any occasion. Simple, convenient, and a definite hit. Let them get something they actually want for their own Halloween shenanigans.
From a custom rolling pin for pumpkin-shaped pie crust to oven mitts, towels, and serving trays. Any kitchen accessory can be customized as the perfect Halloween gift to liven up the home for the holiday season. They're sure to turn heads and catch eyes at Halloween parties.
This will be the most amazing Halloween gift for a baker friend or loved one who likes to match their kitchen gear with seasonal events.
Baking Halloween cookies and homemade candy will be extra special and exciting in a customized apron matching the spooky vibes.
17. Halloween Sweatshirts and Hoodies
Hoodies and sweatshirts are the next best thing after t-shirts. Especially during October, when chilly breezes and rainy days tend to bring down our spirits.
Raise them by creating uplifting, magical, and enchanting designs on cozy Halloween attire. They'll be a hit while trick-or-treating or at Halloween parties and casual get-togethers.
Customize a unique keepsake to store candy corn and all the Halloween treats in style. 
Whether displayed as part of a house decor, used for serving trick-or-treaters, or as a centerpiece for an exciting Halloween party – a personalized candy jar will certainly start conversations and leave guests in awe.
19. Personalized Wine Glasses and Tumblers
Wine is the perfect drink to enjoy during Halloween, and it tastes better from a personalized wine glass or a tumbler while out and about. 
From cozy Halloween garden parties to a crisp October evening at home, you can add a touch of spookiness to the sophisticated beverage with unique designs.
There are those who prefer tea or coffee over cocktails and wine. The preferred beverage set can be the best Halloween gift ever – accompanied by some delicious pumpkin-shaped cookies and chocolate goods.
Put together a nice basket with a fine tea or coffee selection, some sugar cubes, and even a mug. Wrap it all in a Halloween-themed design, and you've got the perfect gift.
21. Personalized Halloween Signs
Names, house titles, grim messages, and creepy curses fit exceptionally well on house signs, garden tags, and even royal banners. 
This will be the perfect Halloween gift for a household that appreciates the holidays, loves decorations, and is daring enough to display whatever designs you come up with.
Halloween game nights will be extra special with a personalized deck of cards. The perfect gift for someone with a close circle of friends or family that loves to get together for game nights and empty each other's wallets.
Designs can include mockery, poker terms, or wicked puns combined with bat or pumpkin-themed imagery. Whatever adds flavor to an already exciting game.
Just like kids enjoy decorating their rooms for Halloween, adults find delight in putting up decor items around and outside their homes.
A quality-printed canvas with a one-of-a-kind design will be a much-appreciated Halloween gift for anyone willing to change their home aesthetic to something creepy and cute for a while.
Personalize various tools, crafts, and accessories for Halloween to add a little magic to people's favorite activities.
From gardening or cooking to crafting and reading – there's something special for every hobby. Customize a bookmark with everyone's favorite Harry Potter quotes or garden gloves with pumpkin designs. Halloween provides plenty of options for enchanted creativity.
25. Halloween Pet Costumes
We've mentioned Halloween gifts for kids and adults. But let's not forget the furry, feathery, or scaly family members who also like celebrating with their favorite humans.
Personalize pet bandanas, tank tops, or sweaters with creepy, cute, and funny designs to create the perfect Halloween gifts for every enthusiastic pet owner throughout the spooky season.
Why Sell Halloween Gifts?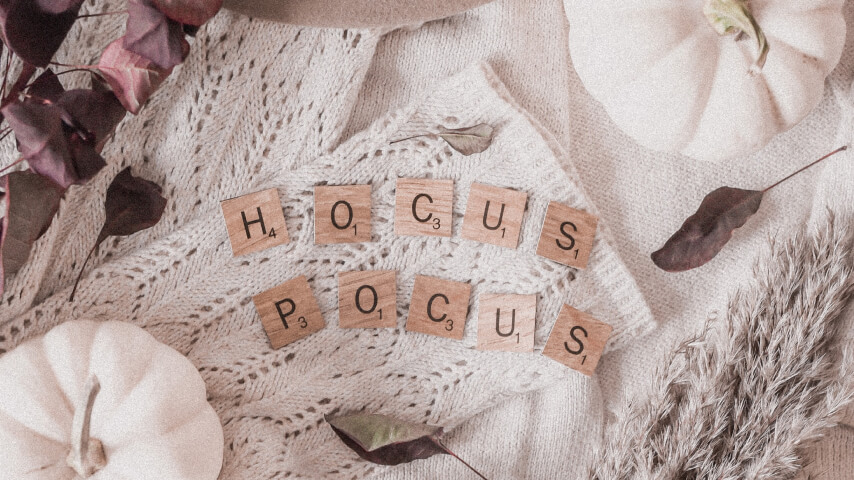 Because Halloween expenditure is unimaginably high, especially in the United States. In 2022, consumers planned to spend around:
$3.6b

on costumes. That also includes pet costumes – proof they're worth having in your online store. 

$3.4b

on decorations. Another great niche to dive into.

$3.1b

on candy. 
The popularity of Halloween is growing worldwide, meaning your Halloween gifts with themed designs can reach a global audience willing to spend billions on them for some spooky holiday cheer.
Creating a Printify account and using all the platform's amazing tools, features, and benefits are free of charge.
Our Catalog holds more than 900 products in various categories, including eco-friendly, apparel, accessories, and home decor.
Printify's support agents are well-known for their quick and friendly responses, problem-solving skills, and ability to assist with all things Print on Demand.
Create breathtaking Halloween designs in just a few clicks. Our Mockup Generator is equipped with all the features you need.
Our geo-routing feature automatically assigns a Print Provider closest to your customer, ensuring fast and cost-effective order fulfillment.
Create the Perfect Gift for Halloween Lovers
That concludes our list of 45 spooktacular Halloween gifts for kids, adults, and even pets.
From funny costumes and accessories to bone-chilling home, kitchen, and garden decor. Get inspired, get creative, and get spooky. Happy Halloween!
Share the article
Topics