Dropshipping… everybody's doing it, nobody knows the difference. If you've spent a considerable amount of time googling how to make money online, you've definitely come across two very similar, yet different, online business concepts that promise you lots of profits with minimal investment: dropshipping and print on demand. But what is dropshipping and how does it differ from print on demand? And most importantly, should you get into this business model? Well, count this your lucky day because we are about to get into it. We will answer your most common questions and concerns and hopefully leave you fully equipped in the understanding of the online world of dropshipping.
Understanding dropshipping

What is dropshipping? Make money fast myth explained

Dropshipping is a straightforward business model that requires an online store owner to work closely with their distributors to ensure a seamless supply chain and keep the behind-the-scenes handoffs and out of sight from the customer. The supplier issues a variety of products with creative designs and the online retailer creates demand through marketing for these items. The merchandise moves directly from the wholesaler to the final consumer without being handled or stored by the retailer.
When you first get into dropshipping, it may seem more and more like a get-rich-quick scheme. This is because the dropshipping business model seems like easy money. The idea is that you sell other people's products and take a generous cut for yourself. However, when you look further into it, the product drawbacks, marketing obstacles, and day-to-day retail management is far from easy.
If you approach dropshipping the right way and use great marketing strategies, it can still help you build a successful online business. It may take time to make a viable profit but the outcome can be quite outstanding. The secret to a successful dropshipping business is not to look at it from the supply side but more on the demand side – how do you successfully market your products to get full engagement? 
Dropshipping becomes very easy to do when you are already established in eCommerce. Dropshipping can also easily coexist with your other business models. You can use dropshipping to complement your existing services and improve your business.
How does dropshipping work?
Dropshipping takes advantage of an existing truth in the world of commerce today. Ecommerce is filled with generic supply of products such as phone cases and clothing, that are offered up to any retailers that want to sell them. You can even rebrand or refine them to help you stand out from the clutter. This is particularly common with Chinese consumer electronics and accessories where the exact same product will be branded in tens or even hundreds of ways across different online stores.With this amount of generic supply, there needed to be a solution to meet it, a way to create synthetic demand and push these products out to customers. The solution: Dropshipping.
Dropshipping is similar to print on demand, except it doesn't involve customization, meaning it can be used for any type of product that's mass produced. A dropshipping supplier offers a massive range of items that retailers can sell through their stores. Then any orders that come in are fulfilled by the dropshipping supplier.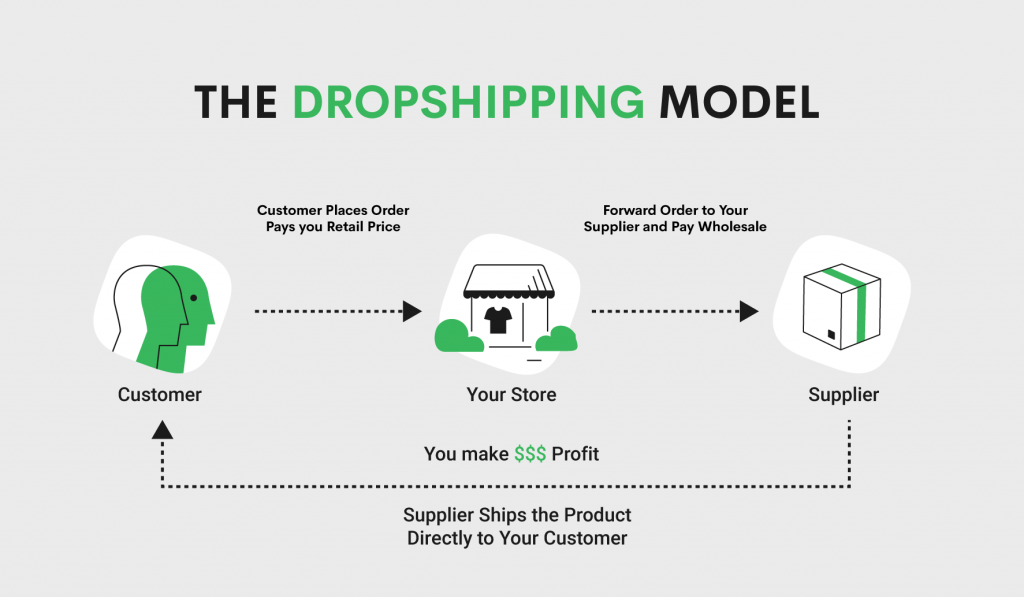 This partnership between the retailer and the distributor is what makes dropshipping different from other business models. You don't have to buy your products upfront or pay for somewhere to store them. You don't have to create designs to customize these products in order to sell them. You don't have to manufacture anything yourself. All you need to do is build an online store that sells well and make sure your fulfillment process is running smoothly.

At first, dropshipping might sound like a great choice for an easy online business, but before you jump into it, there are a few things to consider. Before creating an online store for a dropshipping business model, it's advisable to weigh it out. Let us start with its strengths:
Low investment
Dropshipping is inexpensive to get started. This is because it has arguably one of the lowest barriers of entry in eCommerce. With dropshipping, you spend all of your setup time building relationships and creating a great online store. If you chose to invest in your ecommerce software or website design, these are likely to be your biggest cost tabs. 
Unlike a dropshipping supplier, you won't be buying raw materials to create your own goods or buying products in bulk outright  which requires a much larger sum of cash, all you incur is the cost of your eCommerce software or online website, if any. There's no question you need far less money on average to get up and running with an online store built on dropshipping.
Adequate supply chain
Traditional entrepreneurs who manage the bulk of the supply chain, stock up their products and organise their shipping have to wear dozens of hats to run a successful business. With dropshipping, you cut out expensive and time-consuming tasks like warehousing, managing your inventory, renting storage space for your products, packaging and shipping orders.
Larger scaling potential
Dropshipping gives you the option to start as small as you want and scale up, making it easier for your business to grow. You don't have to shovel lots of money into your store to take it to the next level, all you need is a great marketing strategy. If you're selling well, you don't have to worry about putting out more capital to buy more products. You won't need to build out more infrastructure around inventory or order management either, there are no limits to your business.

The benefits of dropshipping may sound amazing, and they are but not all that glitters is gold. While investigating dropshipping, finding its disadvantages and weaknesses might be the key to success. It is important to know where dropshipping can limit your business. Here are some of the disadvantages of a dropshipping model for your ecommerce business:
Lower profit margins
They say the higher the risk, the greater the reward, this runs very true for dropshipping. With a lower barrier to entry comes a lot of financial hoops to jump. From suppliers, wholesalers, and manufacturers who do dropshipping to provide shipping and storage services, you have to pay a slight premium as compared to bulk wholesale prices. A higher price per product means less wiggle room on your consumer price point which means a lower profit margin per product.
What this ultimately means for your dropshipping business is you have to sell more to make the same amount of money you would if you stocked your inventory outright. Plus your online store has to be a well-oiled machine, running at full steam all the time or you risk losing it all.
Less control
When dropshipping generic made products, you often have zero control over your product quality and ultimately, your business. This is because a dropshipping business involves trusting a third-party with a core part of your business. Which means embracing and fixing mistakes that aren't necessarily your fault especially because your dropshipping supplier is invisible to your customers. It becomes your responsibility to make right on any issue the customer experiences.
No unique offering
Dropshipping products are generic: a generic product is a mass produced item that is exactly the same as thousands of other products with minor variations such as colour or design which makes it tougher to differentiate. Dropshipping suppliers typically partner with more than one online retailer, which means you are not the only one selling these exact products. The more popular the product, the stiffer the competition. For this reason, one of the most difficult parts of succeeding in a dropshipping business is getting to customers before the competition does.
Is dropshipping a better fit for you?

The decision to go with dropshipping business model may offer a significantly better benefit depending on your strengths. Consider going with dropshipping if:
You prefer to market rather design products
What makes a product stand our is its appearance. This is because visuals sell. The right design can turn a basic tshirt into a collector's item in no time. But if you are not the next best graphic designer, and don't want the hassle of contracting one, dropshipping might just be the best fit for you. With dropshipping, how a product is marketed sells it better. So if you're good with words and can sell snow in a snowstorm, try your hand in dropshipping. Whenever everyone has the same products, having a great copy will give you a huge edge over your rivals.
You want to sell a diverse portfolio of products
 Dropshipping is perhaps the only business model that allows to offer a wide range of items. Print on demand, while similar to dropshipping, is often limited to items that can be printed on. If you aspire to be a general online retailer and sell everything from laptops to footballs, dropshipping will be the fastest way to get there.
You have a keen eye for trends
Just like how customization is the key to a print on demand success, trends are it for dropshipping. Catching people's demand quicker than anyone else will give you the much coveted differentiation in dropshipping. It may even lead to other offering seeming like counterfeits for your brand of items. 
A dropshipping store with a little foresight has the best chance to list more products with healthy profit margins and reap the benefits while making it even more difficult for other retailers to compete. The biggest advantage of dropshipping is the sheer variety on offer. You can sell whatever you want, whenever you want and easily change things up to meet the demand. So catching a trend in whatever direction you want to pursue as an entrepreneur will make for a successful dropshipping business. 
Dropshipping vs Print on Demand

Although it may sound similar to dropshipping, print on demand (POD) involves a very unique retail fulfillment method. The main difference with print on demand lies in customization. When running a print on demand business, your creativity and niche are your biggest strengths. You as the retailer comes up with a unique idea, creates the designs to apply to your product and customizes products to sell to your niche customer.  
The fulfilment process sounds similar to dropshipping, you don't stock products, you don't fulfil orders and you don't need a large capital. Your print on demand platforms not only allow you to sell online but you don't need to host your web-store either since many such as Printify also partner with ecommerce platforms such as Shopify
Unlike dropshipping, print on demand leverages on your unique creativity, a quality that cannot be duplicated, and also save you time and money. With creative advantage, you can easily set up a brand that has a potential to grow and longevity. A print on demand business mimics traditional brands but with no huge investment, no inventory, no warehousing, and no brick and mortar. You pay only after you sell, you never go out of stock and you never end up with dead stock. 
On platforms such as Printify, the print on demand process is further simplified. You get to enjoy a smooth creative process and get stunning unique products for your store. Print on Demand automates your fulfillment and shipping processes which means that you have a lot more time to build your brand and focus on growth. If you're looking for a stable brand with a convenient business model, print on demand is the only way to go.
Simplify print on demand with Printify
Printify is a great print on demand platform that places you right in the middle of your business. It operates as a middleman platform for all your print on demand needs. It negotiates the best process from custom product suppliers that offer blank products for you to customize as well as print providers who do the printing and fulfilment processes. It then connects you to thousands of online customers via store integrations like Shopify, eBay and Etsy. All this is automated on the platform which makes it simpler for you to create your custom products and  offer the best prices on established print on demand marketplaces.
Over 300,000 online entrepreneurs choose Printify for their print on demand needs. As mentioned earlier, we connect you to our network of 15 print providers with 90+ printing facilities across the US and Europe as well as suppliers for custom-ready products. Below are the main reasons to choose Pritify platform for your print on demand business.
Printify has sourced over 230 products such as t-shirts, hoodies, mugs, socks, and home accessories that are ready to customize and print. We have also negotiated product prices to make sure that you are getting the best prices in the print on demand market. Choose Printify if you want to diversify your online store's portfolio of products.
Printify offers a free Mockup Generator that requires basic skills to use. It is straightforward and easy for you to apply your designs on your chosen products. You can upload a high-quality file of your designs, resize and position in on the custom product and source high quality images to use in your store. The mockup is also designed to easily publish products to your online stores.
Network of Print Providers
Printify has partnered with multiple print providers across the US and Europe. We also have a Print Provider Ranking that uses data and customer feedback to help you find your best fit. You can also order a sample at a lower fee than retail price to feel and see the quality of the final products.
Streamlined eCommerce integrations
Printify has also partnered with eCommerce platforms that host your online stores for you to publish your merchandise and sell to customers. Leading ecommerce platforms such as Shopify, Etsy, eBay, Wix, Woocommerce and more, are at your fingertips. You also gain access to an established base of millions of online shoppers for your store.
Best reasons to start a dropshipping business

Dropshipping is an ideal addition to your business but may prove difficult to run as the main business model. Dropshipping loopholes such a lack of product control make it hard to support a business on its own but it still offers enough benefits to help ecommerce entrepreneurs improve their existing business substantially. Here are a few ways to use dropshipping effectively:
1. Performing a thorough Market research
Dropshipping products rely heavily on current trends and demand. While a long-term commitment to dropshipping is unviable, using it as means to gather market insight can be extremely useful. This comes in handy if you want to use dropshipping to mitigate the risk in trying out new products. Rather than raising your capital and inventory costs with an unpredictable product, test it out with a trial period using dropshipping.
Dropshipping will help you discover if your product ideas sell or not. You will also have a better estimate of how much to price it for. Dropshipping also gives you more accurate numbers of what quantity to buy for your initial stock. This is the kind of information that makes or breaks long term businesses. Dropshipping is a great avenue for trying out new product types and feel out your business presumptions without the inherent risk.
2. Protection from unforeseen circumstances
Similar to other business models, market fluctuations in ecommerce aren't always predictable. Realising too late that you have been raising your inventory costs by overstocking as well wasting premium warehouse space can be detrimental to a business. Dropshipping becomes a great mitigator for such losses. You can easily fluctuate your supply to meet your demand without losing money.
This is especially useful for seasonal sale periods such as the holidays. You can easily navigate the types of products you offer to meet seasonal demand and even if it is not as big a sales period as you thought, you don't end up with dead stock. You can also quickly switch up your offering to meet an unexpected demand for a particular item. 
Dropshipping is also the ultimate insurance against extreme circumstances. You don't risk losing your business to a natural disaster hitting your warehouse and you can still fulfill pre-made orders by dropshipping the products from a different location if need be.
3. Strategic shipping systems
One gigantic disadvantage to a brick and mortar business when considering expansion is shipping complications. The farther out you are from your customers or fulfillment center, the more shipping costs you incur. Dropshipping can be the perfect solution for shipping that hinder access to locations that fall outside your immediate regions.
Dropshipping can mitigate warehousing costs or the need to set up a new shipping center. It can also be the solutions for issues arising from taxes or extra fees when shipping out of state or country. Relying on dropshipping for these select areas could be the determining factor in keeping you out of the red. 
An added advantage also becomes location insight: A business can use dropshipping for a trial period in a new location to see if it's worth venturing into. Dropshipping can help you test out different markets before fully engaging.
4. High-maintenance products
Some products cost more to stock and ship than others. In these circumstances, it may be more profitable for you to use dropshipping versus storing them yourself. Any products that require extra fees for storing or shipping, such as products that take up lots of space and their sales don't make up the costs of the excessive storage room they need. 
Perhaps a product's weight makes it cost more to ship, dropshipping directly from a manufacturer or wholesaler can be the best move. Fragile products that require special care when shipping. Dropshipping from the supplier or manufacturer who are better equipped to meet these requirements than you are a good solution. You should also use dropshipping for high-value items such as fine jewelry and antiques that will require additional security to avoid the risks of theft.
Unless your entire business specializes in these types of products and creates enough demand to not have overstocking, it doesn't make sense to pay additional storage and shipping fees for a small subsection of your business. Dropshipping becomes the best choice for your business.
How to set up your dropshipping business

1. You first need to come up with a domain name
You need to establish your own unique domain name that is not used by anyone else.You can use websites such as GoDaddy to confirm that it is free to use. Make sure it's original and catchy.
2. Set up an online ecommerce channel
Once you have a domain, you need to open a dropshipping online store. Platforms such as Shopify or WordPress via WooCommerce where you can easily publish and market your products is key. Pick your dropshipping plugin of choice to start selling in no time, you can find a ton of themes and plugins online.
Design your store. Platforms like Shopify provide easily customizable templates to jumpstart your web design and creative process. Use them to create a decent website for showcasing your products to the world.
Setup your sales channel. You need to set up processes such as payment, shipping, contact details, links your domain create a straightforward channel to run your business. You may need some time to make sure you have the proper solutions for these processes, so don't rush it. Make sure you cover your bases before making your site go live. You may want to create a setup checklist with due dates to have your shop up and running in due time.
Once you have the bases covered, power-up your brand new store with a dropshipping app such as Shopify Dropshipping App or  WooCommerce Dropshipping extensions. Setting up a dropshipping app  can be as easy as creating an account and following a few steps on screen.
Select a dropshipping partner, and start populating your shop with your awesome products.. After uploading the products you want to sell,  marketing them is the next vital step to create demand for your dropshipping business to be successful.
Reliable dropshipping suppliers

If you want to start a dropshipping business, you will need to find and create partnerships with companies that can supply you with wholesale goods and ship them from their warehouses to your customers. You could commit to working with only one supplier, or you could create accounts with multiple businesses that can provide you with more products for your inventory and different services. Of course, finding a verified and high-quality supplier can be difficult, even before assessing whether their products and services are a good fit for your company. 
The ecommerce platforms that offer dropshipping all come with different sets of benefits and disadvantages. However, they are all reliable and can greatly help you in building your own dropshipping business. While you should still conduct your own research and not rely wholly on one website, this list of dropshipping suppliers and tools can serve as a springboard in your search and a valuable resource on its own.
To meet the demands of dropshipping, Shopify created Oberlo; a marketplace developed by to help independent business owners find dropshipping products to sell. With Oberlo, online retailers can browse popular dropshipping sites like AliExpress and import the products that pique their interest directly to their online stores. Oberlo is connected to all Shopify stores to allow easier publishing and coexist with print on demand.
Two of the most common approaches for dropshipping on Shopify are to seek out a supplier located in North America but you can find one anywhere else in the world. Once a customer buys a product, a retailer is able to fulfill their order in the Oberlo app. Fortunately, Oberlo automates this process. As the dropshipping retailer, all you have to do is check that the details are correct and click the ''order"' button. The product is then sent directly from the AliExpress supplier to the customer, wherever in the world they may be.
Dropshipping on eBay is allowed with a few parameters. However, listing an item on eBay and then purchasing the item from another retailer or marketplace that ships directly to your customer is not allowed on eBay. Activities that don't follow the strict eBay policies could result in a range of actions including but not limited to: administratively ending or canceling listings, hiding or demoting all listings from search results, lowering seller rating, buying or selling restrictions, loss of buyer or seller protections, and account suspension. All fees paid or payable in relation to listings or accounts on which eBay takes any action will not be refunded or otherwise credited to the retailers account.
 As a dropshipping retailer on eBay, you are fully responsible for the safe delivery of the item within the time frame stated in your listing. You are also responsible for the buyer's overall satisfaction with their purchase.
AliExpress is possibly the biggest dropshipping provider in the world. Based in China, it's specifically designed to be a dropshipping marketplace. You can order a single item through the site if you'd like to, or you can list that product on your site by changing the listing details to meet your brand and have AliExpress fulfill it for you.
As a word of caution, the buying chain when using AliExpress dropshipping can be a little convoluted. The buyer places the order with the seller, which passes it to a dropshipping app, then through to AliExpress and finally, to the actual manufacturer. This might be an issue with a fast-paced service, but since AliExpress shipping is cheap and slow (even at its fastest), it allows plenty of time for logistics to be worked out.
Dropshipping from AliExpress to Shopify via Orbelo
As stated above, Orbelo is the dropshipping app for Shopify that connects you to AliExpress. That may seem complicated but the set up is made to make it run smoothly. The biggest concern for many retailers is anonymity. So my customers know that this is a dropshipping item? The good news is usually customers don't know whether the dropshipping products on Shopify are from AliExpress or not.
Although the parcel may contain the suppliers' info and the shipping address as well as product specifications, you have the chance of bargaining with the supplier to use your business address or your business labels attached with the parcel. This ensures that there are no signs of AliExpress or their prices on packages. Sometimes sellers from AliExpress may include their business cards in the package, so make sure to ask your dropshipping supplier to not to include anything.
Dropshipping on Amazon is generally acceptable. However, they have listed a set of do's and don'ts that you need to keep in mind if you are planning to use Amazon Dropshipping.
You must always:
Be the seller of record of your products;

Identify yourself as the seller of your products on all packing slips and other information included or provided in connection with them;

Be responsible for accepting and processing customer returns of your products; and

Comply with all other terms of your seller agreement and applicable Amazon policies.
Examples of dropshipping that is not permitted:
Purchasing products from another online retailer and having that retailer ship directly to customers; or

Shipping orders with packing slips, invoices, or other information indicating a seller name or contact information other than your own.
Read more about dropshipping with Amazon here.
Dropshipping for Beginners: FAQs

Want to try your hand in print on demand instead?