Question: What items are cozy feet warmers,stylish accessories, and the perfect gift for him or her? Yep, that's right, custom slippers are the comfortable must-haves for your online store. Treat yourself, friends, family, and your customers around the world to unique designs, style, and quality.
Design Your Own Custom Slippers
Customized Slippers from the Printify Catalog
In 2020, slipper sales increased by 70%, as people ditched their heels and work shoes for something more cozy, apparently the pandemic created something called the comfort economy. This is the perfect time to hop on board this trend and boost your business by promoting super soft and toasty-warm footwear.
When it comes to comfort at home, nothing beats a good pair of warm slippers. While shoes come in an impossible array of shapes and sizes – everything from flip flops to custom sneakers to boots, loafers, and more, custom house slippers are the only players in the world of comfortable footwear. So why not keep our feet cozy in style?
Flannel Fleece Fabric.

Our super soft slippers are made of a durable fabric that will retain its shape and dry quickly. Light, cost-efficient, and soft as a teddy bear. The right fit for comfort-loving customers everywhere.

Anti-Slip Soles.

Flexible outer soles provide a better grip. These custom slippers are safe for all kinds of activities on slippery floors. Break out into dance or carry your precious crockery without the fear of skidding.

All-Over Print.

Come up with fun and bright patterns, color schemes, even landscapes, photos, and more. Our all-over print ensures full coverage of your design directly on the slippers.

Removable Insole.

This is a great feature that helps customers take better care of their slippers. Removable insoles allow easy cleaning and drying without ruining the rest of the slipper.
Why Sell Custom Slippers?
While the high demand for slippers is reason enough to promote them on your online store, let's take a look at some special occasions, trends, and events that will have customers flocking to your online store.
Create Your Own Personalized Slippers
Design Ideas for Print-On-Demand Slippers
Personalized Slippers for Him
Custom mens slippers are a great addition to your online store with creative designs, patterns, quotes, and more. Allow the manly customers to enjoy their comfort at home in one-of-a-kind style with personalized slippers for him.
Add elements from their favorite sports teams, bands, hobbies, and other interests. Or make customizable slippers for all the best dads, uncles, brothers, husbands, and other male role models.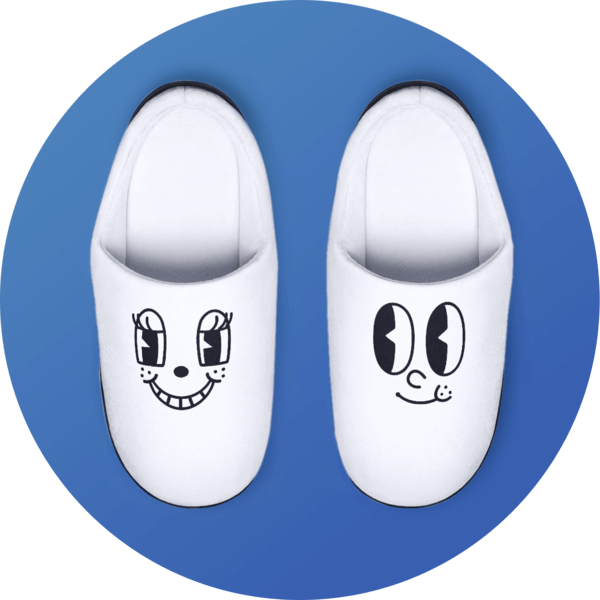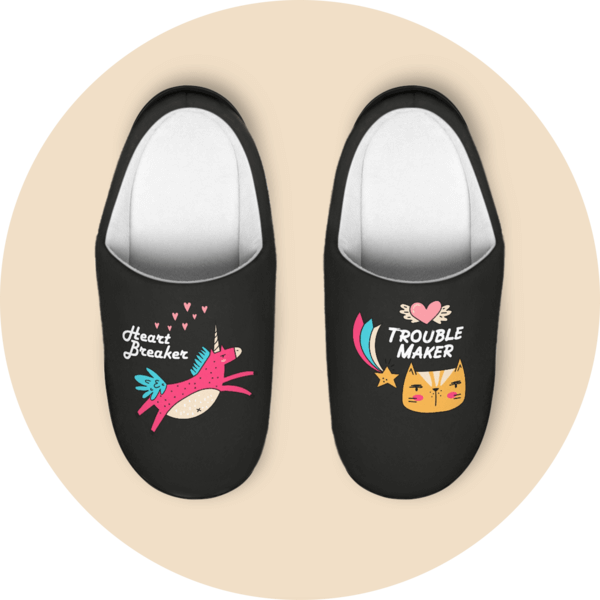 Custom Slippers With Logo
Logos, monogram slippers, or custom slippers with name are a good personalized accessory for advertising and personal use. Hotels, SPAs, beauty salons, or other businesses can use them as creative gifts for business presentations or customer care.
Putting your monogram, logo, or name on a product is always a good option, as it provides a sense of belonging and comes as free advertising.
Personalized Slippers for Her
Customize slippers for the ladies around the world. From the perfect gifts for Valentine's Day, bridal showers, birthdays, anniversaries, and other special occasions to simple accessories for everyday use. Custom slippers for her will be a great addition to your online store.
From bright patterns and designs to special quotes to the worlds best mom, wifey, aunt, and more. The smallest detail will make the custom house slipper a must-have for one and all.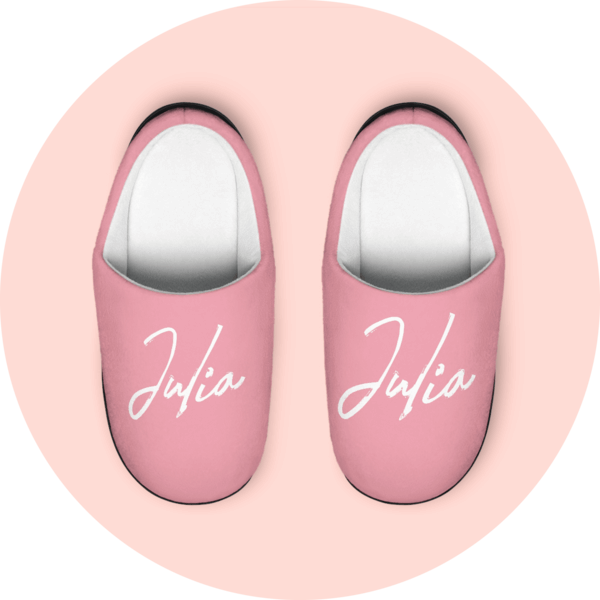 Sell Custom Slippers With Printify
Browse through our various categories of 600+ products and choose the best match for your brand and company. Sell custom slippers for the right price to every friend, family, and customer out there.
Frequently Asked Questions
Start Selling Custom Slippers Today