With Printify, designing and selling custom joggers couldn't be easier. Your customers will love this high-quality product, especially when it's combined with your unique custom design.
Make Your Own Joggers With Printify
Why Design Custom Joggers?
Many of us live in our jogger sweatpants. This versatile piece can take you from the sofa to the gym, the park, or the mall. When they're printed with a funky, fashionable design, they can even be worn on more special occasions.

The athleisure trend has elevated sporty items like these, and now they're suitable for many different events and settings. We're so grateful for this fact! After all, joggers have to be one of the most comfortable clothing items in our closets.

The popularity and universality of custom joggers make them an obvious choice to add to your online store. With a cool custom design, loungewear can become an authentic style statement. They make thoughtful gifts or ideal "treat yourself!" investments.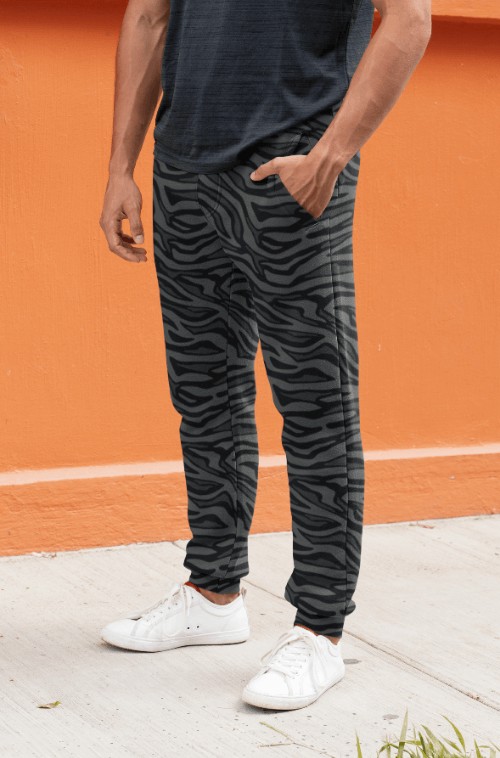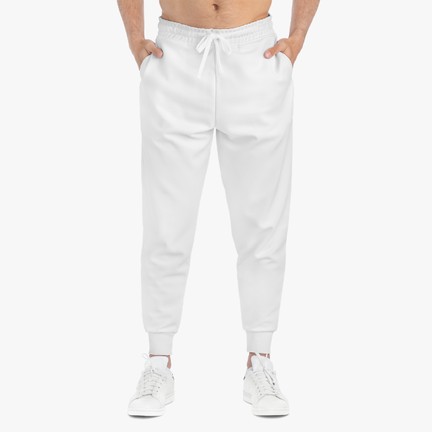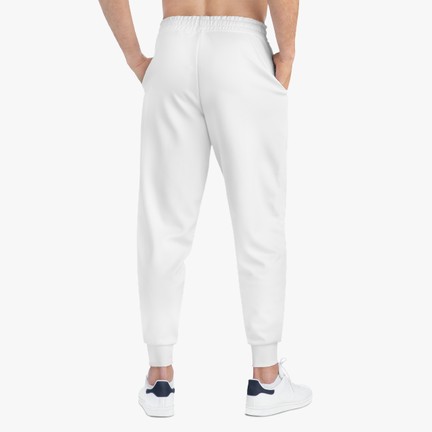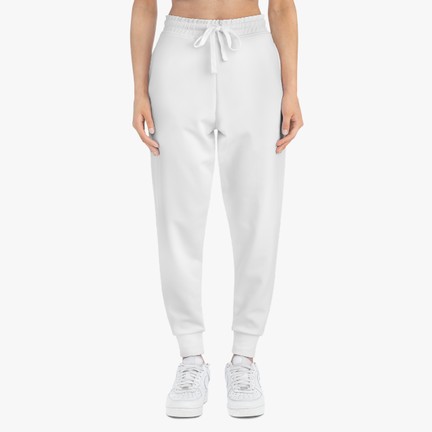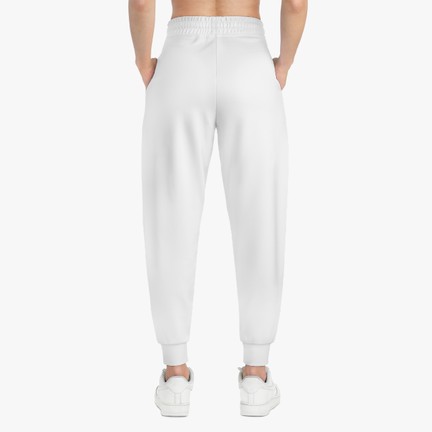 The Printify catalog contains two styles for those who want to make their own custom sweatpants. The first is athletic, and these custom joggers are made from a soft fabric consisting of 95% polyester and 5% spandex. 
Conveniently, they come with double-layer side insert pockets, too. Their white drawstring makes them adjustable so your customers can enjoy complete comfort.

You can print all over these custom joggers, and they'll be manufactured using a cut and sew method. This ensures higher quality in both the materials used and the production process. We know that the little details matter, which is why even the seam thread color will be matched to your design. Looking for some design inspiration for your custom sweatpants? Read on!
Joggers are ideal skatewear since they're loose and comfortable, permitting easy movement. But you'll only convince skaters to make a purchase if they embody the style of the street. Skating is a hobby with its own unspoken uniform, after all.

Do you want to embrace this theme with your custom joggers? Try using cool designs like cityscapes and graffiti art. Bold colors, graphic prints, and edgy slogans will make sure your customers stand out at the skatepark.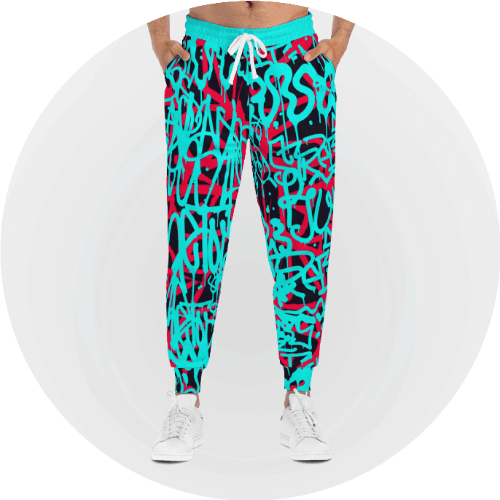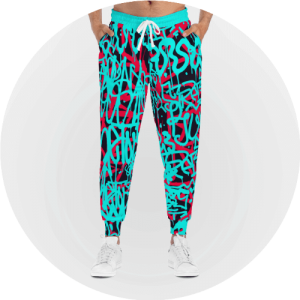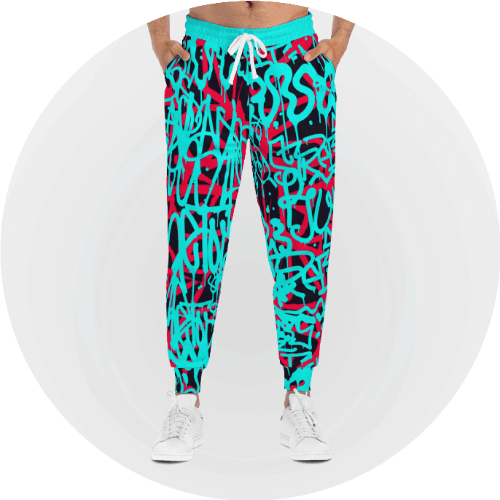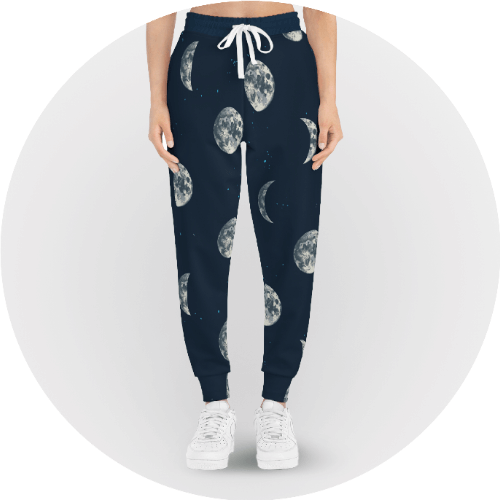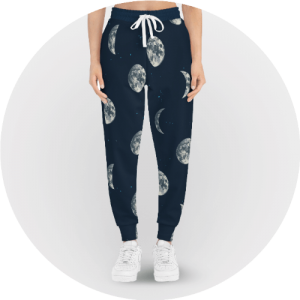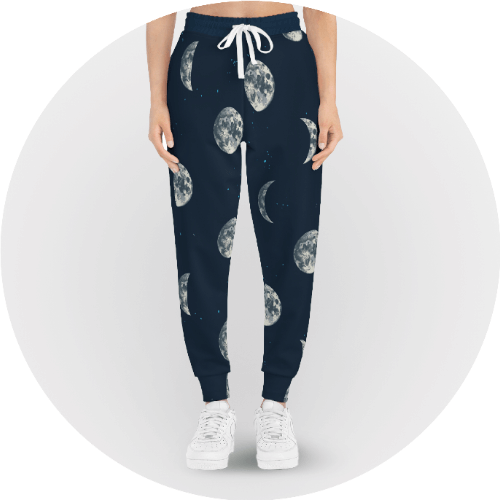 Have you noticed that everyone seems to be into astrology recently? Perhaps that's why trend forecasters are seeing a celestial print resurgence in the stars. Galaxy designs were huge in the 2000s, and Gen Z is bringing this look all the way back into fashion.

For design inspiration, head to your telescope. Starry night scenes, sun and moon images, and prints that feature planets and constellations should all be on your vision board. If you include astrological signs, you'll surely be on to a winning design.
You don't have to be a skilled artist to draw inspiration from abstract expressionism. This term, which sounds very art-school and academic, really just describes that popular paint-splattered effect pioneered by Jackson Pollock. It's surprisingly easy to replicate this technique in your custom jogger design.

This print is modern, fun, and funky. If your ideal customer is someone who loves to make a statement, a paint-splattered design will surely appeal. On custom joggers, it gives the vibe of "off-duty art teacher headed to the gym," and there's something for everyone in that aesthetic!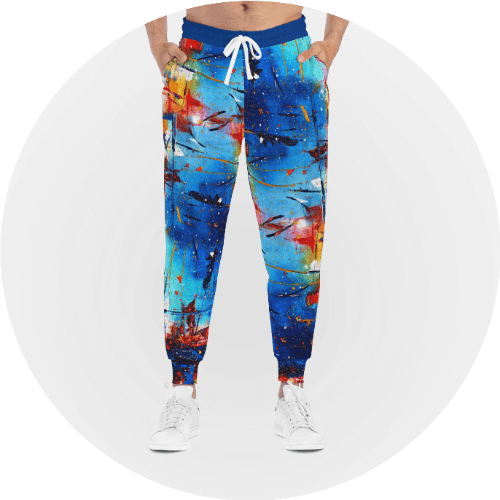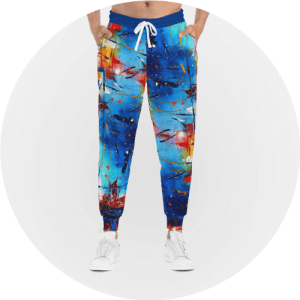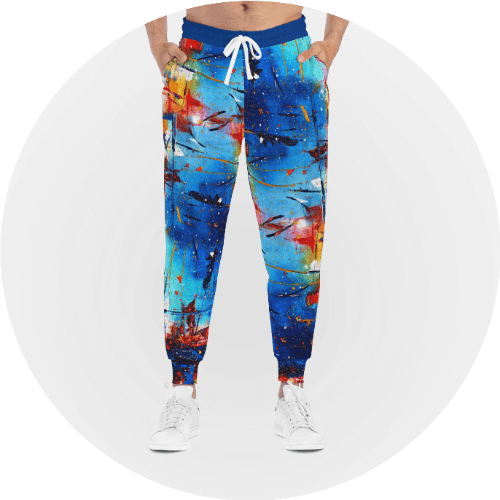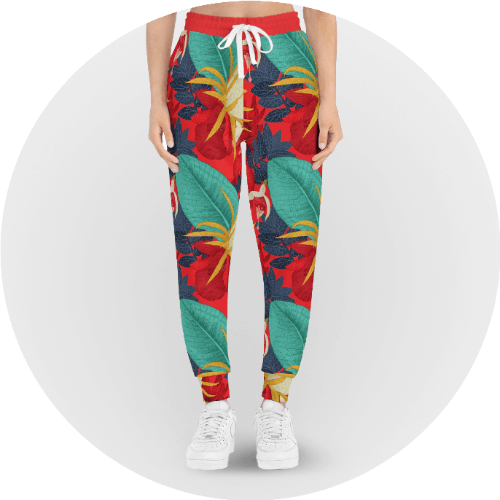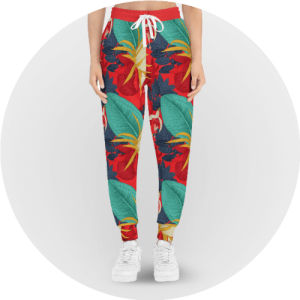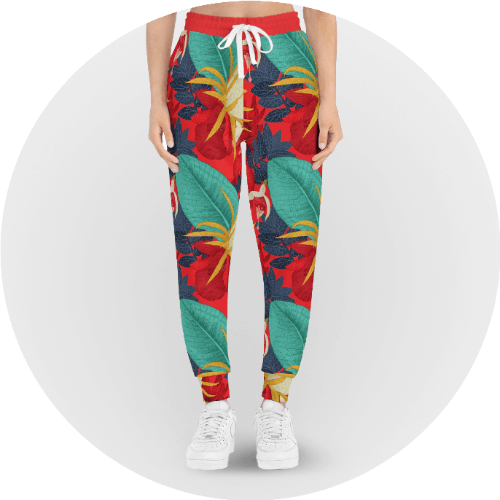 When 2020 sent us all indoors, what did millennials invest in? Plants, of course. So it's no surprise that when we think of relaxed, cozy clothes like custom joggers, we also think of our beloved plant babies. With botanical print joggers, we can match them as we lounge around our living rooms!

Within the botanical category, there are so many potential routes to pursue. A cactus print could score points with your customers. A tropical theme would also touch on hot trends. Over the festive season, some Christmas tree sweatpants might make a popular present.
Camouflage isn't just for those who want to hide, you know. It's also for those who want to stand out and make a fashion statement! This classic print has a tough edge, so it suits sporty, hard-wearing joggers.

Hip-hop, skate, and alternative cultures have all incorporated this print into their aesthetics over the years. What used to be strictly for soldiers is now a streetwear staple. If you want your customers to stand at attention, why not add this design to your custom joggers?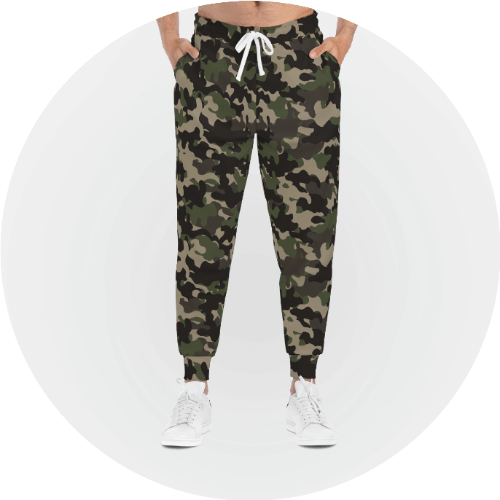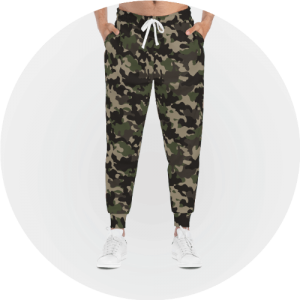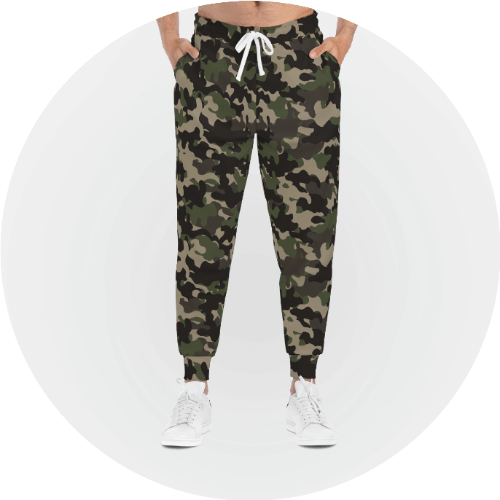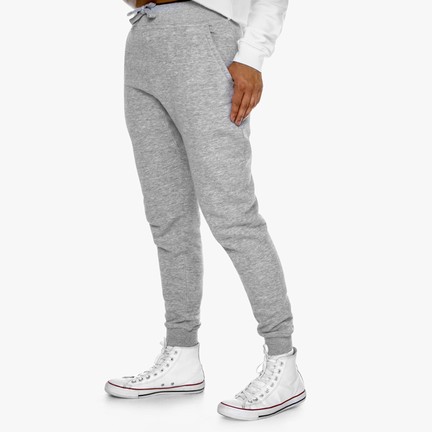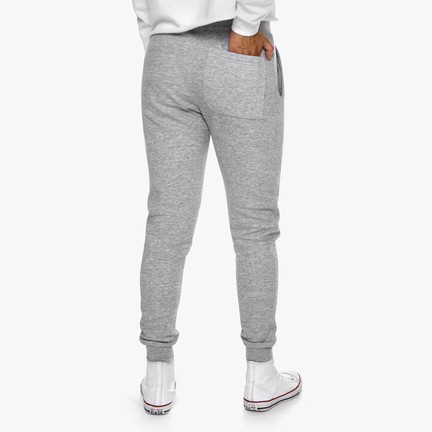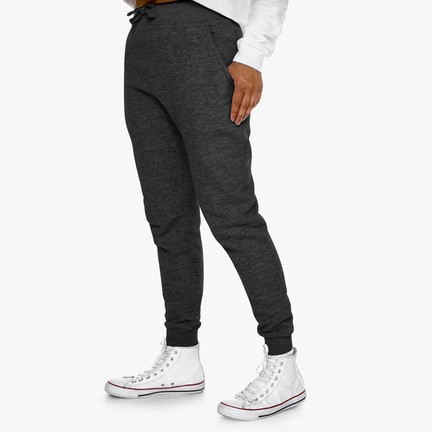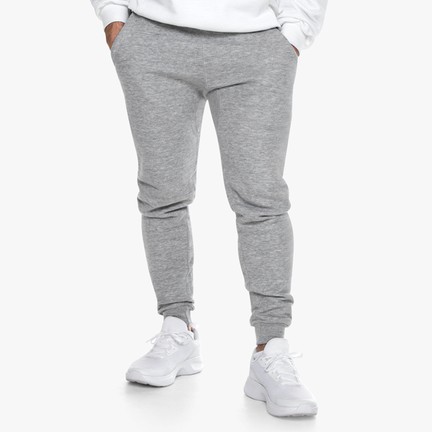 The second jogger model in the Printify catalog is the premier fleece style. Made of 80% combed ringspun cotton and 20% polyester, these joggers consist of a medium-heavy fabric chosen to keep the wearer cozy.

Premium fleece joggers don't only come with two side pockets, but they also have a handy back pocket! Their ribbed cuffs stretch to accommodate the wearer, then snap back to hold their body snugly. These joggers could equally be used for chilling at home as for working up a sweat in the gym or at the park.
What makes the premium fleece joggers even more fashionable is their drop crotch effect, achieved through a strategically-placed gusset insert. These are no ordinary joggers; they're edgier, with a style that's oh-so modern. In fact, the only thing that could make them cooler is adding to their pockets one of the following prints…
Prints don't have to be loud! You can add a minimalist touch that is chic, clean-cut and to-the-point. Impactful designs like a yin and yang print, a dogtooth print, checkerboard patterns, zigzags, or even stripes can be a discreetly trendy and powerful choice.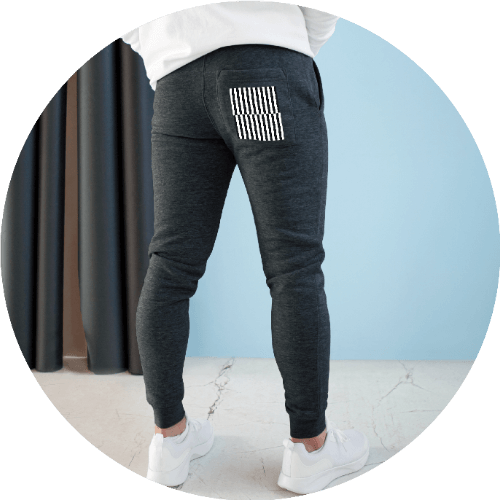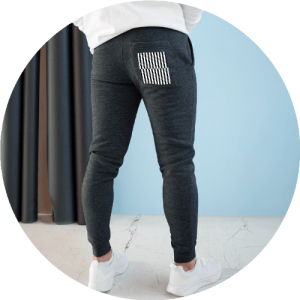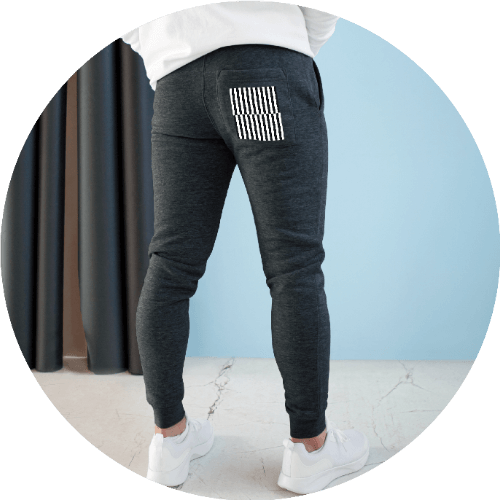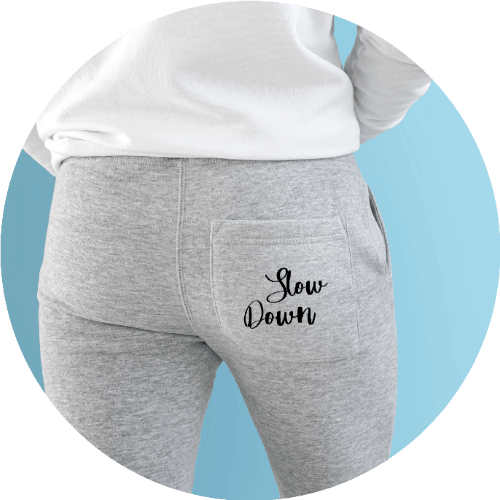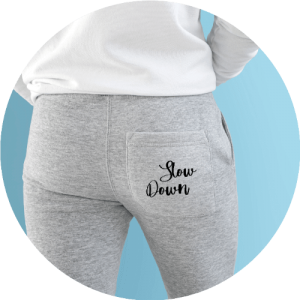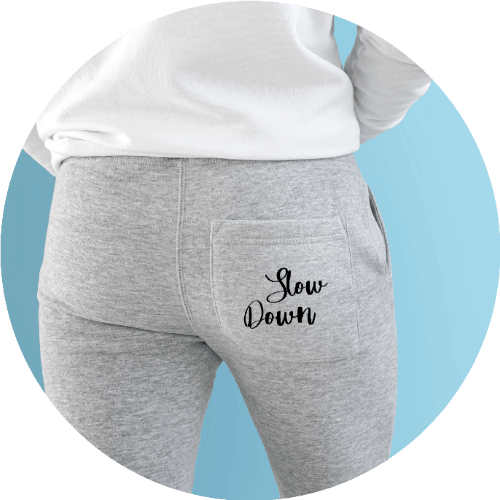 Premium fleece joggers offer an amazing opportunity for text-based designs. The slogan possibilities are truly endless! Remember those Y2K velour joggers we all had with JUICY on the back? Why don't you reinvent personalized sweatpants with a new cheeky, slightly more discreet slogan placement for 2023? It's one way to advertise your brand!

These days, people like to wear their values on their sleeves… or maybe even on their pants! Printing your joggers with catchy slogans such TEACH PEACE, BE MINDFUL, or SLOW DOWN could relate to your customer base.
Animal print is usually considered super glamorous. That's why it's so unexpected to combine leopard spots, zebra stripes, and python print with premium joggers. This cool concept elevates an otherwise casual piece, meaning your customers can always step out in both comfort and style.

Don't be afraid to think outside the box when it comes to animal print, either. Yes, leopard is a timeless classic, but what about a giraffe-inspired design? Cow print has enjoyed huge runway visibility over the last couple of years, and its popularity shows no sign of letting up anytime soon.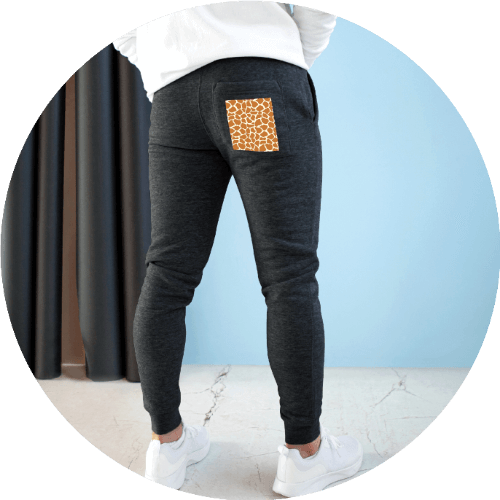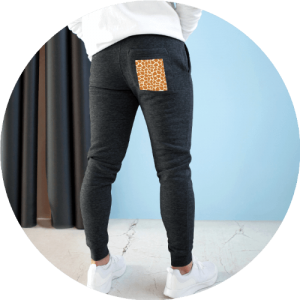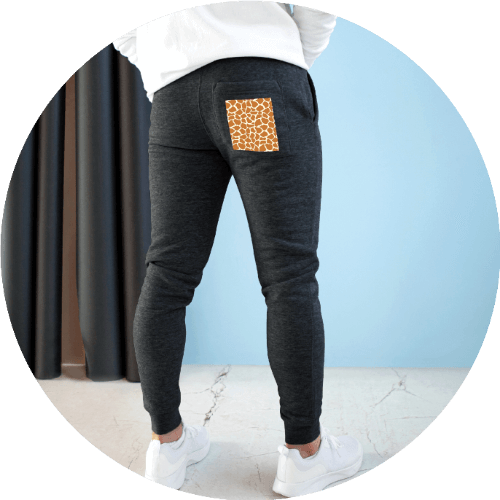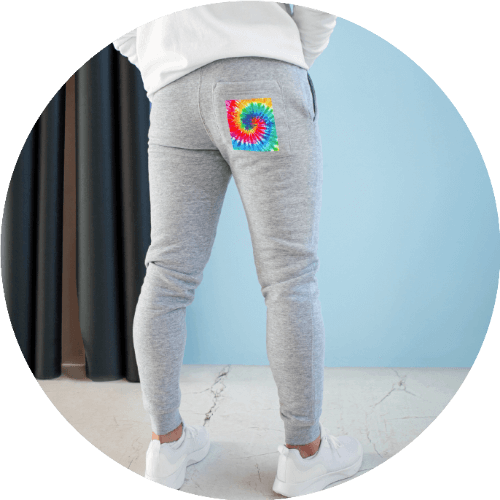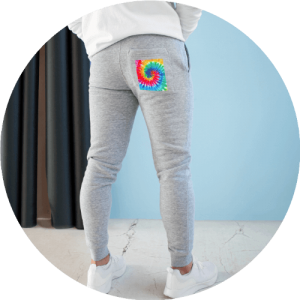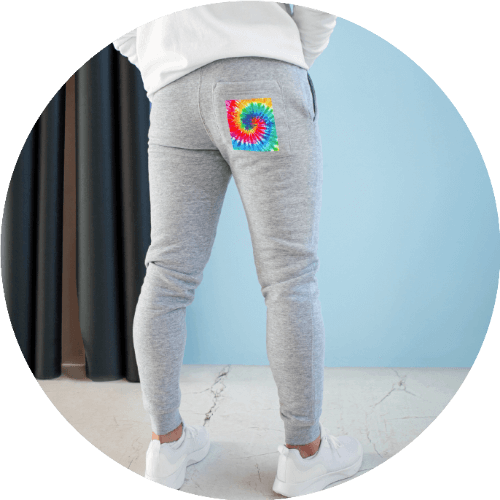 Tie-dye joggers have to be the most festival-perfect clothing item imaginable! If you want to design for modern-day hippies, consider adding sweatpants with this effect to your store. Something about the relaxed ease of these pants combines perfectly with free-spirited, tie dye-inspired print.

There is a whole rainbow of colors to pick and choose from, so why stick to only one style? Thanks to Printify's model, it costs nothing to add as many products as you like to your store. You could easily design a whole line of tie-dye joggers in different shades!
Trends come and go in cycles, which is why you should look to the past if you want to be fashion-forward! You could translate any era's style onto your custom joggers using a retro print. Nothing says the 1950s like polka dots, for example, and they'd add some twee femininity to such a sporty style.

Or maybe you'll be inspired by the neon geometry of the 1980s? That was a great decade for athletic wear, after all. Abstract art deco prints could also be very eye-catching… Think "how would flappers dress for fitness?"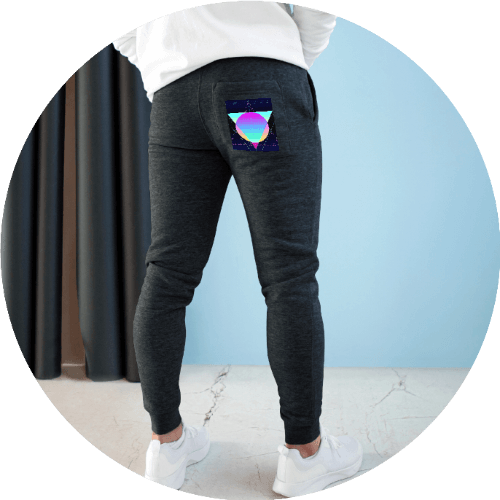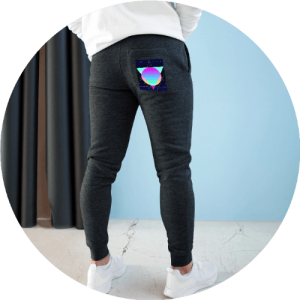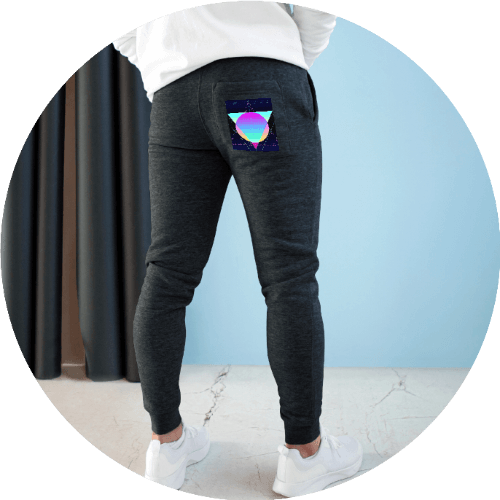 How to Make Custom Joggers
Inspired by our design ideas and ready to make your own sweatpants? You're in the right place. Thanks to Printify's no minimum order policy, you could even start selling today!
We'd advise you to consider the following questions before you start customizing your joggers:
Which joggers do I want to customize? Two options are available.

Who am I targeting with my product? 

What designs are already on the market?

Which trends are proving popular and how can I tap into them?

How can I make my offer unique and appealing to maximize sales?
Once you've answered these questions, which are designed to refine your sales strategy, you can move on to the design stage.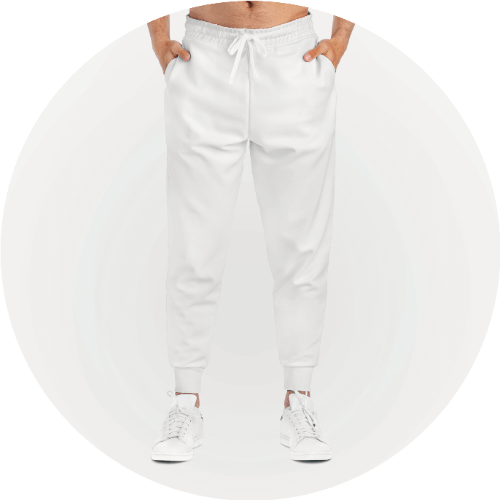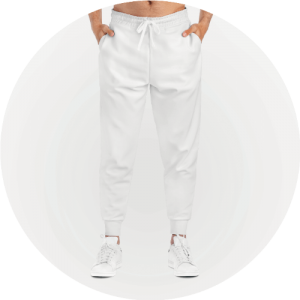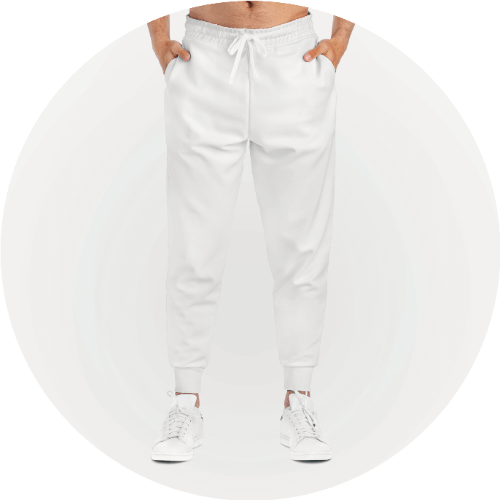 Don't worry! You don't have to be an experienced designer to customize joggers.Using the Printify mockup generator, it's incredibly easy.

Printify's mockup generator is an intuitive design tool. It allows you to upload the design you want, move it around until it's perfectly placed, add text if necessary, and preview the overall appearance of the product before you add it to your store.
Adding Items to Your Store
Once you're satisfied with your item, adding it to your store is a straightforward process. Printify is integrated with a range of eCommerce platforms, so whether you're selling with Shopify, Etsy, Wix, or others, you can instantly upload new products.
Remember, it's free to use the mockup generator and to add new items to your store. That means you're able to create a whole line of custom joggers without paying anything upfront!
Start designing custom joggers!