Top 10 Personalized Gift Box Design Ideas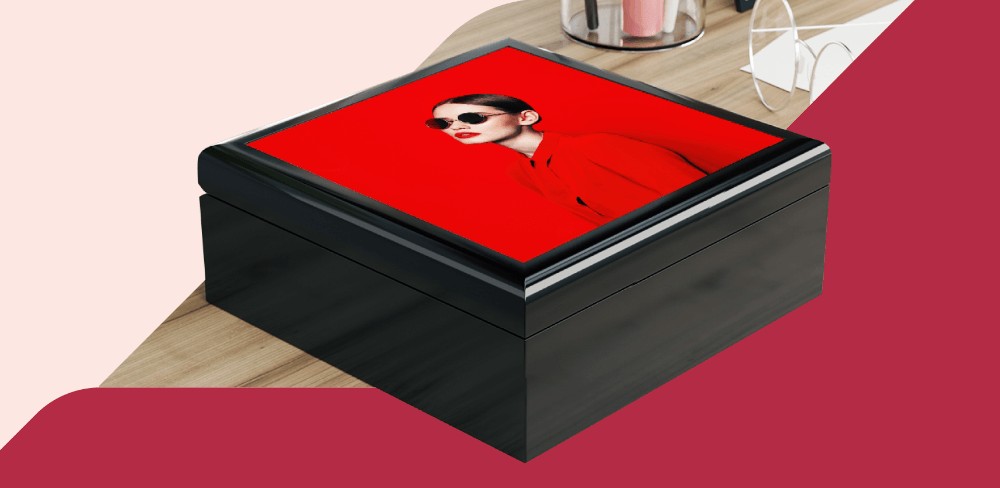 A personalized gift box is designed to bring a smile and happiness to the person who receives it. Whether your clients want to send a housewarming gift to their old friends or thank their best customers, you can help them with custom wooden gift box designs. This will help them strengthen tight bonds, friendships and connections. There is an old idea that claims the act of giving is worth much more than the gift itself. There is no better way to surprise someone than with presents packaged inside custom printed gift boxes.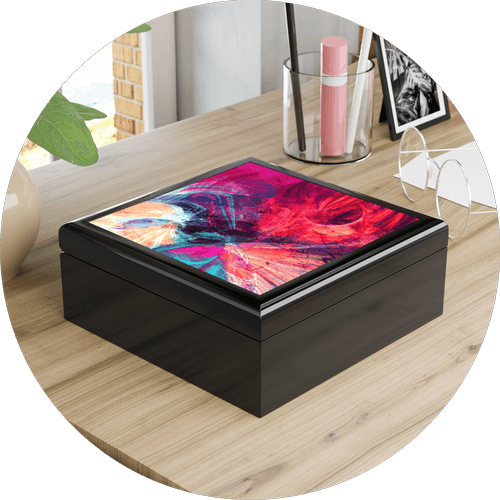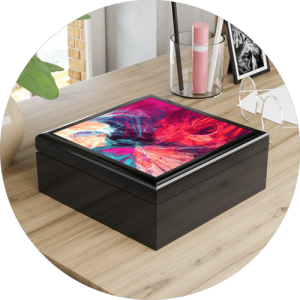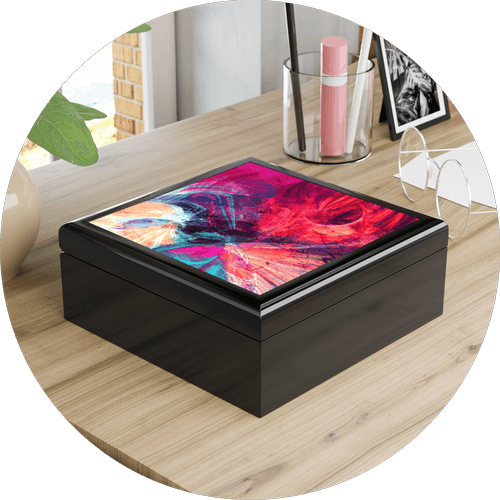 Custom Printed Wooden Gift Box
Whether you are looking to celebrate life's big achievements or small moments, you can use a wooden gift box to make your gifts even more unique. Include important dates, photographs, and names. You can help your customers create meaningful custom boxes for any occasion. For example, personalized Christmas gift boxes are the ideal way to add an exciting element to your customers' Christmas party. You can order this personalized gift box in several colors, and it features sturdy dual hinges, which lock at ninety degrees. 
Choose from golden oak, red mahogany, or ebony black present boxes to make a lasting impression. Crafted from elegant and sturdy rubberwood with a superb varnish finish, these personalized wooden boxes boast interiors lined with soft felt. Our curated and fancy gift boxes are the best way to let someone know that you're with them in spirit.
Print on Demang Gift Box 🎁
Create personalized gift boxes for yourself, family, and friends. Or start a print on demand gift box business with Printify. We will provide you with some brilliant ideas and inspiration to get you started. Birthday boxes, Christmas boxes, cash, jewelry boxes and more.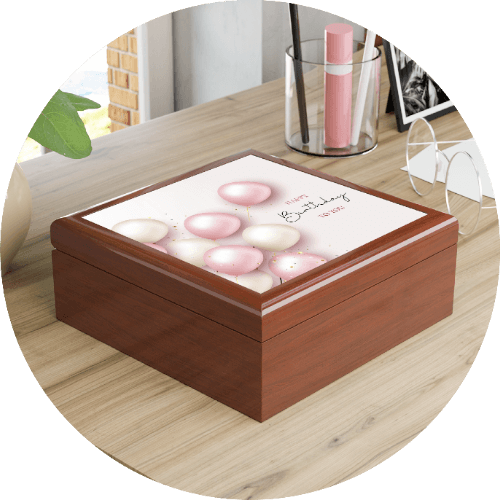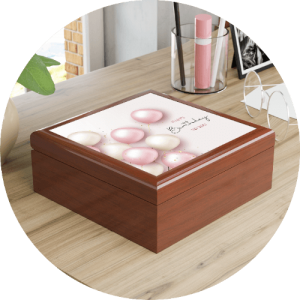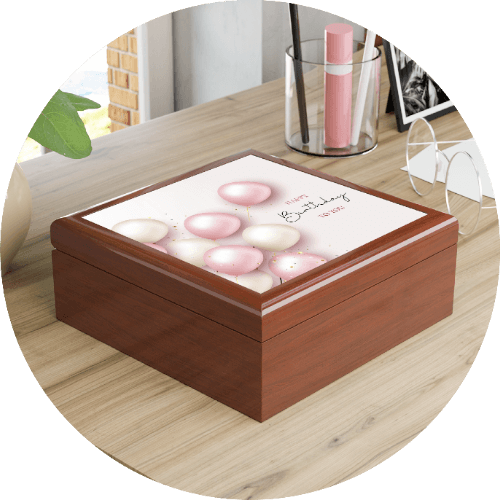 Birthdays are an excellent opportunity for your customers to wrap a family member's or close friend's gift in something considerably more memorable and unique than a generic gift bag. Personalized gift boxes are also ideal for making landmark birthdays (1st, 16th, 40th, and 50th) even more impressive and extraordinary.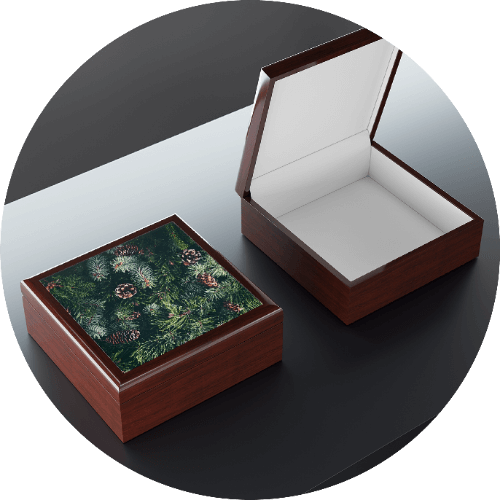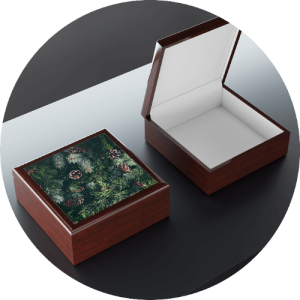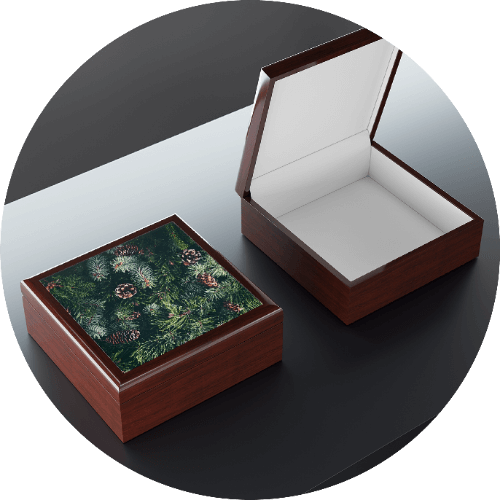 Make this holiday season extra special. Put all of your family favorites into decorative and specially personalized Christmas gift boxes.The custom Christmas gift boxes present your gifts in an impressive and memorable way on such a blessed and favorable occasion. 
Give your customers the option to add Christmas-related themes and interesting characters to these boxes. This will make sure their box will stand out from the crowd. These Christmas gift boxes will help ensure that your Christmas products are gifts that last.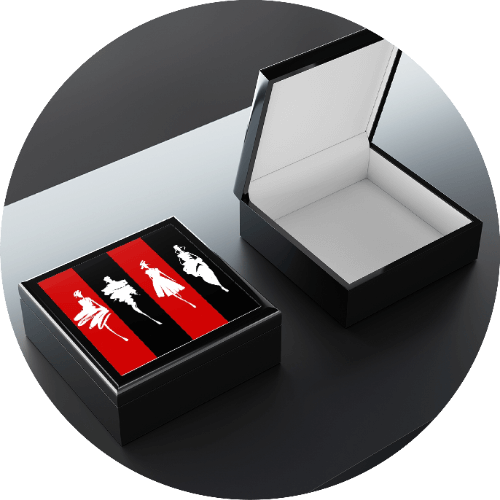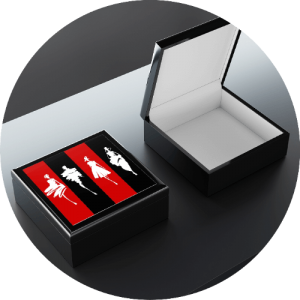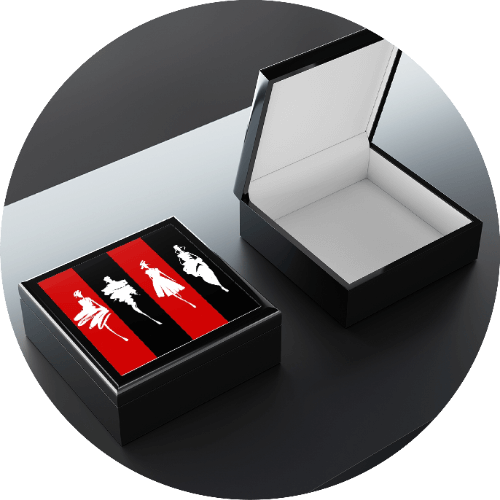 Personalized jewelry boxes are ideal for rings, bracelets, necklaces, and earrings. Apart from ring boxes, you can also sell girls' personalized jewelry box, men's jewelry box, white jewelry box, and jewelry gift boxes to your customers. Whether your customers are trying to package bangles, necklaces, bracelets, pendants, or earrings, they will love these custom treasure vaults. These contemporary jewelry boxes unfold to a treasure chest with spacious storage trays lined in soft linen. 
Whether you are shopping for a holiday present, a birthday gift, or a thank-you token for participating in a wedding, you will find that personalized jewelry storage boxes are a gift that anyone will like and appreciate. 
For that special touch, help your customers personalize their gifts for women and men by customizing their jewelry boxes with names and custom designs.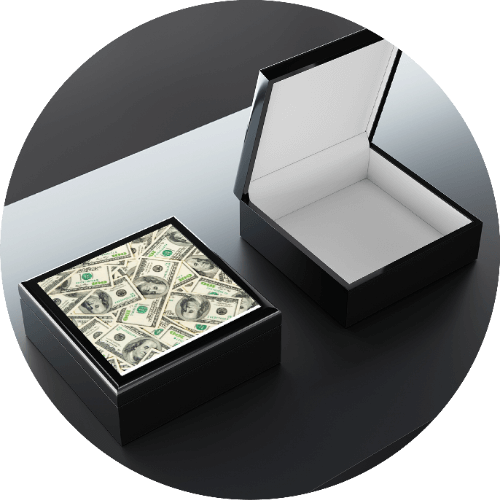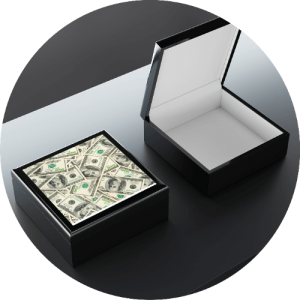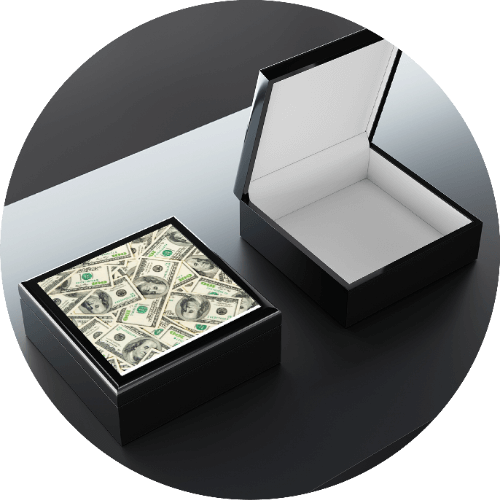 Kids prefer having their own personal place where they can easily keep cash and other valuable items safe and private from their siblings and in general. A gift like this always brings a lot of smiles as the recipient pulls a long string of money out of the money box. 
Personalized money boxes also help teach children the importance of saving all those extra pennies. These money boxes protect allowances, baseball cards, tooth fairy goods, shiny rocks, and various other top-secret treasures in a secure and protective space.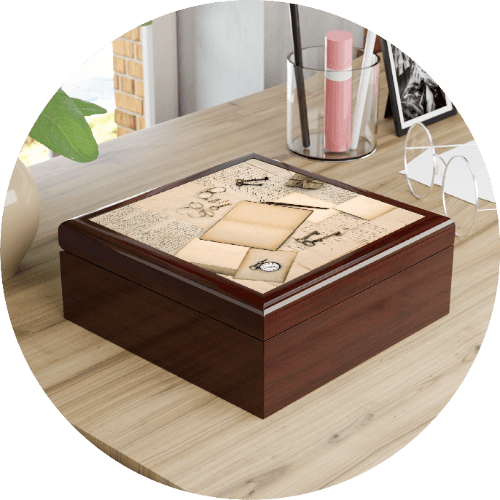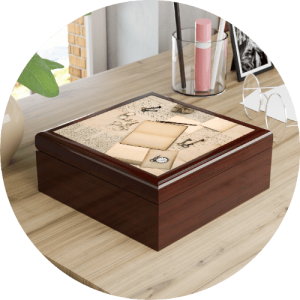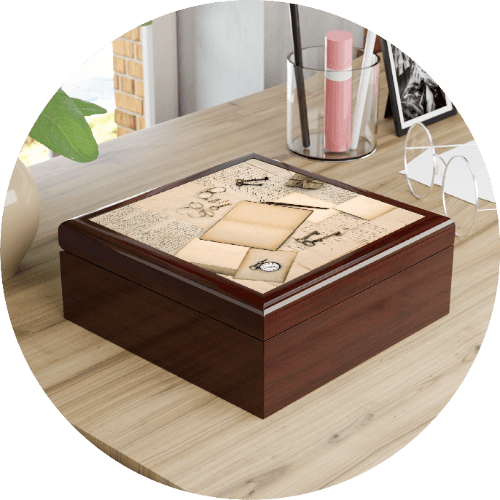 The movie ticket from your memorable first date! The emotional postcards your sister sent you. The unforgettable invitation to your best friend's wedding. Note that the most sentimental and unique things in life are usually the smallest. Sell personalized memory boxes or keepsake boxes to store these valuables safely. 
Whether it is for your customers or a gift for their loved ones, a keepsake or memory box that is custom-made is useful, beautiful, and personal, which makes it appropriate for all occasions.
They can easily fill this personalized and special gift with all their treasures and trinkets. It will make people smile each time they see a personalized message printed on it. These boxes are a perfect custom gift for bridesmaids, babies, a birthday, and anniversaries.
Create Your Own Personalized Gift Box!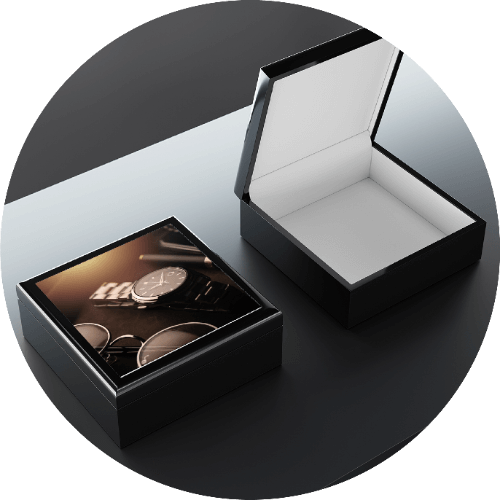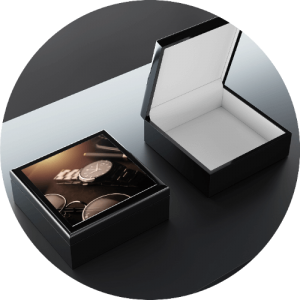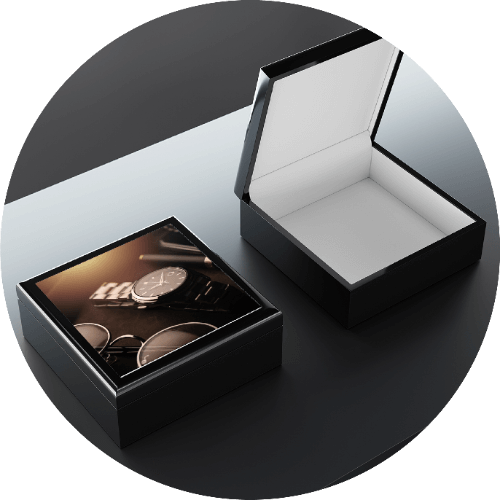 Give a memorable gift that shows you understand and appreciate what is important to him or her — a stylish and chic personalized watch box. Surprise a loved one or dear friend with a personalized watch box. Whether their tastes are modern or traditional, you will find the gift that's ideal for them and is something they will use every day.
Personalized watch boxes can also store more than only a watch. Besides being a precious and valuable keepsake for their favorite timepieces, your customers can use their personalized watch box in order to store their favorite pieces of accessories and jewelry reserved for fancier occasions, such as cufflinks and tie-clips.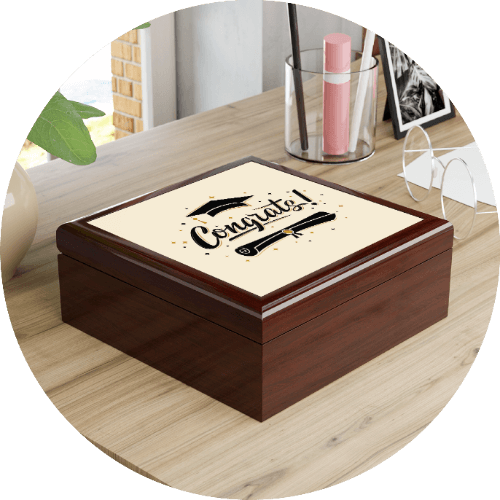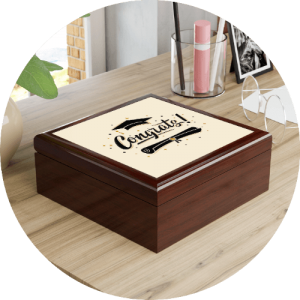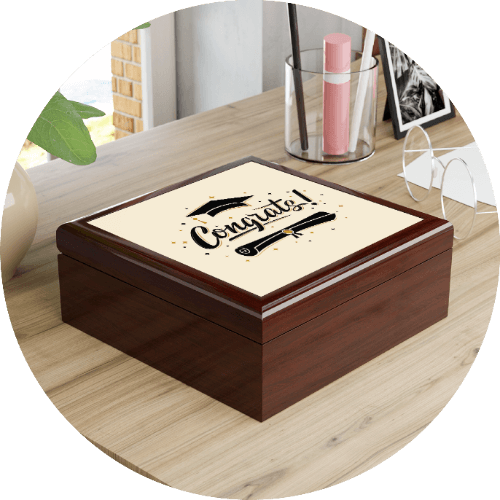 Celebrate all the hard work and dedication your family and friends have put into their higher education with a customized graduation box as significant as their academic accomplishments. 
From unique childhood memorabilia, a customized gift box will help present your gift in a manner they will not forget. 
You should know that most graduates receive cards with money in them as graduation presents.
As a result, this makes the ideal graduation gift for them! These graduation boxes for cards are exquisite and unique and will be cherished and treasured for many years to come!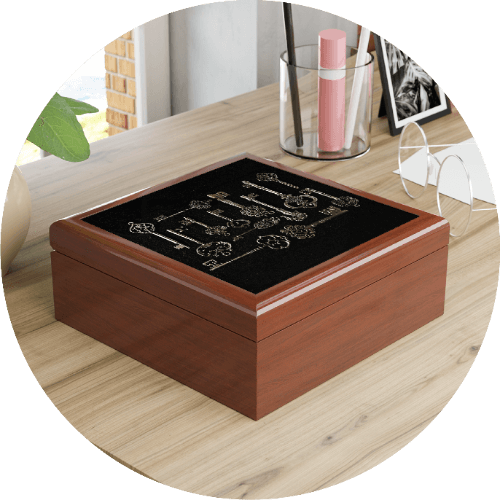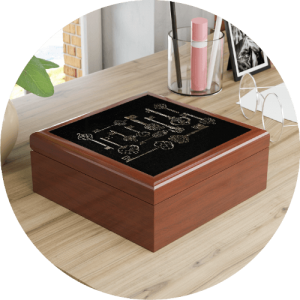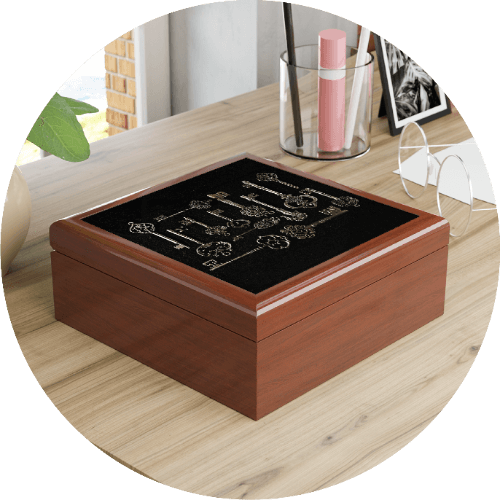 Are you ready to ditch the big and heavy keyring? These key boxes and storage solutions will make your life simpler and hassle-free by eliminating the need to carry and search for keys.  Whether the keys belong to the car, mailbox, house, or anything else. Store them in a neat customized box.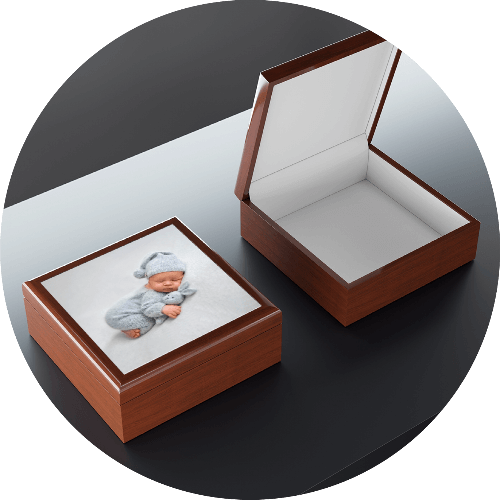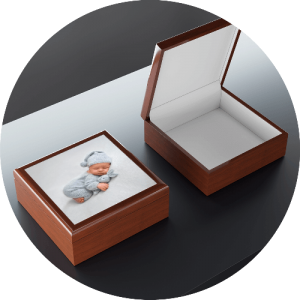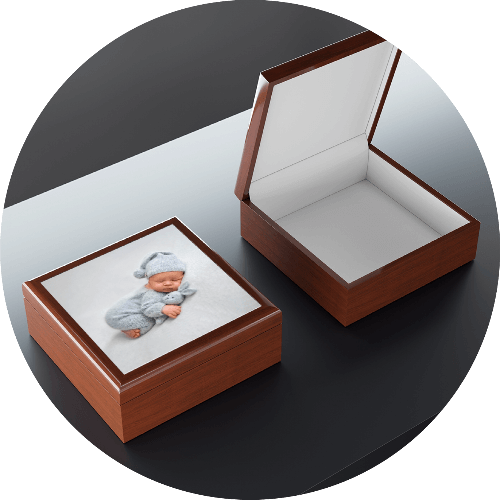 Personalized baby gift boxes and custom boxes are the ideal choices for any baby. They are unique and cute, just like a baby. You can offer special and thoughtful gifts for baby boys and girls. 
These boxes will help ensure that your gift will be memorable and one-of-a-kind. You can tailor several details, such as the interior packaging in order to make sure that your newborn or baby gift is exceptional! These gift boxes for babies are ideal for all budgets and tastes.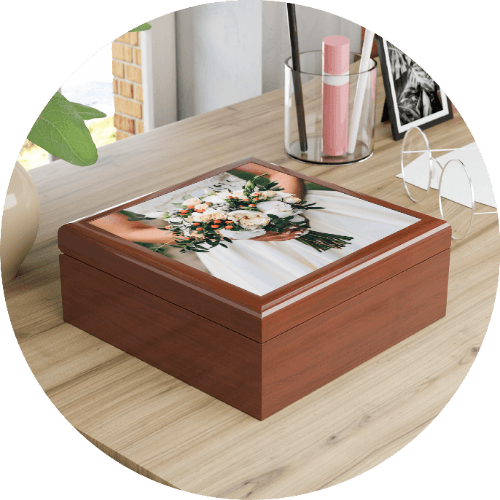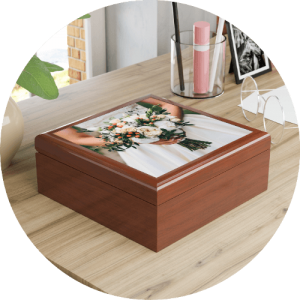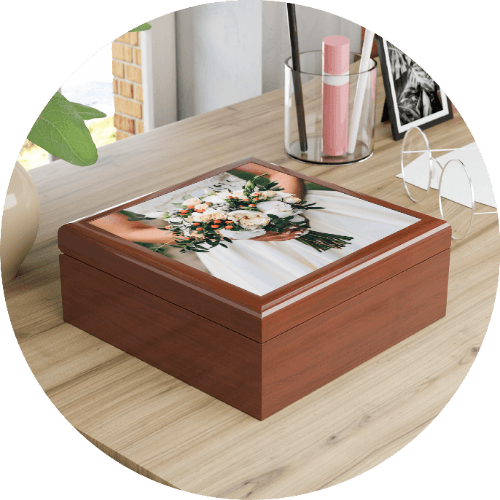 There is no doubt that bringing cards instead of wrapped gifts to wedding receptions and showers is becoming more acceptable than it was in the past. In fact, it is quickly becoming the norm! 
You can celebrate the happy couple with a unique and customized gift box that genuinely shows them just how much you love and care.
Life Is Like a Box of Chocolates
Wooden quote boxes serve as the perfect home for photos and many other little sentimental items. These fantastic surprise box ideas are bursting with uplifting and positive vibes. They are filled with encouraging quotes, inspirational cards, and friendship gifts. 
You can sell boxes that are great for long-distance friendship gifts, gifts for someone going through a hard time, best friend gifts, and motivational and encouraging gifts. 
Here are a few quotes that you can print for your customers:
Creating and Selling Gift Boxes Online
Custom gift boxes are widely used by individuals to wrap their presents for their loved ones on various occasions. In addition, you can design your own wrapping paper to put the custom gift box in. Covering up gifts with a beautiful and unique design creates a special feeling and adds meaning to the present. That is why the demand for personalized gifts never decreases.

Printify offers seamless integrations with the leading global eCommerce marketplaces. All you need to do is create your store, connect it with Printify, and add gift boxes with your designs. Printify is one of the simplest, most hassle-free, and newbie-friendly business models in the POD world today. Selling gift boxes through print on demand is very easy. In addition to that, POD requires no upfront investments. You can easily get started risk-free and focus your money and resources elsewhere, like paid advertising.

If you would like to get started selling personalized gift boxes and other items with a robust solution behind you, then Printify is the best option available.


Share the article
Topics