35 Best-Selling Mother's Day Shirt Ideas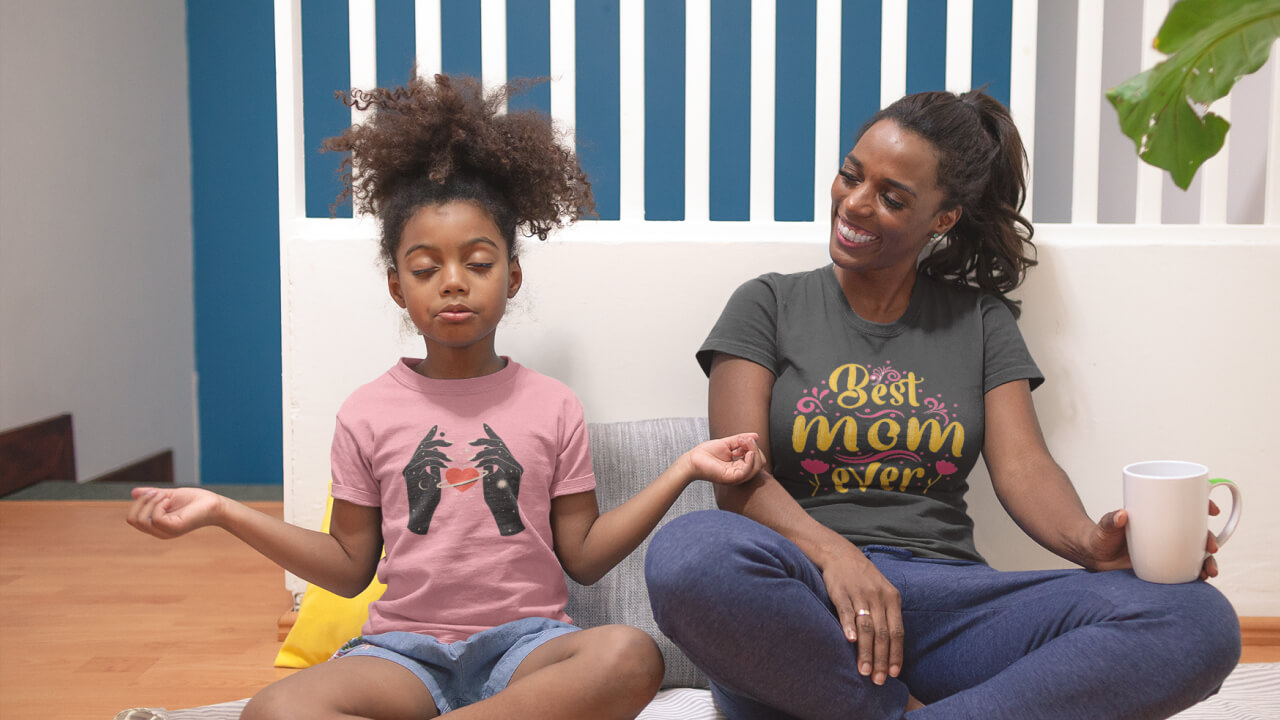 "No guidelines; tough and non-negotiable work hours; lifelong responsibilities." It's called being a mother. A position held by over 2.2 billion women worldwide. And it deserves to be celebrated.
While flowers and chocolates are perfectly acceptable gifts, personalized Mother's Day shirts can take your gifting game to the next level. 
We did extensive – and very important – research to find the cutest, fiercest, and most awesome designs. So read on to discover the 35 best-selling Mother's Day shirt ideas for you or your online store. 
Create Mother's Day Shirts With Our Lovely – And Free – Designs!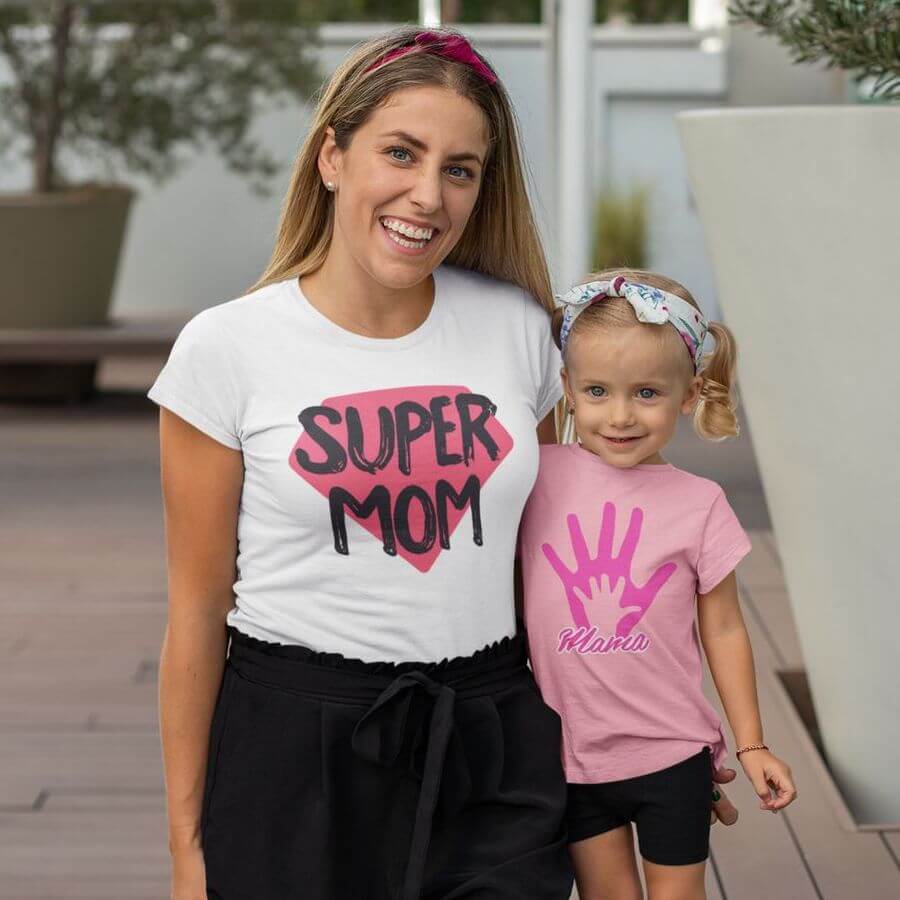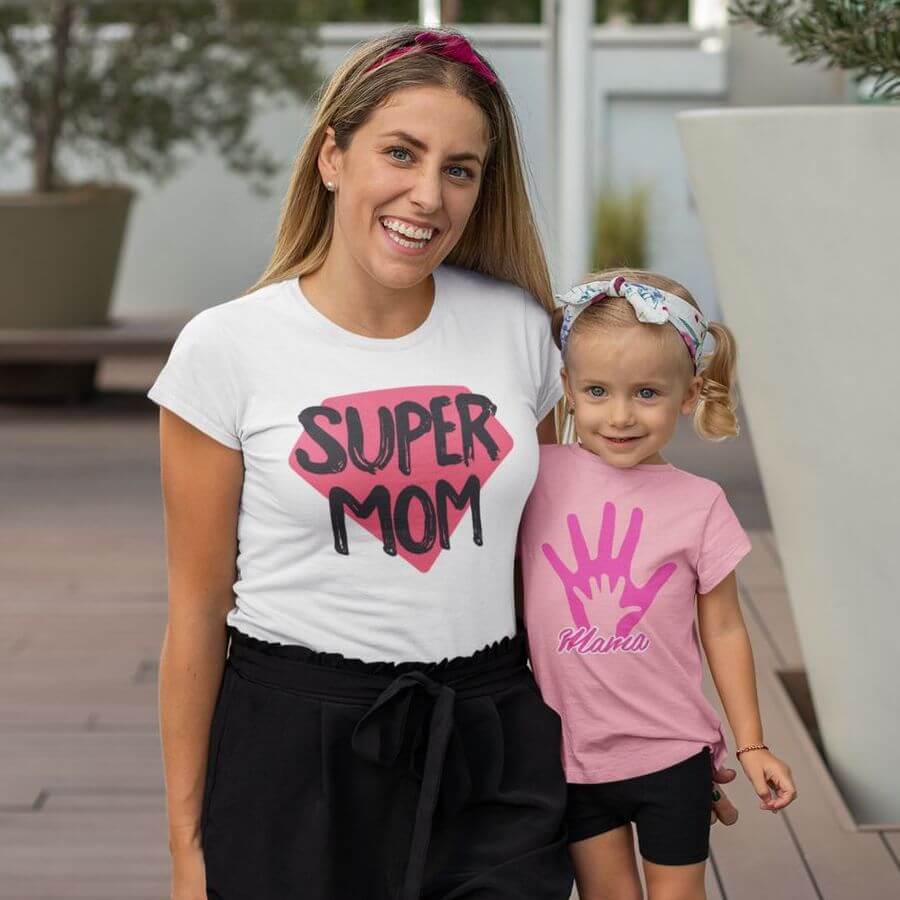 Use our designer-crafted designs to create unique and stunning Mother's Day shirts.
35 Mother's Day Shirts You (And They) Will Love
From funny Mother's Day shirt ideas and heartwarming ones to abstractly chaotic – yet awesome – designs, we'll cover them all. There's something for every type of mother figure on our list.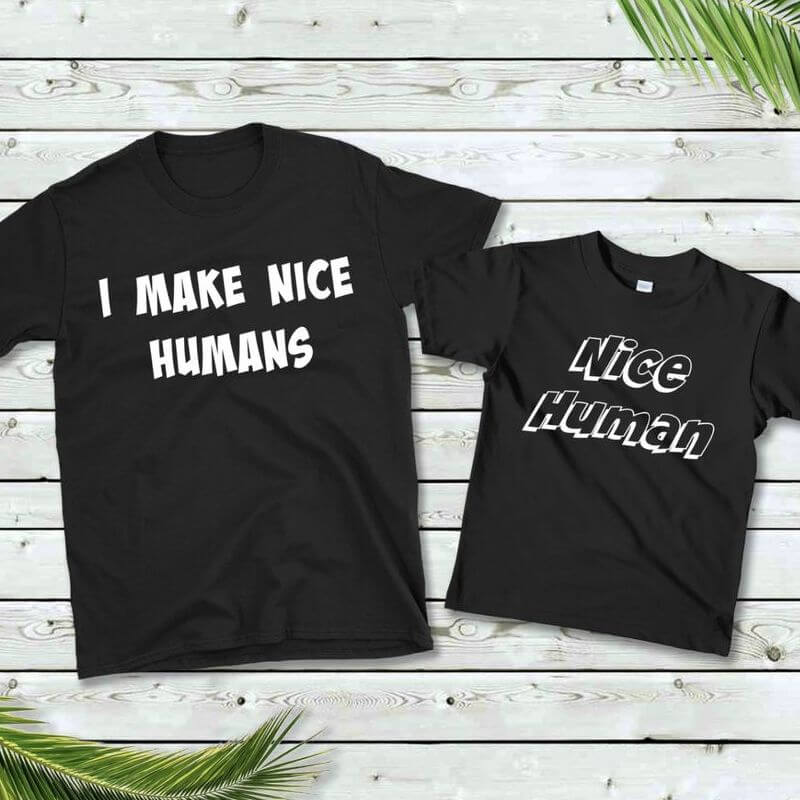 They do, don't they? We found many variations of one of the most popular shirts – "I make cool babies," "I made this army," etc. Throw in a children's shirt, and you have a perfect Mother's Day shirt combo.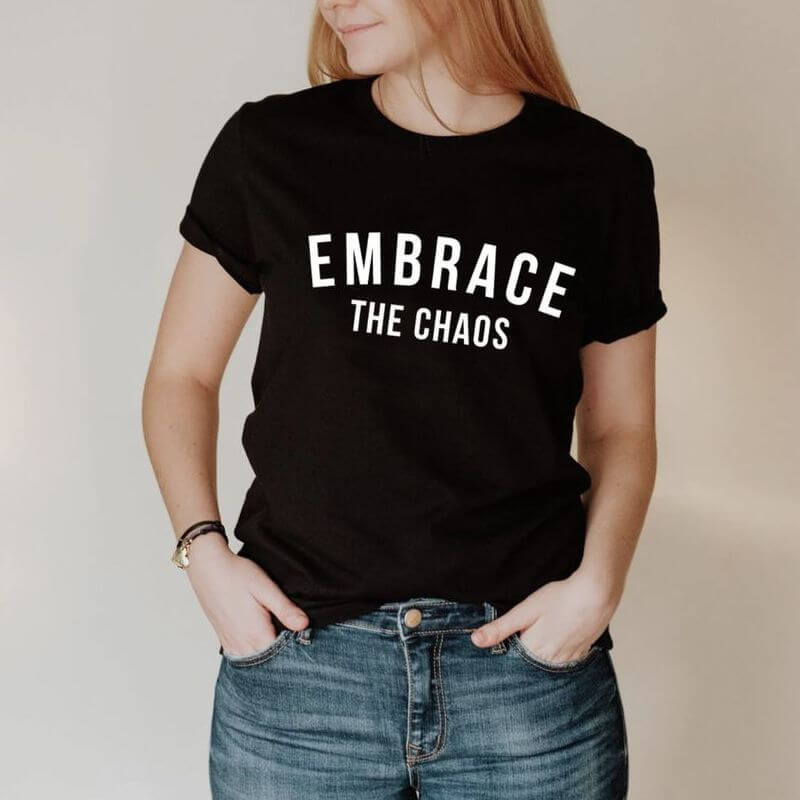 We all know that the life of a mom is never-ending chaos. And this is a perfect Mother's Day t-shirt for all the chaos-handling moms out there. We don't know how you manage it – but well done.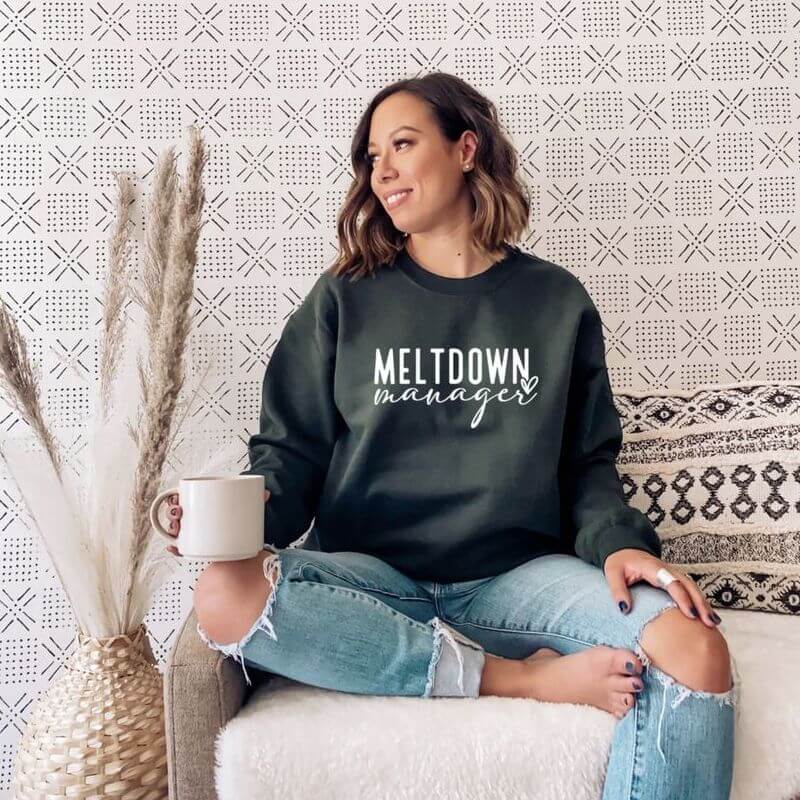 Nobody can handle meltdowns and tantrums like mothers. When life gets confusing, mama knows what to do.
Mother of Biblical Proportions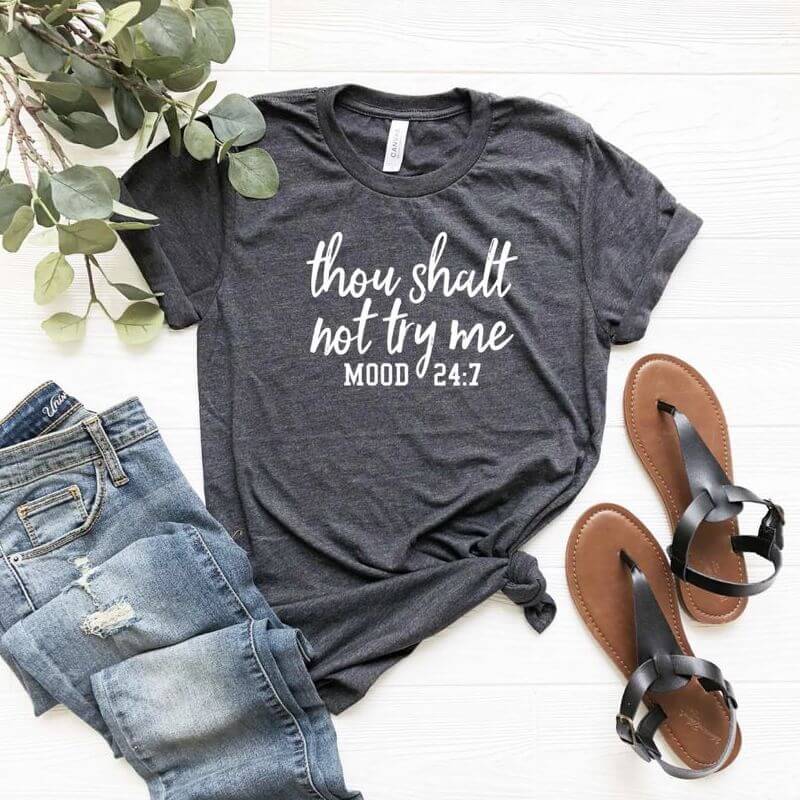 Thou shalt not try her. Seriously. This custom-printed shirt will remind you not to step on your mother's toes. While moms are patient – don't test them too much.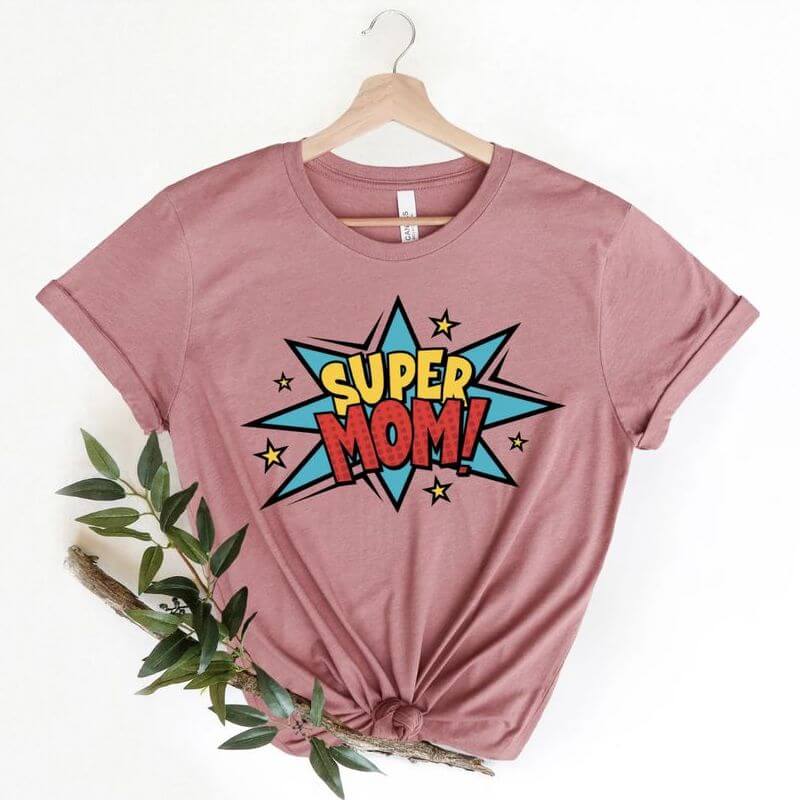 Forget about Wonder Woman or Superman – mom is the real hero. Look up in the sky! Is it a bird? Is it a plane? Nope. Just an awesome mama doing her thing.
Never Easy, Always Worth It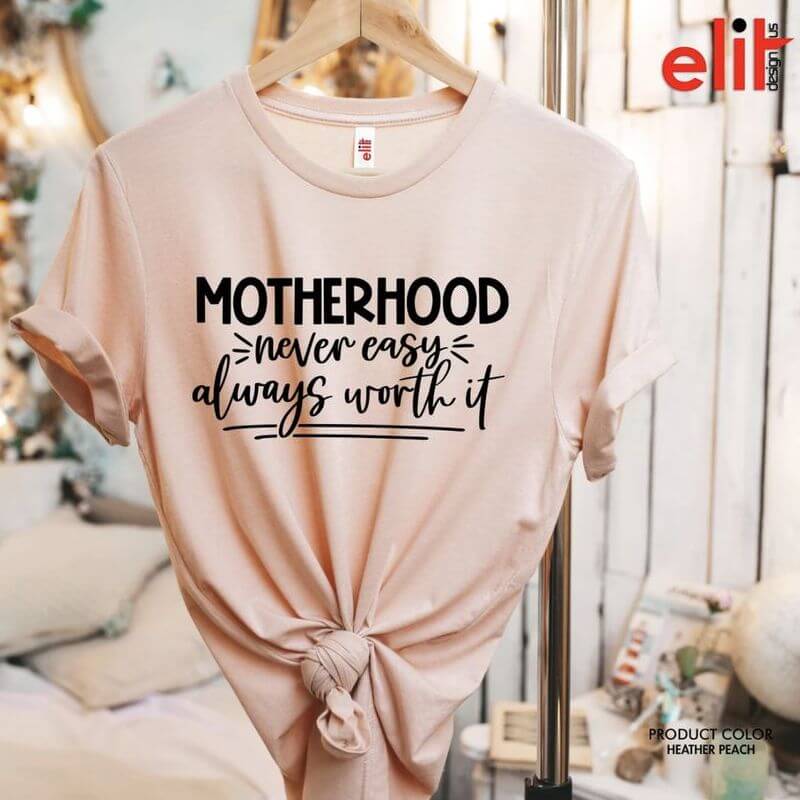 This Mother's Day shirt is pretty self-explanatory. A perfect gift for all mothers, grandmothers, sisters, aunts, or other mother figures who deserve acknowledgment for their hard work and efforts.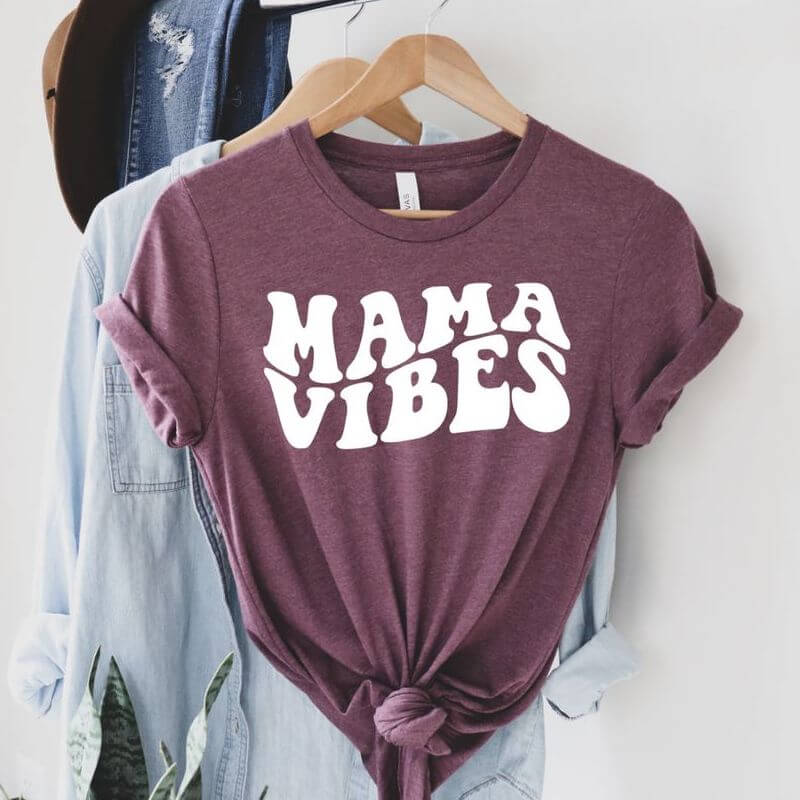 Opt for a more trendy design matching colors with groovy text – depending on your mom's style and humor. These custom-printed tees will look great on every mama and her vibe.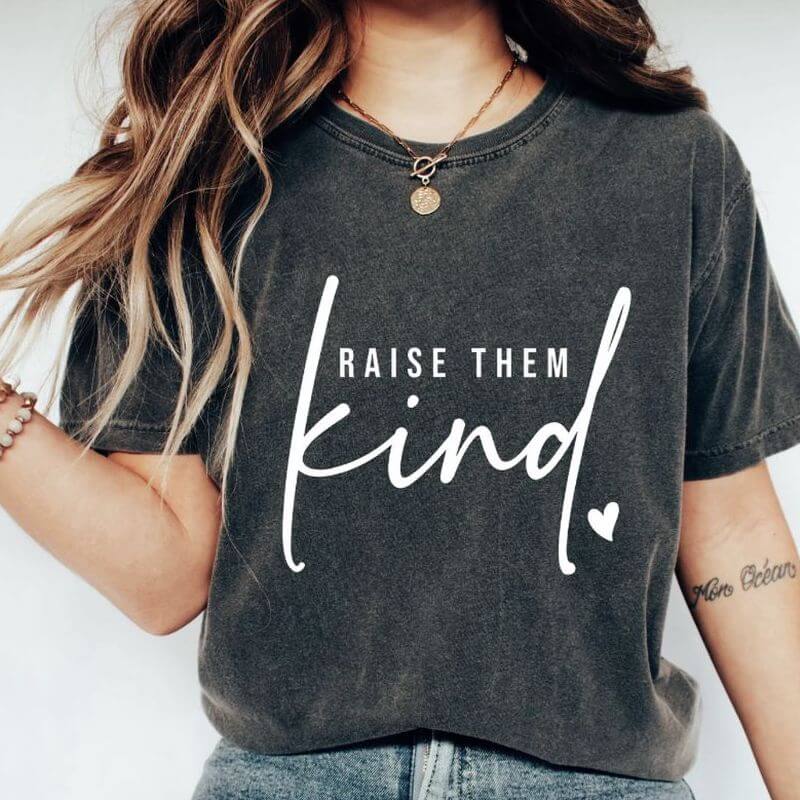 This shirt design comes with an honest and great message for not only mothers but people as a whole – raise your kids kind. Kind children are one of the greatest achievements mothers can have.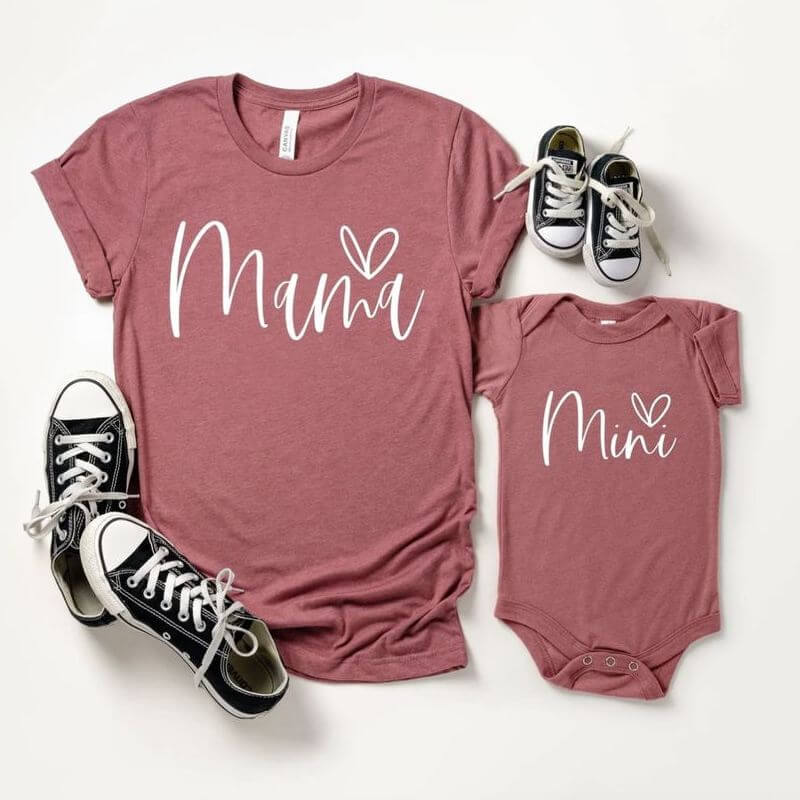 Don't you just love a good combo? Show how proud you are of your mom and your relationship with different variations of "Mommy and Me" matching tees.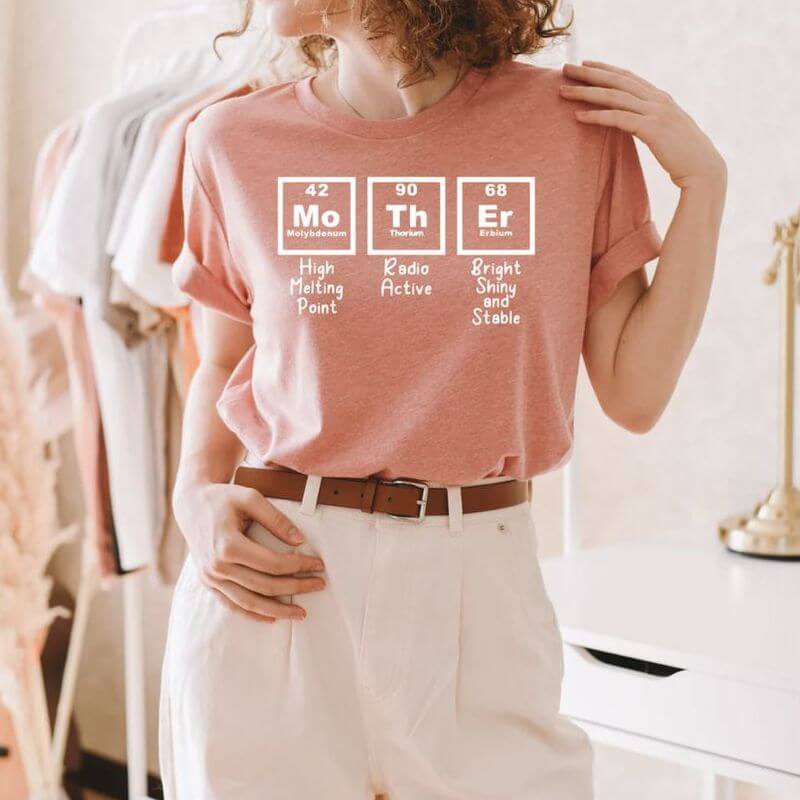 What is a mom? Sugar, spice, and everything nice? Err… Almost, but not quite. With this epic Mother's Day t-shirt design, you can show the world and your mom what she's really made of.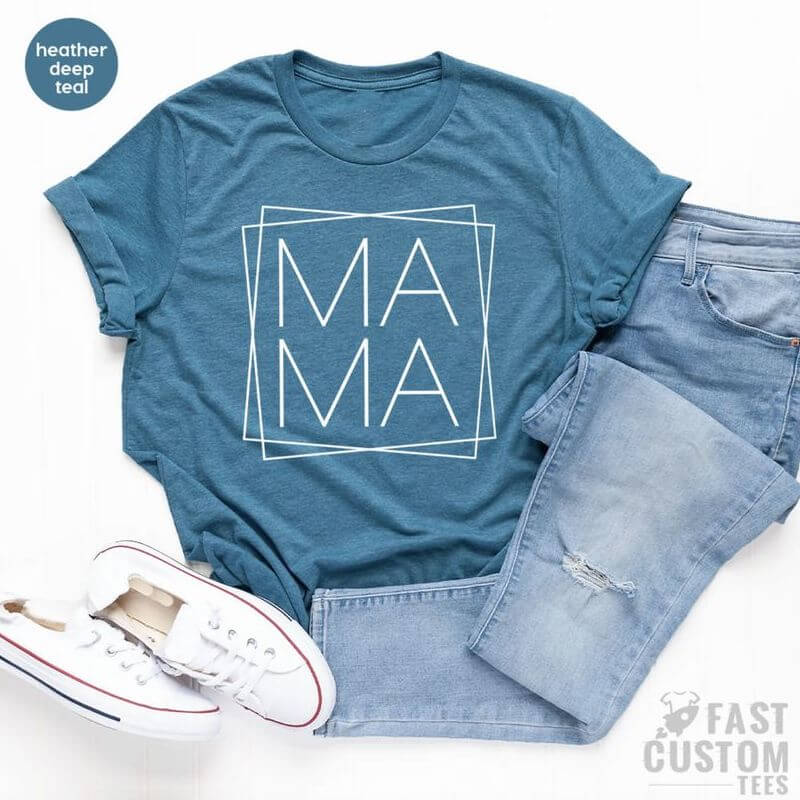 Sometimes love can be expressed in the simplest t-shirt design. And this is such a pretty option for all the minimalists out there. Pick a nice color that goes well with everything, and you've got the perfect shirt.
Home Is Where Your Mama Is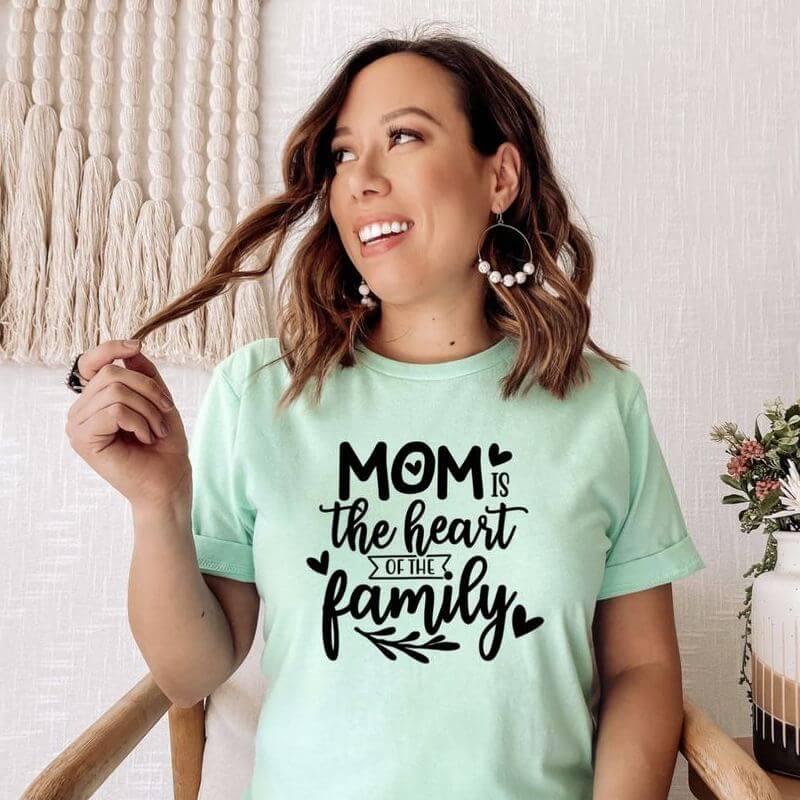 Keeping all of us together, managing our lives and the entire household. Home is a feeling created by the whole family. And mom is the beating heart in the center of it all.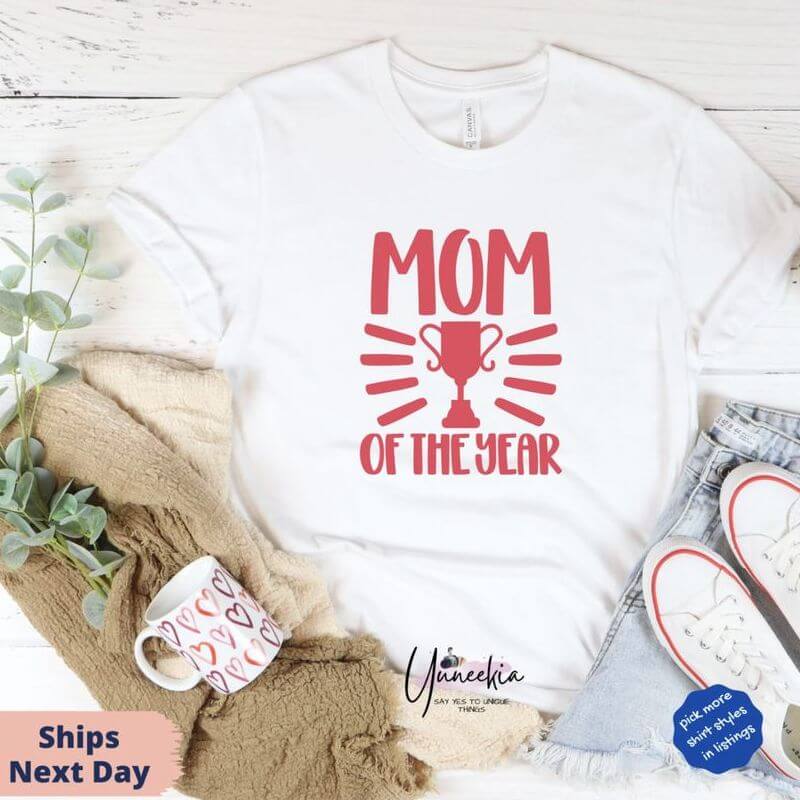 Funny, cute, and perfect for a caring mother, grandma, or aunty. This custom-printed design will match all styles and all moms who deserve the award for their hard work over the years.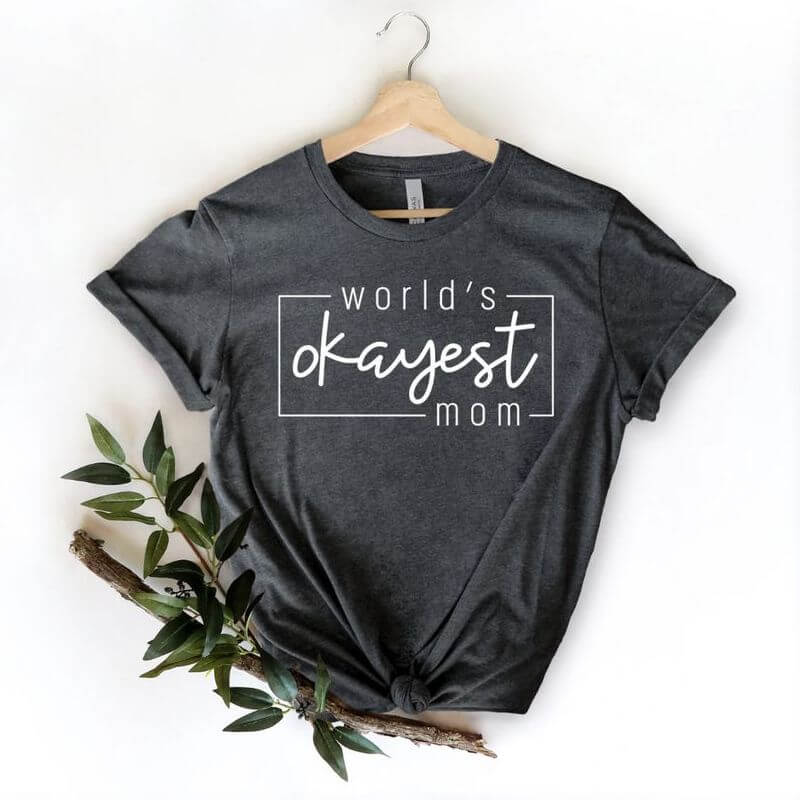 Let's be honest: not all of us are the best moms; some are just the okayest. And we're okay with that. This is a perfect example of a Mother's Day shirt design that millions of us can relate to.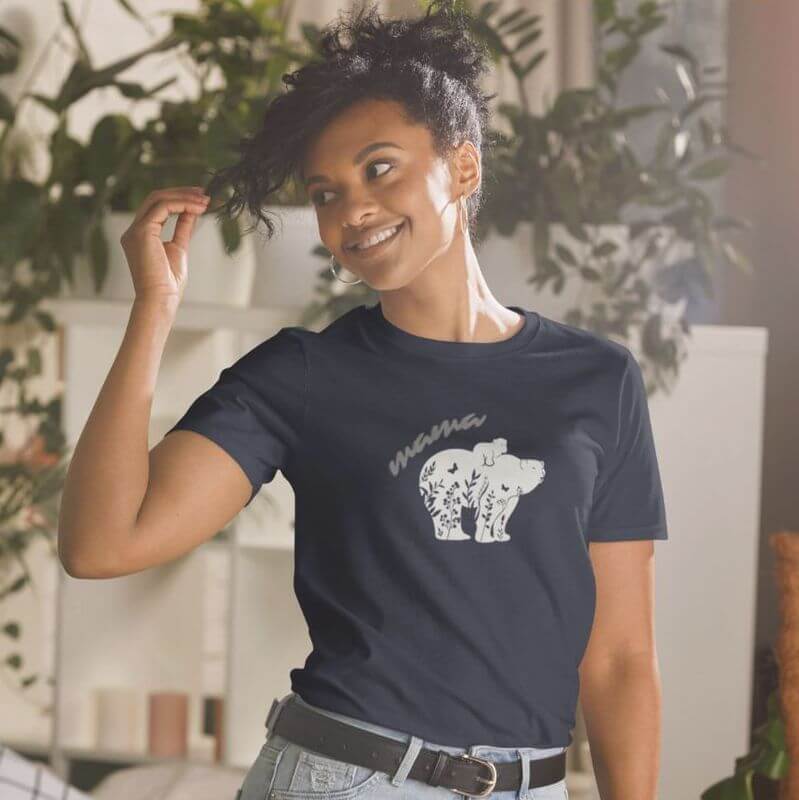 Protecting her cubs since the beginning of time. The perfect title for all the warm, snuggly – and sometimes snarly – mamas out there who aren't afraid to show their claws to protect their children.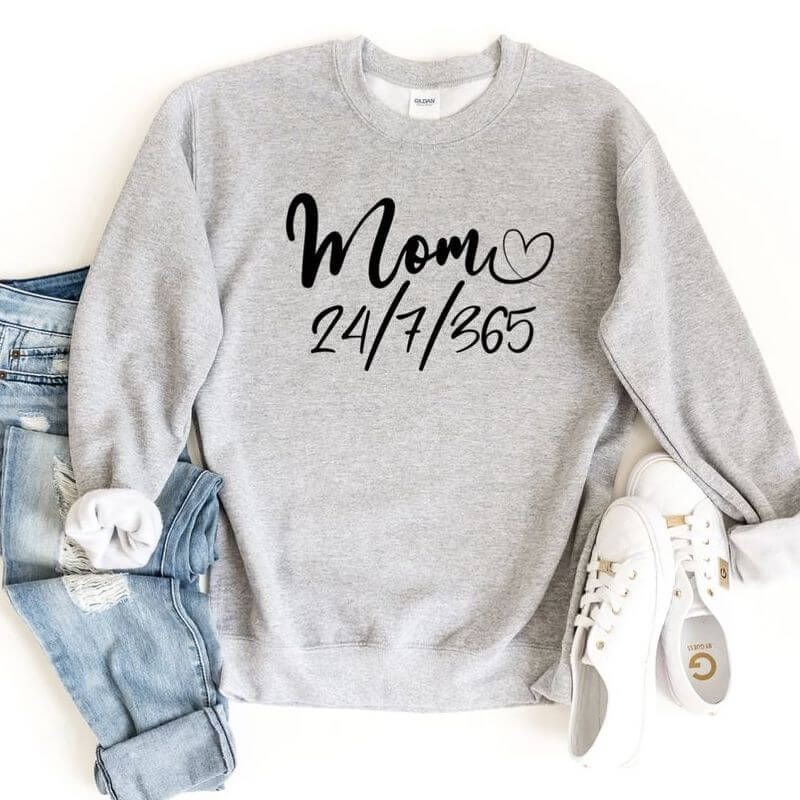 Moms don't work shifts. It's a 24/7 position for life. Display your heartwarming "thank-yous" on custom Mother's Day shirts that showcase what the life of a mom really is – by appreciating the math.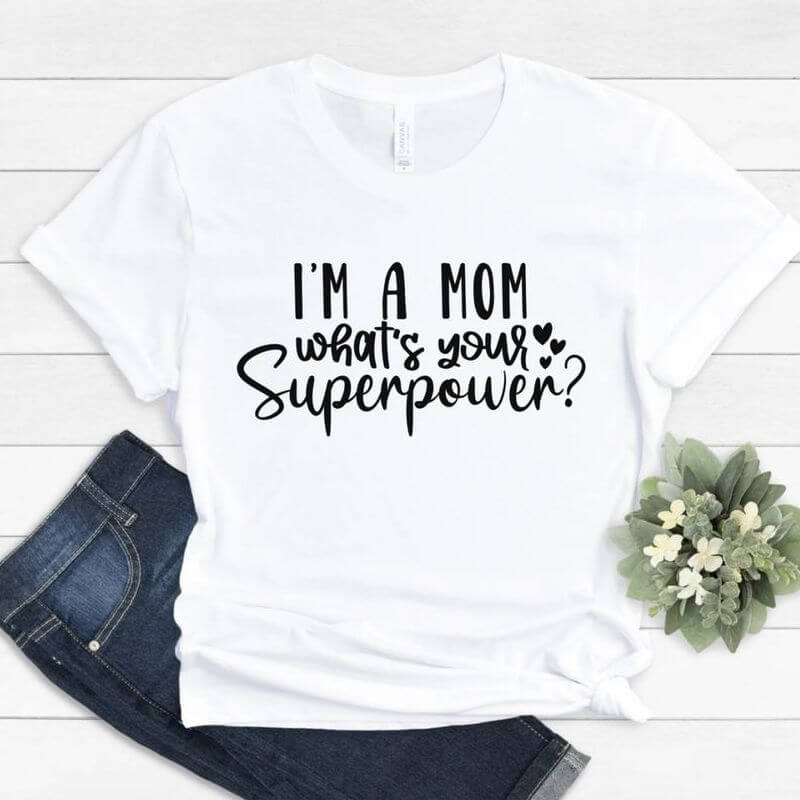 Being a mom truly is a superpower. Working day and night, putting out fires, dealing with tantrums – and somehow staying sane in all the chaos. Kudos, mama!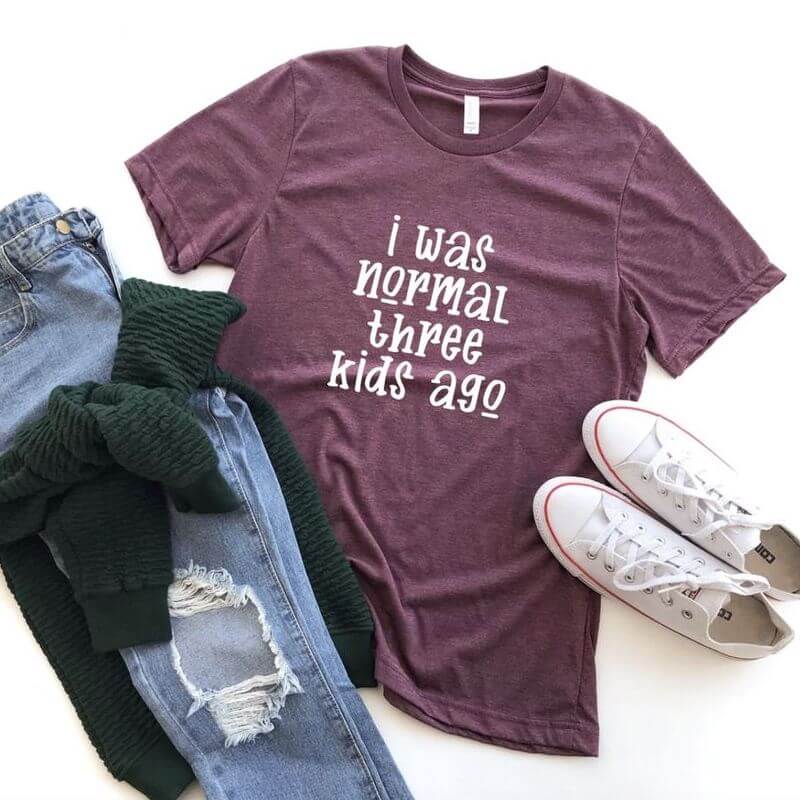 Encourage the LOLs with this "I was normal [x number] kids ago" custom-printed t-shirt. A perfect way to describe the price of motherhood – with love, colors, and cute graphics for the holidays.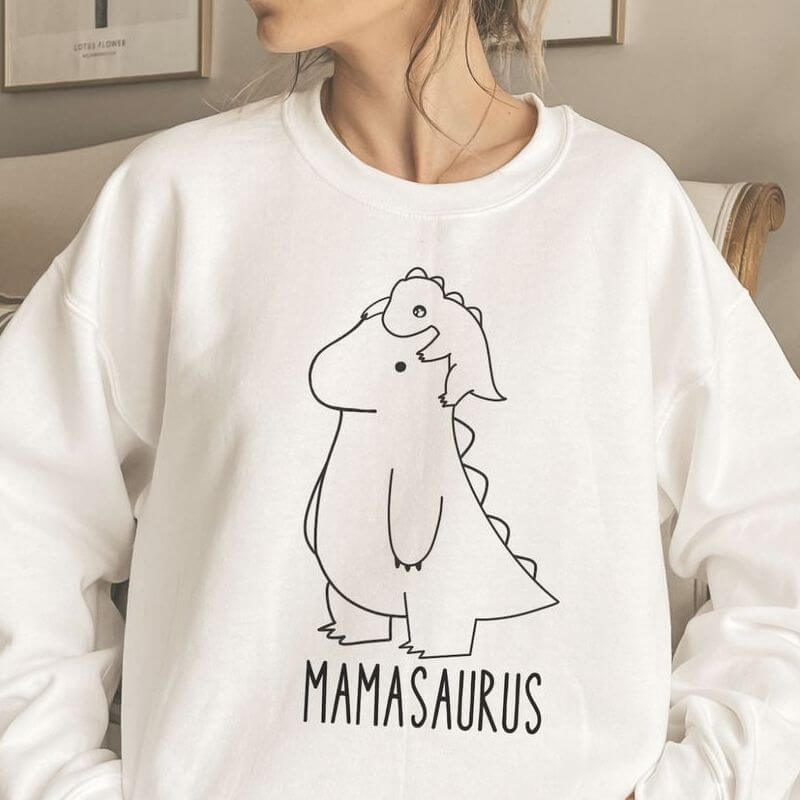 Don't mess with mamasaurus! Humorous Mother's Day t-shirt ideas will be the perfect additions to their everyday wear or your online store. Because who doesn't love a good pun, amirite?
I Run On Caffeine and Kisses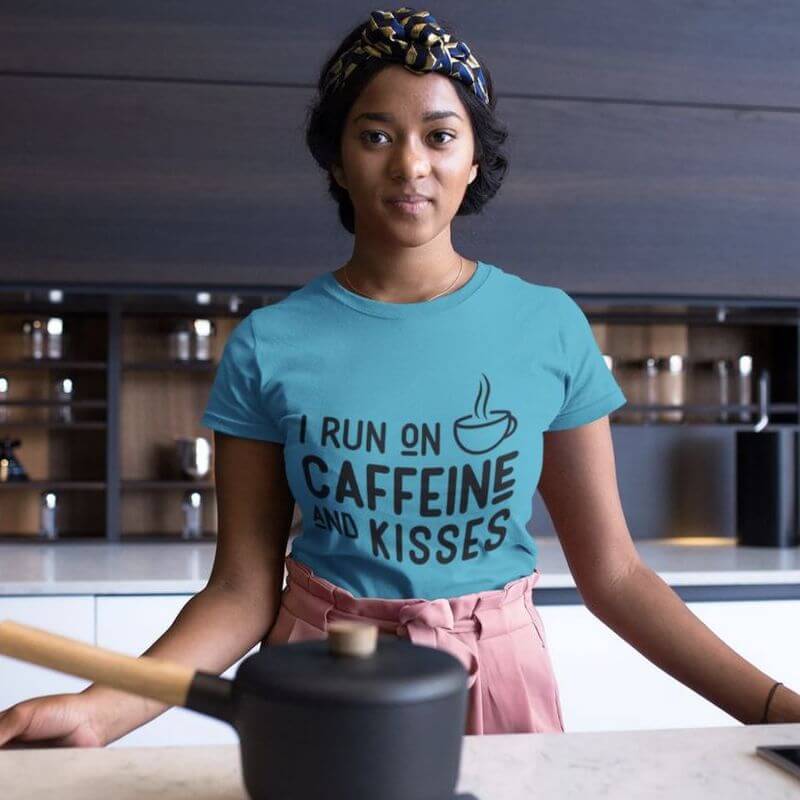 Happy Mother's Day shirts like this one are too real. And we love them. Every mama needs an energy boost to handle motherhood day and night.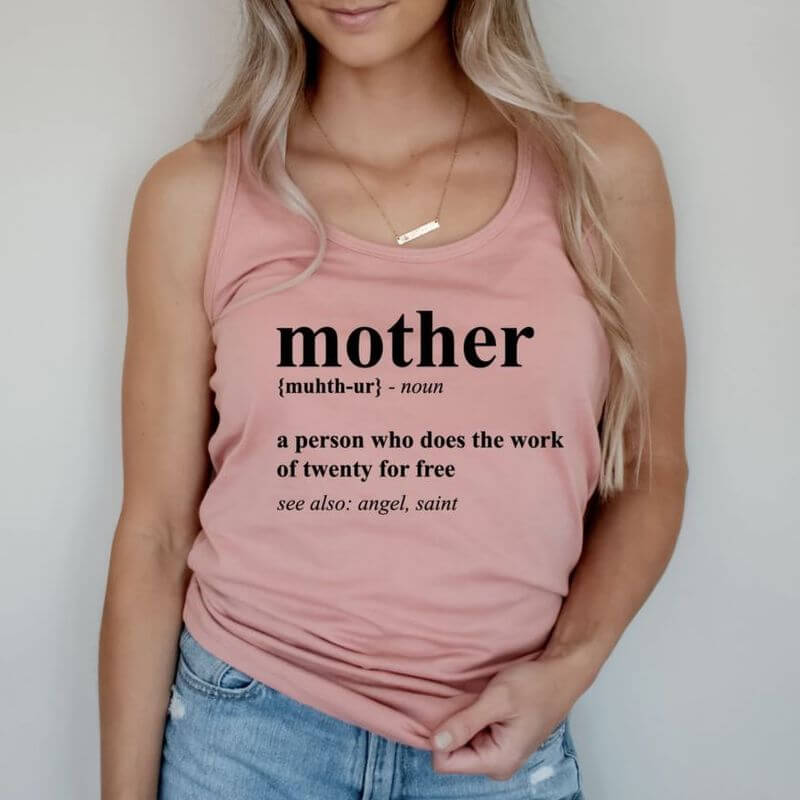 Get your definition of the perfect mama personalized and custom-printed – so she can wear it loud and proud.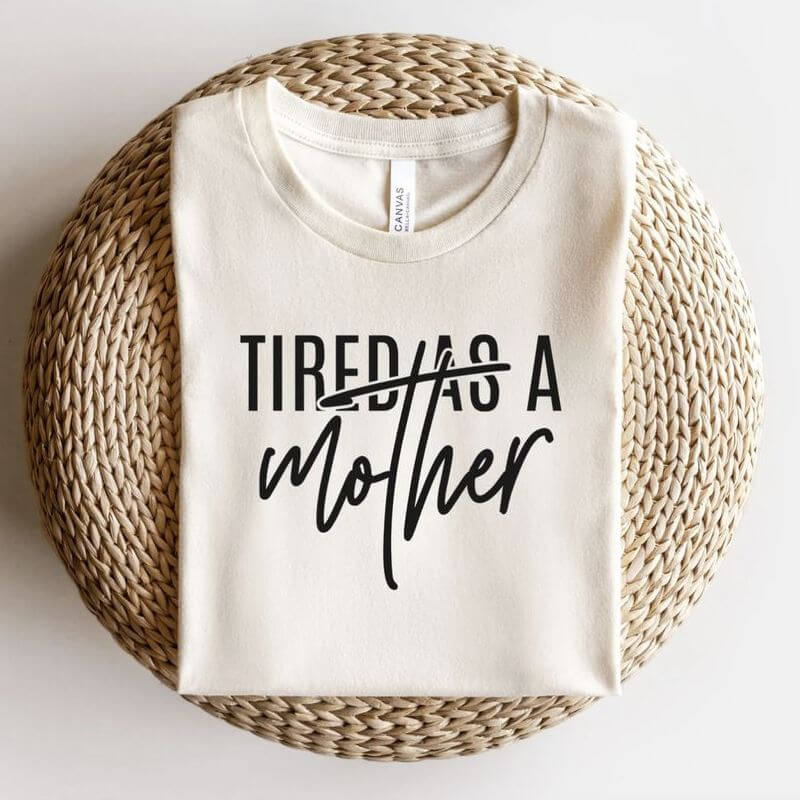 What would our Mother's Day shirt ideas be without truthful variety? And this one sends a clear message. Skip the t-shirt and keep your mama warm on tiresome summer nights with a  unique Mother's Day sweatshirt.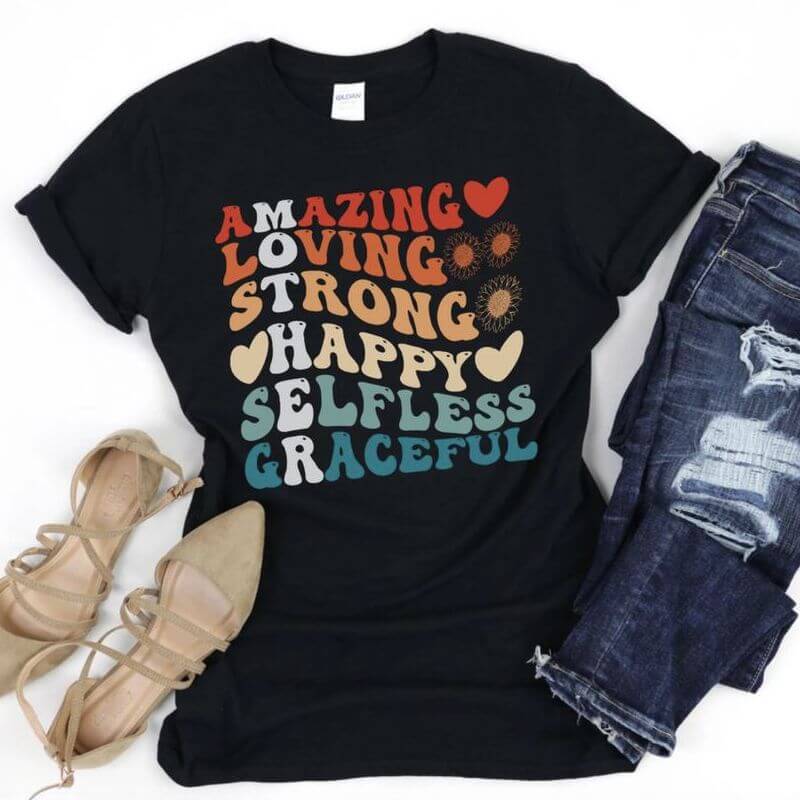 This unique Mother's Day shirt will leave people puzzled with love. Personalized gifts go a long way and show much more care and appreciation.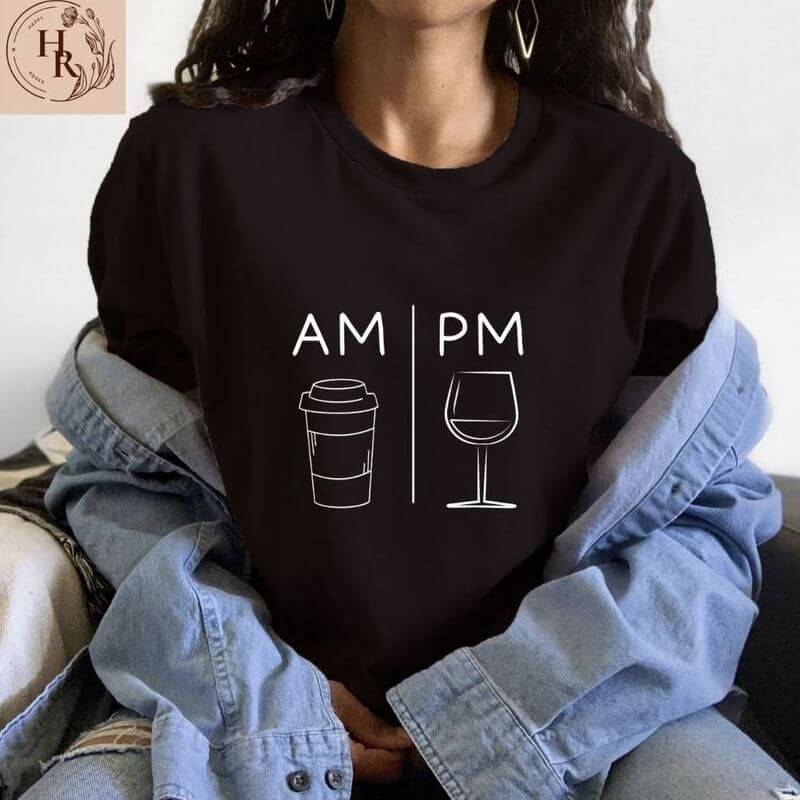 As we know, coffee and wine are mom's best friends. This design also makes for a perfect Mother's Day shirt – matching different styles for different moms. Customize it to adjust her personality, and get it printed in no time.
Don't Forget About the Grandmas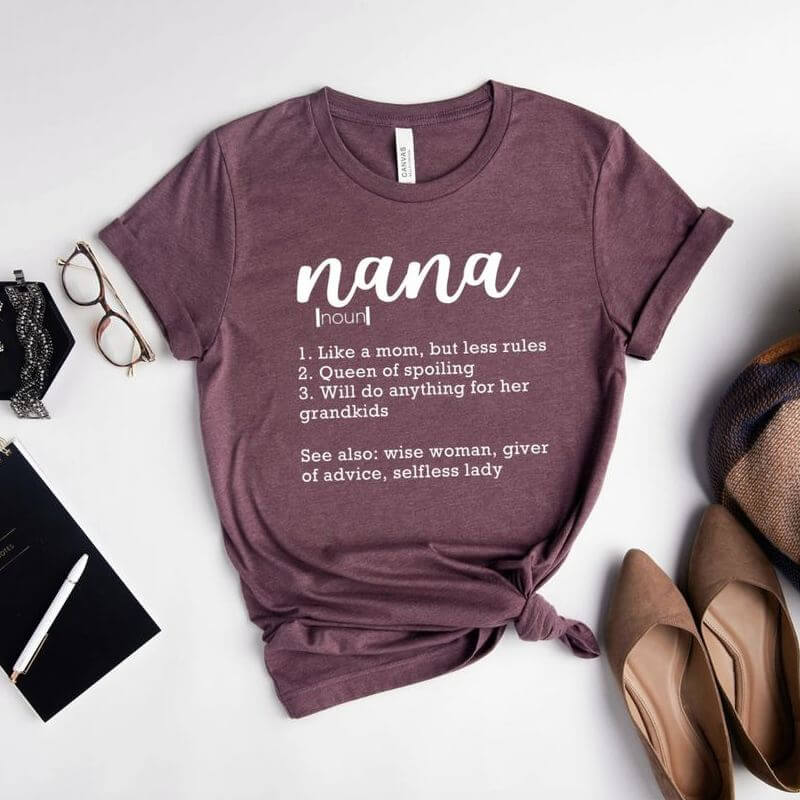 We do love our moms. But who spoils us the most? That's right – the grandmas. So we had to add some Mother's Day shirt ideas for the caring, loving, and spoiling grandmothers too.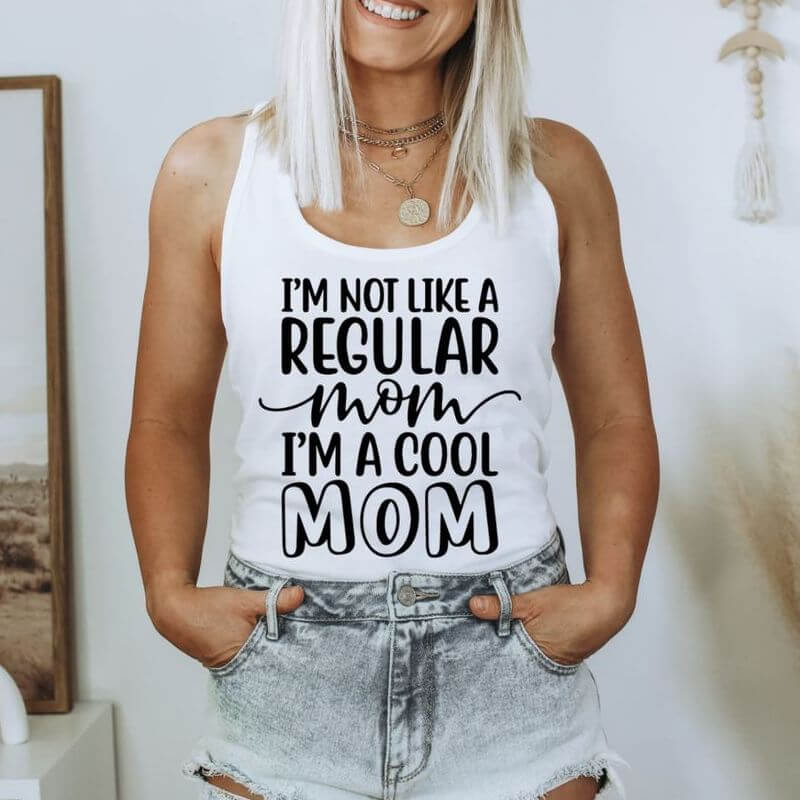 Amy Poehler said it best on Mean Girls. Moms are cool, and it's ok to show it. Or make her feel a bit uncomfortable out in public with this cherished masterpiece. If she's cool with it. See what we did there?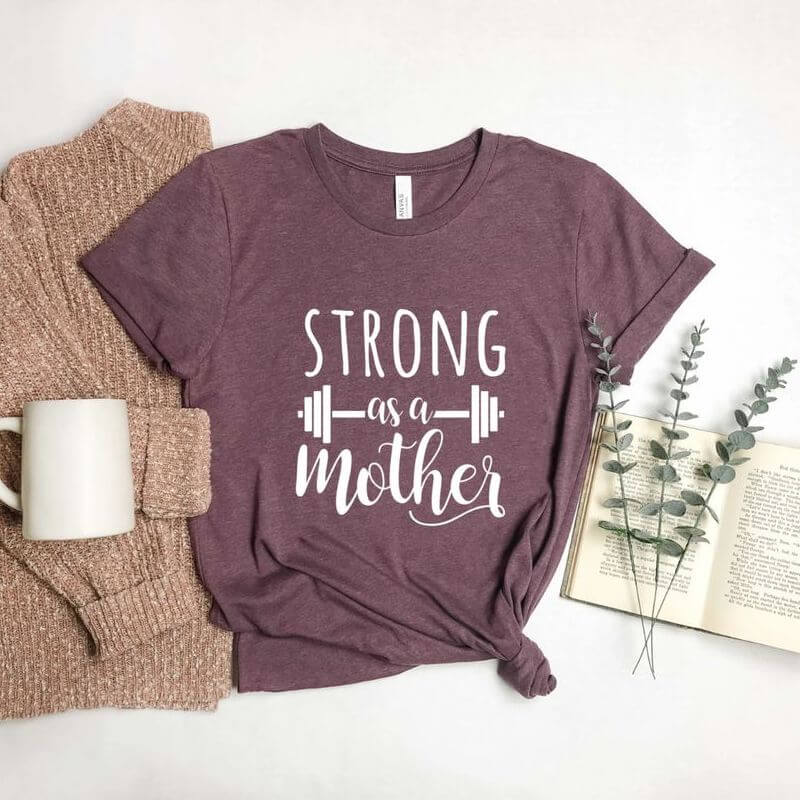 Donning it as armor for daily tasks, throwing it on after a challenging workout, or wearing it to collapse in when the kids are finally asleep – moms will feel a new kind of strength in this piece.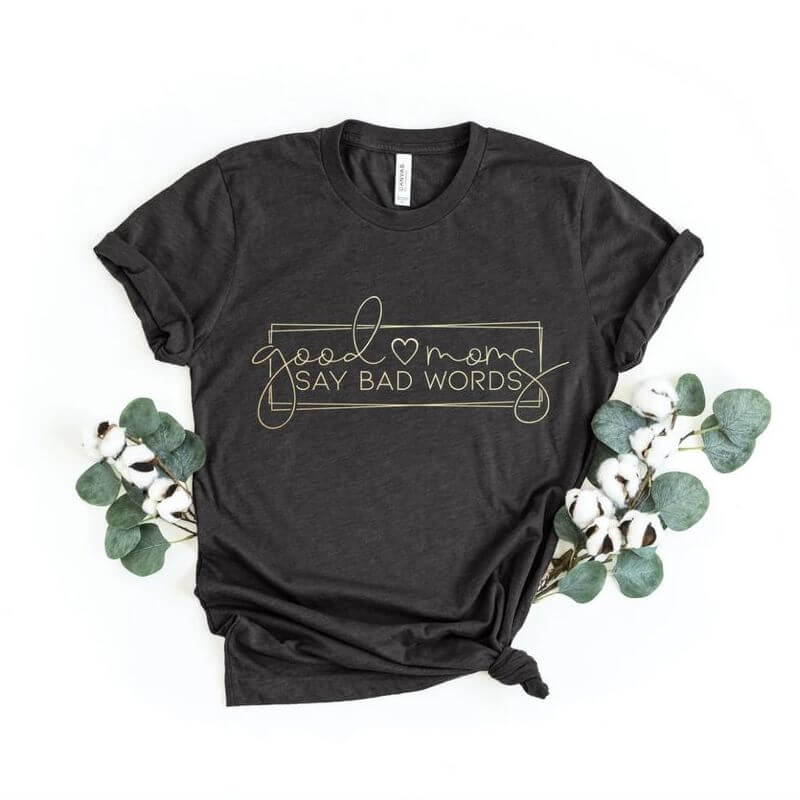 Sometimes even the best mamas slip and say a bad word here and there. And we're ok with that. These Mother's Day shirts will remind us that moms are only human.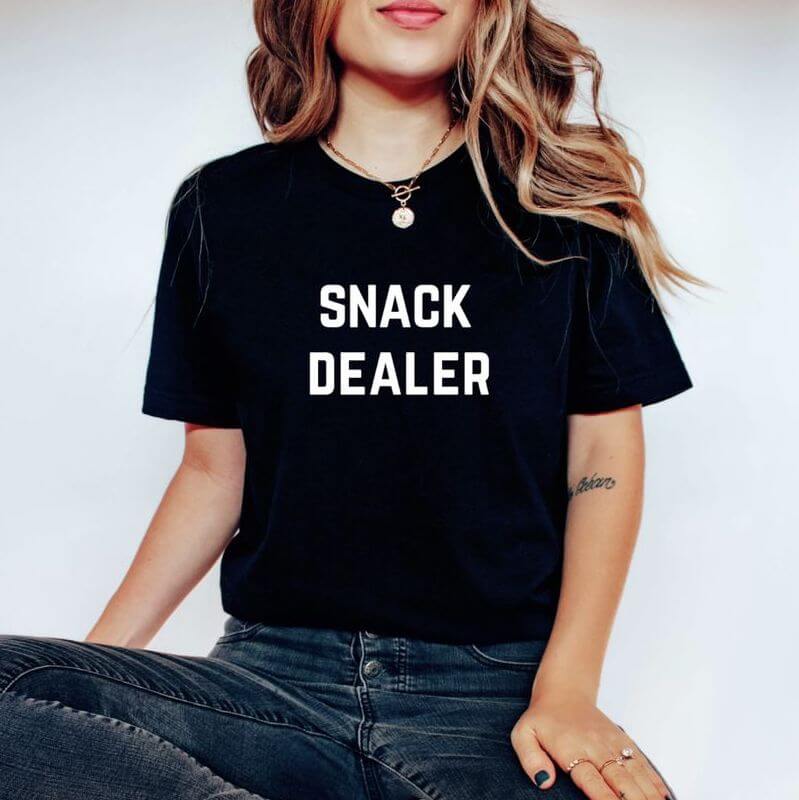 This ranks among the humorous Mother's Day shirt ideas – and rightfully so. What does every dad answer when we ask for snacks? "Go ask mom."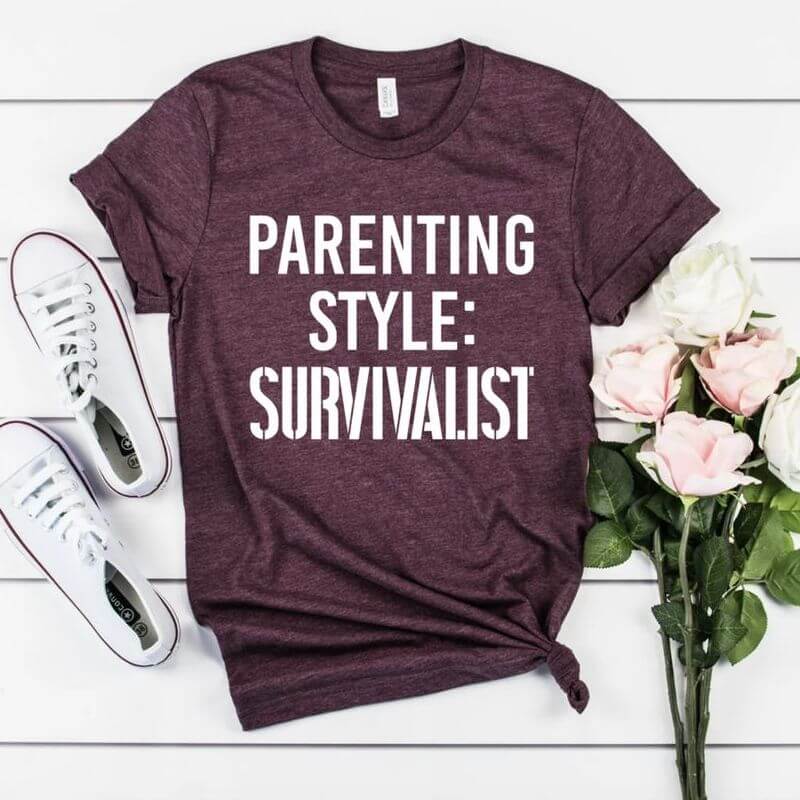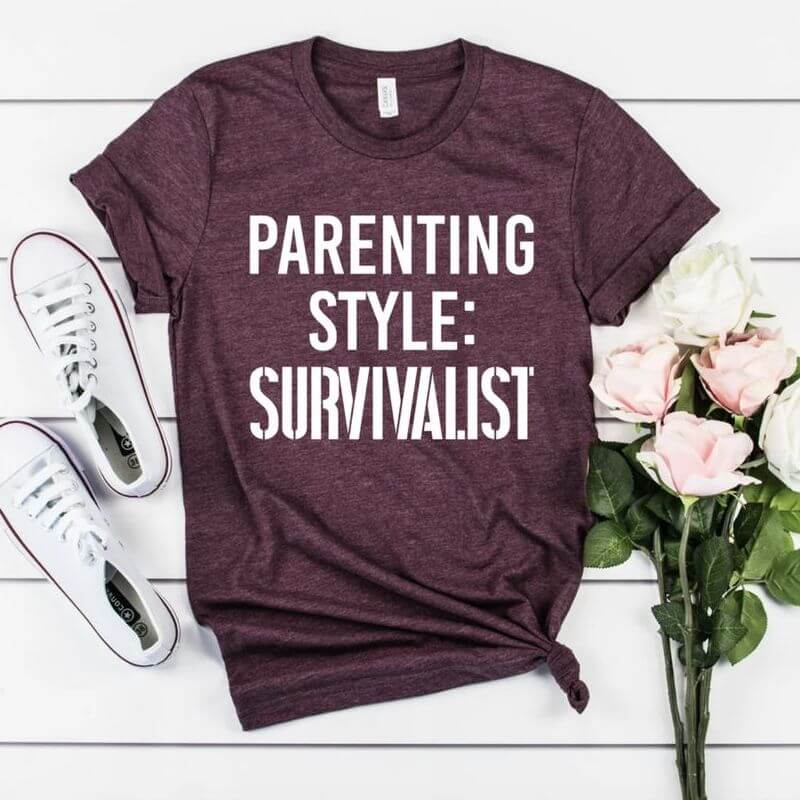 Sometimes being a mom is all about surviving. Teething babies, sleepless nights, temper tantrums, or teen years. Survival mode on – and full force ahead. You've got this, mama!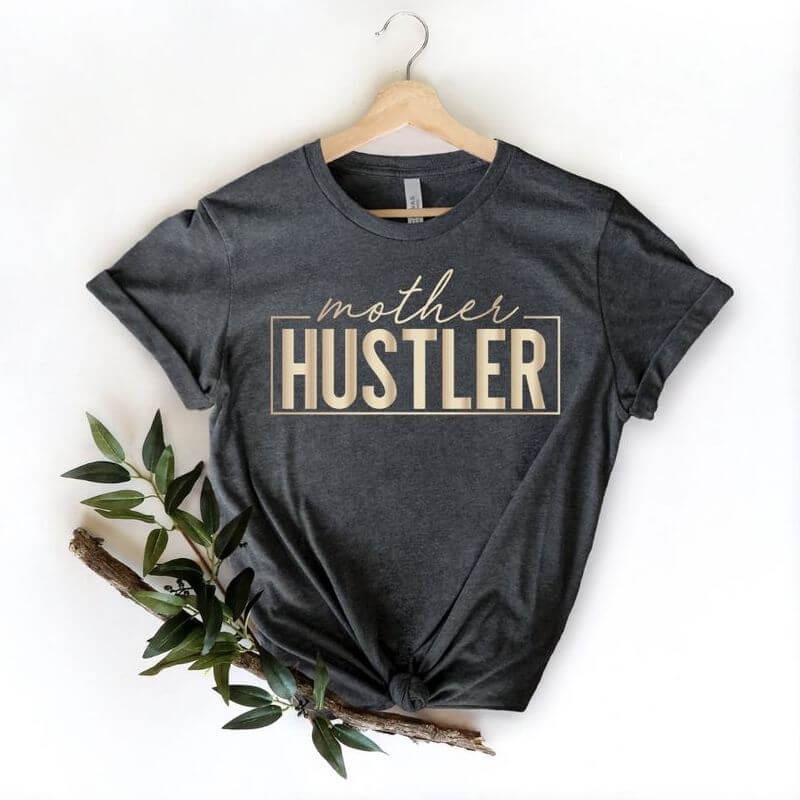 These Mother's Day shirts say it like it is – mom is the one who gets things done. And we love her for it.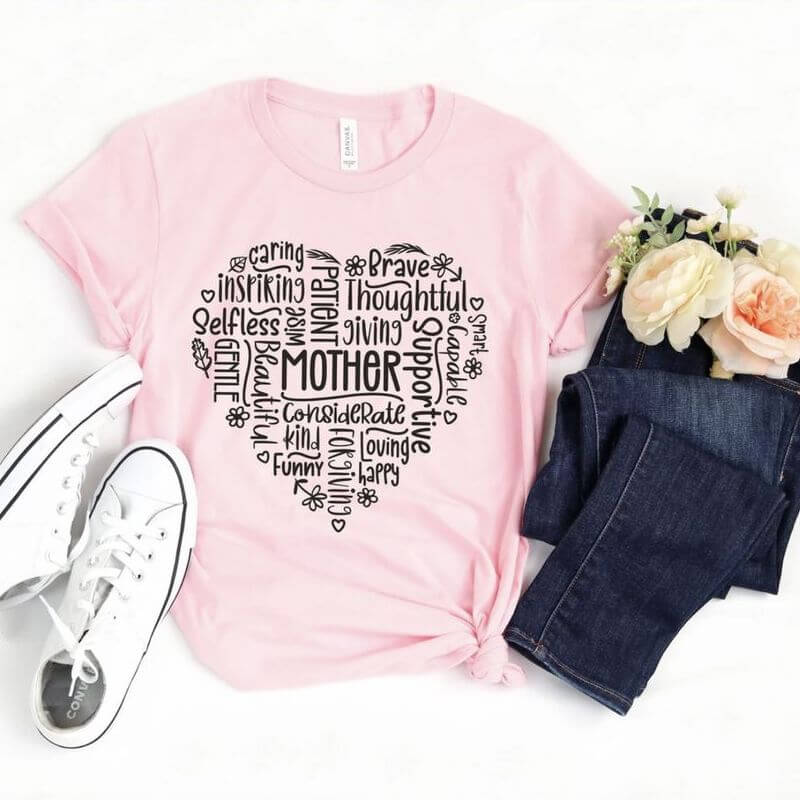 This is one of the best Mother's Day shirt ideas – simple, lovely, and perfect. Describe your mom in every kind word possible, and put it on a t-shirt. She'll live for this kind of design.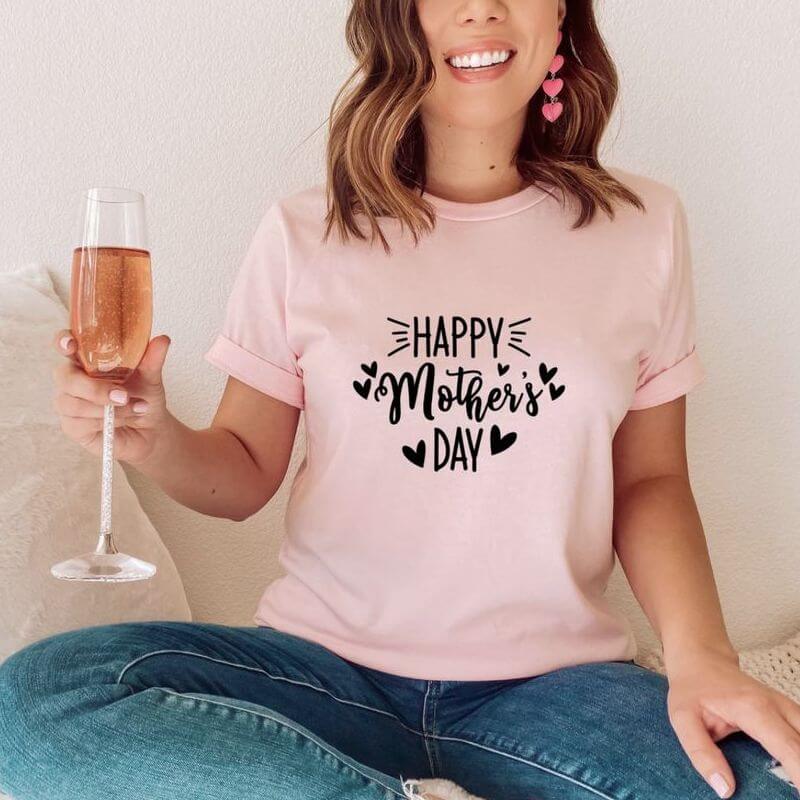 Why complicate things? Stick with the classics. Pick her favorite color and get the classic "Happy Mother's Day" printed on a t-shirt.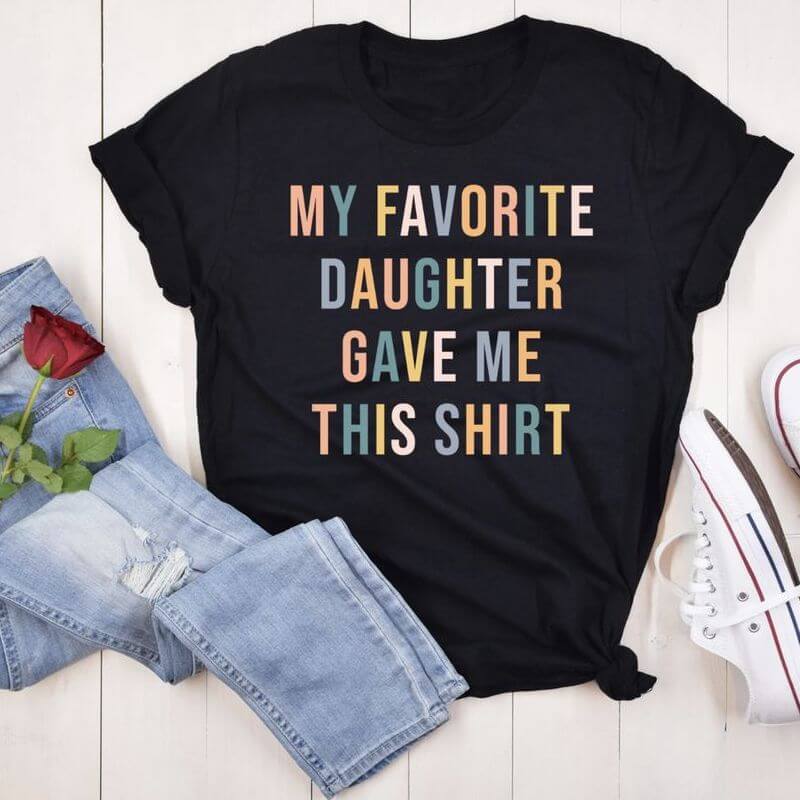 Jabs like this one fit well with Mother's day shirt ideas. We all know parents pick their favorites (although they say they don't). And with custom-printed shirts like this – we can make the choice for them.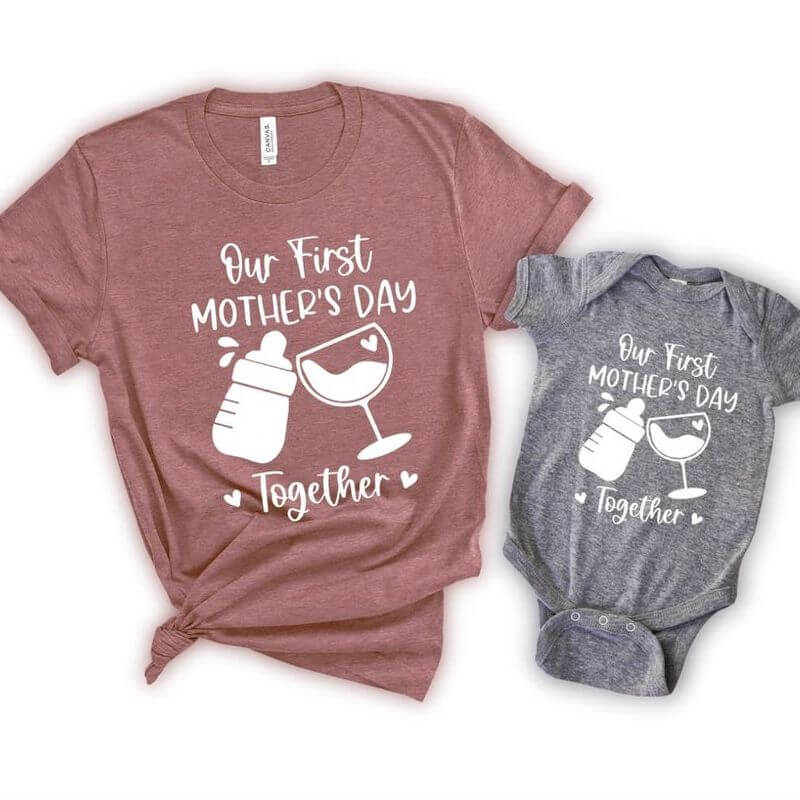 The very first Mother's Day is extra special for a new mama. It's the first time she celebrates her new title – and occupation.
Create Mother's Day Shirts With Printify
Create an account and browse our Catalog to find the perfect t-shirt for your planned design, from different sleeves and necks to materials, colors, and other criteria. Pick your favorite and click Start designing.
Our free Mockup Generator is where ideas take a real-life form. Upload a ready design or create one on the tool. Add text, photos, and layers – and customize your Mother's Day shirts to perfection.
Place an order under My Account to get your shirts printed for personal use – or list them for sale. Integrate your eCommerce store, add Mother's Day shirts to your virtual stock, and let our Print Providers handle the order fulfillment. 
Why Sell Mother's Day Shirts
More than 40% of consumers pick clothing as one of the top three gift ideas for Mother's Day – right after flowers and greeting cards. A t-shirt is a unique, long-lasting, practical gift – usable all year round.
And customization makes it even better – people can show appreciation in a more personal way.
Mother's Day is a special time of the year to honor motherhood in all its glory. The good, bad, and rewarding parts. It's the day we all gather at home to say: "Thank you, mom, for everything you do."
And what better way to do it than with practical and unique Mother's Day shirts? Join Printify, create the perfect design, and bedazzle moms worldwide on their special holiday.
Happy Mother's Day!
Share the article
Topics